Easy Sweet & Sour Chicken Recipe
As an Amazon Associate and member of other affiliate programs, I earn from qualifying purchases.
This crispy and easy Sweet & Sour Chicken Recipe is made with frozen chicken bites and a sweet and tangy sauce made from pineapple, soy sauce, and brown sugar. The next time you're craving Chinese food, treat yourself to this bold and flavorful chicken recipe!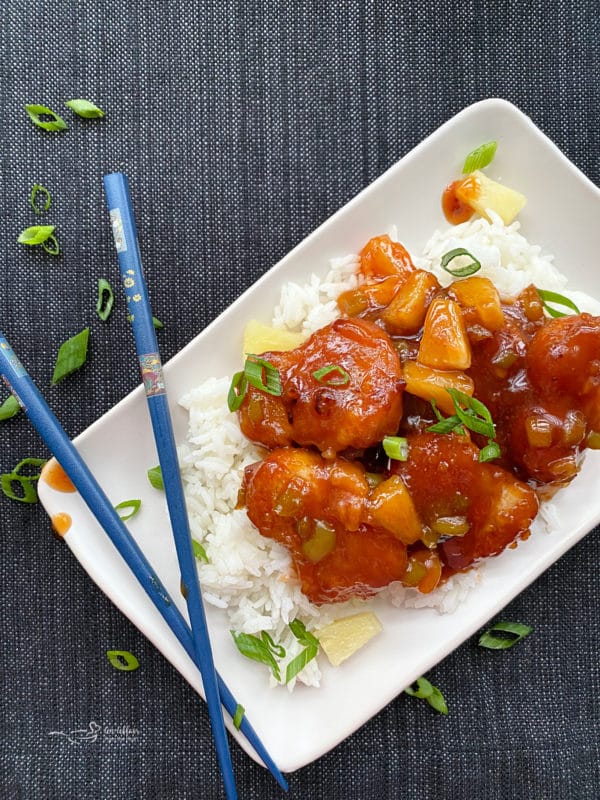 Who is not a fan of sweet & sour chicken with pineapple over rice? This easy and fast recipe is perfect for a weeknight dinner because it uses frozen chicken nuggets as a shortcut– a total win! The chicken bites are coated in a deliciously sweetened waffle mix that makes this sweet & sour chicken recipe the best. Sweet and savory flavors create the ultimate combination.
Ready in under 30 minutes, this one-skillet meal is loaded with comforting flavors you will love such as bright pineapple, green bell pepper, sesame oil, and garlic powder. This finger-licking-good chicken nugget recipe is one for the books because it is so effortless and easy to prepare. Not to mention, the sauce is that perfect sticky sweet! What's better than that?
This recipe is sponsored by Great American Comfort Classics, but my opinions of their products and statements made here are all my own.
Is Sweet and Sour Chicken the Same as Orange Chicken?
Although the two appear very similar, these two chicken recipes are different! Orange chicken tends to be a bit spicier where sweet & sour chicken is traditionally sweeter.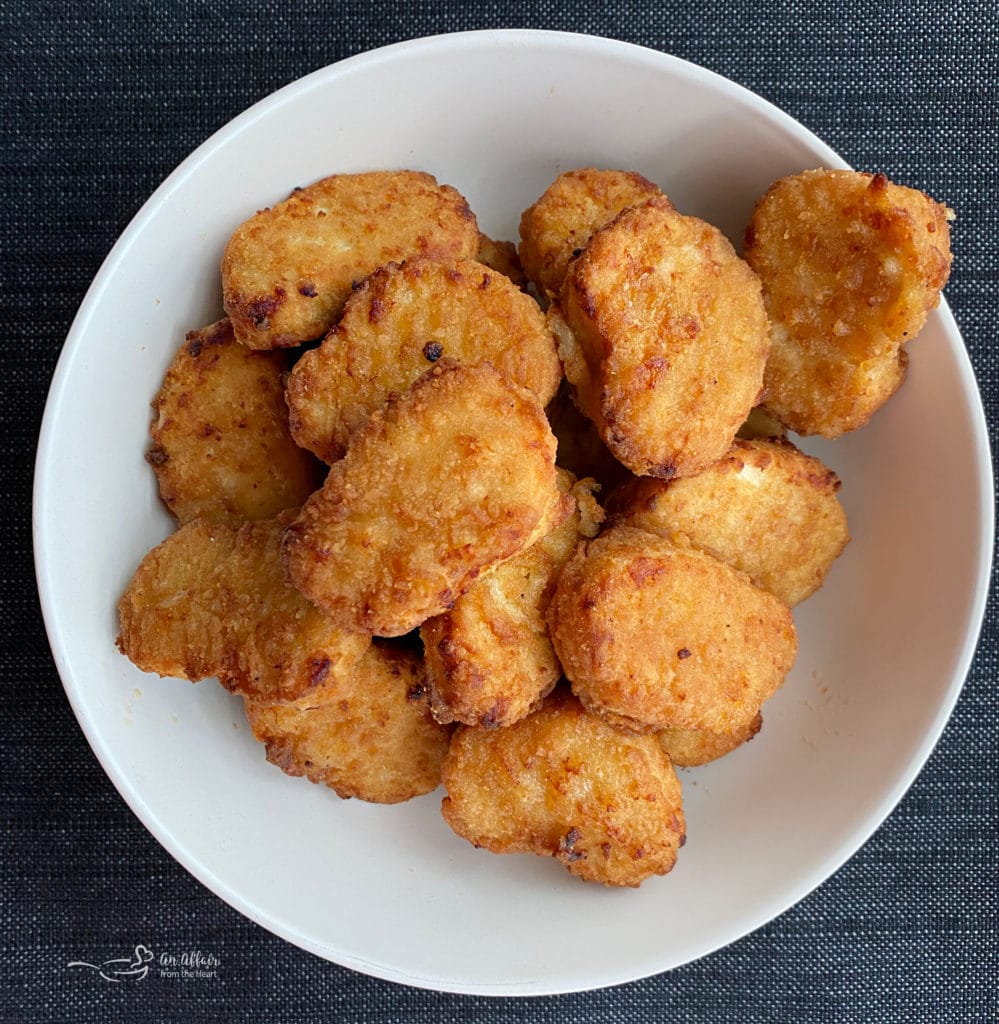 Can You Make Sweet and Sour Chicken with Nuggets?
The answer is YES! In fact, that's what I did for this recipe, and let me tell you, the results were incredible! But I didn't just use regular chicken nuggets. For this recipe, I one-upped those basic nugs.
For this recipe, I used Great American Comfort Classics Chicken & Waffle Bites! Sure they look like chicken nuggets, but they taste different because their coating is made with waffle batter and they have a nice maple flavor, adding to the sweetness this recipe requires. They were perfect!
Great American Comfort Classics Chicken & Waffle Style Bites
If you have been following along with me the last couple of months, you have heard me speak of a new frozen food line by Great American Foods called Comfort Classics. They are new to our area, and we have really been enjoying the taste and the simplicity of them.
I have to be honest with you, personally have never really gotten my head wrapped around why chicken and waffles were ever paired together in the first place. I know, I know. To some, they are like peanut butter and jelly, going hand in hand, but to me, it just always seemed sort of odd? I think it might be the maple flavor?
Maple Flavored Chicken Bites
I have never been super crazy about the flavor of maple. I love maple syrup on pancakes and waffles, but in baked goods and the like, not so much. So, I was a bit leery about the flavor of these chicken bites. I just imagined them being overwhelmingly maple-flavored.
I couldn't have been more wrong. The flavor and the crunch of these chicken bites were perfect! They had a mild sweet maple flavor, but the taste of the chicken really shined through. I made them in the air fryer, so they were ready quickly. They can also be prepared in the oven or the microwave.
Chicken & Waffle Bites Feature the Following:
Made with White Meat
Excellent Source of Protein
No Preservatives
No MSG
Fully Cooked
No Trans Fat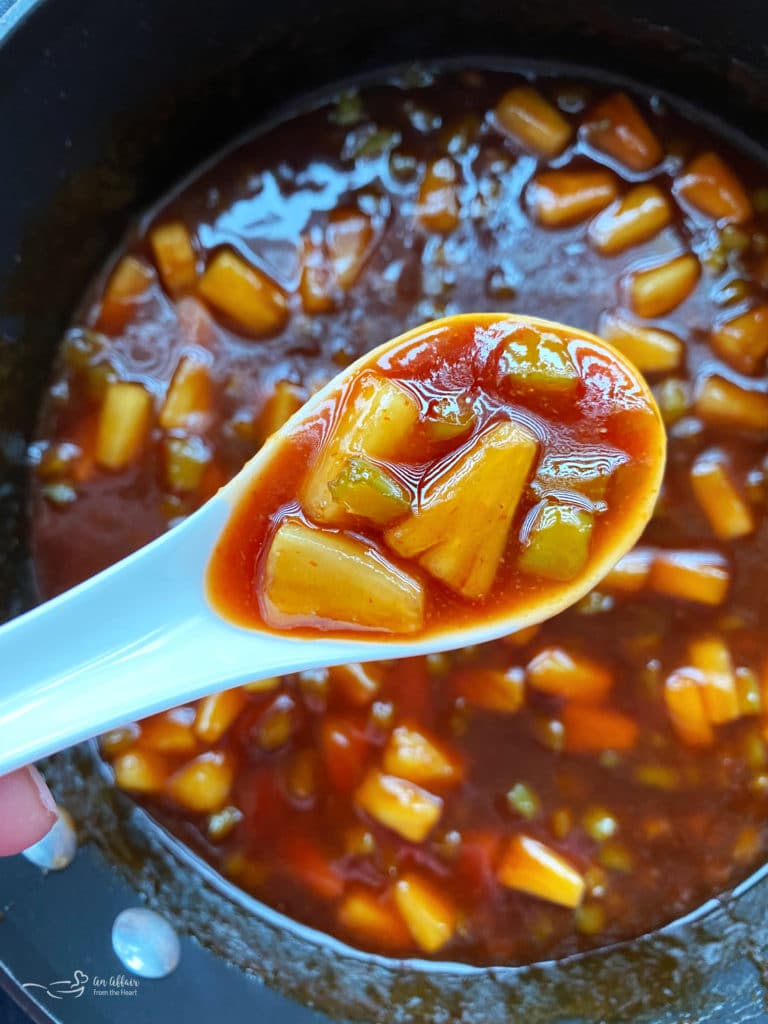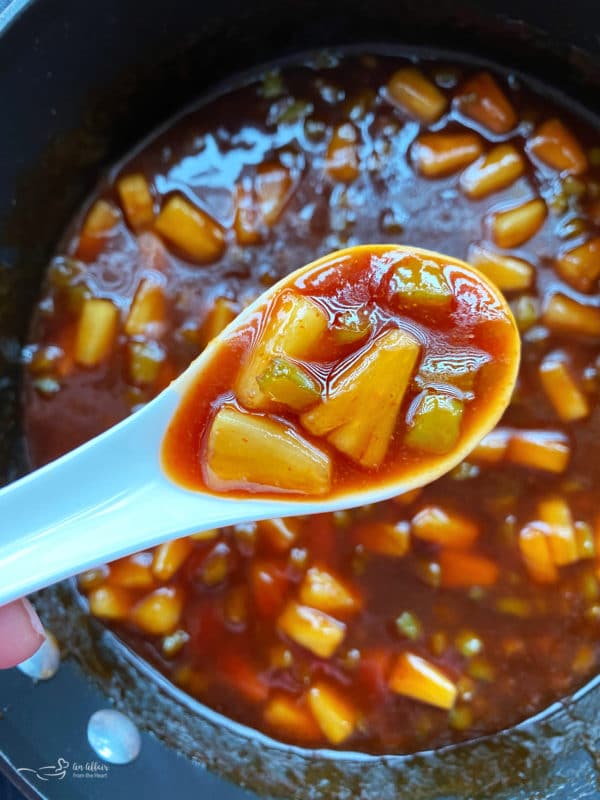 Sure, you can just eat them all on their own, like you would any chicken nugget from the freezer. But you would wonder who I was if I wasn't trying to shake things up a bit, wouldn't you? I get tired of eating the same thing all of the time, don't you?
So I thought, what if I made a sauce that would transform these into that well-loved Chinese classic, Sweet & Sour Chicken? This is one Chinese Take-Out Fake-Out recipe that you and your family are sure to adore!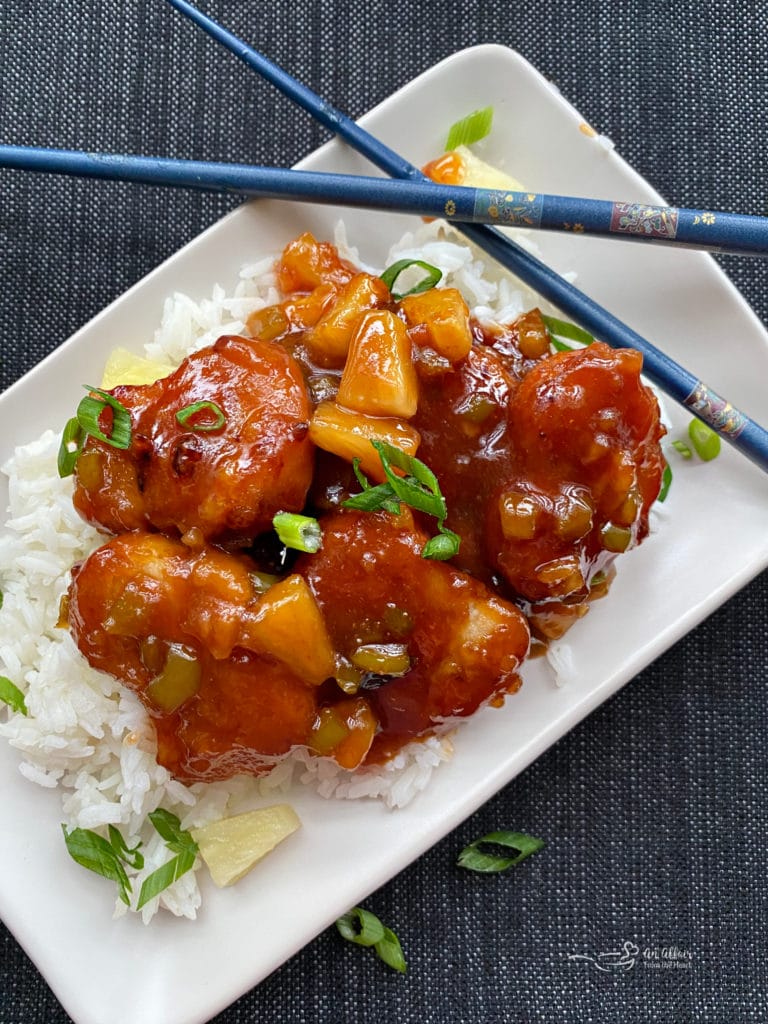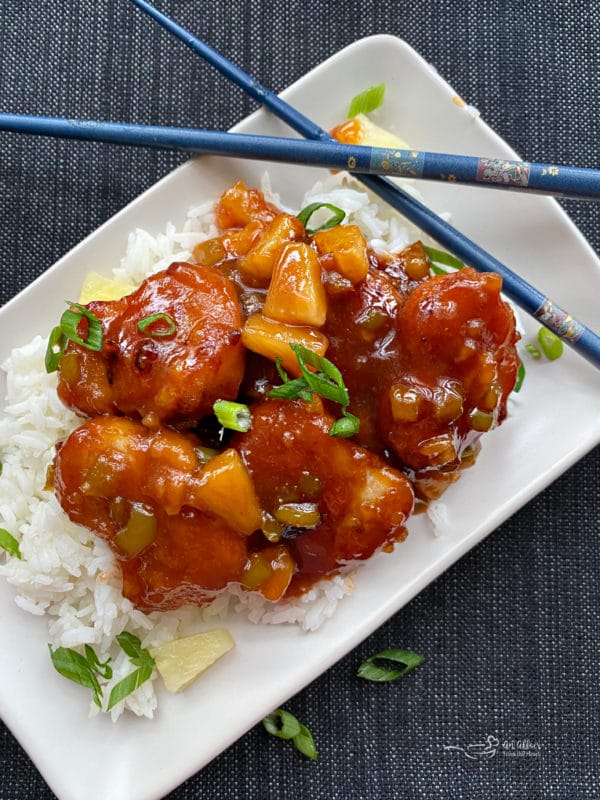 Why You're Going to Love This Recipe
Full of Flavor: Tender and crispy chicken is coated in a savory and sweet pineapple glaze that will make you never want to eat takeout Chinese food again.
Quick: This recipe is perfect for when you're short on time, but want to bring something delicious to the table. It's the perfect option for quick dinners or lunches!
So Easy: These fool-proof steps could not be any easier! When it comes to instructions, this sweet & sour chicken nugget skillet is about as basic as it gets.
Family Friendly: Have picky eaters? Even kids can't resist this recipe made with chicken nuggets! That sweet sauce they will come back for is also full of fruit and some veggies, too!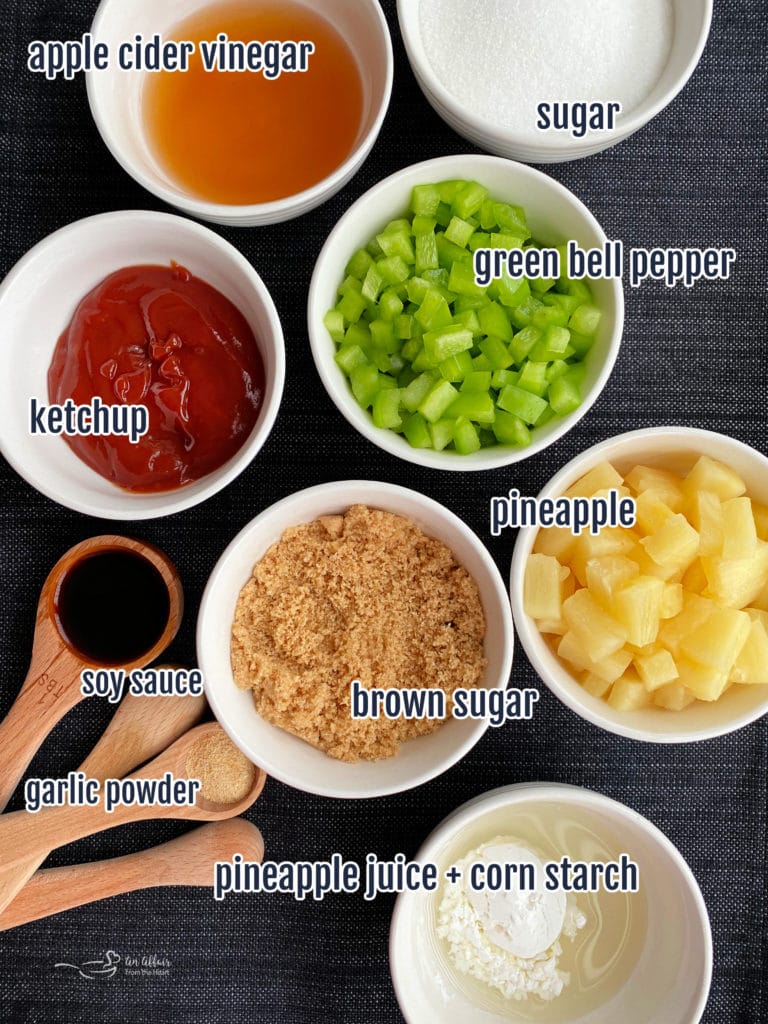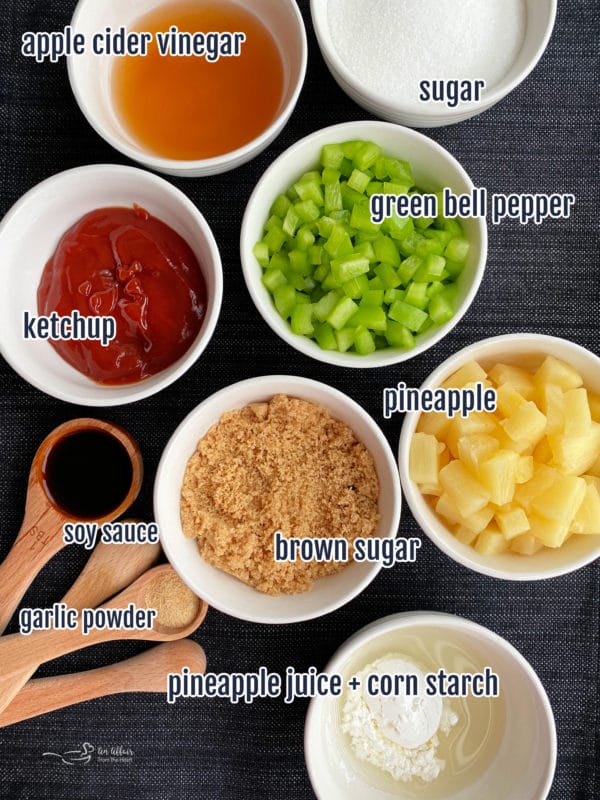 Ingredients for Sweet & Sour Chicken
This is just a list of the ingredients. You can find the full measurements in the recipe card below.
Bell peppers: I used green bell peppers.
Sugar: You will need both brown and granulated white sugars for this sweet & sour chicken.
Ketchup: A hearty and robust addition to the pineapple sauce!
Vinegar: Apple cider vinegar is what I used and can be found at your local market.
Garlic powder
Soy sauce
Pineapple: Make sure to separate the pineapple tidbits and the juice. You will need both!
Cornstarch
Sesame Oil (not pictured)
Great American Comfort Classics Chicken & Waffle Bites: Cooked according to the package's instructions.
Optional: Sliced green onions and cooked rice for serving.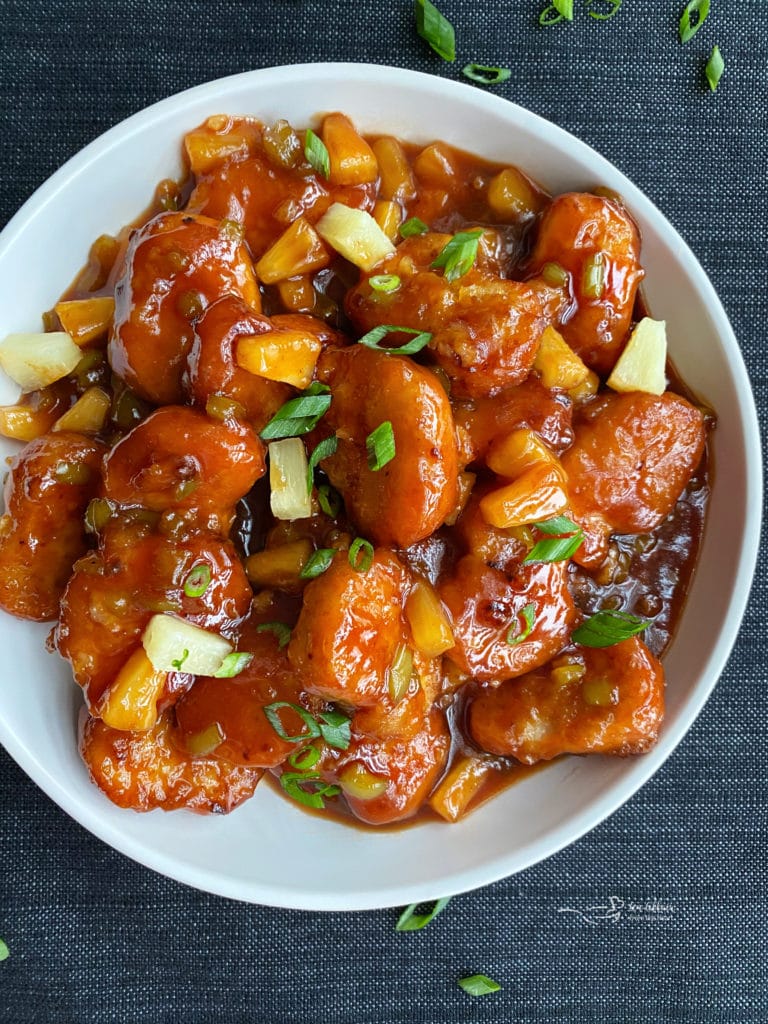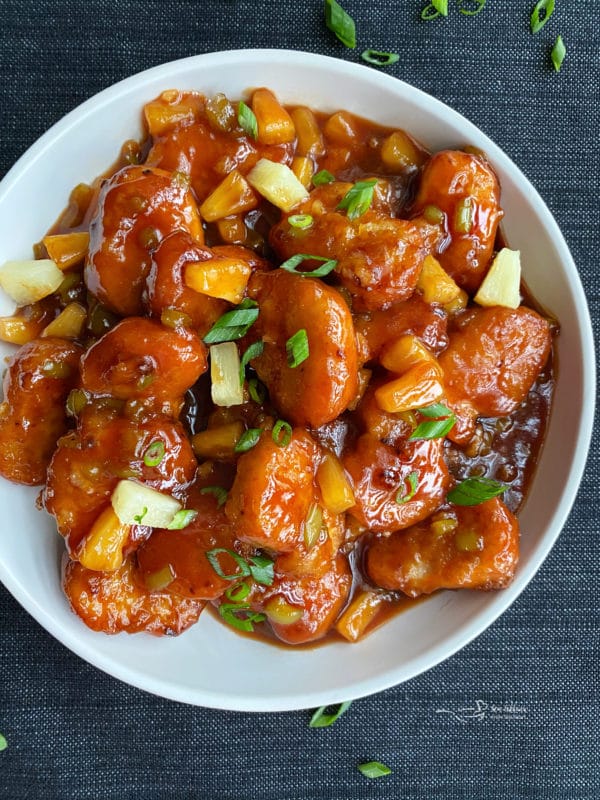 How to Make Chinese Sweet & Sour Chicken
You will love all the shortcuts in this simple weeknight meal recipe!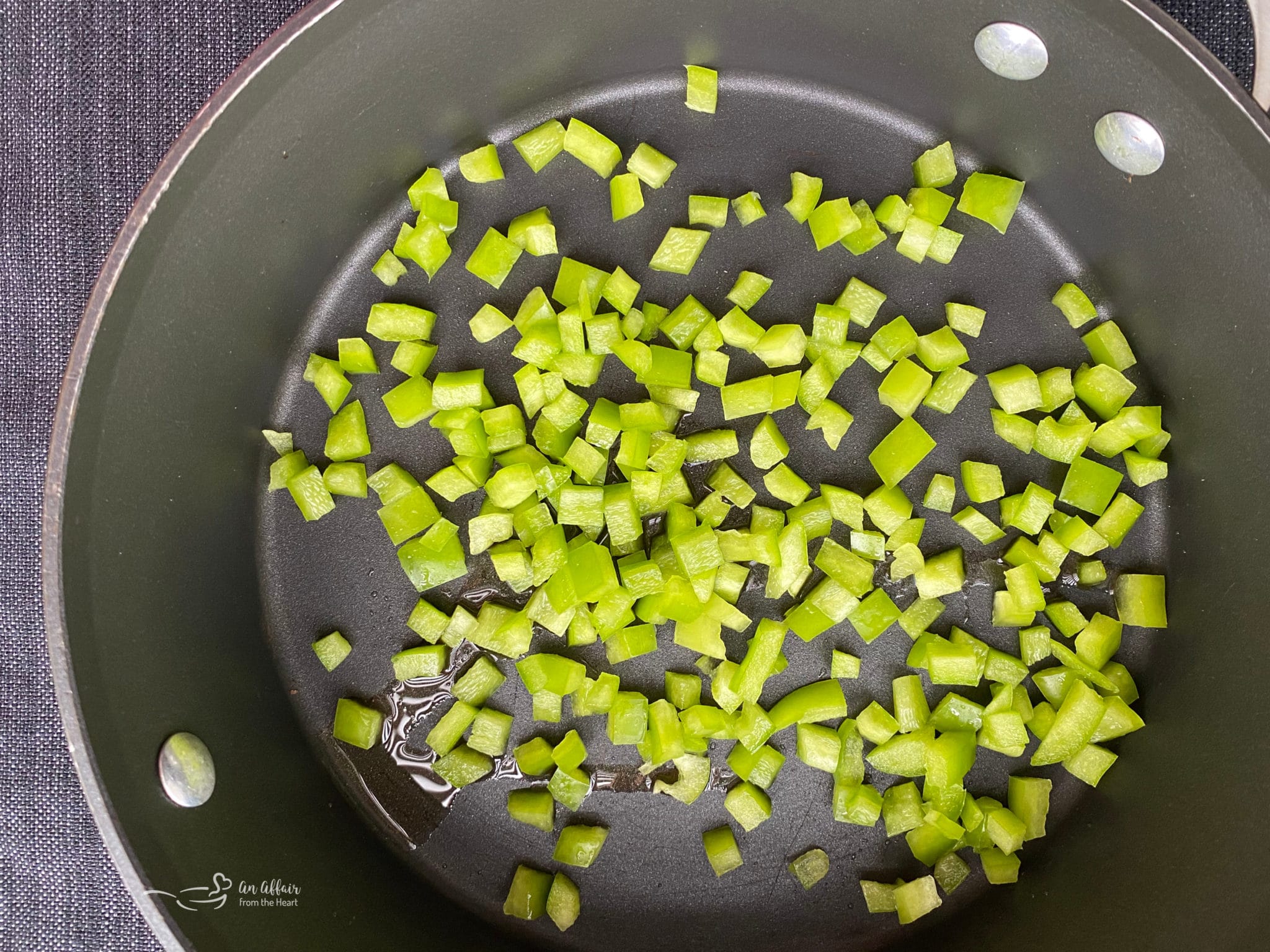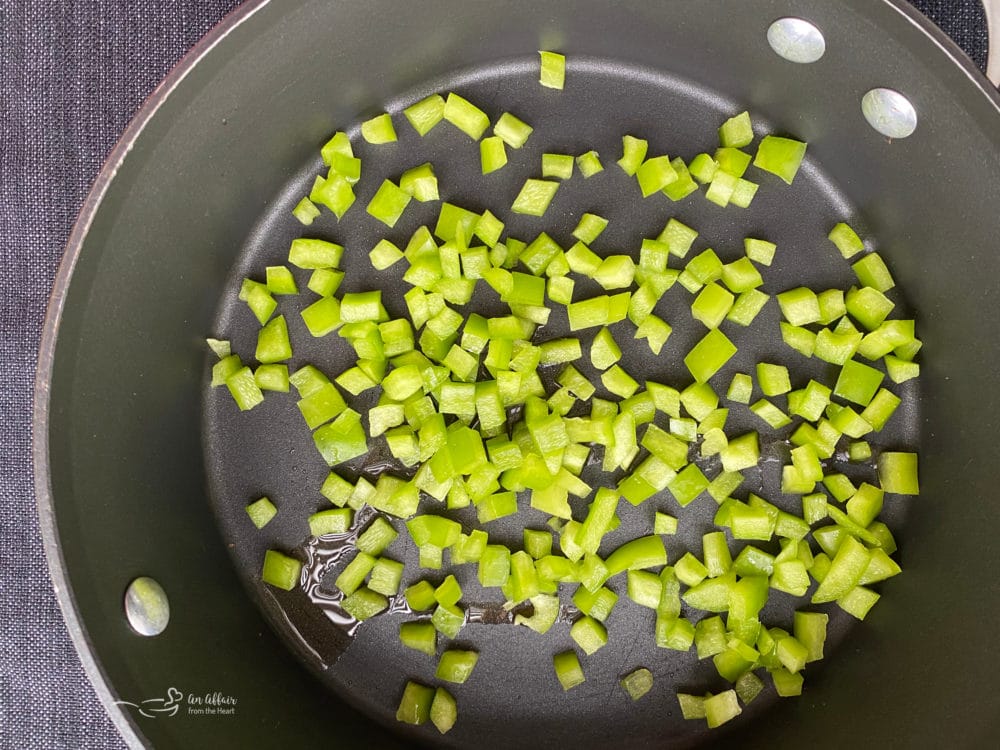 Step 1
Sautè the Peppers: First, heat oil in a skillet over medium-high heat. Next, add the peppers to the skillet and sautè.

Step 2
Whisk the Sauce: Combine sugars, ketchup, vinegar, garlic powder, and soy sauce together.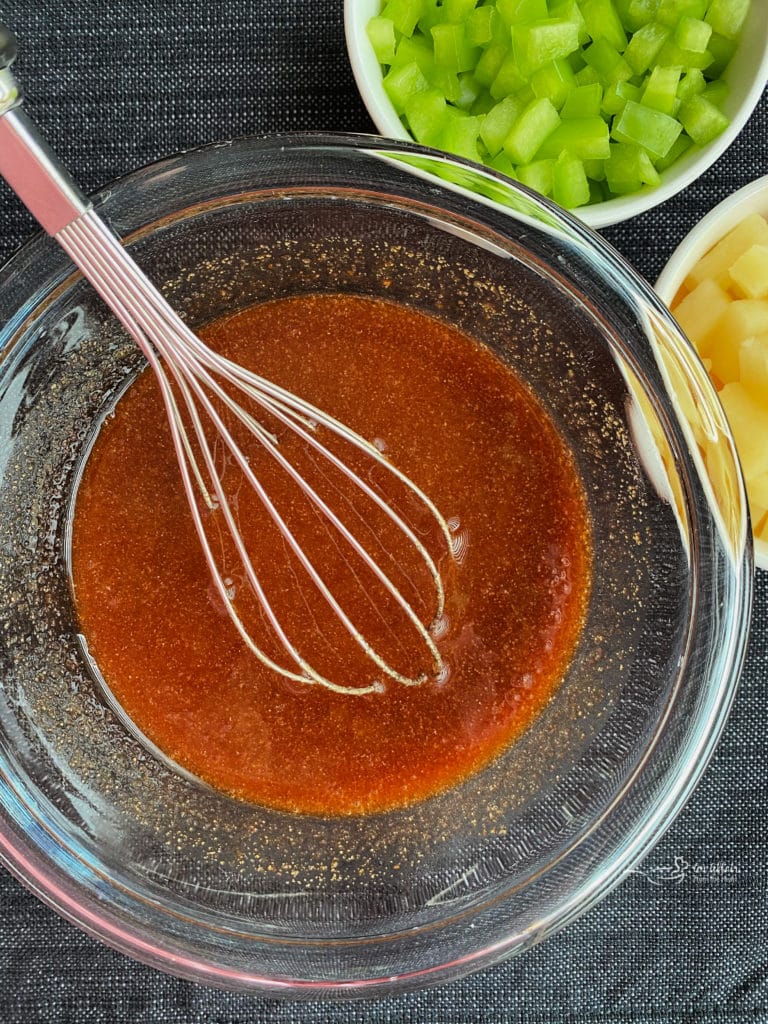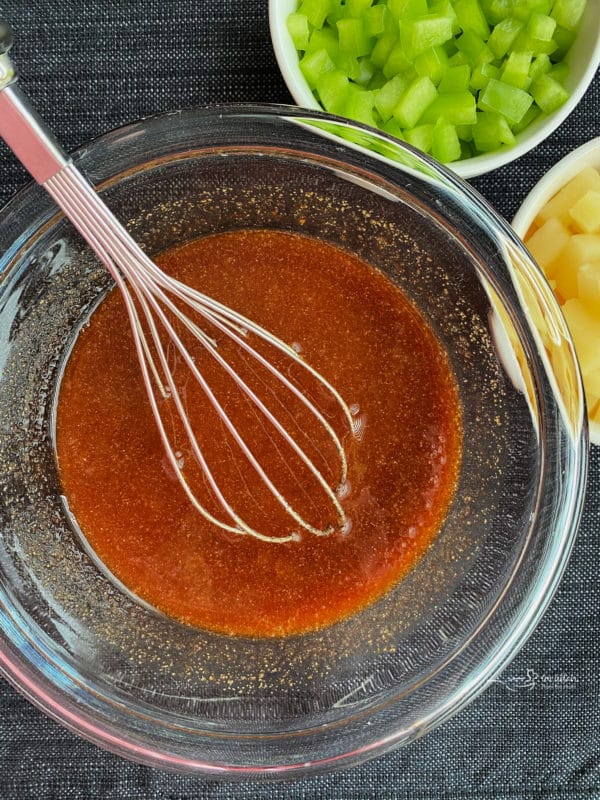 Whisk until incorporated.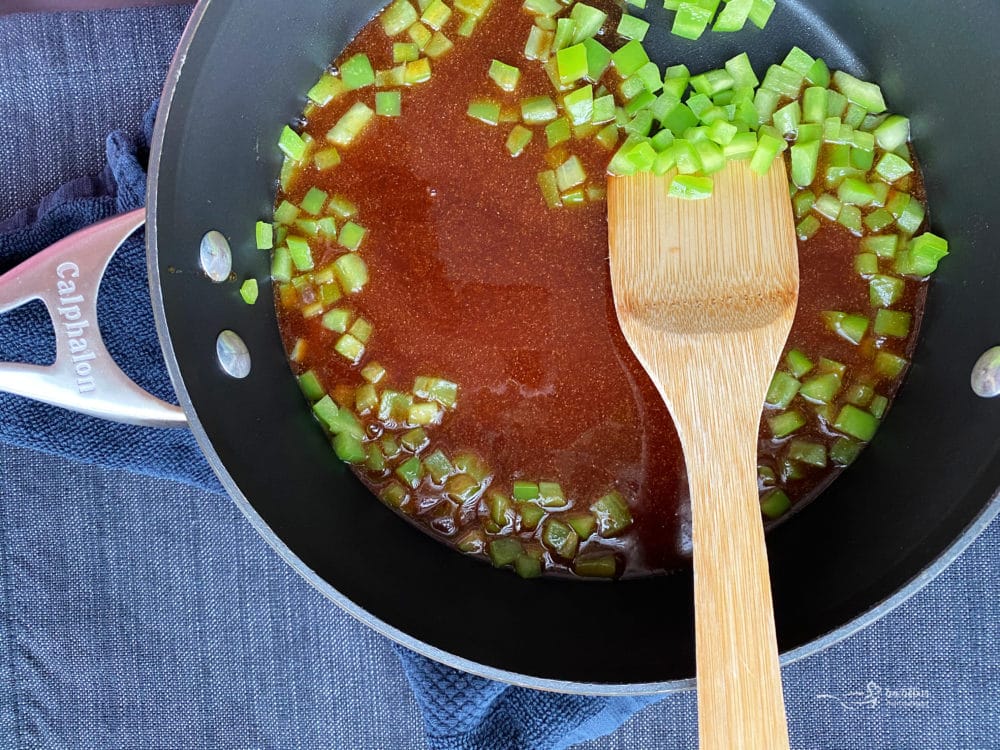 Then, add the mixture to the peppers in the hot skillet and stir.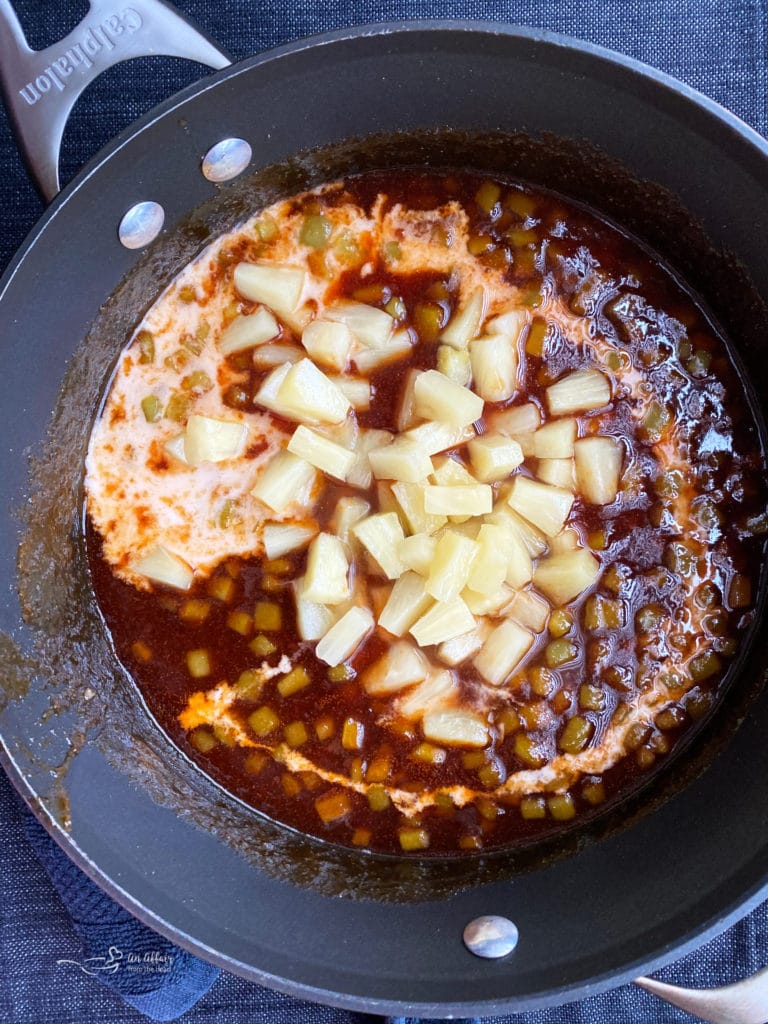 Step 3
Add the Pineapple: Next, add in the pineapple. Then, add the juice and cornstarch mixture. The sauce will begin to thicken quickly.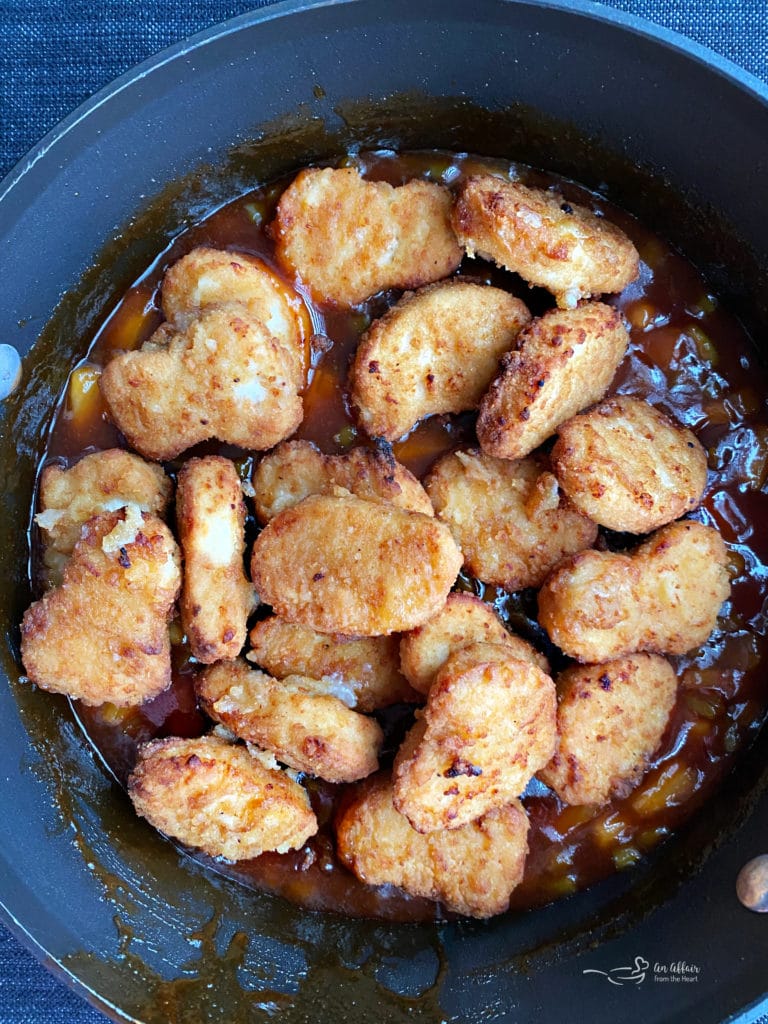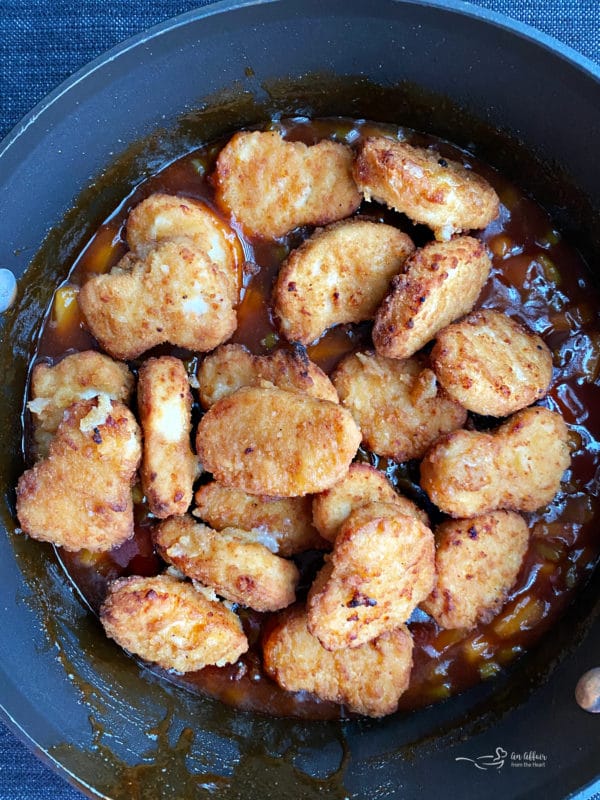 Step 4
Stir in the Chicken: Finally, carefully fold in prepared chicken bites until coated.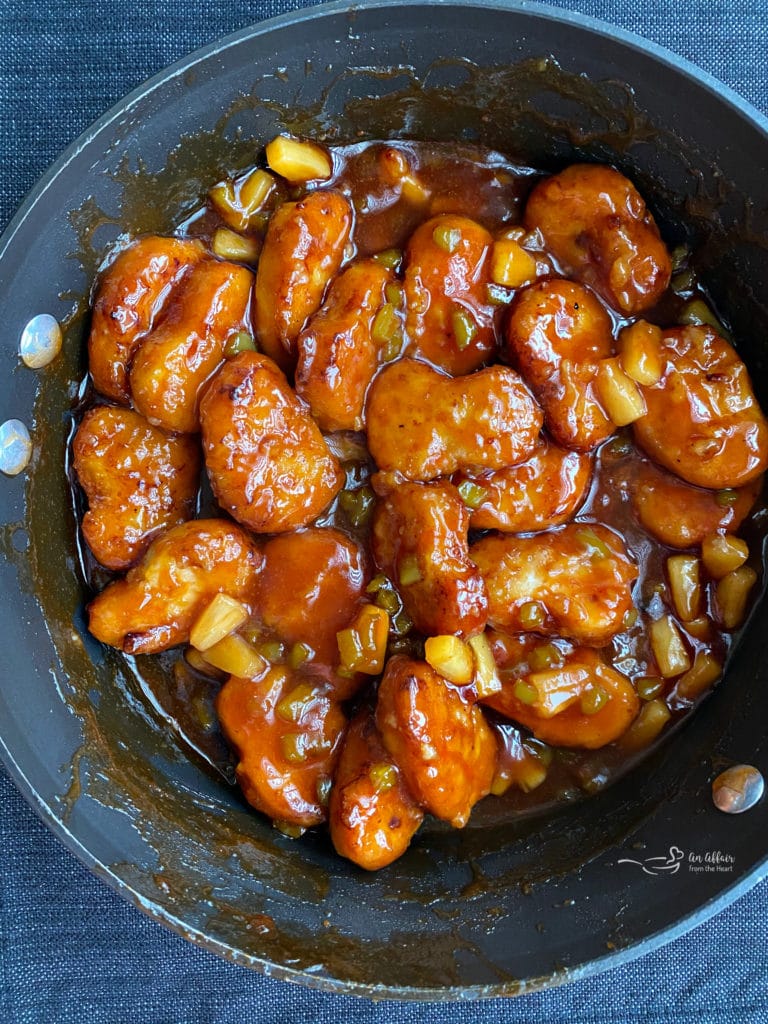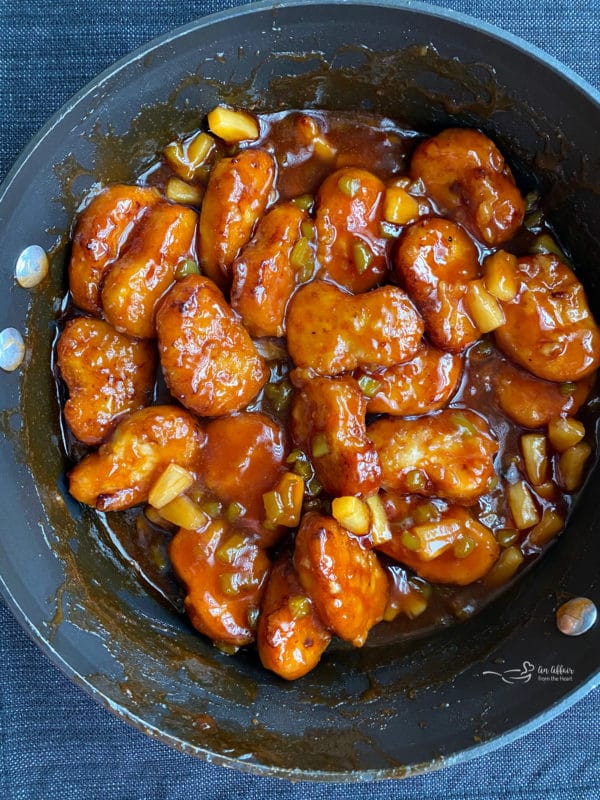 Get ready to eat!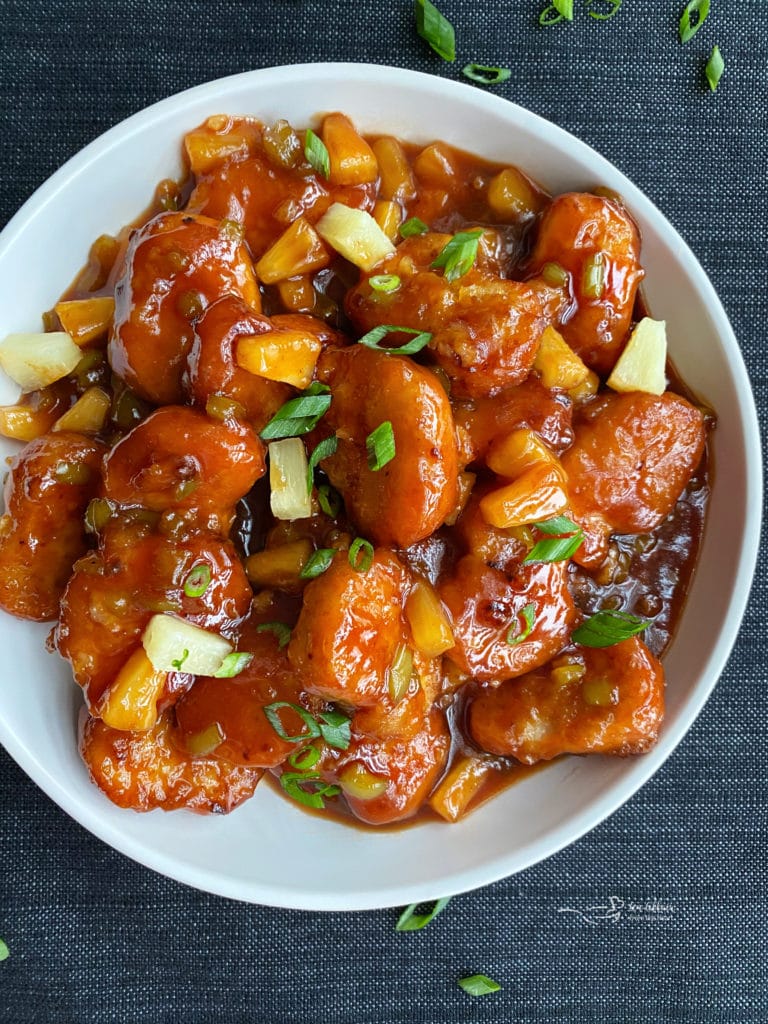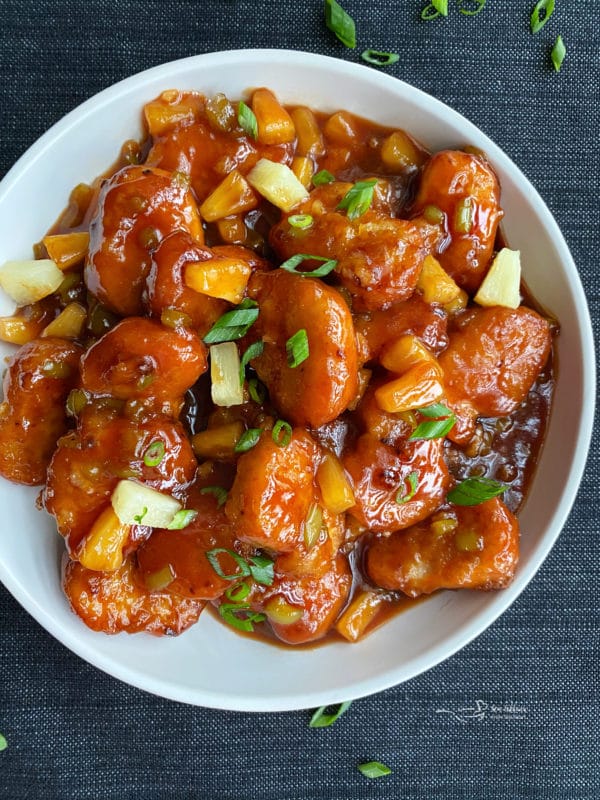 Garnish with green onions if desired. Enjoy!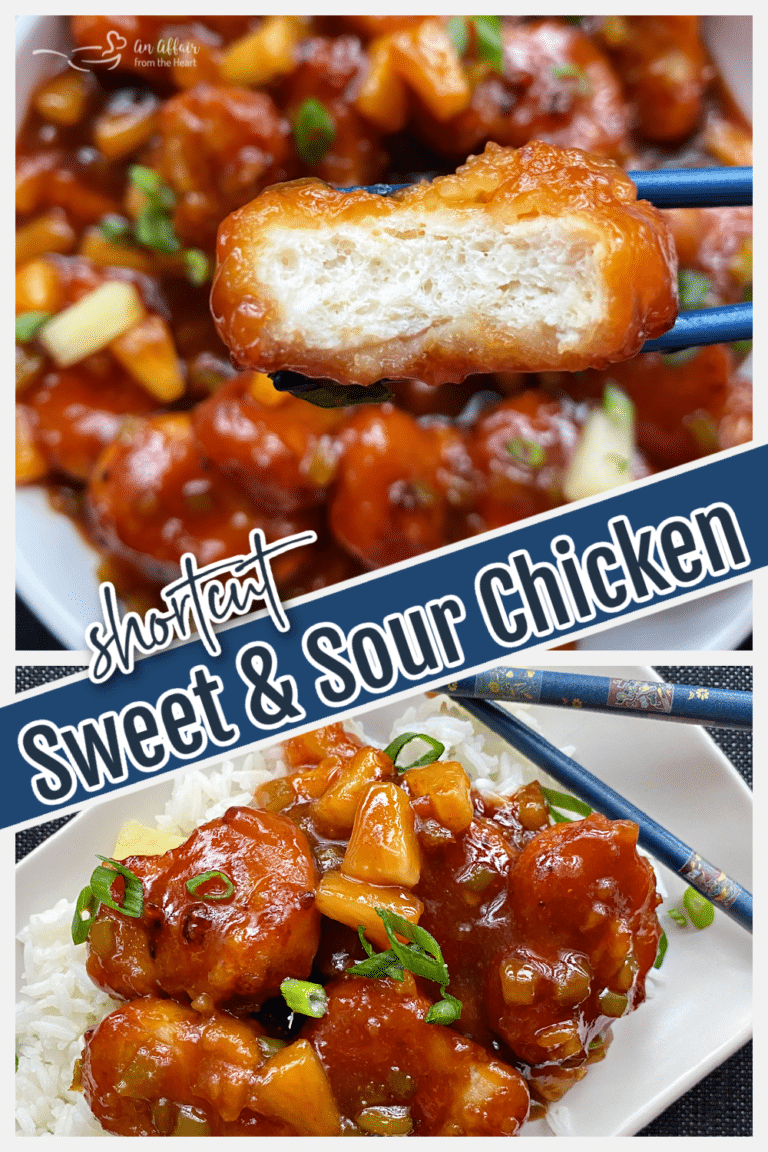 LOVE IT? PIN IT!
Make sure to save this sweet & sour chicken recipe on your Pinterest board before you go! Keep it for your next dinner idea.
Shortcut Sweet & Sour Chicken Tips and Tricks
Store the leftovers in an airtight container in the refrigerator for up to four days.
Feel free to use any colored bell peppers for this recipe.
For a healthier version, serve this sweet & sour chicken with cauliflower rice.


GREAT AMERICAN COMFORT CLASSICS
I was recently asked to try some new convenience items at my local HyVee supermarket. Comfort Classics, under the Great American brand, is a new line of fully cooked protein comfort food classics. The collection has Southern Style Chicken Breast Fillets, Meatloaf Slices, Crispy Steak Strips, Country Fried Steaks, and Chicken & Waffle Style Bites.
All of the Comfort Classics items were made with savvy parent consumers in mind, addressing the need for high quality, good tasting, convenient ways to prepare meals for their families. It's perfect for when moms and dads are busy with work, kids, life in general and they don't always have the time to cook, but are trying to stay out of the drive-thru, and just want to gather around the dinner table and enjoy some much needed family time after a busy day.
Comfort Classics has a nice variety of proteins to choose from that can be prepared in the oven, microwave, or air fryer, for a meal that is ready in minutes!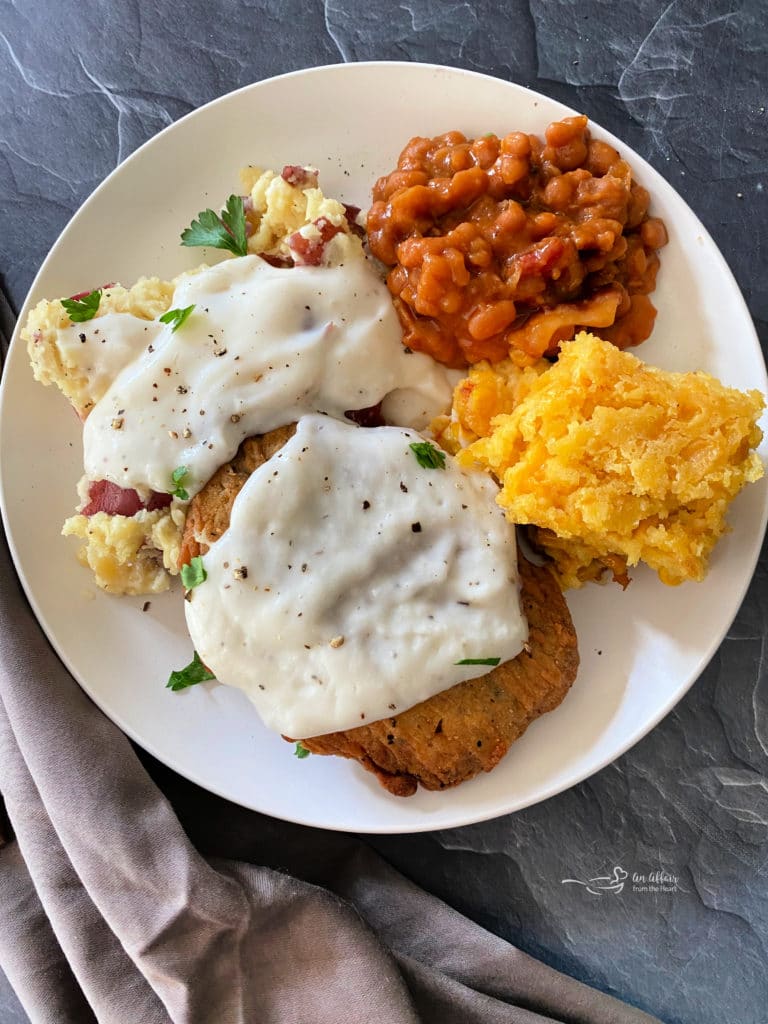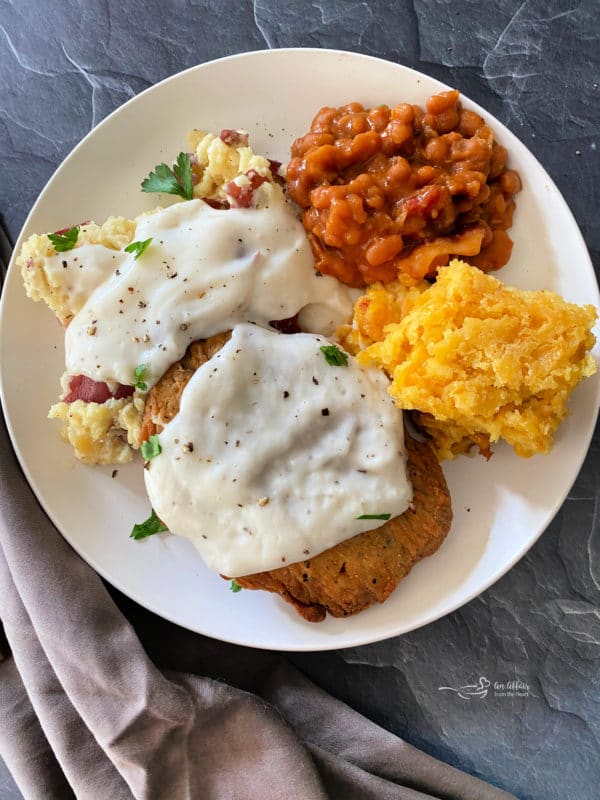 Last month, I shared this comfort meal of Corn Pie, mashed red potatoes, and my Grandma's Pork 'n Beans recipe along with Comfort Classics Country Fried Steak and Gravy.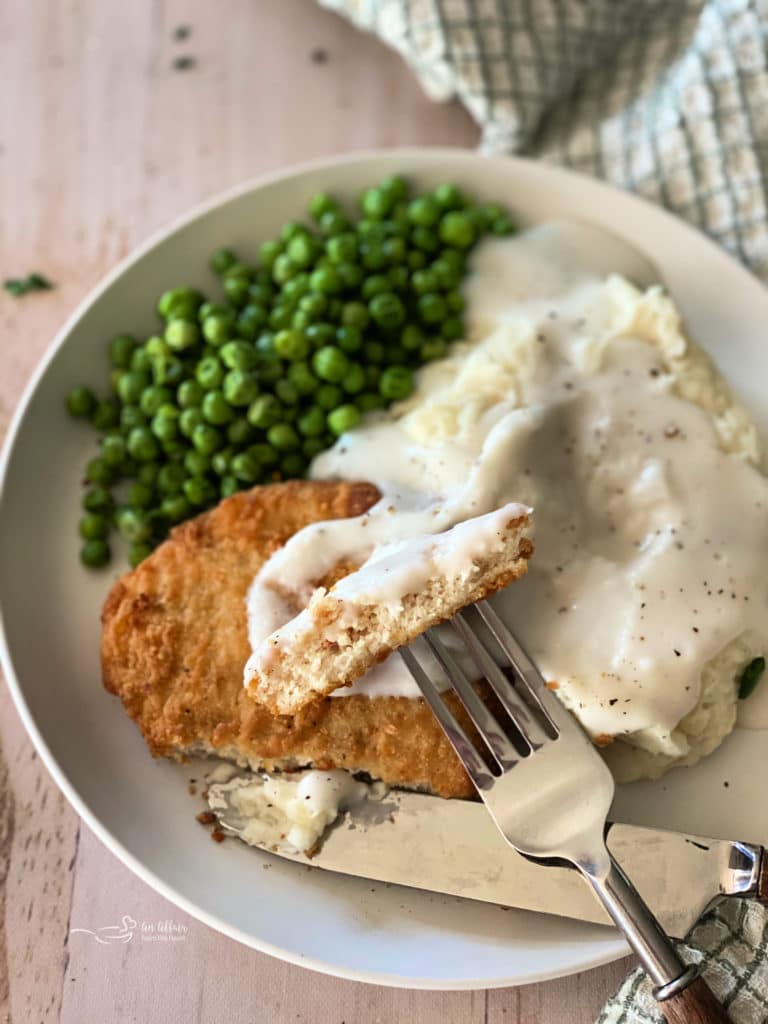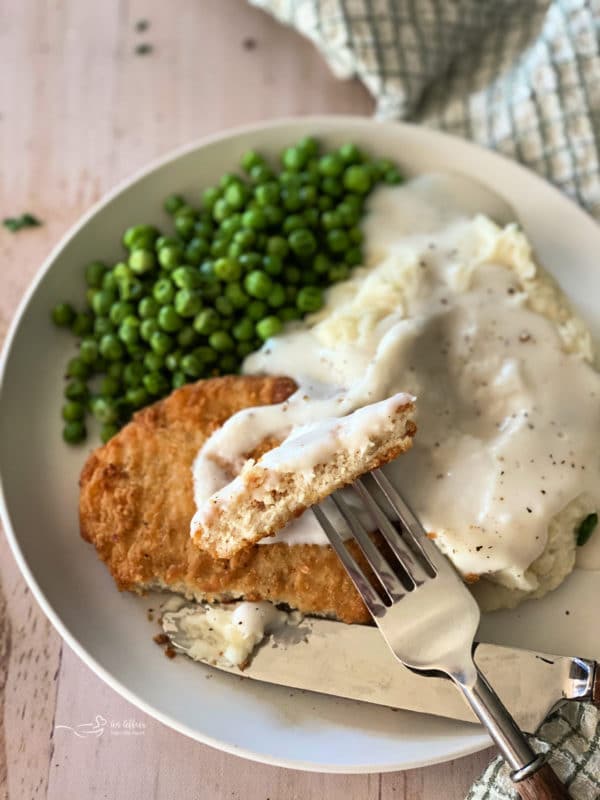 In April, I made this meal using their Southern Fried Chicken Fillets. I showed how this comforting meal of breaded chicken fillets, a green veggie, and my Slow Cooker Mashed Potatoes and Comfort Classics gravy was on the table in about 45 minutes! You heard right, 45 minutes to this Sunday supper quality meal.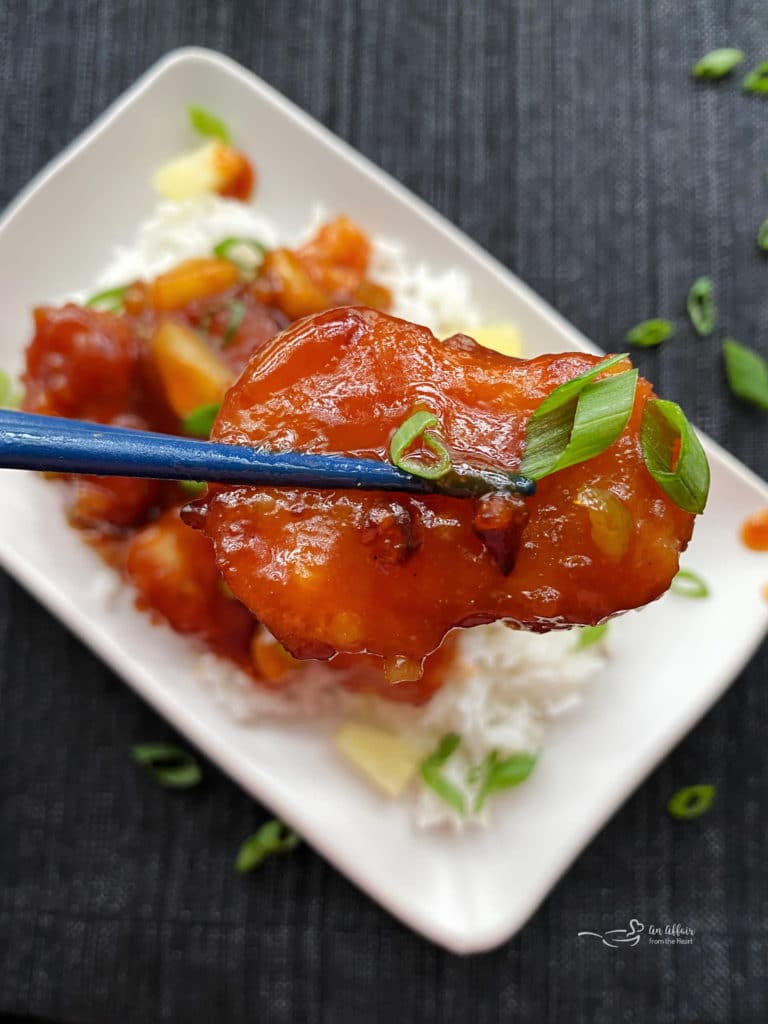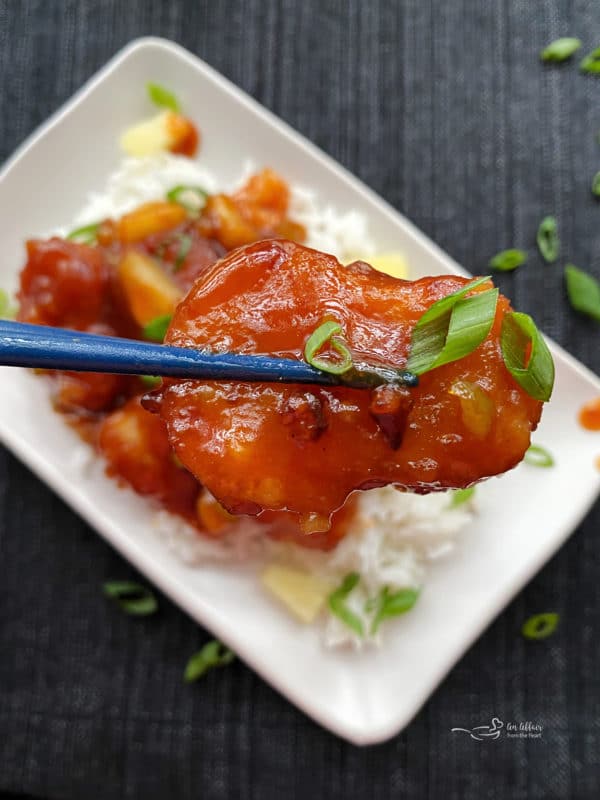 This month, I decided to go a different route, and instead of showing you some comforting simple side dishes to go with their delicious protein options, I decided to show how you can take one of their already tasty products, and turn it into a meal that you may not have even considered making at home.
Keeping things simple, and yet thinking outside the Chinese take out box a bit.
WHERE YOU CAN FIND GREAT AMERICAN COMFORT CLASSICS
Great American Comfort Classics launched its new line at select Hy-Vee stores in Omaha and neighboring Midwest states in April 2021. You will find Comfort Classics in the frozen aisle. But never fear, if you don't live near here, your local supermarket may carry the brand, too! You can find out by checking Great American Brand's website for more details.
But what if you don't see your location listed? If you want to see these delicious comfort food classics in your store, fill out a comment card or ask the store manager if they can get them in for you, and be sure to follow Great American Comfort Classics on their Facebook page for more information and recipes.
More Asian-Style Recipes You Will Love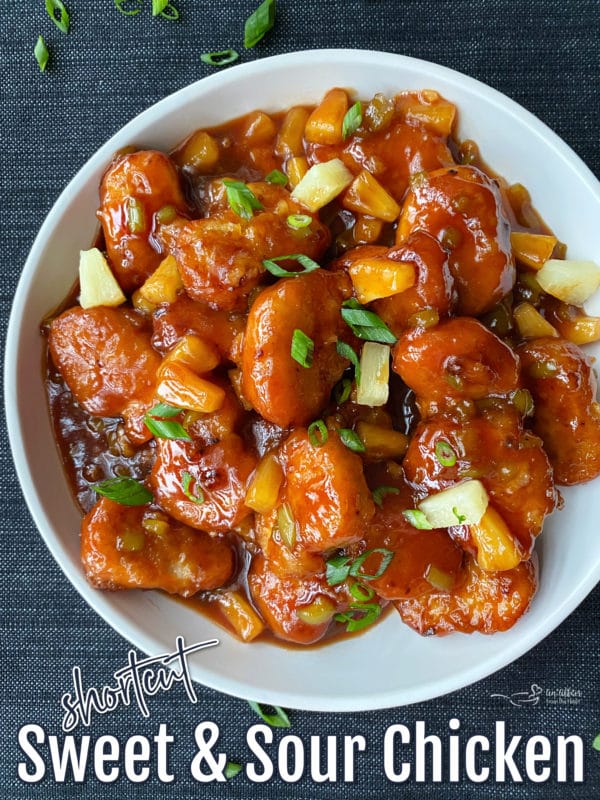 Let's make some shortcut Sweet & Sour Chicken!

Yield: 4 servings
Easy Sweet & Sour Chicken Recipe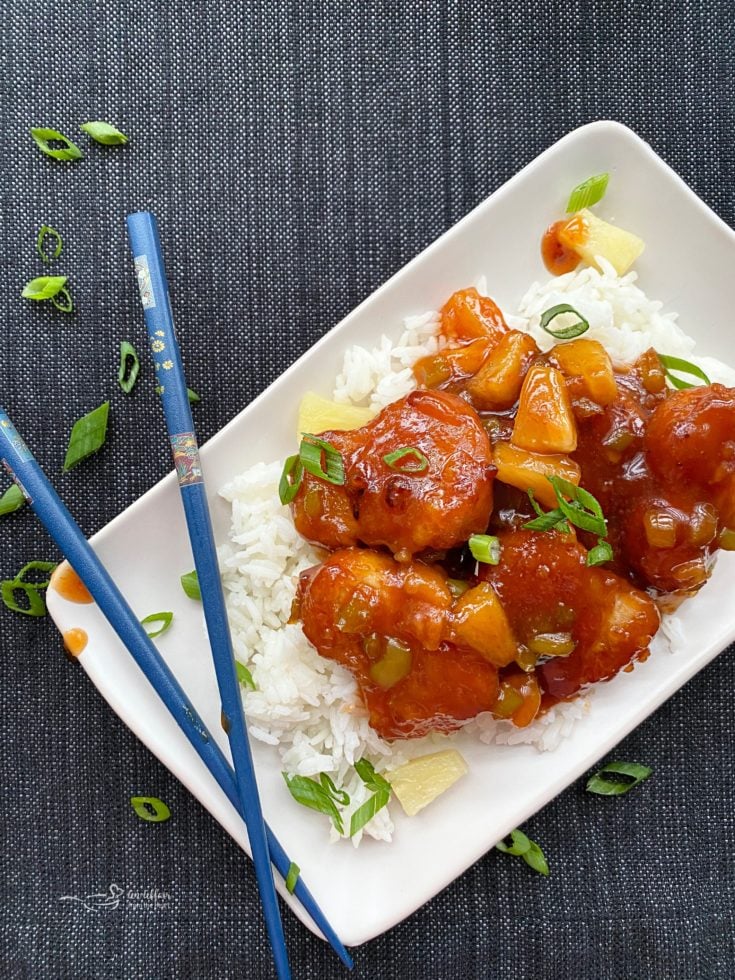 Ingredients
1 cup green bell pepper, diced
1-2 teaspoons sesame oil
2/3 cup sugar
1/3 cup brown sugar
1/3 cup ketchup
1/3 cup apple cider vinegar
2 Tablespoons soy sauce
1 1/2 teaspoons garlic powder
8 ounces (1 cup) pineapple tidbits, drained - reserve juice
2 Tablespoons pineapple juice combined with 2 Tablespoons cornstarch
1 bag Great American Comfort Classics Chicken & Waffle Bites, cooked according to package instructions
green onions for garnish, optional
prepared rice for serving, optional
Instructions
Heat oil in a skillet over medium high heat. Add in peppers and saute for about 5 minutes.
Whisk together sugars, ketchup, vinegar, garlic powder and soy sauce. Add to the skillet and stir until sugars disolve.
Add in pineapple.
Add in juice/cornstarch mixture and sauce will thicken quickly.
Stir in prepared chicken bites until coated and serve over rice.
Garnish with green onions if desired.