This quick and easy Teriyaki Chicken Casserole can be on your table in no time, served right from the skillet you prepared it in, less fuss, less cleanup, full of veggies, chicken, and homemade Teriyaki sauce, baked over rice. Delicious, simple at-home Asian fare.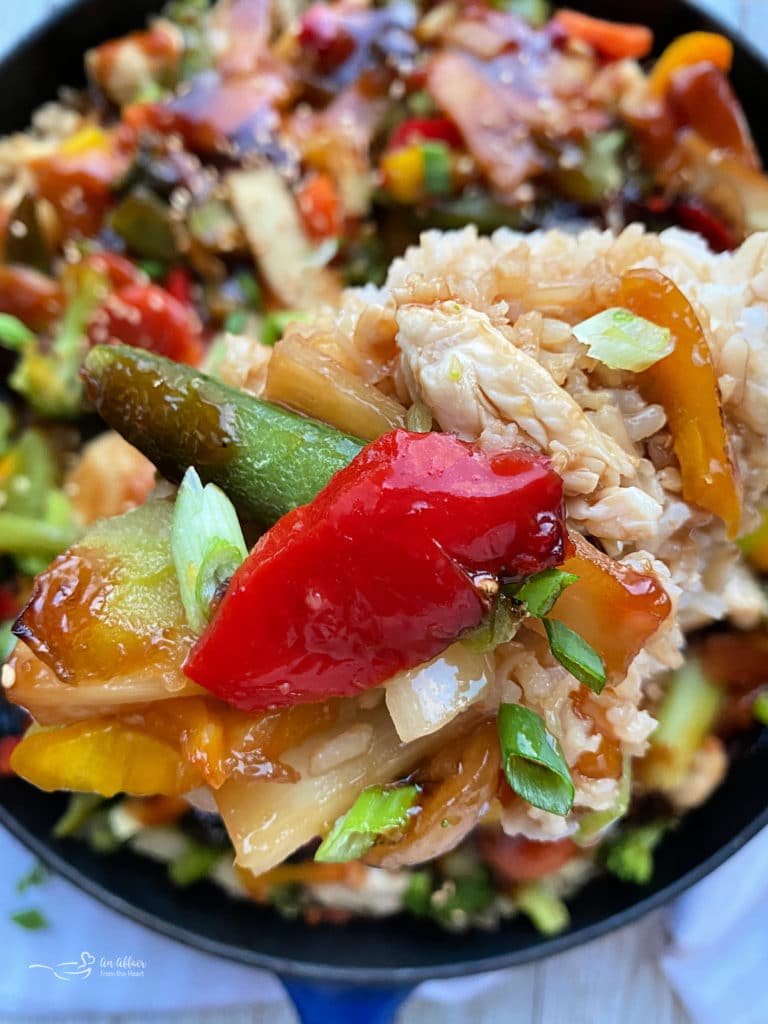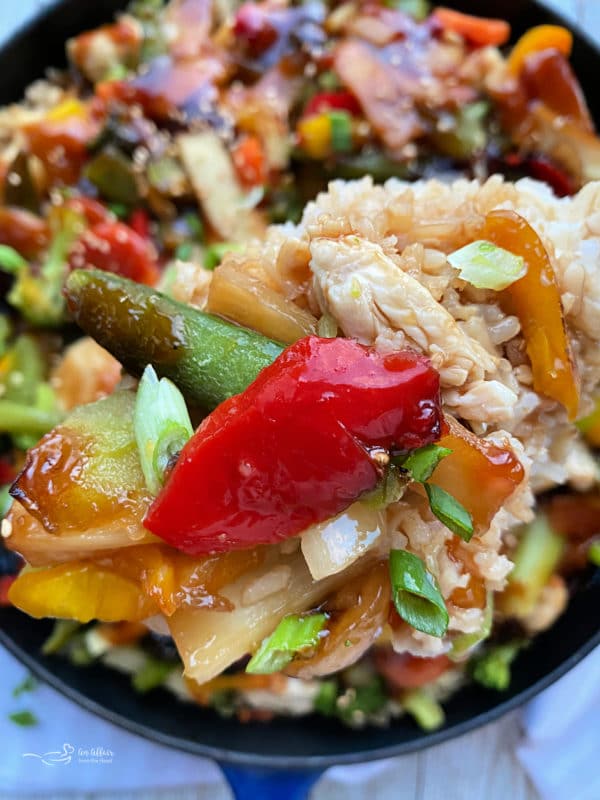 Teriyaki Chicken Casserole
We love Asian food of any kind in our house, and like I have mentioned before, typically it's something we order when Mama needs a night off. I do, however, like to throw together stir fry every now and again, and try something new when I am in the mood for a little Asian fare.
It's been years since I first made this Chicken Teriyaki Bake, and it's a go-to of mine, especially on crazy weeknights when I don't have a lot of time to make something for dinner. Plus, I can feel good about serving it (and eating it!) It's full of veggies, I use brown rice and chicken breast meat, so it doesn't break the calorie bank either!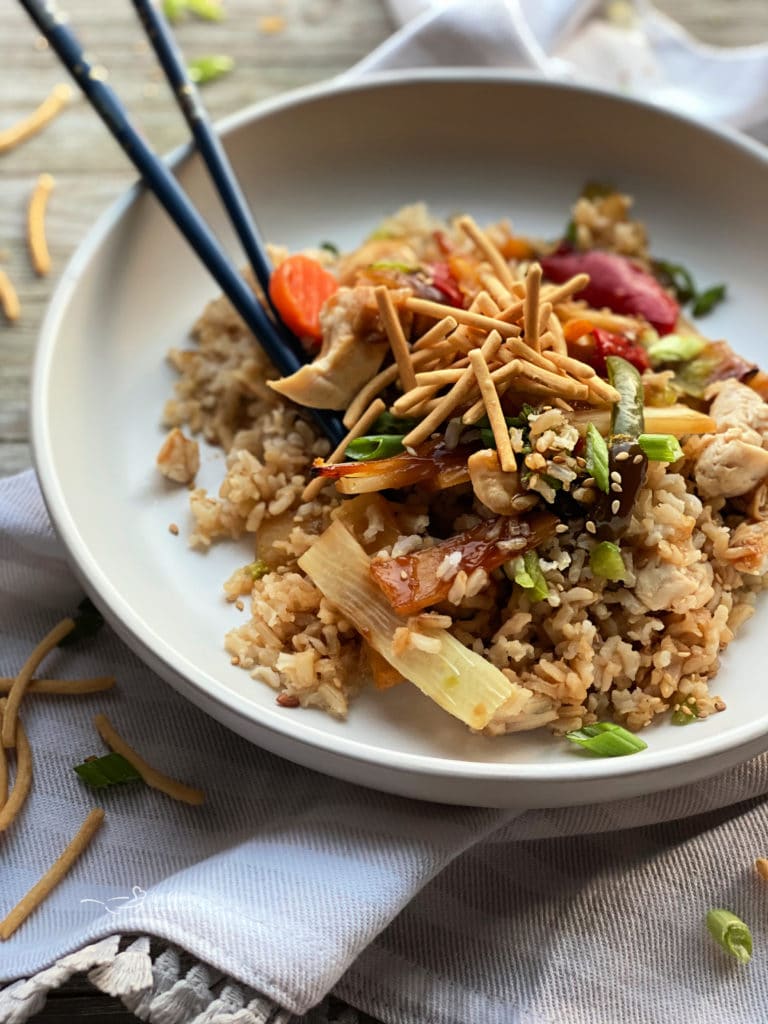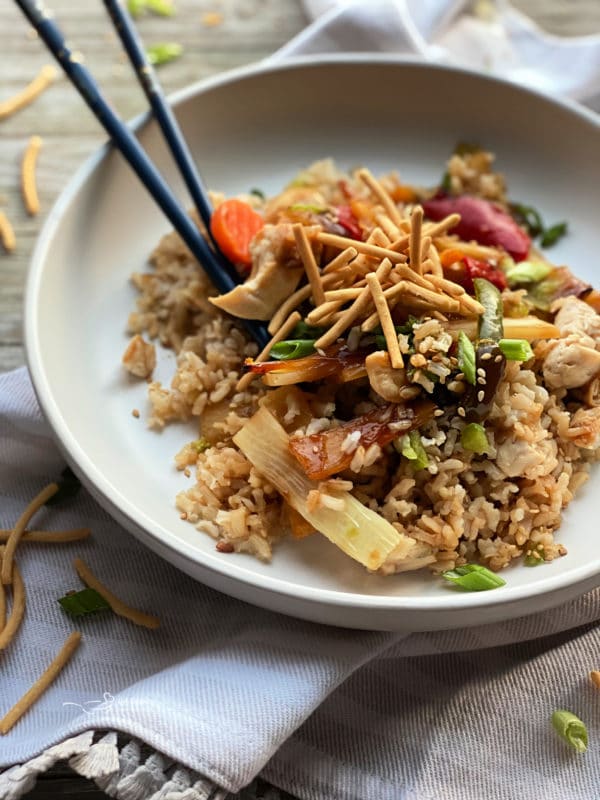 Do you cook chicken before putting it in Teriyaki Chicken Casserole?
I do. This baked teriyaki chicken recipe begins with uncooked chicken breasts that I prepare in the same skillet that I bake the chicken casserole in. It also works with leftover chicken, or even a store-bought rotisserie chicken to make it even simpler.
You can use raw chicken in a casserole, but you will need to increase the cooking time and make sure that the chicken reaches an internal temperature of 165 degrees F to make sure that it is safe to eat. You can do this by using a meat thermometer.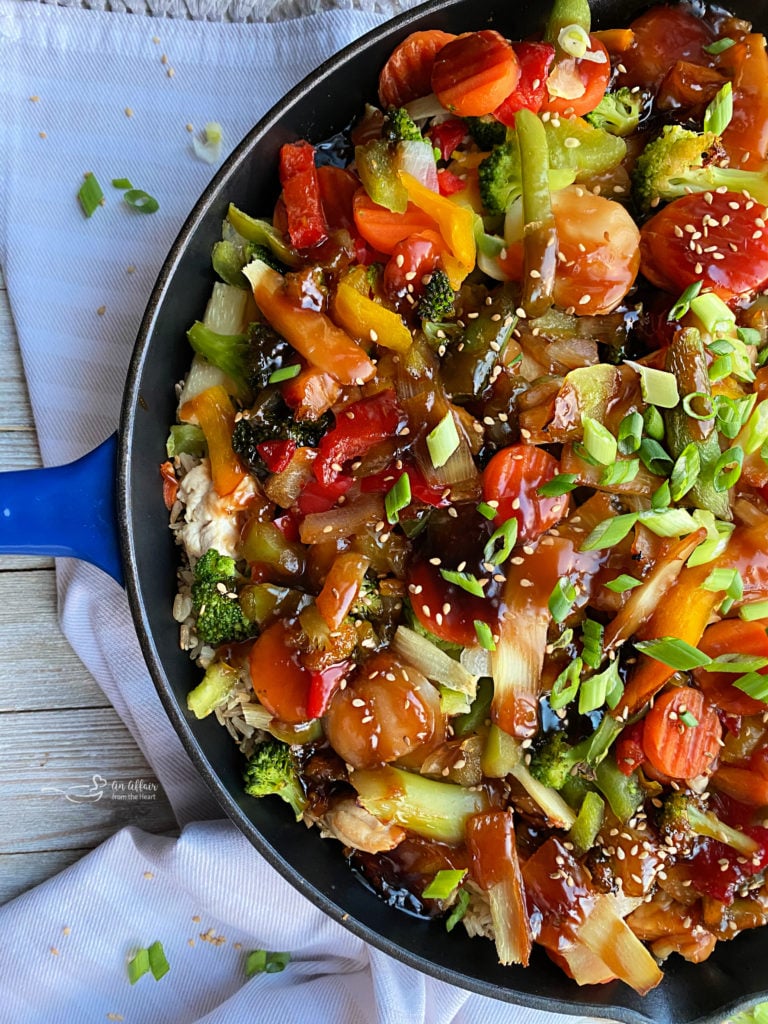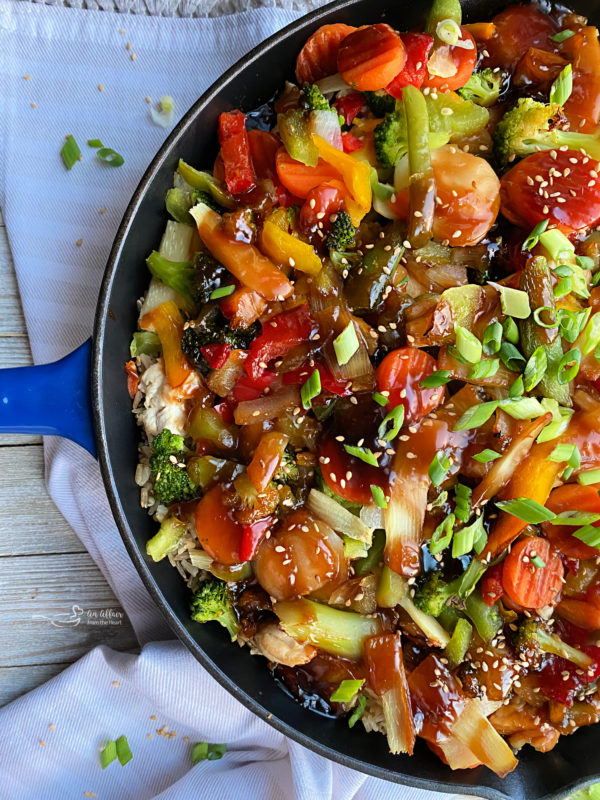 What vegetables to Use in Chicken Teriyaki Skillet Casserole
I honestly switch it up based on what I have on hand. But I always use frozen veggie in this casserole, it adds to the convenience of it, that is for sure! My favorite way to eat it with one bag of frozen bell peppers and onions and a bag of mixed veggies that contains carrots, broccoli, snap peas, and water chestnuts. I also toss in a can of bamboo shoots when I have them because I love the crunch they give it!
Ingredients in Teriyaki Chicken Casserole
As I said, you can easily adapt this recipe to what you have on hand, so feel free to make it your own. Here is what I use:
about 1 1/2 pound of chicken breasts, cubed (if you prefer dark meat, try using chicken thighs
3-4 cups brown rice (white rice, jasmine, and basmati rice are all good options)
20-24 ounces of frozen veggies, your choice
Sesame oil (I highly recommend you invest in a bottle if you don't have it. It makes this teriyaki casserole!)
To make Teriyaki Sauce from scratch you'll need: water, soy sauce, brown sugar, honey, ground ginger, sesame oil, minced garlic, and corn starch
Begin by cooking chicken in sesame oil in your cast iron skillet. When it is cooked through, remove it from the skillet, spread prepared rice in the bottom, and add the chicken back in.


Next, arrange frozen vegetables on top of chicken and rice, pour prepared teriyaki sauce over the top of the vegetables and bake.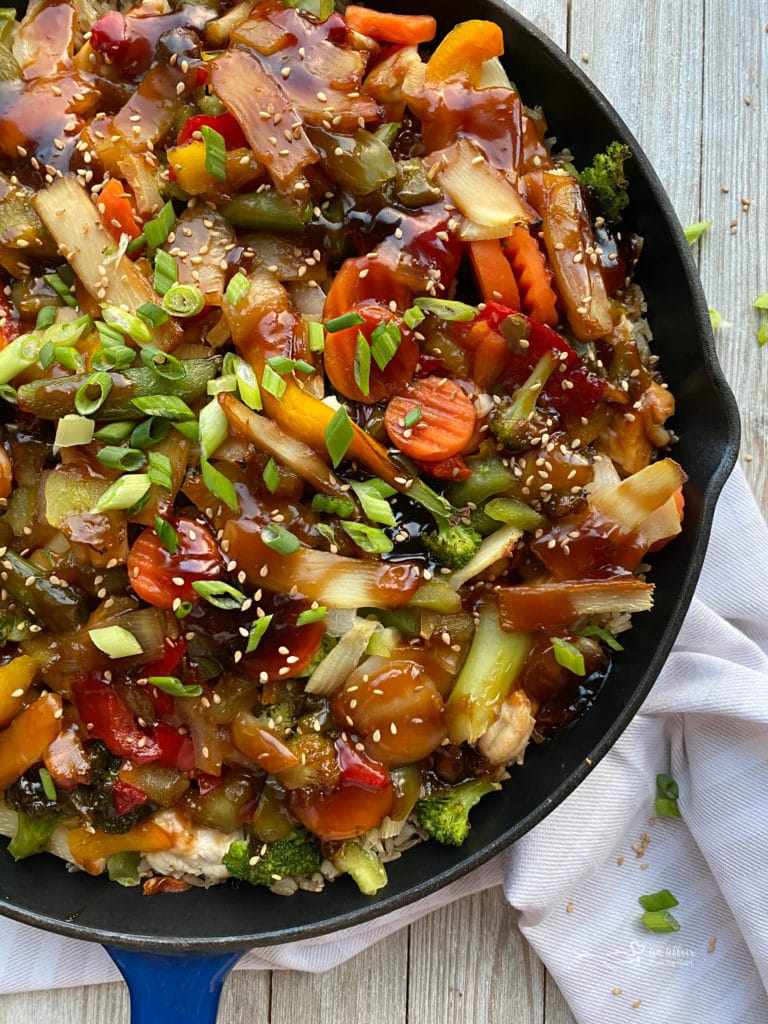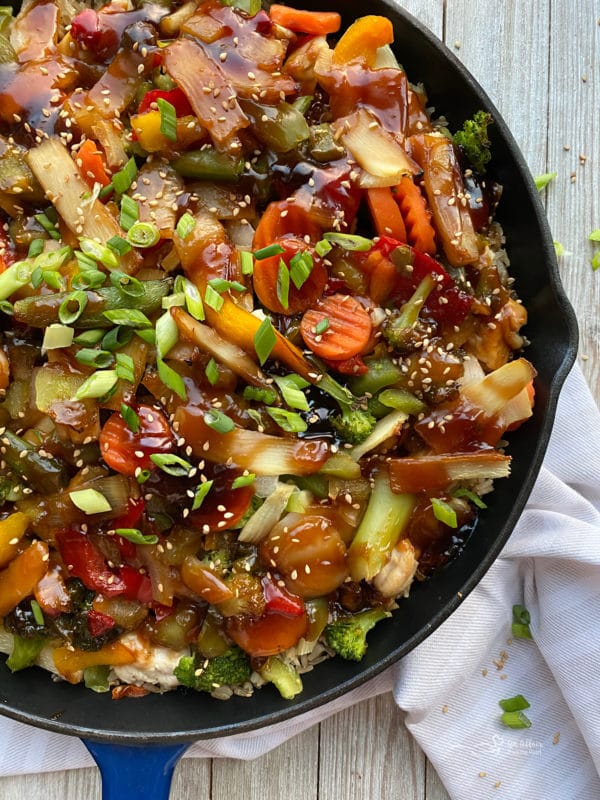 Top with sesame seeds and sliced green onion.
the full printable complete recipe is at the bottom of this post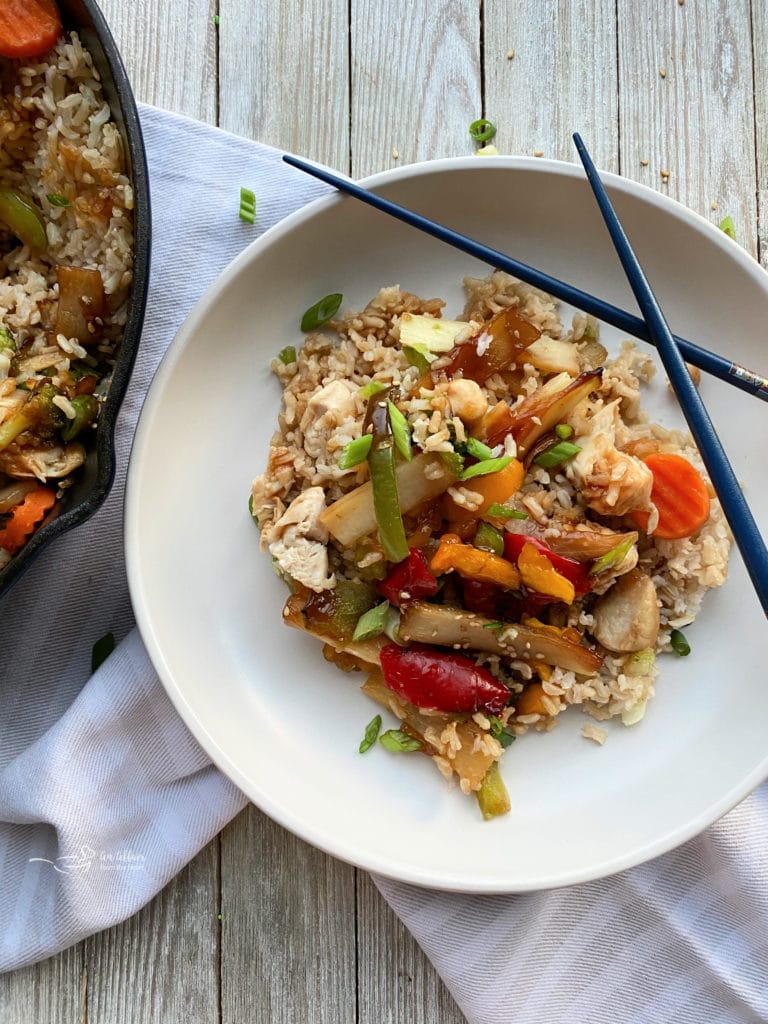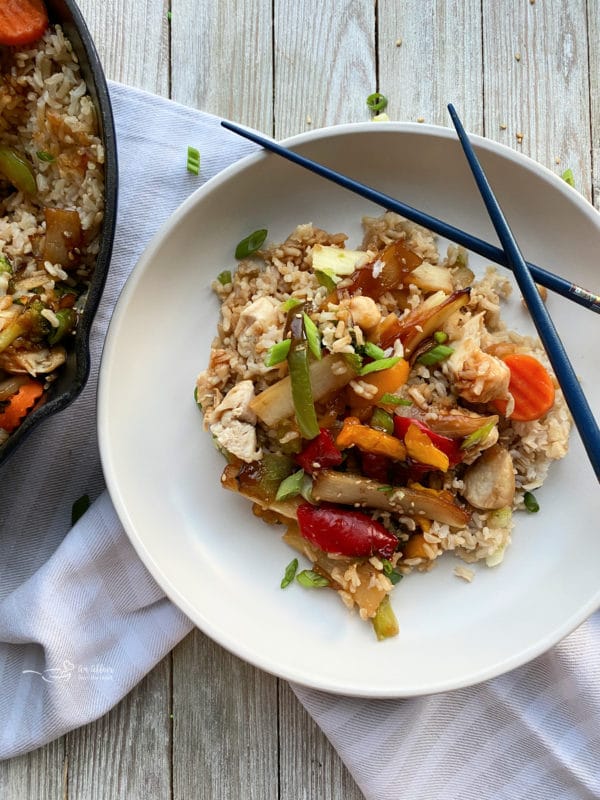 Serve baked teriyaki chicken casserole right from the skillet. I have additional sesame seeds, sunflower seeds, and chow mein noodles for serving.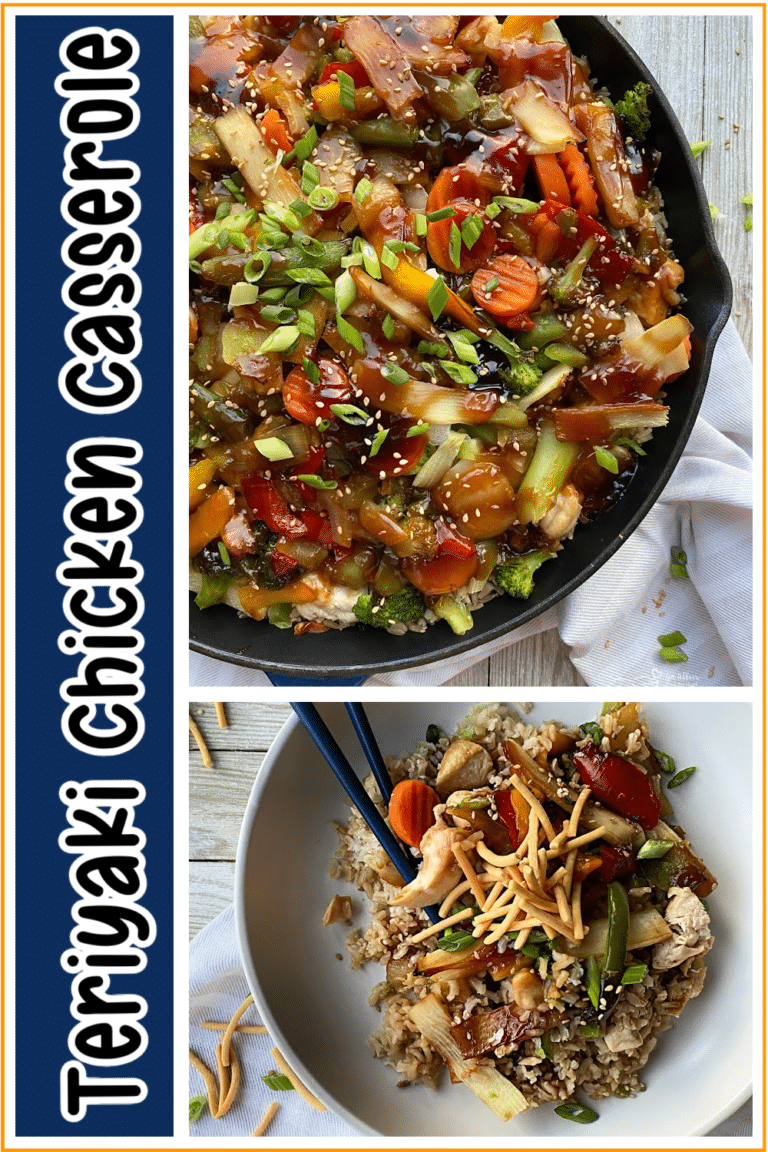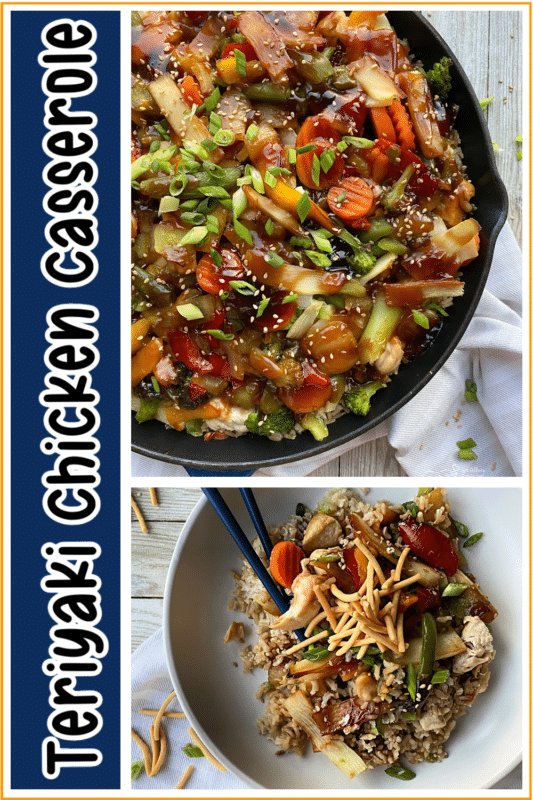 Love it? Pin it!
If you can't wait to make this Chicken & Rice Teriyaki Casserole recipe, you will want to make sure where you found it. Pin it to your favorite Pinterest recipe board before you go!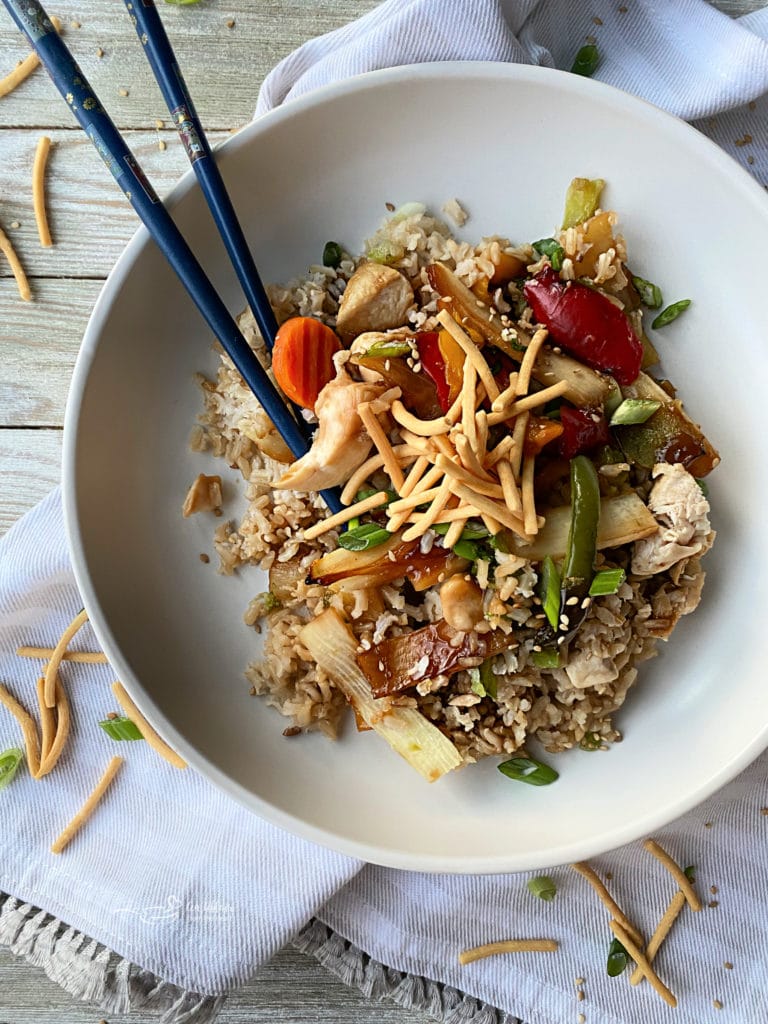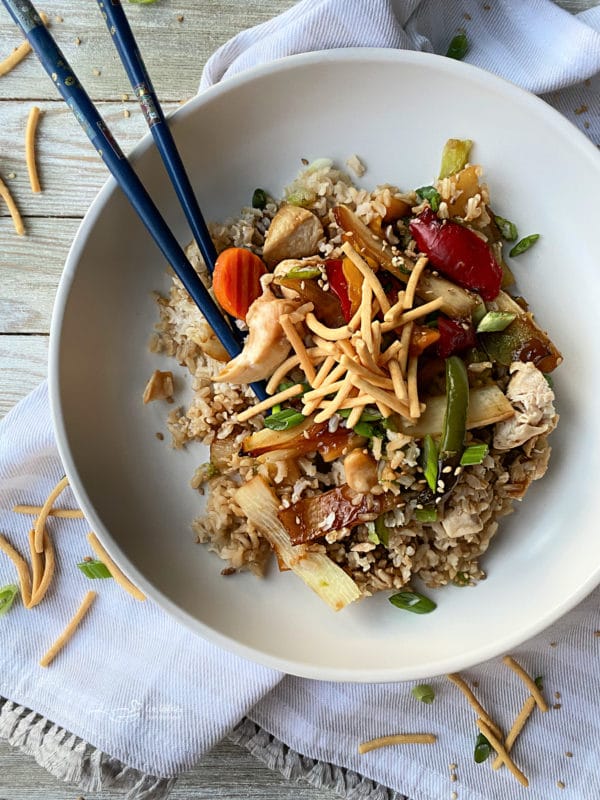 This recipe makes a pretty big batch. There will be plenty of leftovers, and that is good because they are amazing for lunch the next day. But if you want to cut the recipe down, it's simple to do, just cut everything in half.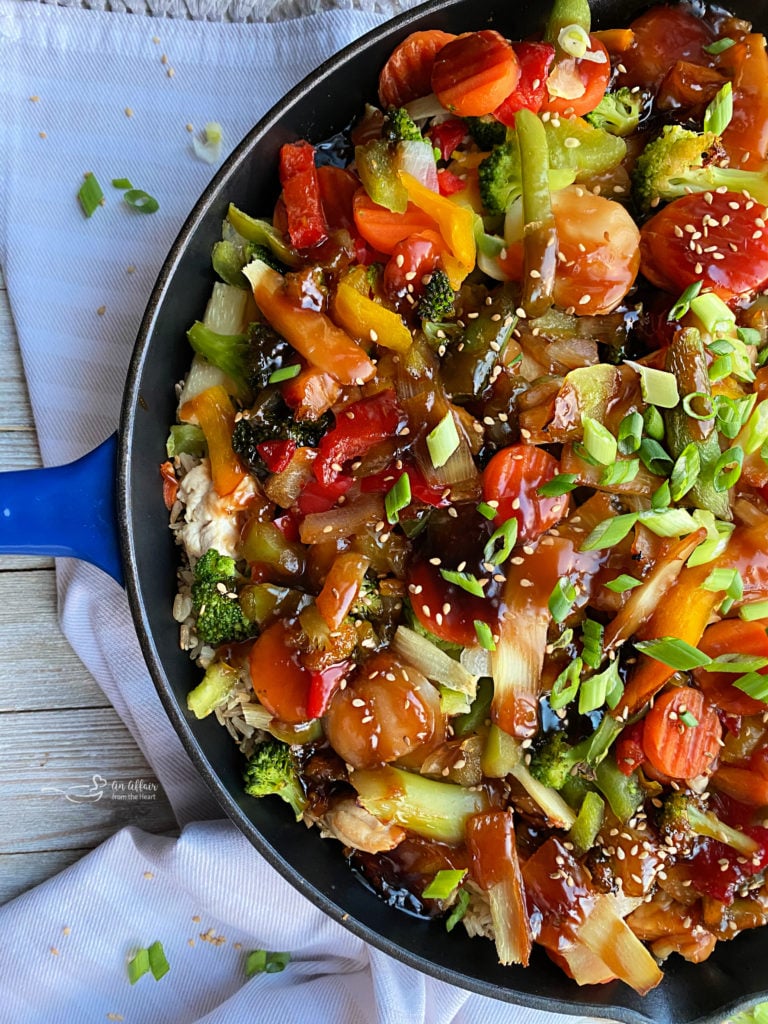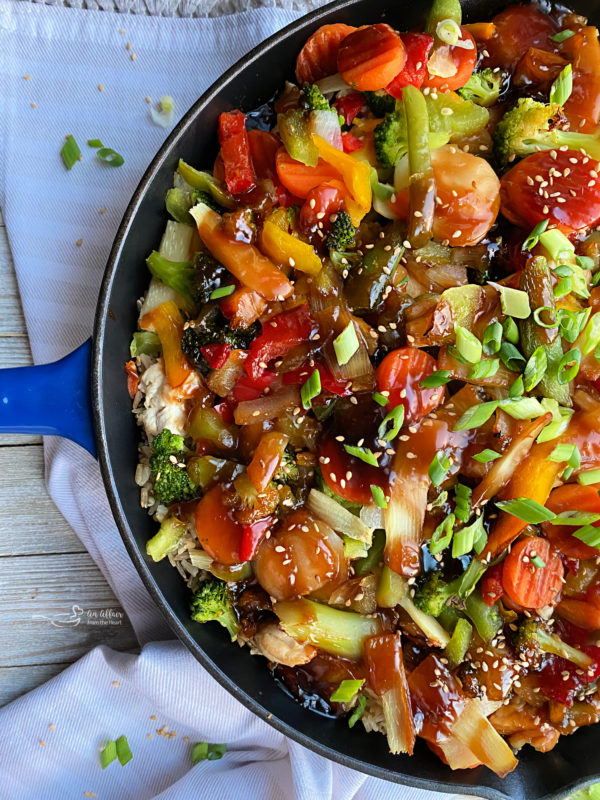 Chicken Teriyaki Skillet Casserole
When I first began making this recipe, I used to transfer everything to a casserole dish and bake it. Then I got smart and thought, why am I adding dishes to this easy meal? I began using my cast iron skillet that moves right from my stovetop to my oven. One-pot cooking, my favorite!
Alternatively, you can mix homemade teriyaki sauce into the veggies and chicken and warm on the stovetop, serving it over rice (or fried rice) that way. The baking portion of this recipe is really just warming it all together since all of the components of this rice are already cooked.
Also delicious with beef, shrimp, tofu or leave the protein out entirely for a meatless meal.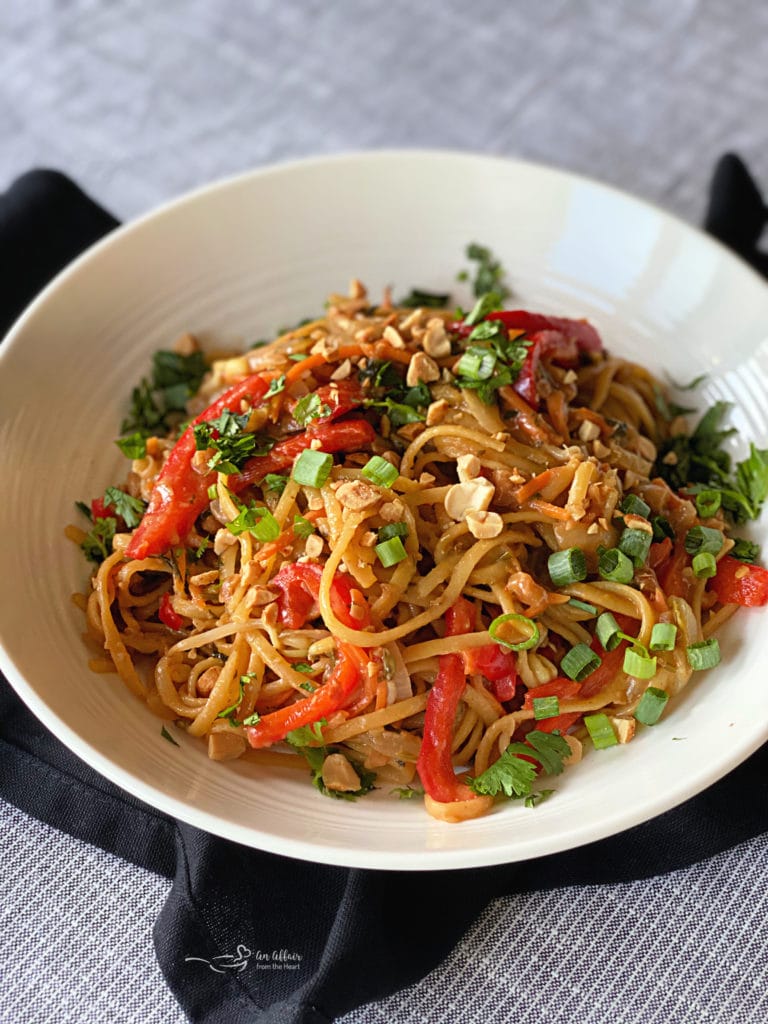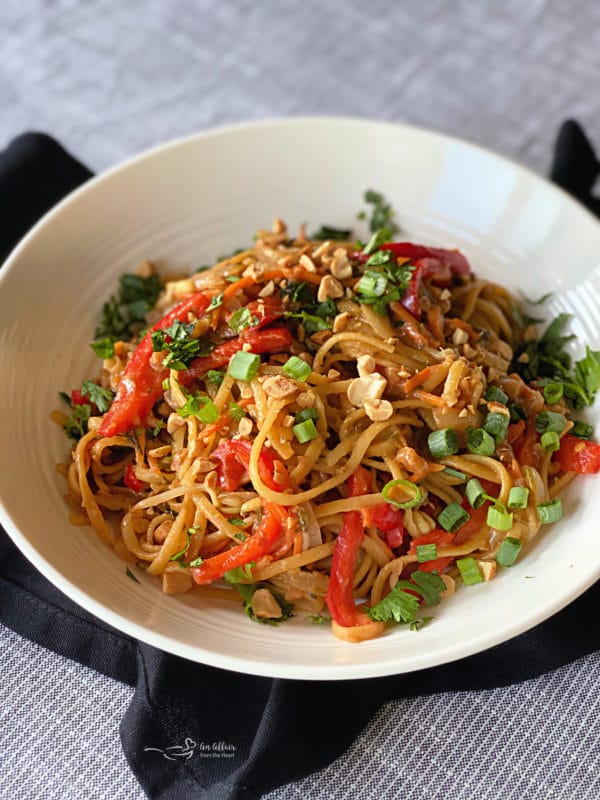 Other Asian food Favorites
As I mentioned earlier, I adore all sorts of Asian foods. I thought I would share some of my other favorites with you today, too!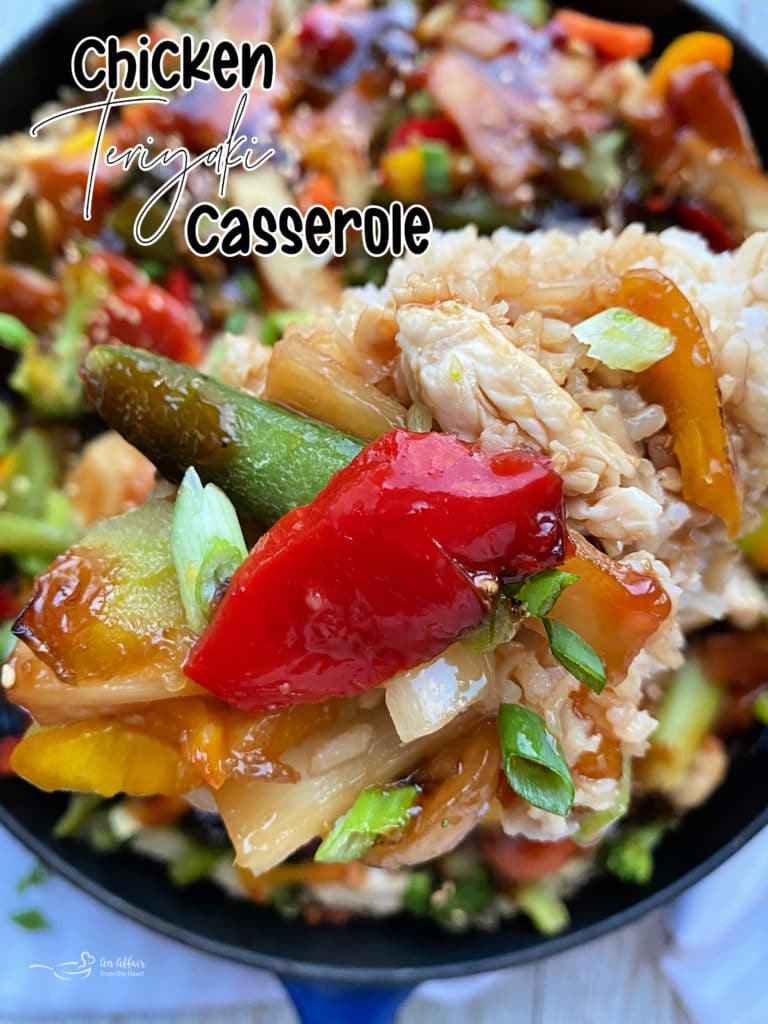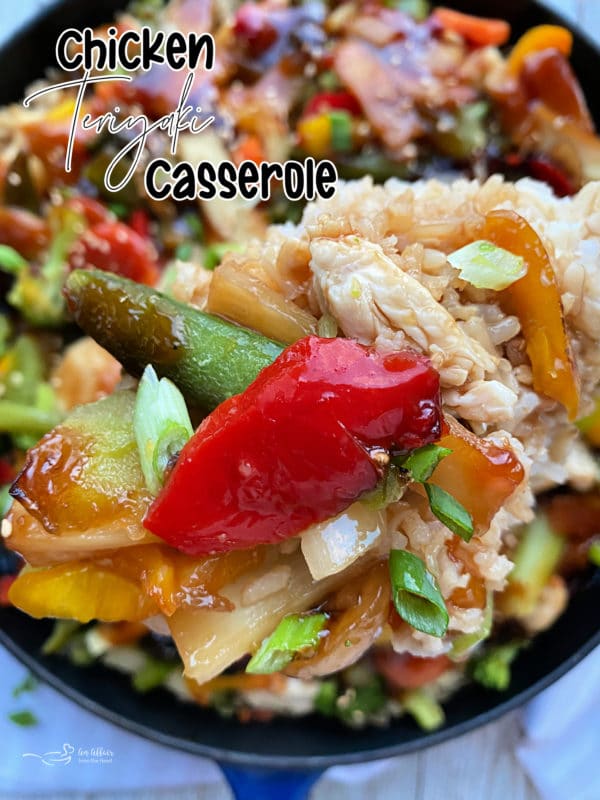 Time to mix up some Chicken Teriyaki Casserole!

Yield: serves 8
Teriyaki Chicken Casserole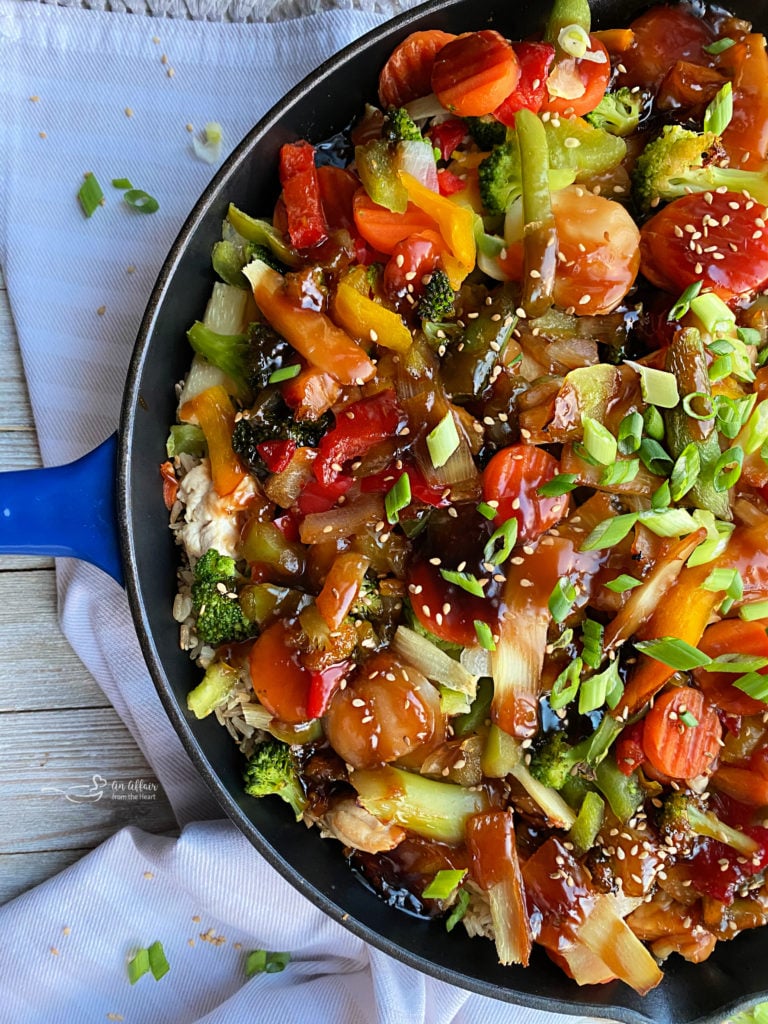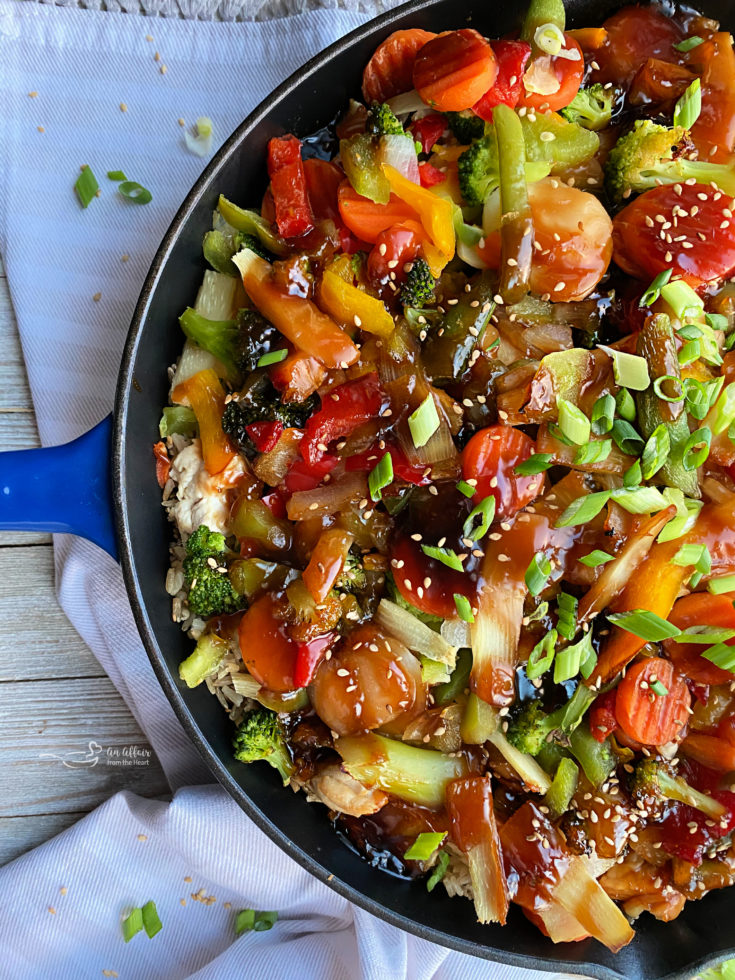 This quick and easy Teriyaki Chicken Casserole can be on your table in no time, served right from the skillet you prepared it in, less fuss, less cleanup, full of veggies, chicken, and homemade Teriyaki sauce, baked over rice. Delicious, simple at-home Asian fare.
Ingredients
About 1 1/2 pounds chicken breasts, cubed
3 cups brown rice
20-24 ounces frozen mixed veggies, use what you like. I like bell peppers, onions, broccoli, carrots snap peas and water chestnuts
1 (8 ounce) can bamboo shoots, optional
2-3 Tablespoons Sesame Oil
optional for garnishing: green onions, sesame seeds, sunflower seeds, chow mein noodles
For the Teriyaki Sauce:
1/2 cup water
1/2 cup soy sauce (I use low sodium)
1/2 cup brown sugar
2 Tablespoons honey
1 teaspoon ground ginger
1 teaspoon Sesame oil
1 clove garlic, minced
2 Tablespoons of corns starch dissolved in 2 Tablespoons of water
Instructions
Preheat oven to 350 degrees.
Prepare rice according to package instructions. Set aside.
In a saucepan, whisk together Teriyaki sauce ingredients (with the exception of cornstarch mixture) Bring to a boil then reduce heat and simmer for about 2 minutes. Whisk in corn starch mixture. The sauce will begin to thicken quickly. remove from heat and set aside.
Add 2-3 Tablespoons of Sesame oil to a cast-iron skillet and saute chicken over medium-high heat until cooked. Remove chicken from skillet.
Spread prepared rice in the bottom of the skillet, top with cooked chicken, spread the frozen veggies over the chicken, then pour the sauce over the top.
Bake for 25 minutes or until heated through.
Garnish with green onions, sesame seeds, chow mein noodles, or sunflower seeds if desired.
Notes
Instructions show how to bake this casserole in the same skillet it's prepared in. Alternatively, you can layer all of the ingredients in a casserole dish to bake, or you can warm the vegetables, chicken and teriyaki sauce together in the skillet and serve over rice and skip the baking altogether.
Easy to make ahead and layering in the skillet or a casserole dish and baking when ready.
Recommended Products
As an Amazon Associate and member of other affiliate programs, I earn from qualifying purchases.
Nutrition Information:
Yield:
8
Serving Size:
1
Amount Per Serving:
Calories:

623
Total Fat:

20g
Saturated Fat:

3g
Trans Fat:

0g
Unsaturated Fat:

16g
Cholesterol:

64mg
Sodium:

2670mg
Carbohydrates:

77g
Fiber:

9g
Sugar:

28g
Protein:

37g
Nutrition isn't always accurate.
This recipe was originally posted on January 28, 2015, it was updated to improve user experience and re-posted on January 25, 2021.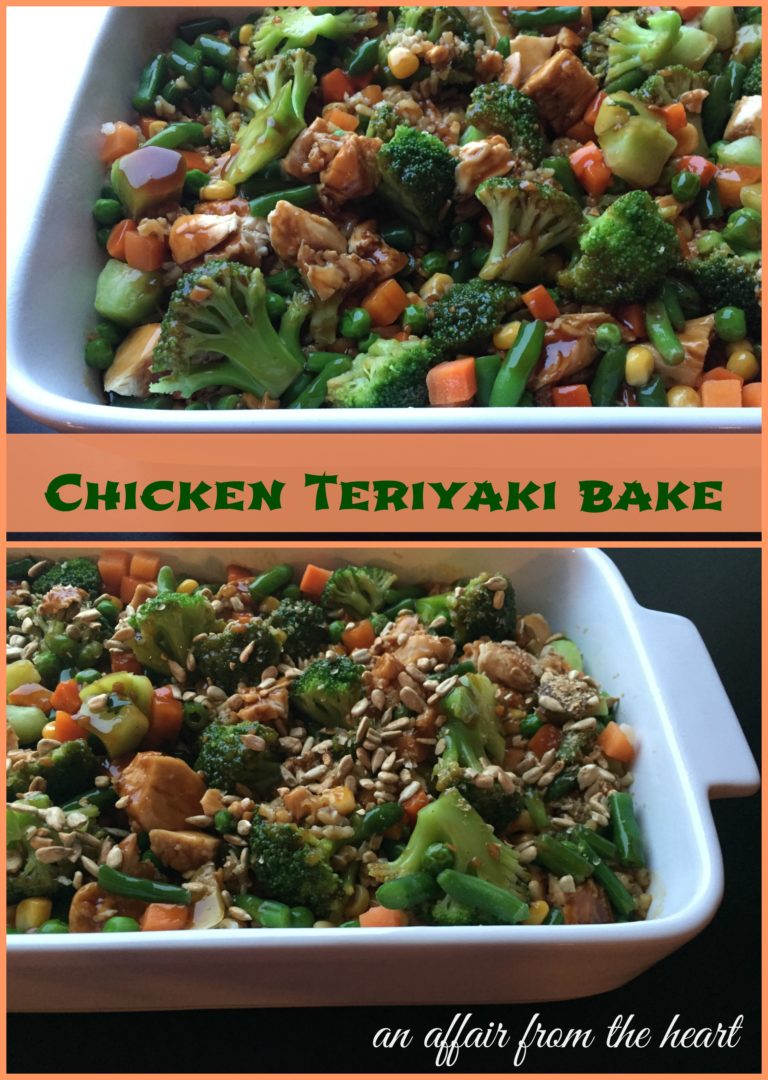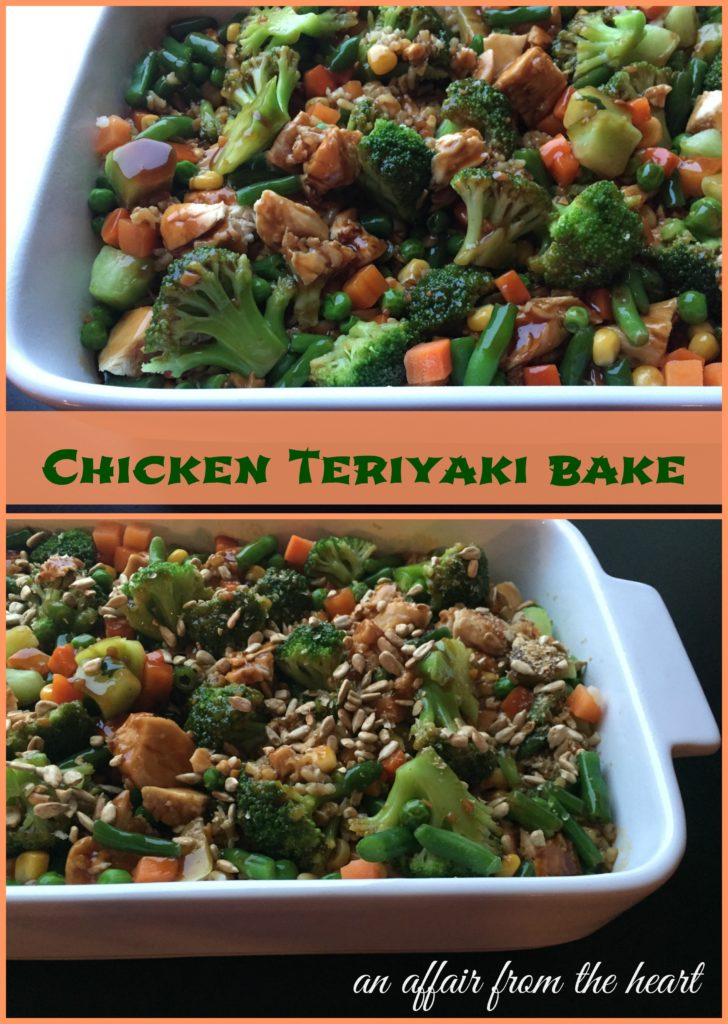 recipe adapted from Oh Sweet Basil

If you make this recipe, I'd love to know! Snap a picture, share the photo on social media with the hashtag #AnAffairFromTheHeart – I'd love to see what you made! – Michaela