Fried Rice
As an Amazon Associate and member of other affiliate programs, I earn from qualifying purchases.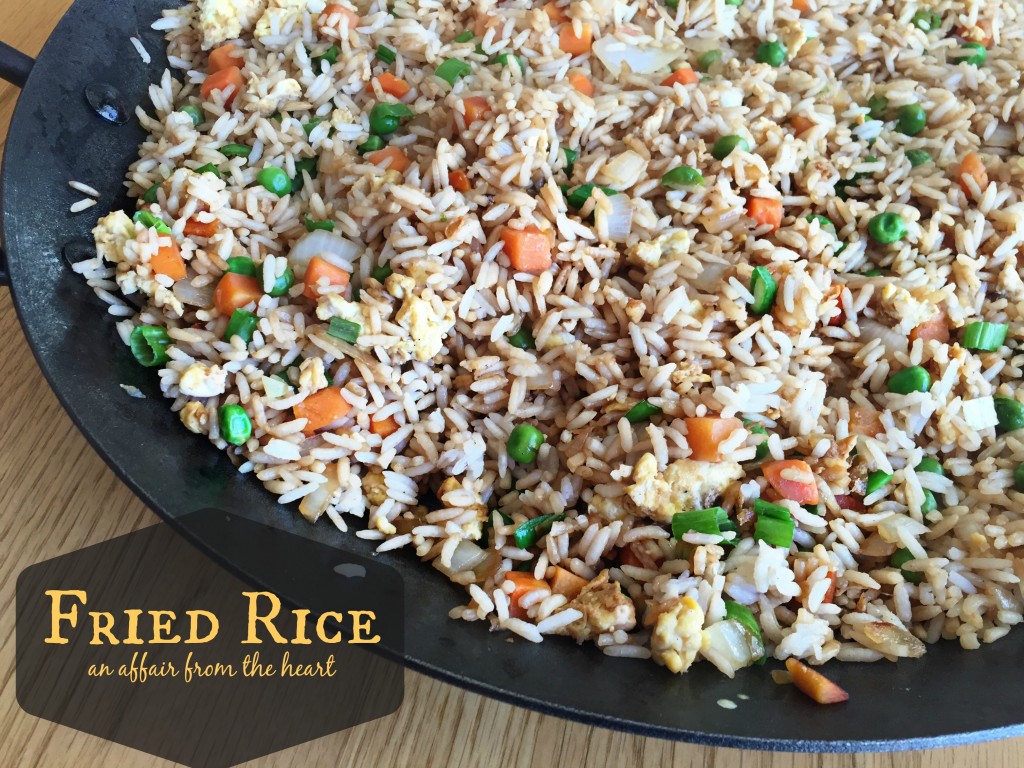 I have to admit, even though I am a serious lover of Asian food, specifically Chinese food, when I eat it, it's because we get take out. It's usually one of my go-to "I've got the night off" foods. This week I decided to make an Asian Beef with Mushrooms and Snow Peas stir fry and I knew it HAD to come with fried rice.
Let me tell you a quick story as to why I don't make Chinese food much. Back in the day, when I had my first apartment, I decided to make some recipe that I found. I was like "How hard could it be?" I shopped and spent LOTS of money ( that I didn't have) on ingredients I never really used (well except the soy sauce!) and chopped and chopped to make this (what I had hoped) would be a really fun dinner.
Enter baby corn.
I haven't eaten baby corn in almost 25 years.
All of the work, and money in that meal, dumped that can of baby corn in and the whole thing was ruined. Yep, I got a bad can of corn.
I mean BAD. Like rancid.
Can't remember for sure, but through my tears, I think I ended up with frozen pizza that night.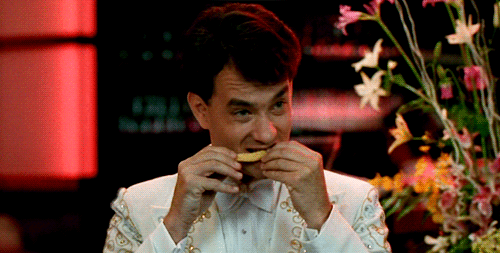 The only way I find baby corn even a little bit desirable is that scene from the movie BIG with Tom Hanks where he's eating it like corn on the cob.
My friend, Brandi, that blogs at Aunt Bee's Recipes, makes what she calls "Chinese Take Out Fake Out" all of the time. You have know she was the first person I texted the photos of our dinner last night. I took a bow and started blogging.
The rice is easy to prepare. I made my rice in my rice cooker ahead of time, using beef broth. I like to prepare my rice in stock instead of just water. It gives it great flavor, and you can change it up to whatever you are serving. Of course making it on the stove top works, too, if you don't have a rice maker. But try the broth option next time and see what you think.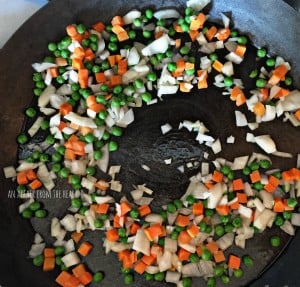 I don't have a wok, I used my cast iron skillet, it gets HOT HOT and that works well.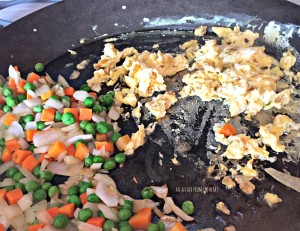 Of course it has scrambled egg, just move those veggies over and use the same pan! One pot cooking is the ticket!
Yield: 8 servings
Fried Rice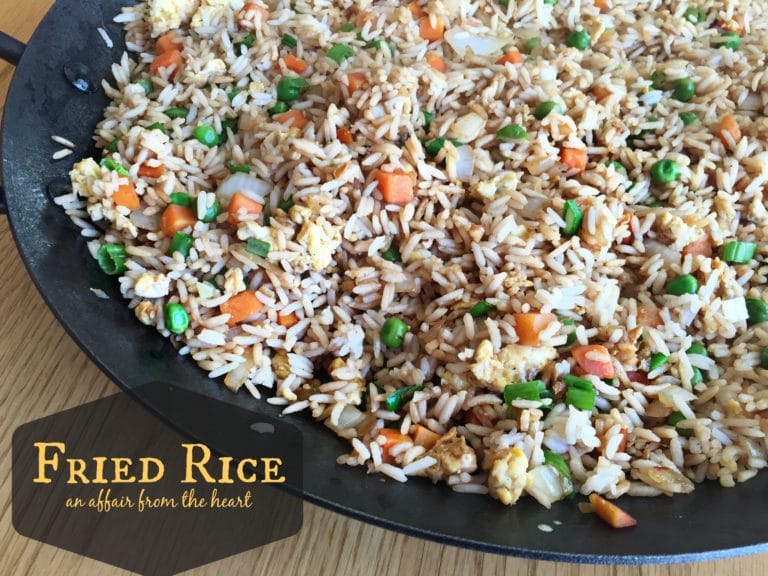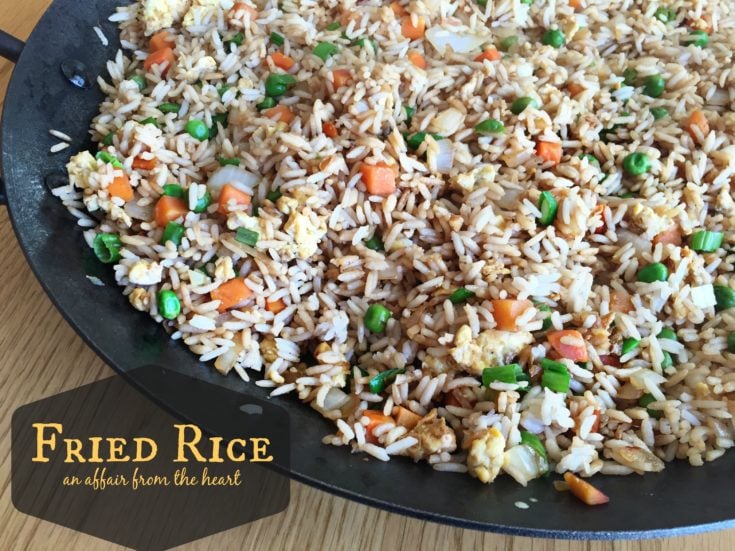 This classic Asian fried rice is perfect as a side or a stand alone meal!
Ingredients
4 cups *cooked rice
4 Tablespoons Sesame Oil
1 small onion chopped small
1 1/2 cups frozen peas and carrot blend
2 eggs, whisked
4 Tablespoons low sodium soy sauce
Tops of 3 green onions, sliced
Instructions
** Prepare rice in rice cooker using stock. I used beef for this recipe, you could use chicken or vegetable if you want to have it vegetarian. **
In a skillet over high heat, (I used my cast iron one) drizzle two Tablespoons of sesame oil, add to it the onion and frozen peas and carrots. Saute until the onions are tender, about 5 minutes. Stir continually.
Push the veggies to one side of the pan and add the egg to the other and scramble it. Toss it together with the veggies, and drizzle with the other 2 Tablespoons of oil.
Add cooked rice, mix with the veggies and eggs. Drizzle with soy sauce. Continue to fry for about 5 minutes.
Nutrition Information:
Yield:
8
Serving Size:
1
Amount Per Serving:
Calories:

215
Total Fat:

8g
Saturated Fat:

1g
Trans Fat:

0g
Unsaturated Fat:

6g
Cholesterol:

47mg
Sodium:

306mg
Carbohydrates:

29g
Fiber:

2g
Sugar:

2g
Protein:

6g
Nutrition isn't always accurate.
We served it up with this Asian Beef, Mushrooms and Snow Peas,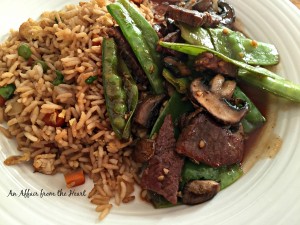 If you love Asian, This Asian Slaw with Ginger Soy Dressing is seriously one of my favorite things I make!