Cute Halloween Treats & Frostys for Adoption
As an Amazon Associate and member of other affiliate programs, I earn from qualifying purchases.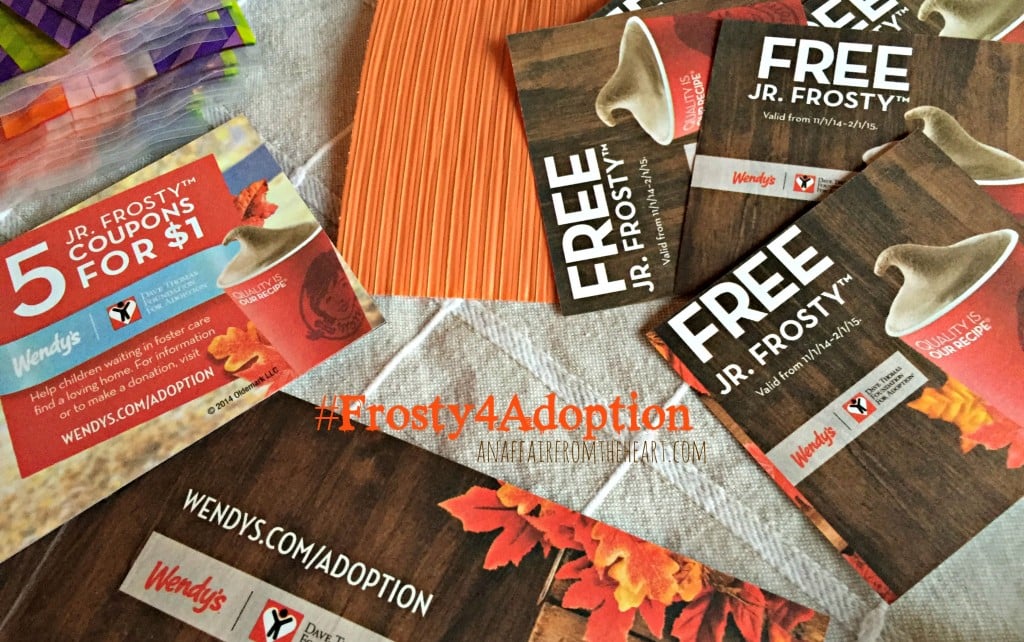 A while back on my facebook page we had a fun conversation going about our first jobs. I then shared with all of you that mine was working at Wendy's. Yes, I was that girl back in the early 1980's taking your order "for the dining room," and at the drive-thru. I can still tell you the order the condiments go onto a hamburger, work the baked potato oven, and clean a Frosty machine.
Oh, the Frosty machine! So many families came together over French fries and Frosty's then and still do to this day. Frosty's are still one of my own kids' favorite treats! What's not to love?
Well, right now, there is so much MORE to love! Did you know that in 1990, Dave Thomas, founder of Wendy's®, accepted President George H.W. Bush's invitation to be the spokesperson for a national adoption awareness campaign. Just two years later, Dave established The Dave Thomas Foundation for Adoption® as a non-profit public charity with one primary goal: to help every child in foster care find a loving, permanent family?
Many times over the years I have purchased these great Frosty coupons from Wendy's and handed them out to my Trick-or-Treaters.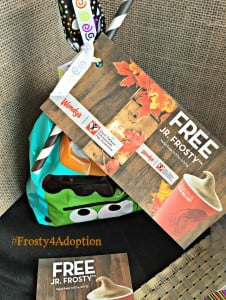 Idea: Attach a Frosty booklet for 5 free junior Frosty's to a treat bag for your kids' classmates
Wouldn't you love to hand some out, too?
Not only would you be making a child's day by giving them a free Frosty, but you are helping the thousands of children in foster homes waiting to be adopted into a family of their own!
Idea: Fill a Mason jar glass with Free Frosty Coupons, attach a ribbon and insert a cute straw and give to your day care providers or teachers for Halloween.
How, do you ask? Let me tell you! Purchase a Wendy's® Halloween Coupon Book for $1 at participating Wendy's to support foster care adoption. Ninety cents of every $1 Halloween Coupon Book sold between September 13 – October 31, 2014 will benefit the Dave Thomas Foundation for Adoption®. Coupons are valid for use: November 1, 2014 through February 1, 2015.This year, Wendy's® aims to give $10 million to The Dave Thomas Foundation for Adoption®. You and I can help them reach their goal, and help our children and others create lasting memories over a Frosty!
Were you adopted? Have you adopted a child yourself? Is someone you love adopted?
I bet you can't imagine your life without them, can you?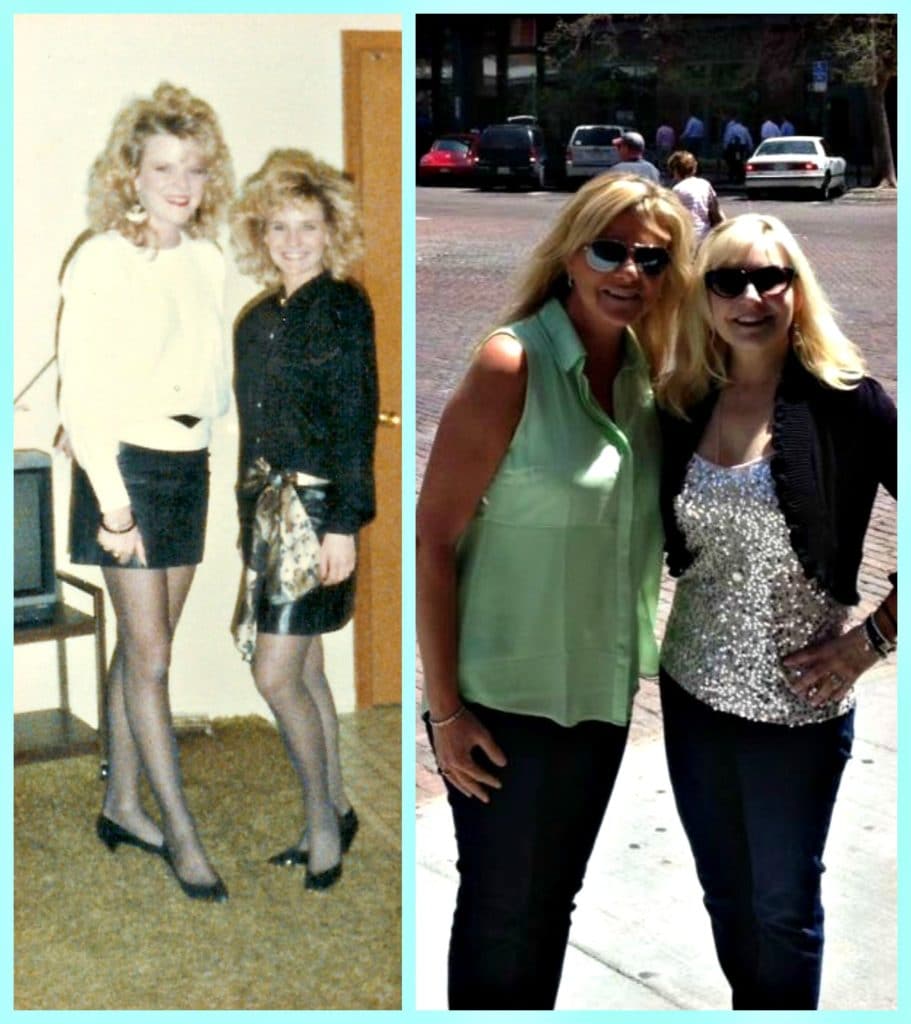 My best friend, Teresa, (who ironically worked at Wendy's with me,) was adopted. She and I have been best friends for over 30 years. She is the sister that I never had, my best friend and confidant. I can't imagine a world without her in it! I thank God for her every day!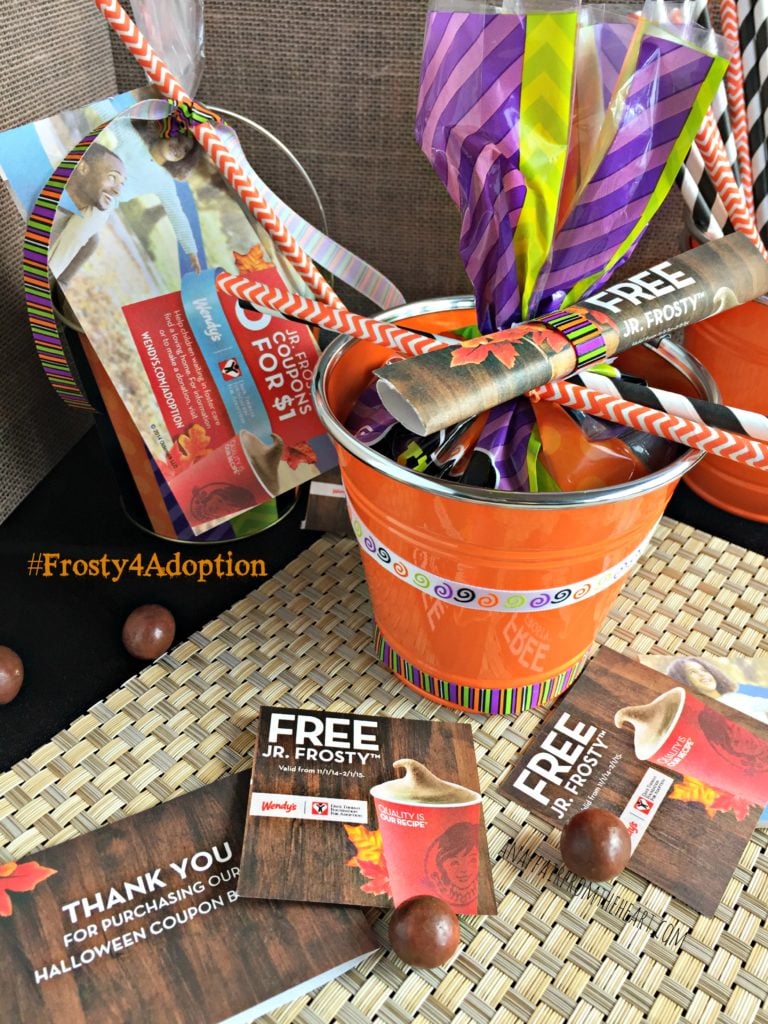 Idea: Slip one little coupon into a treat bag, or right inside their trick-or-treat bag, or roll up a booklet and attach along with some fun straws to a treat bucket for your kids, nieces, nephews, whomever you can think of!
Visit your local Wendy's® to purchase a Jr. Frosty™ Halloween Coupon Book* for $1, which benefits the Dave Thomas Foundation for Adoption®!
*Coupon book may contain coupons for 5 or 10 free Jr. Frosty™ treats. Prices and participation may vary. Ninety cents to every $1 coupon booklet sold between 9/15/14 and 10/31/14 will benefit the Dave Thomas Foundation for Adoption®. Coupons are valid from 11/1/14 through 2/1/15. ©2014 Oldemark LLC
I was selected for this opportunity as a member of Clever Girls Collective and the content and opinions expressed here are all my own.