Looking for a change of pace from hummus? Look no further! This recipe for Asian Bean Dip takes dipping in a whole new direction. Using a jar of Paisley Farm's Asian Bean salad instead of plain old white beans or chickpeas gives us a whole new flavor for dipping.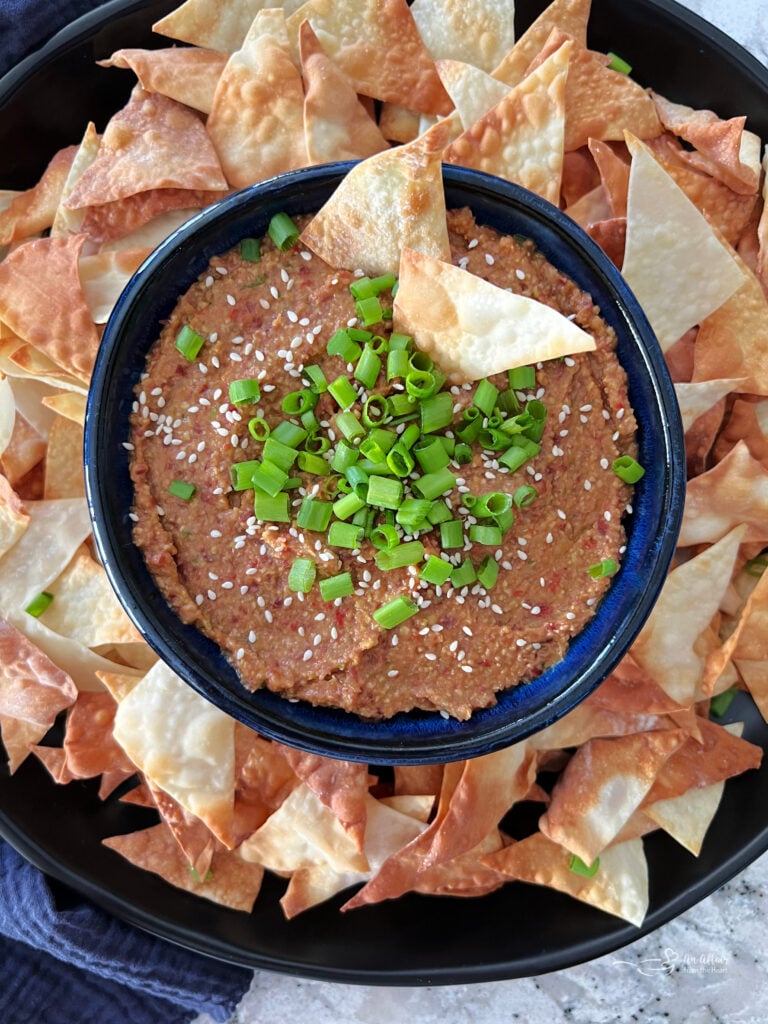 If you love Asian fare and are a fan of hummus, listen up, because you may have just found your new favorite dip recipe! Similar in texture to hummus this creamy dip will become your new go-to dip for snacking and entertaining. I love to serve this easy Asian Bean Dip recipe with raw veggies and homemade wonton chips I made in my air fryer.
If you are looking for more dipping ideas try one of these delicious recipes: Sauerkraut Bacon and Swiss Dip, Fiesta Corn Dip or this Mexican Bean Dip.
This post is sponsored by Paisley Farm, but my opinions and my love of their products are all my own.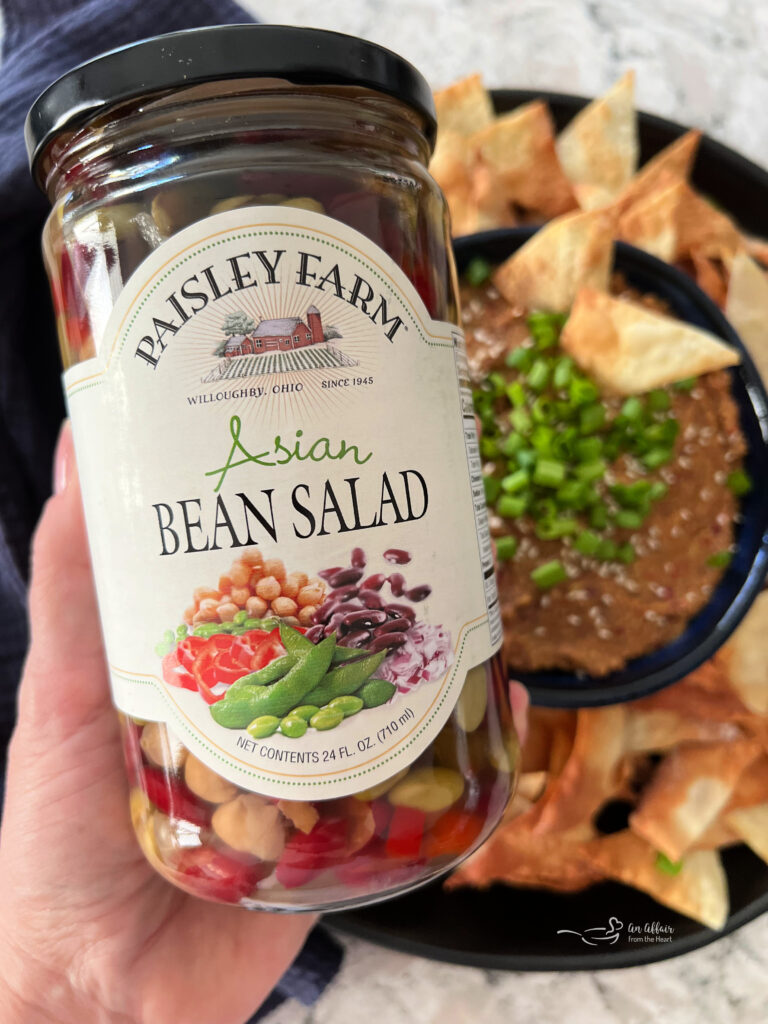 Paisley Farm Asian Bean Salad
Paisley's bean salad is chock full of goodness containing snow peas, garbanzo beans, edamame, and kidney beans coupled with traditional Asian spices. Mixing this fantastic blend with a few simple ingredients increases the umami taste for even more layers of flavor. Always gluten-free and dairy free this bean dip is loaded with plant-based protein which will help stabilize your blood sugar and keep you full for hours.
I always keep a variety of Paisley Farm Bean Salads on hand for an easy side dish, simply pop the lid off the jar and serve. But I have also experimented with them in recipes and have always loved the outcome! Take this Five Bean Chicken Chili for instance. Yum!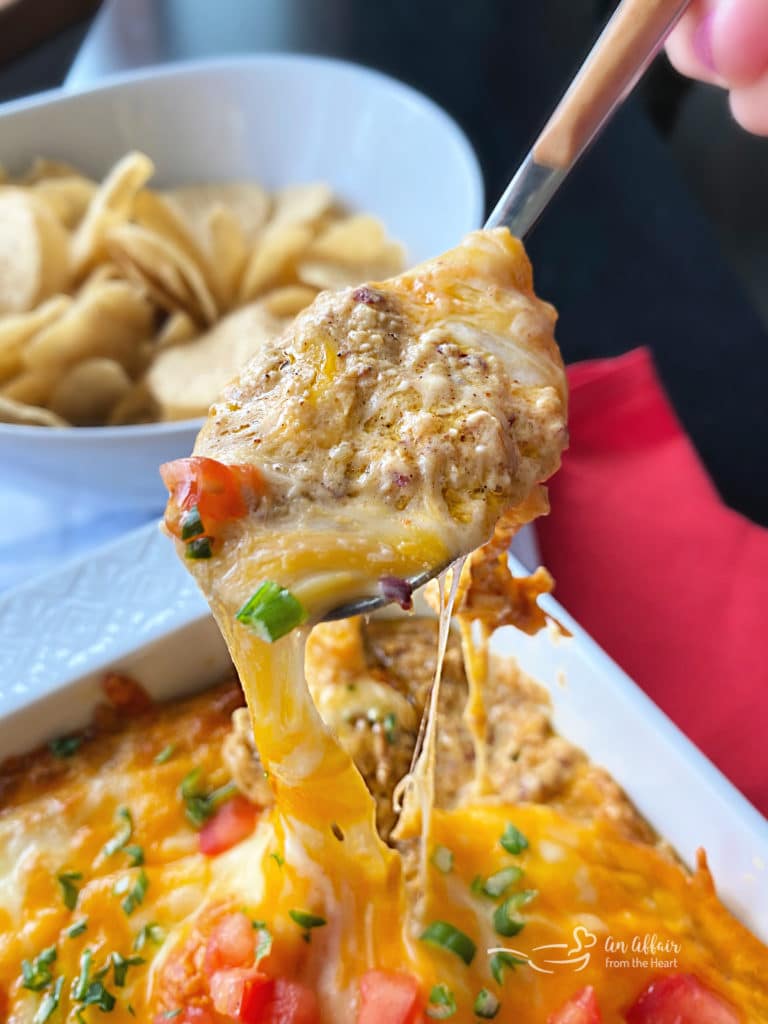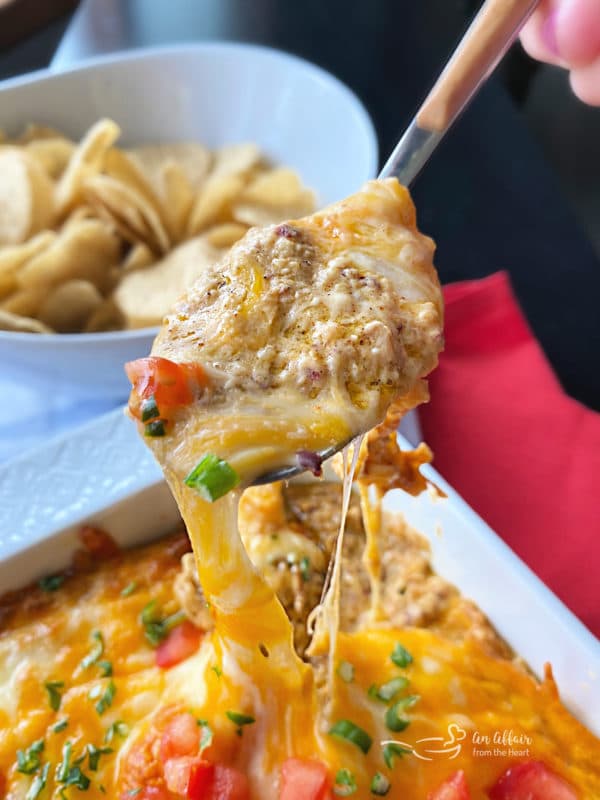 The idea for this Asian Bean Dip came to mind the last time I was whipping up a batch of Hot Taco Five Bean Dip. This one has a great Mexican flare to it. But when I started thinking about a way to give it an Asian twist, I decided to run with the chilled hummus route.
I think the ginger with the Asian Bean Salad just works so incredibly well. Plus, it's a quick holiday dip that is literally ready in about 10 minutes. No baking is required. Who can't use a simple recipe this crazy time of year?!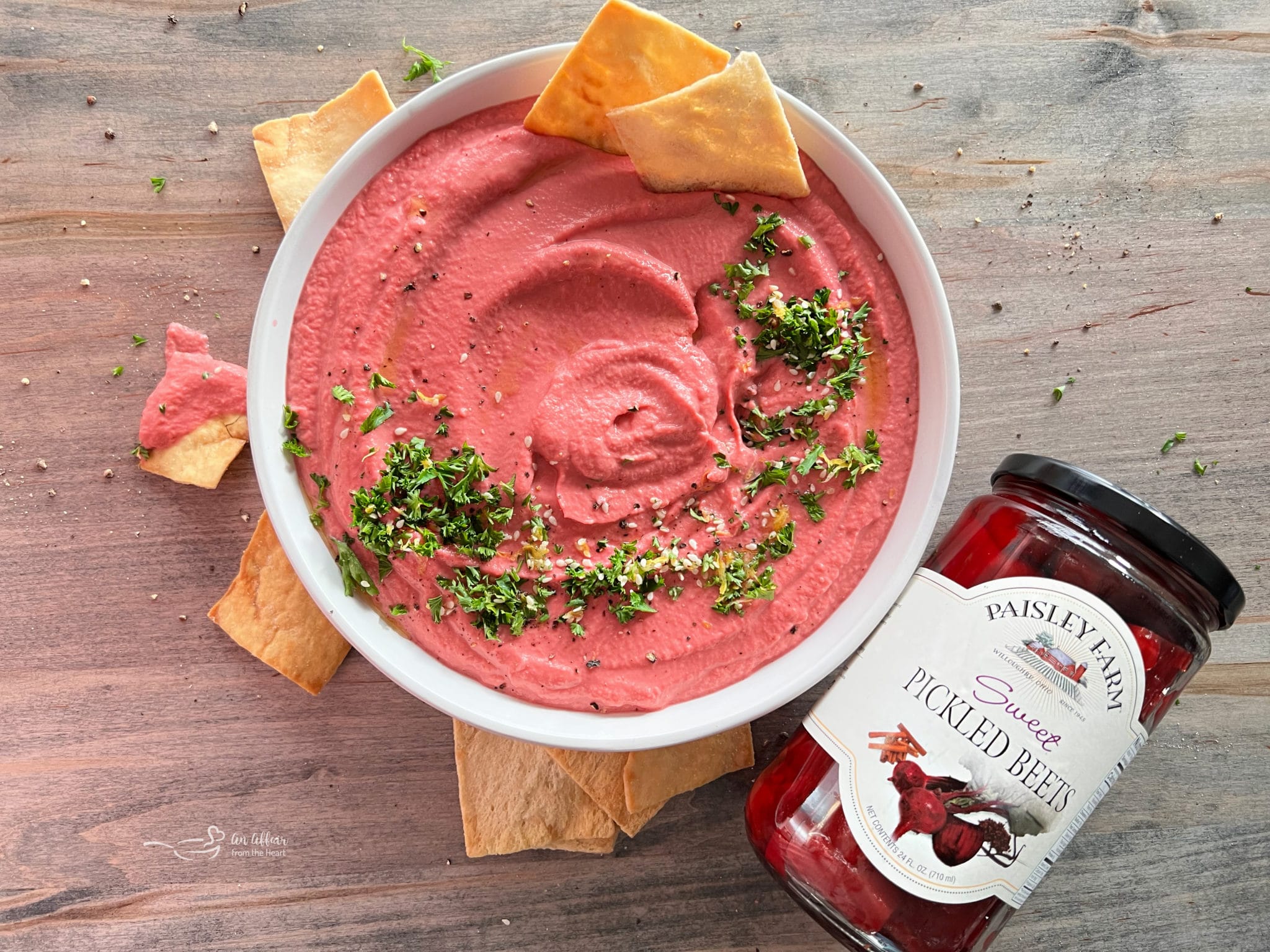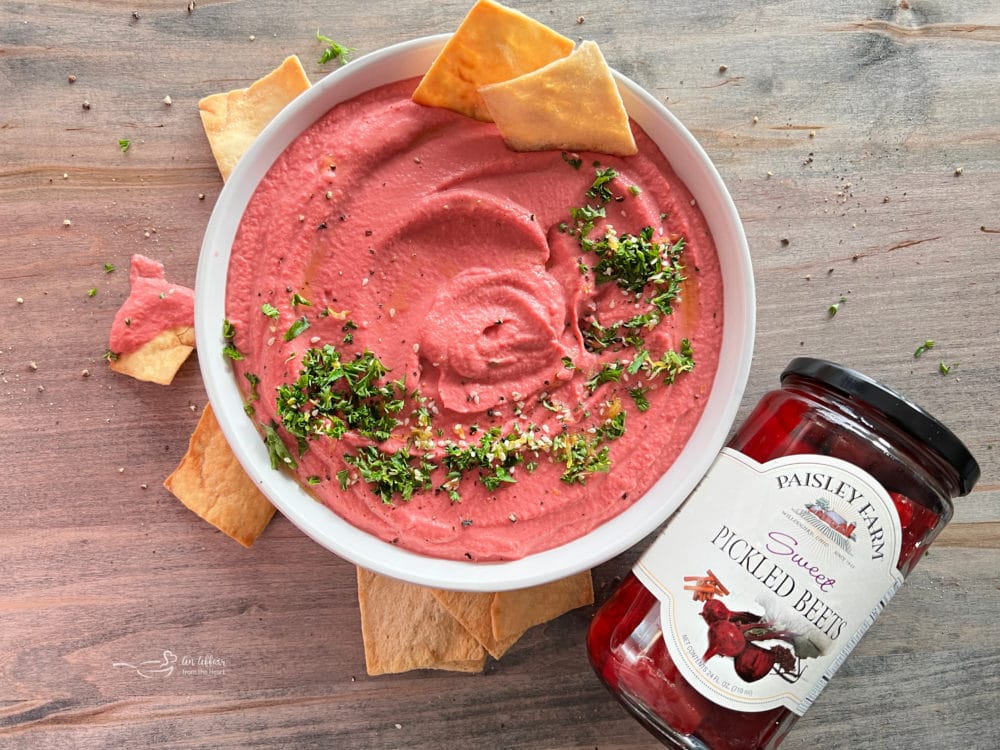 Last year, I made this beautiful beet hummus with Paisley Farm's Sweet Pickled Beets, and we devoured it! Some of our other favorite dips over the years with Paisley Farm products are Dilled Brussels Sprout Dip, Warm and Cheesy Brussels Sprouts Dip, and this lovely Mediterranean Inspired Cheeseboard with Cauliflower Hummus!
Look at how gorgeous Paisley Farm Asian Bean Salad is, right out of the jar! So bright, colorful, and full of texture!

Ingredients Needed For Asian Bean Dip Recipe
Find the complete measurements and instructions at the bottom of this post in the printable recipe card.
Paisley Farm Asian Bean Salad – I used one jar of Paisley Farm Asian Bean salad, drained.
Garlic – I took the shortcut with the garlic and used the minced garlic in the jar. You are welcome to mince your own fresh.
Ginger – Shortcut here, too. I used jarred ginger puree but feel free to use freshly grated ginger.
Soy sauce – I used low-sodium soy sauce. You can also use tamari.
Sesame oil – I used 1 ½ Tablespoons of sesame oil. Don't substitute regular oil, the sesame oil imparts a nice flavor. Sesame oil is usually available in traditional grocery stores but if you can't find it you may need to make a trip to an Asian grocery store.
Green onions – I used the whites for the dip and the greens as garnish.
Sesame seeds – I used these for garnish as well. Make sure to toast them for a nice deep sesame flavor.
Serve this pureed bean salad with Wonton Chips or raw veggies.

How to make bean dip from bean salad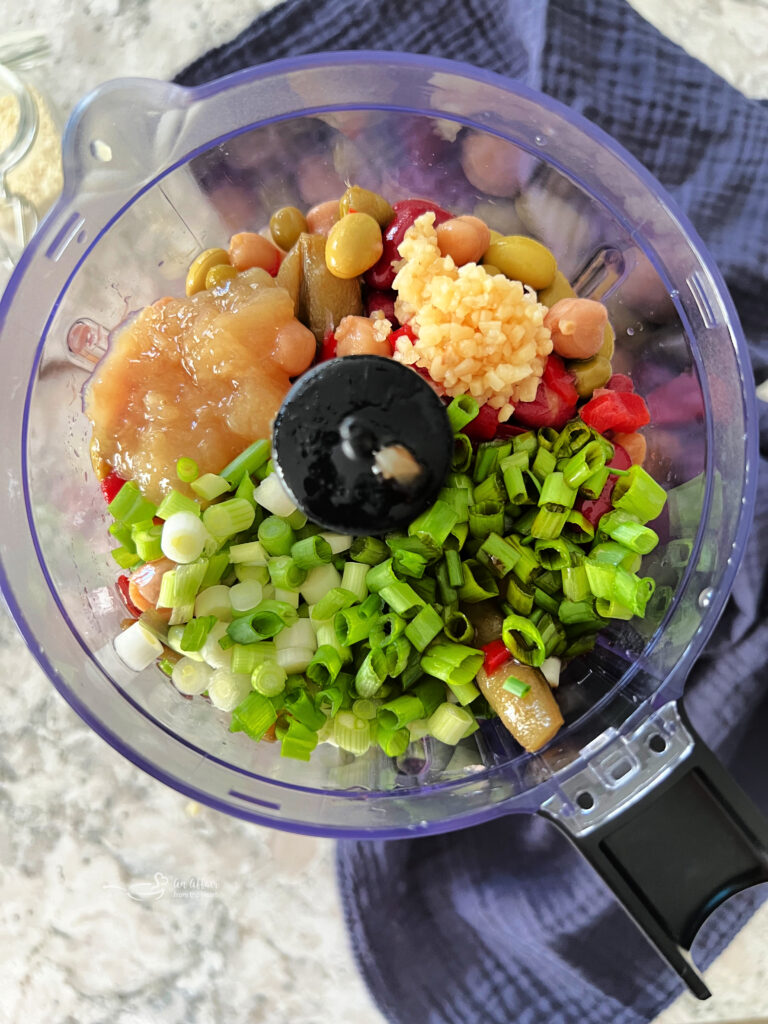 First: Place all of the ingredients into the bowl of a food processor or blender, with the exception of the reserved green onions and sesame seeds.
Second: Puree until your desired consistency is reached. Pausing to scrape the sides of the bowl down in between.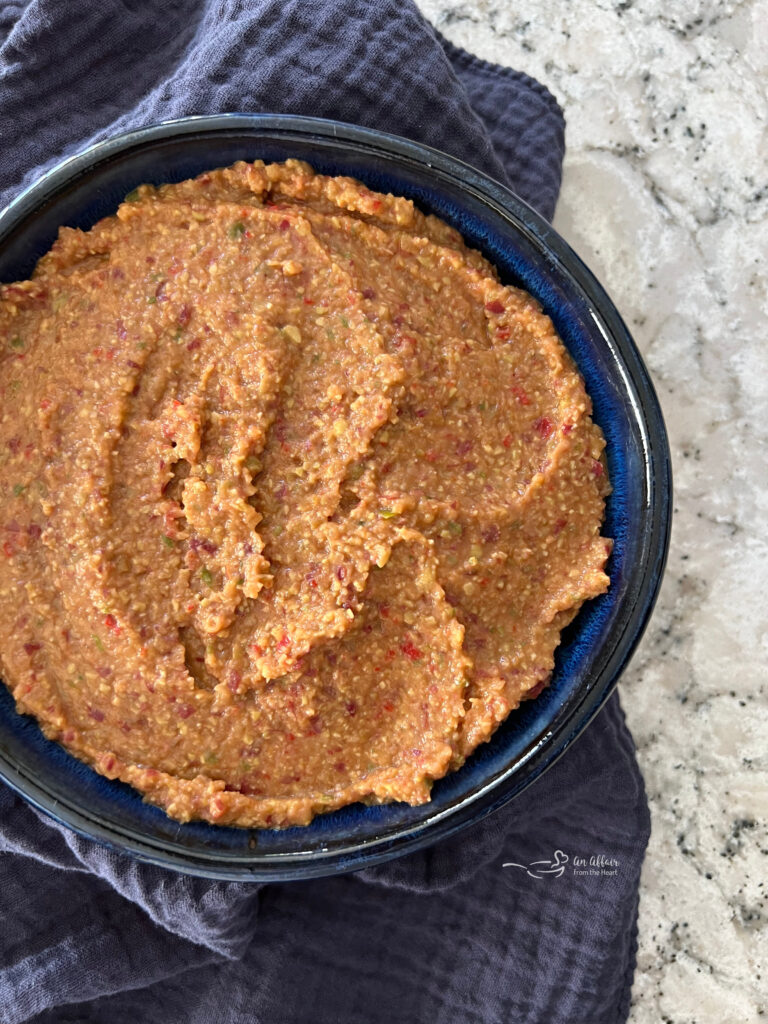 Third: Spread into a serving dish and garnish with green onions and toasted sesame seeds if desired.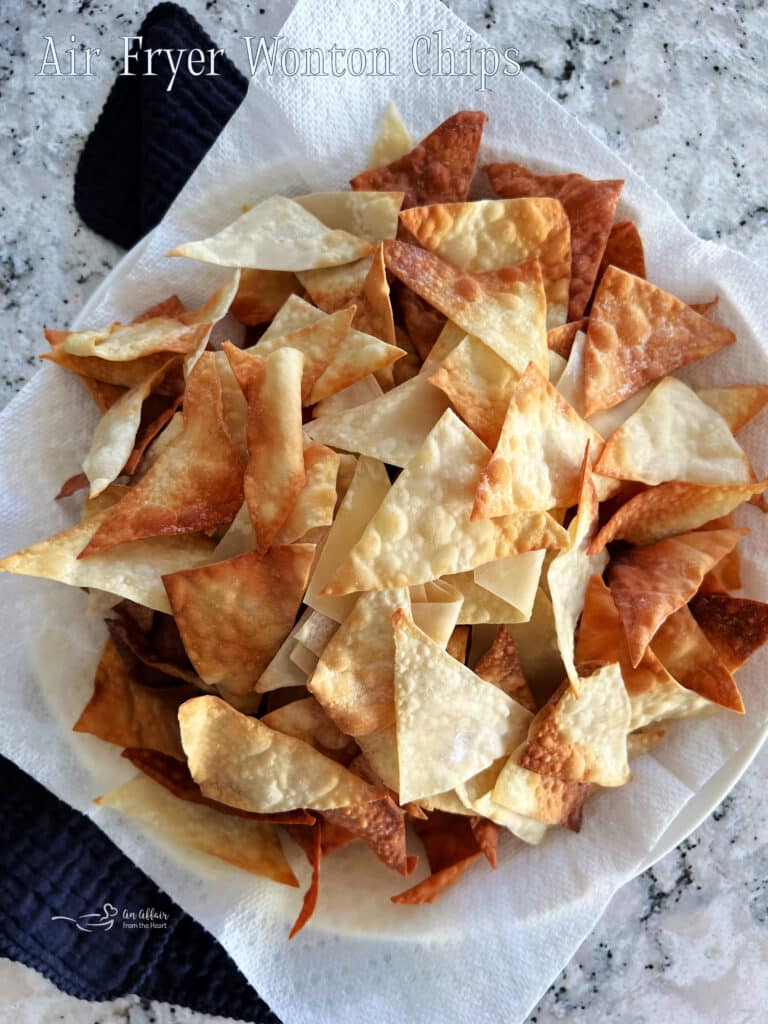 Serve with wonton chips and/or raw veggies for dipping.

Love it? Pin it!
If you love this Asian bean dip recipe make sure that you don't lose it! Pin it to your favorite Pinterest recipe board before you go!

FAQs
What is bean dip made of? Bean dip's main ingredient is beans. There is really no rhyme or rule about which beans to use. It's pretty much a matter of choice. You can use fresh, canned, jarred, or dried beans that have been soaked and boiled to make bean dip.
Is bean dip good for weight loss? Bean dip is rich in protein and fiber so it can be part of a healthy weight loss diet as it will keep you full for hours which may mean less snacking on the not-so-healthy foods we sometimes reach for.
Is bean dip good for you? Yes, absolutely! Bean dip is most definitely good for you and can be part of a healthy diet. You should add bean dip to your list of healthy recipes.
Is a garbanzo bean the same as a chickpea? Yes, they are one and the same.
Can I use olive oil instead of sesame oil to make this Asian dip? Technically any oil will work but in order to be true to the Asian-inspired flavor it is best to use sesame oil so you get a dip that's more like an Asian hummus.
How is this bean dip different from other bean dips? You may have made black bean dip or used great northern beans or navy beans to make bean dip but this dip contains not just beans but all the other amazing ingredients in a jar of Paisley Farm Asian Bean Salad like edamame and snow peas.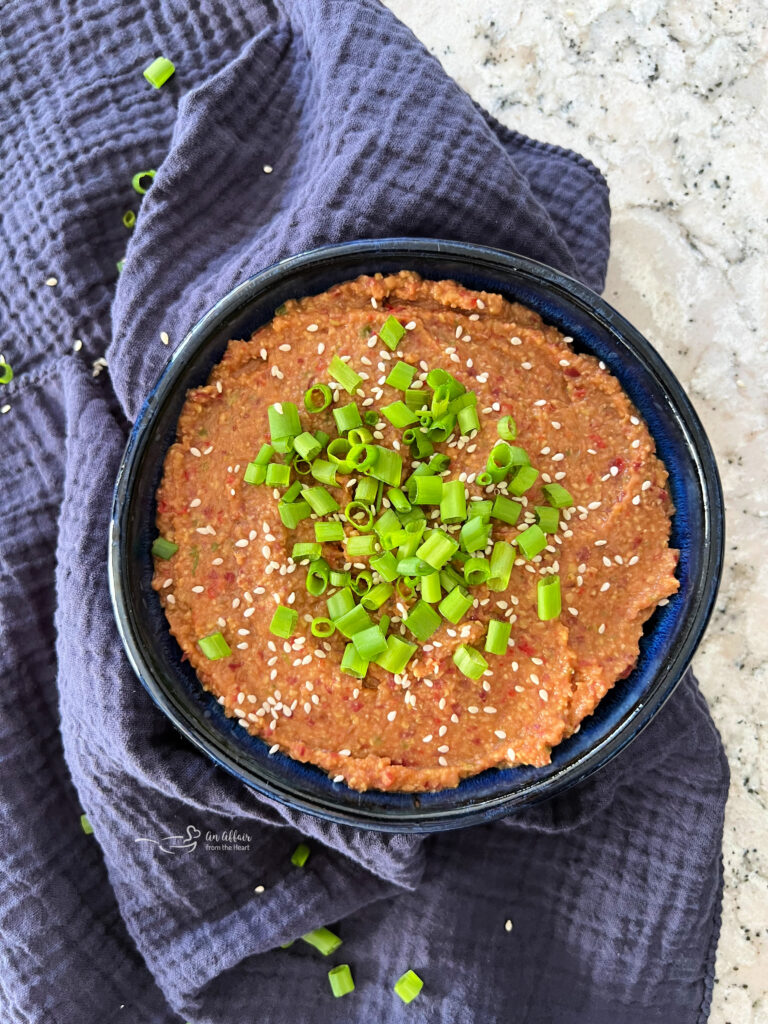 SUBSTITUTIONS:
Anything goes with bean dip so feel free to add in your favorite fresh veggies, like diced celery, or red peppers.
Top the bean dip with cilantro, parsley, or arugula.
Squeeze in some fresh lemon juice.
Drizzle with some hot sauce or add a teaspoon of your favorite curry powder from the local Indian grocery store.
Tips & Tricks
Keep a jar of Paisley Farm bean salad in your pantry so you can easily make up this bean salad.
Keep a container of minced garlic and ginger in the fridge at all times so cooking is that much quicker.
Leftovers will keep for up to 4 days in the fridge in an airtight container. A glass container works well.
If you find the dip too thick you can add more sesame oil, just a teaspoon of toasted sesame oil should work.

More Ways to Enjoy Paisley Farm Bean Salad
Paisley Farm Asian Bean Salad makes a wonderful side dish to meals like my Asian Sticky Meatballs, Sweet & Sour Chicken, or this Slow Cooker Teriyaki recipe.
Find where you can pick up delicious Paisley Farm Five Bean Salad, or any of their other fabulous products by visiting their website. Follow Paisley Farm on their social media for great recipes all year long: FaceBook, Instagram, Twitter, and Pinterest.
This Asian bean dip is a great recipe you can whip up quickly and easily. Whether you are looking for an appetizer to prepare for your next get-together or a snack to have when the kids get home. You can spice it up or keep it as is and serve it with any of your favorite vegetables or chips. Leftovers are great for sandwiches the next day, though there likely won't be any.

Yield: Serves 10-12
Asian Bean Dip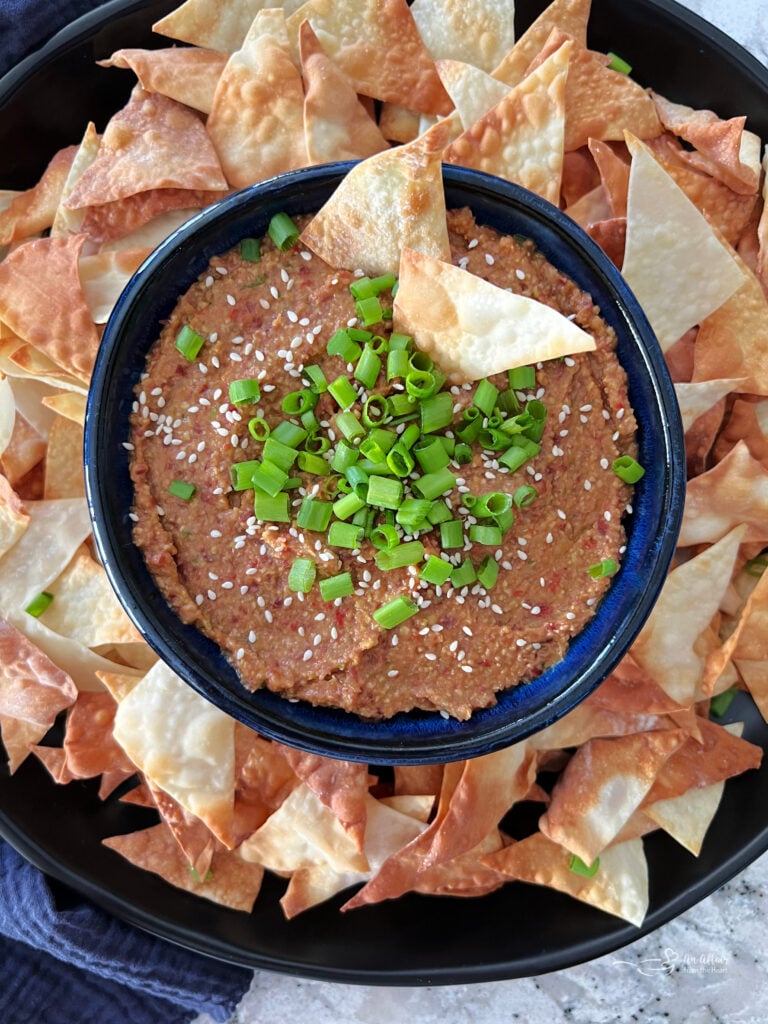 Looking for a change of pace from hummus? Look no further! This recipe for Asian Bean Dip takes dipping in a whole new direction. Using a jar of Paisley Farm's Asian Bean salad instead of plain old white beans or chickpeas gives us a whole new flavor for dipping.
Ingredients
1 (24 ounce) jar paisely Farm Asian Bean Salad, drained
1 1/2 Tablespoons sesame oil
2 Tablespoons low sodium soy sauce
1 Tablespoon pureed ginger, or fresh ginger minced
1 teaspoon minced garlic, or 2 cloves fresh, minced
1/4 cup green onion + 2 Tablespoons green onion, sliced
toasted sesame seeds for garnish
Instructions
Place all of the ingredients, reserving 2 Tablespoons of green onion and the sesame seeds, into your food processor.
Puree until the desired consistency is achieved. Pausing to scrape the sides of the bowl a couple of times.
Spread the Asian bean dip into a serving dish and garnish with green onion and sesame seeds.
Serve with wonton chips and/or fresh veggies for dipping.
Recommended Products
As an Amazon Associate and member of other affiliate programs, I earn from qualifying purchases.
Nutrition Information:
Yield:
10
Serving Size:
1
Amount Per Serving:
Calories:

58
Total Fat:

4g
Saturated Fat:

1g
Trans Fat:

0g
Unsaturated Fat:

3g
Cholesterol:

0mg
Sodium:

131mg
Carbohydrates:

4g
Fiber:

1g
Sugar:

2g
Protein:

1g
Please note that nutrition is not guaranteed accurate.

If you make this recipe, I'd love to know! Snap a picture, share the photo on social media with the hashtag #AnAffairFromTheHeart – I'd love to see what you made! – Michaela