Candy coated Crispix cereal, peanuts and M&M's make the MOST addicting snack mix EVER!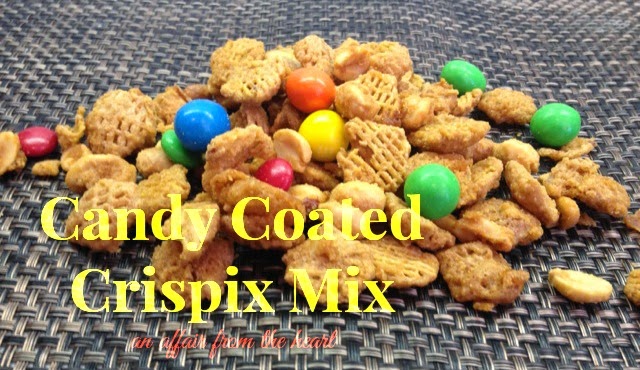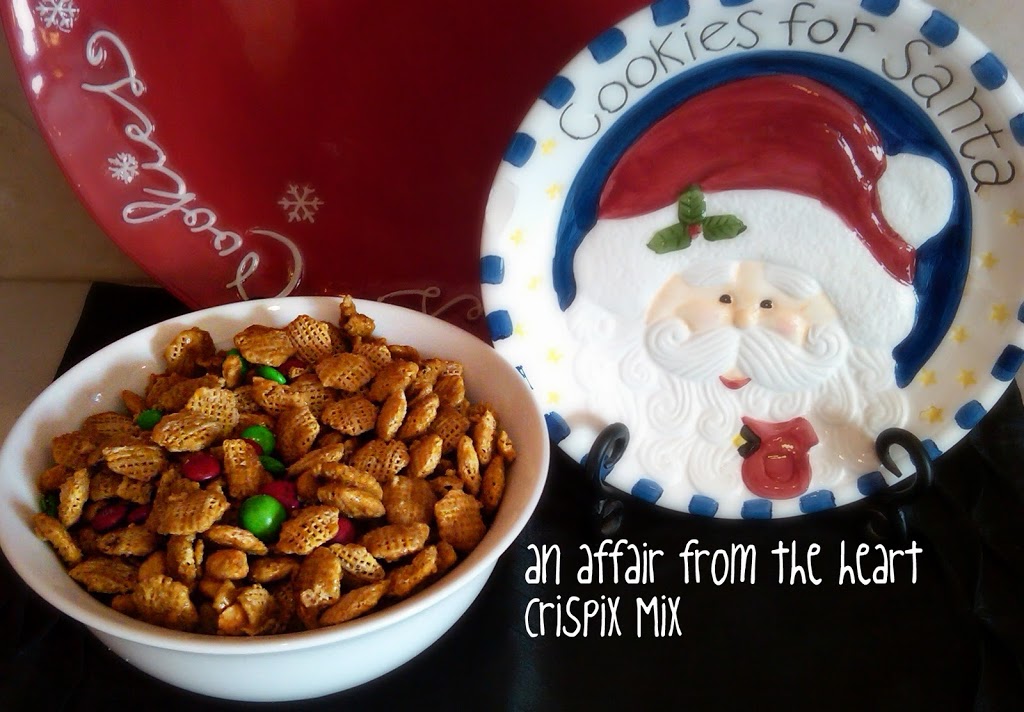 Crispix Mix
WARNING: This post contains a very addicting snack mix. If you are someone who doesn't have a lot of will power, (like ME!) and love sweet and salty snacks, you might want to stop reading….
But seriously folks, this stuff is SO good and SO addicting!!
I make two ice cream buckets full of it every Christmas.
I love to put it in the middle of my cookie/candy trays.
It's great to grab a bag of it or a cute baking tin and take to parties.
(or to give to your neighbor that loaned you corn syrup when you ran out
and you were baking in your PJ's!!)
The best thing, you can jazz it up however you want.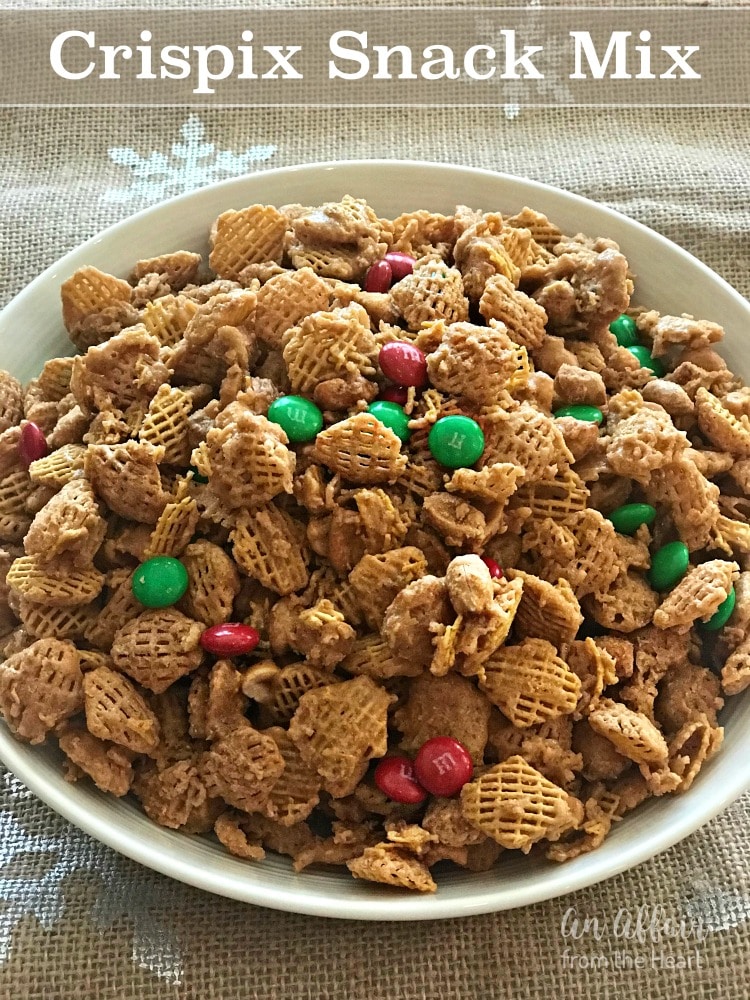 Yield: 6 cups
Candy Coated Crispix Snack Mix ---- Plus a Fun way to decorate a Pringle Can for your Cookie Exchanges
Candy coated Crispix cereal, peanuts and M&M's make the MOST addicting snack mix EVER!
Cook Time
1 hour
15 minutes
Total Time
1 hour
17 minutes
Ingredients
2 c. brown sugar
1 cup butter
1/2 cup lite corn syrup
17 ounces of Crispix Cereal
1 pound of M&M's
2 cups salted Dry roasted peanuts
1/2 t salt
1 t baking soda
Instructions
In a large bowl, empty the cereal and the peanuts.
In a saucepan on the stove melt the butter, sugar, syrup and salt. Bring to a boil and boil for 5 minutes stirring constantly. Add the baking soda, stir, ingredients will foam and become frothy.
Pour mixture over the cereal and peanuts. Mix quickly but carefully. You don't want to smash all of the cereal. Spread onto a cookie sheet lined with non-stick foil or sprayed with non-stick cooking spray.
Bake at 200 degrees for one hour, turning mix over every 15 minutes.
When mix has cooled, add the M&M's.
I usually use dark chocolate ones, because those are my favorite. But this time, I used pretzel ones and dark chocolate.
Nutrition Information:
Yield:
6
Serving Size:
1
Amount Per Serving:
Calories:

1252
Total Fat:

47g
Saturated Fat:

29g
Trans Fat:

1g
Unsaturated Fat:

14g
Cholesterol:

92mg
Sodium:

1258mg
Carbohydrates:

204g
Fiber:

3g
Sugar:

137g
Protein:

9g
Nutrition isn't always accurate.
I decided to make this for my annual holiday cookie/candy exchange.
ready to exchange!
I found this cute idea on Pinterest to cover Pringles cans in scrapbook paper.
(my kids have been eating A LOT of Pringles over the last few months!!)
Didn't they turn out cute??
I doubled this recipe above and it more than filled 10 Pringles cans.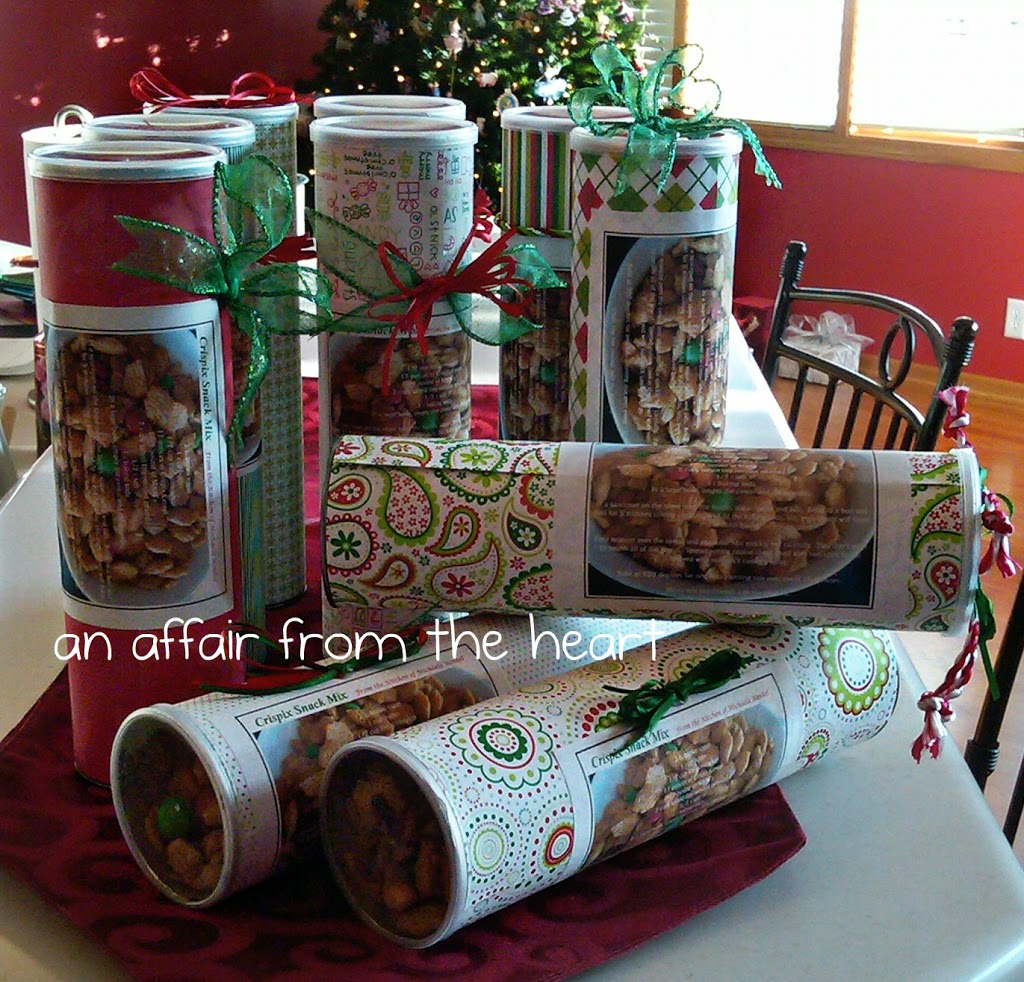 look out…this stuff is GOOD!!
I took a 12 x 12 piece of holiday scrapbook paper, and trimmed it down to size to fit a Pringle can. I added some quick drying scrapbook glue around the edges and wrapped the clean Pringle can.
I attached these recipes with the picture of the mix to each can
I adhered the recipe I made for my Crispix mix, it was backed with an actual picture of the mix itself.
I decorated each one with a coordinating bow, and each of them looks different.
So excited for the exchange this week!

If you make this recipe, I'd love to know! Snap a picture, share the photo on social media with the hashtag #AnAffairFromTheHeart – I'd love to see what you made! – Michaela