Lucky Leprechaun Bait (Lucky Charms Snack Mix)
As an Amazon Associate and member of other affiliate programs, I earn from qualifying purchases.
A delightfully sweet and salty snack mix, Lucky Leprechaun Bait or Lucky Charms Snack Mix is full of Lucky Charms cereal with its colorful mini marshmallows, chocolate M&M candies, salty pretzels, and yogurt-covered raisins all tossed together in vanilla candy coating and festive sprinkles! Make up a big batch for a fun St. Patrick's Day snack – or anytime you are craving a fun twist on a good 'ol bowl of Lucky Charms!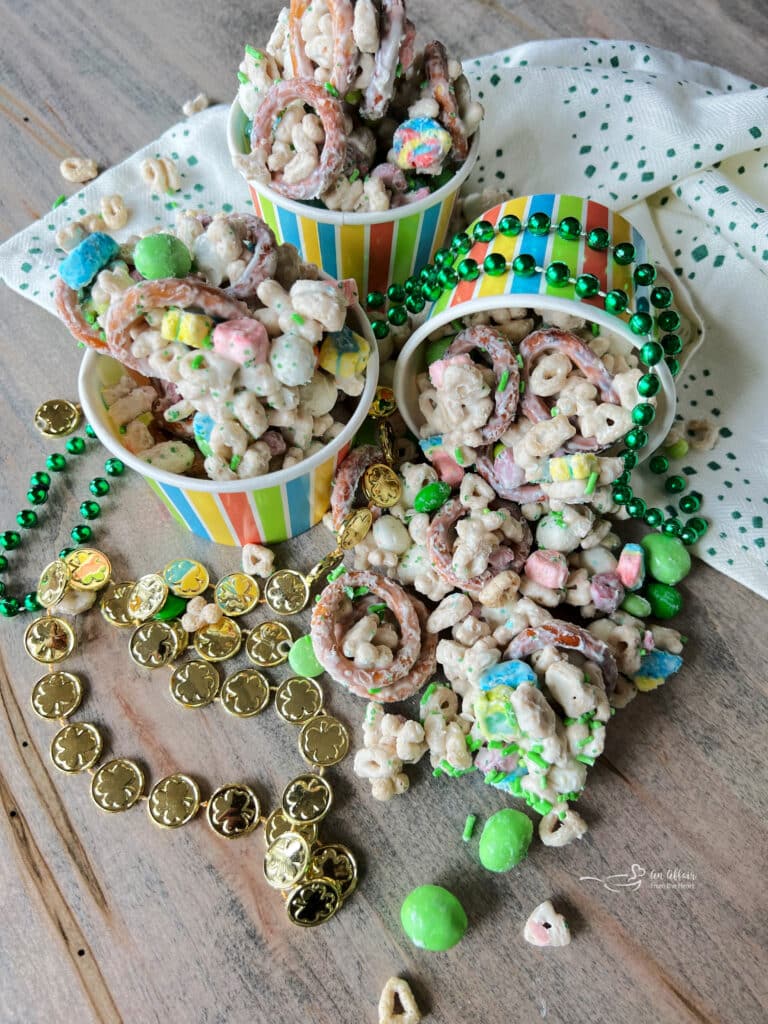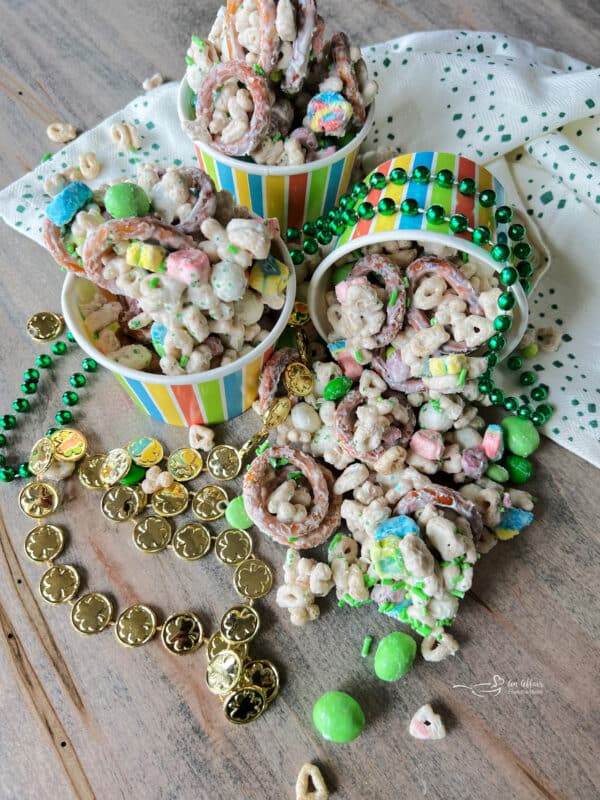 You know the story, if you can catch the leprechaun you get his fortune. Well, if you are searching at the base of rainbows looking for a pot of gold, and chasing down leprechauns to make it rich, you are doing it wrong.
This Lucky Leprechaun Bait party mix is a fun snack that will be sure to help you catch that tiny mythical creature…or just the love and adoration of those little people with a love of sweets. (the big ones, too!)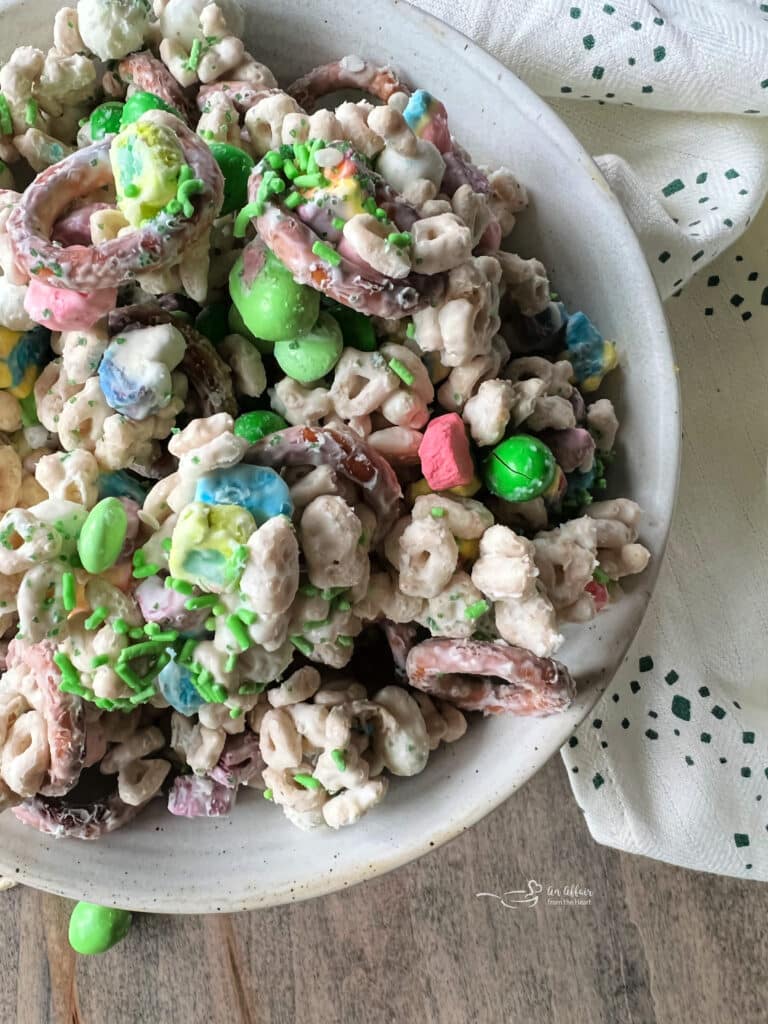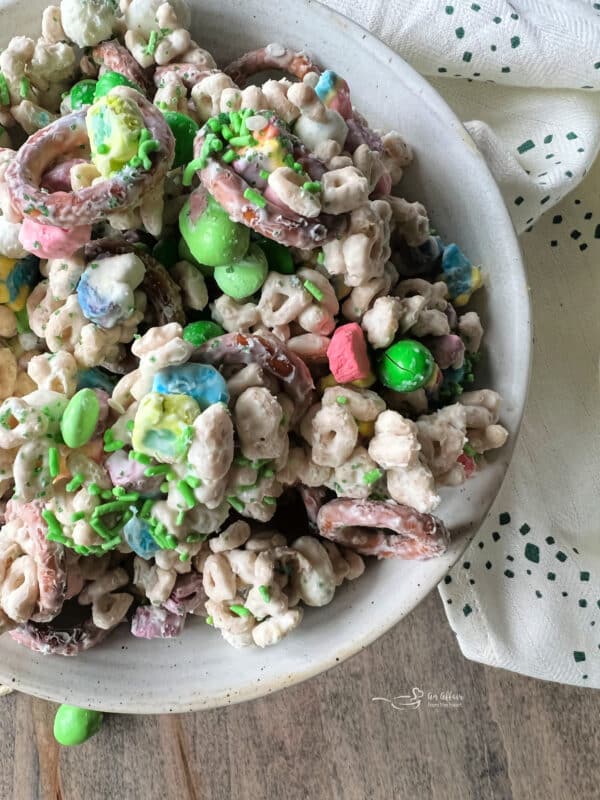 This leprechaun snack mix with Lucky Charms is super easy to make and is most definitely the sweet and salty snack you've been craving. Even if you don't know it yet!
If you've made my Candy Coated "Crack Corn" (maybe swearing at me under your breath because you were unable to stop eating it!) I bet you will love this St. Patrick's Day snack mix equally as much!
Be forewarned … it's hard to stop eating it once you start. This stuff is addicting! It's kind of like 'Lucky Charms' crack.' But be careful that Lucky the Leprechaun doesn't coerce you to fall into the leprechaun trap as it's hard to get out once you are in!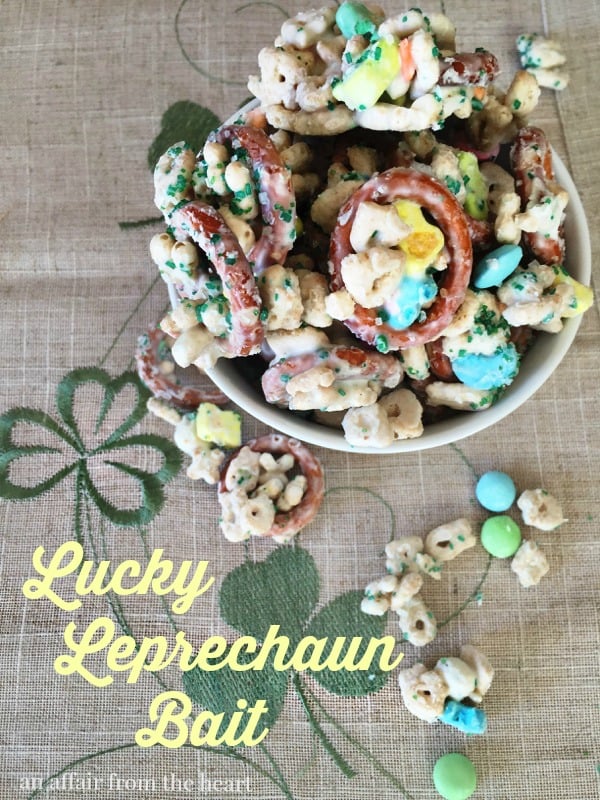 I originally posted this recipe back in 2015 and I have made it every year for St. Patrick's Day since. Be assured that the recipe hasn't changed, I have just added some updated photos for you.
Love Sweet & Salty Snacks like us? Try my Sweet & Salty Brownie Recipe or this Copy Cat Salted Nutroll Recipe!

Why You'll Love This Recipe For Leprechaun Bait
This Lucky Charms snack mix recipe is the perfect colorful treat for family movie night, birthday parties and class parties; a sweet treat the teachers will love not to mention your neighbors and friends, too. For St. Patty's Day or any day really, we love to bring it to neighborhood parties and potlucks.
This snack mix comes together easily without any special equipment required. All the ingredients can most probably be found at your regular grocery store.

What do you serve at a St. Patrick's Day party?
Traditional Irish foods are great at a St. Patrick's Day party; Corned Beef & Cabbage, Irish Soda Bread, Irish Coffee, Reuben Sandwiches, and Shepard's Pie are just a few options.
I like to serve a variety of food, green if possible. Like these amazing Grasshopper Cocktails and these Mint Chocolate Chip Cookies that are tinted green!
Is this Lucky Leprechaun Snack Mix similar to Lucky Rainbow Chex?
There definitely are similarities between these two recipes however they are not the same. Lucky Rainbow Chex has Chex cereal and the Leprechaun snack mix has Lucky Charms. By all means, you can add Chex cereal to this Leprechaun snack if you wish to change things up a bit. Rice Chex or Corn Chex would work really well in this fun recipe!
Lucky Leprechaun Bait Ingredients
Scroll down to the printable recipe card for measurements of each ingredient.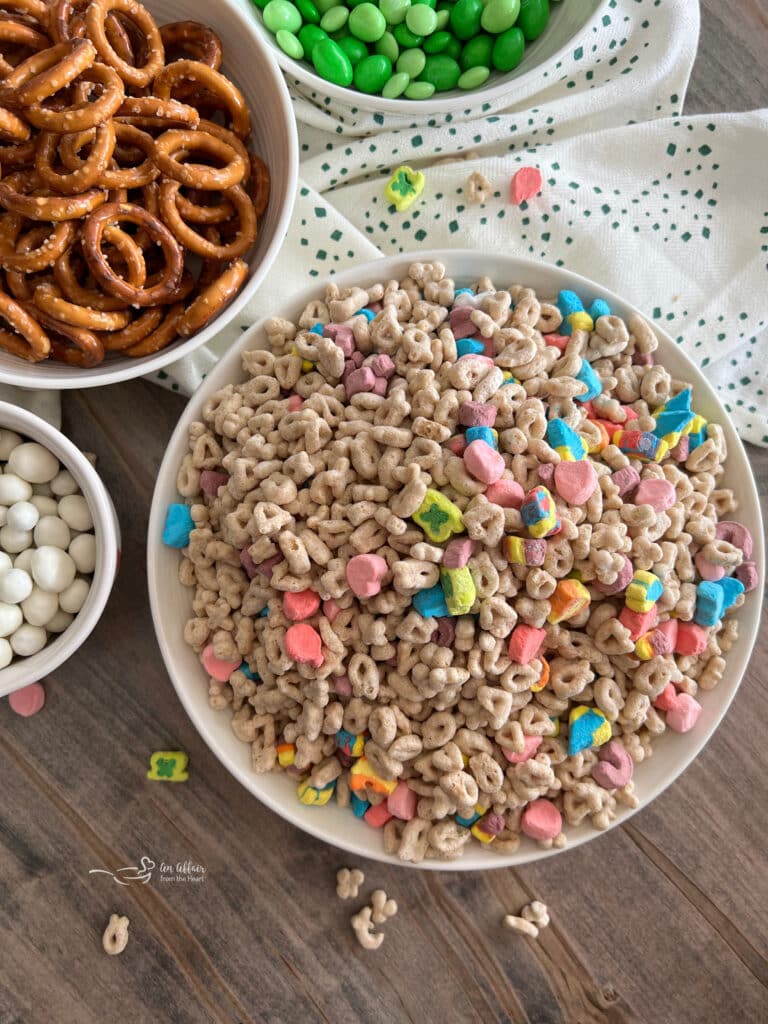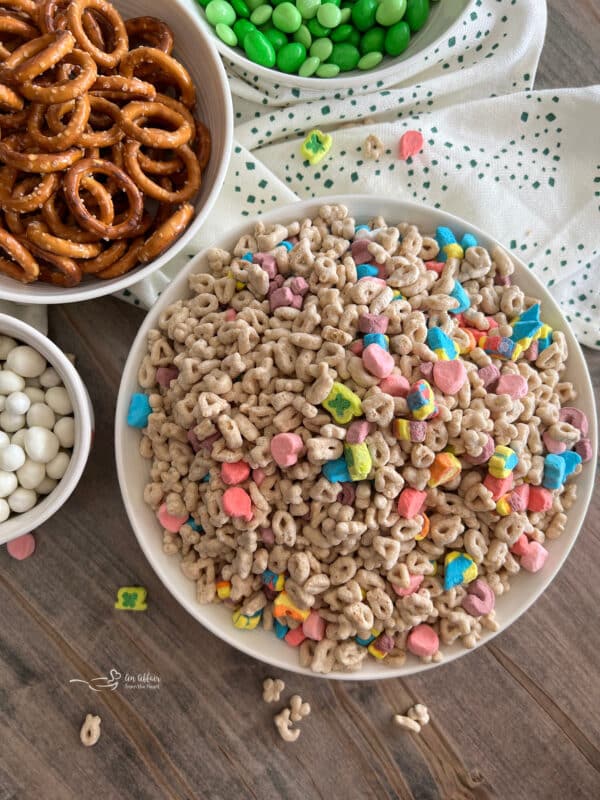 Lucky Charms Cereal, made by General Mills. Kids of all ages love this cereal!
pretzels – any kind will work, twists, pretzel sticks, or these little circle pretzels that I always have leftover from making Rolo pretzels during the holidays.
yogurt covered raisins – give a nice sweet chewy texture amongst the crunch! Don't like them? Easy to leave them out.
M&M's – plain milk chocolate is what I prefer.
vanilla flavored almond bark – found in the baking asile.
vegetable oil – you can use canola or grapeseed oil if you like, or use coconut oil which adds a slight coconut taste to the recipe.
candy sprinkles – green sprinkles, rainbow sprinkles, or st. paddy's day themed sprinkles work great! Sparkling sugar is a nice touch, too.

How To Make This Lucky Charms Snack Mix
Making this leprechaun crack snack mix is so simple, that you are going to want to make it all of the time!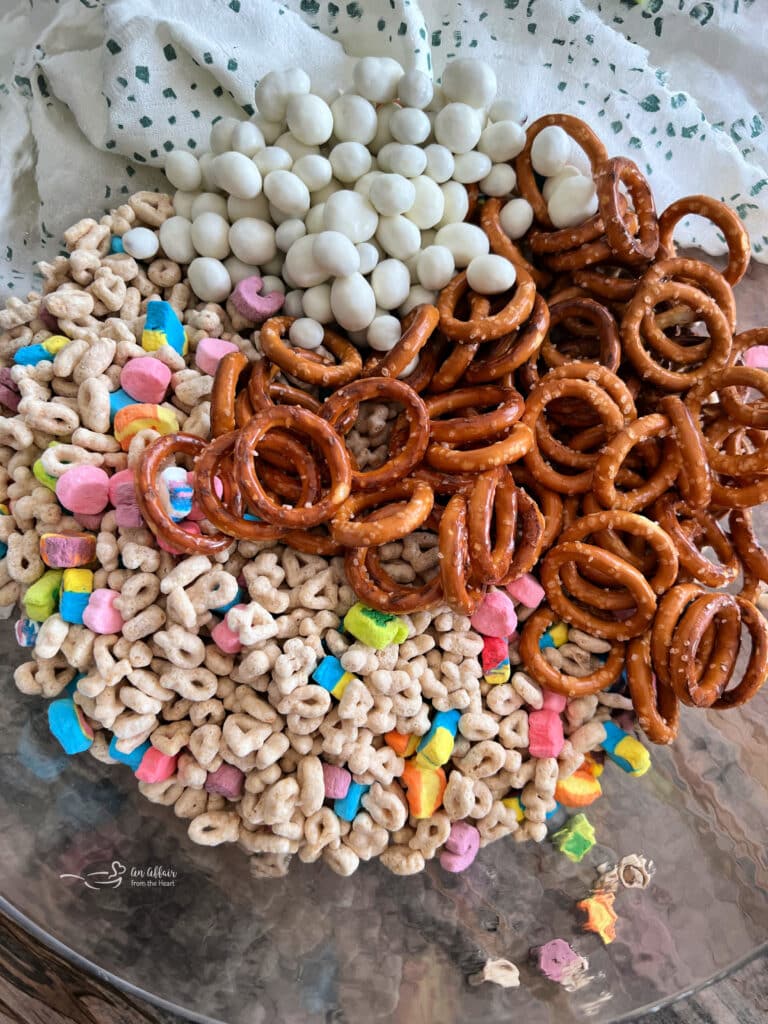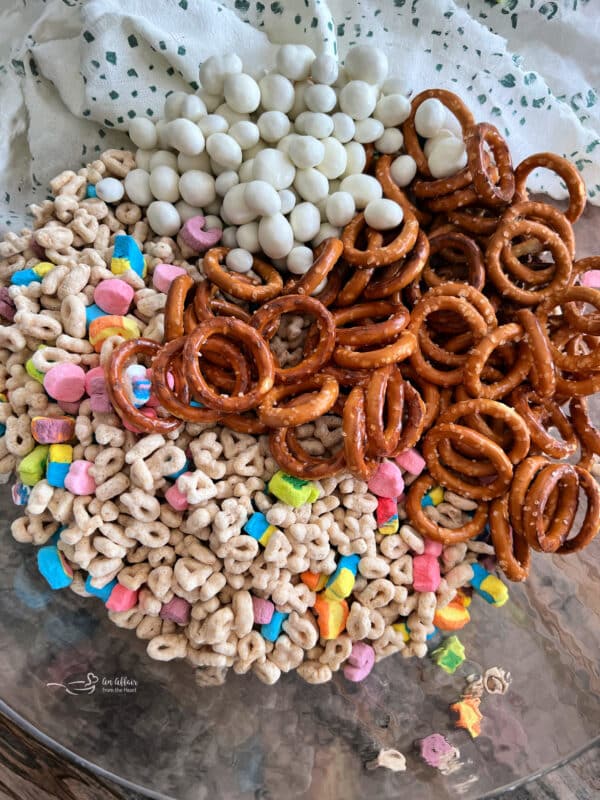 POUR
Pour Lucky Charms cereal, pretzels, and raisins into a large bowl.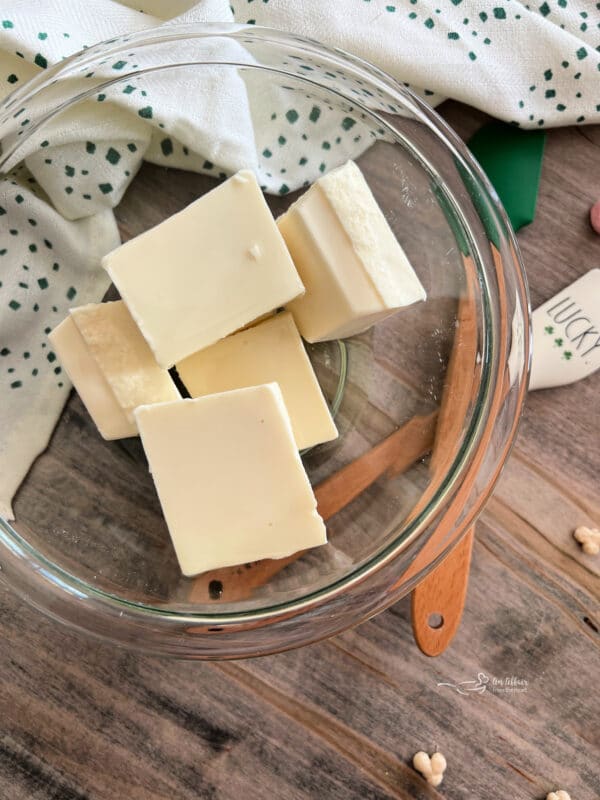 MELT
In a medium microwaveable bowl, place almond bark squares and oil.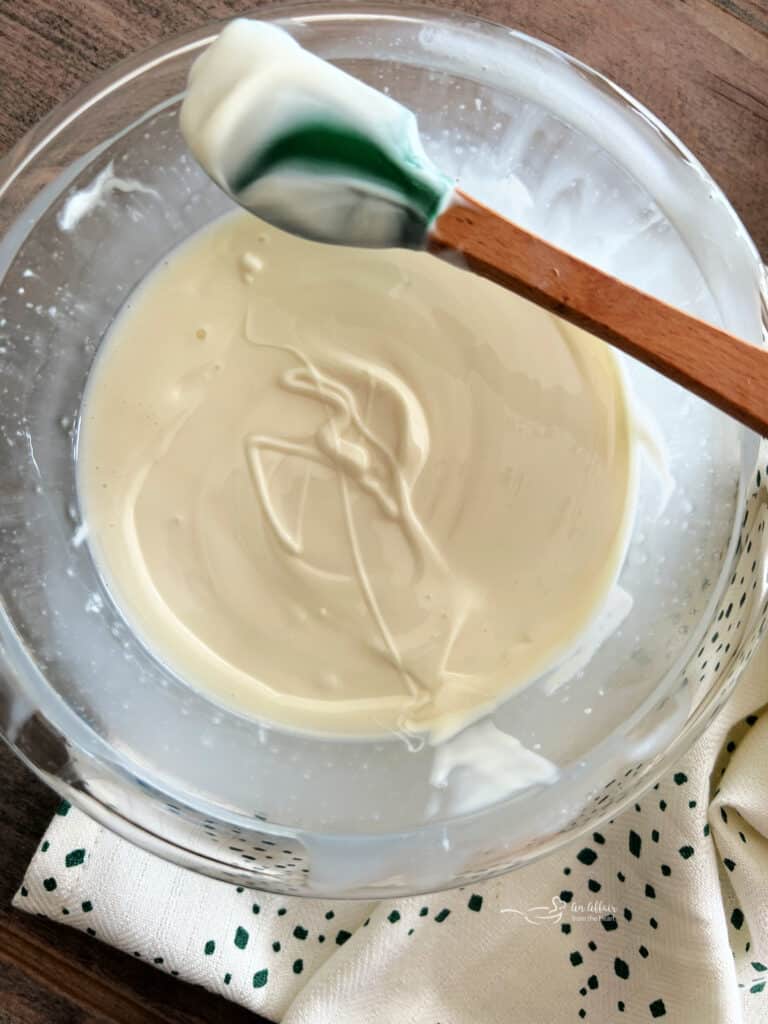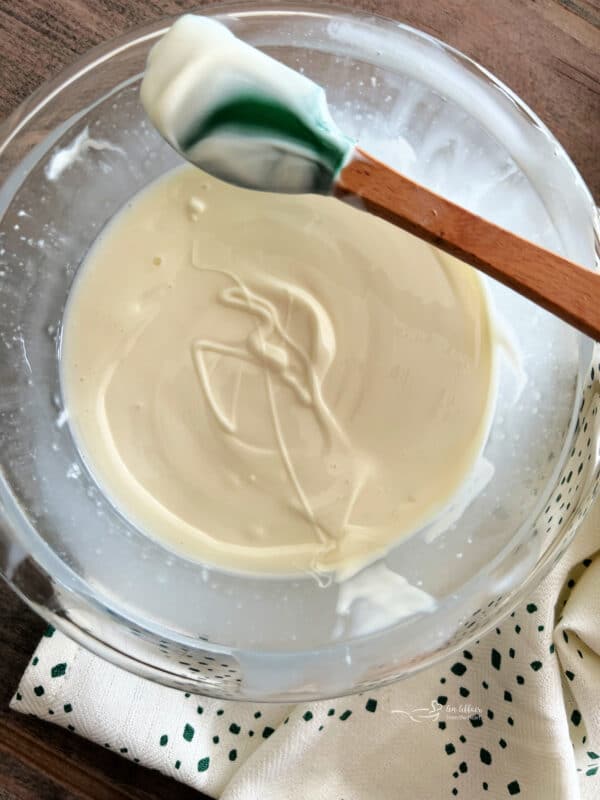 Microwave for 1 minute, stir and continue microwaving and stirring in 30-second intervals.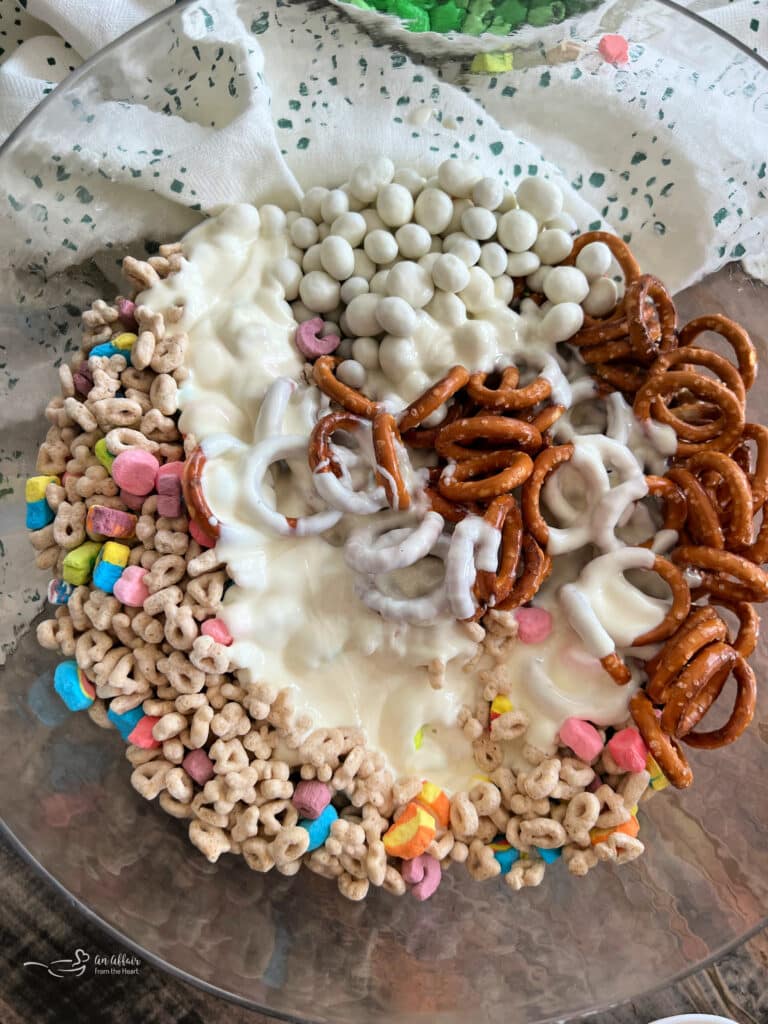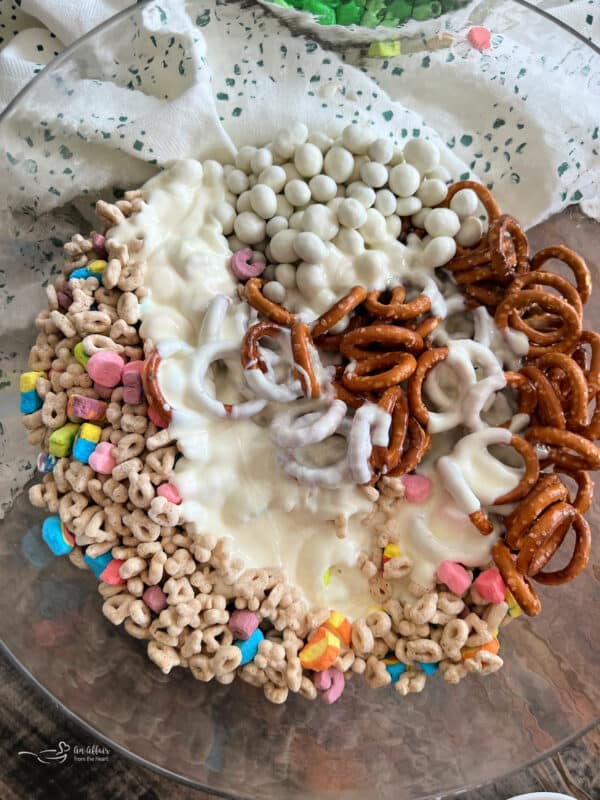 COMBINE
When smooth, pour over the top of the cereal mixture.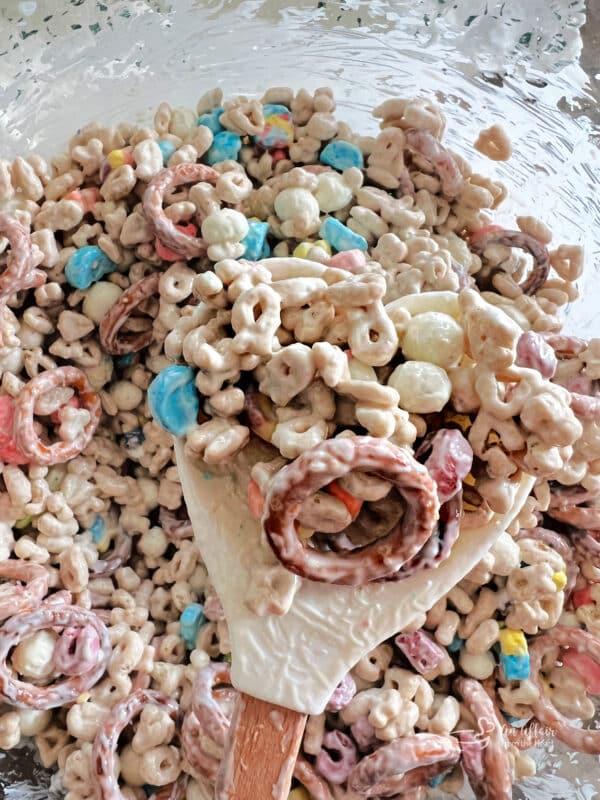 Stir to coat.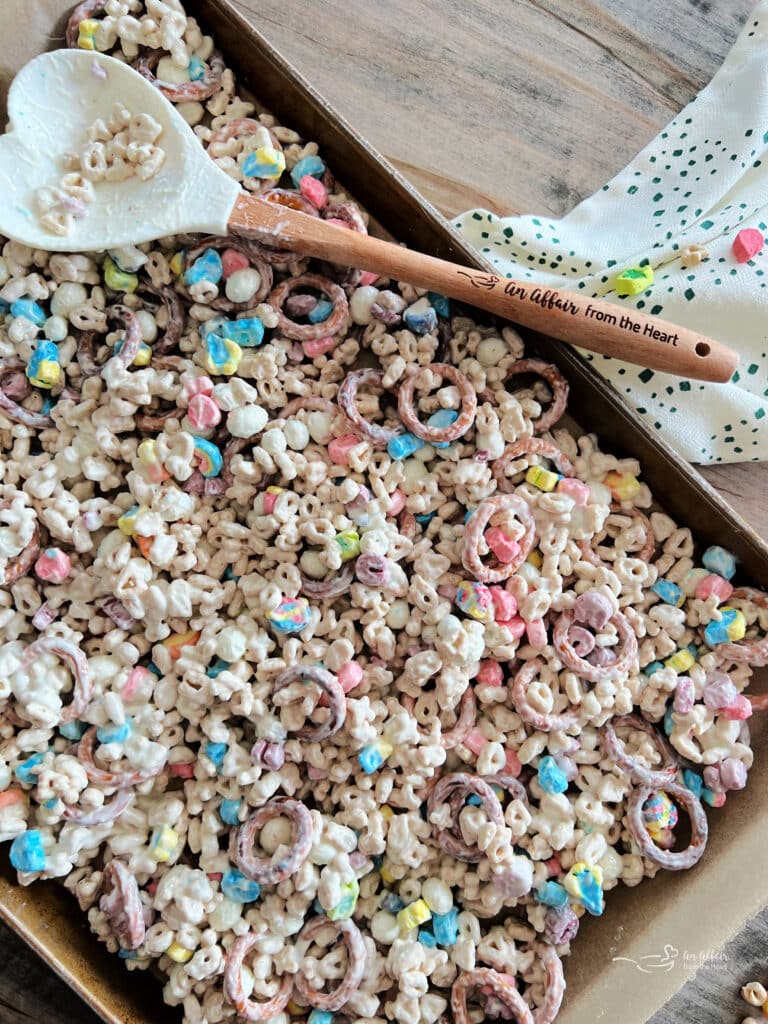 SPREAD
Line a large cookie sheet with parchment paper. Spread candy-coated mix into an even layer.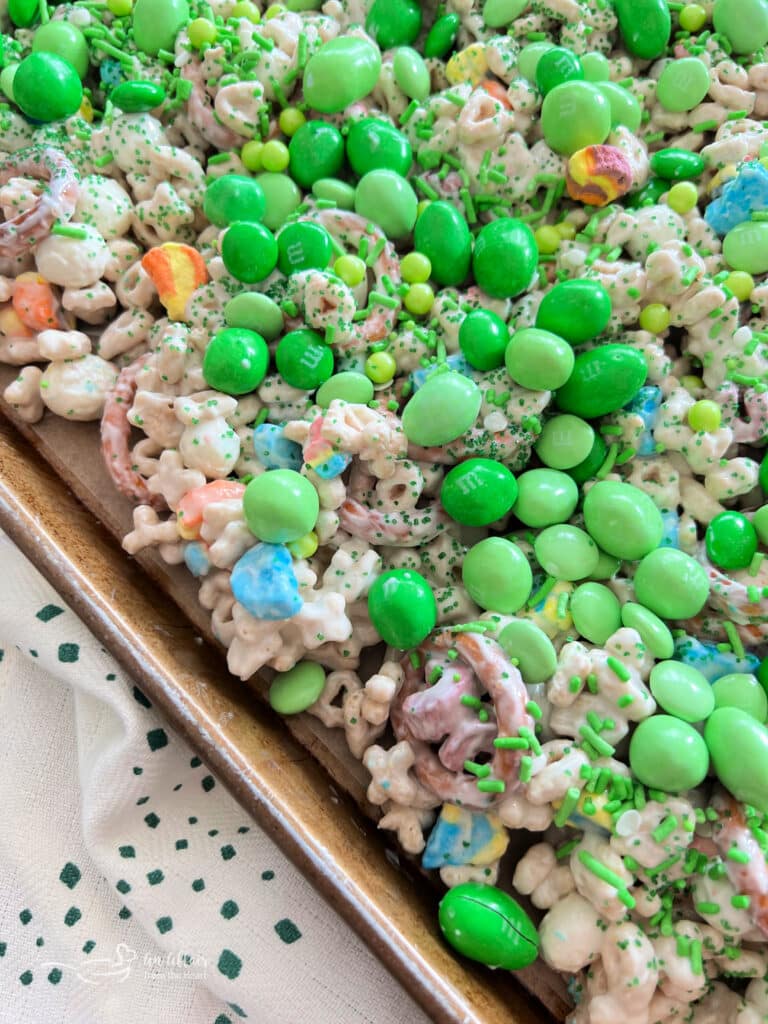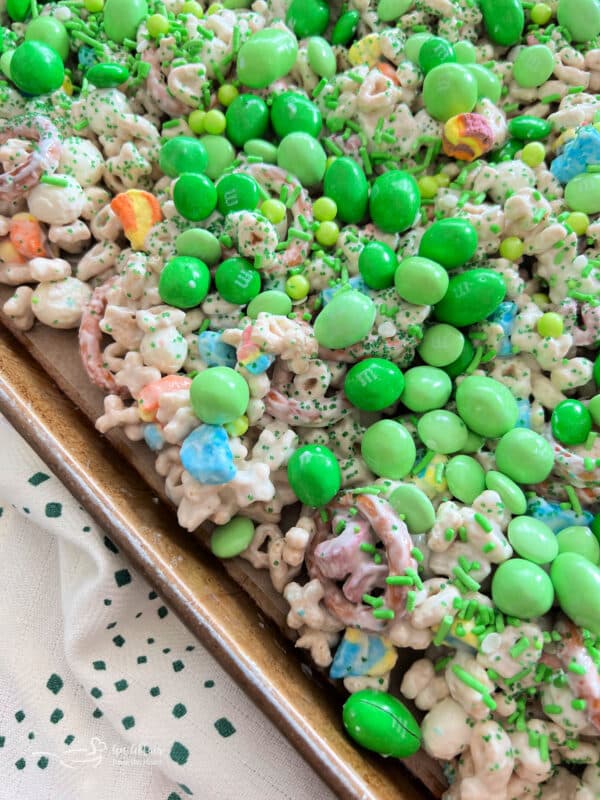 TOP
Sprinkle M&M's over the top, and coat heavily in sprinkles and/or sparkling sugar.

SET
Let the snack mixture set and then break apart into bite-sized pieces.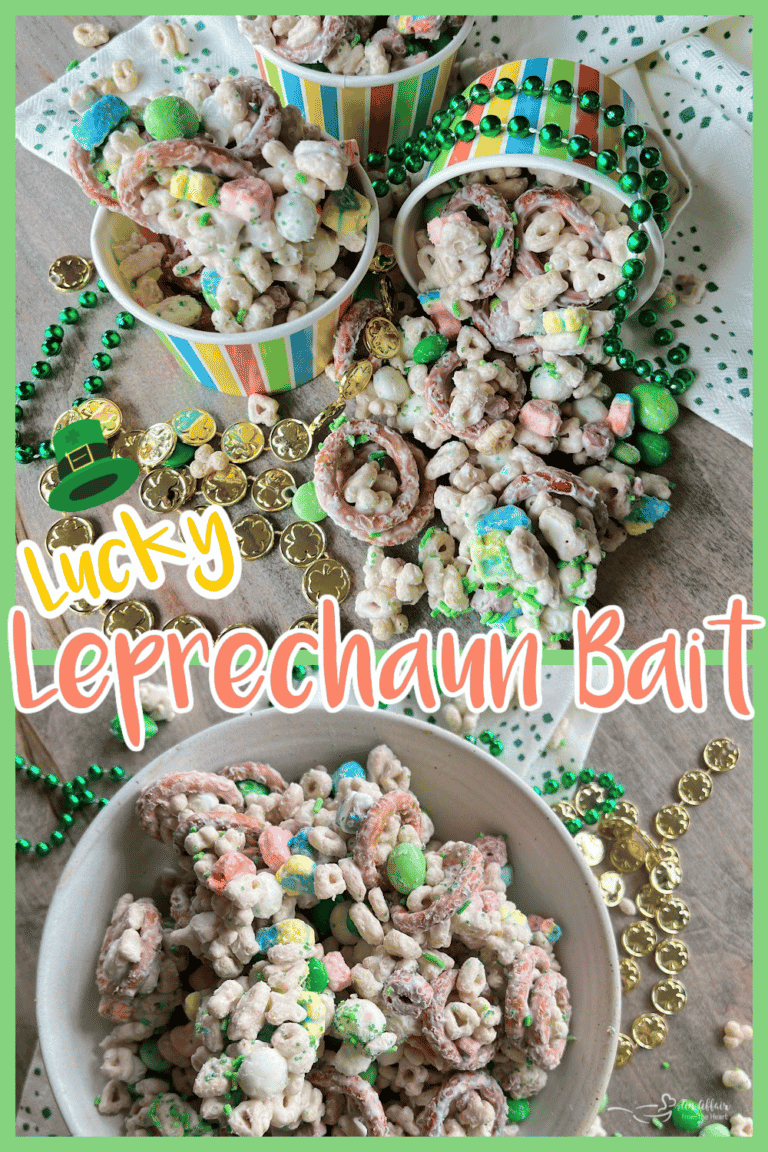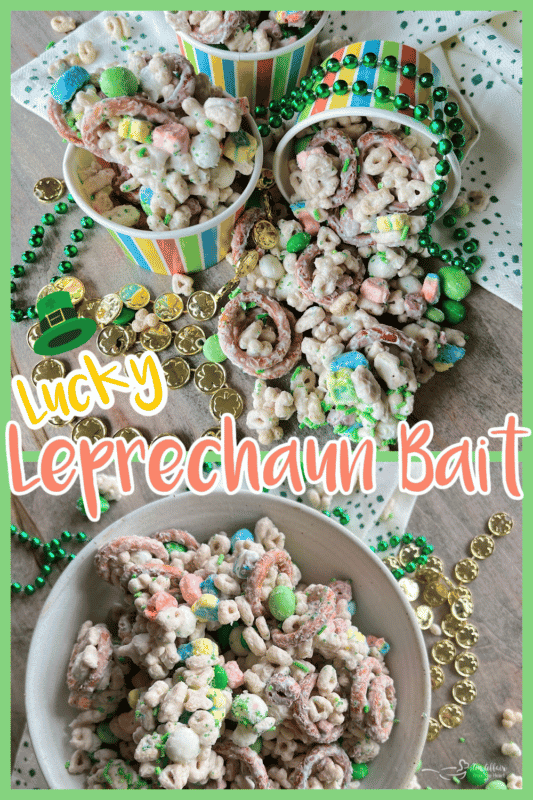 LOVE IT? PIN IT!
Do you love this yummy snack mix recipe? Well, don't lose it! Pin it to your favorite Pinterest recipe board before you go!
Lucky Leprechaun Bait Variations
Lucky Charms Chex Mix – make this recipe into a more traditional Chex Mix recipe by adding in either Corn Chex or Rice Chex cereal. Replace 1/2 of the Lucky Charms Cereal OR double the topping mixture and add in equal parts Chex and Charms!
White Chocolate Lucky Charms Mix – instead of almond bark, use white chocolate. Melt white chocolate chips or white chocolate candy melts according to the package instructions.
Lucky Charms Trail Mix – a great addition to the yogurt-covered raisins, adding a variety of fresh nuts, seeds, and dried fruits will give this snack mix a true trail mix vibe.
Lucky Charms Popcorn can be made by combining this recipe with my candy-coated popcorn recipe.
How to Store this Candy Coated Mix
This Lucky Leprechaun Bait recipe can be stored in an airtight container on the counter for a few days. It can also be stored in the freezer.
Do I have to make this Leprechaun snack mix with pretzels?
This recipe is pretty versatile. You can eliminate the salty pretzels if you wish. We personally love the sweet & salty taste the mini pretzels give this holiday snack mix. You could get a similar vibe using salted peanuts, too!
FAQs About Lucky Charms Cereal
Are Lucky Charms good for you? Lucky Charms are made with whole grain oats and are fortified with 12 vitamins and minerals. Lucky Charms can be part of a healthy diet if you follow my mantra of 'everything in moderation.'
Lucky Charms nutrition Based upon the package the nutrition in one cup of Lucky Charms cereal is as follows: 140 calories, 2% of your daily fat intake, 10% of your sodium intake, 11% of your carbohydrate intake, 7% of your fiber intake, 24% of your sugar intake, 3 g of protein, 10% Vitamin D, 10% Calcium and 20% Iron. Please refer to General Mills for more detailed nutritional information.
Is Lucky Charms Gluten Free? Lucky Charms cereal is gluten-free as it is made with oats and not wheat. To make this snack mix GF, you will need to buy gluten-free pretzels. I suggest you double-check all the packaging labels of the other ingredients just to make sure they are also gluten free.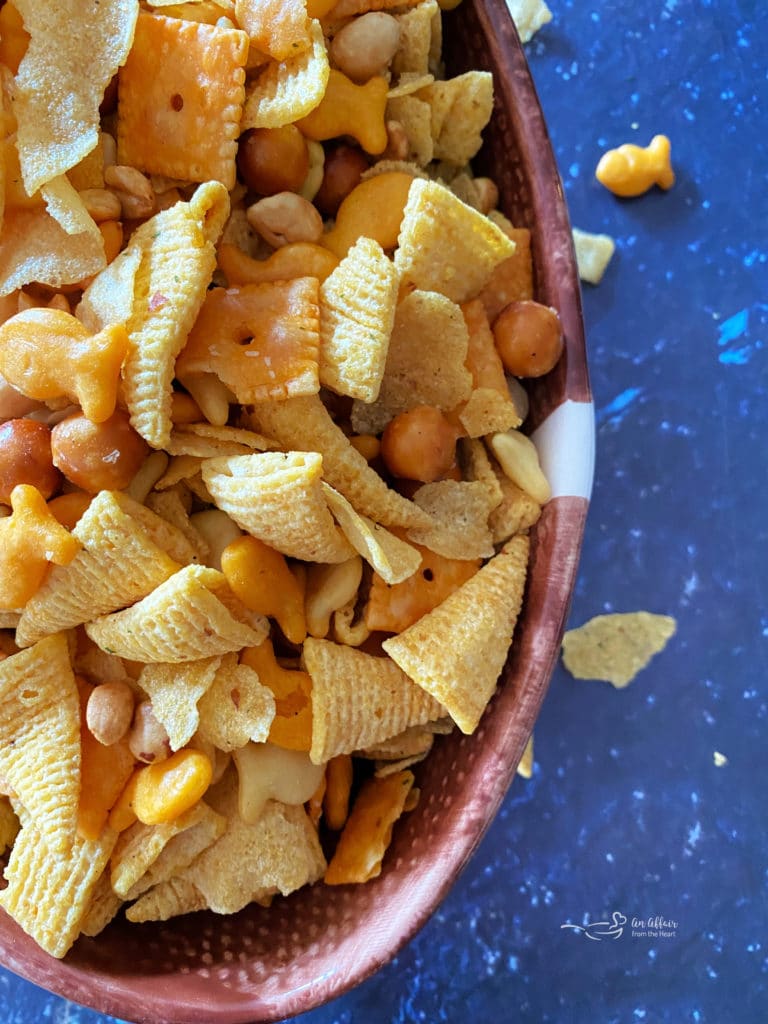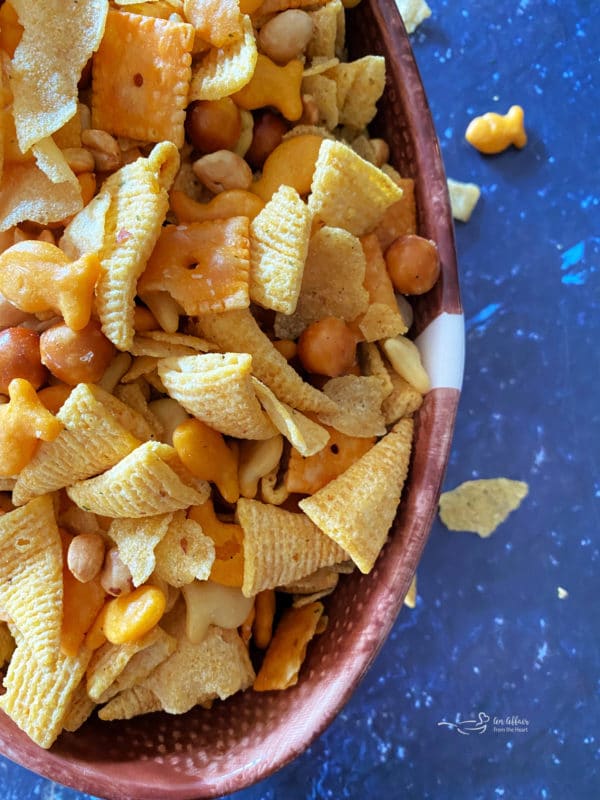 MORE SNACK MIXES TO LOVE
I have loads of snack mixes that are perfect for snacking and sharing!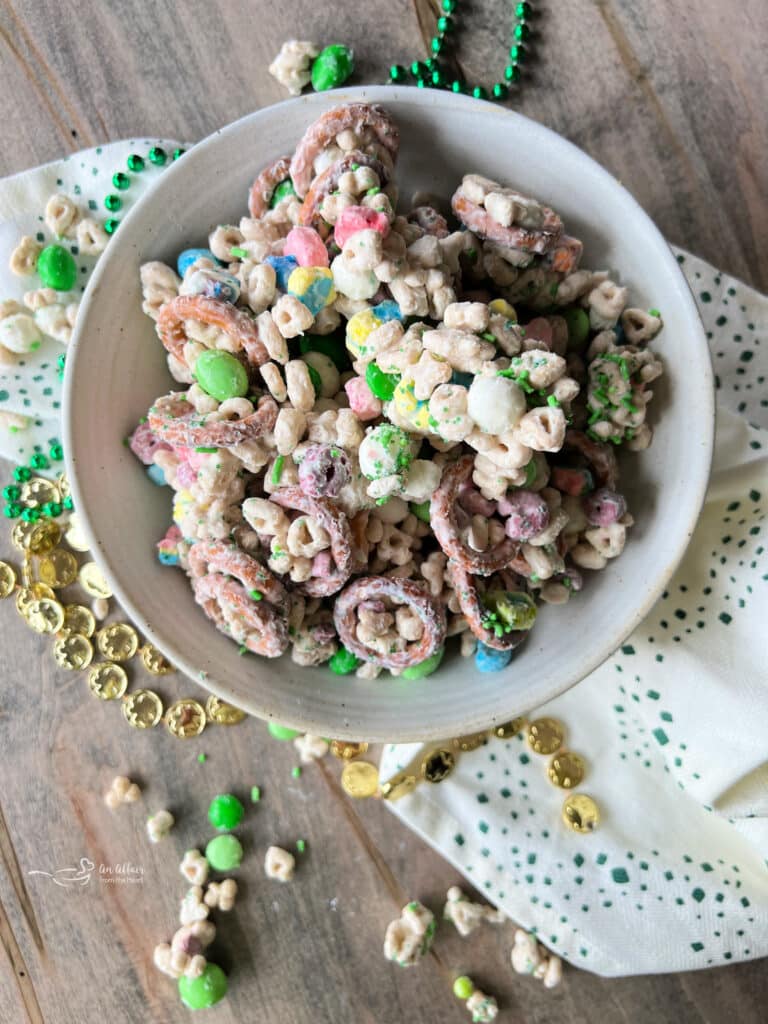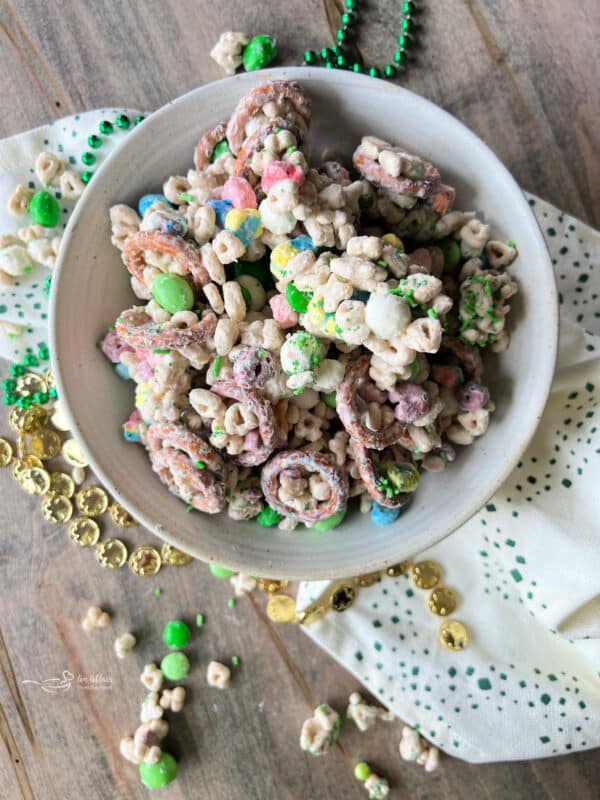 The whole family is going to adore this festive st. patrick's day treat! The best part about this Lucky Snack Mix is you can make it anytime you crave a salty-sweet snack. Let's get to this super simple recipe!

Yield: 8 cups
Lucky Leprechaun Bait (Lucky Charms Snack Mix)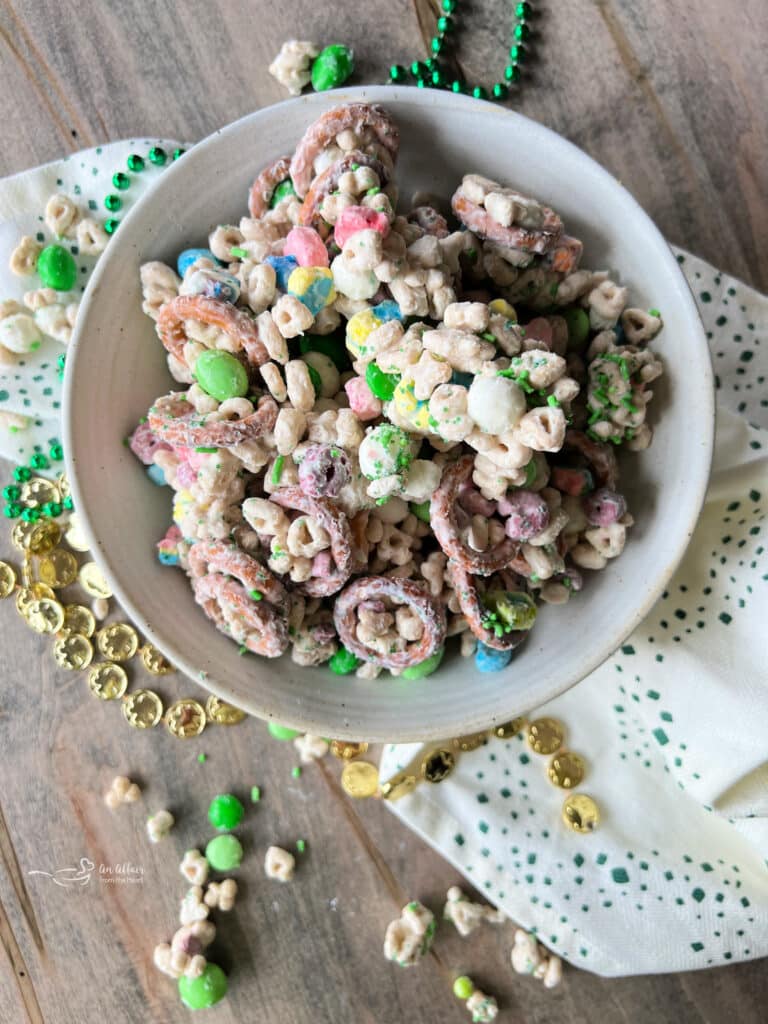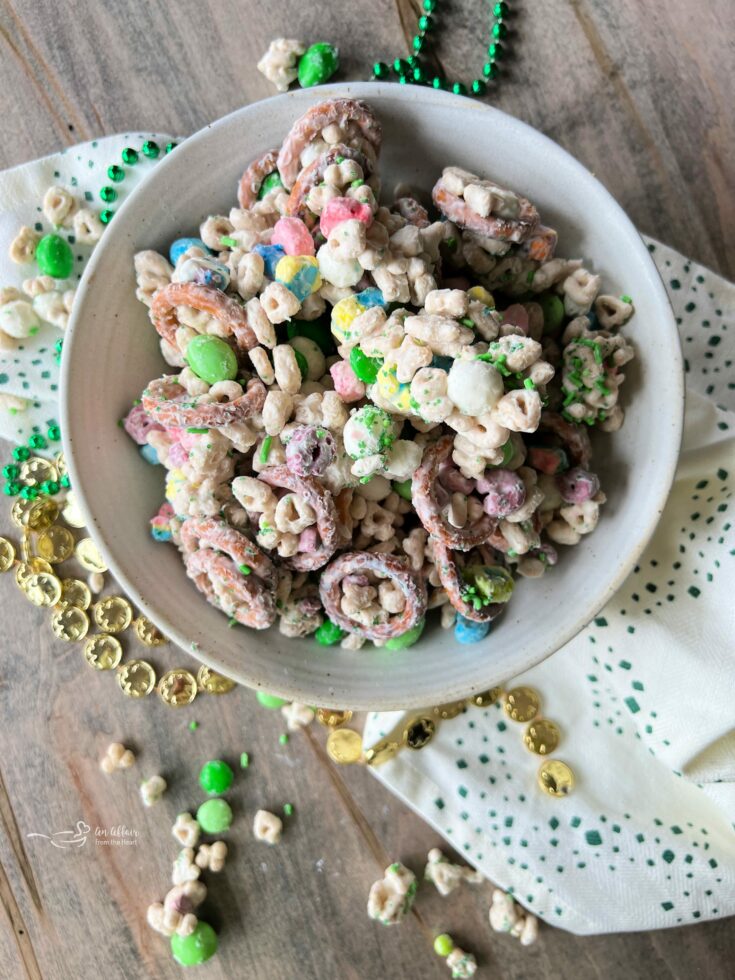 Sweet and salty snack mix, that will be your Lucky Charm when you are trying to catch a leprechaun, or just someone with a sweet tooth!
Additional Time
30 minutes
Ingredients
1 (11.5 ounce) box Lucky Charms Cereal
3 cups Pretzels
1 cup (8 ounce package) yogurt covered raisins
1 cup M&M's
6 squares Vanilla Flavored Almond bark
4 Tablespoons vegetable oil
2-3 Tablespoons Sprinkles/Sparkling Sugar
Instructions
Line a large cookie sheet with parchment paper.
Pour cereal, pretzels, and raisins into a large bowl.
In a separate microwave-safe bowl, place almond bark squares and oil, microwave for 1 minute, stir and continue microwaving and stirring in 30-second intervals until melted and smooth.
Pour over the top of the cereal mixture and stir to coat.
Spread onto a cookie sheet, sprinkle M&M's over the top, and coat heavily in sprinkles.
Let dry and break apart.
Store in an airtight container for up to one week.
Recommended Products
As an Amazon Associate and member of other affiliate programs, I earn from qualifying purchases.
Nutrition Information:
Yield:
8
Serving Size:
1
Amount Per Serving:
Calories:

328
Total Fat:

14g
Saturated Fat:

4g
Trans Fat:

0g
Unsaturated Fat:

9g
Cholesterol:

4mg
Sodium:

279mg
Carbohydrates:

45g
Fiber:

2g
Sugar:

25g
Protein:

4g
Nutrition isn't always accurate.
This recipe was originally posted on March 10, 2015. It has been updated to improve user experience and reposted on July 17, 2022.