Crack Bread
As an Amazon Associate and member of other affiliate programs, I earn from qualifying purchases.
This cheesy crack bread recipe makes the perfect appetizer! A crusty loaf of bread, cut in and X's, filled with garlic butter, herbs, bacon, and cheese, this delicious pull-apart bread will disappear in no time!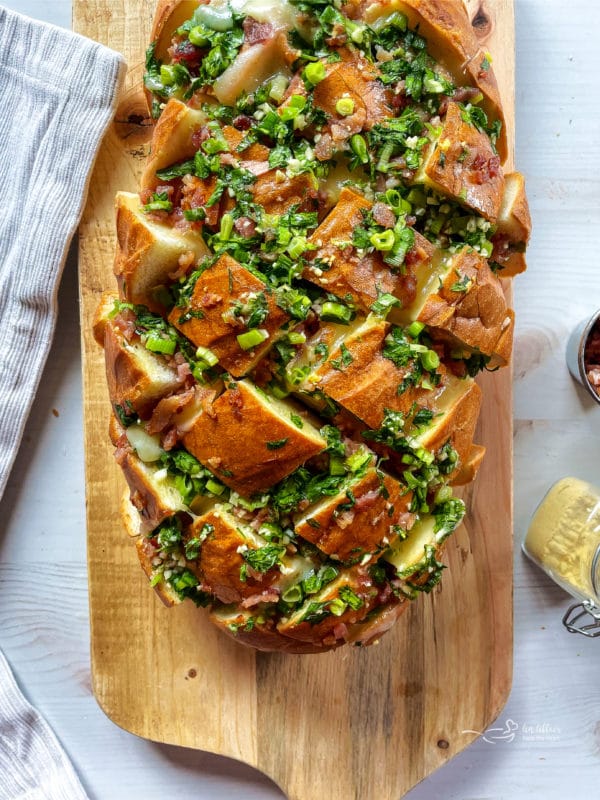 Crack bread, which is also known as "pull apart bread", is a way to serve a seasoned loaf of bread, in this case garlic bread. Cutting the bread diagonally not only affords plenty of room to season the bread throughout, but also makes a convenient way to serve individual portions. This recipe creates a cheesy garlic bread full of bacon bits, but you can certainly get creative with the herbs, spices, and other ingredients too.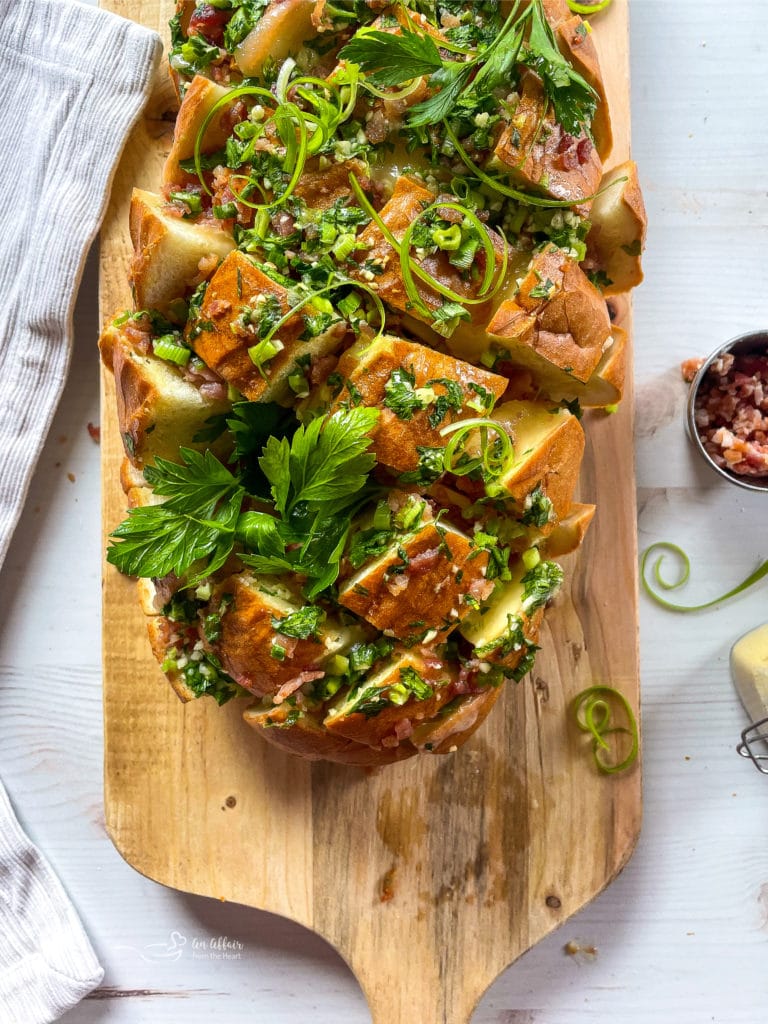 I am guessing this bread can be called "Crack Bread" for two reasons. One, because you slice the crusty bread in an "X" pattern and stuff the cracks with yummy cheese goodness.
Two, because once you eat it, it's like crack, and you can't stop. Well, it's not as bad as crack…but it's hard to leave alone!!
Way back in 2013 when I first decided to make this crack bread recipe, I set out to Pinterest to decide what I wanted to do. I ran across many cheesy crack bread recipes and couldn't choose just one. There were elements from different ones that I liked, so I combined what I thought looked and sounded good, and this Crack Bread Appetizer was born.

Why is it called "crack bread"?
Sure, you may recognize this as a "Pull Apart" bread recipe. Truth be told, you can call it that, too. This is garlic bread designed to be easy to break off and eat by simply pulling pieces off. Each piece packs the full spectrum of flavors, cheese, garlic, herbs… big flavors in every bite. At the end of the day, crack bread definitely has a better ring to it than "pull-apart bread". And let's face it… The name of a dish can make it every bit as appetizing as any ingredient wafting its way to your nose or dancing on your taste buds.
So which is easier on the ears and the taste buds? Crack bread or pull-apart bread? I am going with crack. Crack is the sound a bat makes hitting a home run out of the park, just like this recipe. "Pull apart" just sounds like there are unresolved issues.

What ingredients go into a pull-apart crack cheese bread?
For this recipe, you need the following:
1 loaf of french bread, make sure and get one with a nice crusty outside
salted butter, melted
Olive Oil
green onions
minced garlic
fresh parsley
dried mustard
Monterrey Jack and White Cheddar Cheese, sliced
bacon bits
Can I do variations on garlic cheese crack bread?
Feel free to use this recipe as a road map on how to make garlic pull-apart bread, but taking a turn off the beaten path is fun too. You can swap ham bits for the bacon. Use a funky cheese like gouda or muenster if you like. Trust me, no one is going to complain when that hot bread full of garlic butter and melted cheese comes out of the oven.

Crack Bread with bacon
One of the ways this recipe goes above and beyond is using those bacon bits! The packaged pre-cooked bacon bits come in handy, but if you have time to cook your own bacon bits, then go that extra mile. Trust me, it will be worth it. If you do end up making your own bacon bits, then undercook them just a bit. Remember, they will crisp up when they bake into the crack cheese bread.
Time to make cheese and garlic crack Bread!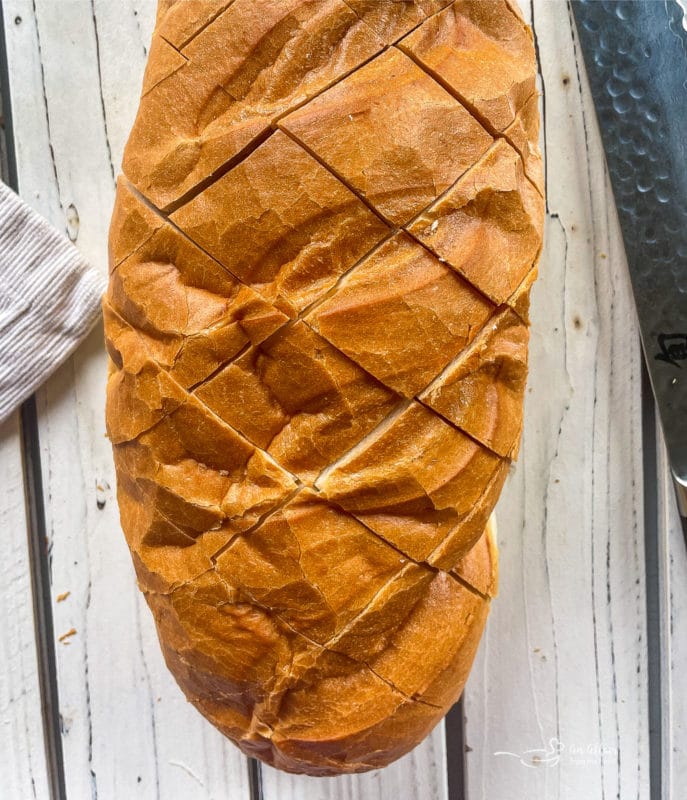 First, score the bread with diagonal slices. Make the slices deep, but make sure not to cut all the way through the loaf. Otherwise, you might just as well go back to making sliced garlic bread.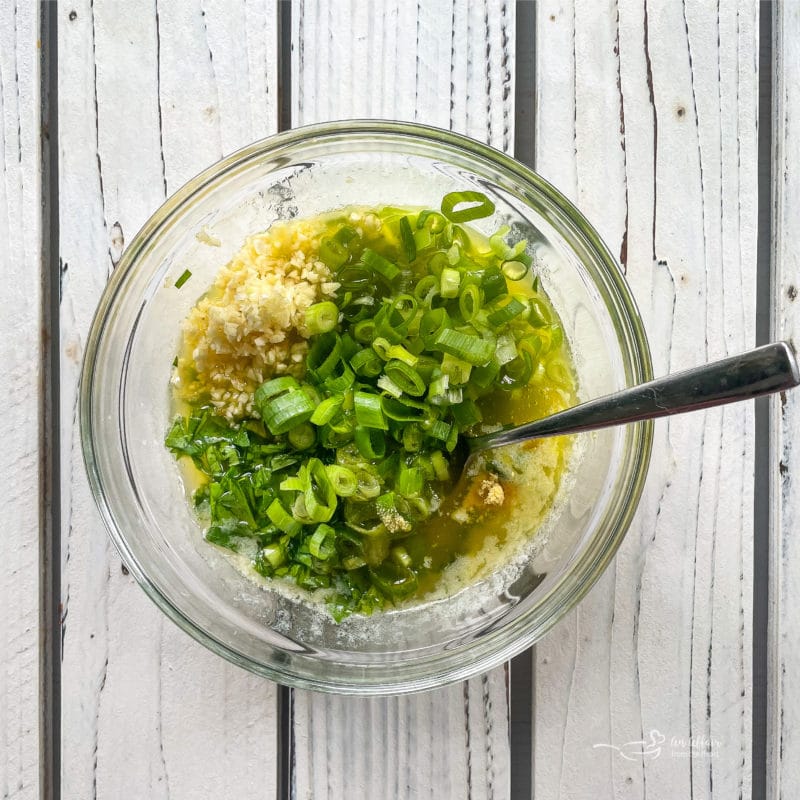 Now, time to stir together your olive oil, melted butter, green onions, garlic, and seasonings. The smell is so good you may be tempted to just start drinking directly from the bowl. Please resist this temptation. Your family may look at you weird.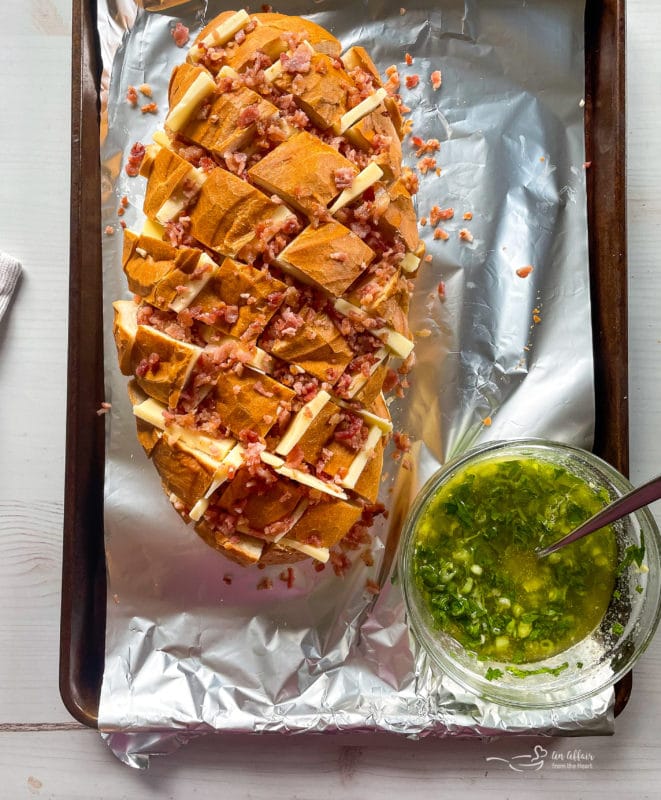 Now, take your cheese slices and wedge them into the slices on the loaf of bread. Make sure to push them in deeply enough. One, you don't want them inadvertently falling out on the way to the oven. Two, the deeper you get the cheese, the better the melt happens through the entire bite. I don't think we can overemphasize the importance of that!
Now, go ahead and use a heavy hand sprinkling on those bacon bits. If there is such a thing as too many bacon bits in this recipe then I haven't discovered it yet.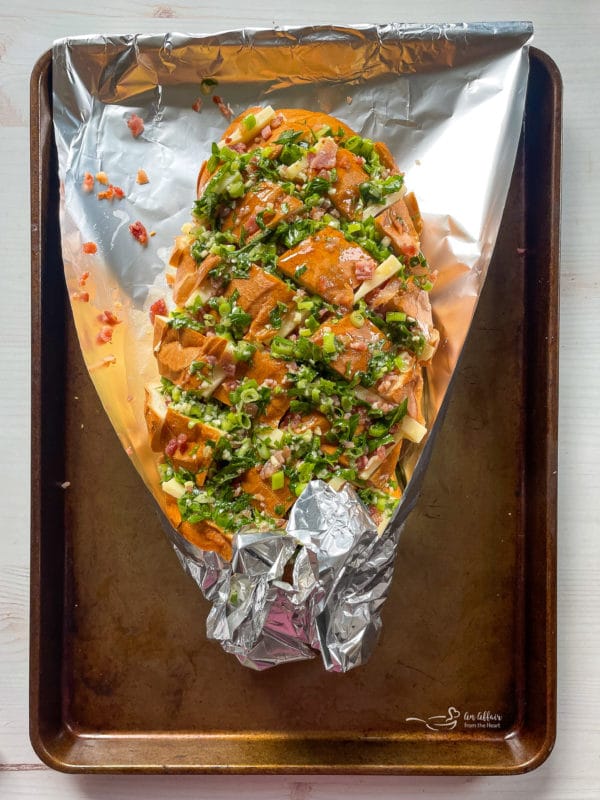 Ok, that beautiful herbed garlic butter, now blooming with flavor, needs to be liberally painted over the top. Let it drizzle into every nook and cranny.
You are ready to get it in the oven! Loosely wrap it in foil. Make it easy to expose the top in order to get the top nice and toasty right before you pull it from the oven.
Serve warm.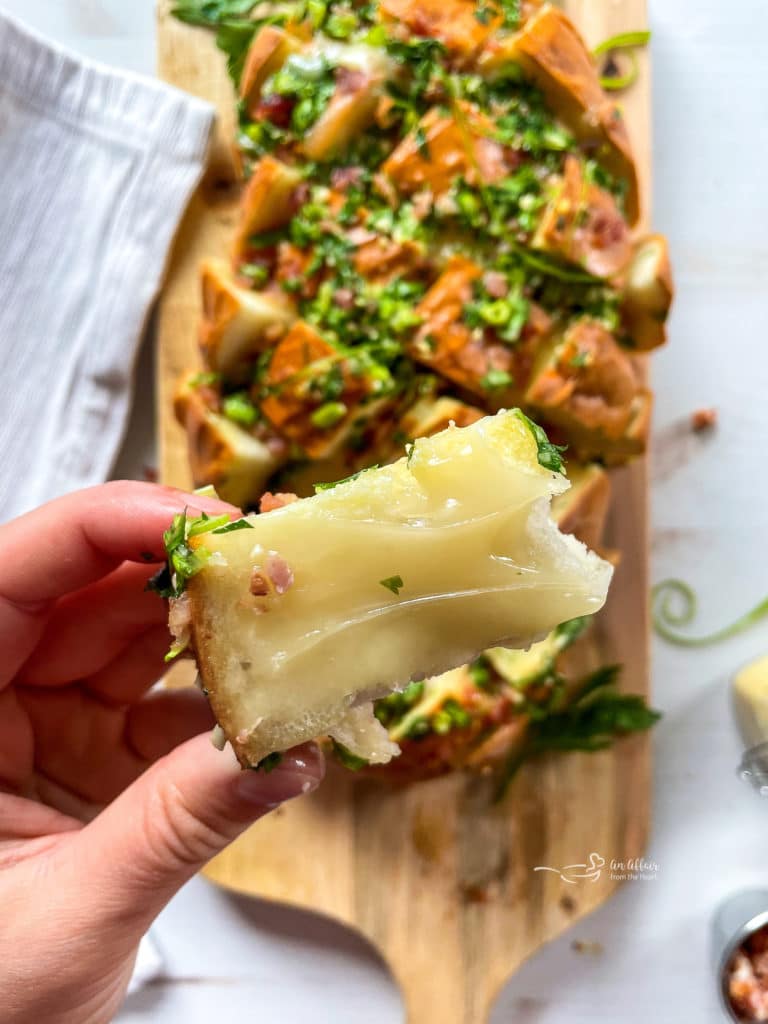 Just look at that cheesy goodness! If you are looking to make the perfect warm and comforting appetizer with melted cheese, crusty bread and buttery herbed garlic and bacon, you need not look any further! This is it!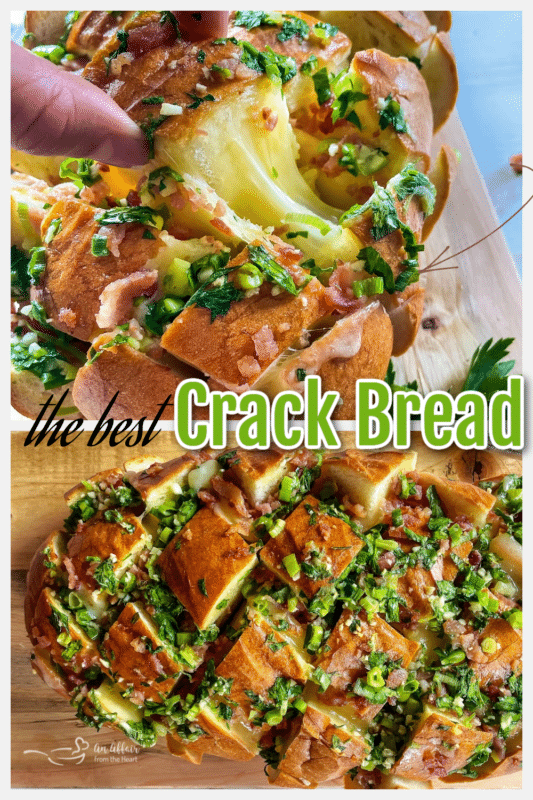 Love It? Pin it!
Don't forget where you found the recipe for this Crack Bread! Pin it to your favorite Pinterest board to find it easily!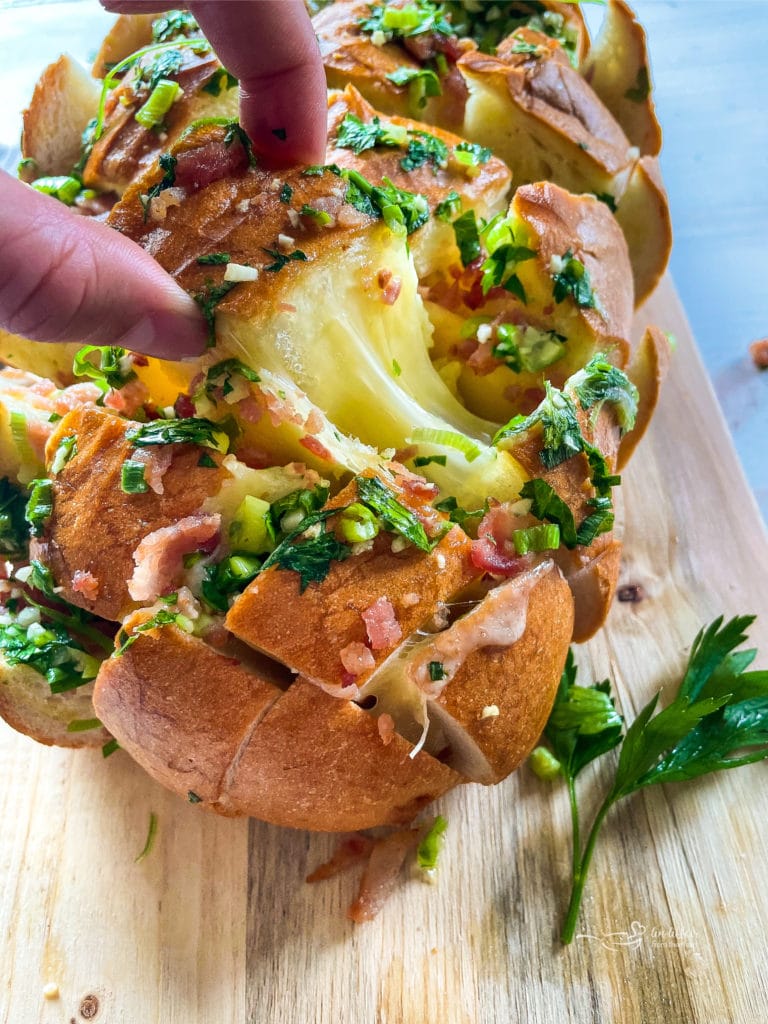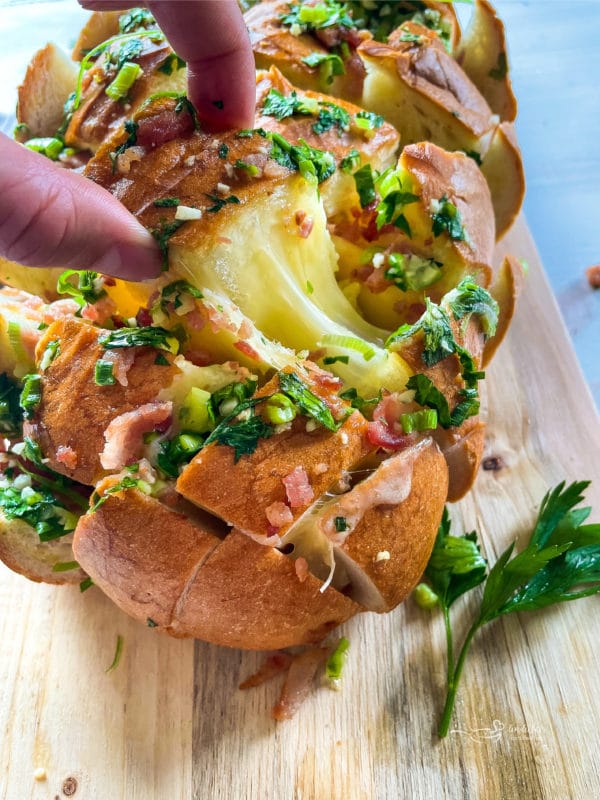 It's great pull-apart bread, easy, and our company loved it! I totally think you could make this on the grill with no problem.
I wrapped up the leftovers (what was left that is…) and popped it back in the oven for about 15 minutes and re-heated it. We ate it with
chili
!!

More pull apart bread ideas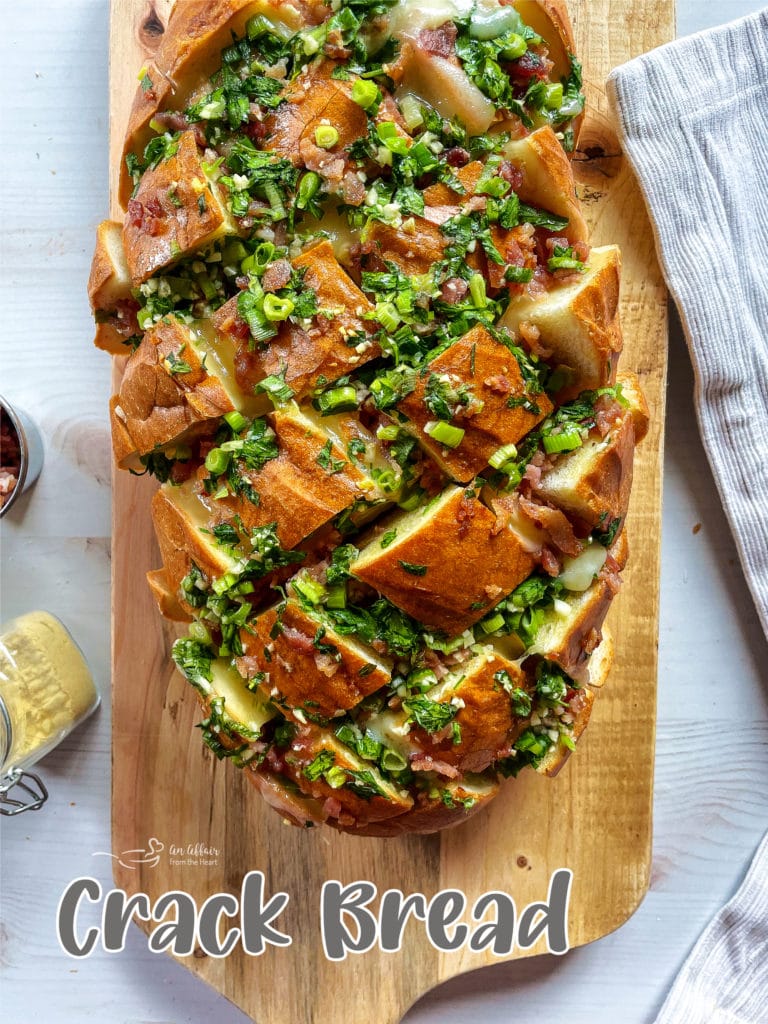 Let's make some Garlic Cheese Pull-Apart Crack Bread!!

Yield: 1 Loaf
Crack Bread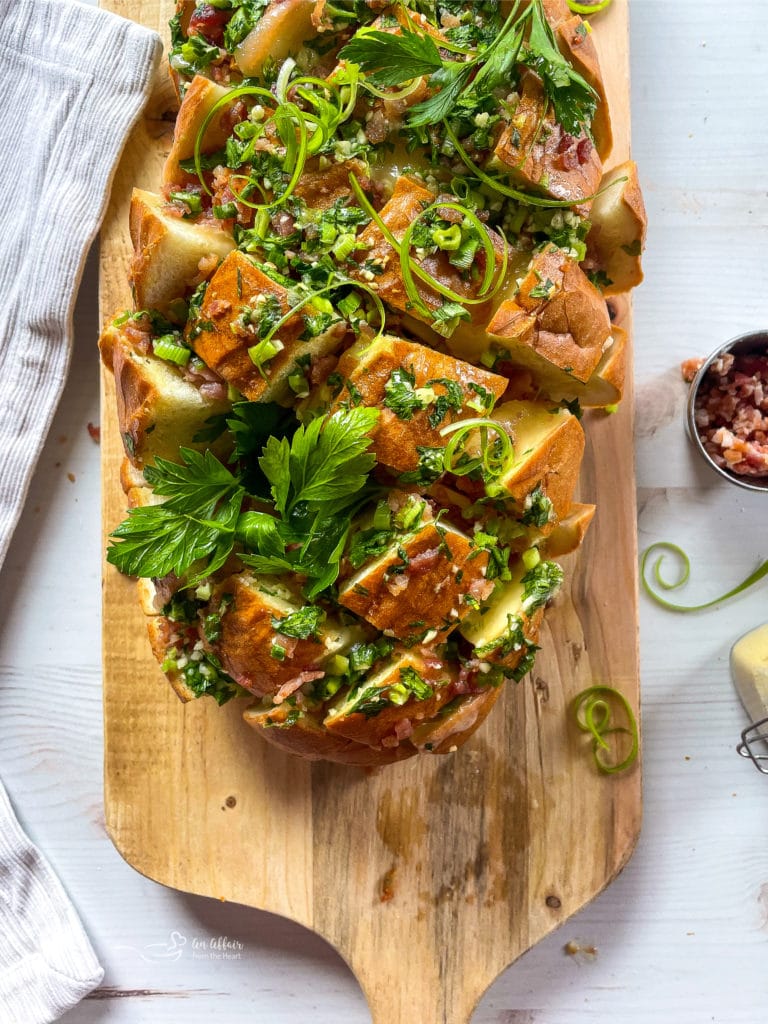 This cheesy crack bread recipe makes the perfect appetizer! A crusty loaf of bread, cut in and X's, filled with garlic butter, herbs, bacon, and cheese, this delicious pull-apart bread will disappear in no time!
Ingredients
1 loaf of crusty french bread
1 stick of salted butter, melted
2 Tablespoons of Olive Oil
1/4 cup tops of green onions, sliced
3 cloves of minced garlic
1/4 cup chopped fresh parsley
1/4 teaspoon dried mustard
8 ounce block of each: Monterrey Jack and White Cheddar Cheese, sliced
1 package of real bacon bits
Instructions
Preheat oven to 375 degrees.
With a sharp bread knife, diagonally cut the bread, NOT ALL THE WAY THROUGH, leaving about 1-2 inch spaces, then do the same going the other way to gt an "X" pattern.
Place bread on a large sheet of foil.
Slide the slices of cheese in between the crack
Sprinkle with bacon pieces and using your fingers make sure that some of them get pushed down in the cracks.
In a glass bowl or measuring cup, melt butter.
Add to it the oil, spices, onion and parsley.
Give it a good stir and drizzle it over the bread, taking care to get it down inside the cracks.
ere it is ready for the oven!
Wrap the foil around the bread and bake it for 10 minutes.
Unwrap the top and bake for another 10 minutes for cheese to get bubbly.
Serve warm.

Recommended Products
As an Amazon Associate and member of other affiliate programs, I earn from qualifying purchases.
Nutrition Information:
Yield:
8
Serving Size:
1
Amount Per Serving:
Calories:

414
Total Fat:

26g
Saturated Fat:

13g
Trans Fat:

1g
Unsaturated Fat:

10g
Cholesterol:

58mg
Sodium:

649mg
Carbohydrates:

33g
Fiber:

2g
Sugar:

3g
Protein:

13g
Please note that nutrition is not guaranteed accurate.
This recipe was originally posted on September 30, 2013. It was updated to improve user experience and reshared on September 5, 2021.