Pico de Gallo takes bright fresh tomatoes, some onions and garlic, and adds some heat with jalapenos to create a very easy salsa. Don't limit yourself to chips though, because you could literally put this on many other dishes, or even eat it as a salad!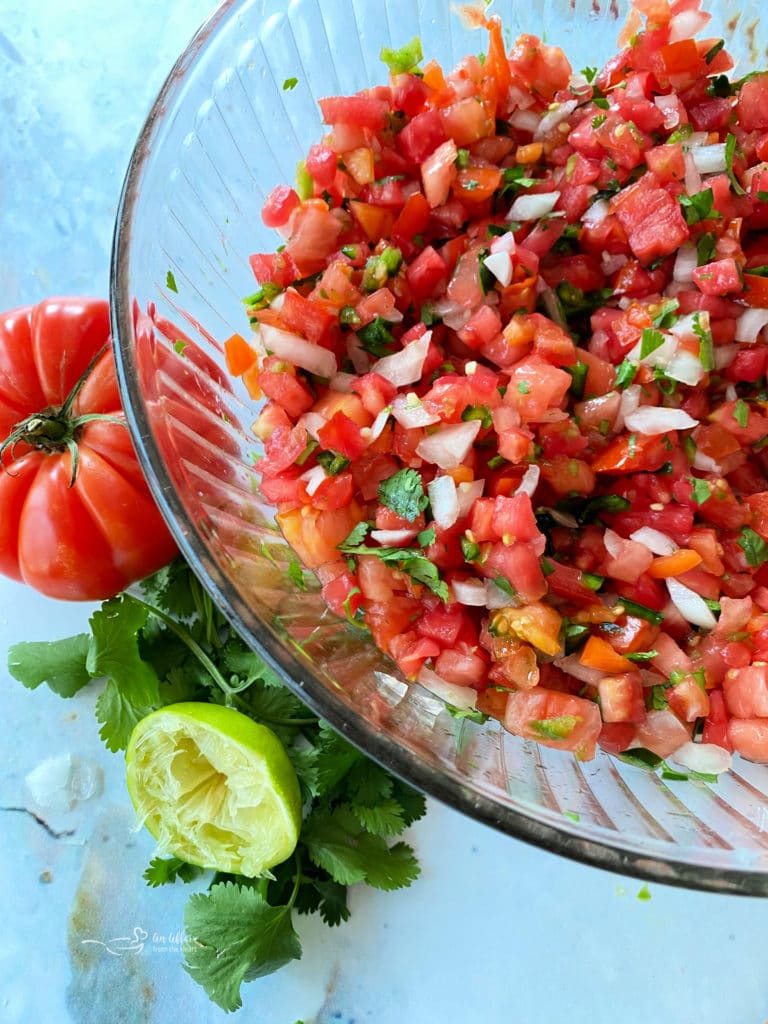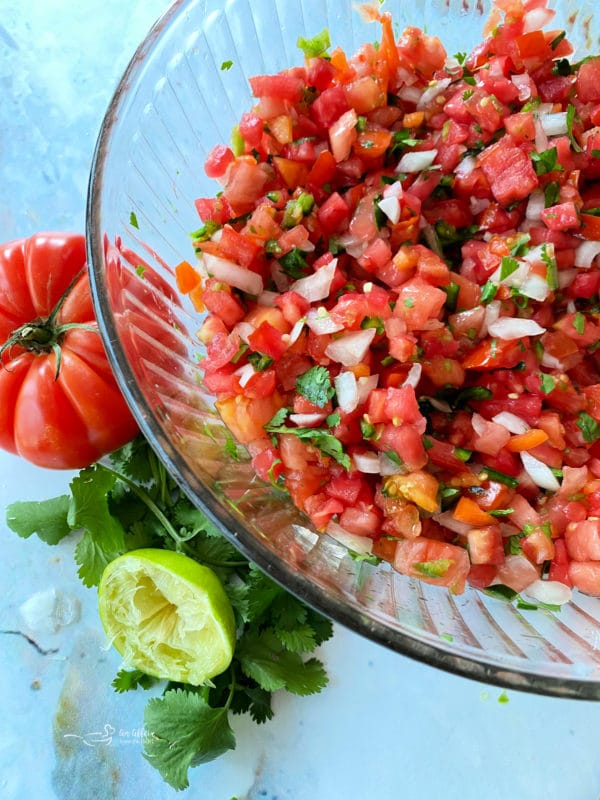 Hands down, my favorite thing to make with my homegrown tomatoes is homemade pico de gallo. Garden fresh tomatoes, peppers, onion, fresh cilantro and squeezed lime juice. There is no snack in the whole wide world that I could say I love more than chips and fresh pico de gallo.
It's also my son, Spencer's favorite. I think it's because I ate more Mexican food when I was pregnant with him than anything else. And the hotter the better.
I still laugh when I think of the time my Mother-In-Law told me my baby was going to be born bald because all of the spicy food I was eating was burning his hair off!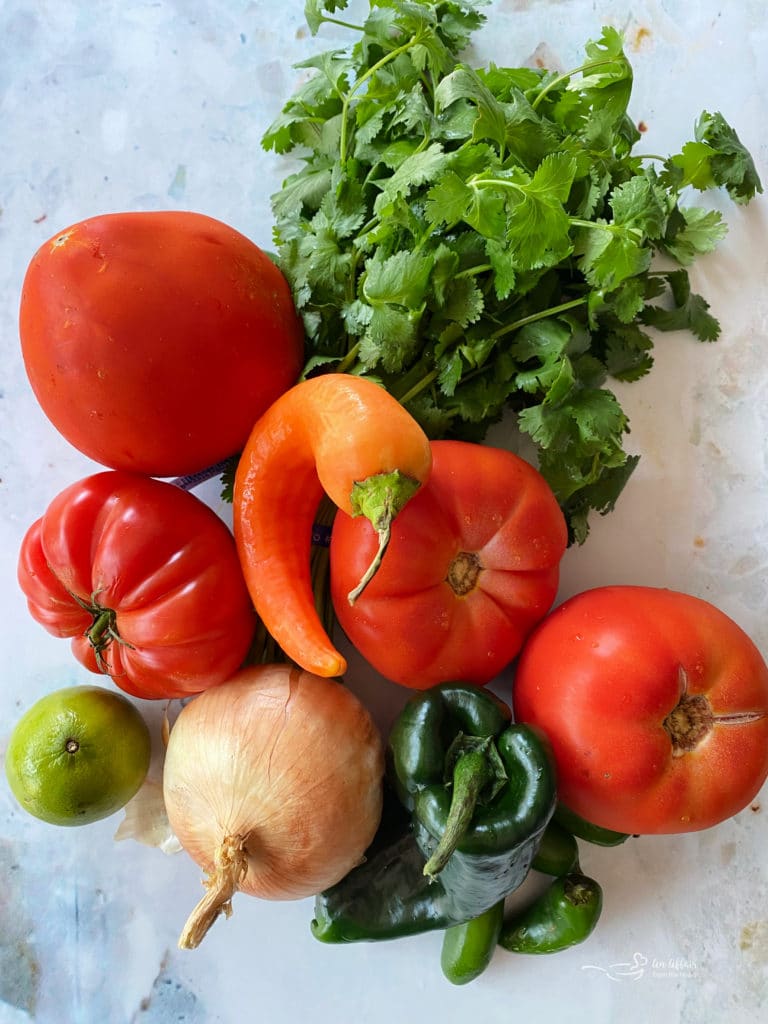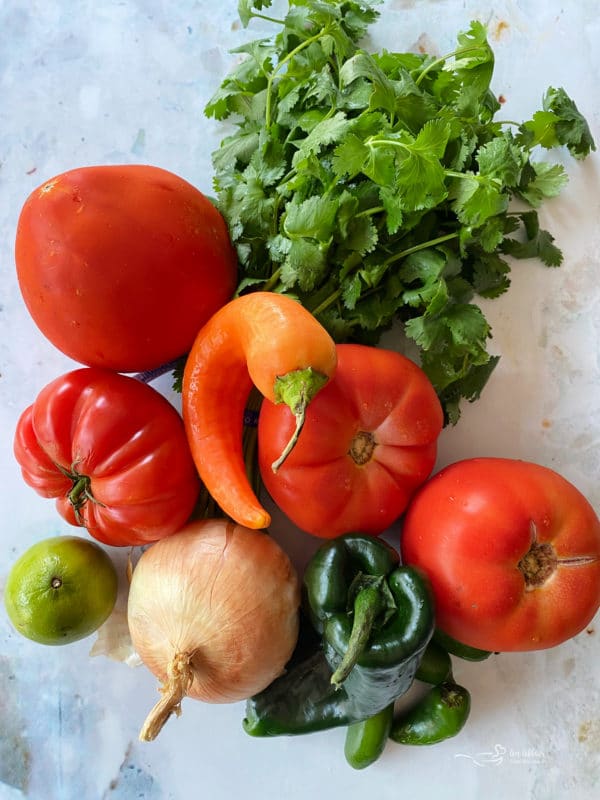 What does Pico de Gallo mean?
The literal translation of "Pico de Gallo" is "beak of the rooster". None of the explanations I found make much sense about how it got that name. But the recipe is quite ancient and goes back to the time of the Aztec empire. So, for whatever reason, the Spanish called it that after discovering that it was really tasty.
When a name works, then it tends to stick, even if it really makes no sense at all.
What is the difference between Pico de Gallo and salsa?
In truth, pico de gallo is a type of salsa. Specifically, pico de gallo salsa relies on super fresh chopped ingredients and the juice of those ingredients combining to create the sauciness. There are many kinds of salsa, and pico de gallo can have many regional variations as well. But the core ingredients are pretty standard, onions, tomatoes, jalapenos, lime juice and cilantro. Some folks love garlic in there like I do, while others prefer to leave it out. To my taste buds, the garlic helps add a bit of extra bite without adding too much heat too.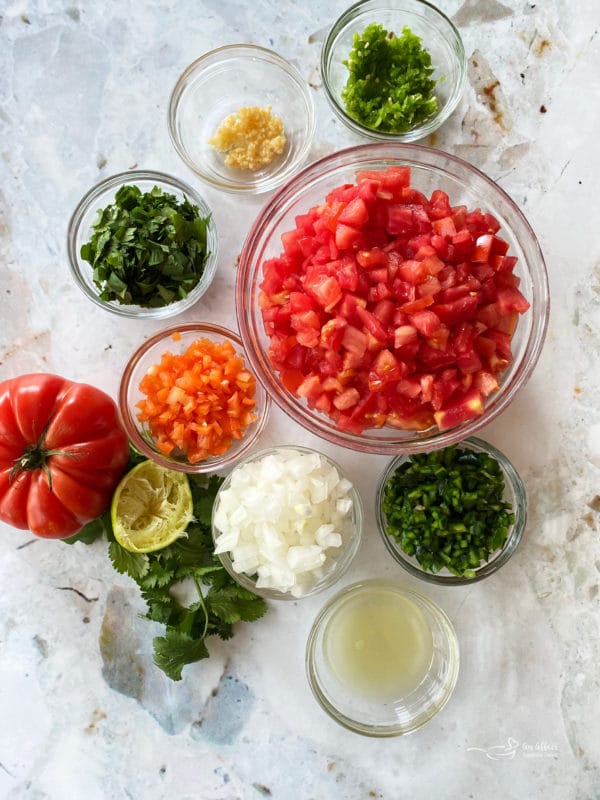 Ingredients In Easy Pico De Gallo
Tomatoes
Onions
Cilantro
Garlic
Jalapeno peppers
Lime Juice
Green Peppers, or Poblanos or Banana Peppers if you want to add a touch more heat
Pinch of Salt to taste

Simple and easy to make, Pico de Gallo is a perfect salsa you can easily make in minutes when the need arises. Use it for chips, of course, but pico de gallo also makes a great topping on fish like salmon or cod and also works well on chicken too. Add it to a burrito, or mix it with some refried beans and make a bean sauce. Tons of options!

How to make Pico de Gallo
First, get all your ingredients set up. If everything is right there in front of you, then you can just chop it up. Easier to mix and easier to clean up!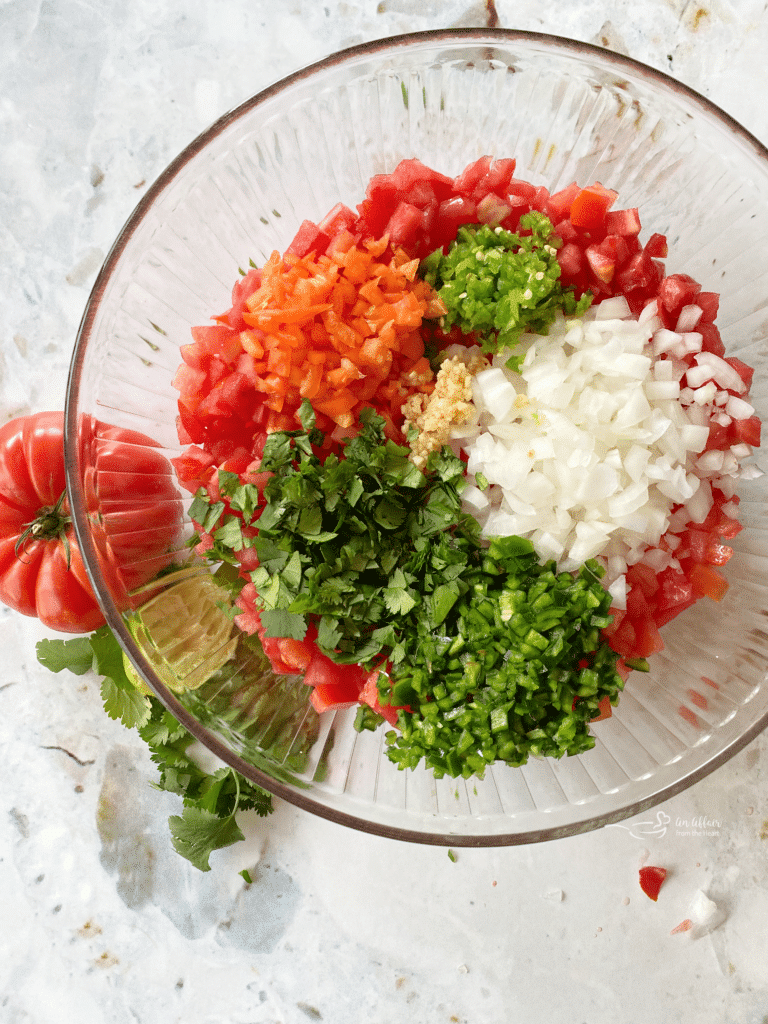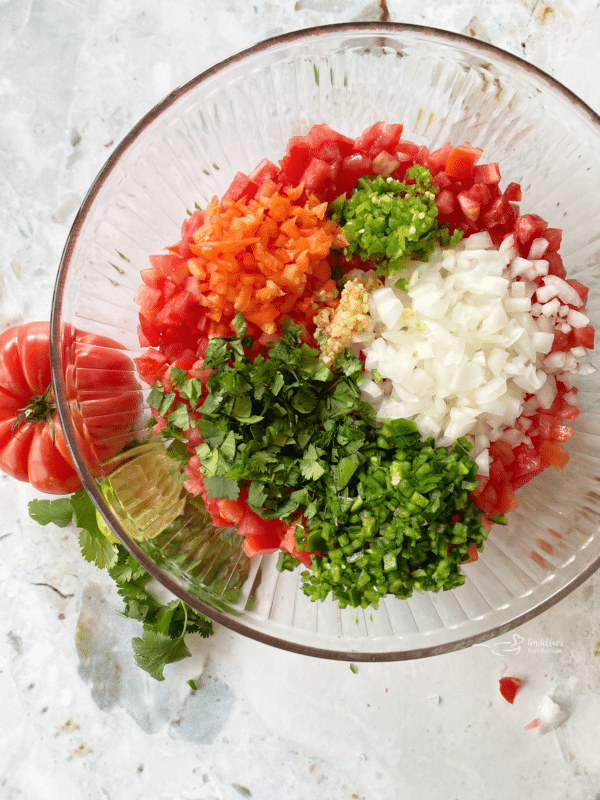 Next, chop it up. You want pieces small enough to easily scoop on a chip of course, but the finer chop also lets the flavors blend properly.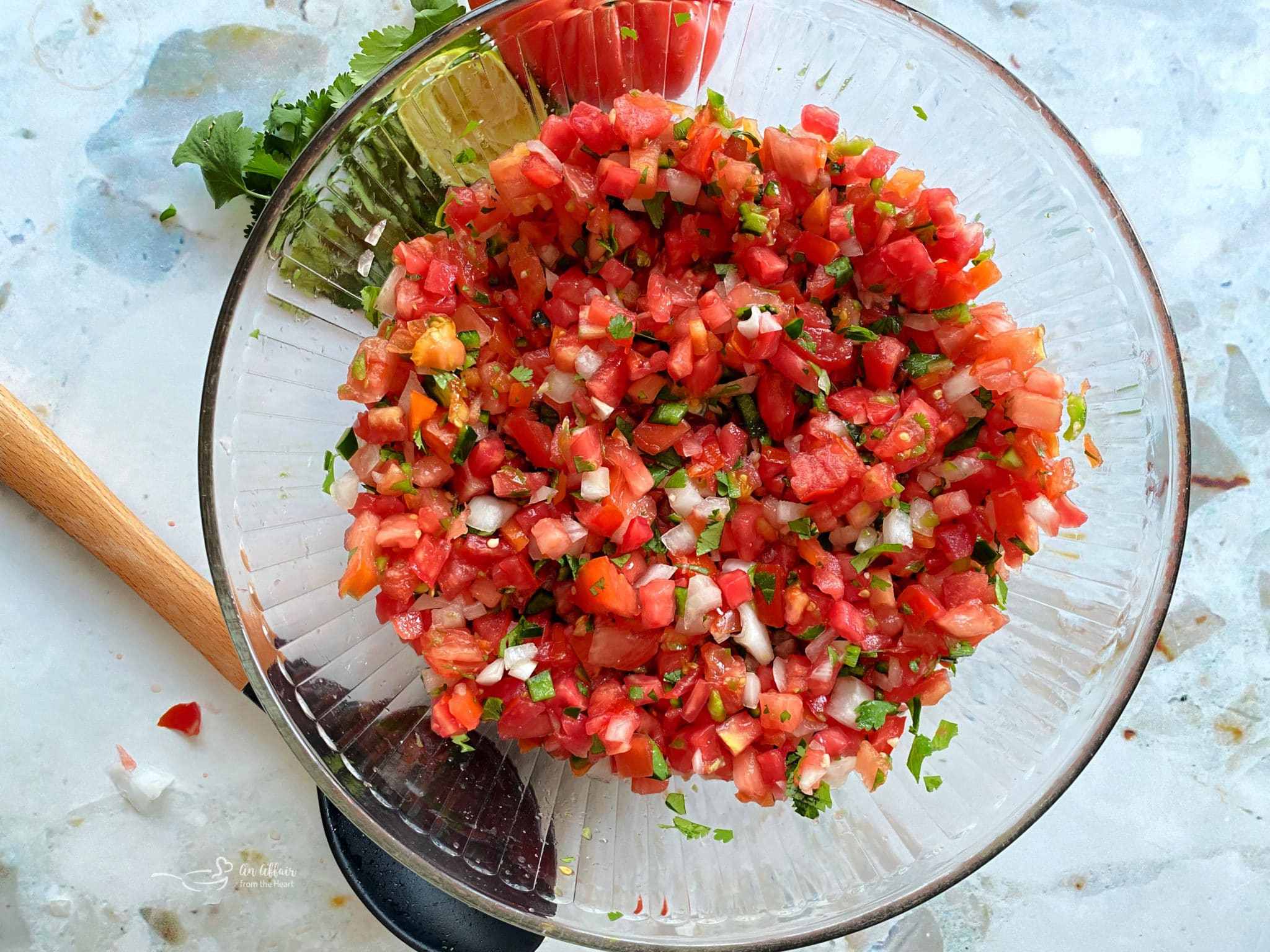 Now, go ahead and combine everything. Give it a good stir, but don't beat it up too much. I often use my food processor for the peppers and onions, and sometimes even the cilantro. But, I always just diced my tomatoes small, using a knife.
Adding the lime brightens everything up. The sour in the lime helps balance the heat of the peppers, too. Then you are ready to add salt to taste.
It is ready to eat right away but it gets even better after it sits a few hours in the fridge. Then the ingredients get time to all shake hands and get along together.

Love it? Pin it!
If you can't wait to make this Pico de Gallo recipe, make sure you can find it easily. Pin it to your favorite Pinterest recipe board before you go!

Is pico de gallo healthy?
This form of salsa isn't just healthy, it is super healthy! Most condiments tend to the less healthy side, but pico de gallo is full of vitamin C and other great cold and flu-fighting elements like the capsaicin in the jalapenos. Crushed and chopped garlic creates an antibiotic and antimicrobial chemical called "allicin" which is very powerful. In fact, before penicillin, garlic was essentially the antibiotic of choice.
Can you freeze pico de gallo?
Ok, if you want to freeze it, then it is no problem. However, the tomatoes tend to break down and become a bit mealy. No worries, when you thaw it, just chop in some more fresh tomatoes and it will be perfect again.
How long does pico last?
Also, pico de gallo keeps well for a while since the lime juice and garlic juice both are very resistant to mold and contamination. So it keeps in the fridge well too for up to three weeks. It might get a bit of fermentation, but that is not a sign that it has gone "bad". While some might not love the slightly fermented quality of the flavor, it is still perfectly fine to eat.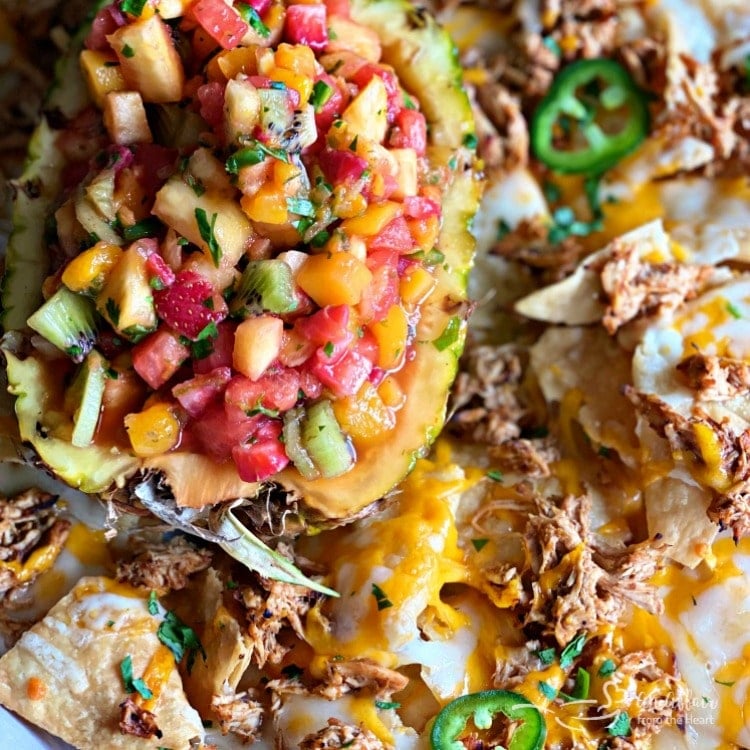 MORE SALSA RECIPES TO CHECK OUT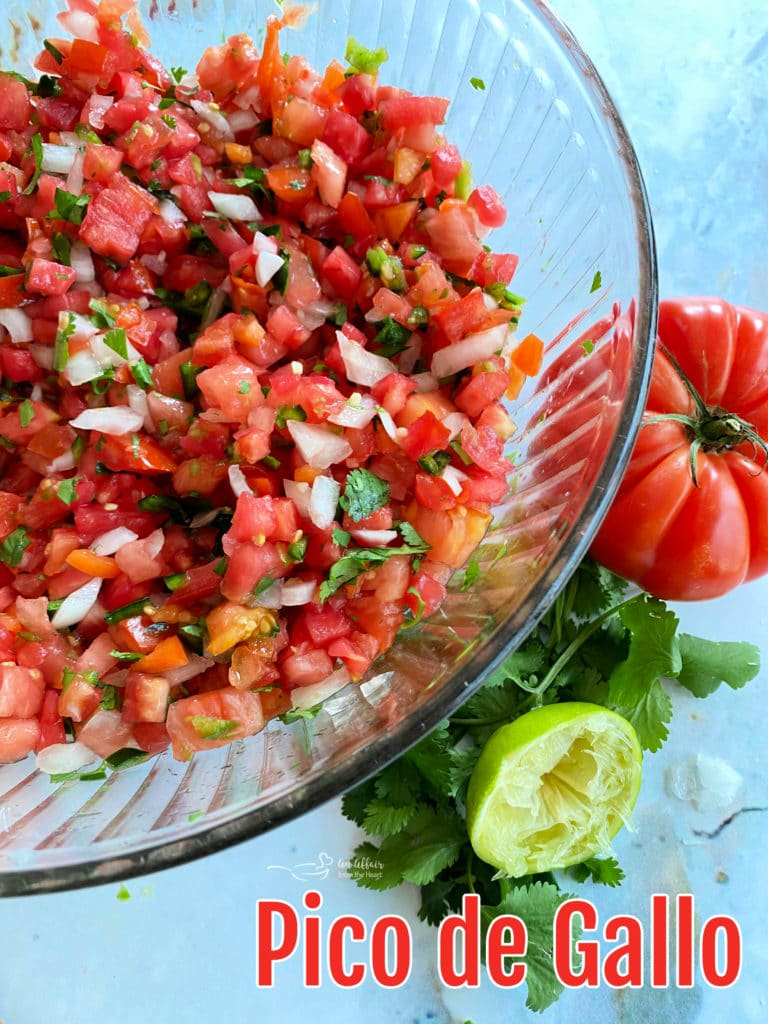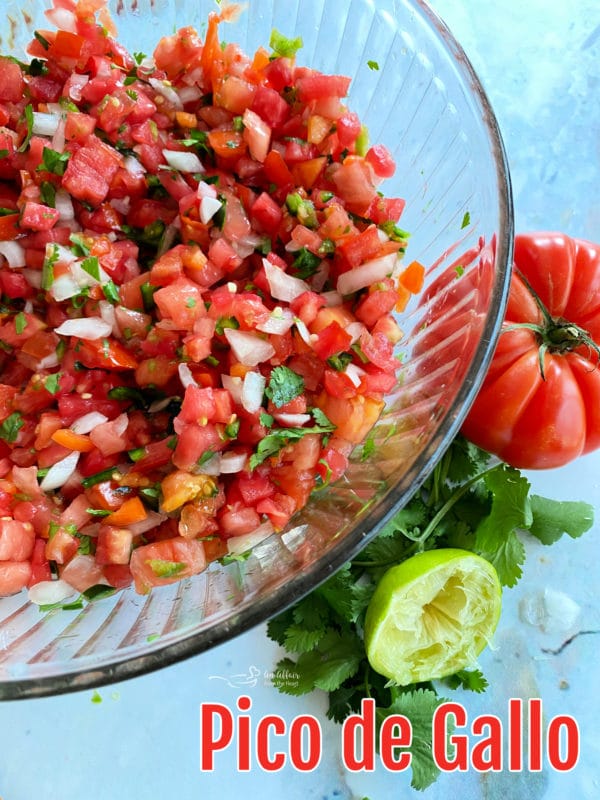 Great those garden fresh tomatoes and peppers and let's make some Pico de Gallo!

Yield: About 9 cups
Pico de Gallo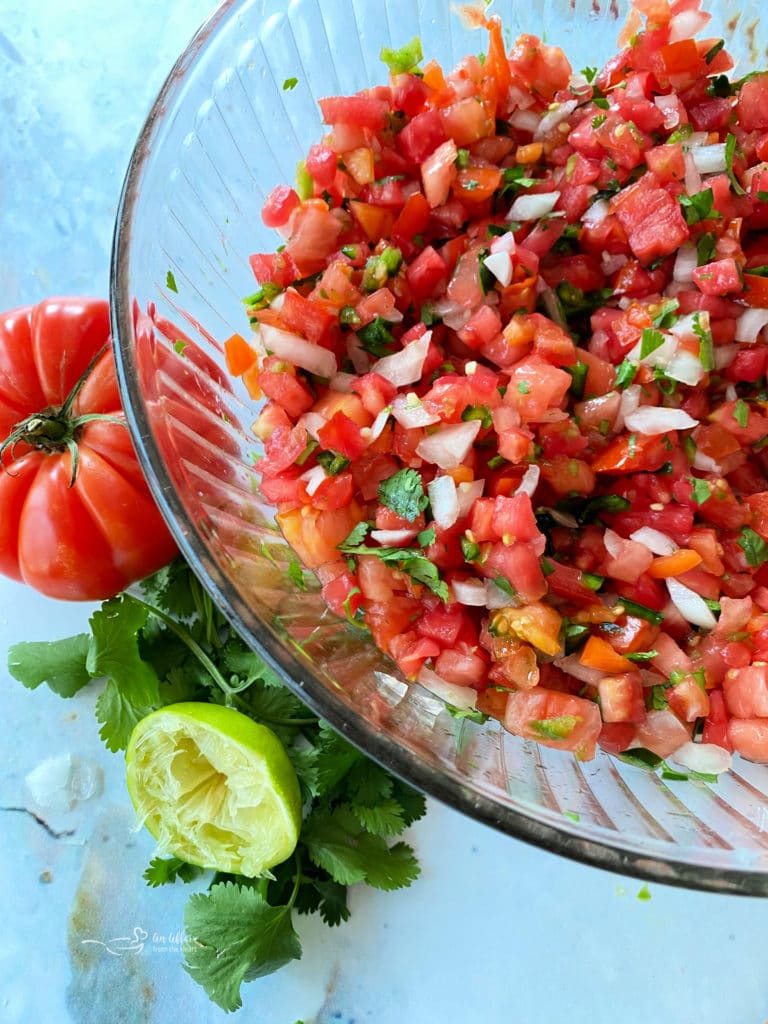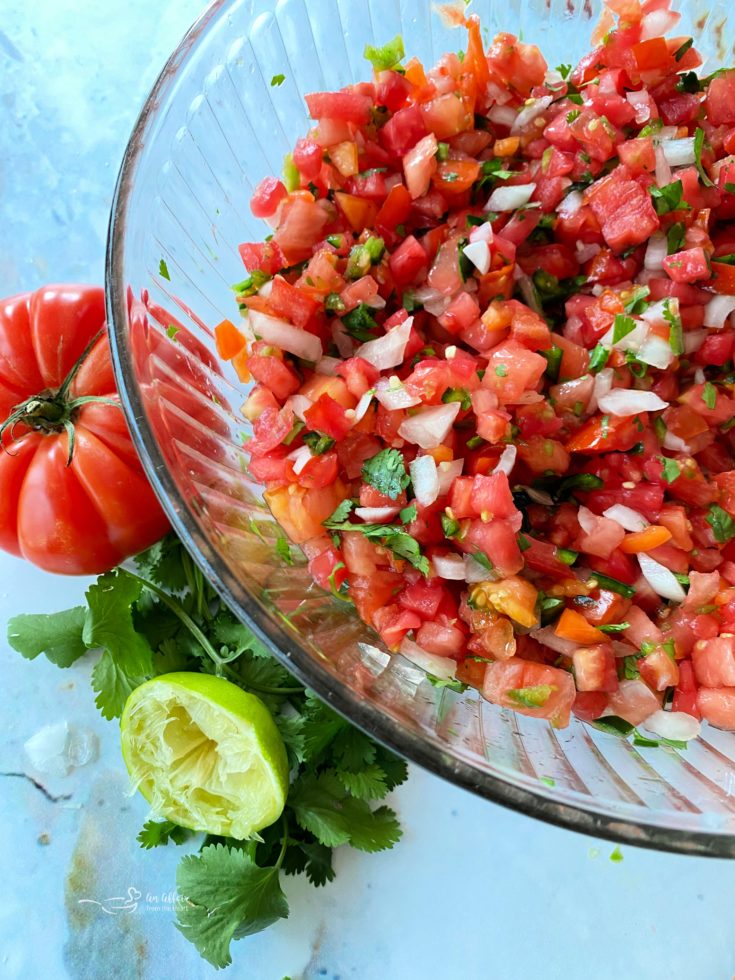 Pico de Gallo takes bright fresh tomatoes, some onions and garlic, and adds some heat with jalapenos to create a very easy fresh salsa. Don't limit yourself to chips though, because you could literally put this on many other dishes, or even eat it as a salad!.
Total Time
8 hours
5 minutes
Ingredients
4 large sized ripe tomatoes, diced (about 7-8 cups)
1- 1 1/2 yellow onion, diced (about 1 1/4 cups )
1-2 jalapeños, deveined and seeded, chopped fine
2 cloves garlic, minced
juice of one lime
1/2 cup cilantro leaves, chopped or to taste
I like to add in another cup of diced peppers, I add in colored bell peppers, sometime I use banana peppers, or a poblano pepper. More for flavor and color, not for heat.
sea salt, to taste
Instructions
Dice tomatoes and onions and place in a large bowl.
In your food processor, place peppers and cilantro and pulse them together. Scoop into tomato/onion mixture.
Add garlic, additional peppers, and lime juice. Give it a sprinkle of sea salt.
Refrigerate at least 5 hours, overnight is better!
Recommended Products
As an Amazon Associate and member of other affiliate programs, I earn from qualifying purchases.
Nutrition Information:
Yield:
15
Serving Size:
1
Amount Per Serving:
Calories:

22
Total Fat:

0g
Saturated Fat:

0g
Trans Fat:

0g
Unsaturated Fat:

0g
Cholesterol:

0mg
Sodium:

43mg
Carbohydrates:

5g
Fiber:

1g
Sugar:

3g
Protein:

1g
Please note that nutrition is not guaranteed accurate.
This recipe was originally posted on August 7, 2013. It has been updated to improve user experience and reshared on September 1, 2021.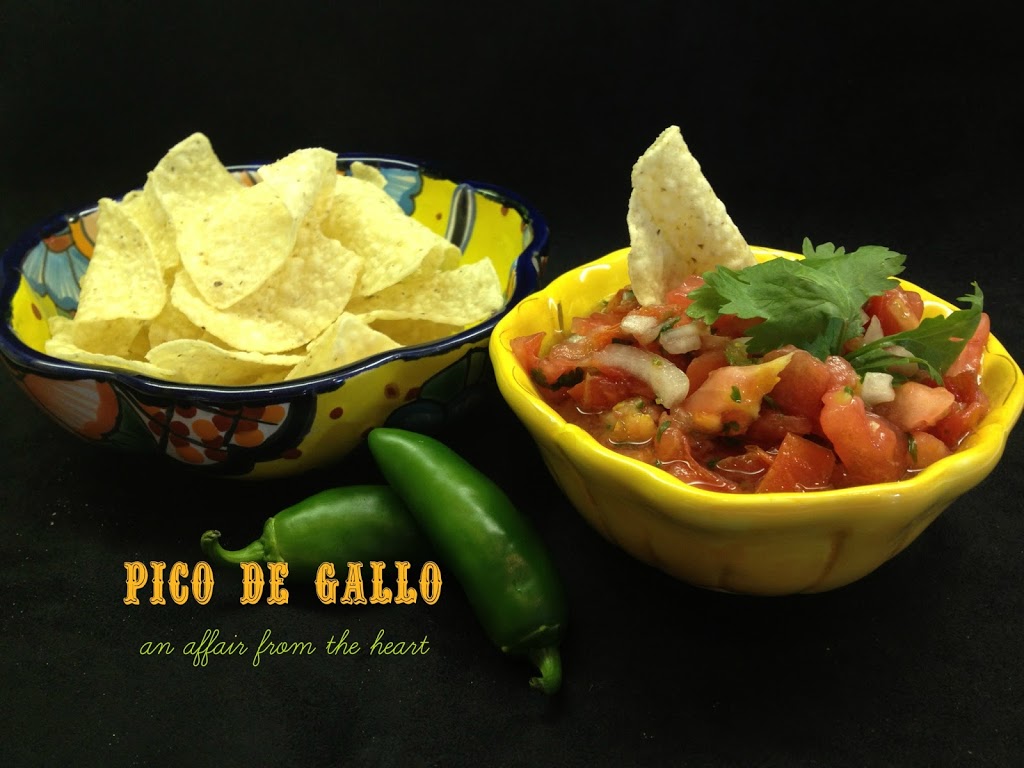 If you make this recipe, I'd love to know! Snap a picture, share the photo on social media with the hashtag #AnAffairFromTheHeart – I'd love to see what you made! – Michaela