Muffuletta
As an Amazon Associate and member of other affiliate programs, I earn from qualifying purchases.
Thank you to Mezzetta for sponsoring today's post and inspiring me to get creative and create a unique Holiday Recipe!
Have you ever been to New Orleans? I know so many people that have, and someday I will be one of them. Everyone says if you go, you simply HAVE to try a Muffuletta. It's classic New Orleans fare. I positively ADORE olives, in anyway shape or form. When I was asked by the kind folks of Mezzetta to develop a recipe for their #MezzettaMemories campaign, I couldn't wait to get started!
I love all of the Mezzetta products, and and have used them for years! Especially of the Spanish Queen Pimento Stuffed Olives. I love them in salads and in cocktails. Cocktails and the holidays seem to go hand in hand, don't they? I love A dirty martini with blue cheese stuffed olives, or a Bloody Mary with Spanish Olives. Heck, here in Nebraska, we love our red beers — beer + tomato juice — I always plop a couple of Spansih olives in the bottom of the glass!
All of the parties and entertaining we do around Christmas and New Year's are typically centered around appetizers/small plate meals and toasting with our favorite libation! Our Christmas Eve at home, we do a wide assortment of appetizers, snacking periodically throughout the evening. If you don't find us entertaining friends at our annual holiday party, you will most likely find us in front of the television, watching football. Seems there is always a game on, and especially during bowl season!
I have to feed the hungry cheering "couch crowd" and love to have new and fun things to share with them! So whether you want to serve this sandwich up in a traditional fashion, or serve it up "small plate style" for guests, it's a winning Holiday or anytime recipe!
I even have a Mezzetta Holiday Coupon for you! You can grab it from their website, and while you're there, enter to win one of 31 gift baskets they are giving away every day in December 2014!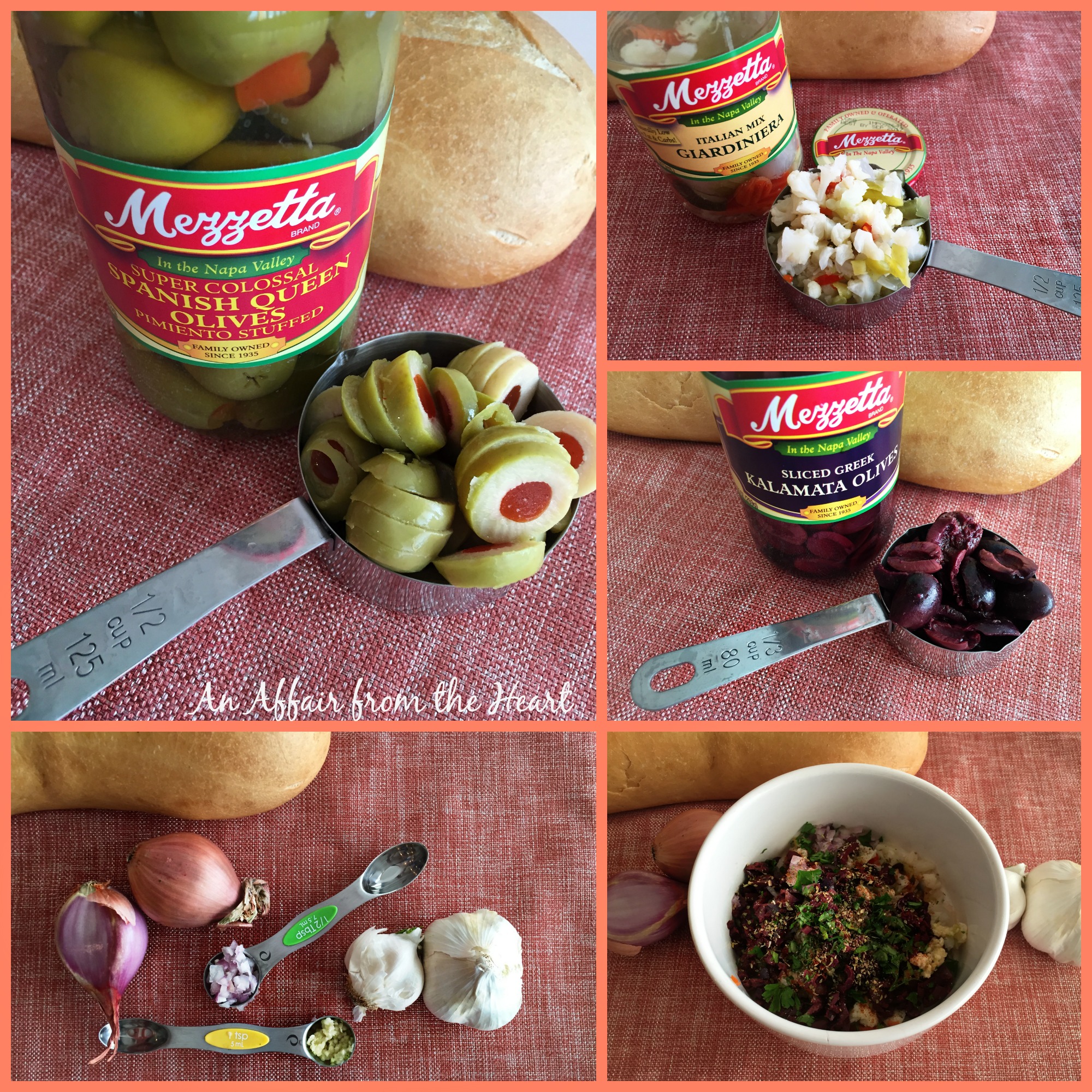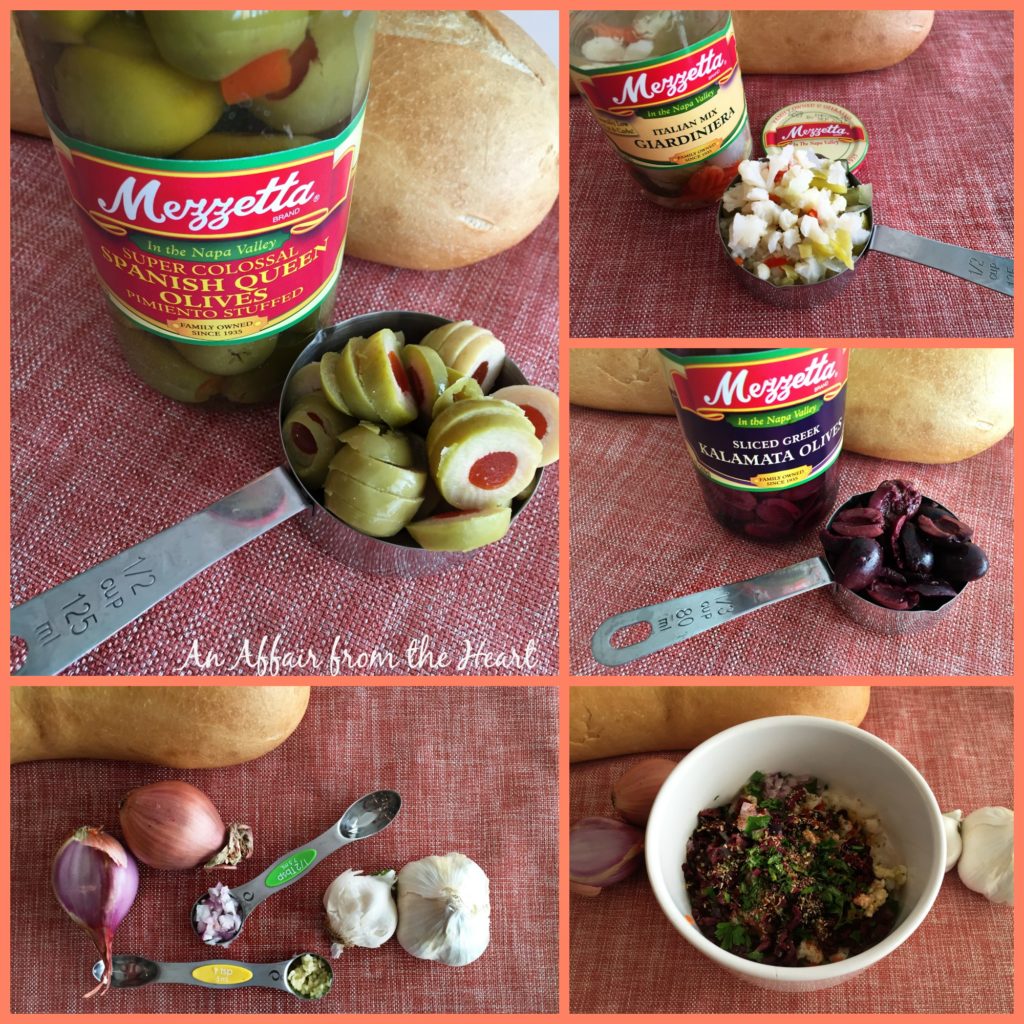 To make the Muffuletta, start by chopping Mezzetta's Spanish Queen Pimento Stuffed Olives, Kalamata Olives and their Italian Giardiniera Mix. Add in minced garlic, shallots, spices and olive oil, and you have made your Olive Spread. (which would also be fabulous served as a spread for crackers or sliced crusty bread!)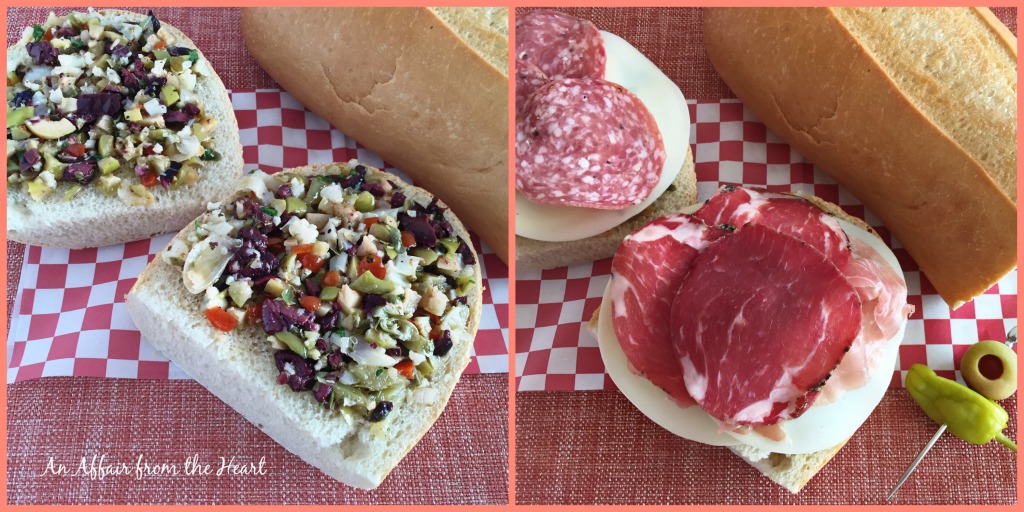 You will slather the olive spread onto some Italian bread, and top it with some thinly sliced Provolone cheese, and an assortment of antipasto inspired meats.
I love olive salad/olive spread, don't you? Not only is it bursting with flavor, it's gorgeous to look at with all of it's pretty colors!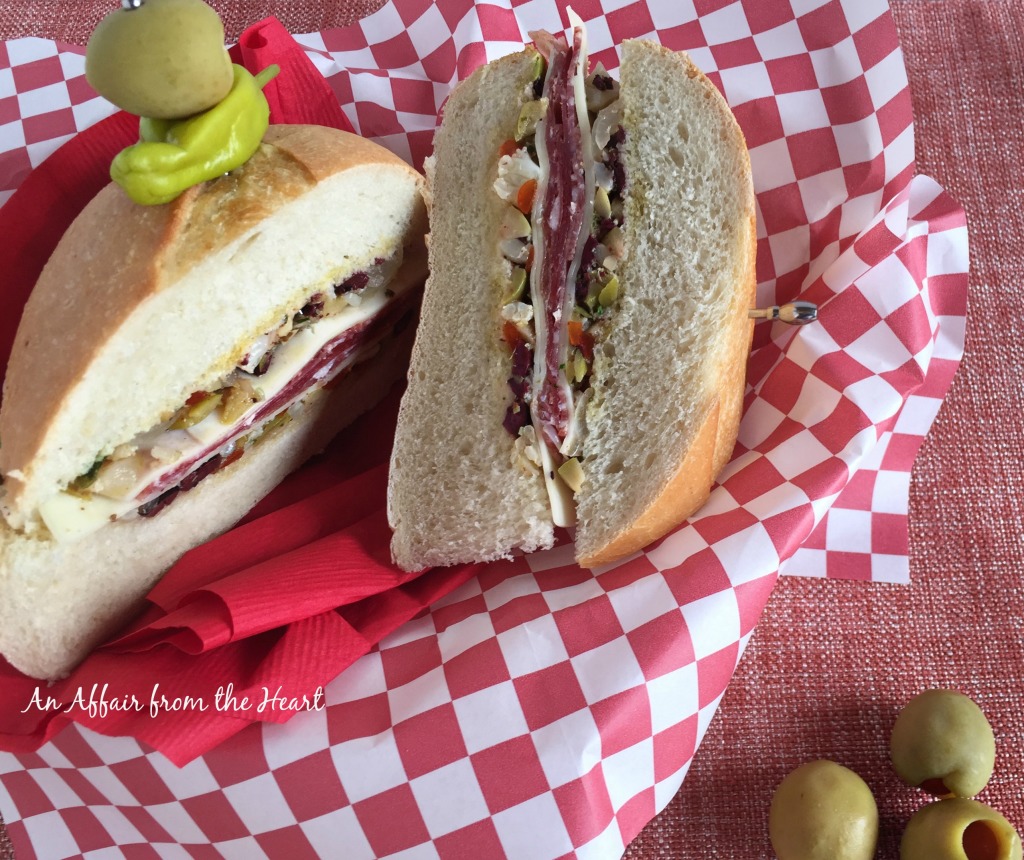 Serve it up in it's traditional fashion, secured with a pick holding a Mezzetta Spanish Olive and a Mezzetta Peperoncini.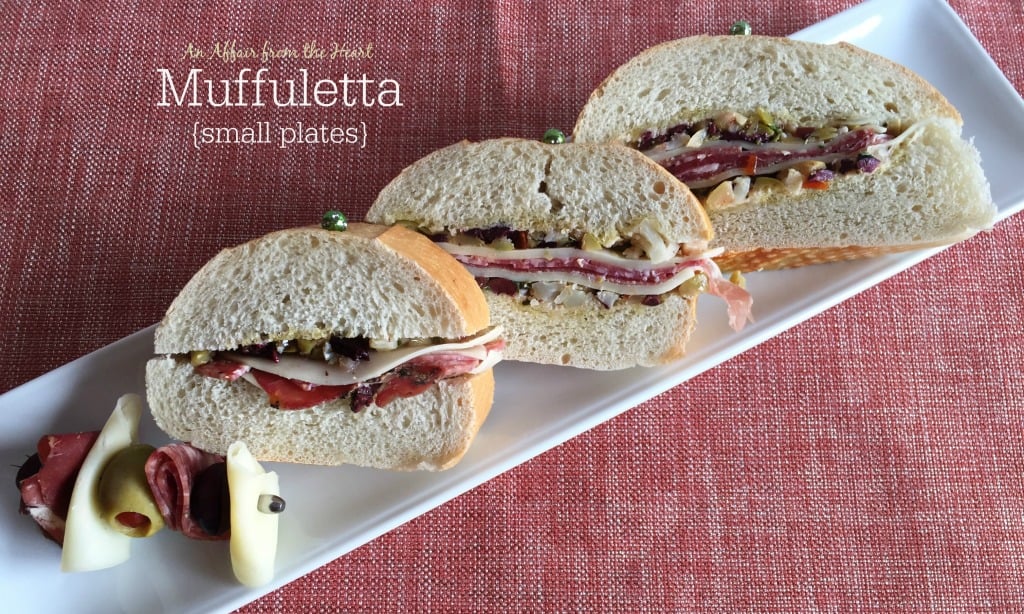 Slice it for a Holiday serving tray small plate option, inserting a decorative pick into the top to make them look festive!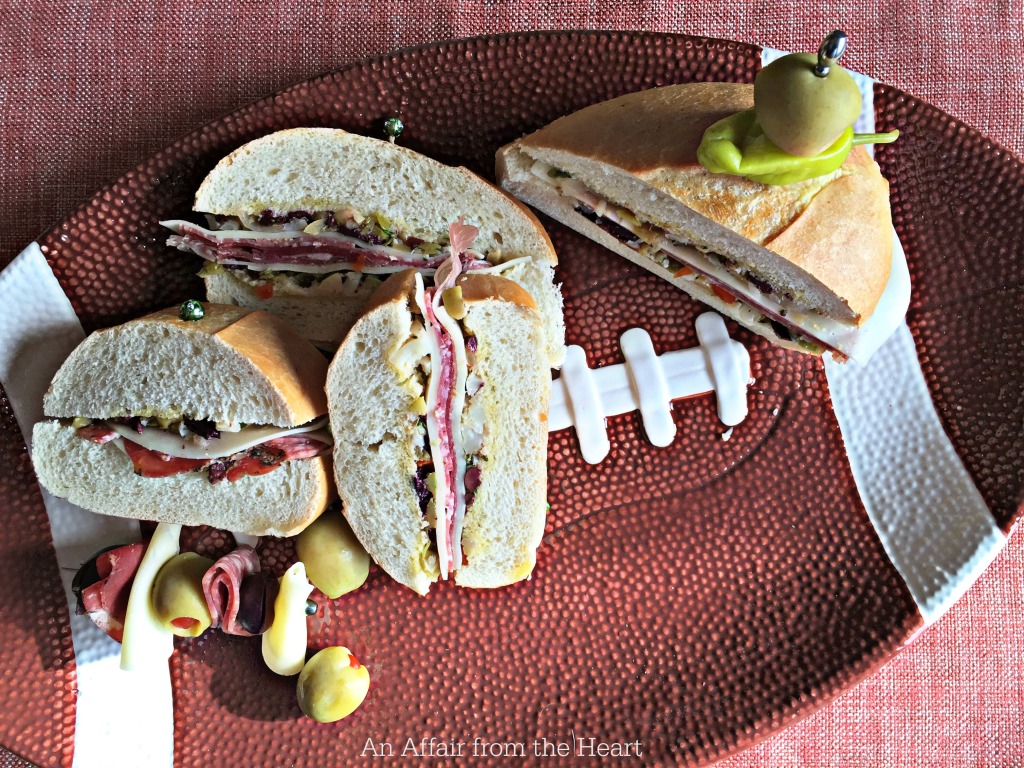 Serve them either way on your favorite sport platter for the cheering, hungry crowds! Early game? They were wonderful with a spicy Bloody Mary. I used some of the Giardiniera mix and olives to complete the top of the glass!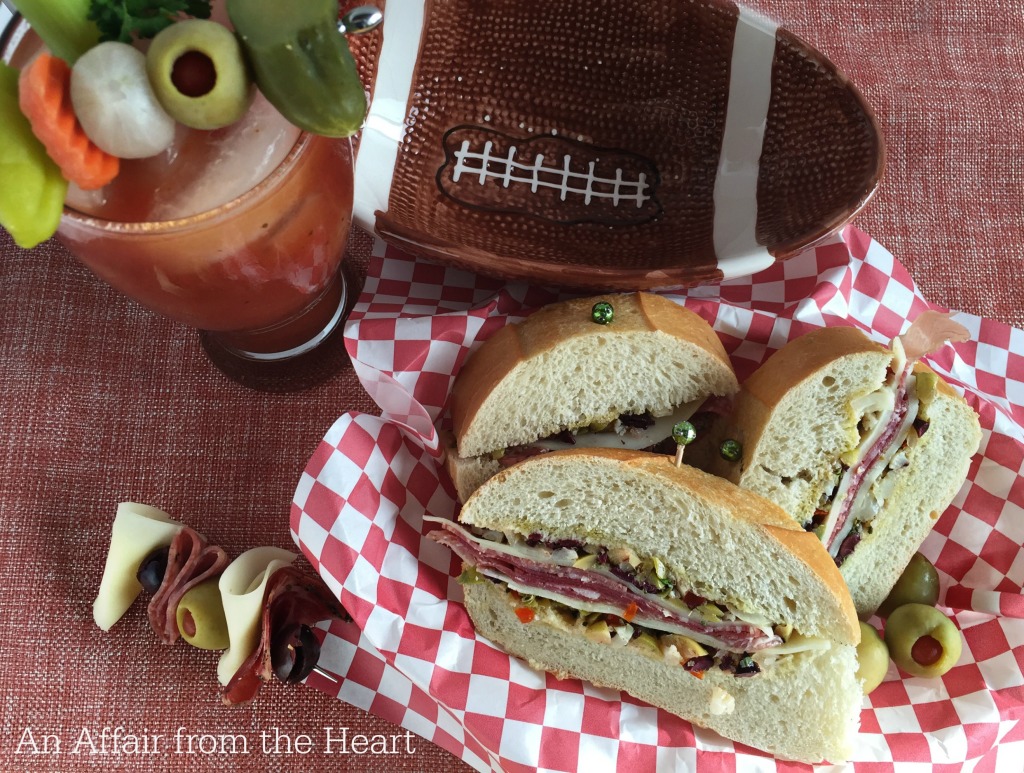 Grab the Recipe here then keep reading to see how to win a huge Mezzetta Memories Holiday Gift Basket!
—
Yield: 1 sandiwich
Muffuletta --with an Antipasto Twist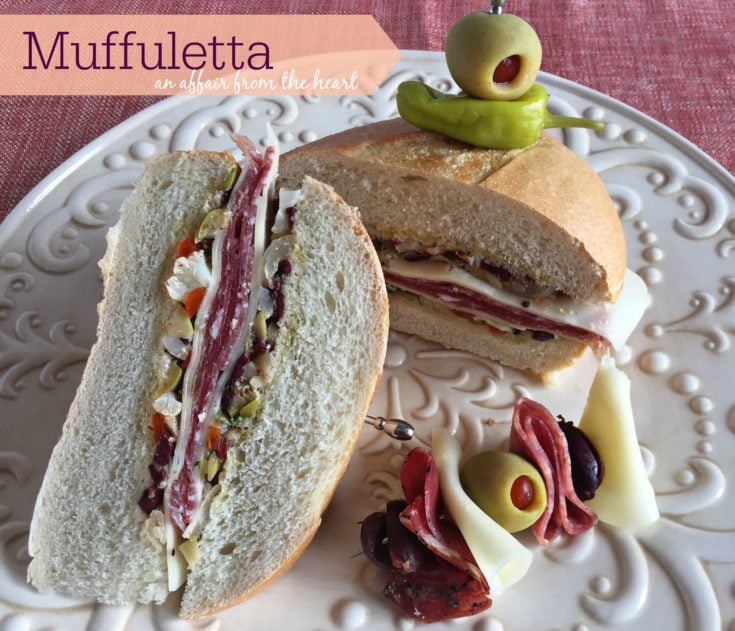 This Antipasto twist on the classic New Orleans Muffuletta will have your tummy satisfied! Whether you serve it up in the traditional fashion or slice it and serve as a small plate or appetizer , you are sure to enjoy!
Ingredients
*For the Olive Spread*
1/2 cup Mezzetta Spanish Queen Olives - Pimento Stuffed, coarsely chopped + 1 Tablespoon liquid
1/3 cup Mezzetta Sliced Greek Kalamata Olives, coarsely chopped + 1 Tablespoon liquid
1 Tablespoon capers, chopped + 1 Tablespoon liquid
1/2 cup Mezzetta Giardiniera Italian Mix, chopped + 1 Tablespoon liquid
1 teaspoon minced garlic
1/2 Tablespoon shallots, chopped
1 teaspoon fresh parsley, chopped
1/2 teaspoon dried oregano
dusting of paprika and salt
1/4 cup Olive Oil
* For the Sandwich *
1 medium sized loaf of Italian Bread
Meat: Dry Coppa, Italian Dry Salami and Prosciutto, sliced thin (I was fortunate to find an Antipasto pack with all 3 meats in my grocer's deli)
Provolone cheese, sliced thin
Instructions
Prepare Olive spread by combining all of the ingredients in a small bowl. Cover and set aside for 1 hour.
Slice the bread in half lengthwise, and spread olive mixture on both sides. Top with meat and cheese. Put both sides back together, and wrap in plastic wrap. Chill for 1 hour. Slice and serve.
**TIP: Place toothpicks before slicing to help keep it all together!**
Nutrition Information:
Yield:
1
Serving Size:
1
Amount Per Serving:
Calories:

1614
Total Fat:

140g
Saturated Fat:

31g
Trans Fat:

0g
Unsaturated Fat:

103g
Cholesterol:

180mg
Sodium:

4825mg
Carbohydrates:

37g
Fiber:

12g
Sugar:

4g
Protein:

59g
Nutrition isn't always accurate.
—
Family owned since 1935, the fourth generation of Mezzetta family is continuing the commitment to bring our customers the highest quality foods available. We source the finest fresh produce from the sun-drenched soils of California, Italy, Spain, France, and Greece and prepare them according to our Italian family recipes in the Napa Valley.
Inspiration is just a twist away — "Don't forgetta the Mezzetta!"
Now, how YOU can WIN one of these sensational baskets!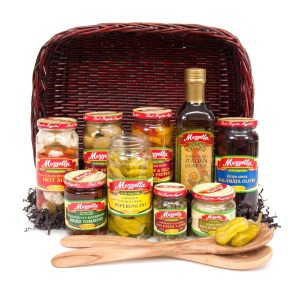 Mezzetta is giving away one of these gifts baskets EVERY day in the month of December!
Mezzetta Favorites Holiday Gift Basket (31 Winners – Daily) includes:
• 100% Italian Estate Grown Extra Virgin Olive Oil
• Golden Greek Peperoncini
• Garlic Stuffed Olives
• Castelvetrano Olives
• Pitted Greek Kalamata Olives
• Roasted Marinated Red & Yellow Sweet Bell Peppers
• Cocktail Onions
• 1 Apron (from House Party contents)
• 1 Metal Olive Spoon (from House Party contents)
• 1 Tote Bag (from House Party contents)
• 1 Ceramic Bowl
To enter visit Mezzetta's Holiday Giveaway Page, and share your favorite holiday memory. Each day a winner will be selected at random. Prizes will be shipped within 2 weeks. While you're there, browse the delicious Mezzetta Holiday Recipes, and don't forget to grab that coupon!
#MezzettaMemories
#SharingJoy
https://ooh.li/55960de