Homemade Onion Strings
As an Amazon Associate and member of other affiliate programs, I earn from qualifying purchases.
Thin, crispy, perfectly seasoned onion strings, made right in your kitchen. Homemade Onion Strings make great toppings for burgers, salads, and baked potatoes. That is if they last that long!
Seriously, folks, you are going to want to run, not walk, to the store, and buy yourself an onion so you can make these onion strings today.
I first made this recipe when I made one of my favorite burgers, The Western Burger. It's a juicy burger, topped with thick bacon, these homemade onion strings, and a BBQ Mayo.
We may have loved the onion strings every bit as much as the recipe they were included in, if not more.
Vidalia Onions
I get so excited when I see the Vidalia Onions in the store. They are my most favorite to use, and the flavors are second to none.
You see, all Vidalia onions are sweet onions, but not all sweet onions can be called a Vidalia Onion. They are only available a small window of time during the year, you'll find them in stores between the months of April and August. Then you have to wait a whole year to get them again!
Vidalia onions are grown in 20 South Georgia counties where the weather, soil, and water levels are perfect for growing this unique crisp and sweet tasting variety of onion. They are a top choice for chefs, using them in all sorts of recipes; soups, salads, stews, even desserts!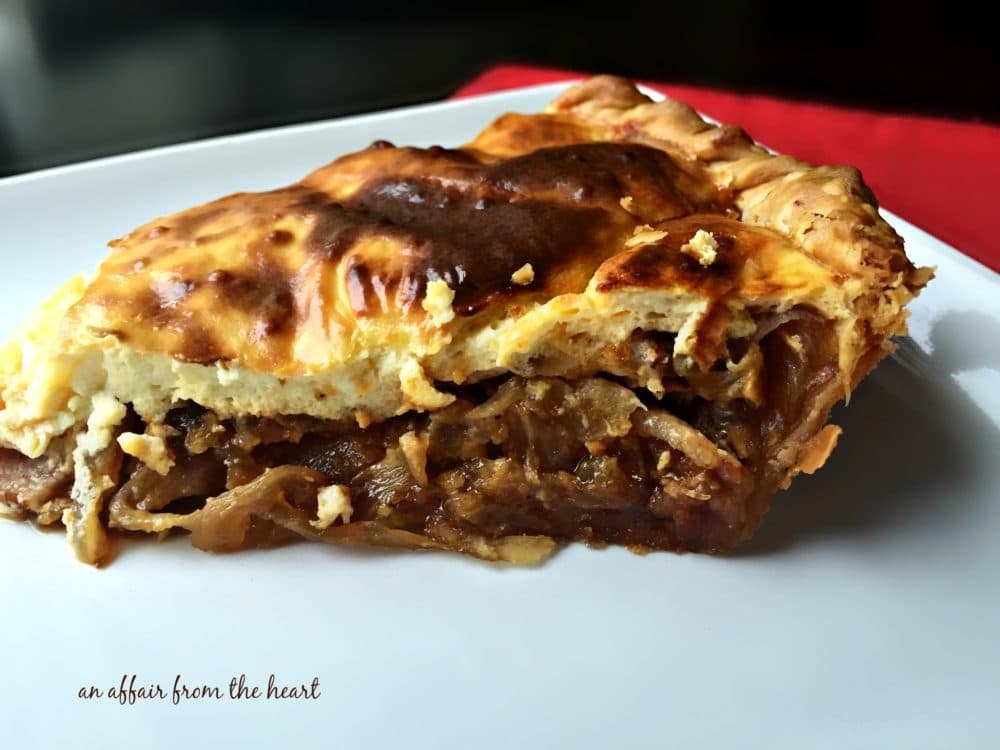 I am always on the lookout for recipes that specifically call for Vidalias. Do you have a favorite? I'd love to have you share it with me! Here are some of mine.
Favorite Recipes for Vidalia Onions: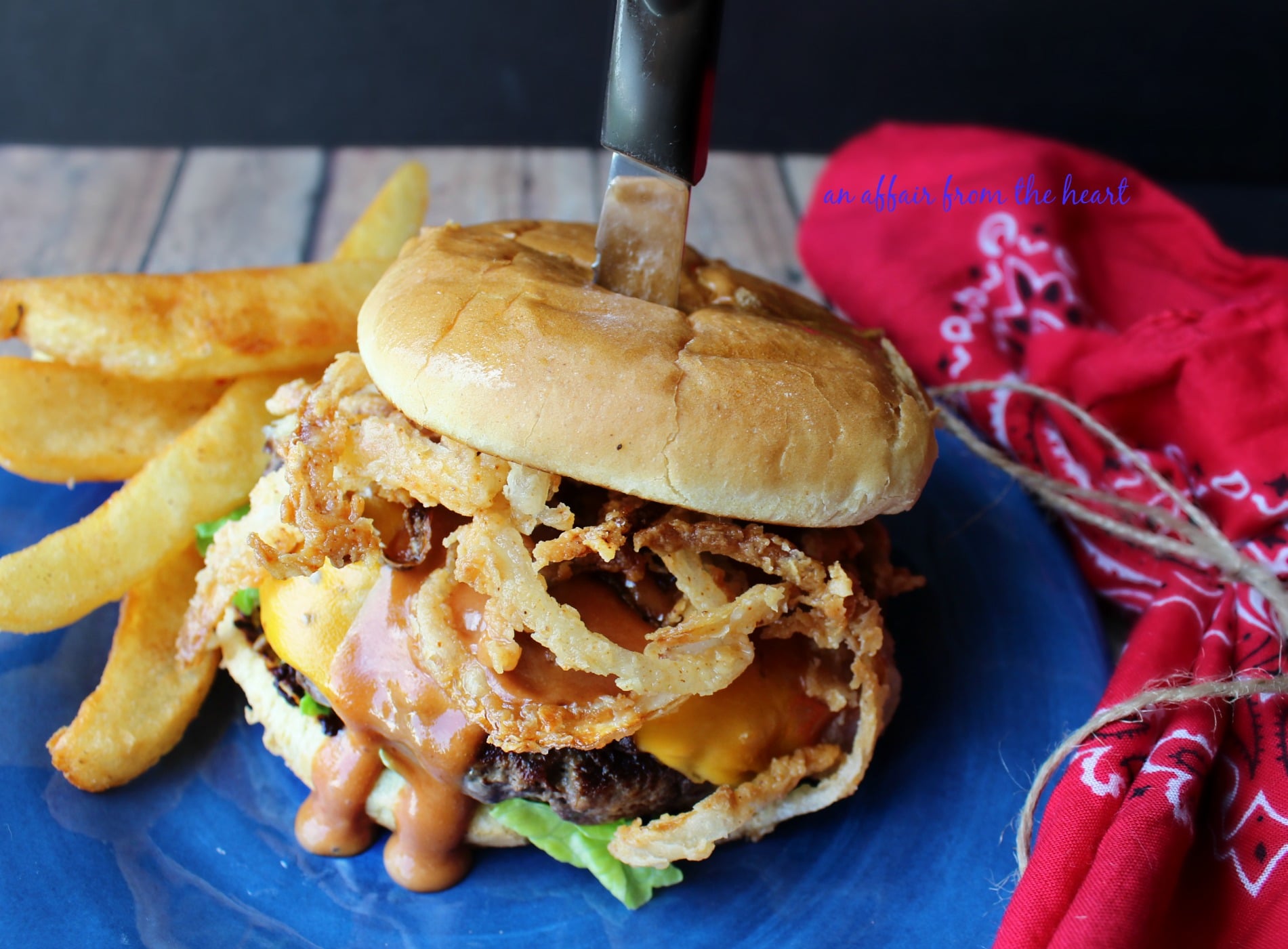 Easy Onion Strings make great toppings
Adding these french fried onion strings to a recipe can only bring it to the next level. Whether you are topping a burger, a steak, pork chops, a salad or even a baked potato, they will be the favorite part of that meal.
I promise I am not exaggerating when I tell you that I had to HIDE them to even get them in the recipe for the Western Burgers the first time I made them. My kids wouldn't leave them alone.
The next time I made these crispy shoestring onion rings, I tripled the batch! That time we ate them by themselves, as an appetizer.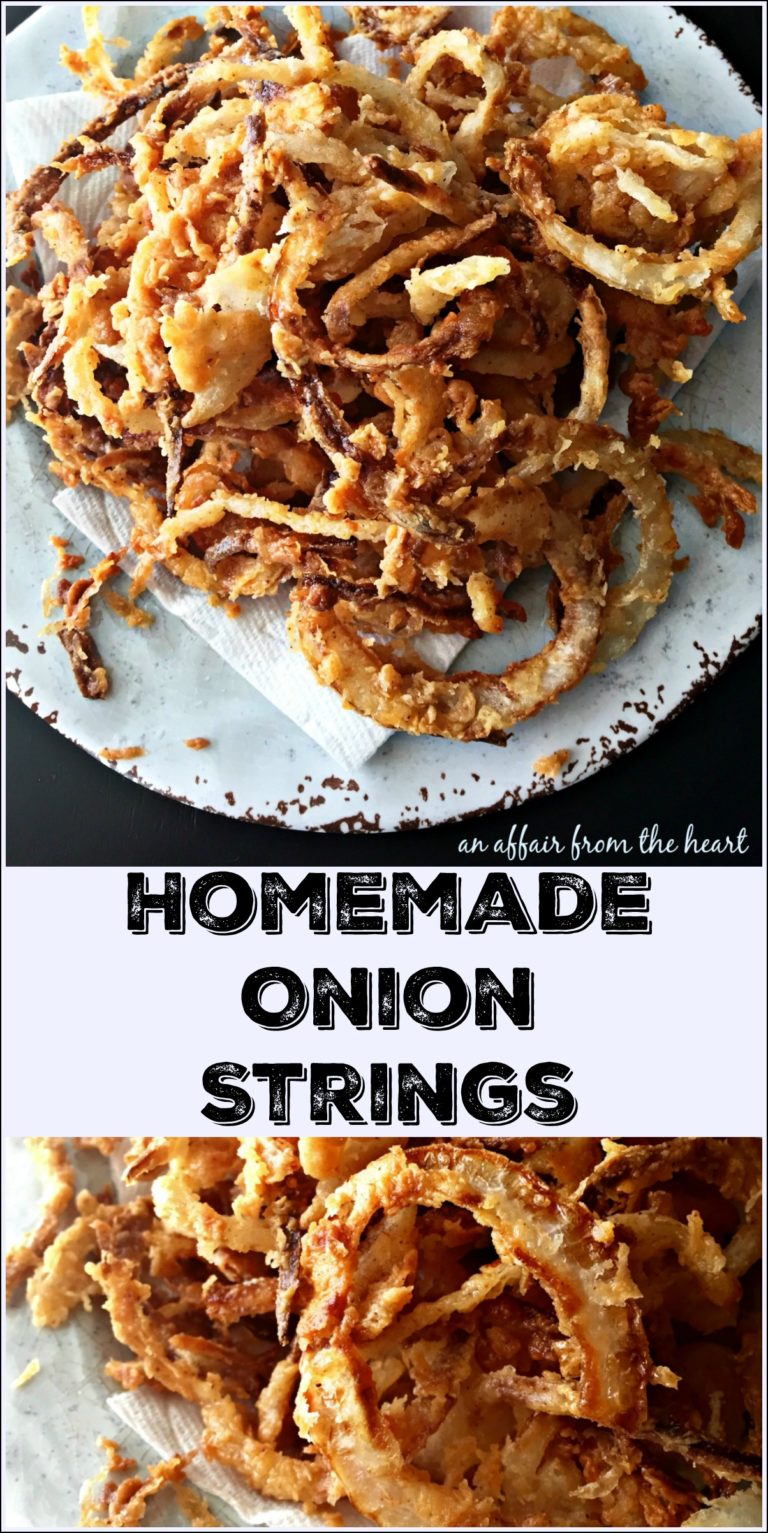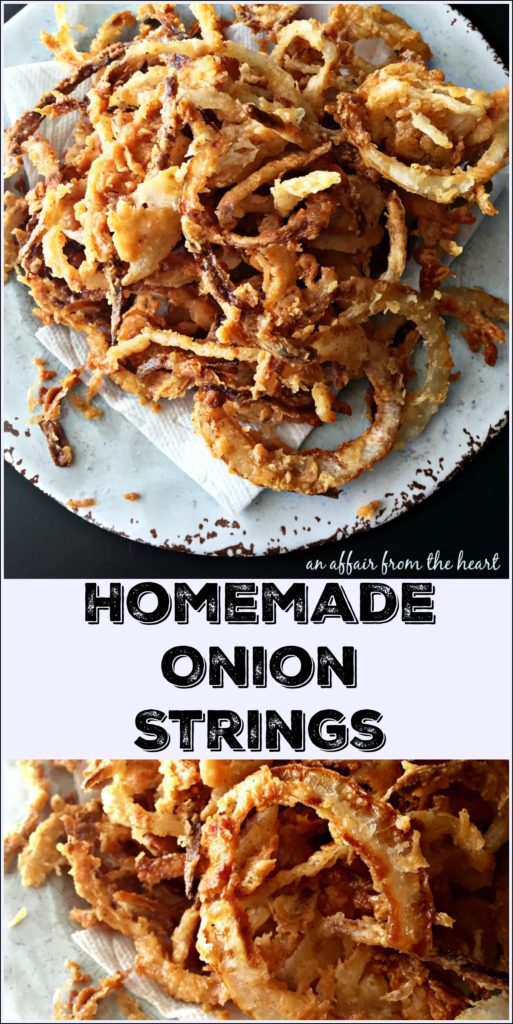 Love them? Pin them!
Don't forget where you found this delicious recipe for homemade onion strings! Pin it to your favorite Pinterest board so you can find it quickly and easily.
Soaking Onions in Buttermilk
Why is it common to soak onions in buttermilk? The main reason is that a good soak in buttermilk will make your coating stick to the onion better, and then you won't lose the crisp exterior in the fryer. My onion strings recipe only calls for a 10 minute soak, some recipes actually say you can soak them overnight.
This buttermilk soaked onion ring recipe is super easy to make. The key to these onion strings is to make sure you the onions super thin.
Give them a soak in buttermilk, then toss them into seasoned flour and fry them up.
I never make a special trip to the store for buttermilk, always just make my own.
The outcome always turns out perfect. Look at those crisp, lightly battered onion strings!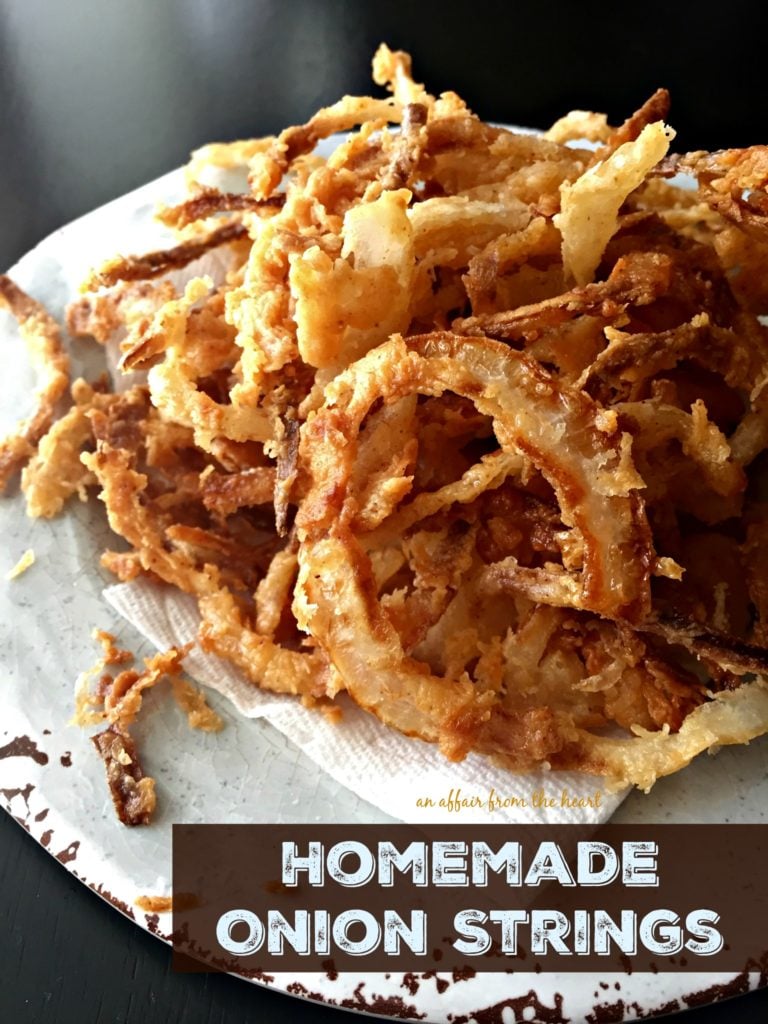 Enjoy this recipe! I'd love to hear how you ate them? As a burger topping? All by themselves? Please share!

---
Yield: 4 servings
Homemade Onion Strings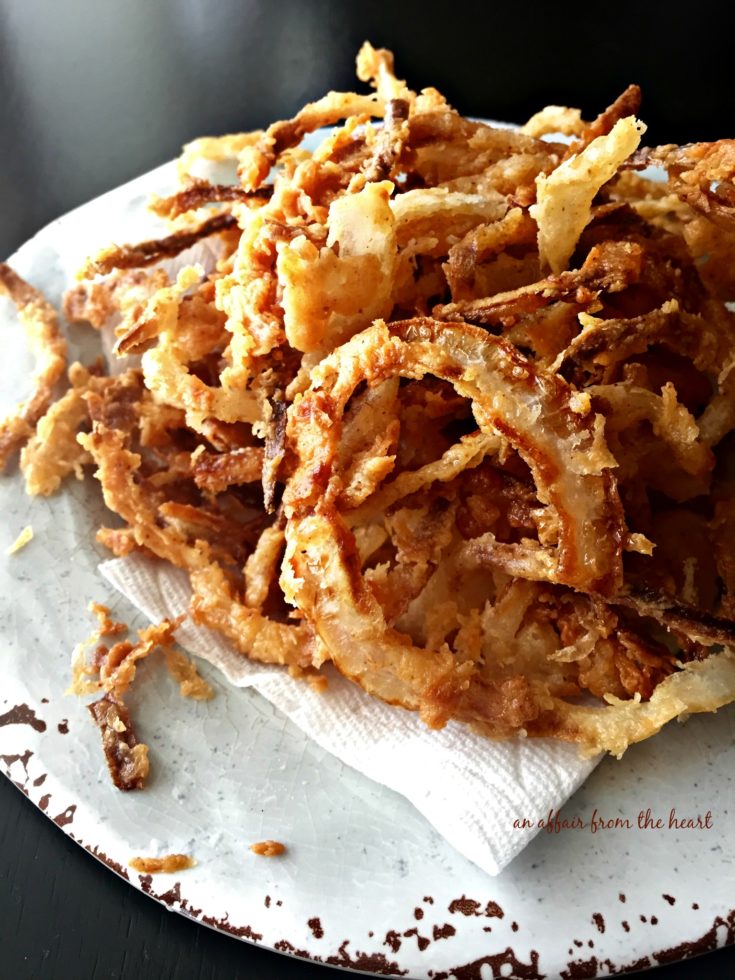 Thin, crispy, perfectly seasoned onion strings, made right in your kitchen. Great for toppings (if they last that long!)
Ingredients
½ large Vidalia onion, sliced thin
2 cups buttermilk
½ cup flour
½ teaspoon salt
½ teaspoon garlic powder
¼ teaspoon paprika
¼ teaspoon cayenne pepper
Vegetable oil, for frying
Instructions
Slice onion very thin. It will be translucent. Lay the onions in a shallow dish and cover with buttermilk. Let soak for at least 10 minutes.
Sift together flour and seasonings, place in a shallow dish. Toss onions in flour mixture until coated well.
Heat about 1/2" of oil in a skillet to about 350 degrees. (I used an electric skillet) Place onions carefully in hot oil, using tongs to flip them once after the bottom side browns. Remove from oil when brown and crispy ( about 5-6 minutes) and place on a plate covered with a paper towel to drain.
Nutrition Information:
Yield:
4
Serving Size:
1
Amount Per Serving:
Calories:

151
Total Fat:

5g
Saturated Fat:

1g
Trans Fat:

0g
Unsaturated Fat:

3g
Cholesterol:

5mg
Sodium:

501mg
Carbohydrates:

21g
Fiber:

1g
Sugar:

8g
Protein:

6g
Nutrition isn't guaranteed accurate.