Homemade Chili Seasoning Recipe
As an Amazon Associate and member of other affiliate programs, I earn from qualifying purchases.
After years of experimenting, this chili seasoning mix is what makes our chili a family favorite. What seasonings make the best chili recipe are subject to personal opinion, of course, but this one is in our opinion, the best!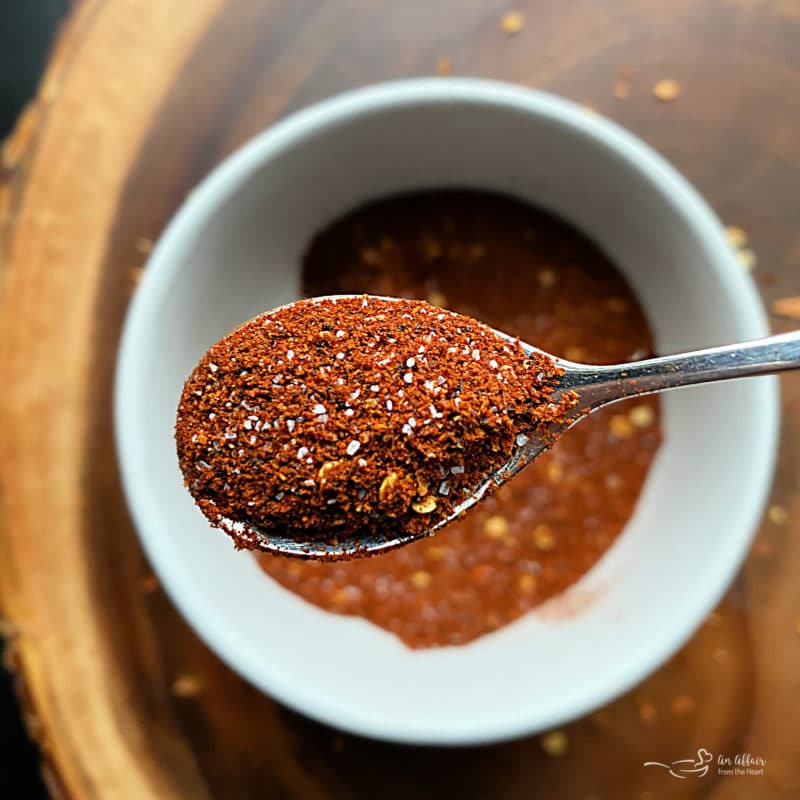 DIY Chili Seasoning
For years and years, I just tossed ingredients in a big pot and kept tasting it until I was happy with the outcome. Making chili never really consisted of a "recipe" for me.
I grew up with my mom using a McCormick Chili Seasoning packet, and it started off that way for me, too, until one day I didn't have one, and I decided to wing it! So I started experimenting and this is the spice mix I have used ever since.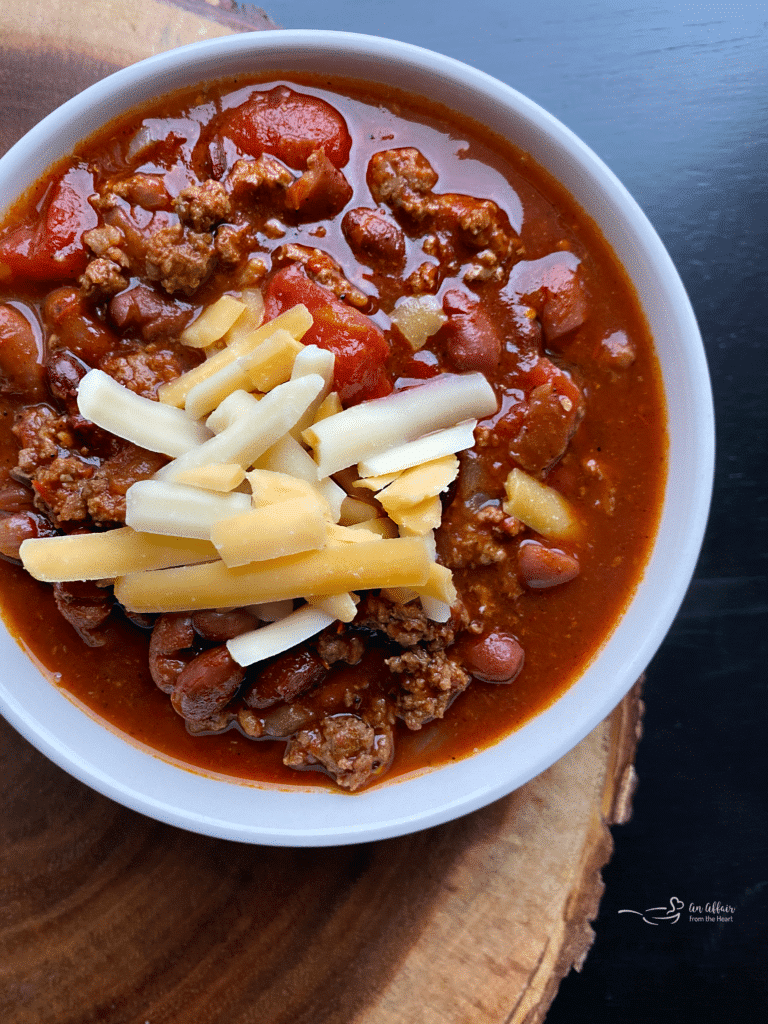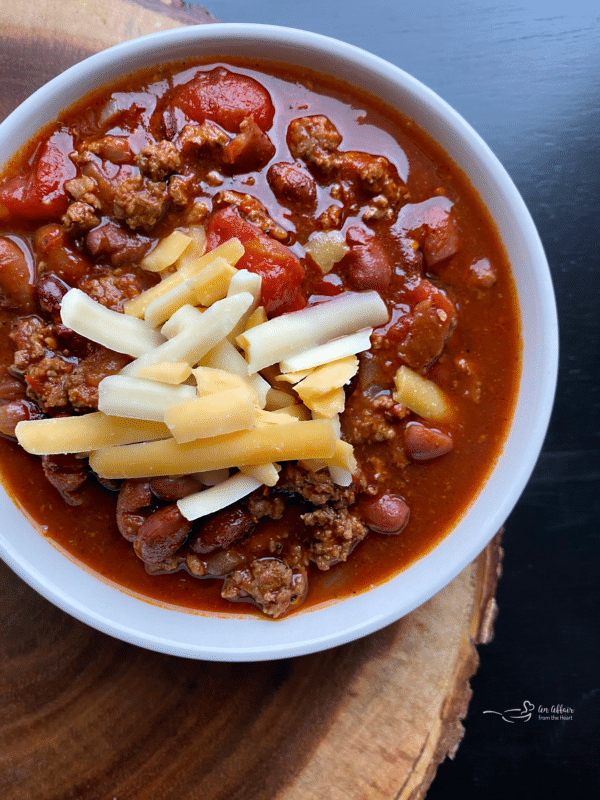 How do you like your chili?
People are very specific about how they like their chili. Spicy? Mild? Meat? No Meat? Beans? No Beans? So many options! My go-to is my Three Bean Chili Recipe.
This recipe uses my chili spice blend. It's easy to switch up the spice to make it milder for those who can't take the heat, so to speak. I always add cayenne pepper to mine, because I like it hot!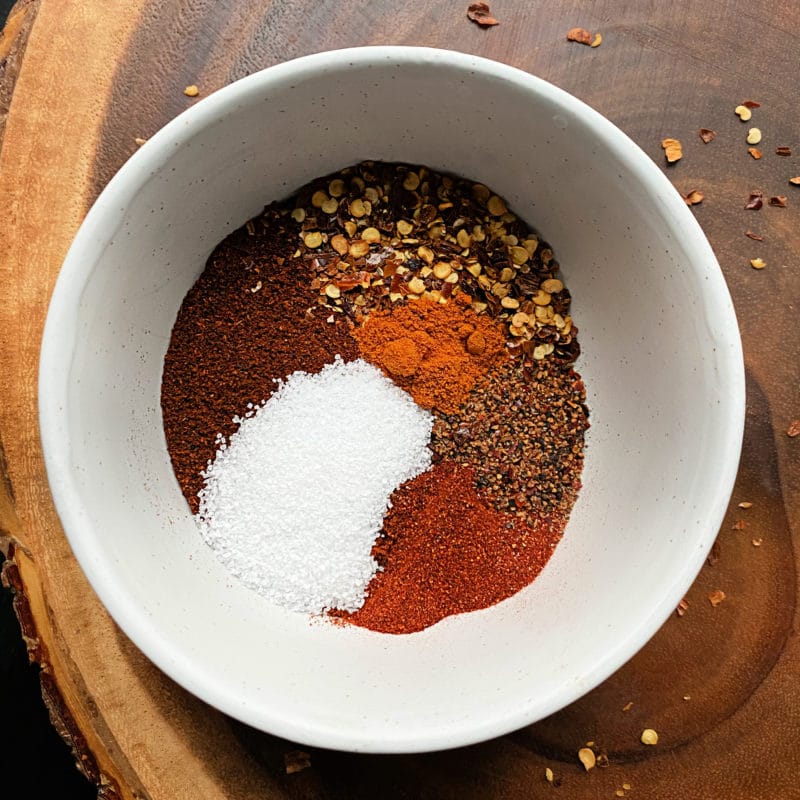 What spices to put in chili?
The most common ingredients to put in a chili seasoning recipe are chili powder, paprika, garlic powder, onion powder, red pepper flakes, cayenne pepper and cumin.
Some may ask if chili powder is actually chili seasoning, and while it's certainly a very important ingredient in the spice blend, it's only an ingredient. The other ingredients help to give it that flavor punch!
People add some crazy stuff to chili to bring out other flavors. Things like Chocolate, cinnamon, cornmeal, beer, cola and wine are all additions some people will sear by as that "secret ingredient."
What's in my homemade chili seasoning?
My recipe includes many of the spices I mentioned above, with the exception of cumin. I have added it from time to time, and I am not sure if I get a little too heavy-handed or what, but to me, too much cumin can make that "taco seasoning flavor" take over in a hurry. If you want to add some, proceed lightly, as you can always add more if you like it.
I don't add garlic powder or onion powder to my mix, because I always use fresh garlic and onion when I brown my ground beef. I personally like that extra heartiness fresh onion gives the chili.
My mix contains salt, seasoned pepper, paprika, cayenne pepper, chili powder and red pepper flakes.
Mix it all together and this is the right amount for a batch of my Three Bean Chili, which serves about 12 people. If you want to make extra, I have also shared a quadruple batch in the notes of the printable recipe card below. Store it in an airtight container and you'll have it all ready to go when you want to make chili!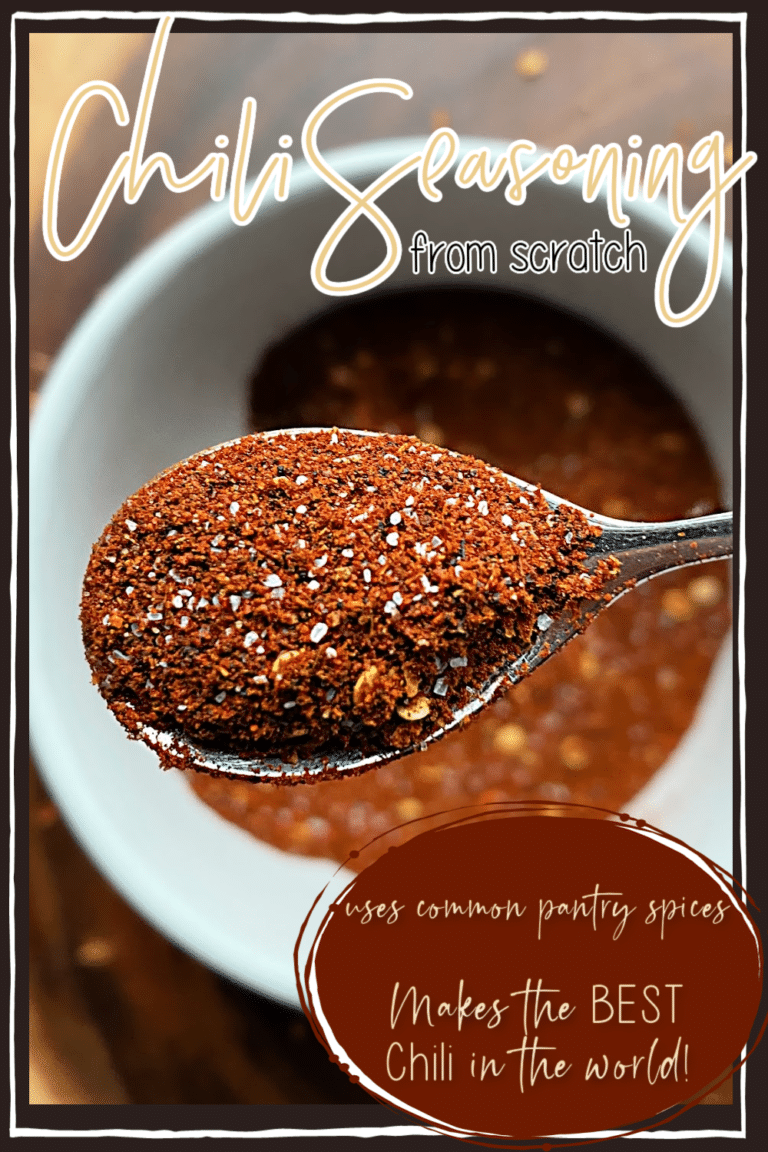 Love it? Pin it!
Don't forget where you found the best chili seasoning recipe! Pin it to your favorite Pinterest recipe board before you go!
Other great mixes you might enjoy: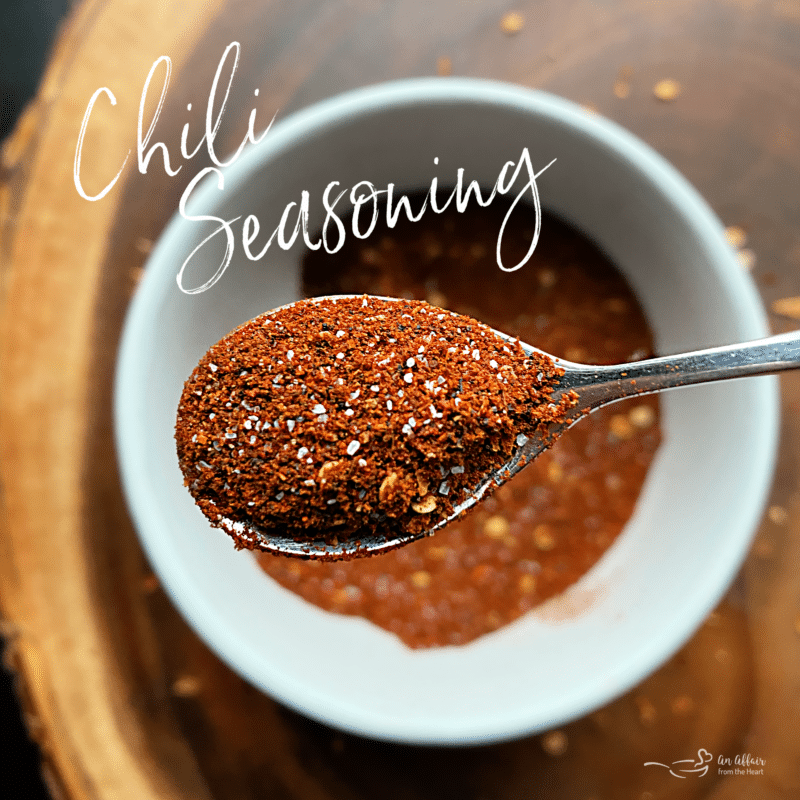 Let's grab the recipe for this delicious and simple Homemade Chili Seasoning!

Yield: makes on pot of chili (large batch recipe included)
Homemade Chili Seasoning Recipe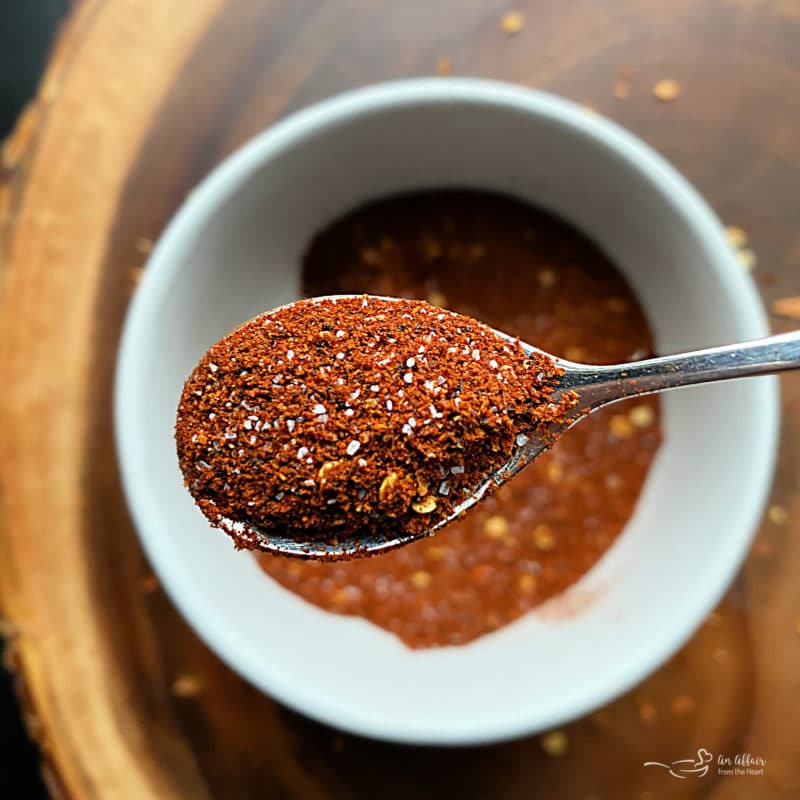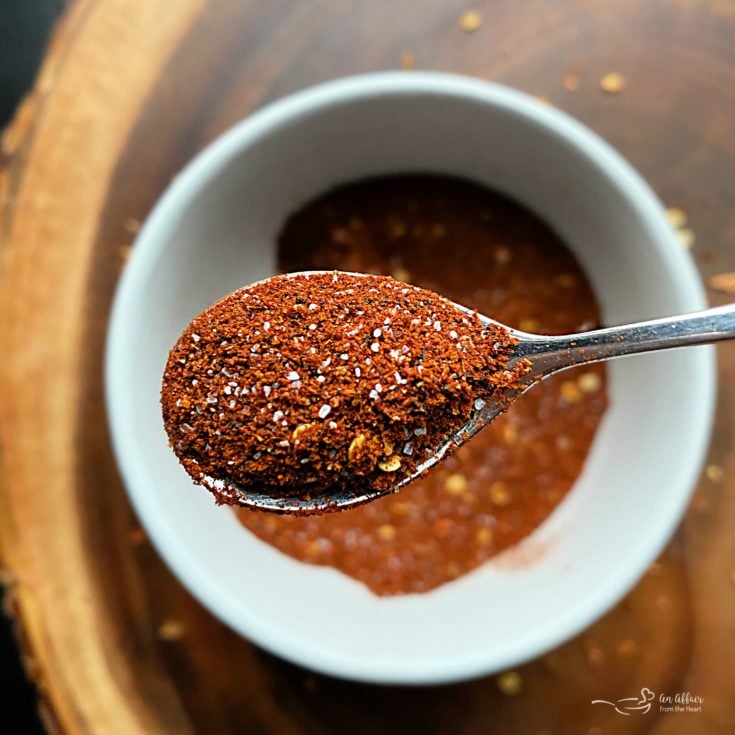 How to make the very best chili seasoning recipe for the most warming and perfectly spiced pot of chili ever!
Ingredients
2 Tablespoons chili powder
1 teaspoon paprika
1 teaspoon red pepper flakes
1/2 teaspoon seasoned pepper
1 teaspoon salt
1/2 teaspoon cayenne pepper
Instructions
Combine everything together and store in an airtight container until ready to use, or place directly into chili soup.
Notes
This chili seasoning makes one pot of my Three Bean Chili - it serves 12 people. I use fresh onion and garlic if you don't have it, add in 1/4 teaspoon of garlic powder and 2 Tablespoons of onion powder to the dry mix.
Large Batch Measurements: 1/2 cup chili powder, 1/4 cup + 1 teaspoon of paprika, red pepper flakes, salt, and 2 teaspoons of seasoned pepper and cayenne. Store in an airtight container and use 3 heaping Tablespoons for a batch of chili. Makes 4 batches.
Nutrition Information:
Yield:
1
Serving Size:
1
Amount Per Serving:
Calories:

63
Total Fat:

3g
Saturated Fat:

1g
Trans Fat:

0g
Unsaturated Fat:

2g
Cholesterol:

0mg
Sodium:

2579mg
Carbohydrates:

11g
Fiber:

7g
Sugar:

2g
Protein:

3g
Nutrition isn't guaranteed accurate.