Want to make your favorite Bisquick biscuits or pancakes, but you don't have any Bisquick? Making homemade baking mix like Bisquick is so easy, you will wonder why you never did it before!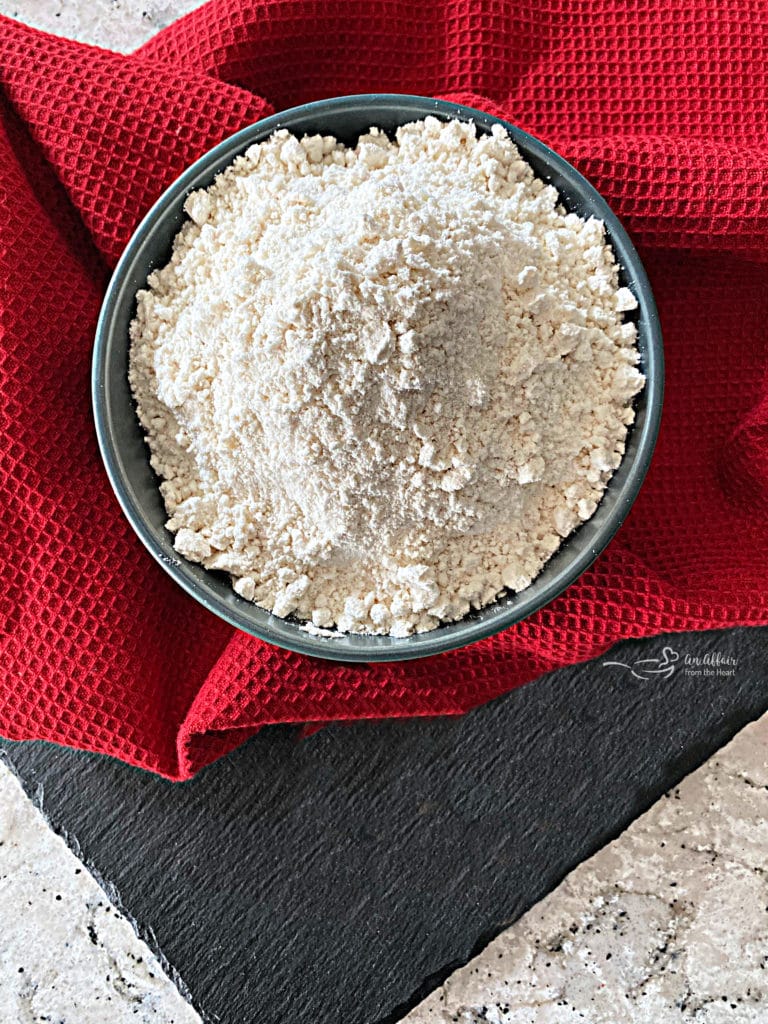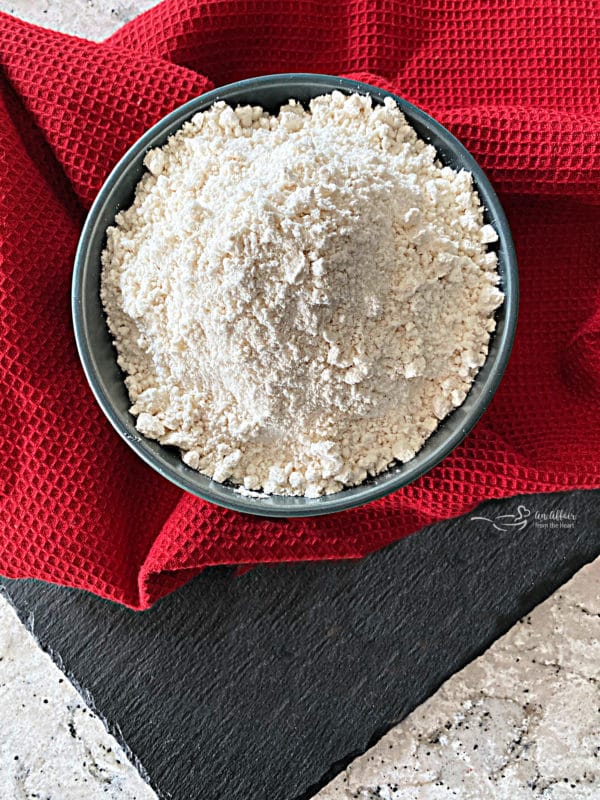 Has this ever happened to you? You go to the pantry because you're craving pancakes or biscuits, you grab the box of Bisquick baking mix and right away by the weight of it, you know you don't have enough.
Never fear! In just a few minutes, you can make your own Homemade Bisquick Mix with common pantry ingredients.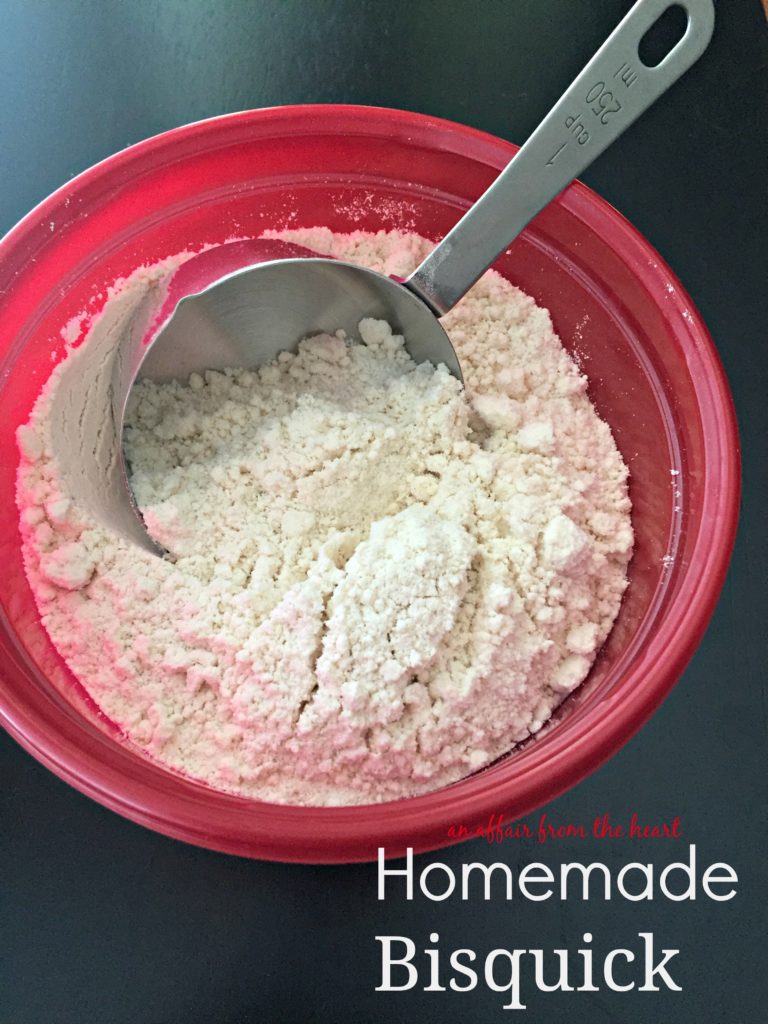 Easy Homemade Bisquick Mix
DIY homemade Bisquick baking mix is so simple. Not sure why I never jumped on this before. I guess everything in our society these days is about cutting corners and supposedly saving time in the process. Why should pancake batter be any different?
Well, pancake batter just isn't that complicated. You can mix your own so easily and literally at a fraction of the cost of any pre-made batter mixes. The only issue will be figuring out what container you have handy to store it in.

What Exactly Is Bisquick?
Bisquick is a Betty Crocker food product that was invented in the 1930s. An executive from Betty Crocker learned about it during his morning commute on the train. The chef in the bar car of the train told him how he was able to make fresh biscuits daily because he pre-made the batter.
The lightbulb went off and a mega-million dollar idea was born!
The thing that makes Bisquick so convenient is that it is premixed dry ingredients – but uses hydrogenated oil instead of lard or shortening. In this recipe, I suggest shortening, but you can also use lard, butter or coconut oil in similar proportions.
You can even make a healthier version of from scratch Bisquick, by using part whole wheat flour, some recipes even call for powdered milk in addition to the wheat flour. Vegan Bisquick Substitute often uses Spelt flour in place of the whole wheat flour. Oils like Canola oil, sunflower or safflower oils are also used to lighten up the baking mix.
Storing Homemade Bisquick
Any of them will work just fine and keep similarly in terms of storage shelf life. I have always made mine with vegetable shortening.
When using vegetable shortening, coconut oil or lard, you can store your homemade baking mix in a cool dark place, like your pantry for up to 3 months.
However, if you are using butter the mix will have to be stored in the refrigerator and will be good for about 3 weeks.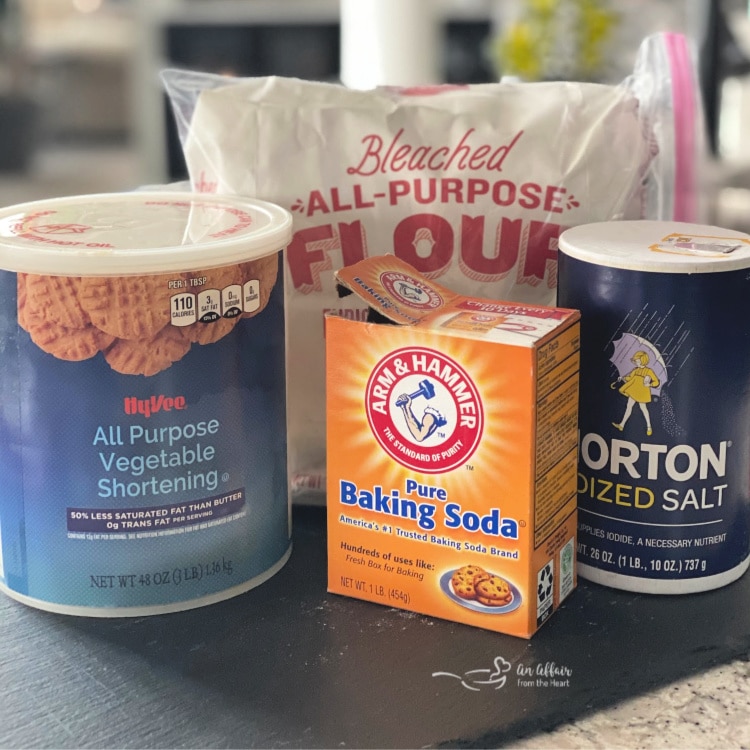 What Ingredients are Used to make Homemade Bisquick Baking Mix?
There are several ways that people make homemade Bisquick. But this is the recipe that I have used for years! It works so well, and it's super easy, too.
All that is required is All-Purpose Flour, Baking Soda, Salt, and Vegetable Shortening.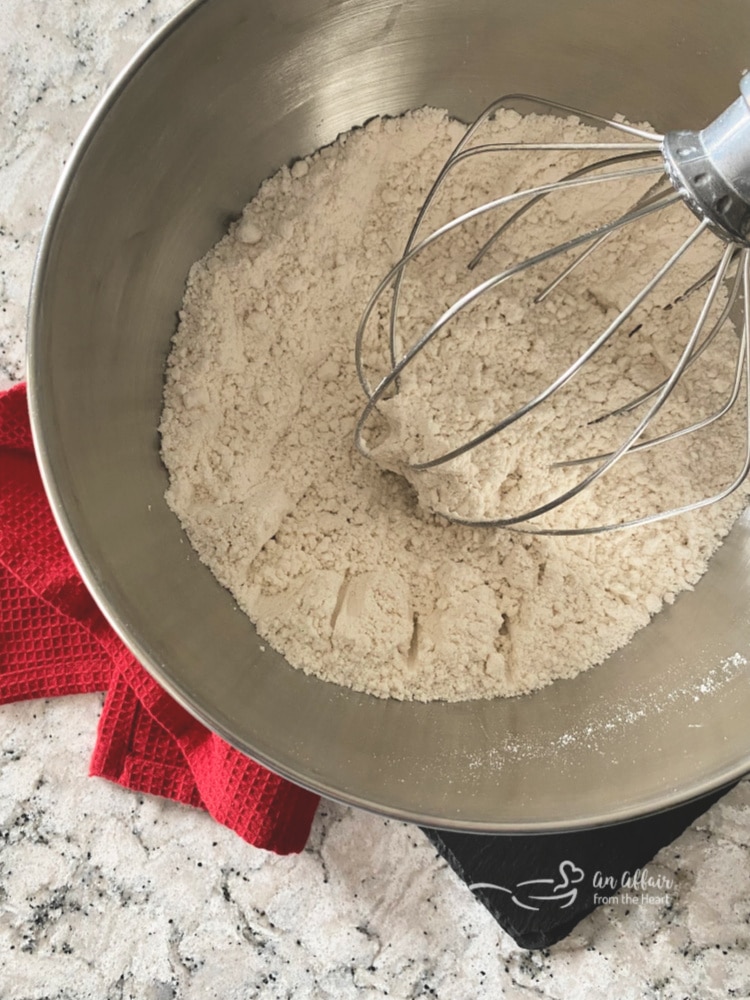 I use my mixer to combine all of the ingredients.
Alternatively, you can use a pastry blender, or two forks, or your food processor.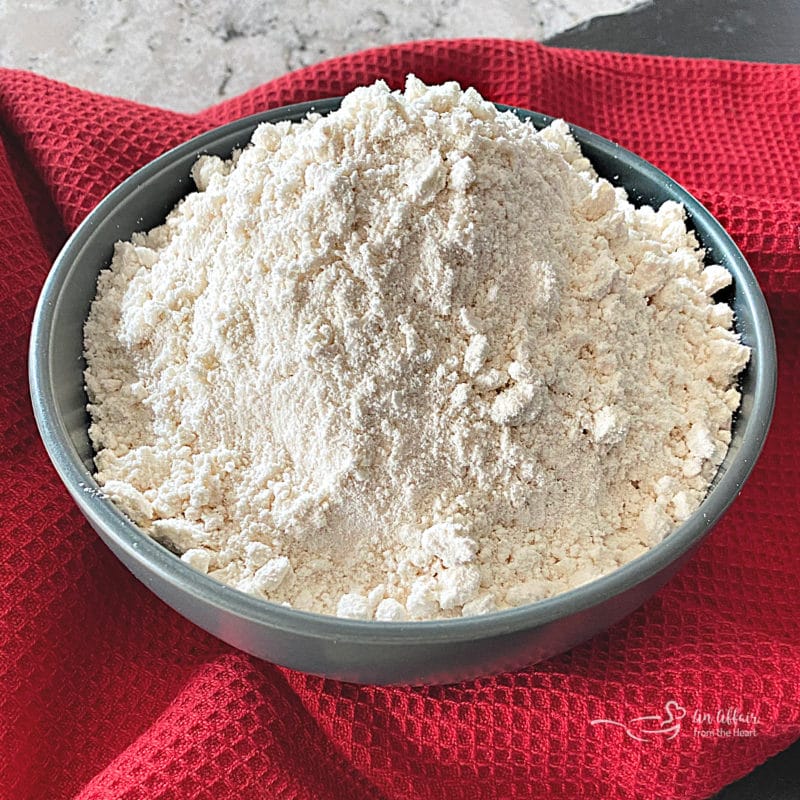 What Is Shortening?
Hydrogenated oil, without going into an entire chemistry lesson, is an oil that has been turned into a solid or semi-solid form its usual liquid form. That is why it can be used in a dry mix of ingredients or used in things like margarine.
Shortening is a generic term for a form of hydrogenated oil. Shortening has a high burn point and works like lard in recipes. (Meaning it won't burn like butter would at similar temps)

Love it? Pin it!
Don't forget where you found this easy recipe for homemade Bisquick baking mix! Make sure you pin it to your favorite Pinterest board before you go. That way you'll be able to find it when you reach for the Bisquick box and it feels too light to make what you're craving.

Why Use Shortening For Homemade Bisquick Mix?
Shortening refers to any fat that is solid at room temp. Vegetable shortening is simply a hydrogenated oil. That means it is a liquid fat that has been transformed into a semi-solid state. The hydrogenated oil in a box of Bisquick is even more hydrogenated so that is why it appears to be a powder.
Vegetable shortening keeps for a while at room temperature, so don't worry about storage. In fact, kept at room temp, then this mix can keep safely for up to six months. In the fridge, it will keep for up to a year!
Shortening is great for baked products like biscuits and pancakes because it helps create lighter and fluffier consistency than using a "wet" ingredient like vegetable oil.
What Kind Of Recipes Can I Use My Homemade Bisquick For?
If you are familiar with Bisquick, then you know it works for a variety of recipes. Of course, Bisquick biscuits and pancakes are top on the list, but you can do a lot of great recipes with it as well. using your Bisquick baking mix you can make dumplings, chicken pot pie, corn dogs and even donuts!

But what if I told you that you could also make cakes, perogies, gnocchi, and pretzels too? How about Churros and tortillas… you're mind blown, right?
Recipes that Use Bisquick:
Reasons to Make your Own Bisquick Baking Mix
There are a multitude of reasons why to make your own Bisquick. The do-it-yourself version gives you the option to make what you need when you need it. You don't have to worry about how long that box has been in the pantry.
It's cost-effective, too. Use your own pantry staples to whip up your own baking mix.
The most common reason to make your own mix is that you will know exactly what's in it. In this day and age of so many food allergies, for some families that is the most important reason. Knowing exactly what is going into the mix can protect your family.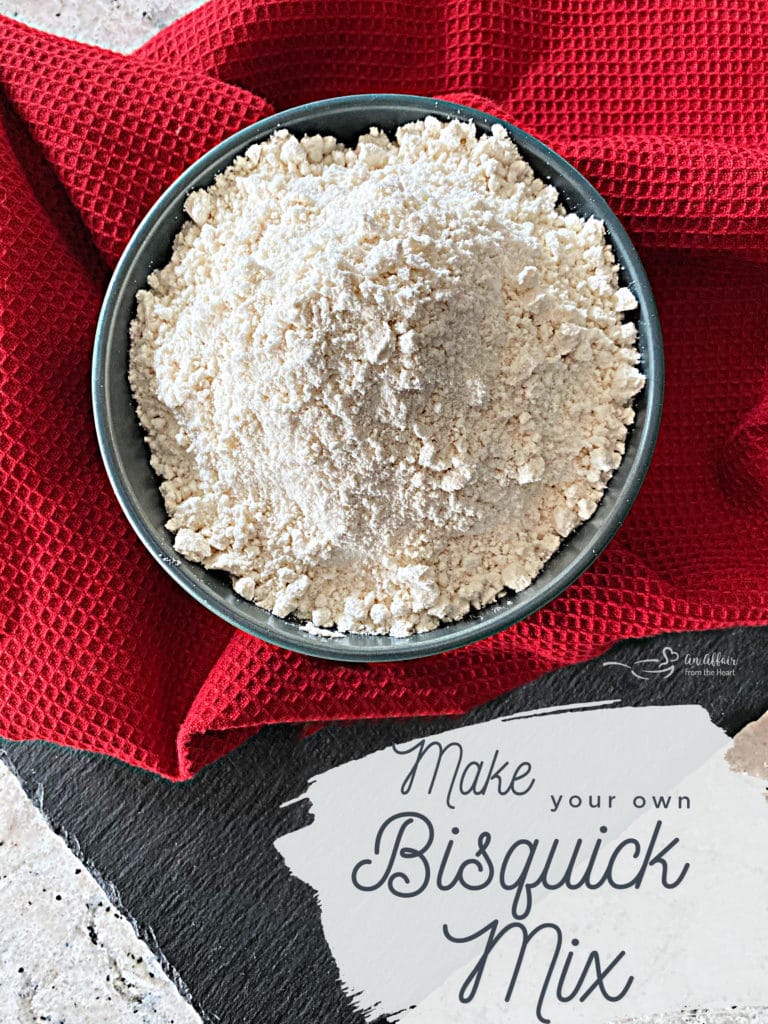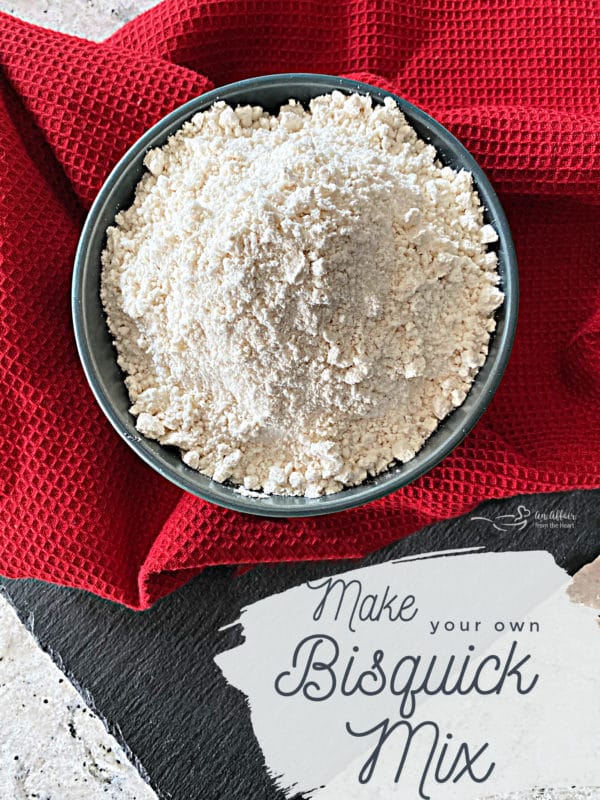 Now that you have learned all about how to make homemade Bisquick and the benefits of making your own baking mix, I say we get to the simple recipe!

Yield: approximately 7 cups
Make your own Bisquick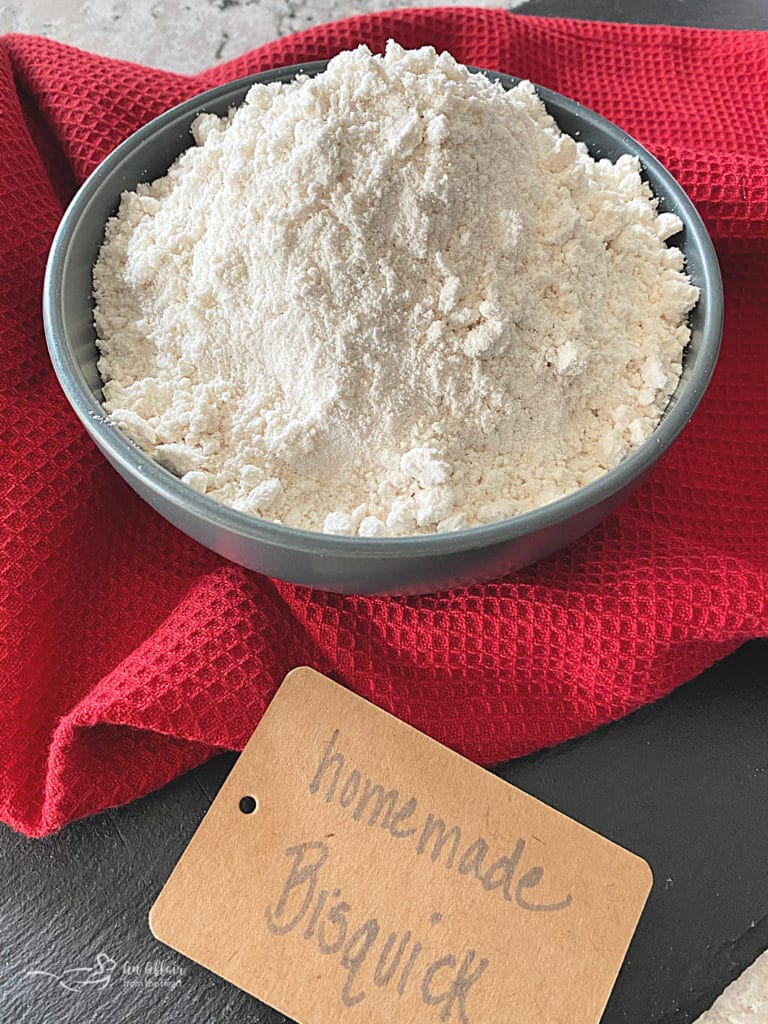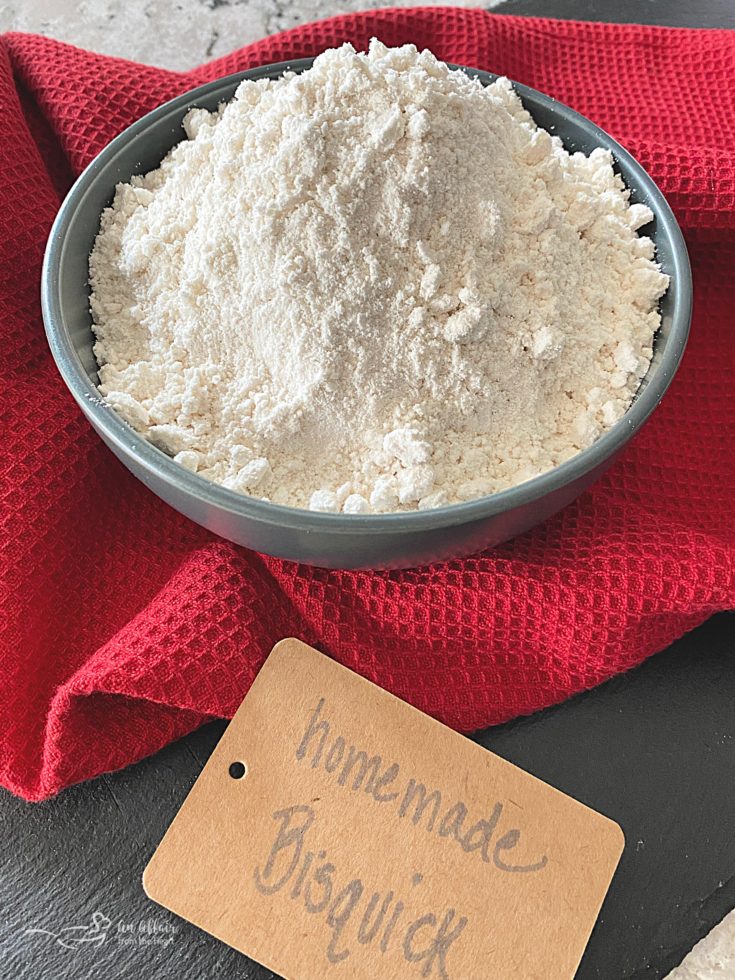 Want to make your favorite Bisquick biscuits or pancakes, but you don't have any Bisquick? Making homemade baking mix like Bisquick is so easy, you will wonder why you never did it before! It's simple, sensible and economical!
Ingredients
6 cups flour
3 Tablespoons baking soda
1 cup vegetable shortening
1 Tablespoon salt
Instructions
In your standing mixer with the whisk attachment, whisk together flour, baking soda and salt.
Add in shortening, in small increments and continue whisking until completely incorporated. A minute or two is all you need.
Store in an airtight container, in a cool and dark place for up to 3 months.
Notes
You can also use a food processor, pastry blender or even two fork or your fingers to mix the baking mix if desired.
Nutrition Information:
Yield:
7 cups
Serving Size:
1 cup
Amount Per Serving:
Calories:

654
Total Fat:

30g
Saturated Fat:

12g
Trans Fat:

0g
Unsaturated Fat:

17g
Cholesterol:

16mg
Sodium:

2527mg
Carbohydrates:

82g
Fiber:

3g
Sugar:

0g
Protein:

11g
Nutrition isn't guarnateed accurate.
This recipe was originally posted on September 30, 2015. It was updated to improve user experience on April 21, 2020.

If you make this recipe, I'd love to know! Snap a picture, share the photo on social media with the hashtag #AnAffairFromTheHeart – I'd love to see what you made! – Michaela