Western Burgers
As an Amazon Associate and member of other affiliate programs, I earn from qualifying purchases.
Thick and juicy burgers, topped with thick bacon, homemade onion strings and BBQ Mayo. You don't have to be a cowboy to love 'em!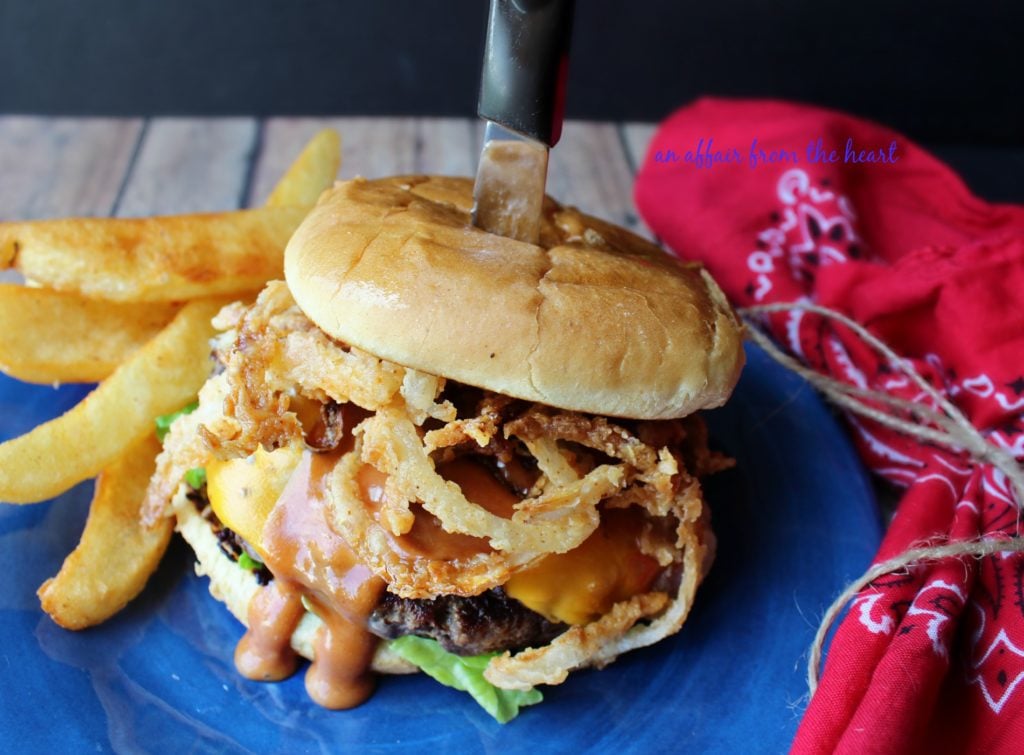 Giddy up! It's not only Memorial Day, one of the biggest grilling days of the year, but it's the end of May, deemed National Burger Month. This burger is just begging to be bitten into — don't you agree?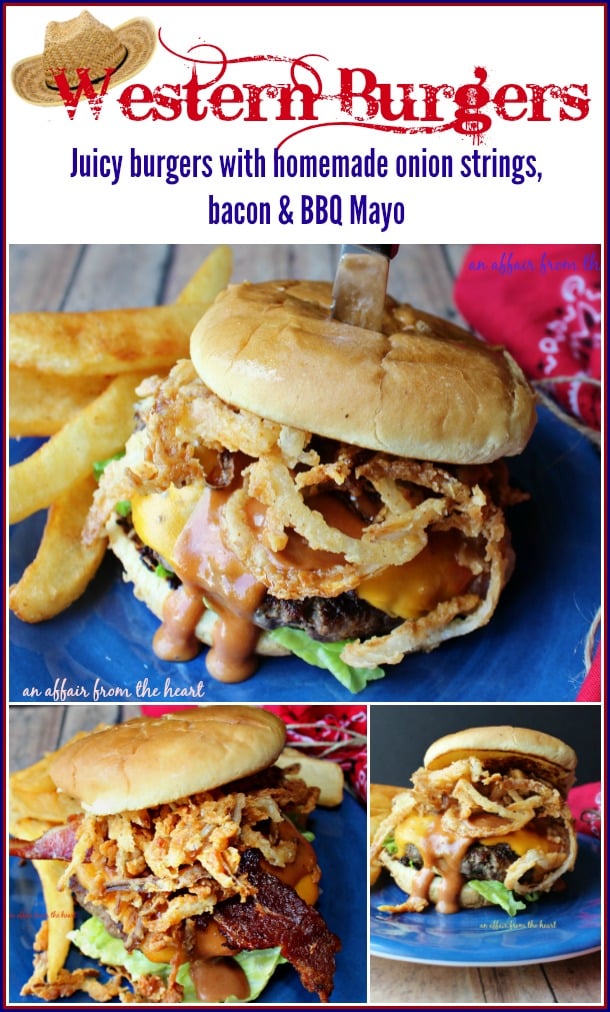 This month, I am a part of two different secret recipe club reveals. This one is a special reveal day, and it was themed Picnics and BBQ's in honor of summer. For the reveal, I was assigned the blog, Making Miracles. Initially, I began browsing all of Rebekah's salads. I am always in the market for a new salad recipe. I pinned a couple of them: Chicken Bacon Ranch Pasta Salad and Loaded Baked Potato Salad to name a couple, then I made my way over to the section marked Sandwiches, Burgers and Pizza. There were 12 burger recipes to browse. TWELVE. I knew I had to try one. My first pick was this Stuffed Burgers with Bacon, Onion and Cheese. Rebekah said these were her son's favorite. My youngest son is quite the burger connoisseur, but then I saw her Western Bacon Burgers with Crispy Onion Strings and BBQ Mayo, and knew what I was making! Those onion strings!! #InLove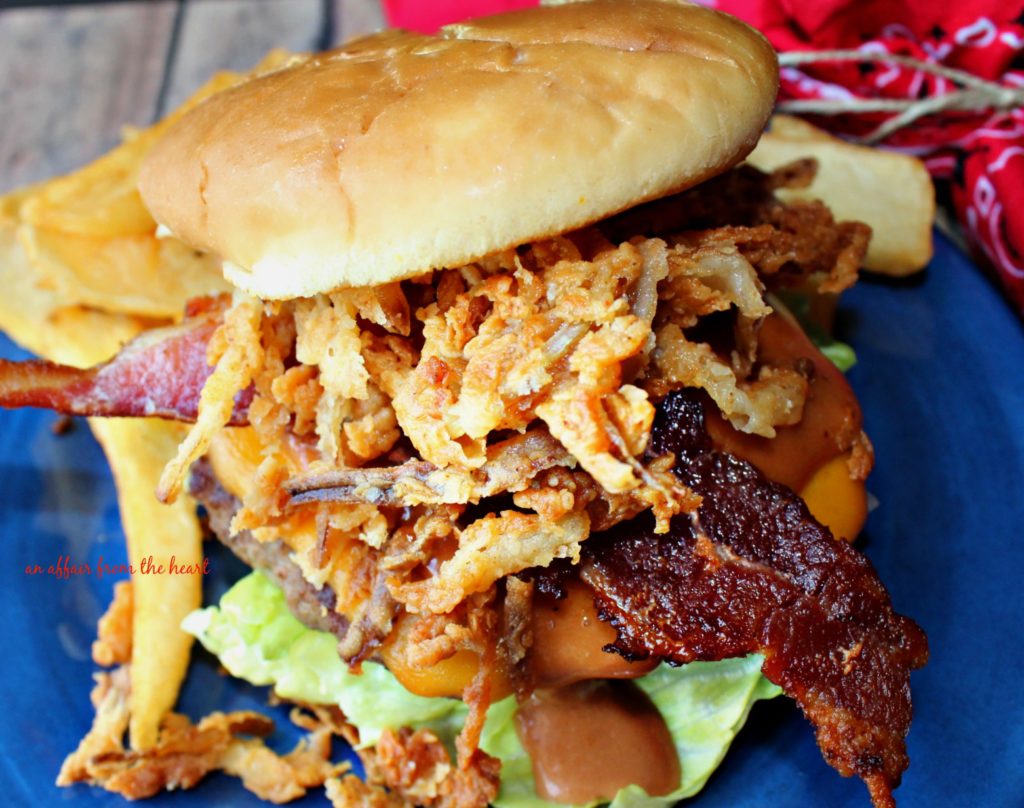 Rebekah is a mom to two, and describes her cooking as easy and family friendly. Sounds perfect to me! She has literally traveled the world, and has given the gift of a child to 4 families that couldn't through the gift of surrogacy. Take a look at her blog, she is quite the interesting gal! I know you will enjoy her recipes and stories.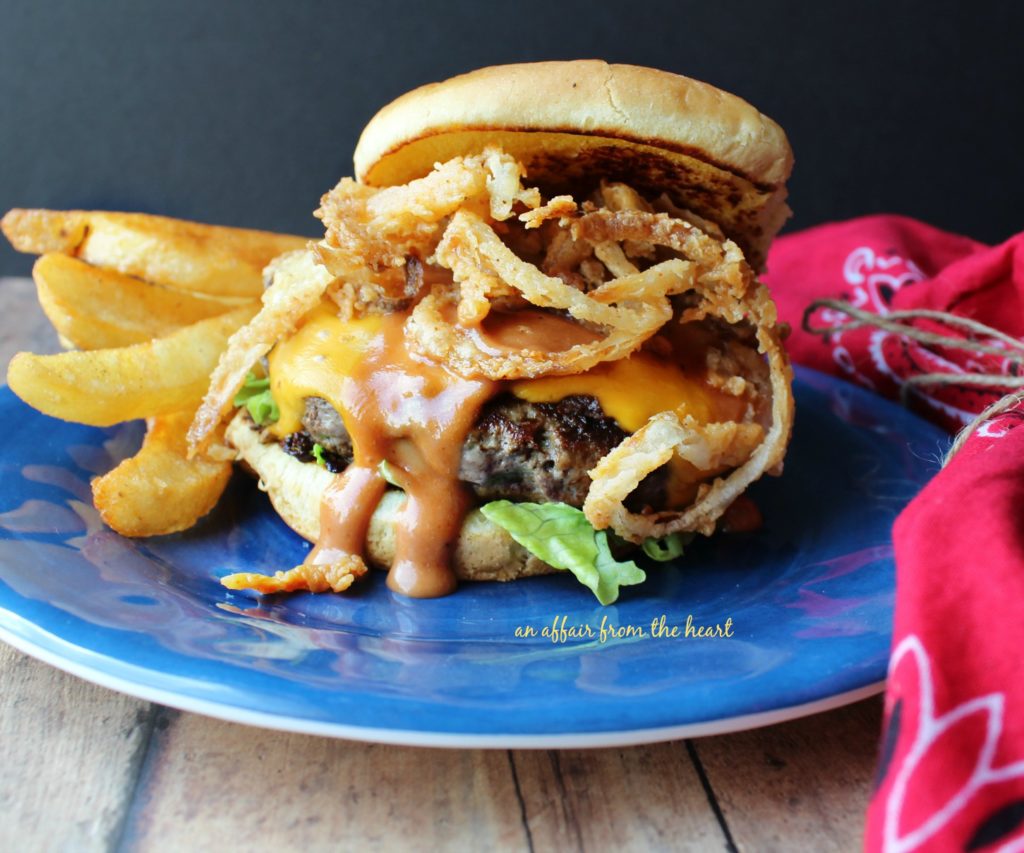 When I made these, I not only hid the onion strings but the bacon, from my kids, who kept swiping it from the plates. I am normally not such a crank, but I was afraid there wouldn't be any left for the burger photos! I did all of the pictures, we sat down to eat, and about halfway through my burger, I thought "wait … where is the bacon??" I had forgotten all about it. My oldest daughter was working that night, so I had one burger left, re-built it and re-shot it with the bacon.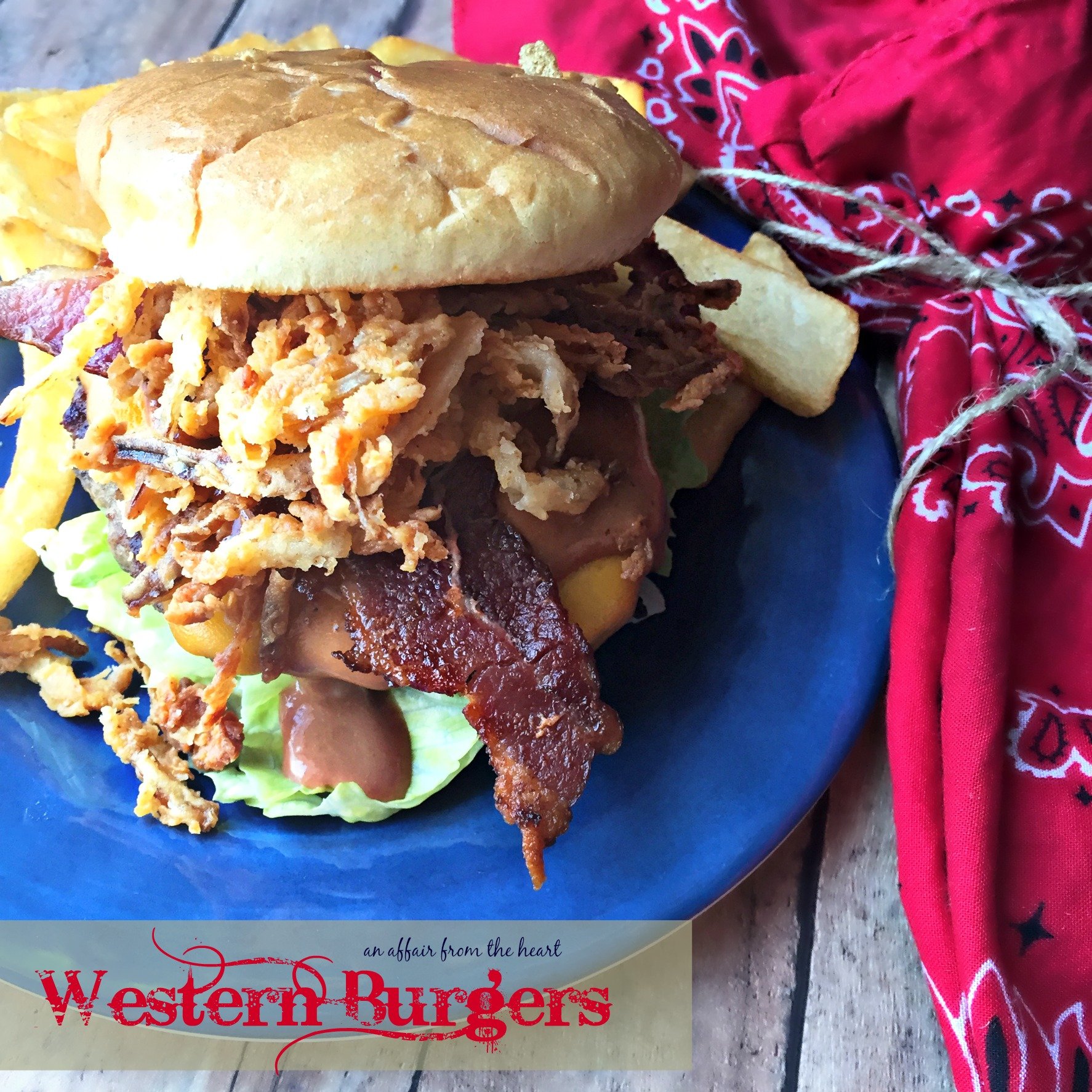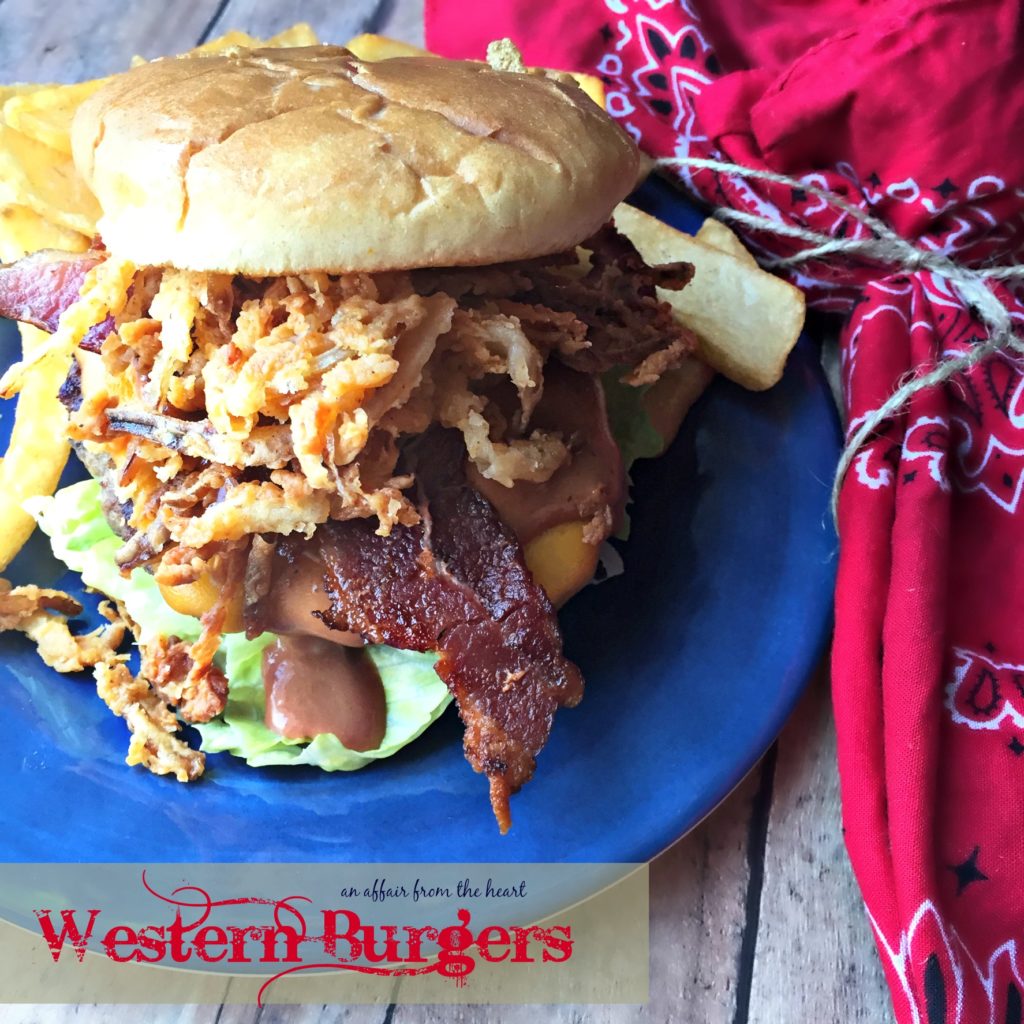 Honestly, it was fine either way — but everything is just a little bit better with bacon on it, right?
We served them up with some thick cut fries, and my little burger lover gave them two thumbs up.
---
Yield: 4-6
Western Burgers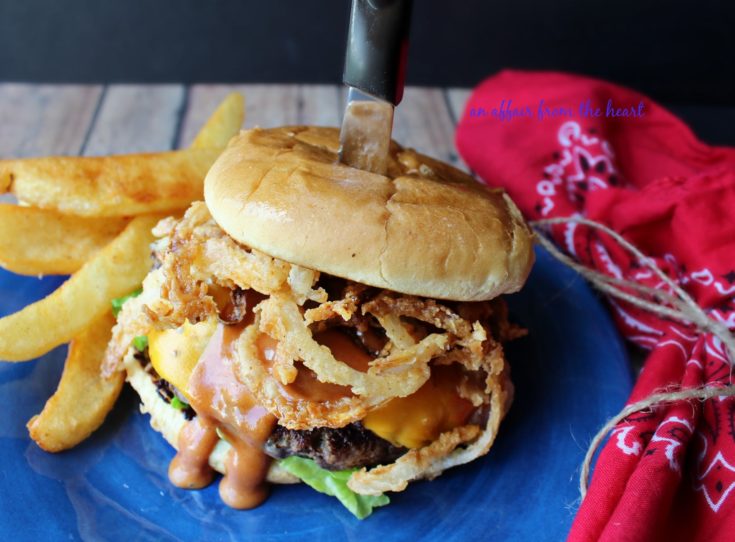 Thick and juicy burgers, topped with thick bacon, homemade onion strings and BBQ Mayo. You don't have to be a cowboy to love 'em!
Ingredients
1 1/2 pounds 85% lean ground beef
1 egg
1/4 cup mayonnaise
1/4 cup BBQ sauce
Cheese slices, (I used Colby)
Thick sliced bacon, for serving (two slices per each burger)
Buns
Lettuce, tomato and other toppings of your choice
Homemade Onion Strings - Find RECIPE HERE
Instructions
Prepare Homemade Onion Strings - set aside.
Combine ground beef with egg, and form into patties. I made 4 very large burgers. You could make 6 smaller sized burgers from 1 1/2 pounds ground beef. Grill or pan fry your burgers until they are your desired done-ness. Add cheese slice and melt.
Toast insides of buns by adding a little bit of butter to them, and toasting in a skillet.
Mix mayo and bbq sauce in a small bowl.
Top burgers with BBQ Mayo, bacon and prepared onion strings. Add lettuce and tomato if desired.
Notes
Nutrition Information:
Yield:
6
Serving Size:
1
Amount Per Serving:
Calories:

435
Total Fat:

25g
Saturated Fat:

8g
Trans Fat:

0g
Unsaturated Fat:

14g
Cholesterol:

146mg
Sodium:

456mg
Carbohydrates:

12g
Fiber:

1g
Sugar:

6g
Protein:

38g
Nutrition isn't always accurate.
---
We loved the onions SO MUCH that I decided they deserved a whole blog post of their very own:
—
Thanks, Rebekah, for the great recipes!
Learn more about joining the Secret Recipe Club by clicking the banner below: