Spiced Peach Pie with Crumb Topping
As an Amazon Associate and member of other affiliate programs, I earn from qualifying purchases.
This Spiced Peach Pie with Crumb Topping will instantly become your favorite dessert! The sweet homemade filling consists of freshly sliced peaches, spicy nutmeg, and sugar and is topped with a buttery crumble made with cinnamon. When I say you'll love this easy peach pie, I really mean it!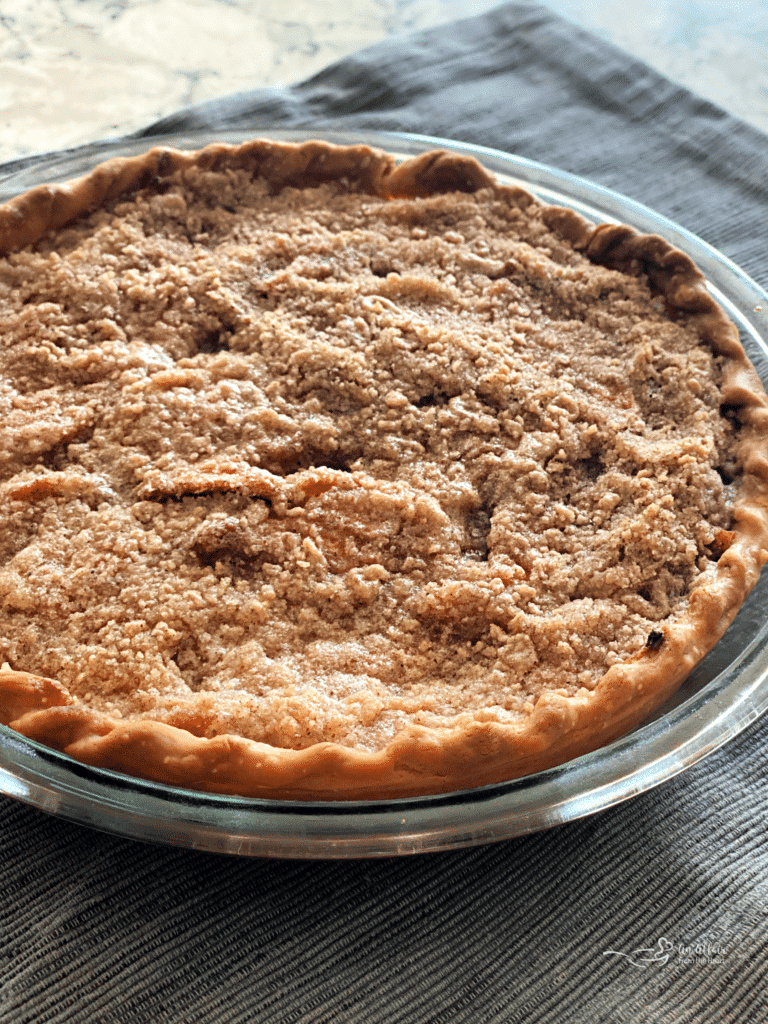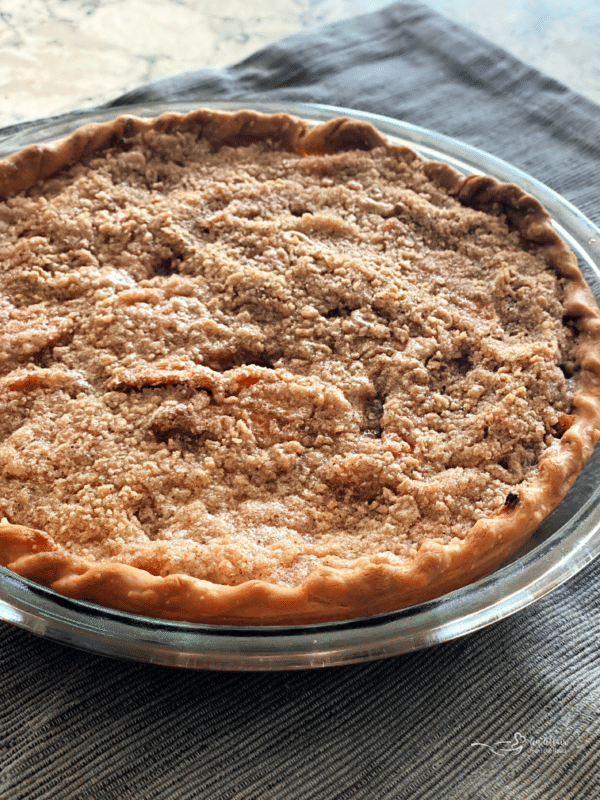 My family loves this recipe because it is so satisfying and pleasantly sweet! Juicy peaches coated in sugar, cinnamon, and spice, baked in a homemade pie crust and topped with a spiced crumb topping. This is the best peach pie recipe I've ever had. This fact is confirmed because I recently made this peach pie crumble and was reminded of the scrumptiously sweet peach pilling. Fitting for late summer, this is a classic dessert that begs to be eaten!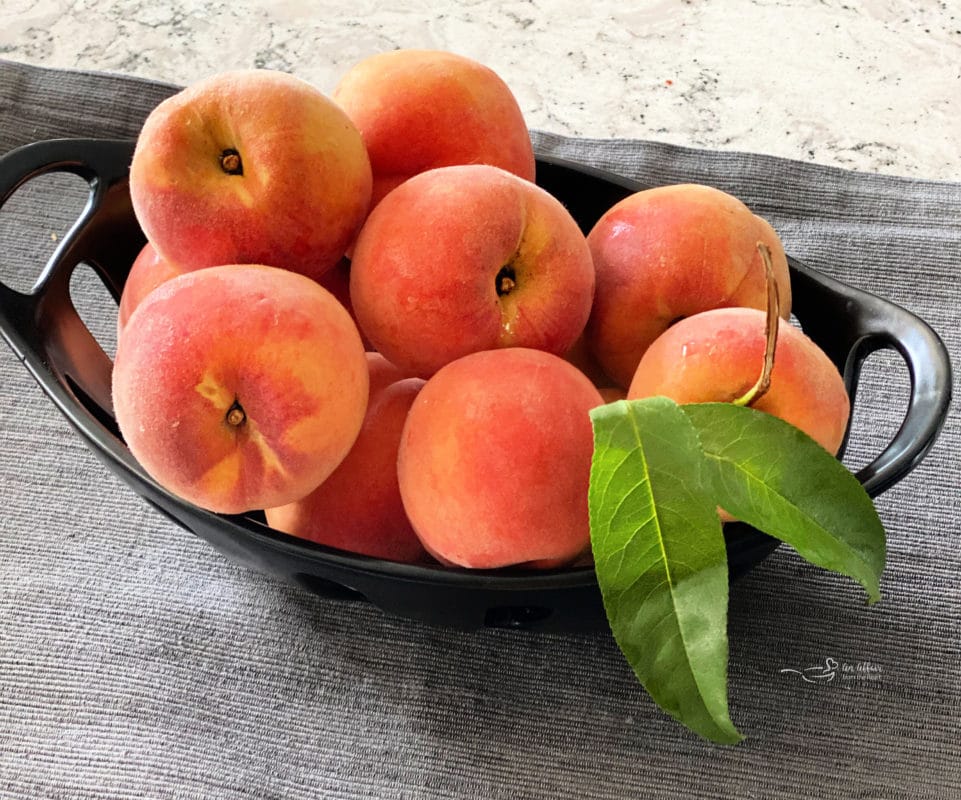 This is the perfect pie for any occasion! We like to keep desserts in the household pretty much all the time because life is too short to miss out on the sweet things in life! Wouldn't you agree?
Fresh peaches are crazy good this time of year, I highly recommend that you give this recipe a try.
Make this peach pie recipe with fresh peaches. But in a pinch, when you get a craving and peaches aren't in season, frozen ones work well, too. Every summer, I slice and prepare a bunch of sliced peaches and freeze them for special recipes such as this spiced peach pie. You can never have too many peaches!
Mmmm. Pie.
I love pie… you may have heard me say that once or a hundred times. It's hard to tell you what kind is truly my favorite, Chocolate Meringue? French Silk? Banana Cream? Yes, all good choices.
But fruit pies are always up there, too! Anything baked with spices of nutmeg, ginger, cloves, and cinnamon are tops. (plus your kitchen smells AMAZING when it's baking!) This Spice Peach Pie with Crumb Topping is hands down ONE of my favorites for ALL of these reasons.
Add a scoop of vanilla ice cream and my oh my, it's like heaven in your mouth! My kids actually fought over the last piece!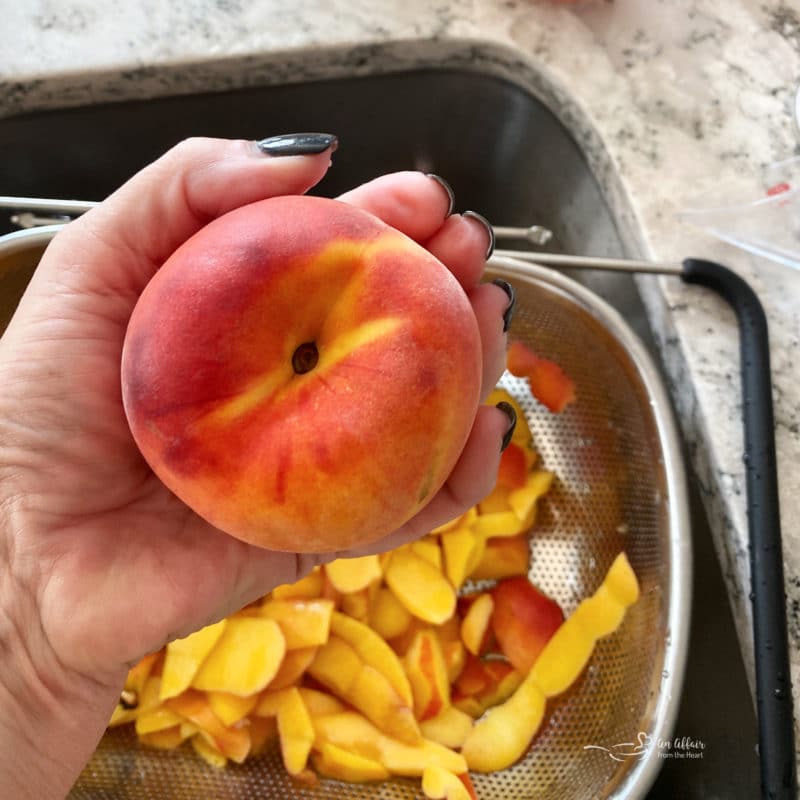 Check out these gorgeous peaches I was given! My friend, Lori has peach trees in her yard and they are amazing! Not only are they huge, but they are also perfectly sweet and juicy. I made this pie and I took the rest of them and froze them. That way I could make another one of these pies for Thanksgiving, and use the peaches for smoothies during the winter.
If you have a whole bunch of peaches and want to can them, here is a fantastic no-fail recipe for canning sliced peaches!
Do you Peel Peaches for Pie?
It is up to personal preference if you would like to peel the peaches. Personally, I don't mind them either way. Typically I peel them, but if you choose to leave them on, as the peaches bake, the skins of the peaches become more tender, which makes them easier to eat.
Ingredients for the Perfect Peach Crumble Pie Recipe
Pie Crust: For this recipe, you can use either storebought or homemade pie crust. Just make sure it is unbaked!
Peaches: Any kind of peaches are fine for this recipe such as freestone, yellow, white, or Saturn peaches.
Sugar: Regular white granulated sugar is the sweetener for this recipe making the filling and the crumble sweet and delicious.
Spices: What would this recipe be without the spices? Flavors of cinnamon, nutmeg, ginger, and cloves come together to create a peach pie recipe that is spicy, warm, and well-balanced.
Flour: Flour is used for both the filling and the crumble, so make sure you have some handy! Feel free to experiment with 1:1 gluten-free flour.
Vanilla: invest in a good bottle of pure vanilla extract. You'll be so happy that you did. I buy mine at the Mexican grocery store.
Lemon Juice: Fresh citrus allows the peaches to remain bright and flavorful. Definitely a key element to this recipe!
Butter: Use your choice of salted or unsalted butter, just be sure to use cold butter. For dairy-free versions, use dairy-free butter.
For Serving:
Whipped Cream: Use Cool Whip or homemade whipped cream as an exceptional addition to this dessert recipe.
Ice Cream: Vanilla ice cream is delicious with this pie–use homemade or your favorite storebought ice cream.
How to Make Peach Pie with Homemade Filling
This recipe couldn't be any easier! Made with a delicious combination of ingredients, this step-by-step recipe teaches you everything you need to know about making the best peach pie from scratch. Inspired by Southern cookbooks, this pie is as sweet as it gets!
Step One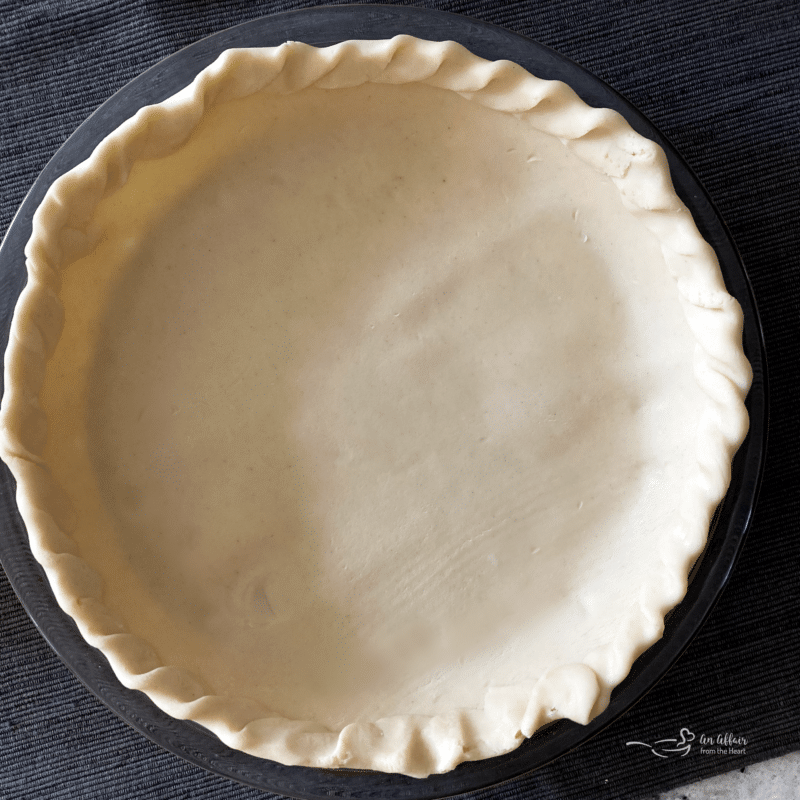 First, line a shallow pie plate with pie crust and form the edges.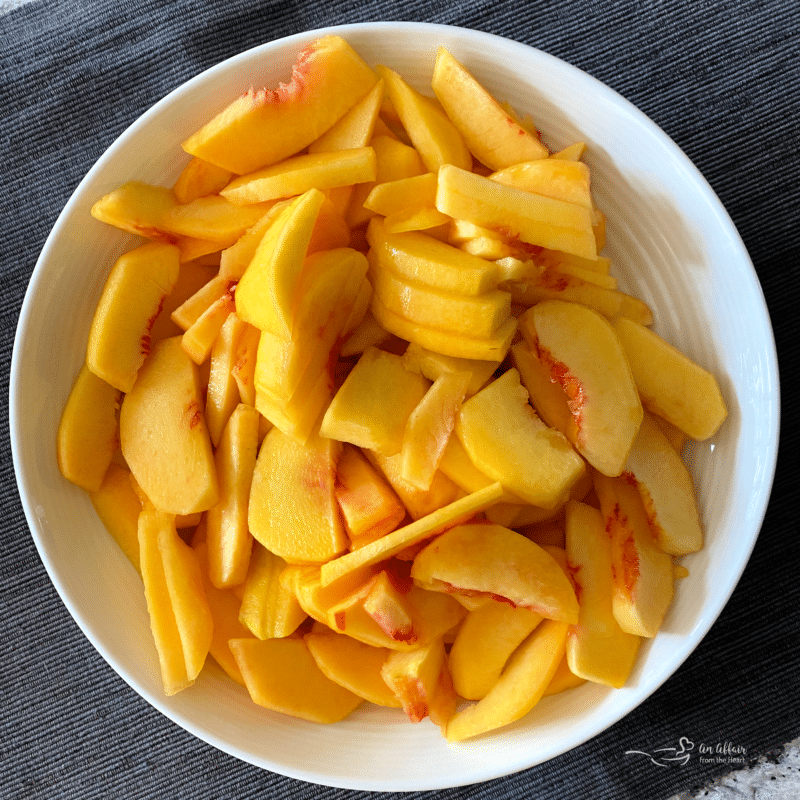 Next, peel and slice your peaches.
Step Two

In a bowl, combine the peaches, sugar, nutmeg, cinnamon, ginger, flour, vanilla, and lemon juice.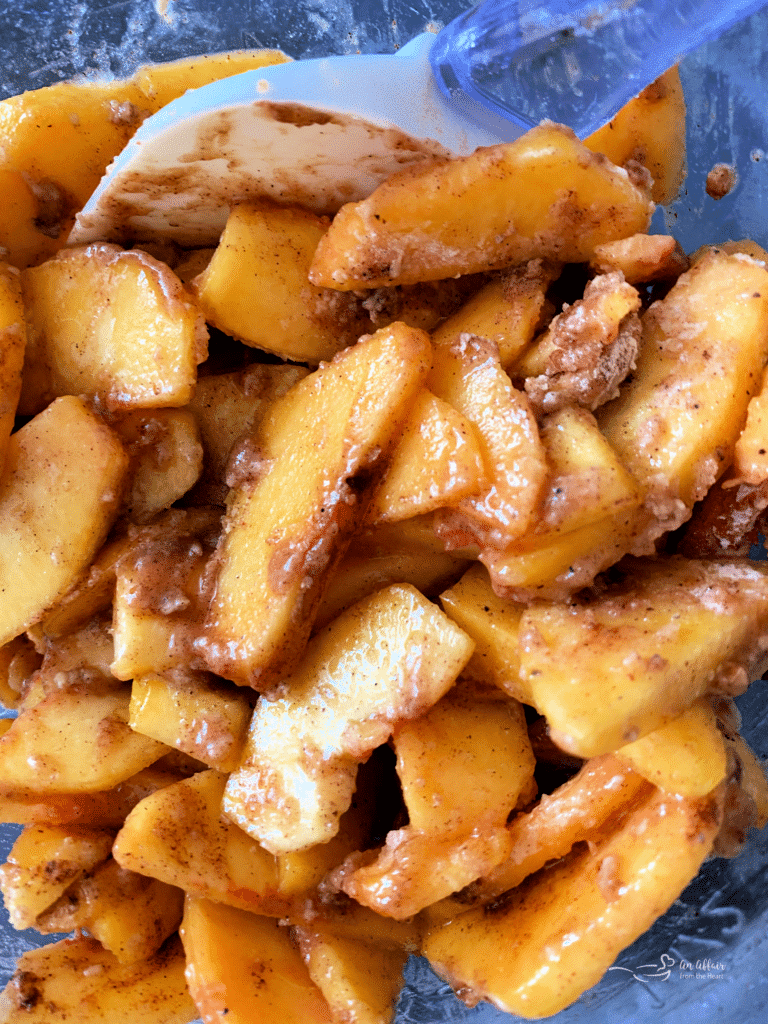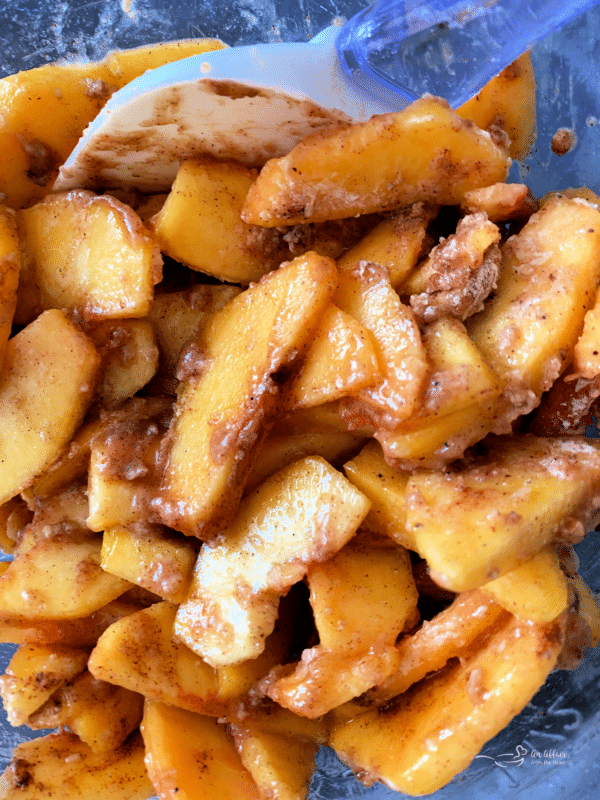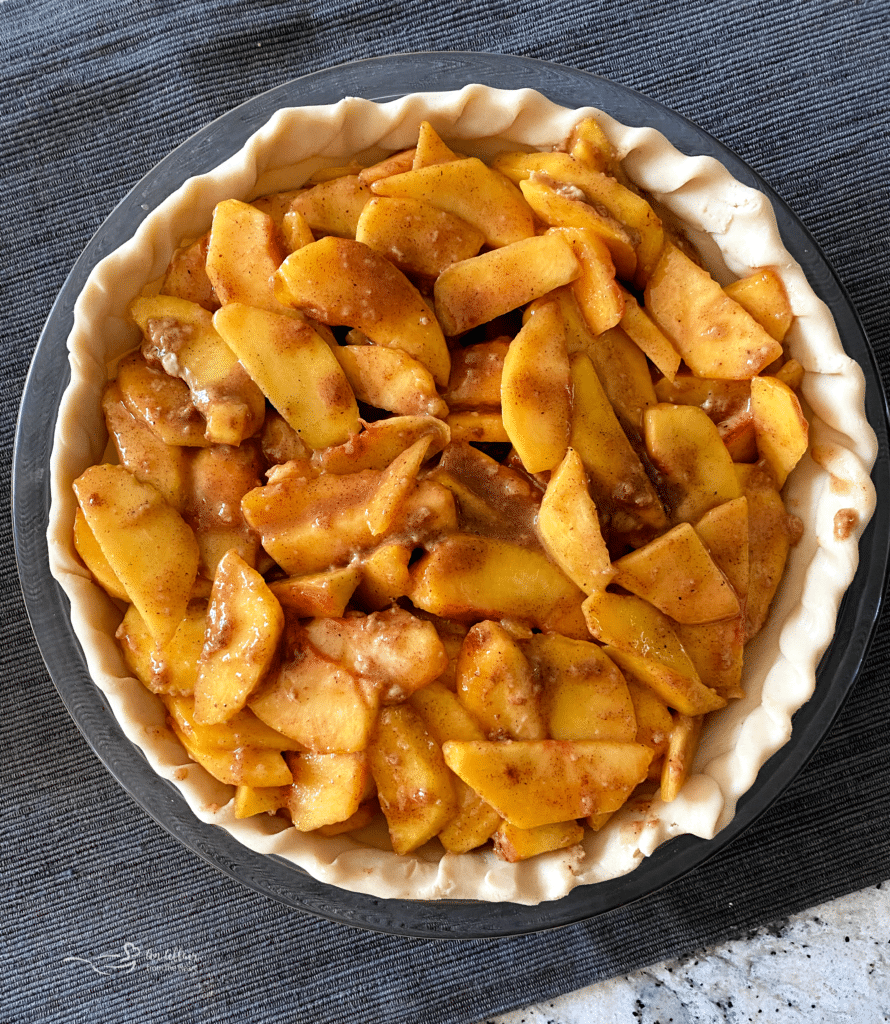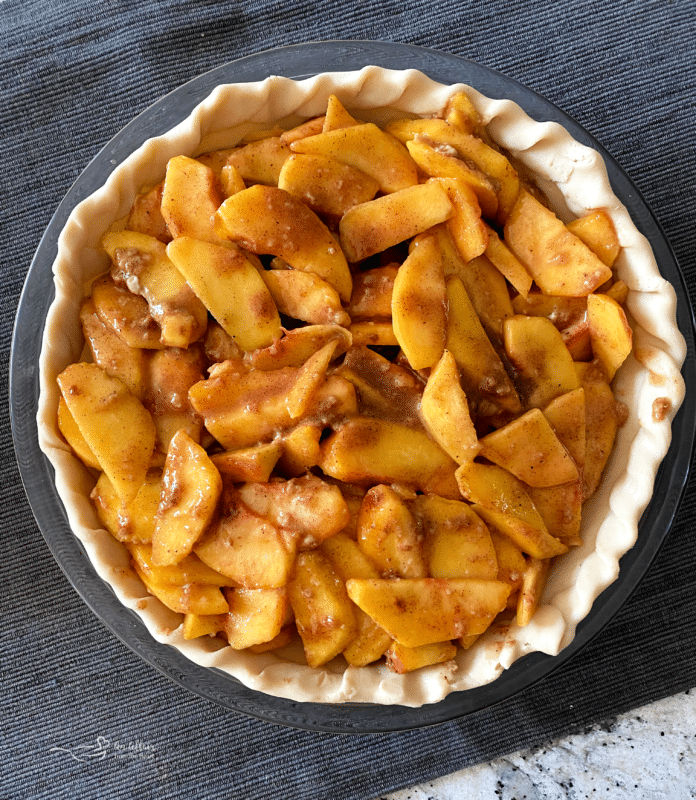 Fill the pie crust with the peach filling.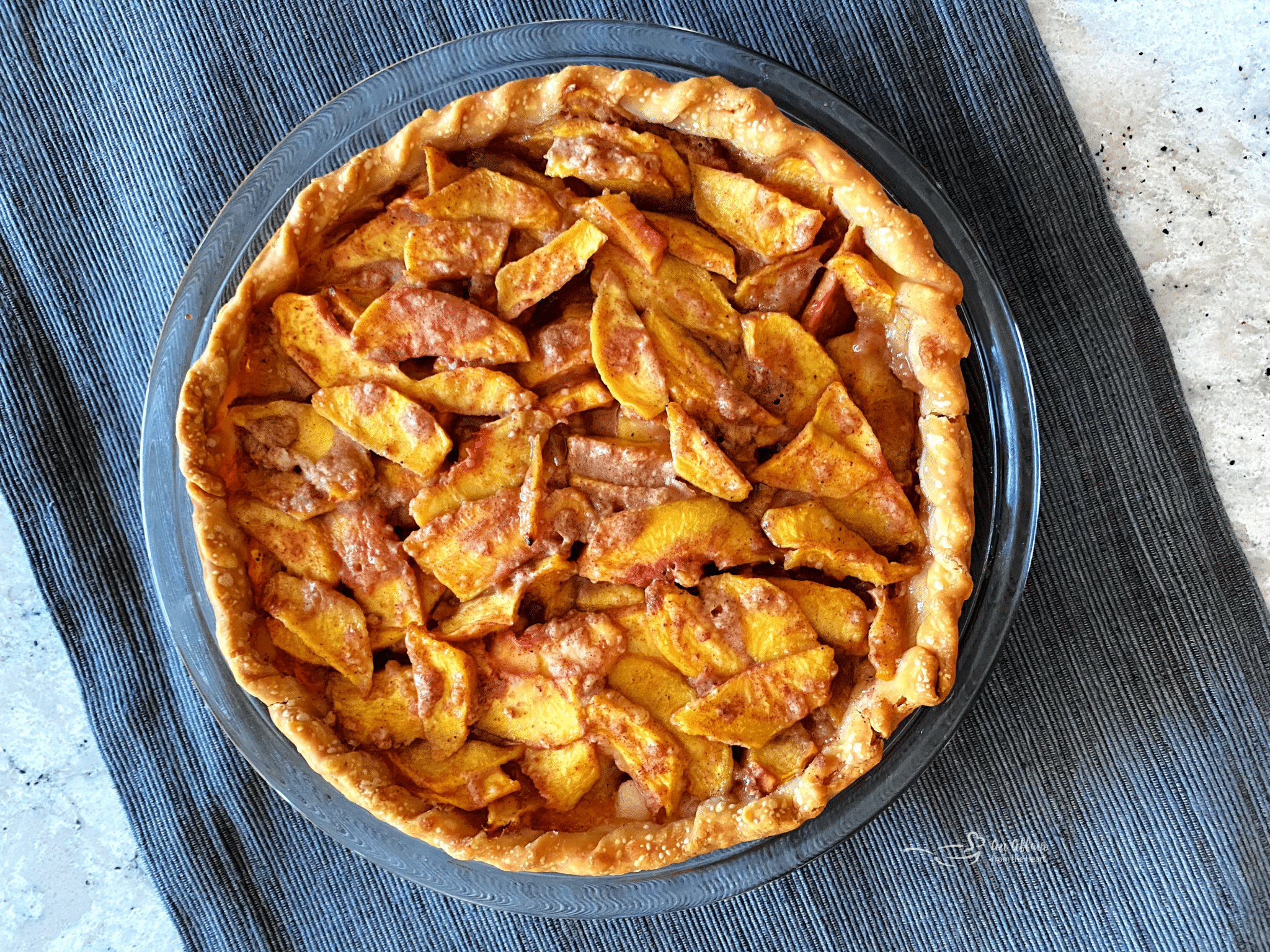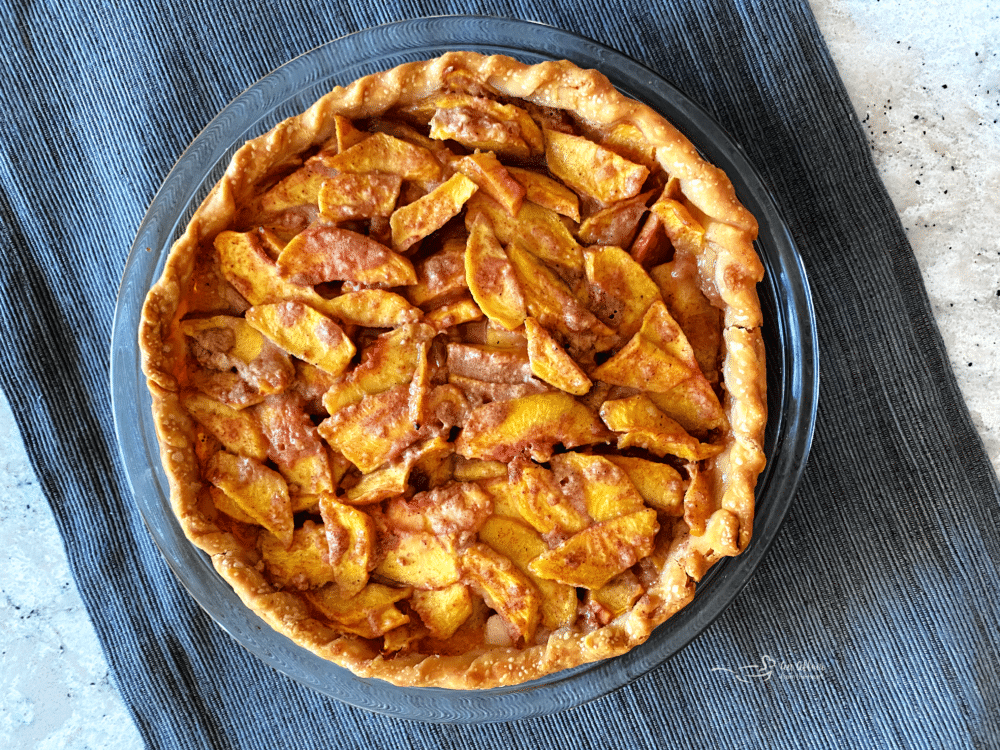 Bake at 400 degrees Fahrenheit for twelve minutes, then decrease the temperature to 350°F and bake for 30 minutes.
Step Three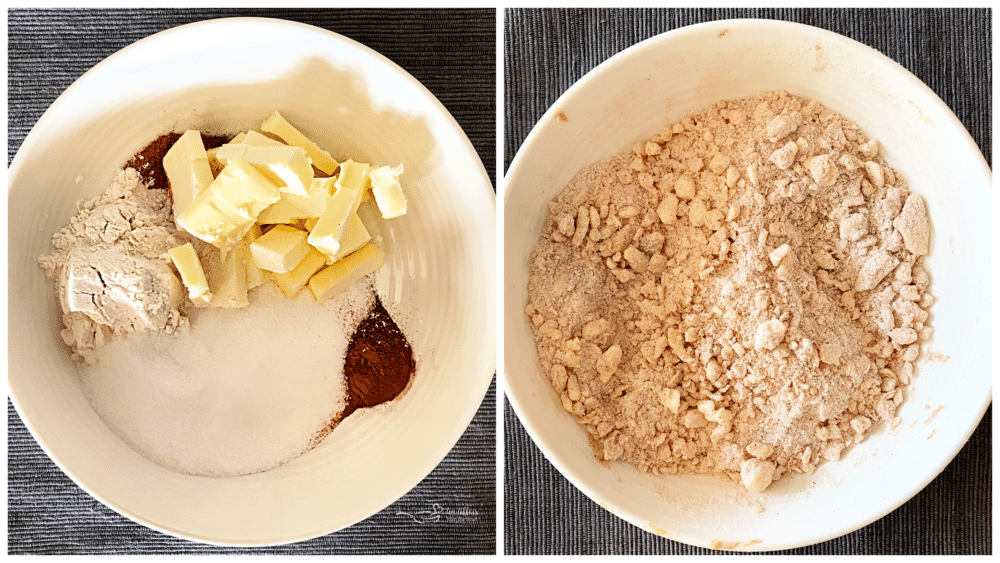 Meanwhile, while the pie is baking, make the crumb topping. In a bowl, you will want to combine the sugar, flour, and spices. Incorporate pads of cold butter into the mixture and crumble together with your hands.
Step Four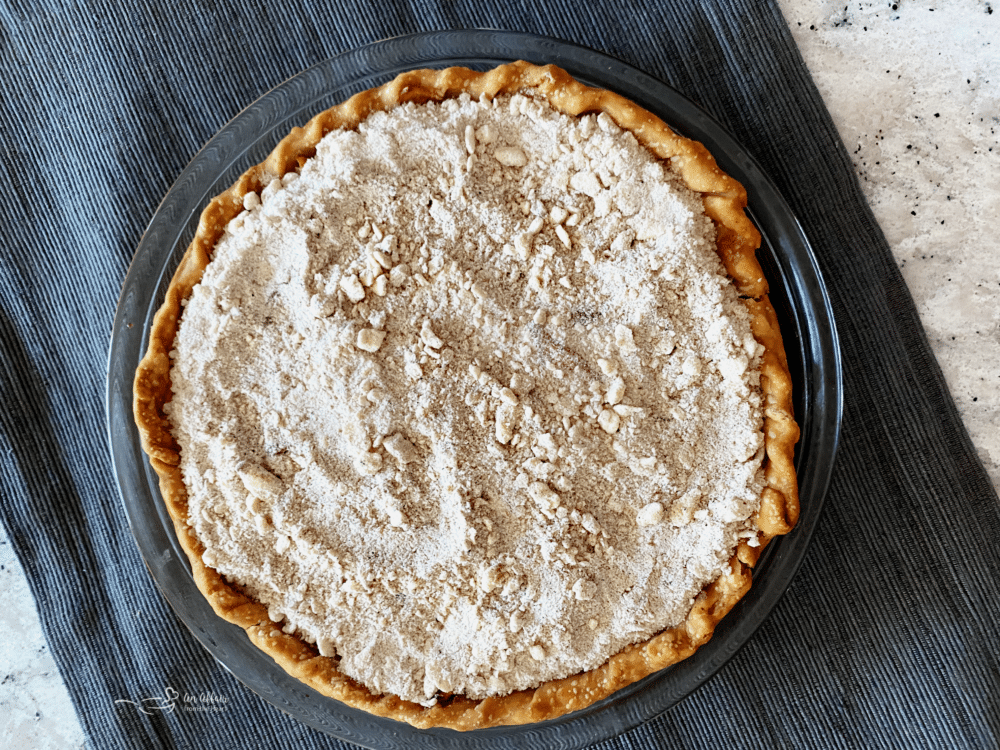 Add the crumb topping to the pie and bake for 400°F for ten minutes.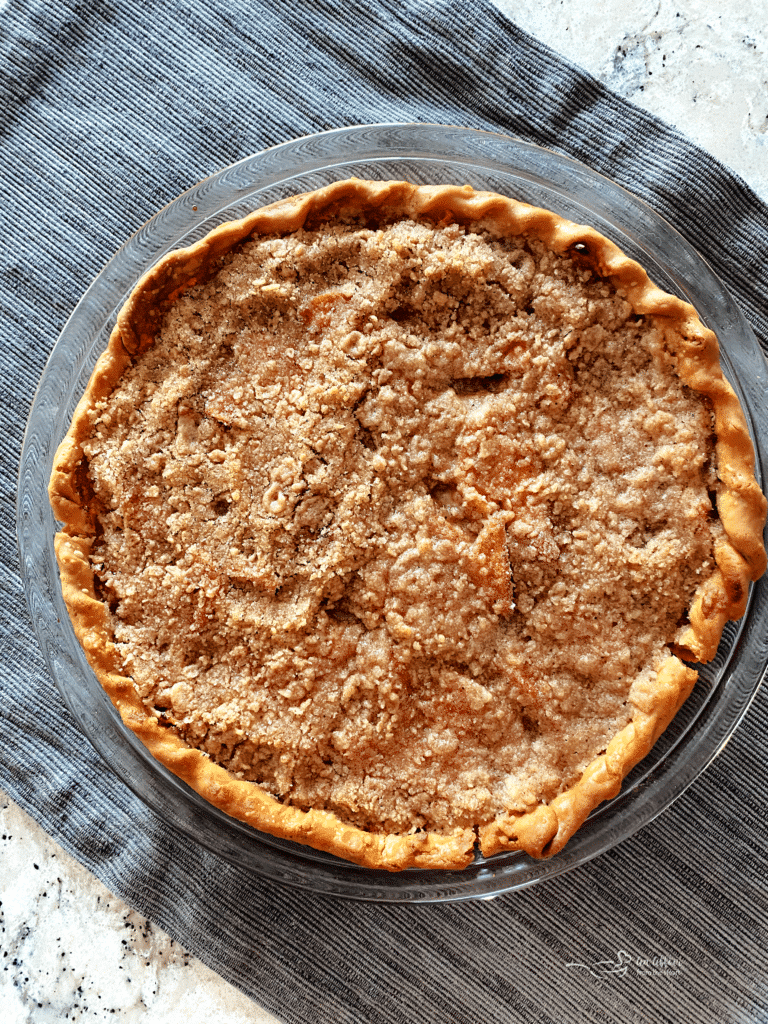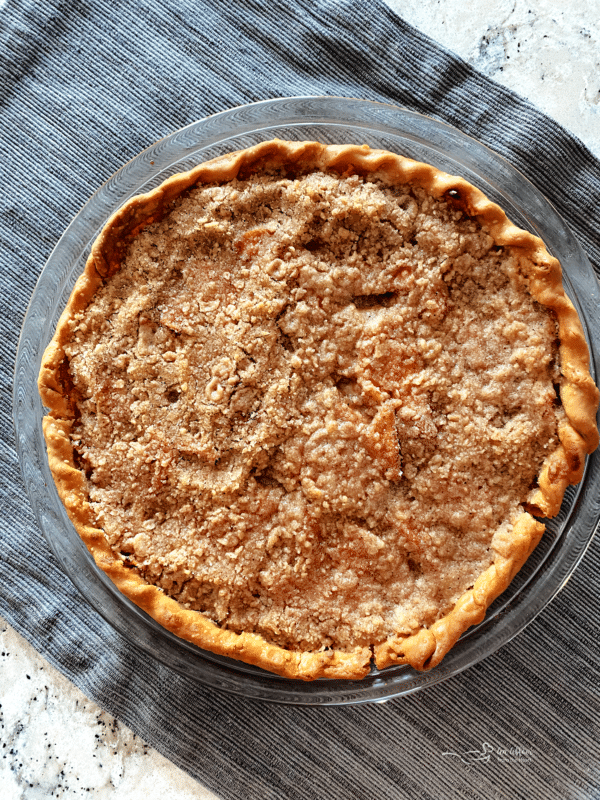 Serve warm with vanilla ice cream. Enjoy!

Love it? Pin it!
Think you'll be in the mood for spiced peach pie later? Save this recipe to your dessert Pinterest board because you never know when the craving for sweet pie will hit!
How do you Thicken Peach Pie Filling?
For this recipe, flour is used as a thickener. Feel free to add more flour if needed to make this filling thicker. Alternatively, you can use corn starch and water.
Do you Thaw Frozen Peaches Before Making a Pie?
In order to prevent the pie from getting soggy, you will want to make sure the frozen peaches are thawed prior to using them in this recipe.
Why is my Peach Pie Runny?
Your may peach pie may be running because it hasn't had long enough to bake in the oven. Make sure the pie has baked long enough! The longer the pie bakes, the thicker it will get.

Other Peach and Pie Recipes You Are Sure to Love
Check out more of my favorite peach recipes and pie recipes!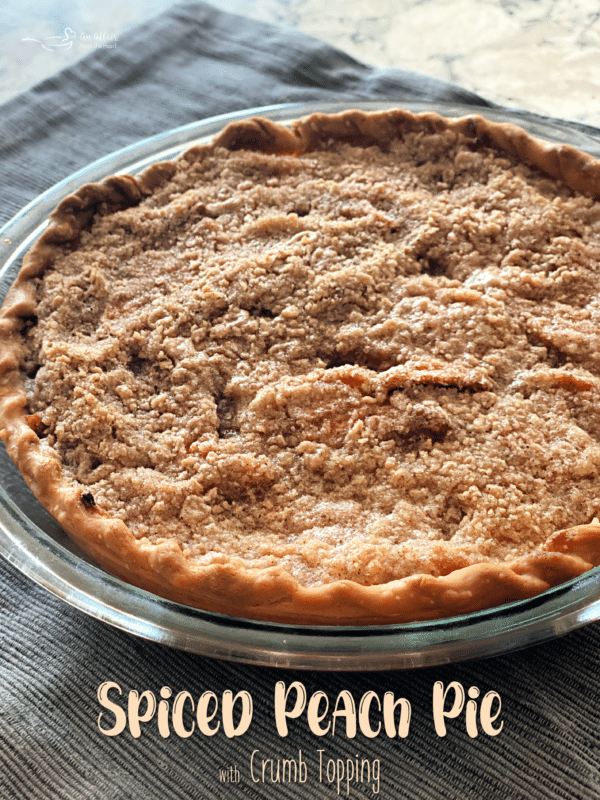 Let's bake a crumb topped peach pie!

Yield: 1 pie
Spiced Peach Pie with Crumb Topping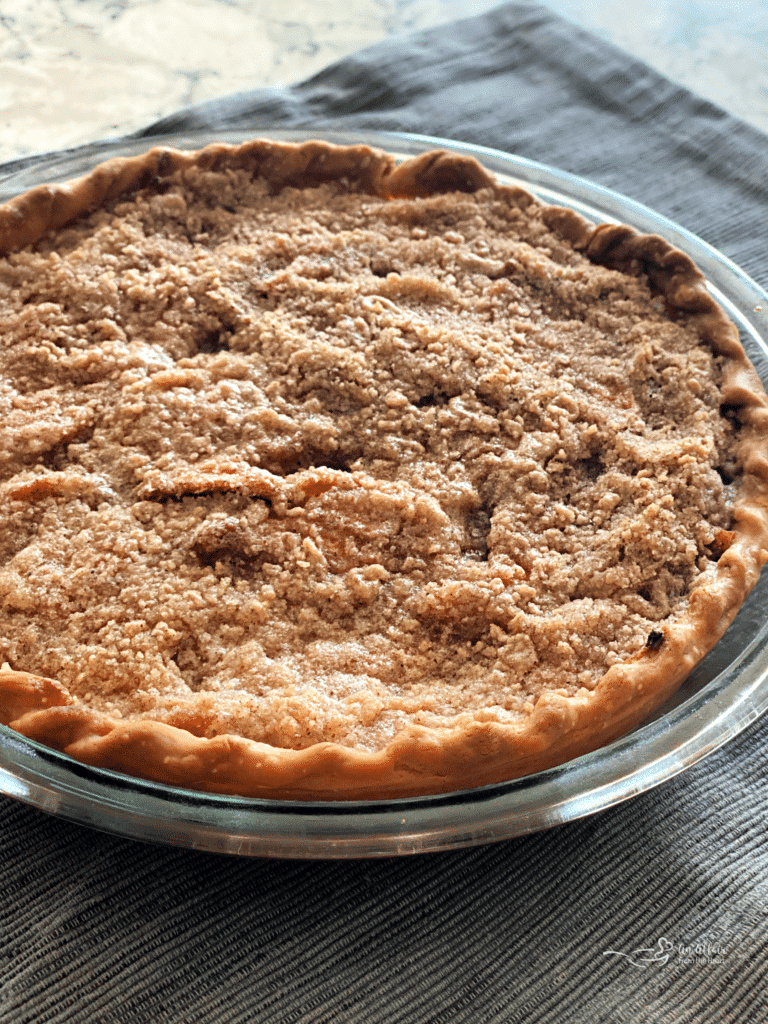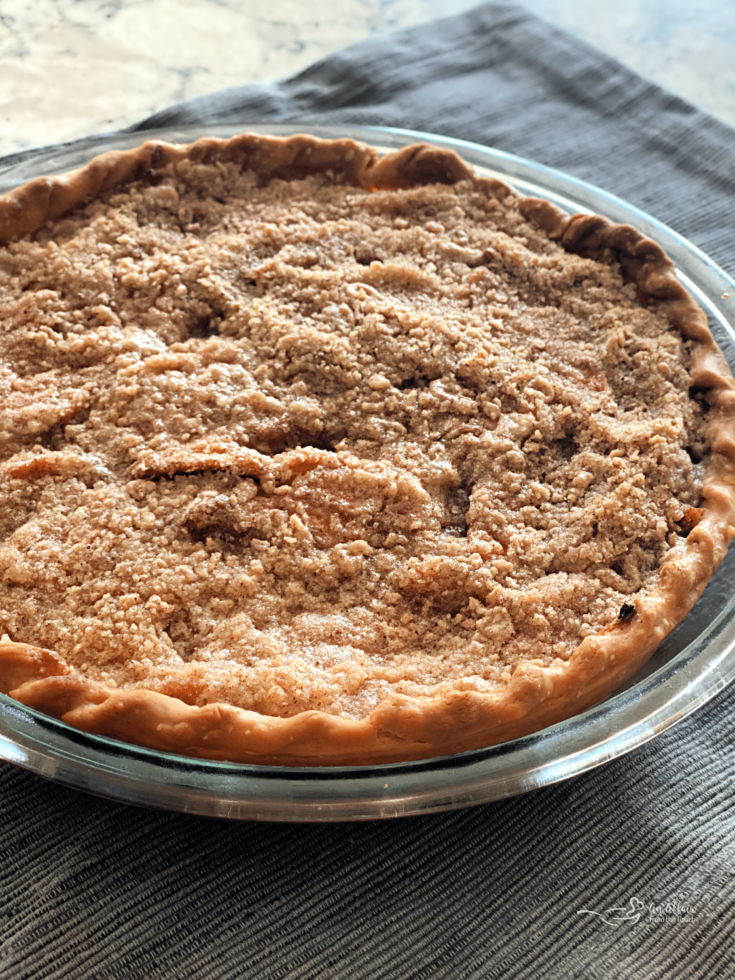 This Spice Peach Pie with Crumb Topping and spices of nutmeg, ginger, cloves and cinnamon is so full of flavor it will truly become one of your favorites.
Ingredients
For the Pie:
4 cups fresh sliced peaches
1/2 cup sugar
1/2 teaspoon ginger
1/2 teaspoon nutmeg
1 teaspoon cinnamon
1/3 cup flour
1/2 teaspoon vanilla
1/2 teaspoon lemon juice
1 pie shell - 9 inch, unbaked
For the Topping:
1/3 cup sugar
1/3 cup flour
1/4 cup cold butter
1/2 teaspoon cinnamon
1/2 teaspoon nutmeg
1/4 teaspoon cloves
Instructions
Line a shallow pie plate with pie crust and form edge.
In a bowl combine filling ingredients and pour into pie crust.
Bake 400* for 12 minutes, then 350* for 30 minutes.
While pie is baking make crumb topping, in a bowl combine sugar, flour and spices. Cut pads of cold butter into mixture. Using your fingers crumble together, it will be the consistency of brown sugar.
Add crumb topping to top of pie and bake 400* for 10 minutes to desired color topping.
Serve warm with vanilla ice cream.
Nutrition Information:
Yield:
8
Serving Size:
1
Amount Per Serving:
Calories:

260
Total Fat:

8g
Saturated Fat:

4g
Trans Fat:

0g
Unsaturated Fat:

3g
Cholesterol:

15mg
Sodium:

78mg
Carbohydrates:

46g
Fiber:

2g
Sugar:

30g
Protein:

3g
Please note that nutrition is not guaranteed accurate.
This recipe was originally posted on July 30th, 2014. It was updated to improve the user experience on September 7, 2021.