Lemon Icebox Pie
As an Amazon Associate and member of other affiliate programs, I earn from qualifying purchases.
Only 4 ingredients make up this refreshing, light and delicious no bake Lemon Icebox Pie. A perfect dairy free dessert for summertime or anytime you need a little sunshine!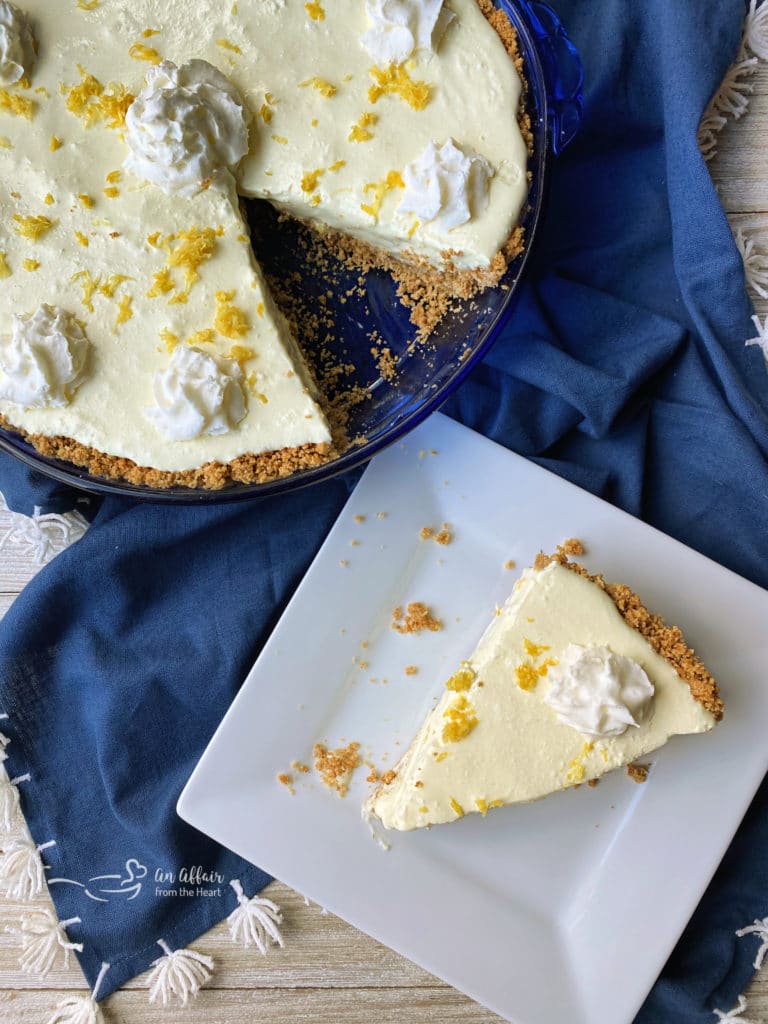 When I saw this Lemon Icebox Pie, I knew that I had to make it. For a couple of reasons actually. First off, I adore anything lemon, (and PIE) and the ease of this recipe made it too simple NOT to make.
Heck, it only has 5 ingredients, and one of them is water! It doesn't get much simpler than this… or tasty.
Secondly, I loved the name. My Grandma always called her refrigerator her "icebox." Isn't it funny how different generations have different names for plain 'ol everyday things?
Refrigerators are "iceboxes," the couch was the "davenport," an ottoman was called a "hassock," and the list goes on and on. When I hear these "old fashioned" words they always make me smile, and it makes my heart a little sad, knowing that I can't just pick up the phone and call my grandparents to chat with them.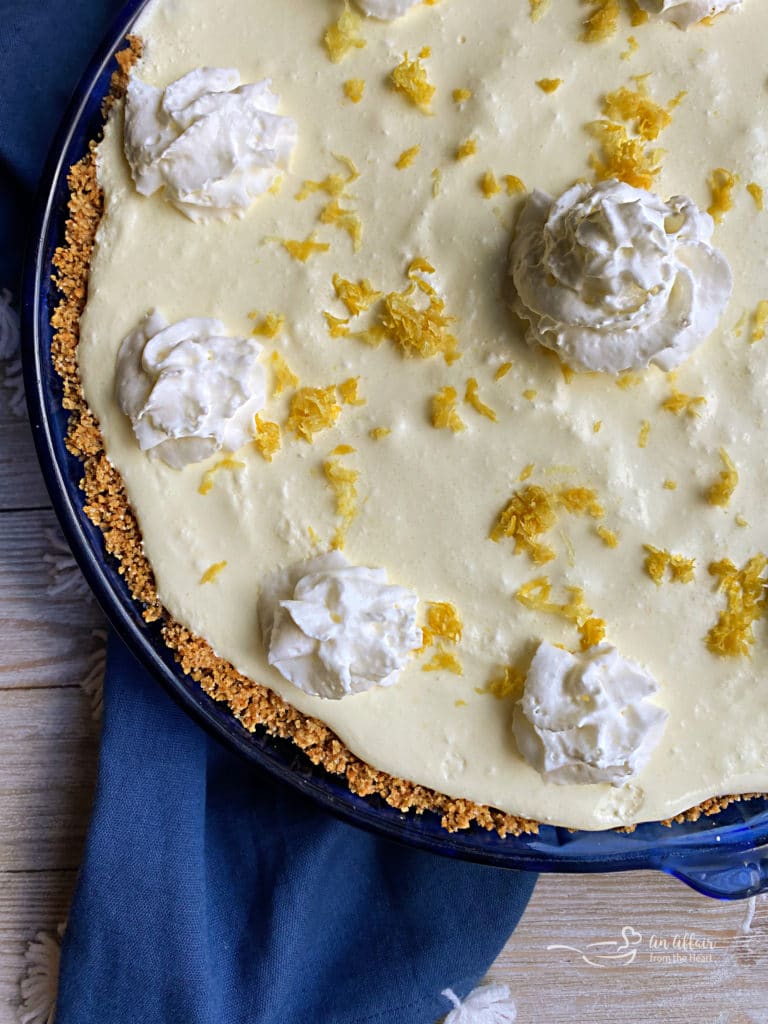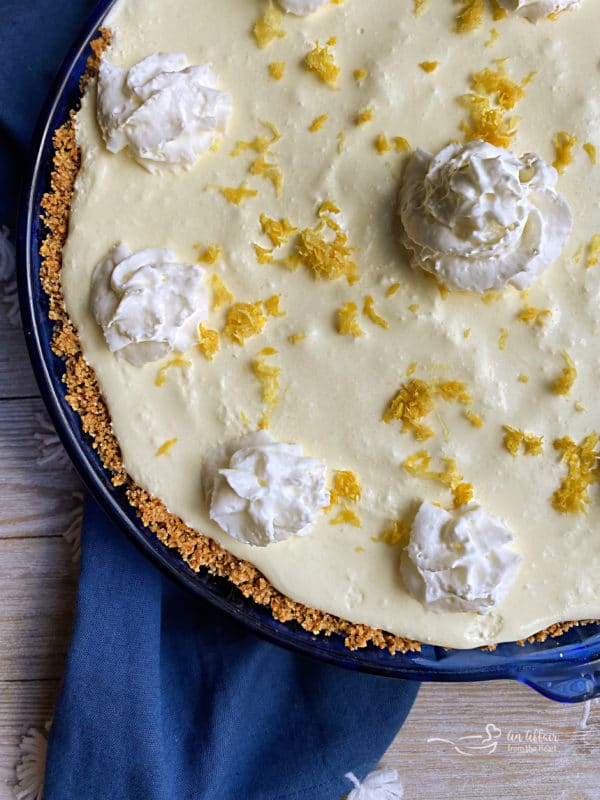 One of the things I loved about this Lemon Icebox Pie recipe right away was that I had all of the ingredients on hand. It was so simple, the hardest part about it was waiting for it to set in the … ICEBOX!
It made a refreshing summer dessert on a hot Sunday afternoon. I say we get all we can out of the summer, you need to give this one a whirl and see how simple and delicious it is!
Another bonus? You are able to reduce the sugar by using a sugar-free Jell-O, reduce the calories by using a fat-free Cool Whip, and it's dairy-free, too!
The first time I made this pie, was in 2014. When I did I used the pie plate my Grandma Martin gave me when I was just a teenager. It sat in my hope chest, and I love to bake in it, it makes me feel close to her. It's a blue enamel one that has seen better days. Baking pies always remind me of my Grandmothers.
My hope chest had things like tea towels embroidered by one grandmother, and an afghan blanket crocheted by another. I had a flour sifter from my mom and some old church cookbooks gifted to me. Along with those were these other 3 "hope chest recipes:" Chocolate Meringue Pie, Grandma's Rhubarb Pie, and this Apple Crisp Recipe.

What exactly is a Lemon Icebox Pie?
Well, first of all, you don't want to confuse it with an icebox cake. Lemon icebox pies are very similar to key lime pies but of course, you use lemons instead of limes. The lemons have a nice tartness but not too tart. In this version, everything is simplified by using lemon jello. So, it isn't quite the same as the famous New Orleans restaurant Clancy's signature dessert.
Everyone can decide for themselves what they like best, but this version is not only delicious but it is also super easy to make.
However – if you want to try a delicious icebox cake sometime, my Old Fashioned Strawberry Icebox Cake and my Mocha Chocolate Chip Icebox Cake are top notch!

What kind of lemons work best for lemon pie?
I do recommend using lemons too to really kick up the tartness. If you can find them, then try using Meyer lemons. The Meyer lemon is sort of the lemon version of key lime. It has a certain sweetness about it and an excellent lemon flavor. Tart but not too acidic.
The Meyer lemons are a bit smaller than normal lemons just like key limes are smaller too. So you do have to take that into account when you juice them. However, they are much easier to juice than key limes because they are very juicy and give plenty of juice for their size. Unlike those hard little key limes which are so hard to juice!
Making a graham cracker crust
This pie is so easy to make because you are just mixing the ingredients together then putting it in the fridge to set up. Perhaps the hardest part of the prep for it is making your graham cracker crust.
For a nice graham cracker pie crust, you want the graham cracker crumbs to be somewhere between coarse and fine. Not too fine and not too coarse. So you can pulse up some graham crackers with a food processor, but be careful not to overdo them.
Just to be on the safe side, you might want to do it the old fashioned way. (It is an old fashioned cake after all so why not?) Use the bag method. Fill a zip lock bag and put your crackers in there. Use a rolling pin to crush the Grahams up and you can see how easy it is to get just the right texture.
This is one of those times where modern conveniences may actually not be as convenient as doing it the old fashioned way…
Of course, if you don't want to deal with making a crust then there is always the option of a pre-made graham cracker crust. It isn't cheating either, plus it will make this a simple no-bake pie recipe.

Some handy tips for making lemon icebox pie
This pie is so simple, there isn't too much to consider since it is essentially just a mix and bake style pie. However, there are a few things to keep in mind to make it easier. Make sure to zest your lemons first before you juice them. Zesting an already juiced lemon is a way to lose a finger with your zesting peeler.

Quick & Easy Step by Step Instructions
Begin by making your graham cracker crust, or unwrapping your pre-bought one. Measure out your ice water, set it aside. Boil water and zest lemon.
Add the zest and lemon jello to the boiling water and stir until dissolved. Add in ice water, continue stirring until ice melts, and mixture begins to thicken.
Fold in Cool Whip, and place mixture in the fridge for a bit. Remove and spread into graham cracker crust, top with zest. Refrigerate for 5 hours before serving, top with whipped cream if desired.
** You will find the printable recipe card at the bottom of this post**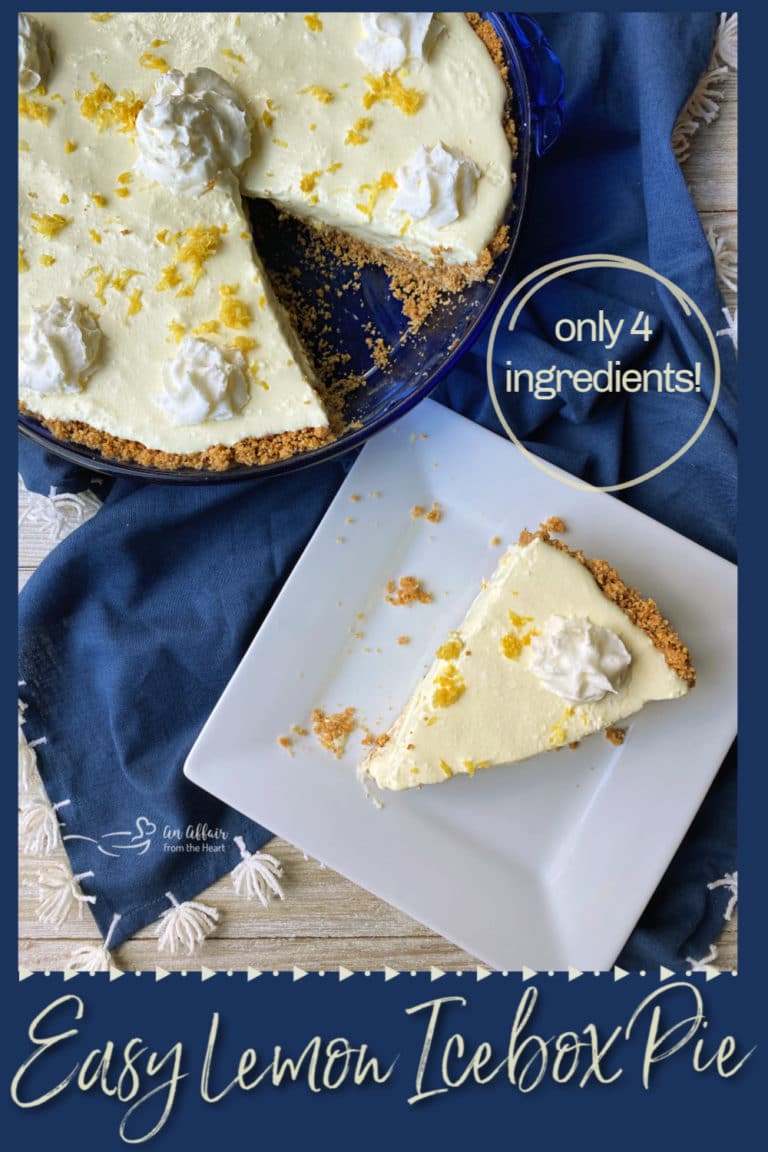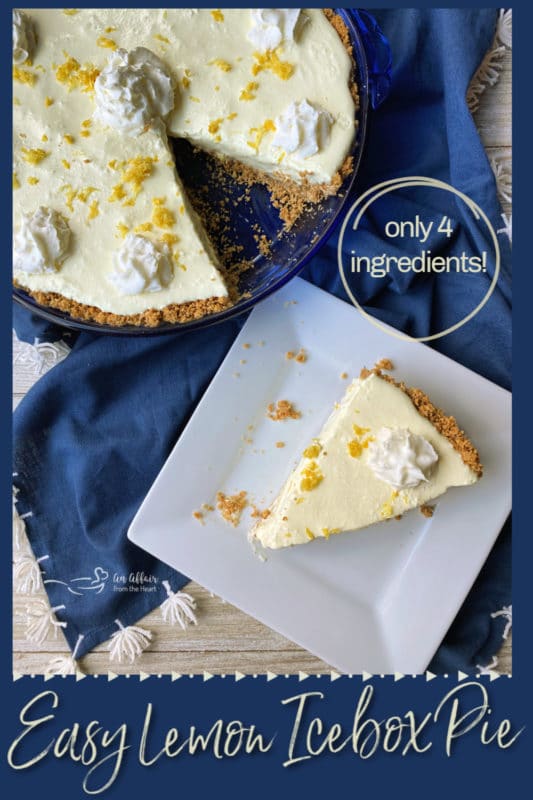 Love it? Pin it!
If you can't wait to make this pie, make sure you pin it to your favorite Pinterest recipe board before you go. That way you will be able to find it easily.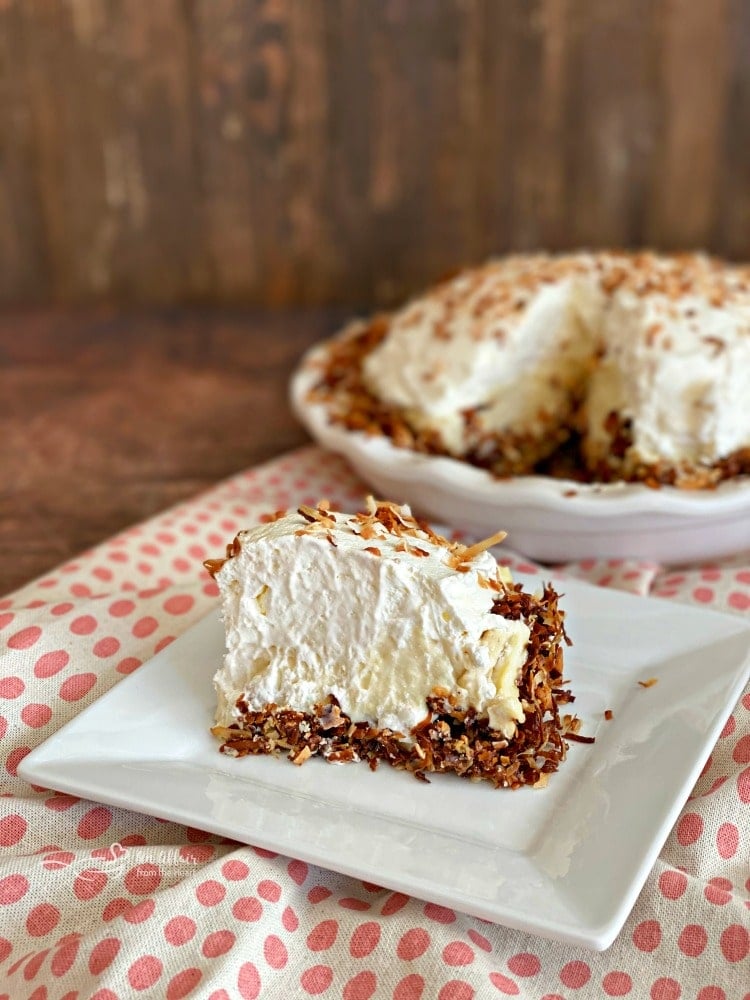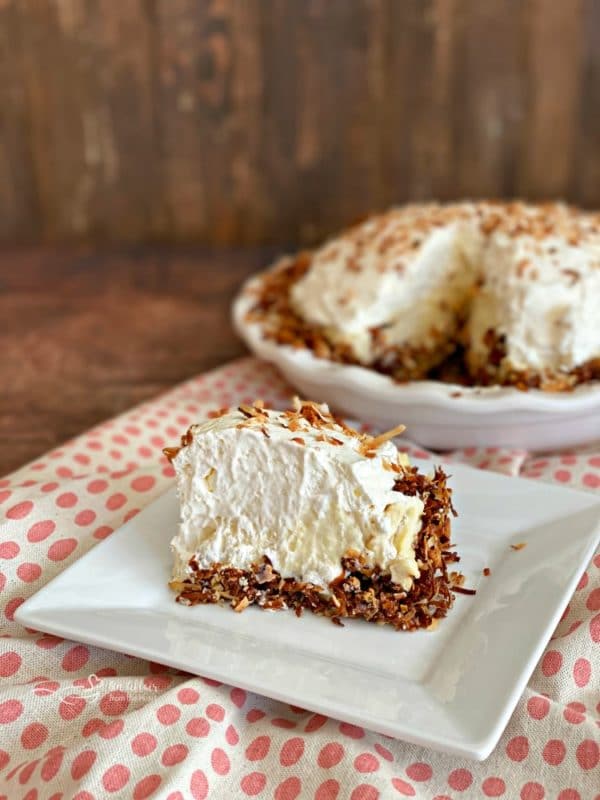 More pie recipes to check out
If you like this recipe and find yourself looking for more pie recipes to enjoy, I have a few suggestions to pass on! Pies are hands down my favorite dessert, and I have so many to choose from!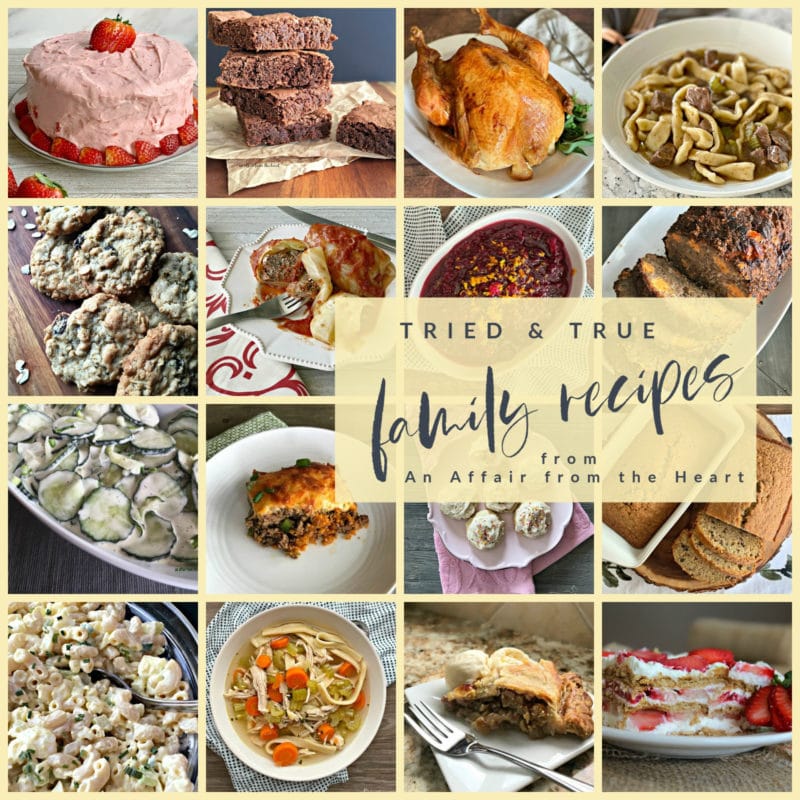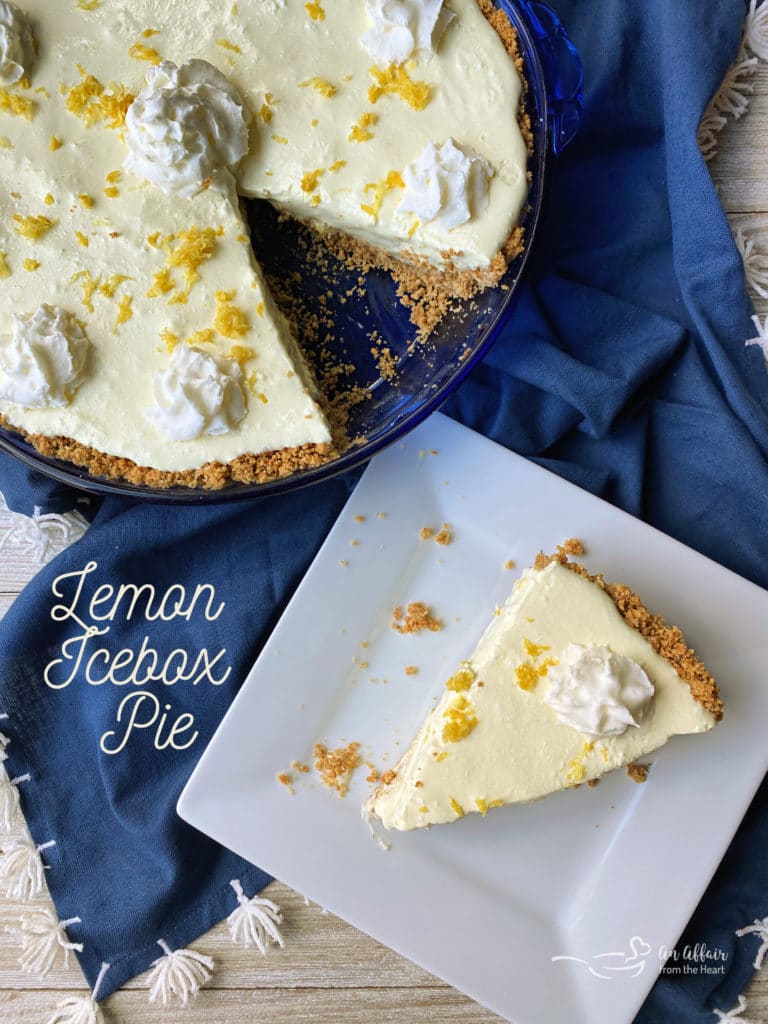 Let's make this great summertime classic – the Lemon Icebox Pie!

Yield: 1 pie
Lemon Icebox Pie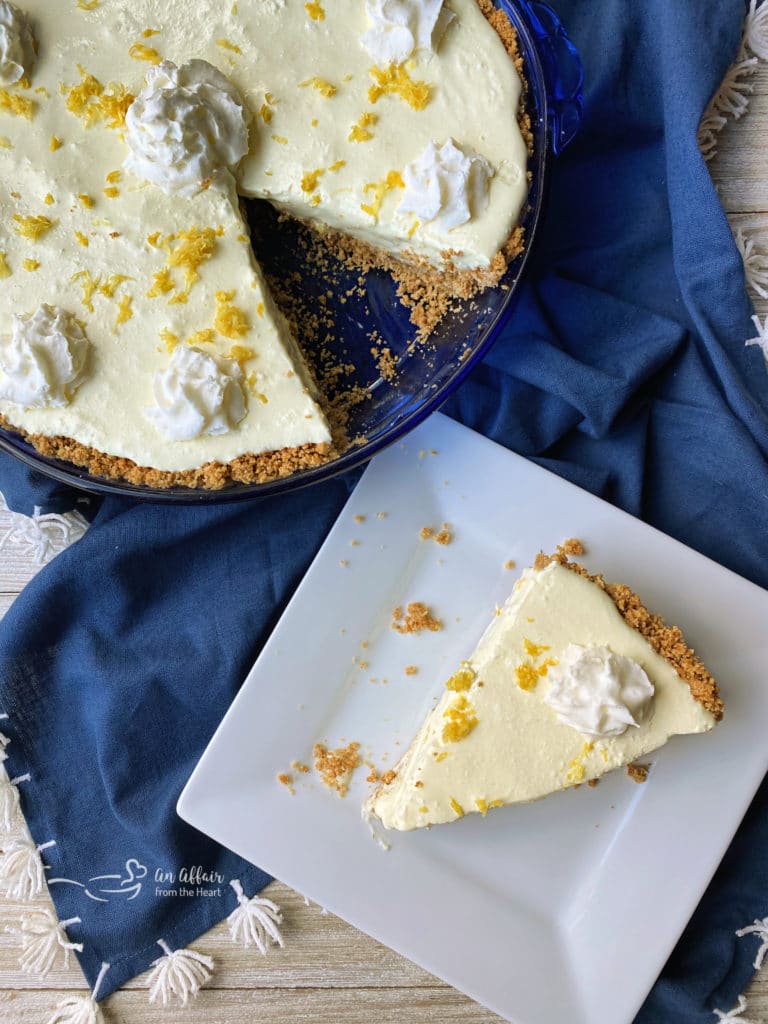 Only 4 ingredients make up this refreshing, light and delicious no-bake Lemon Icebox Pie. A perfect for summertime or anytime you need a little sunshine! Low in calories, dairy-free and easily made to a lower sugar dessert.
Total Time
5 hours
27 minutes
Ingredients
Homemade Graham Cracker Crust
1 1/2 cups graham cracker crumbs (about 12 sheets)
3 Tablespoons Sugar
1/3 cup butter melted
For the Lemon Filling
1 - 8 ounce Cool Whip, defrosted
2/3 Cup Boiling Water
1 Cup Ice Cold Water
1 -3 ounce box Lemon Jello
1 large Lemon, Zested, divided
Whipped Cream or Cool Whip for serving
Instructions
Prepare the graham cracker crust, Preheat over to 375 degrees. Combine 1 1/2 cups graham cracker crumbs with 3 Tablespoons sugar and 1/3 cup melted butter, using a fork until all of the crumbs are moist. Using the fork or the back of a spoon, to press the crumbs into the bottom and sides of a 9" deep-dish pie plate. Bake for 7 minutes. Cool.
Prepare the Filling: In a measuring cup, add 3/4 cup cold water and then enough ice to make it 1 cup.
In a medium-sized, microwave-safe bowl, boil 2/3 cup water.
Once it boils, remove from microwave and add 3/4 of the lemon zest and the Jello to the water. Stir until Jello is dissolved.
Add the cold water, stir until it begins to thicken.
With a spatula, fold in Cool whip.
Place in the refrigerator until it starts to set. (Mixture will be pourable) This takes about 15-20 minutes.
Pour into pie crust, smooth the top and sprinkle with remaining zest.
Place in refrigerator for about 5 hours before serving. Top with whipped cream or Cool Whip if desired.
Notes
Using a store bought graham cracker crust will make this a No-Bake Dessert.
It's Dairy-Free unless you add the whipped cream to serve it.
Reduce the calories by using fat-free Cool Whip.
Reduce the sugar by using Sugar-Free Jello, and a sugar substitute for the graham cracker crust.
Nutrition Information:
Yield:
8
Serving Size:
1
Amount Per Serving:
Calories:

262
Total Fat:

17g
Saturated Fat:

12g
Trans Fat:

0g
Unsaturated Fat:

4g
Cholesterol:

21mg
Sodium:

155mg
Carbohydrates:

27g
Fiber:

1g
Sugar:

18g
Protein:

2g
Nutrition isn't guaranteed accuarate.
The first time I posted this recipe was on August 18, 2014. It was updated to improve user experience and re-shared on June 5, 2020.