"Fried" Ice Cream Pie
As an Amazon Associate and member of other affiliate programs, I earn from qualifying purchases.
This "fried" ice cream pie isn't fried at all. The ingredients blend together perfectly to make it taste exactly like fried ice cream you get in a Mexican restaurant.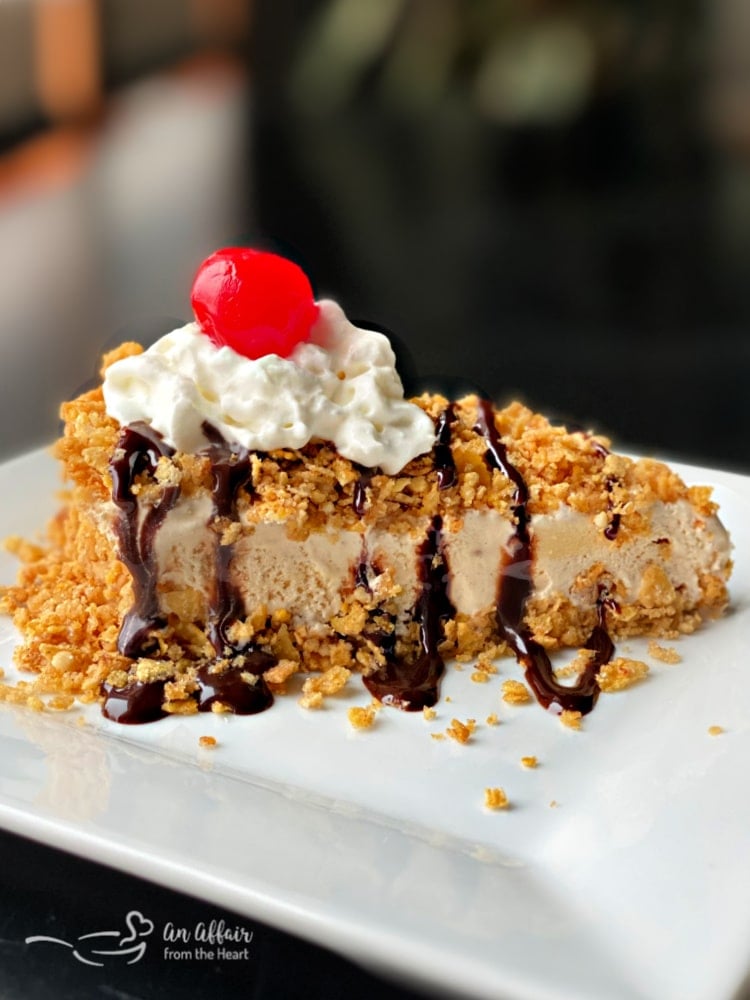 When I read that this fried ice cream pie tastes just like Fried Ice Cream that you get in a Mexican restaurant, you can say I was skeptical. I decided to try it out … all I can say is MIND BLOWN!
It REALLY does. My family hasn't loved a dessert this much in a VERY long time. More than one of them said, "I want this for my birthday next year." Seriously, it's THAT good.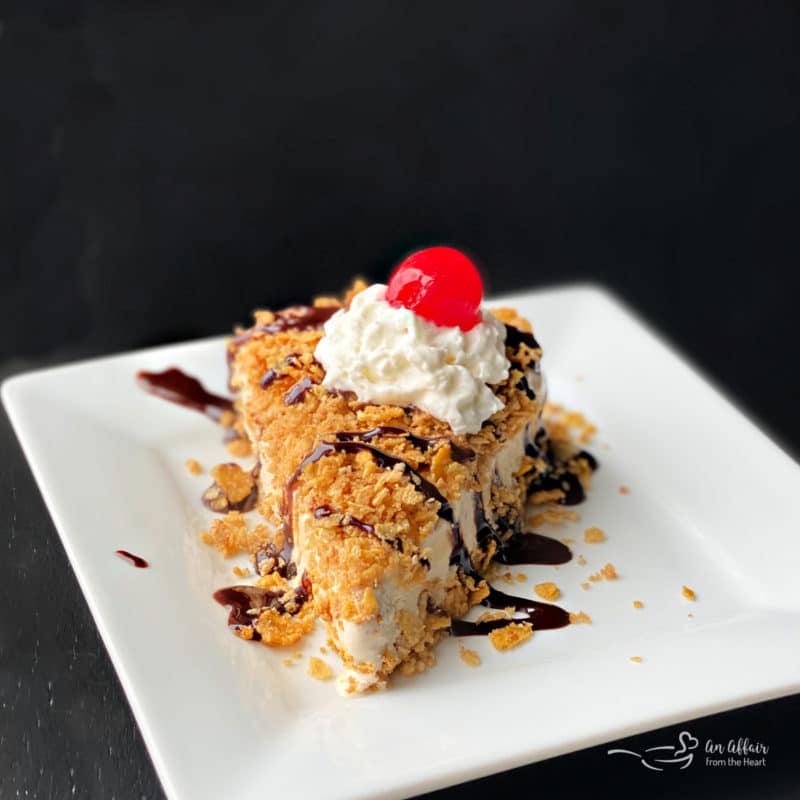 Fried Ice Cream Pie You Don't Have To Fry
Fried ice cream pie makes almost zero sense. Ok…I know. I know.
It actually doesn't make sense at all.
But when you get right down to it, regular fried ice cream doesn't make much sense either. Seriously, whoever came up with that idea must be a couple of scoops short of a banana split.
But sometimes the very best ideas are the ones that don't make sense at all. With those kinds of things, figuring out why it works so well when it shouldn't work at all… Well, that is half the fun!
SOME OF THE ITEMS BELOW CONTAIN AFFILIATE LINKS; I AM A PARTICIPANT IN THE AMAZON SERVICES LLC ASSOCIATES PROGRAM, AN AFFILIATE ADVERTISING PROGRAM DESIGNED TO PROVIDE A MEANS FOR US TO EARN FEES BY LINKING TO AMAZON.COM AND AFFILIATED SITES. I AM ALSO AN AFFILIATE FOR OTHER BRANDS. HOWEVER, I ONLY PROMOTE THINGS THAT I LOVE AND THINK YOU WILL LOVE, TOO. FOR MY ENTIRE DISCLOSURE POLICY PLEASE

CLICK HERE

.

Love it?? Pin it!!
Don't forget where you saw this delicious Fried Ice Cream Pie recipe! Make sure you pin it to your favorite Pinterest board before you go!

The Origins Of Fried Ice Cream Pie
Fried ice cream pie has very mixed origins because fried ice cream has a winding history. Some say it was invented in the 1893 World's Fair where I think pretty much everything tasty was invented, like ice cream sundaes for example. If you told me that is where fried Twinkies were invented too then I wouldn't be surprised.
But, maybe fried ice cream was invented in Japan in a tempura restaurant. That makes sense too. Sooner or later, someone had to run out of ideas for what to put tempura batter on.
Then the legend took a new turn. A Mexican chain restaurant named Chi-Chi's started serving it. Soon, it became a very popular dessert in many Mexican-American eateries. Lo and behold, fried ice cream became associated with Mexican menus.
Finally, fried ice cream pie comes into the picture. Some genius took the idea of fried ice cream, and decided frying ice cream was perhaps too difficult to make. Or perhaps, a deep fryer wasn't handy that day. However, the idea of making a fried ice cream pie without having to fry anything must've been a 100 watt light bulb idea of a moment.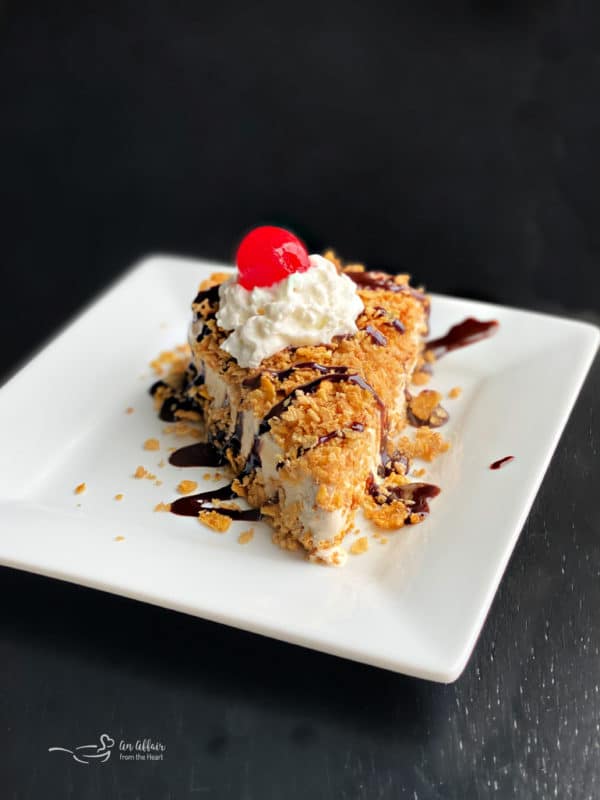 The Secret To Fried Ice Cream Pie
Getting "fried" ice cream pie to taste like fried ice cream involves a bit of a magic trick. Turns out, crushed corn flakes and ground cashews combine to mimic the flavor of fried pie dough. Who would've figured?
The fats in cashews, the crunch of corn flakes blend into a taste exactly like the fried ice cream you got last time you went out for Mexican food. The best part?
You didn't have to figure out if the oil was hot enough. You didn't have to worry about oil popping or splattering. No, second guessing whether or not the ice cream has turned into a warm milkshake inside the dough.
In this case, the toughest part of the recipe is waiting for the pie crust and ice cream to set up in the freezer. The wait can be brutal.
What ingredients do I need to make Fried Ice Cream Pie?
This recipe doesn't require anything fancy at all. Butter, cornflakes, cashews, sugar and salt make up the crust and the topping. The inside is vanilla ice cream, Cool Whip, and cinnamon. Want to get fancy when you serve it? Top with whipped cream, chocolate syrup and a Maraschino cherry.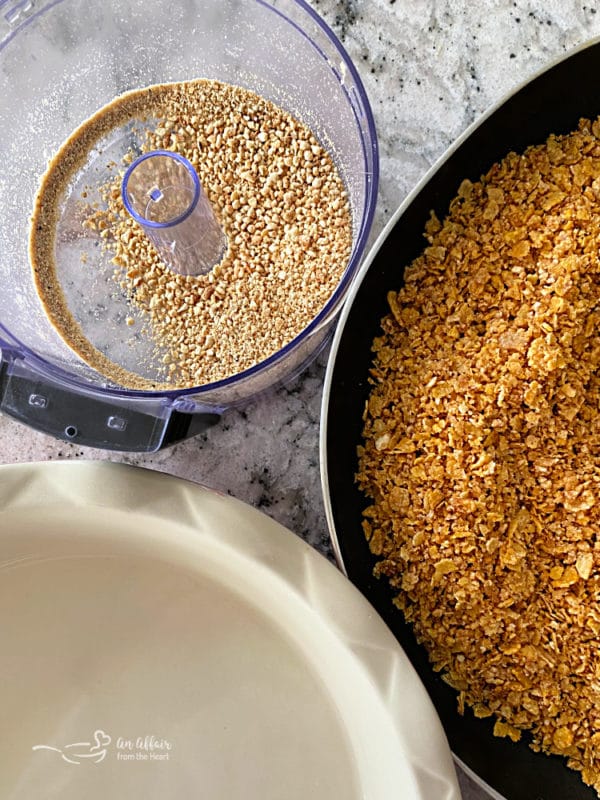 You can also use almonds for the crust/topping mixture, but I use cashews because my hubs loves them.
Crush the cornflakes in a plastic bag with your rolling pin. I use my mini food chopper to do the cashews.
Press half of the cornflake mixture into the deep dish pie plate with the back of a spoon.
After you cream together the ice cream, cool whip and cinnamon, carefully spread it into the crust.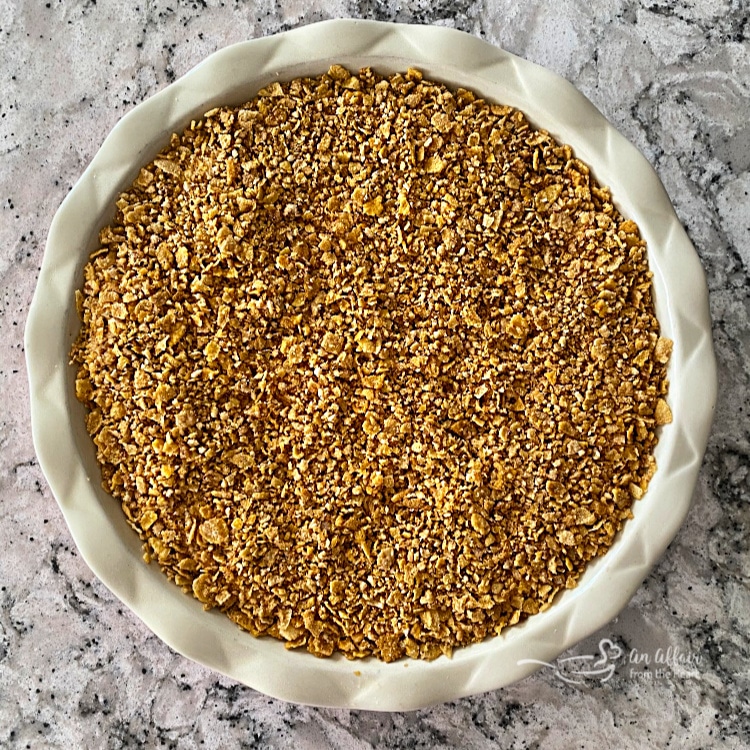 Top with remaining cornflake mixture, cover with plastic wrap and freeze it overnight. You want it to be good and frozen, it'll cut much nicer.
Serve with chocolate syrup, whipped cream and a Maraschino cherry.
Want to lighten up this fried ice cream pie? Swap out the vanilla ice cream for frozen vanilla yogurt, and the use fat-free Cool whip topping instead of the original.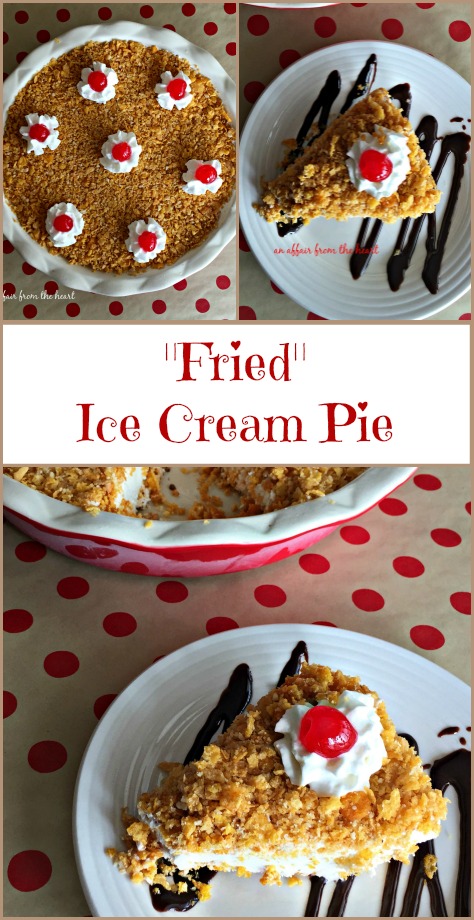 Like I said before, if someone told me that cornflakes used just right could taste just like fried ice cream, I wouldn't have believed them.
It is truly amazing. I highly recommend you try it. Soon.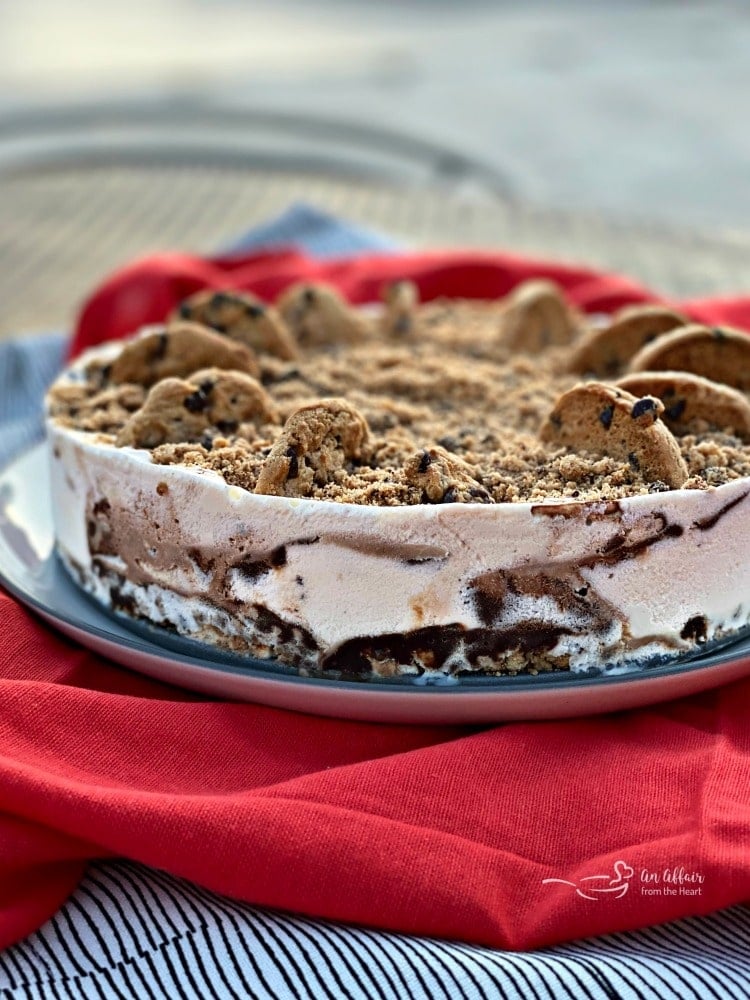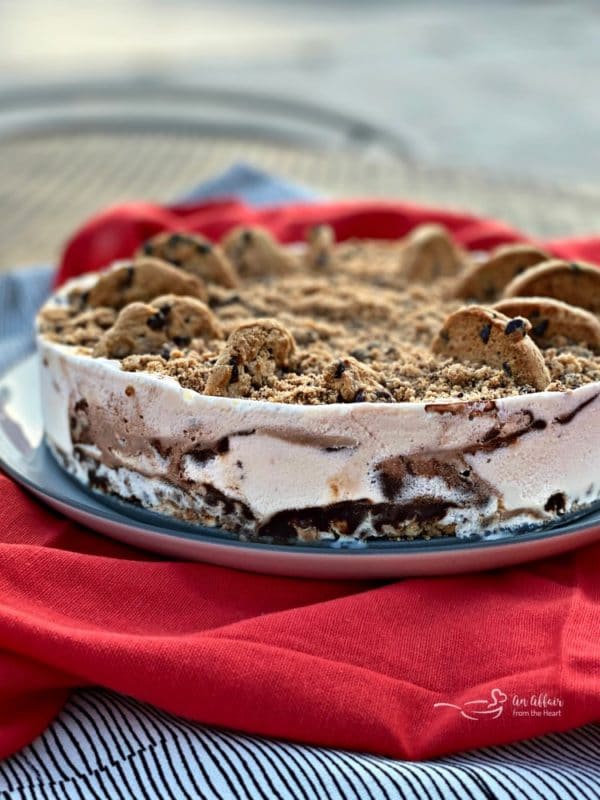 More Ice Cream Dessert Ideas
Do you love ice cream, and frozen treats in general, as much as we do?? These dessert ideas are family tested and proven winners. Sometimes it gets hard to decide which dessert to make. But there is always another time and another chance to celebrate with a tasty treat!
Here are some favorite frozen desserts of mine:
Helpful Tools for making Fried Ice Cream Pie
I used my 9″ deep dish red ceramic pie plate when I made this recipe. It held it nicely, plus I loved the pop of red with the cherries. Don't you love the presentation?
My Kitchenaid Mini Chopper works perfectly for chopping up the cashews.
Transfer ice cream (or frozen yogurt) to a larger bowl by scooping with an ice cream scoop when it is softened. Fold in cool whip and cinnamon with a heavy-duty rubber spatula.
What's even quicker and easier? Use the paddle attachment on your Kitchen Aid Mixer. Set on the lowest setting to fold it all together, just don't let it melt too much!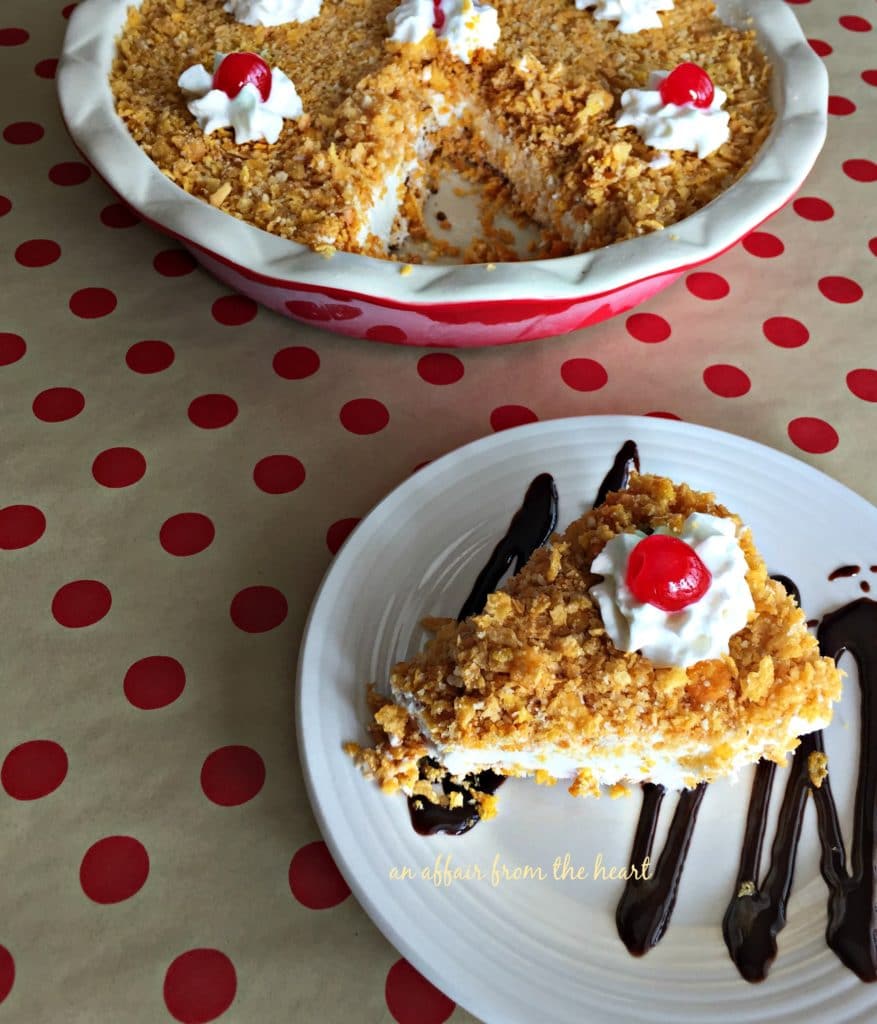 This fried ice cream pie makes a great dessert for Cinco de Mayo, too!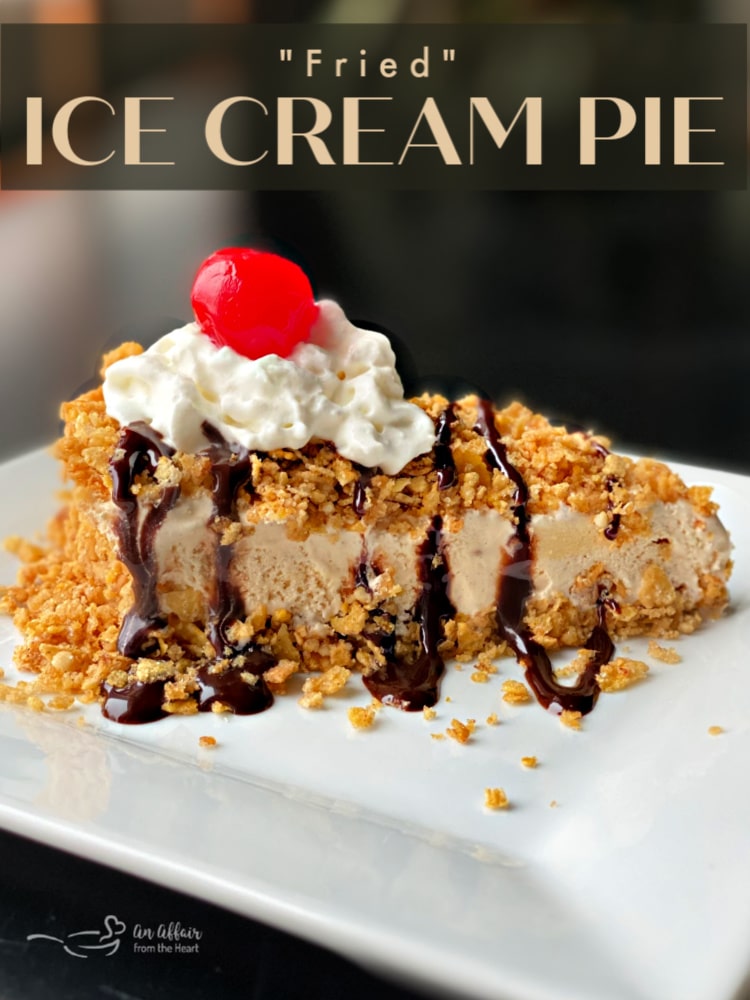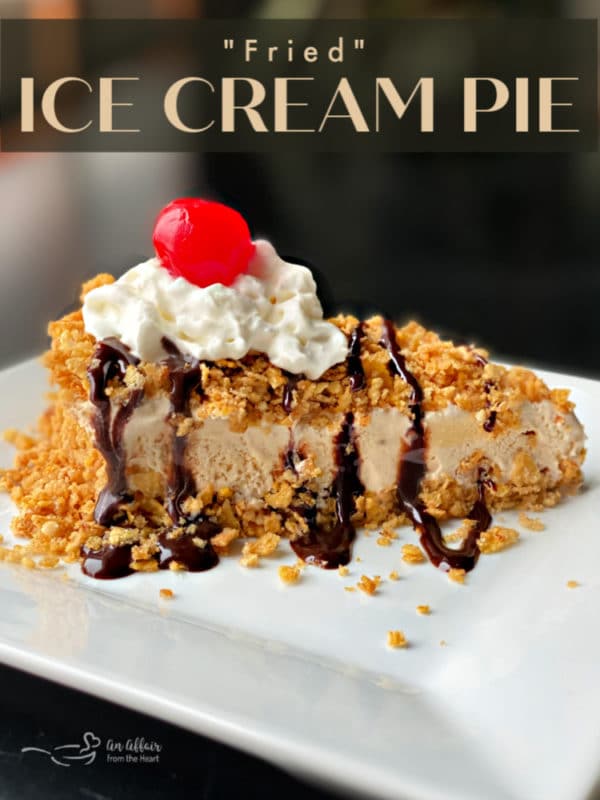 My mouth is watering … let's get to the recipe!

Yield: 8 slices
"Fried" Ice Cream Pie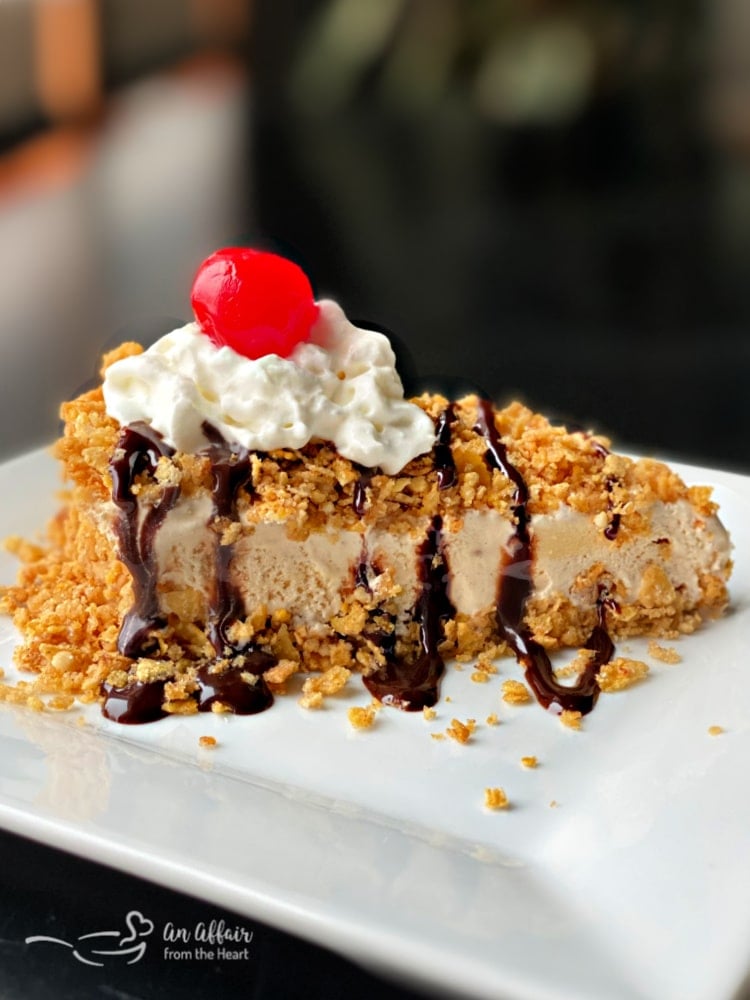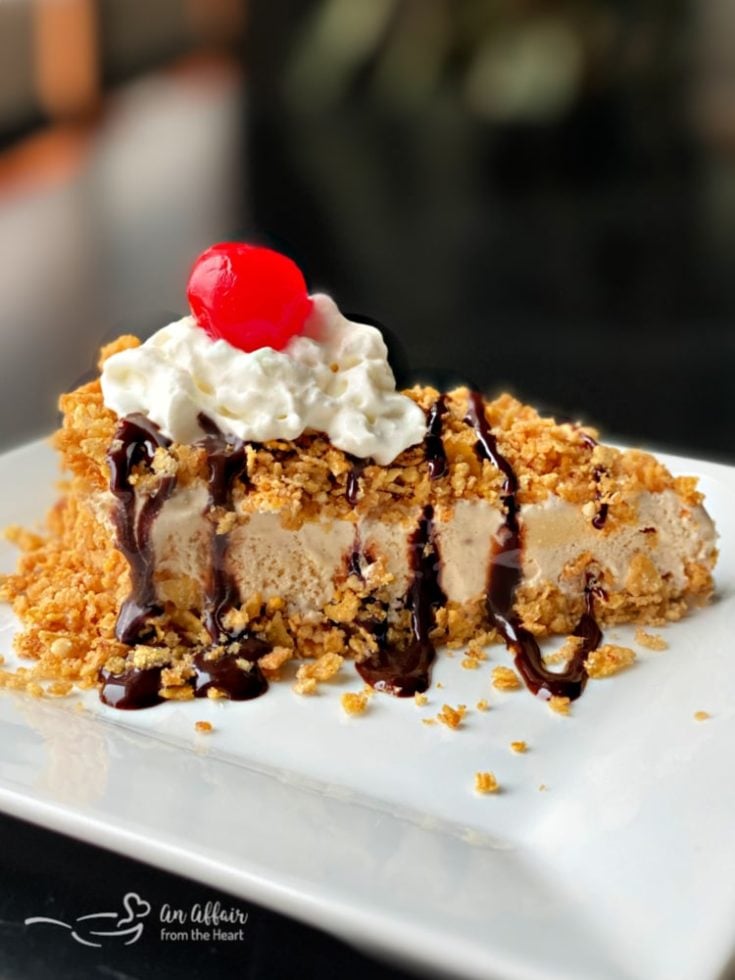 This "fried" ice cream pie isn't fried at all. The ingredients blend together perfectly to make it taste exactly like fried ice cream you get in a Mexican restaurant.
Total Time
8 hours
15 minutes
Ingredients
1/2 container of 1.5 quart vanilla ice cream (can substitute reduced calorie or frozen yogurt)
4 oz. Cool Whip® (can substitute low fat or fat free)
1/2 teaspoon ground cinnamon
2 1/2 cups crushed corn flakes
4 Tablespoons butter
3 Tablespoons granulated sugar
1/4 teaspoon salt
1/4 cup chopped cashews (or almonds)
8 maraschino cherries, for garnish
chocolate syrup, for garnish
Redi-Whip, for garnish (or can substitute cool whip)
Instructions
In a small skillet, melt the butter over medium heat. Add in the crushed cornflakes, cashews, sugar and salt. Mix well to combine. Cool to room tempurature.
Allow ice cream to soften. When soft enough, fold in Cool Whip and cinnamon.
In a deep dish 9" pie plate, pour half the crumb mixture on the bottom. Pat to an even layer. Spread the ice cream mixture over the crumbs. Top the ice cream mixture with the remaining crumbs.
Cover pie with plastic wrap and place pie in freezer until frozen. (overnight is best)
Before serving, cut pie into 8 slices. Garnish each slice with Redi-Whip and a maraschino cherry. Drizzle with chocolate syrup. Serve.
Notes
This recipe was adapted from Renee's Cooking Adventures for the Secret Recipe Club in 2015
Nutrition Information:
Yield:
8
Serving Size:
1
Amount Per Serving:
Calories:

399
Total Fat:

22g
Saturated Fat:

14g
Trans Fat:

0g
Unsaturated Fat:

7g
Cholesterol:

59mg
Sodium:

289mg
Carbohydrates:

46g
Fiber:

1g
Sugar:

34g
Protein:

5g
Nutrition isn't guaranteed accurate.
This recipe was originally posted on May 15th, 2015. It was updated to improve user experience, and re-shared April 17th, 2020.