Deconstructed Guacamole Salad
As an Amazon Associate and member of other affiliate programs, I earn from qualifying purchases.
Ripe heirloom tomatoes, red onion, avocado and cilantro tossed in a homemade lime dressing. This Deconstructed Guacamole Salad needs to make it on your table tonight!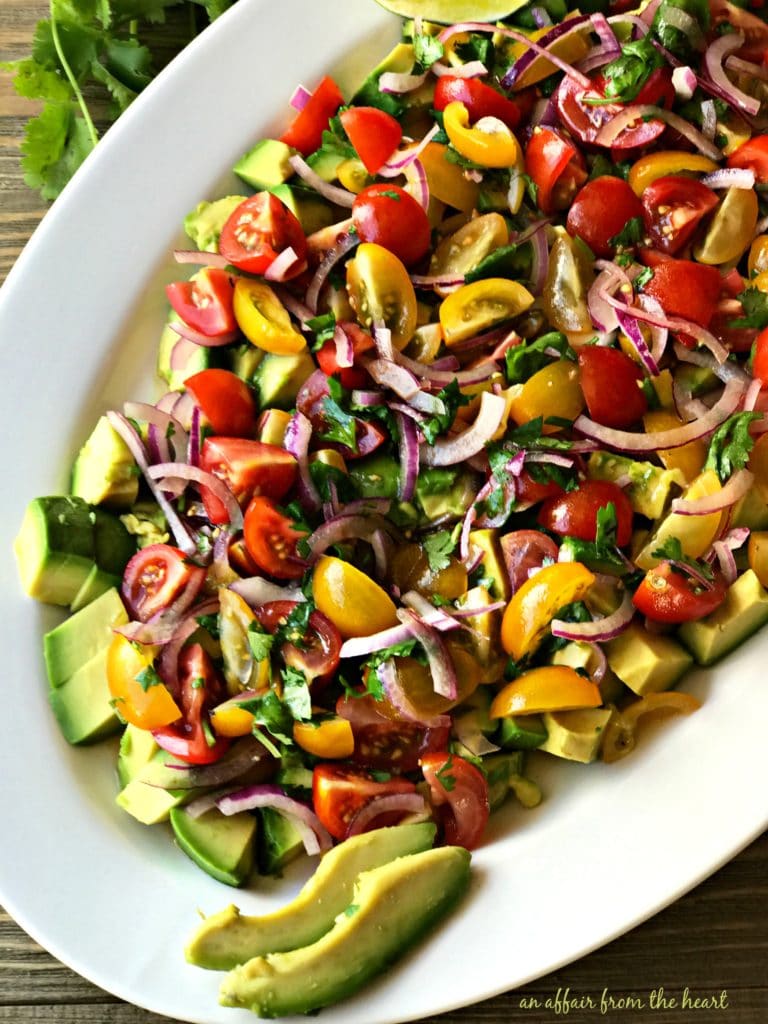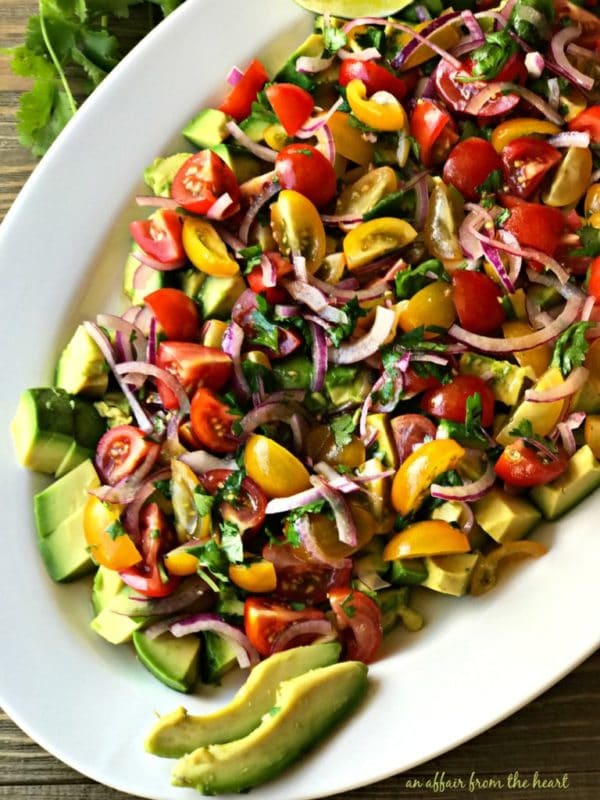 Seriously friends, RUN — don't walk to your nearest farmers market and grab yourself some heirloom tomatoes and make this salad. Stat.
Not that this salad wouldn't be good any other time of the year, but when the tomatoes are homegrown and bursting with flavor, this is a must make. My youngest son has always planted a garden. The worst part about growing tomatoes? He would go out to pick them and half of them would disappear between the garden and the kitchen. Ha! That kid eat tomatoes like candy!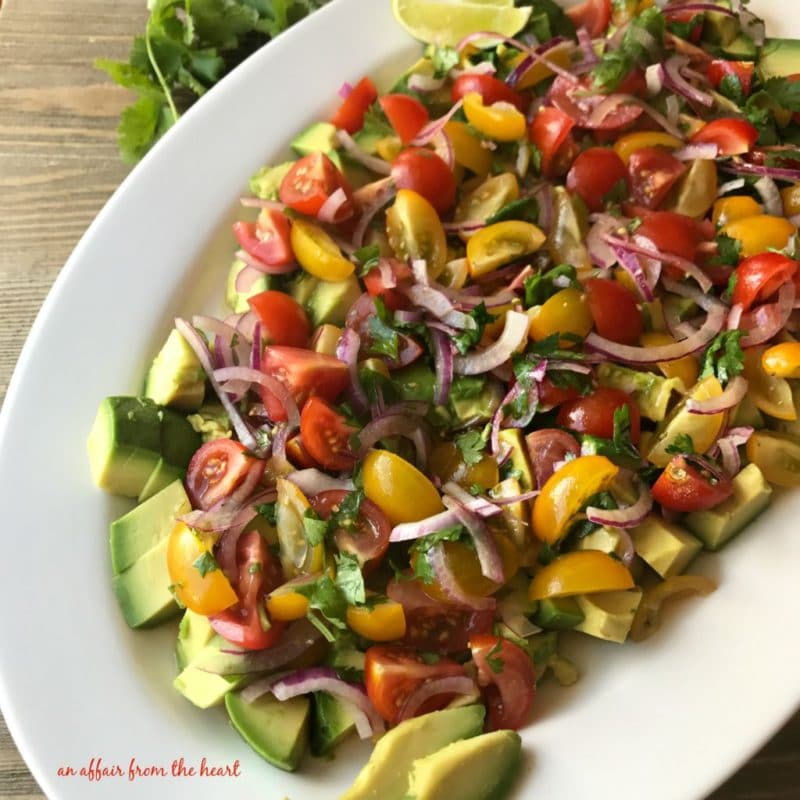 I guess I shouldn't complain, huh? You don't HAVE to use heirloom tomatoes for this salad, of course. It's what I used though, because, well, aside from the flavor, look at the COLORS! Not only is this salad delicious, it's gorgeous, too!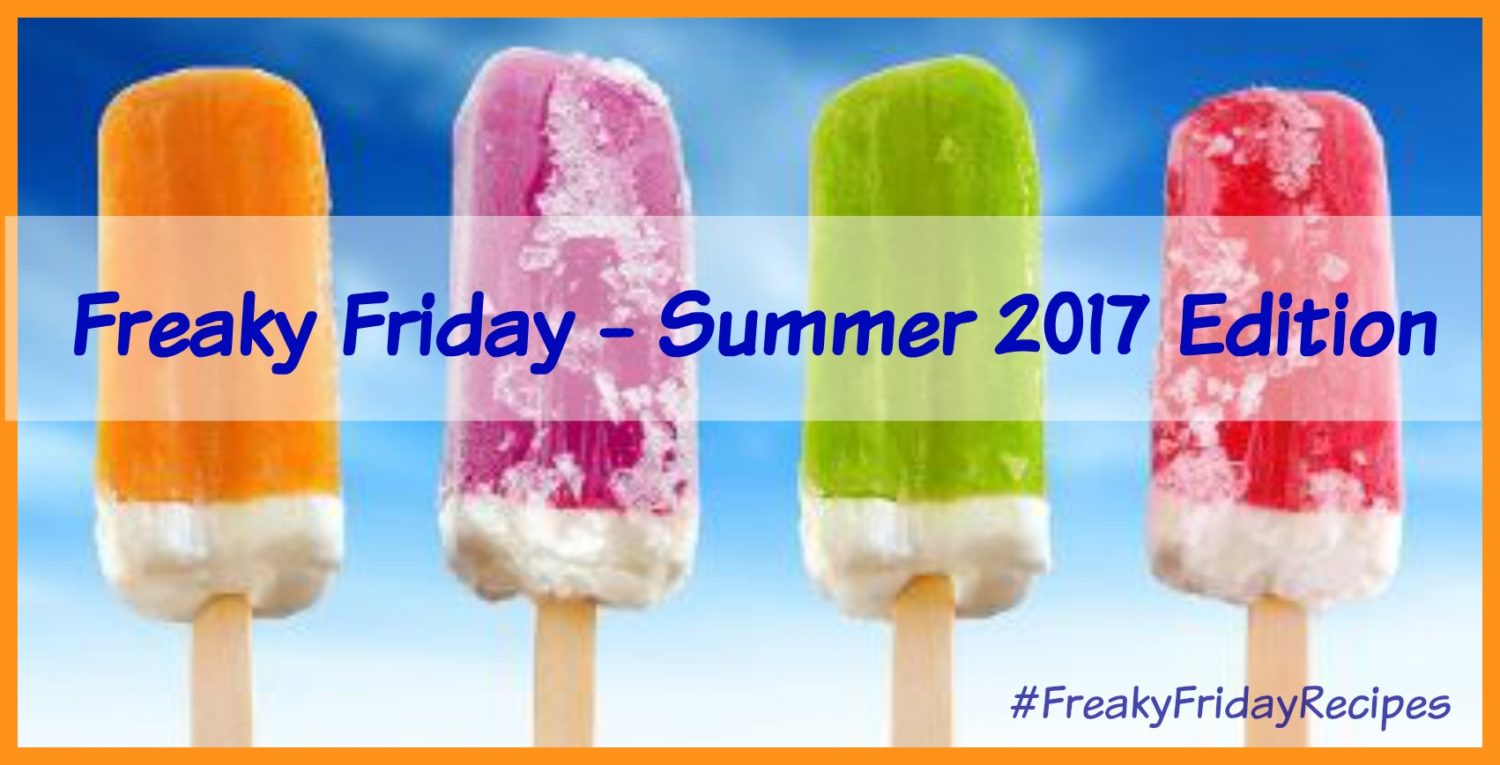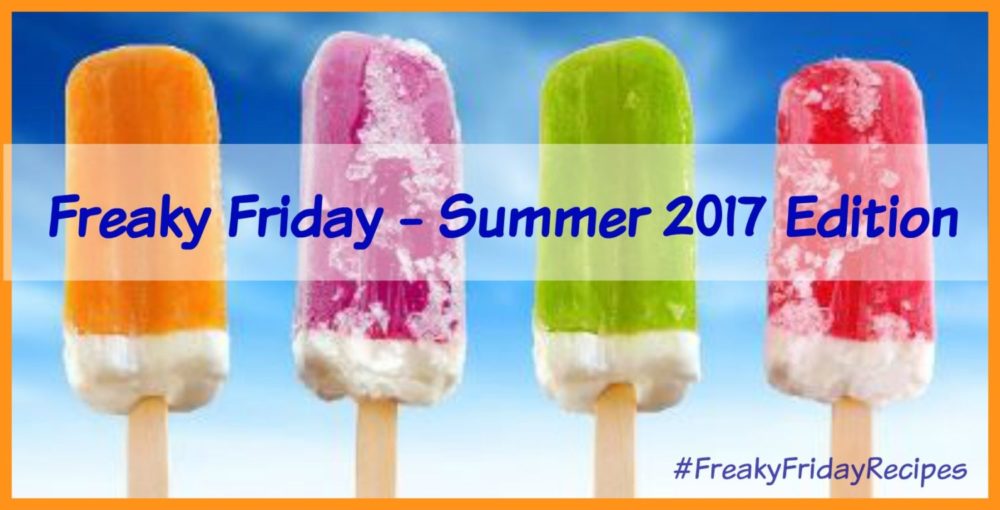 I have my dear friend, Candi, from The Devilish Dish, to thank for this awesome recipe. You see, it's time once again for our Freaky Friday Blog Hop! Once a season, we are assigned a blog to cook/bake from and we keep it a secret until the reveal day, which is TODAY! Having Candi's page as my assignment was awesome. Candi blogs at The Devilish Dish.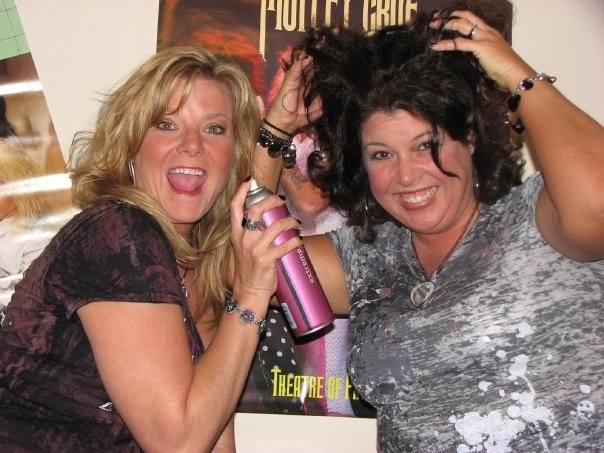 She and I have been friends LONG before either of us had a food blog. We met back in 1997. TWENTY years ago. How crazy is that? Back then, I was a Creative Memories consultant and she was the wife to her Air Force hubby, and they were stationed here at Offutt Air Force Base. She came to a class, and we became instant friends. One thing I can tell you, first hand, about Candi, she is an amazing cook! So, choosing one of her recipes was not easy. In fact, I made three. The first recipe I made were her Slow Cooker Smothered Burritos I shared a couple of weeks ago. I also made her version of the Ruth's Cris Salad. (my post for that is coming soon!)
In the end, her Deconstructed Guacamole Salad was the one I chose to share today, because it's perfect for summertime and all of those YUMMY tomatoes!
Begin by slicing your tomatoes, onion and chopping your cilantro. You will cube up your avocado into bite sized pieces.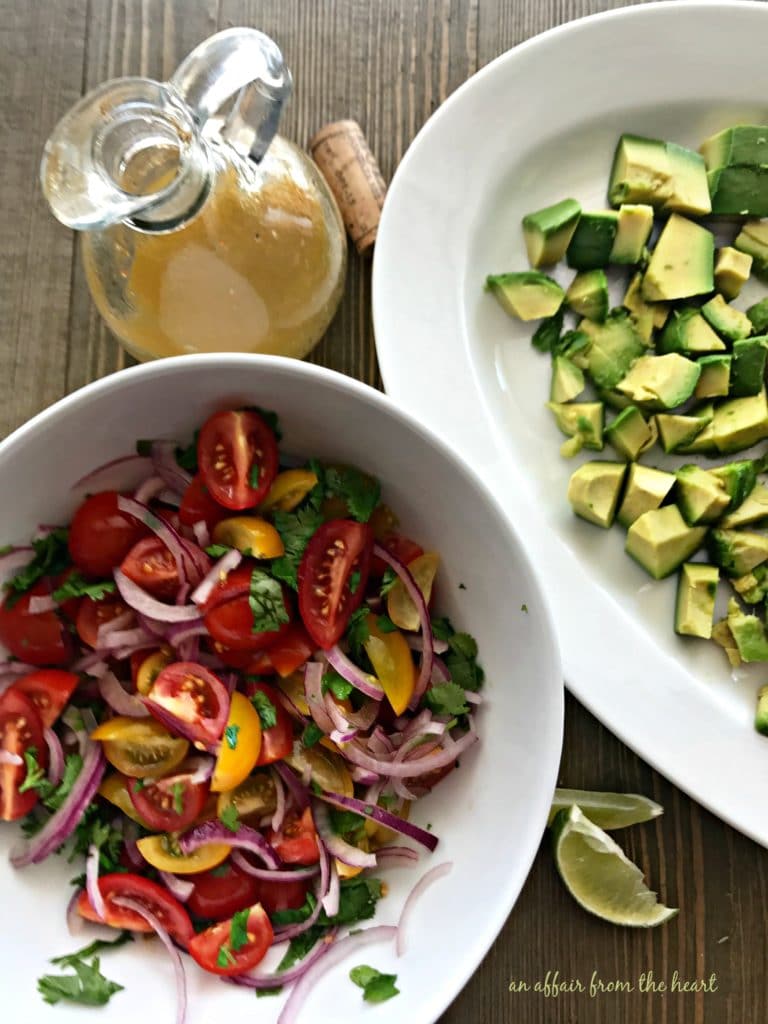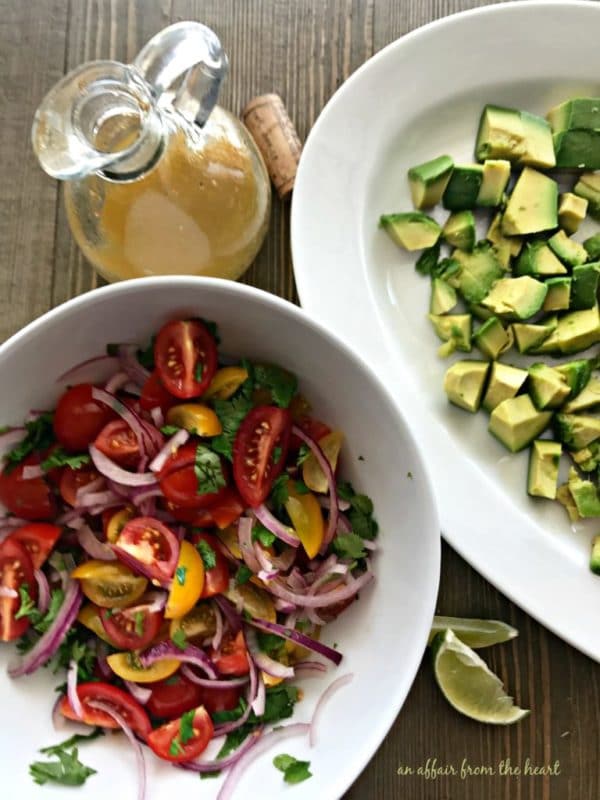 The dressing is simply made with some fresh lime juice, hot sauce, apple cider vinegar and olive oil. I added a little salt and fresh cracked pepper to mine also.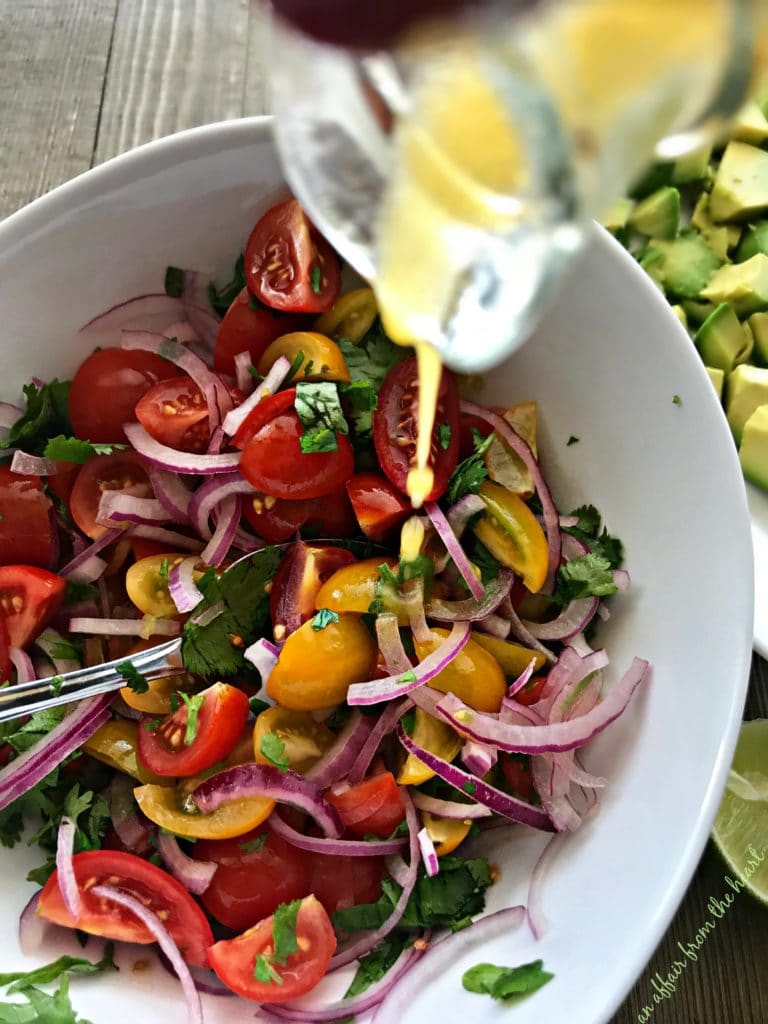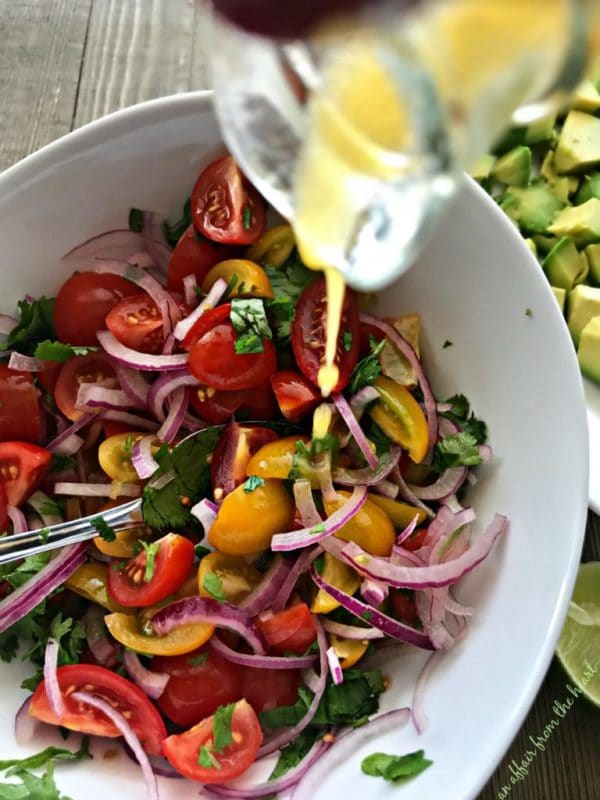 Place tomatoes ,onions and cilantro in a bowl and toss with the dressing. Gently fold in avocado chunks.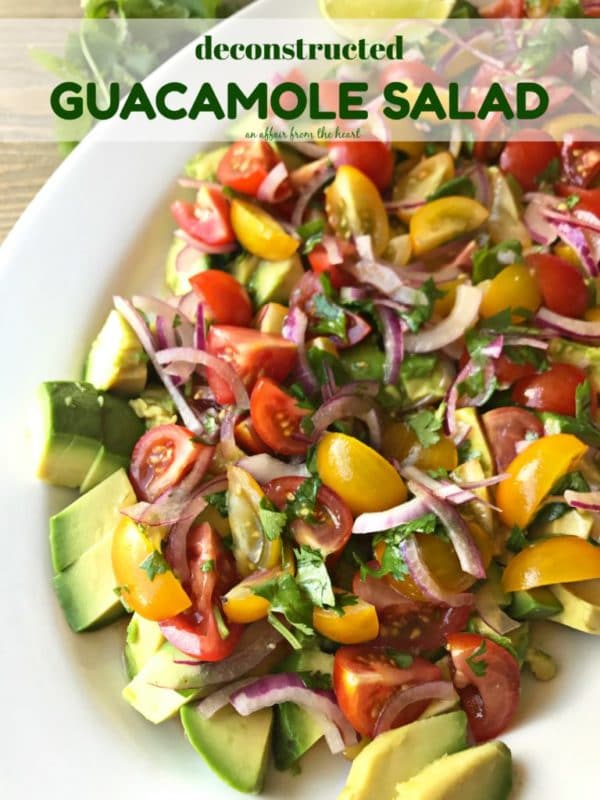 Serve as a meal on it's own, or with grilled chicken breasts like we did!

Yield: 6-8
Deconstructed Guacamole Salad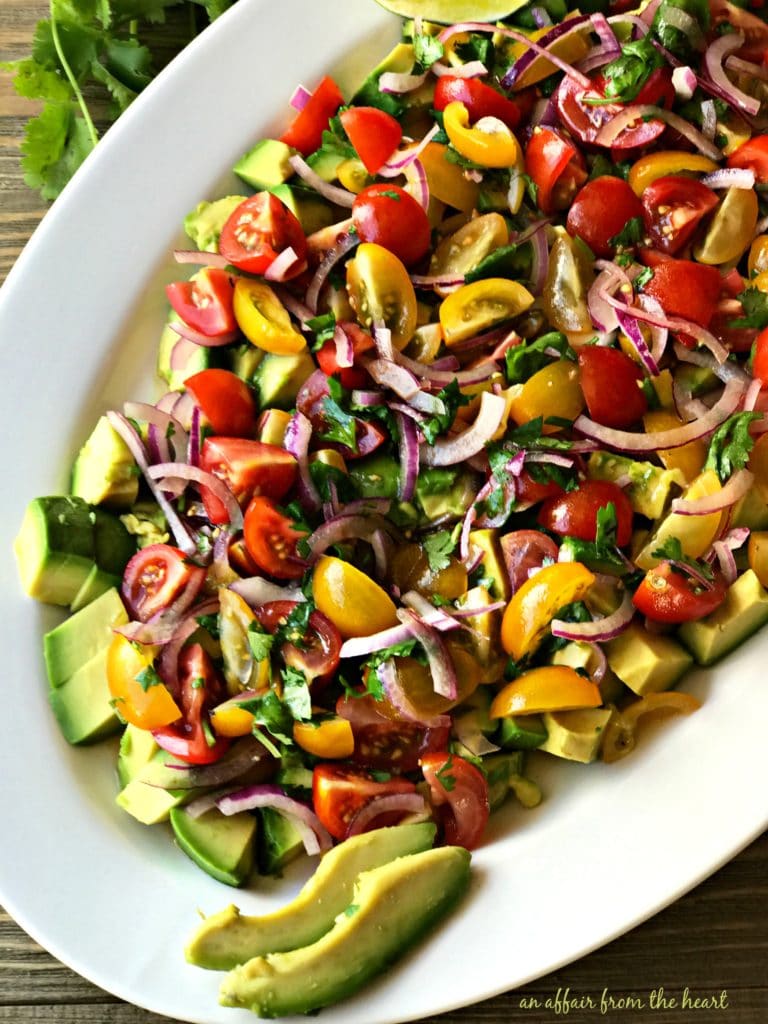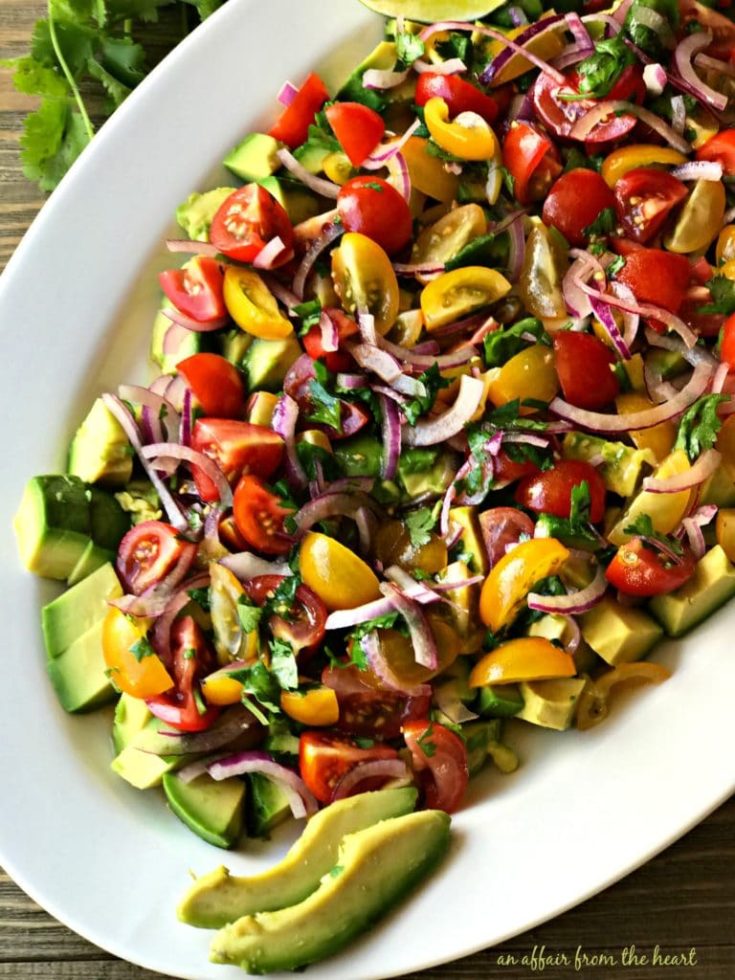 Ripe heirloom tomatoes, red onion, avocado and cilantro tossed in a homemade lime dressing. This Deconstructed Guacamole Salad needs to make it on your table tonight!
Ingredients
4 ripe avocados, Cut into chunks
1 small red onion, thinly sliced
1/3 cup cilantro leaves, chopped (I used a little more)
2 cups heirloom tomatoes, sliced in half (can sub cherry or grape tomatoes)
For the dressing:
juice of one large lime
1-2 teaspoons hot sauce
1 teaspoon apple cider vinegar
3 Tablespoons extra virgin olive oil
Sea salt and Freshly cracked black pepper
Instructions
Prepare dressing, set aside.
Prepare veggies, adding tomatoes, onion and cilantro to a medium sized bowl. Toss veggies.
Drizzle dressing over tomatoes. Fold in avocado chunks.
Serve immediately.
Nutrition Information:
Yield:
6
Serving Size:
1
Amount Per Serving:
Calories:

331
Total Fat:

24g
Saturated Fat:

4g
Trans Fat:

0g
Unsaturated Fat:

19g
Cholesterol:

14mg
Sodium:

307mg
Carbohydrates:

25g
Fiber:

8g
Sugar:

9g
Protein:

7g
Nutrition isn't always accurate.
I've got a bunch of strawberries begging to be eaten .. I think next I will make her Orange Julius Dip!
Check out all of the other GREAT Freaky Friday Summer 2017 Edition Recipes:
A Dish of Daily Life – Mexican Black Beans
An Affair from the Heart – Deconstructed Guacamole Salad
A Kitchen Hoor's Adventures – Homemade Strawberry Frozen Yogurt Popsicles
Aunt Bee's Recipes – P.F. Chang's Lettuce Wrap Salad
Belle of the Kitchen – Crock Pot Honey Sriracha Meatballs
Bowl Me Over – Grilled Shrimp Nicoise Salad
The Devilish Dish – Southwestern Coleslaw
The Flavor Blender – Creamy Frozen Margarita Pie Slice with a Pretzel Crust
Full Belly Sisters – Bacon Scallion Deviled Eggs
The Foodie Affair – New Zealand Bacon and Egg Pie
Honey & Birch – Grilled Guacamole
Hostess at Heart – Easy Oven-Baked Chicken Fajitas
Lemoine Family Recipes – Easy Peach Dumplings
Lisa's Dinnertime Dish – Tortellini Caprese Salad
PicNic – Oreo Scones
PlatterTalk – Black Bean and Roasted Corn Chowder
Seduction in the Kitchen – Peach Sweet Tea
Take Two Tapas – Spicy Margarita Shrimp Skewers
Who Needs a Cape? – No Bake Chocolate Cherry Cheesecake Parfait