Blackened Shrimp & Crisp Chilled Cucumbers
As an Amazon Associate and member of other affiliate programs, I earn from qualifying purchases.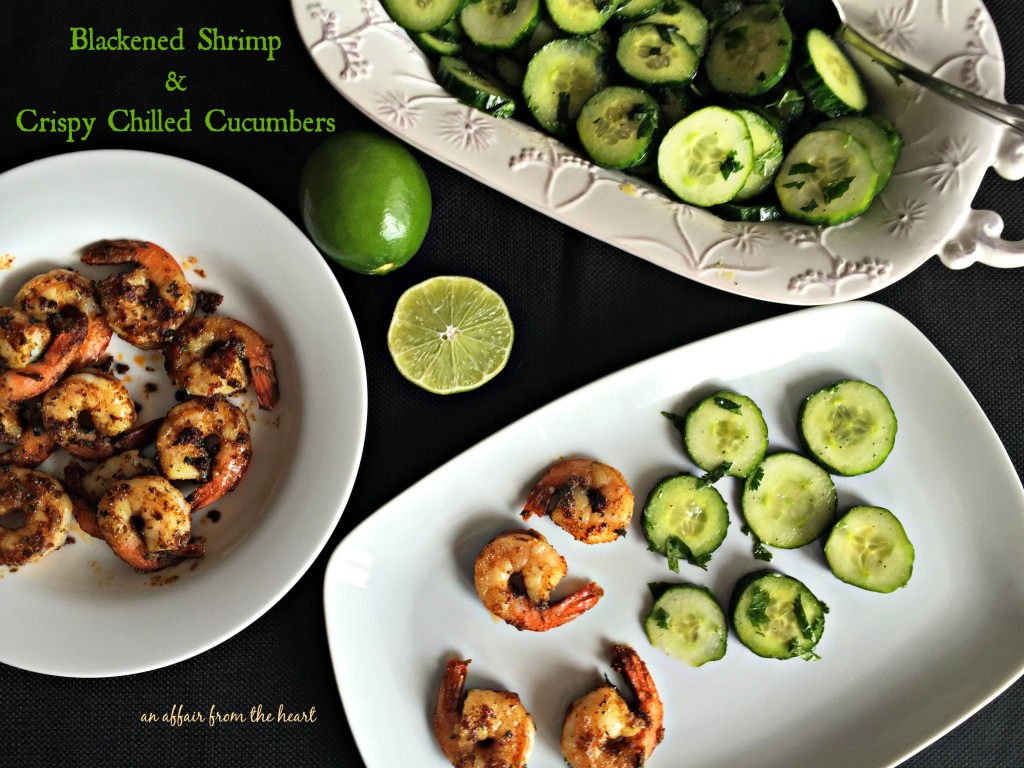 Today I have the distinct pleasure of sharing with you, not only the recipe for these delicious blackened shrimp and chilled cucumbers, but I get to introduce you to one of the very first "foodie pals" I ever met, Ally, and show off her BRAND NEW totally and completely awesome NEW cookbook! I started blogging about 4 years ago, and "met" Ally through mutual foodie friends. She is one of the most welcoming people you will ever meet. She has that sweet southern drawl, that makes you want to just plop down in her kitchen and listen to her stories.
I think that is one of the things about her cookbook that I love most. (besides the food of course!) Her cookbook reads like a beautiful storybook. You are taken on a magic carpet ride through foreign lands, led by the talented writing and your taste buds. The stories will lure you in, the recipes will have you caught hook line and sinker!
Isn't she just adorable? Someday I hope to meet Ally, and have her autograph my cookbook. It's actually proudly displayed on my coffee table. It was too pretty to stick on a shelf.
(nobody puts baby in a corner)
Ally's cookbook is available online on Amazon and Barnes & Noble. You can find it in book stores May 12th! How exciting!
It was hard to chose which recipe to make, trust me, when you get your copy, you will struggle, too.
I landed on these shrimp and I knew this would be the first recipe I would try.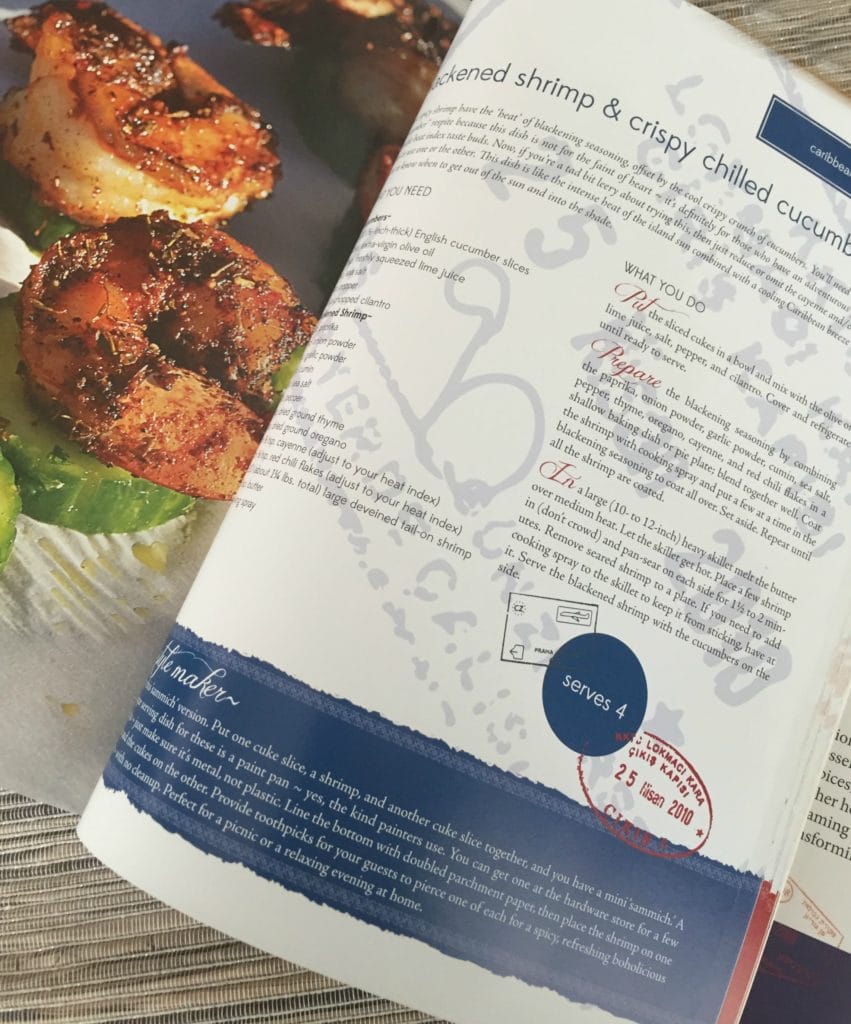 I love spicy food – and I typically order seafood "blackened" when we dine out. I have never, however made my own rub and did it myself. It was super easy and the outcome was scrumptious!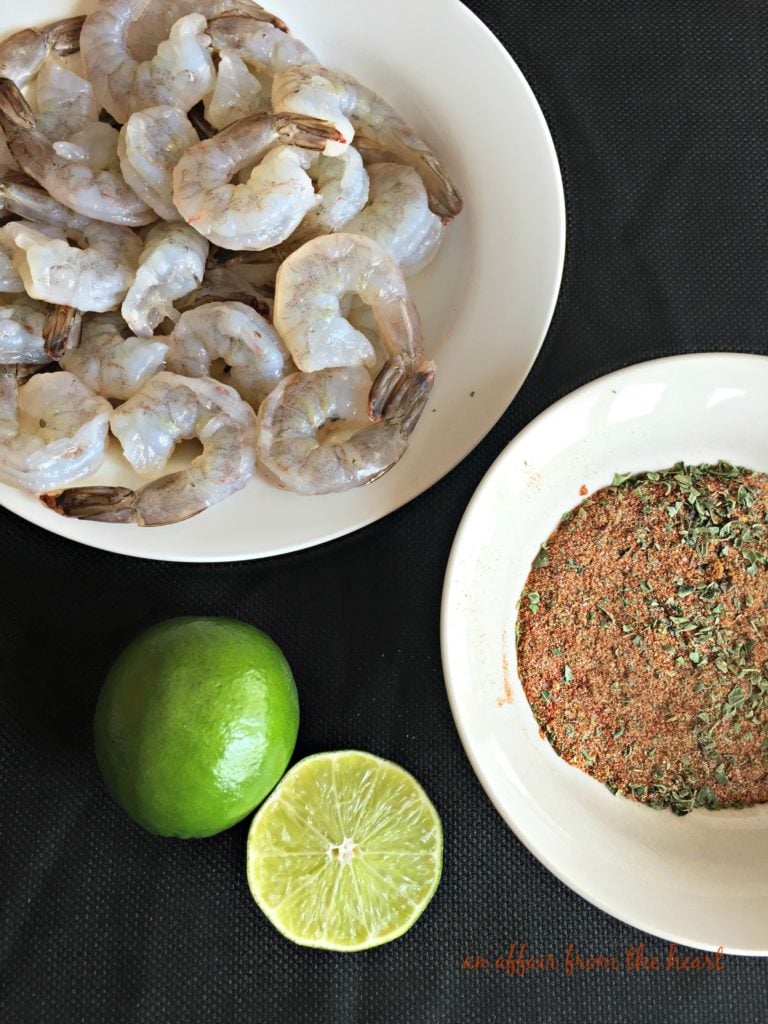 The mixture of spices was pure perfection. Just look at them glisten with spicy heat!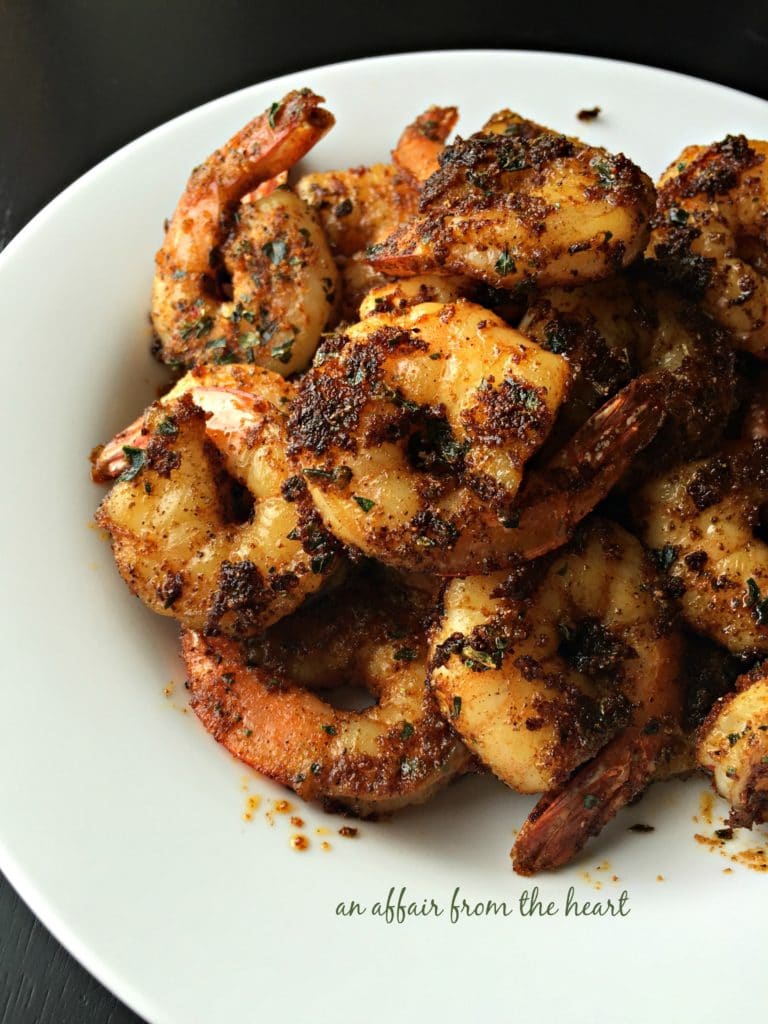 The only way to make them even better was to accompany them with a crisp chilled cucumber tangy with lime and cilantro. It was perfect, just when your tongue was taking the heat, the cucumber cooled it off — you might even say "Cool as a Cucumber." 😉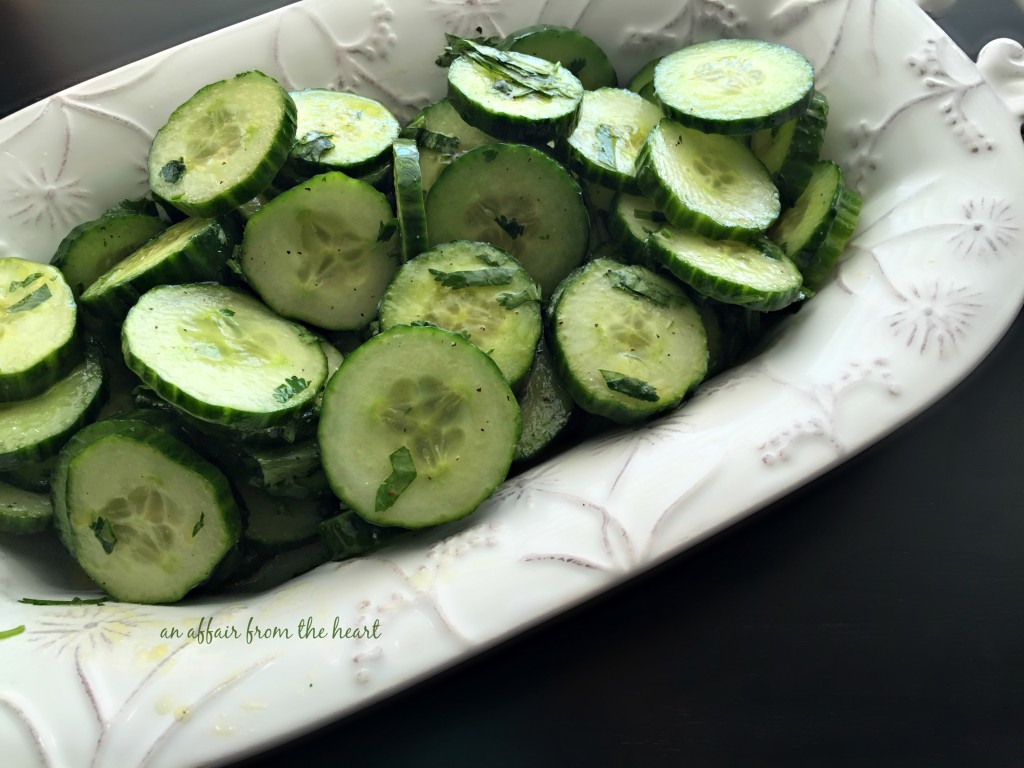 Ally placed a shrimp on top of each cucumber slice – what a fun appetizer! We served them as a main dish and a salad, with a side of brown rice. There wasn't a morsel left.
—
Yield: serves 4
Blackened Shrimp and Crisp Chilled Cucumbers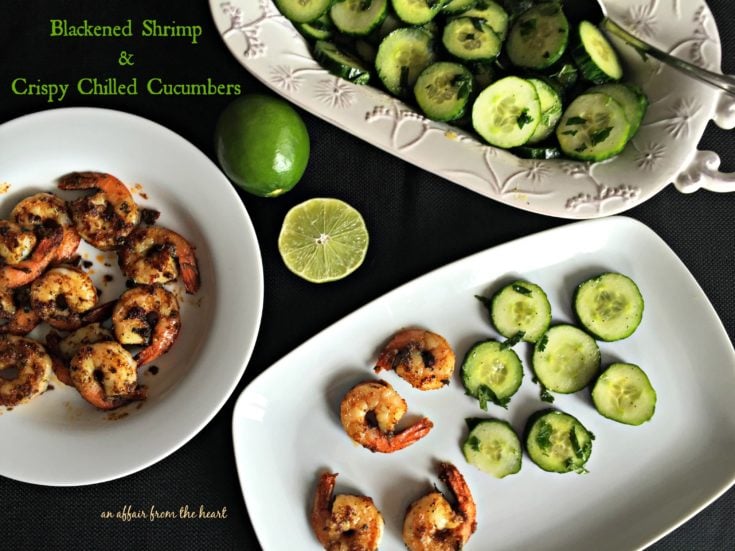 Spicy blackened shrimp paired with chilled crisp cucumbers flavored with cilantro and lime.
Total Time
1 hour
10 minutes
Ingredients
16-20 (about 1 1/4 pounds) large deveined shrimp, tails on
FOR THE SPICE
2 teaspoons paprika
2 teaspoons onion powder
1 teaspoon garlic powder
1 teaspoon cumin
1 teaspoon sea salt
1 teaspoon pepper
1 teaspoon dried ground thyme
1 teaspoon dried ground oregano
1/4 to 1/2 teaspoon cayenne pepper (adjust to your heat index)
1/4 to 1/2 red chili flakes (adjust to your heat index)
2 Tablespoons butter
Cooking spray
FOR THE CUCUMBERS
1-20 1/2 inch thick slices of English cucumbers
2 Tablespoons extra virgin olive oil
2 Tablespoons freshly squeezed lime juice
1/2 teaspoon sea salt
1/2 teaspoon pepper
1/3 cup cilantro, chopped
Instructions
Combine cucumbers in a bowl with other listed ingredients. Cover and chill until ready to serve. (I made mine that morning)
Prepare blackening spices by mixing them in a small bowl.
In a large skillet melt butter. Spray shrimp on both sides with cooking spray. Dredge in seasonings. Place in skillet, taking care not to crowd them. Pan sear for 1 1/2 to 2 minutes on each side. Add cooking spray to the skillet if needed.
Serve the blackened shrimp with the cucumbers.
Nutrition Information:
Yield:
4
Serving Size:
1
Amount Per Serving:
Calories:

142
Total Fat:

13g
Saturated Fat:

5g
Trans Fat:

0g
Unsaturated Fat:

8g
Cholesterol:

19mg
Sodium:

861mg
Carbohydrates:

7g
Fiber:

2g
Sugar:

2g
Protein:

2g
Nutrition isn't always accurate.
—
Want more?
Watch the Cookbook Video Trailer
Visit the blogs of Ally's foodie friends (like me) every day in May for her virtual Blog Tour
The second recipe I made is from page 35 of Ally's Kitchen. These Rustic Lemon Cheese Cupcakes were the perfect dessert.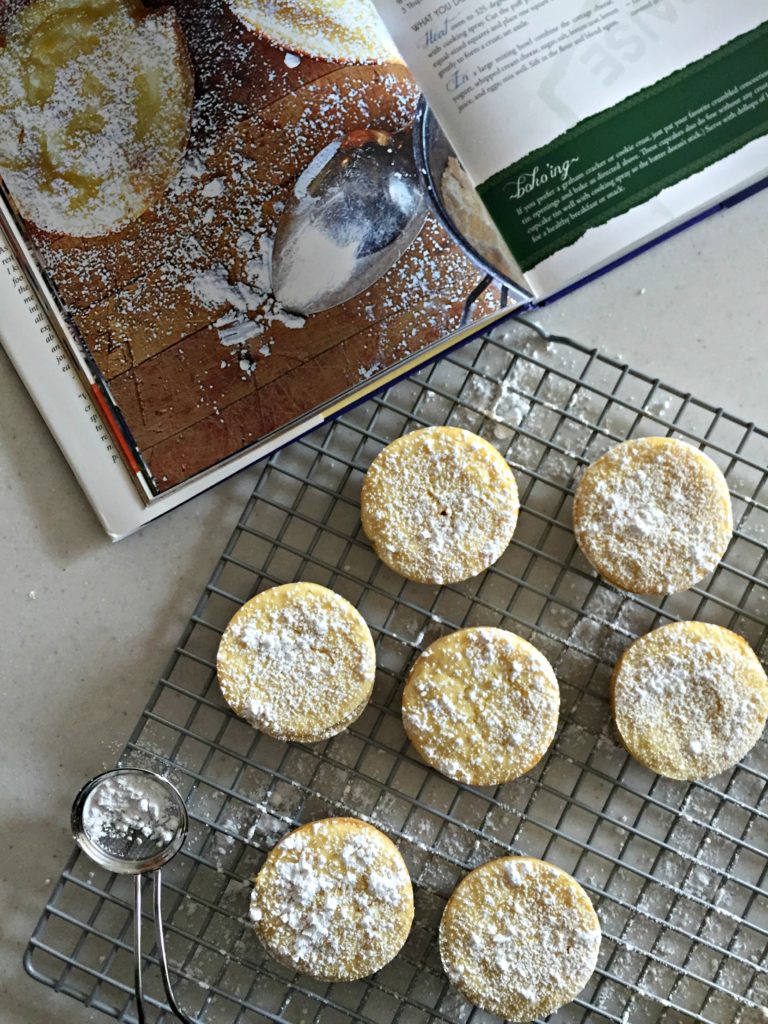 I will let you check them out when you get your new cookbook!
(Here is when I tell you that you can WIN one!)
Ally is giving away THREE cookbooks! Enter here to win one for yourself!