Instant Pot Chicken and Rice Soup is a simple and quick meal that comes together in about 30 minutes. It's full of veggies, basmati rice and uses cooked chicken, which makes it perfect for leftovers or rotisserie chicken.

Instant Pot Chicken & Rice Soup
Soup is my number one comfort food. My favorite is and has always been chicken soup. This Chicken and Rice Soup, made in the pressure cooker has gone on my list of favorite chicken soups. Even better? I don't have to wait for it for long at all. Pop everything in and you're eating dinner in 30 minutes. How cool is that?
Piping hot chicken broth, with basmati rice, sliced carrots and celery, with a touch of red pepper and fresh parsley. The recipe calls for cooked chicken, so it is perfect for leftover chicken, or use a store-purchased rotisserie chicken.
Instant Pot Soup Recipes
Do you own an Instant Pot? I have had one for a couple of years now, and for some reason, it still kind of intimidates me? When I use it, I am always thrilled at the outcome, and tell myself to use it more often.
I have made quite a few instant pot recipes, and am always looking to add to my collection. I would have to say that my favorite thing to make in my pressure cooker, is soup. So making this chicken and rice soup was kind of a no brainer for me.
I was so grateful to have found the recipe for this Fall's Freaky Friday Blog Hop!

Freaky Friday
Today is one of my favorite days of the season, it's Freaky Friday! No, not that movie with Jami Lee Curtis, but a good old fashioned blog hop with some of my favorite foodies and friends.
Freaky Friday is a group that I coordinate 5 times per year. A group of us bloggers gets together and we are secretly assigned one another blogs to cook/bake from, then on one certain Friday, we all reveal our recipes at the very same time, and get to see who had our blog and what they chose to make. It's always fun to see what the person assigned to you selected, and to get to hop through from blog to blog and see what everyone made.
For our readers, they get the opportunity to find a collection of season-themed recipes, in this case, Fall themed, all in one place. It's also a great way to find new recipes and blogs to follow. So I hope that you enjoy it!
For this round, I am fortunate to be able to share two bloggers with you! I have one post for a Honey Cornbread Recipe from The Speckled Palate, and this recipe for Instant Pot Chicken & Rice Soup from Or Whatever You Do! It was just a happy accident that my two recipes complement each other so well!
Why did I get two blogs? Well, it's simple, I am helping one of our bloggers out who needed it. She needed to take a little time off for health reasons, and I "hopped in" to take over her assigned blogger for her. Please keep this amazing woman in your prayers for me, won't you?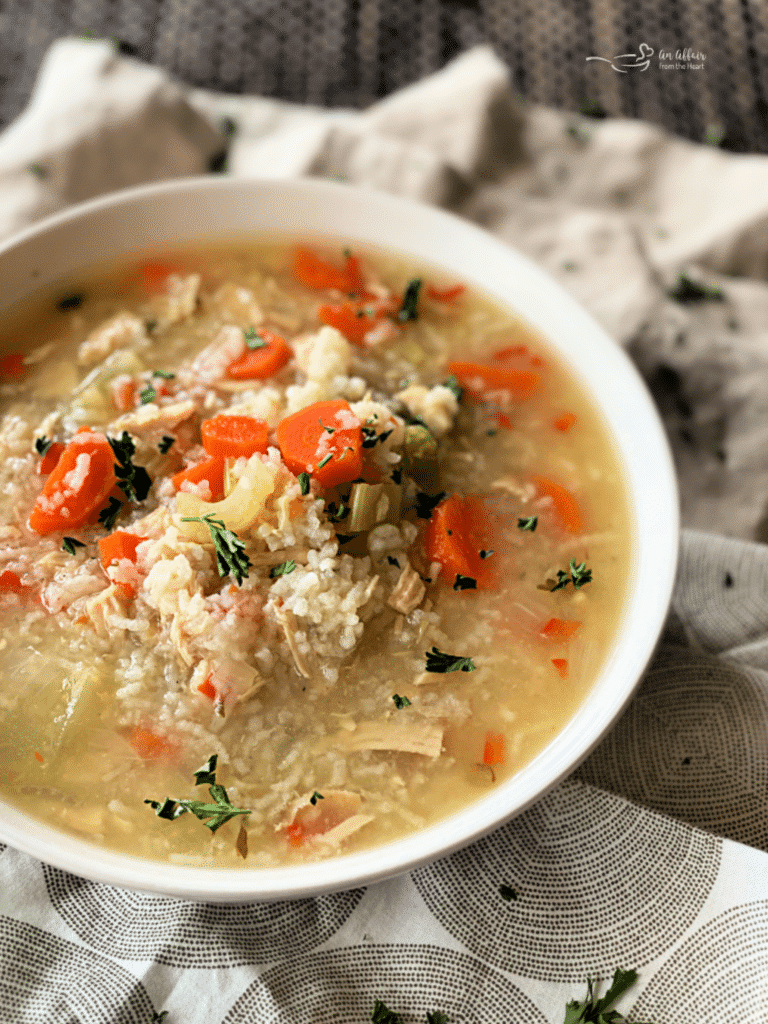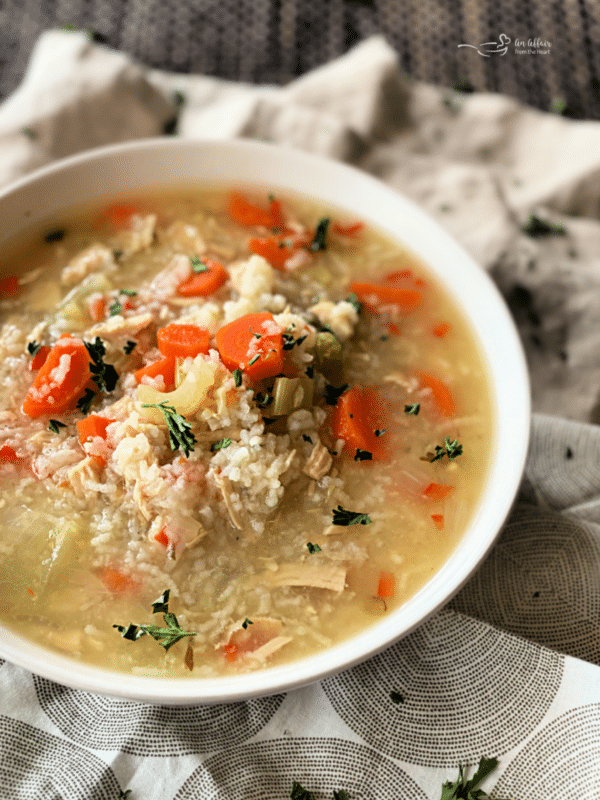 Or Whatever You Do
I was excited to get Nicole's blog, Or Whatever You Do, for our Fall Freaky Friday round. I refer to Nicole's blog a lot. She has amazing Traeger Recipes and if I am looking for something to make on our Traeger her blog is the first place I head to. Her recipes and instructions are always easy to follow and every one of them that I have tried has turned out perfectly.
Her next Traeger recipe I will be trying is her Traeger Apple Cake, I will wait patiently while it bakes, and sip one of her Salted Caramel Spiked Apple Ciders!
I decided though, that I would steer myself in the direction of her soups for this round because I am always looking for new soups to add to my rotation. It was narrowed down to three; this Chicken and Rice Soup, her Tortellini and Meatball Soup, or her Oven Roasted Creamy Tomato. In the end, I chose the Chicken & Rice Soup because I am always looking for more recipes to make in my pressure cooker.
About Nicole
Aside from her major-league cooking skills, Nicole is one busy woman!
She lives in Washington state with her husband, her seven kids and the sweetest black and white doggie, named Sadie, who is one of my favorite parts of opening my Snapchat app.
I had the pleasure of meeting Nicole when she came to Omaha in the summer of 2019. That seems like a million years ago now – and I should have seen her twice this past year – so we will need to make up for that as soon as we are allowed to travel again!
She is a blast to be around, has a brilliant mind, and man can she sing!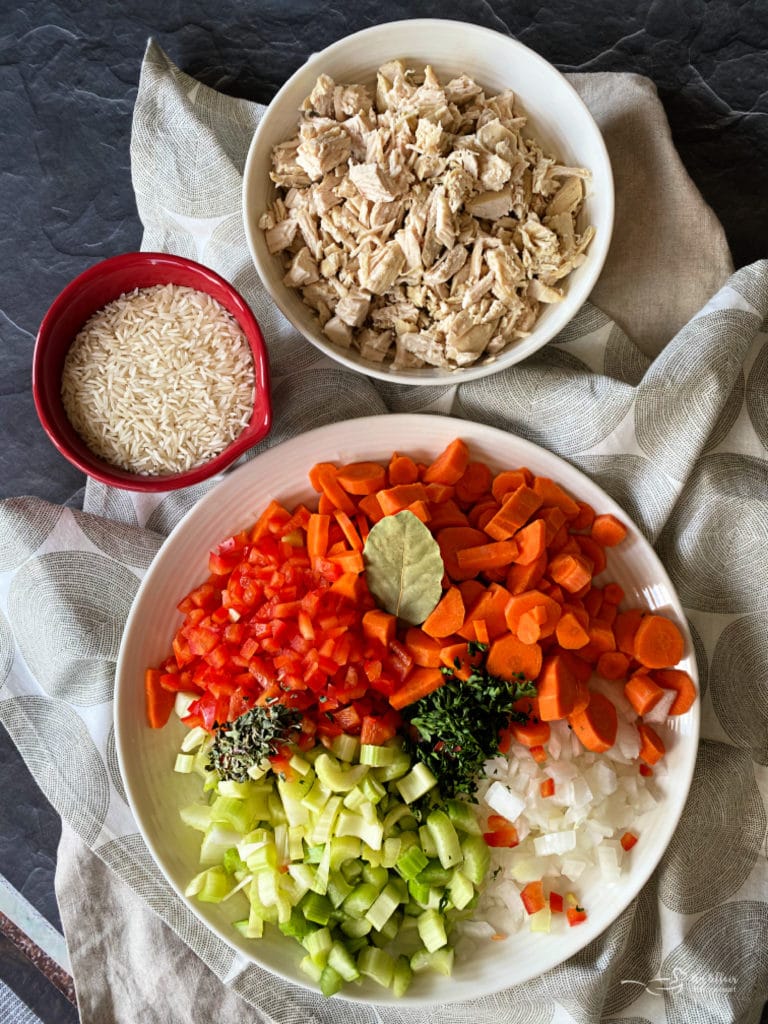 Ingredients in Instant Pot Chicken & Rice Soup
Uncooked rice, cooked chicken, some veggies and spices all come together to make this comforting instapot soup recipe.
You'll Need:
chicken stock
cooked chicken
carrots, celery, onion and red bell pepper
fresh parsley
oregano, bay left
uncooked basmati rice
How to make chicken and rice soup in the pressure cooker
Honestly? It doesn't get much easier than this soup recipe. The "hardest part" is slicing the veggies.
Add the chicken stock, veggies, chicken, rice, and spices to the instant pot. Set to seal and cook time of 2 minutes. Once it's done, carefully release the pressure. When it's all released, open, and serve right from the pot! (fewer dishes, too! )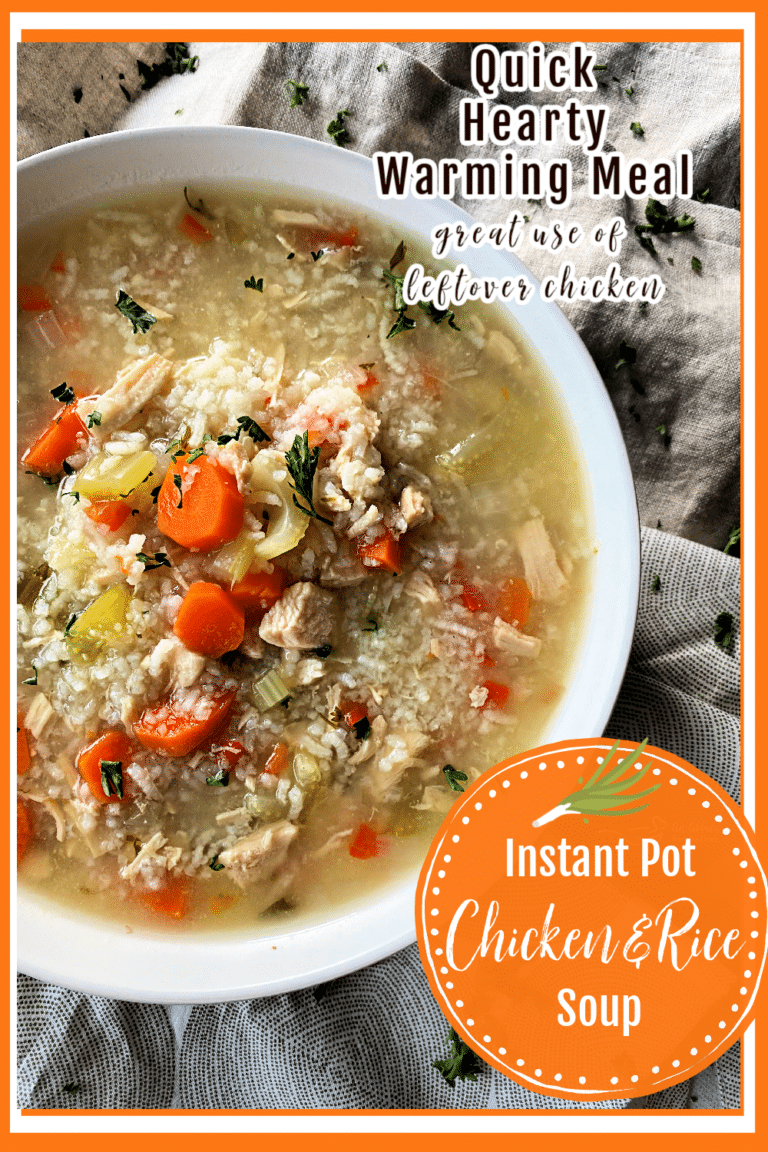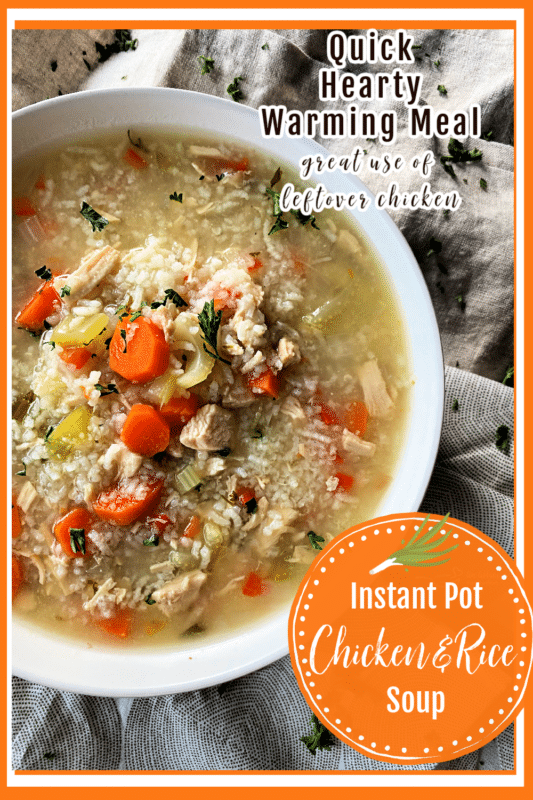 Love it? Pin it!
Don't forget where you found this Instant Pot Chicken and Rice Soup Recipe! Pin it to your favorite Pinterest recipe board before you go!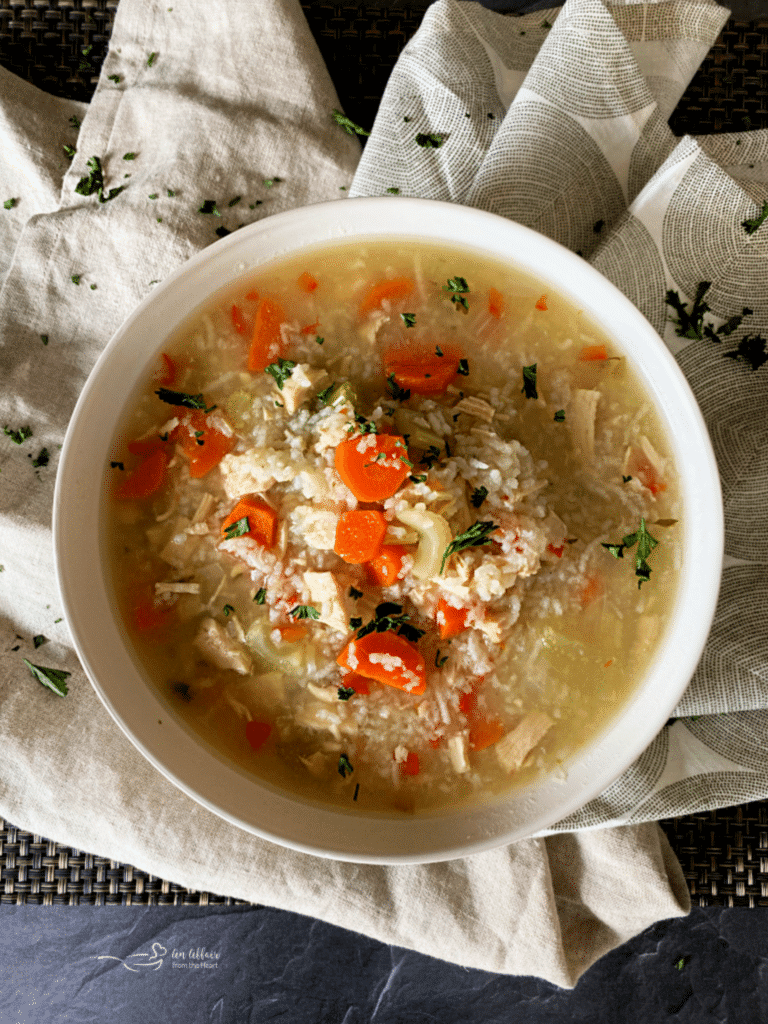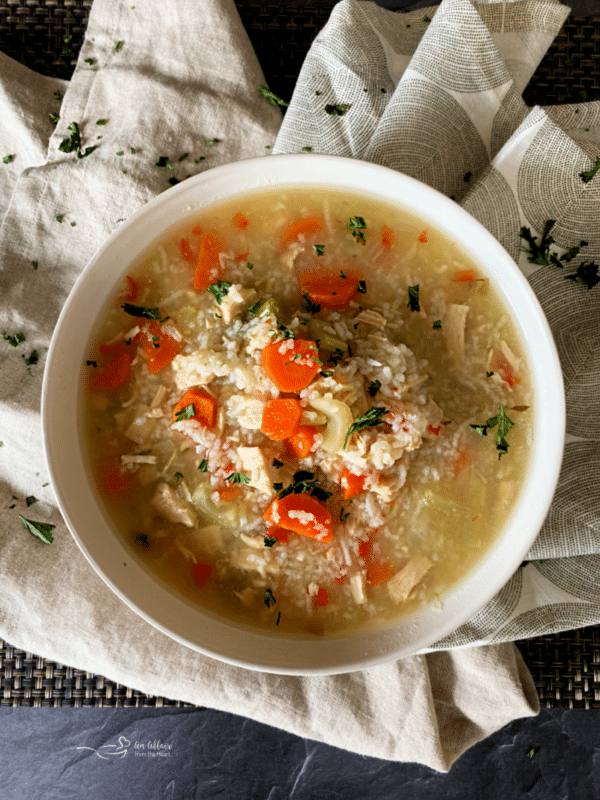 I have a couple of variations in mind I want to try with this recipe in the future. I would love to try making it with wild rice, and I thought it would be amazing with some cream stirred in once it was cooked. That is unless you like that it's dairy-free, in which case adding the cream would be silly!
Take a look at all of our 2020 Freaky Friday Fall Edition Recipes:
An Affair from the Heart – Instant Pot Chicken & Rice Soup
An Affair from the Heart – Honey Corn Bread
Aunt Bee's Recipes – Pecan Pie Cheesecake Bars
Devour Dinner – Instant Pot French Onion Meatballs
House of Nash Eats – Slow Cooker Crack Chicken
Lemoine Family Kitchen – Turkey Cranberry Sliders
Life Currents – Cheesy Shrimp Dip
Life, Love & Good Food – Lemon Garlic Smashed Potatoes
Or Whatever You Do – Traeger Grilled Parmesan Halibut
Sugar Dish Me – Whipped Shortbread Cookies
Take Two Tapas – Pork Tenderloin Sliders
The Foodie Affair – Easy Greek Style Cauliflower Rice Salad
The Speckled Palate – Upside Down Cranberry Cake
West Via Midwest – Hawaiian Pulled Pork (Kalua Pork Recipe)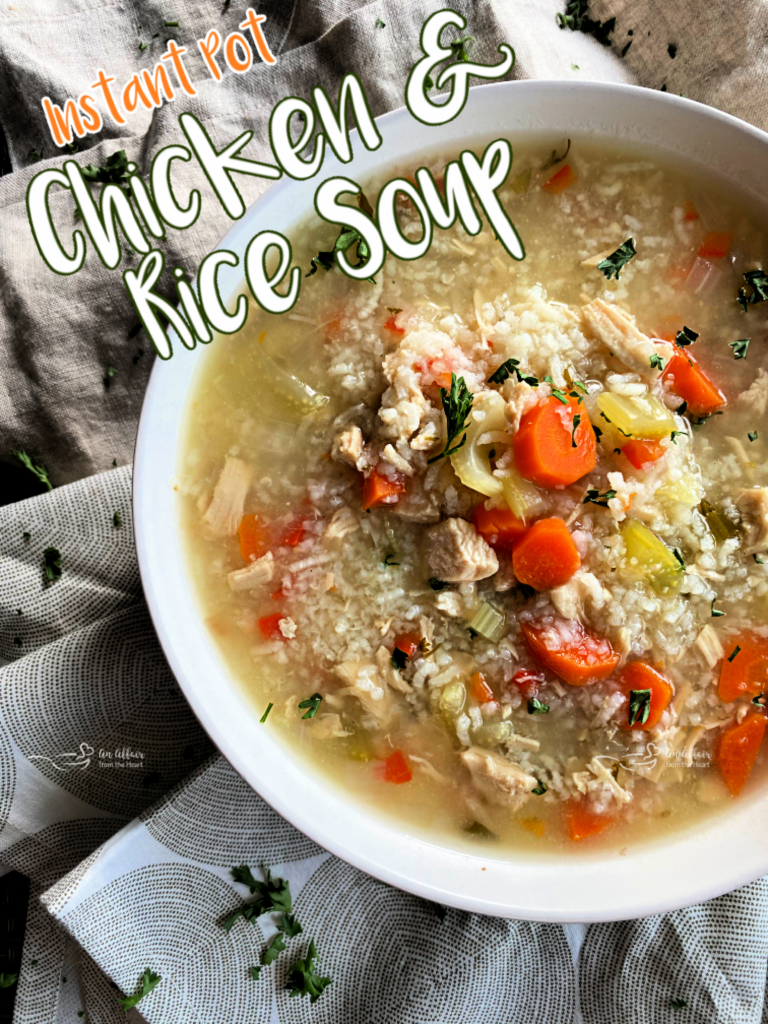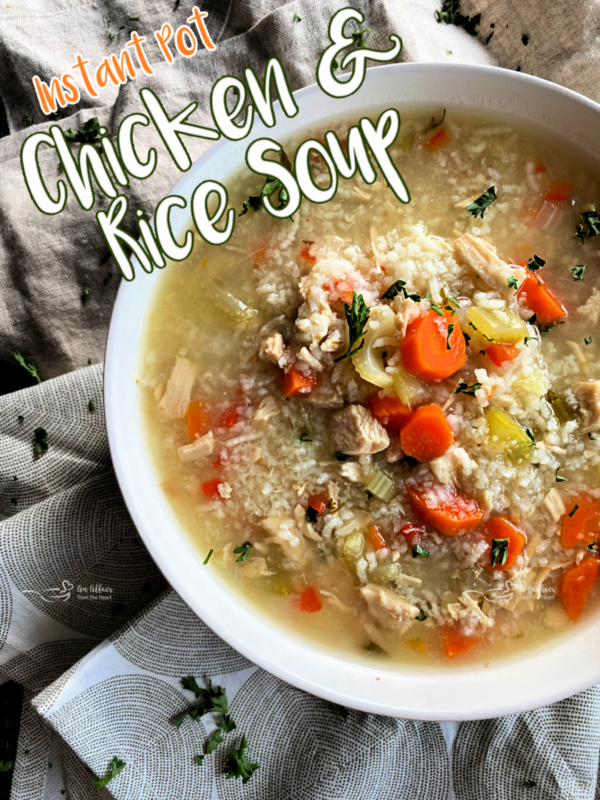 I'm starving! Let's get to the recipe for this Instant Pot Chicken and Rice Soup!

Yield: 8
Instant Pot Chicken and Rice Soup
Instant Pot Chicken and Rice Soup is a simple and quick meal that comes together in about 30 minutes. It's full of veggies, basmati rice and uses cooked chicken, which makes it perfect for leftovers or rotisserie chicken.
Ingredients
3 quarts chicken stock
3 cups cooked diced chicken
3 cups sliced carrots
1/2 cup diced red bell pepper
2 cup diced celery
1 cup diced onion
1 Tablespoon fresh parsley
1 bay leaf
1 1/2 teaspoons oregano
1 cup basmati rice
Instructions
Place all of the ingredients into the Instant Pot, give it a quick stir.
Close the lid, move the vent to the sealed position, and set to manual high pressure for 2 minutes.
Place a towel over the vent and release pressure carefully.
Once the pressure is completely vented and the pin has dropped, ladle into bowls and enjoy!!
Recommended Products
As an Amazon Associate and member of other affiliate programs, I earn from qualifying purchases.
Nutrition Information:
Yield:
8
Serving Size:
1
Amount Per Serving:
Calories:

307
Total Fat:

11g
Saturated Fat:

3g
Trans Fat:

0g
Unsaturated Fat:

7g
Cholesterol:

58mg
Sodium:

606mg
Carbohydrates:

28g
Fiber:

3g
Sugar:

10g
Protein:

23g
Nutrition isn't guaranteed accurate.

If you make this recipe, I'd love to know! Snap a picture, share the photo on social media with the hashtag #AnAffairFromTheHeart – I'd love to see what you made! – Michaela