Honey Cornbread Recipe
As an Amazon Associate and member of other affiliate programs, I earn from qualifying purchases.
I couldn't love this Sweet Honey Cornbread Recipe more. It has the perfect texture, it's simple to make and naturally sweetened with raw honey. It makes a 9×13 baking dish, so there is plenty to enjoy.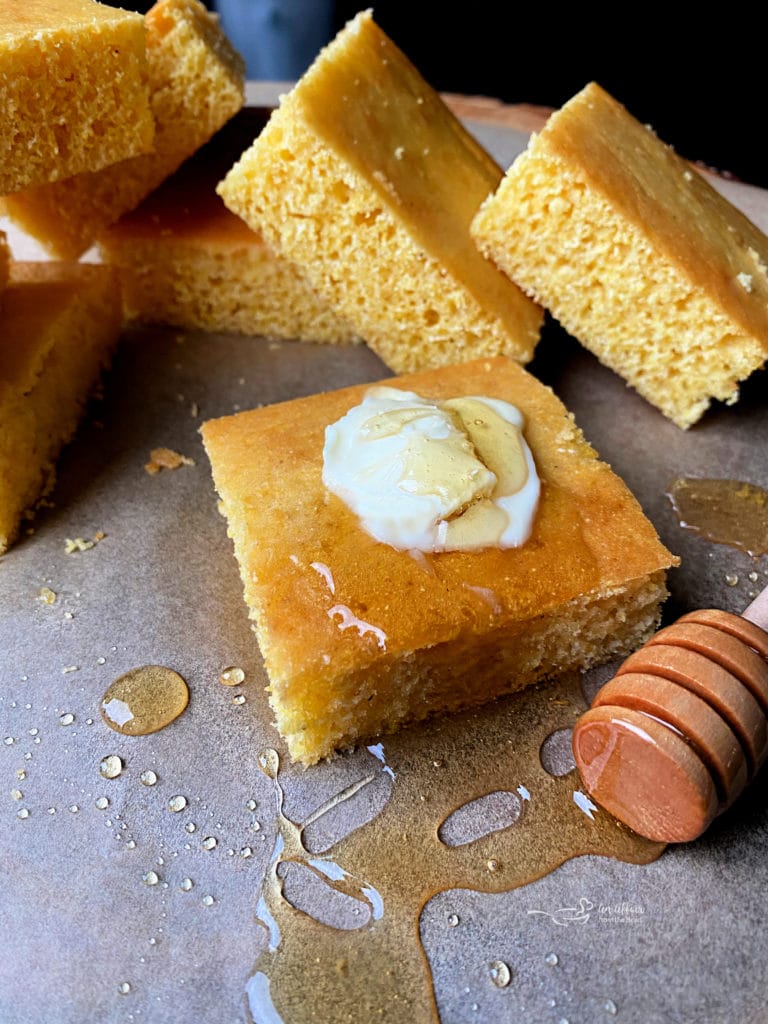 We eat cornbread all of the time, but I have never had a cornbread recipe on my blog. Well, that changes today!
I have made cornbread from scratch before, but I will admit that I typically reach for the box of Jiffy mix. In my mind, it was always just easier. Then I found this recipe, and my mind has been forever changed.
Not only is it simple to make, but it's also perfectly sweetened, just the way I like it.

Honey Cornbread
I know that there are gobs of cornbread recipes out there. Some packed with creamed corn, some with jalapenos, some with sausage or bacon, and even different kinds of fruits and nuts. I for one have never been much into all of the "fluff." Just the warm piece of cornbread and a drizzling of maple syrup and I am happy.
Growing up, we never ate cornbread. I don't know why? My mom just never made it. So, it wasn't until I met my husband that I began to enjoy it.
His way to eat it was with the maple syrup, and it's pretty much what I learned from the beginning, and it stuck.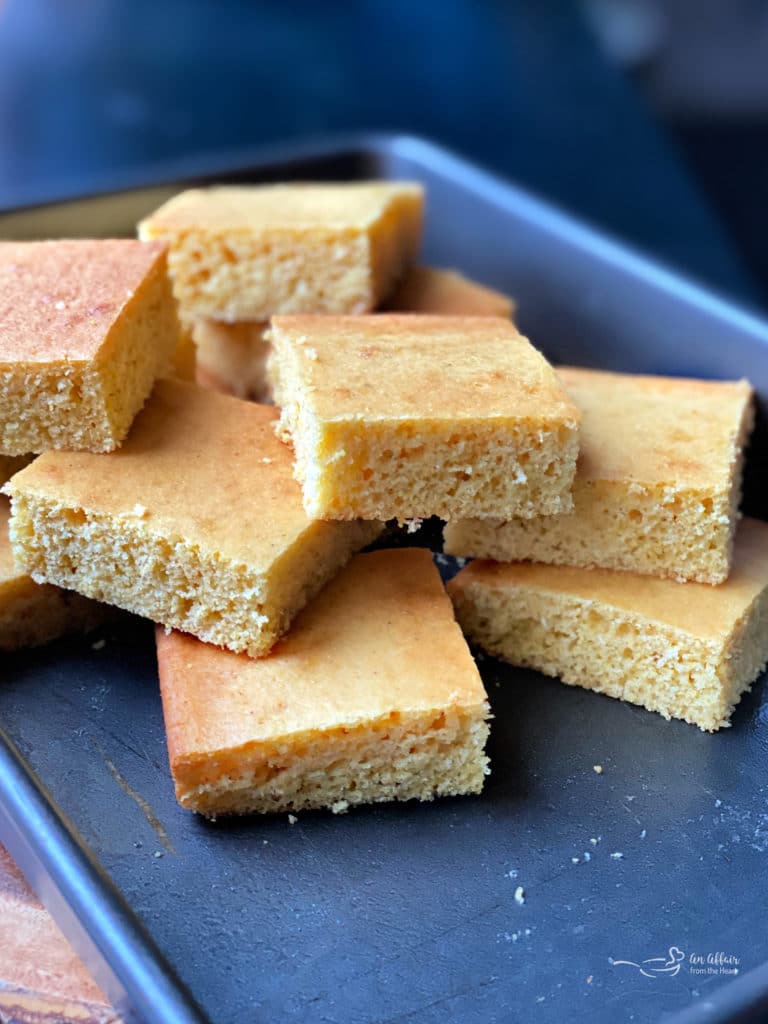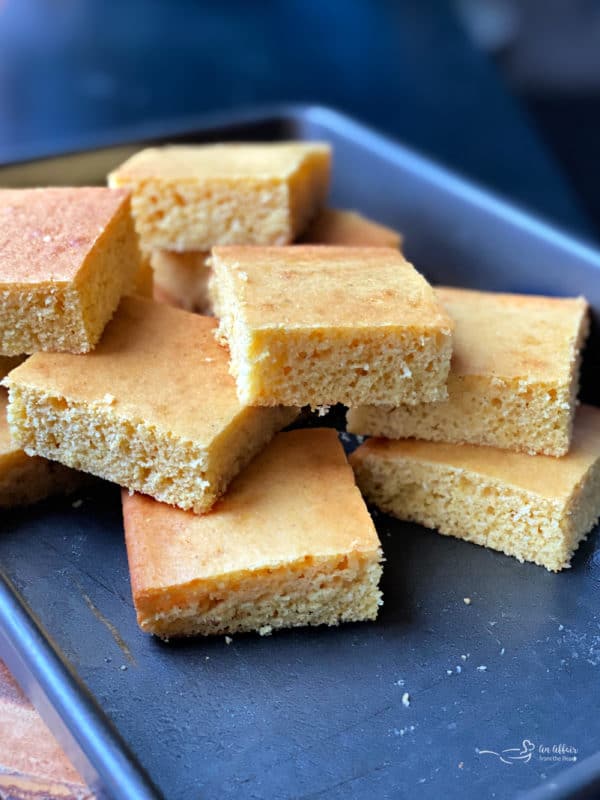 Sweet Cornbread Recipe
In my mind, cornbread is meant to be sweet, and I know you won't all agree with me, and that's okay. I'm from Nebraska, not the deep South, so I can use that as my excuse.
Most southerners scoff at putting sugar in cornbread, and they say it has no place there. So, I am partly okay here, right? No sugar, just good raw honey to sweeten the deal a little bit.
I do however enjoy this Cheesy Cornbread Drop Biscuits, they are a little bit savory – I bet you'd like them, too.

Freaky Friday
Today is one of my favorite days of the season, it's Freaky Friday! No, not that movie with Jami Lee Curtis, but a good old fashioned blog hop with some of my favorite foodies and friends.
Freaky Friday is a group that I coordinate 5 times per year. A group of us bloggers get together and we are secretly assigned one another blogs to cook/bake from, then on one certain Friday, we all reveal our recipes at the very same time, and get to see who had our blog and what they chose to make. It's always fun to see what the person assigned to you selected, and to get to hop through from blog to blog and see what everyone made.
For our readers, they get the opportunity to find a collection of seasonly-themed recipes, in this case, Fall themed, all in one place. It's also a great way to find new recipes and blogs to follow. So I hope that you enjoy it!
For this round, I am fortunate to be able to share two bloggers with you! I have one post for Instant Pot Chicken & Rice Soup that I made from Or Whatever You Do, and I have this Honey Cornbread Recipe to share from The Speckled Palate!
Why did I get two blogs? Well, it's simple, I am helping one of our bloggers out who needed it. She needed to take a little time off for health reasons, and I "hopped in" to take over this recipe for her. Please keep this amazing woman in your prayers for me, won't you?
The Speckled Palate
I have had the pleasure of baking from Erin's blog, The Speckled Palate, in the past, and let me tell you, trying to decide on just what to make always takes me forever to decide!
Erin and I have a lot in common. We have both been around the blogosphere for a long time, we both love to entertain and we both love to cook and bake. I think if we ever had the chance, she and I could throw one amazing party!
Previously, I have made these Funfetti Cookies and Erin's Corn Dog Mini Muffins from her blog.
When I first started browsing the blog looking for my fall recipe, I typed in "pumpkin" and immediately added her Chocolate Chip Pumpkin Bread to my must bake list, and her Pumpkin Spice Mule to my must drink list!
I thought I had my mind made up with her Spicy Sausage and Ground Turkey Pasta Sauce when I saw her recipe for Honey Cornbread. I was making chili that night and it just worked!
About Erin
Erin has two little girls and lives in Texas with them, her husband and her "speckled palate" dog, Lucy.
One would think the name Speckled Palate for a food blog would be obvious. "Palate" as a play on taste buds, right? Nope, it's actually named after the roof of her dog's mouth. How clever is that?! If you have gotten to know me at all, you know how much I love my dogs, and dog people are my people.
Erin is such a delight, and she is so much fun to follow. She has amazing recipes, her photos are gorgeous, and you get to see the "day in the life" of her and her kiddos.

How to make cornbread from scratch
Like I mentioned, for years I just grabbed the box of Jiffy cornbread mix, thinking that making homemade cornbread was difficult or something. It's so not hard to make.
In fact, the ingredients are all super simple, and you might have them in your pantry right now!
Here is what you need to make the best cornbread recipe:
Ingredients in Homemade Honey Cornbread
yellow cornmeal
all-purpose flour
baking powder
sea salt
raw honey
egg
butter
milk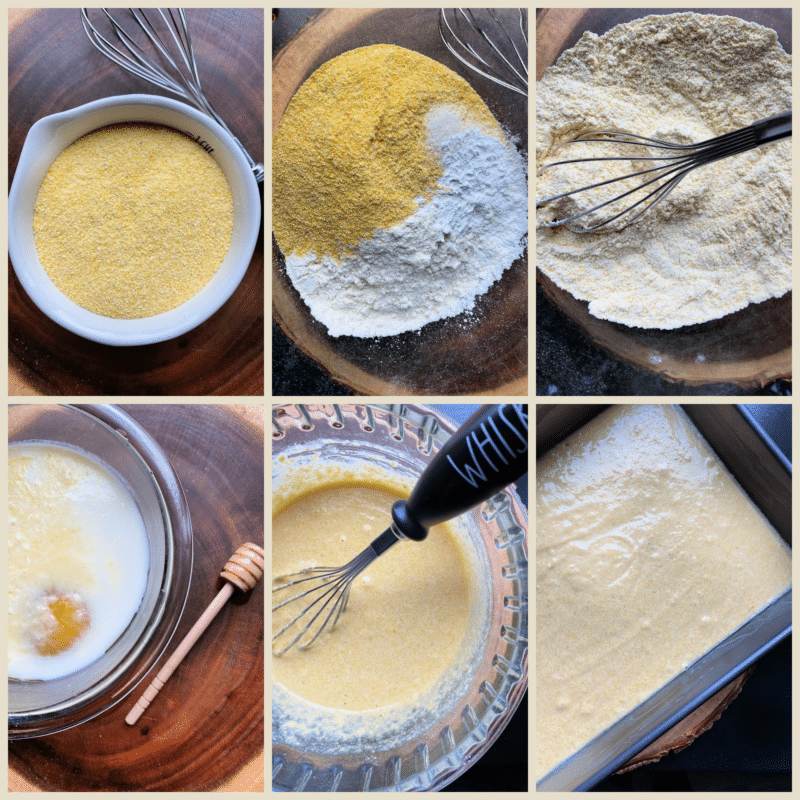 Begin by whisking together yellow cornmeal, flour, baking powder and salt. In another bowl, whisk together egg, honey, butter and milk. Pour the wet ingredients into the dry and mix until combined. Spread into a prepared 9×13 baking dish.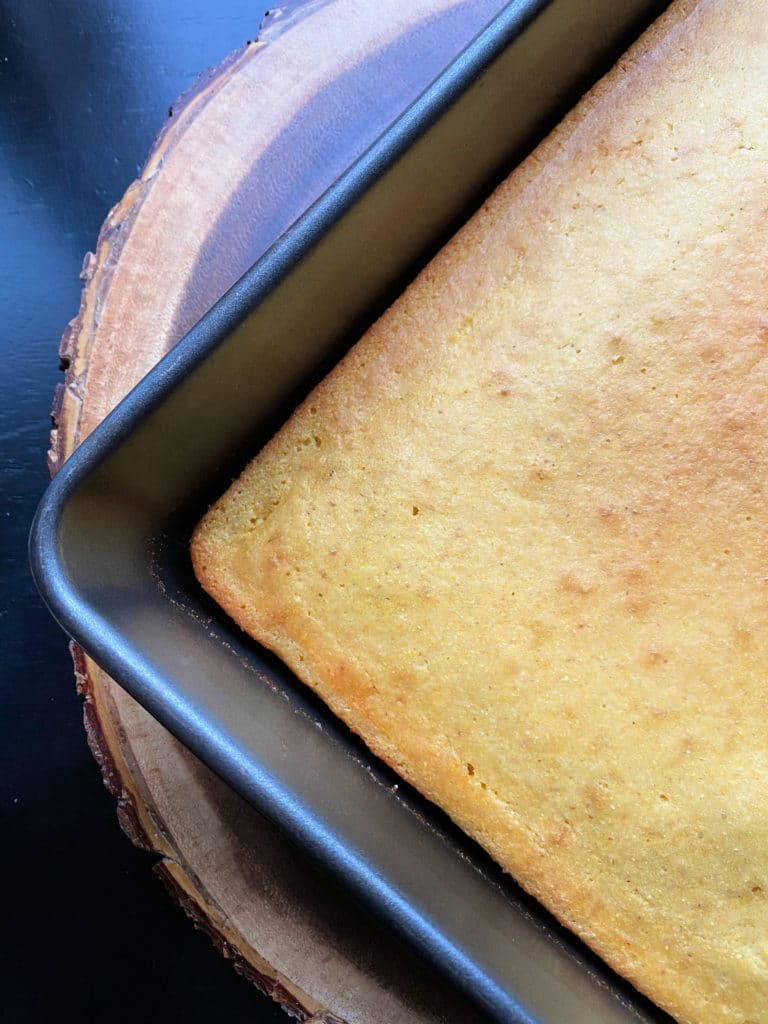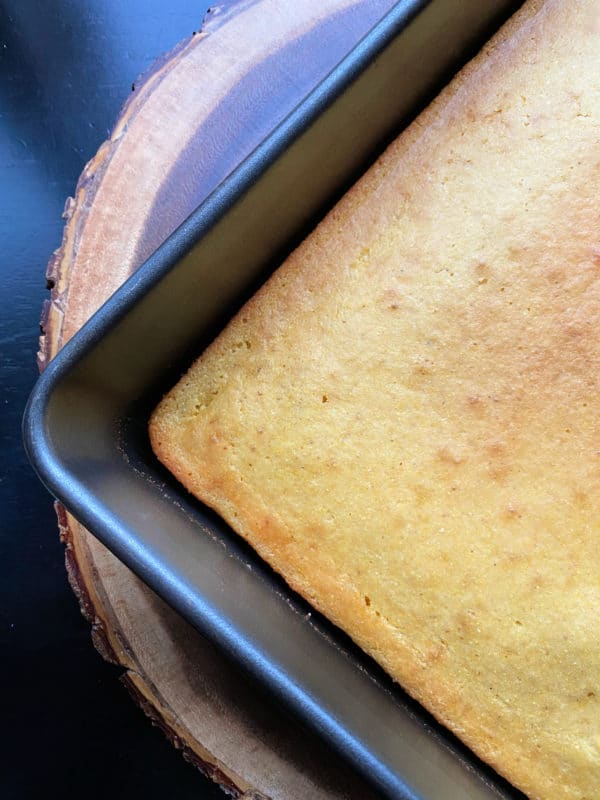 Bake until golden brown.
You will find the full printable recipe at the bottom of this post.
How to keep cornbread from falling apart
A lot of people struggle with their cornbread becoming too crumbly. There are a few reasons this could happen.
Too much cornmeal. Adding too much cornmeal can cause your cornbread to crumble. Make sure you are adding enough all-purpose flour to bond your bread together.
Don't overbake your bread. Pull your cornbread from the oven when it becomes a golden brown, do the toothpick test and make sure it's cooked in the middle though!
Don't over mix your batter. Stir the wet ingredients into the dry and once it's incorporated, stop. Don't beat it like a cake mix, it's okay for the batter to be lumpy.
Oh, and the cornbread went so well with our chili that night. I love my Three Bean Chili Recipe – super easy and super tasty!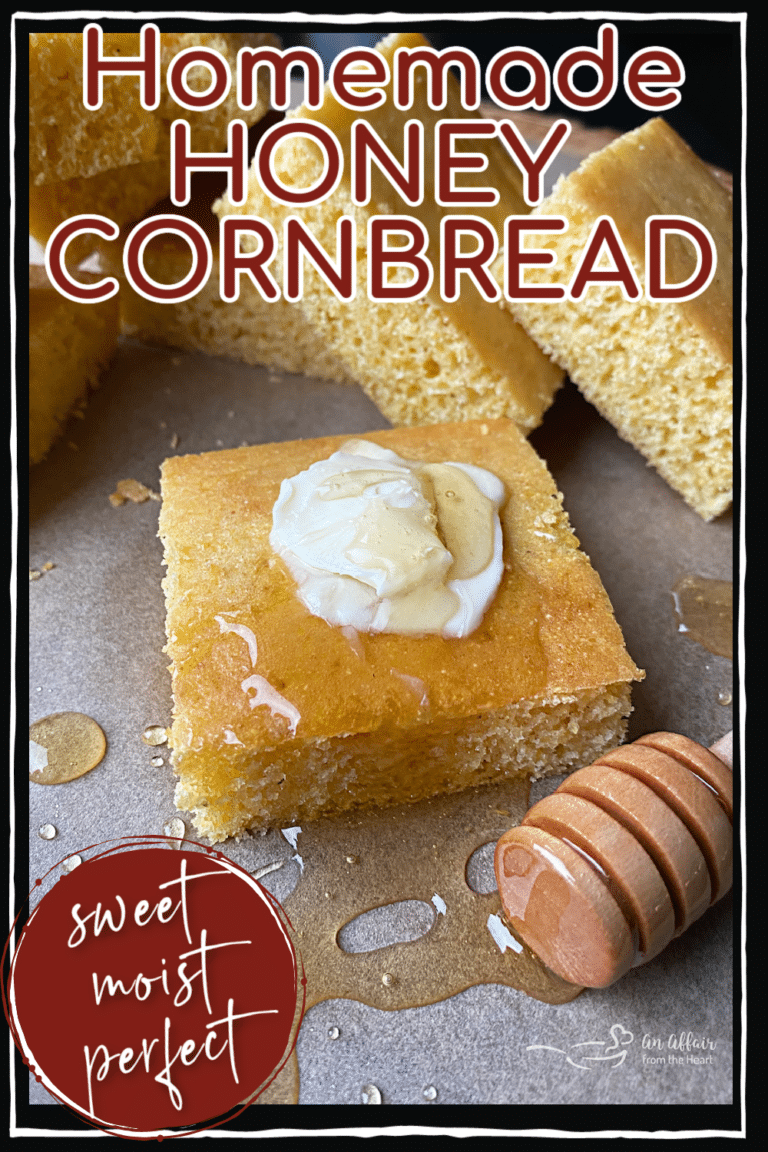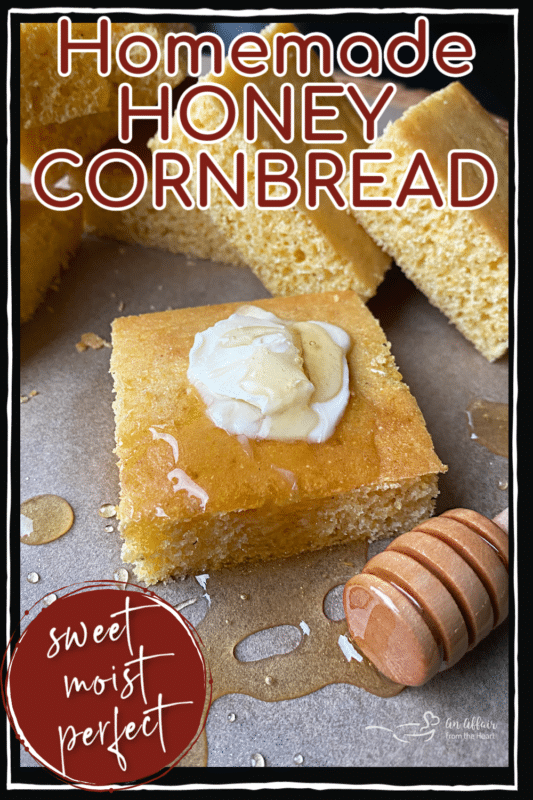 Love it? Pin it!
Don't forget where you found this delicious honey cornbread recipe! Pin it to your favorite Pinterest recipe board before you go!
Take a look at all of our 2020 Freaky Friday Fall Edition Recipes:
An Affair from the Heart – Instant Pot Chicken & Rice Soup
An Affair from the Heart – Honey Corn Bread
Aunt Bee's Recipes – Pecan Pie Cheesecake Bars
Devour Dinner – Instant Pot French Onion Meatballs
House of Nash Eats – Slow Cooker Crack Chicken
Lemoine Family Kitchen – Turkey Cranberry Sliders
Life Currents – Cheesy Shrimp Dip
Life, Love & Good Food – Lemon Garlic Smashed Potatoes
Or Whatever You Do – Traeger Grilled Parmesan Halibut
Sugar Dish Me – Whipped Shortbread Cookies
Take Two Tapas – Pork Tenderloin Sliders
The Foodie Affair – Easy Greek Style Cauliflower Rice Salad
The Speckled Palate – Upside Down Cranberry Cake
West Via Midwest – Hawaiian Pulled Pork (Kalua Pork Recipe)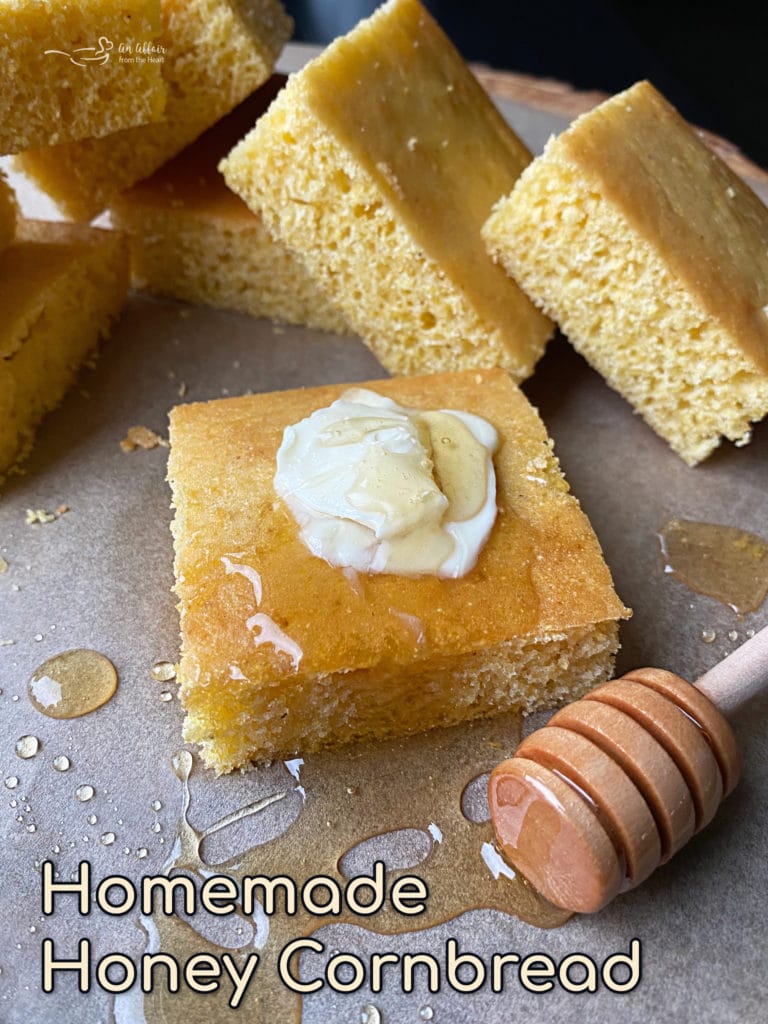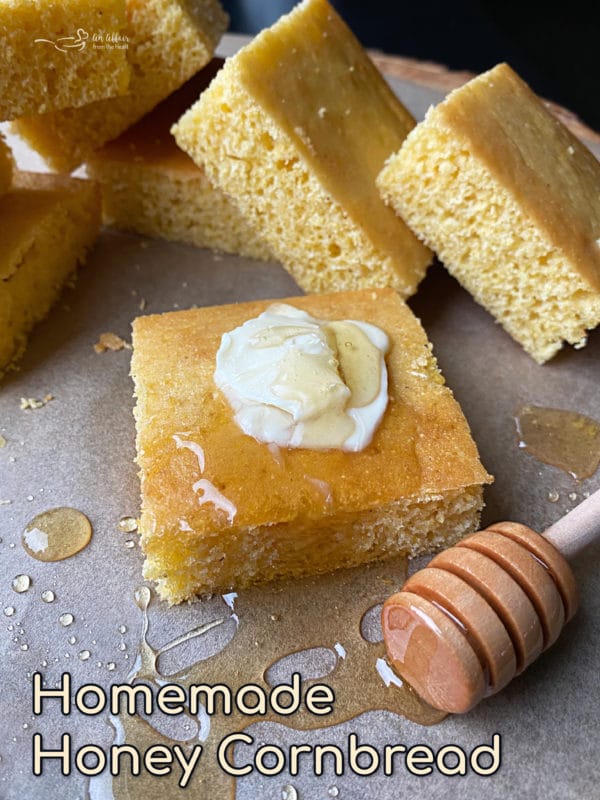 Let's get to the recipe, shall we?

Yield: 9x13 baking dish
Homemade Honey Cornbread Recipe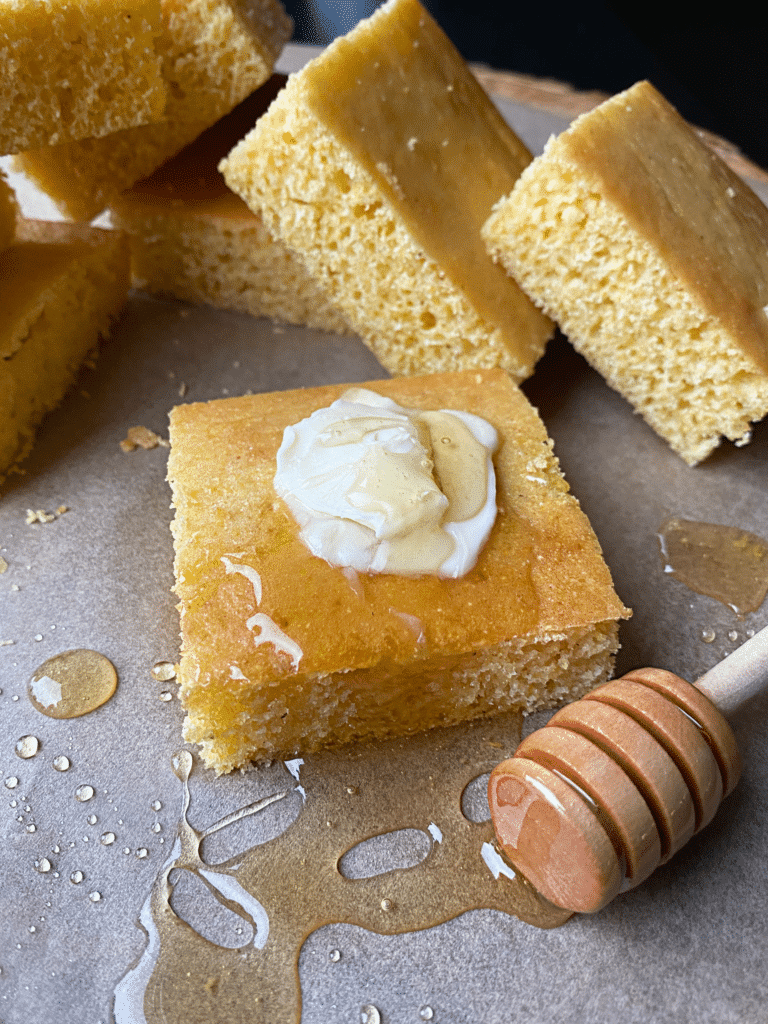 I couldn't love this Sweet Honey Cornbread Recipe more. It has the perfect texture, it's simple to make and naturally sweetened with raw honey. It makes a 9×13 baking dish, so there is plenty to enjoy.
Ingredients
1 cup yellow cornmeal
1 cup unbleached all-purpose flour
2 teaspoons baking powder
½ teaspoon kosher salt
½ cup honey
1 large egg
4 teaspoons unsalted butter, melted
1 cup milk
Instructions
Preheat the oven to 400°F. Spray a 9x13" baking dish with nonstick cooking spray. Or brush the dish with butter.
In a large bowl, whisk together: cornmeal, flour, baking powder and salt.
In a smaller bowl, whisk together: honey, egg, melted butter and milk.
Make a well in the middle of the dry ingredients and pour the wet ingredients into it. Mix together until combined.
Pour the batter into the prepared baking dish, and smooth out the top.
Bake for 15-20 minutes, or until the top is a light golden brown, and a toothpick inserted in the center comes out clean.
Enjoy! We love it nice and warm out of the oven with a little more honey or maple syrup on top!
Recommended Products
As an Amazon Associate and member of other affiliate programs, I earn from qualifying purchases.
Nutrition Information:
Yield:
15
Serving Size:
1
Amount Per Serving:
Calories:

117
Total Fat:

2g
Saturated Fat:

1g
Trans Fat:

0g
Unsaturated Fat:

1g
Cholesterol:

16mg
Sodium:

152mg
Carbohydrates:

23g
Fiber:

1g
Sugar:

9g
Protein:

3g
Nutrition isn't guaranteed accurate,