Turkey Oscar
As an Amazon Associate and member of other affiliate programs, I earn from qualifying purchases.
Beautiful and delicious, Turkey Oscar! Leftover turkey never tasted so good, or looked quite so fancy! Leftover turkey becomes a simple and yet elegant looking meal when served "Oscar Style," with asparagus, buttery shrimp, crabmeat and Hollandaise sauce.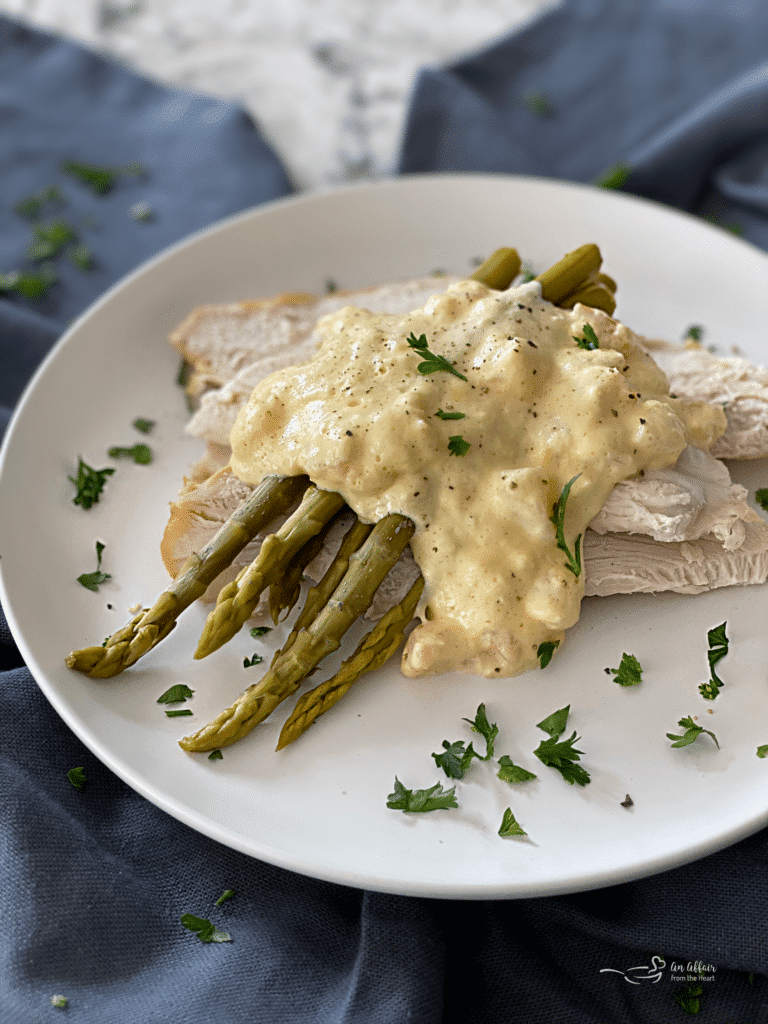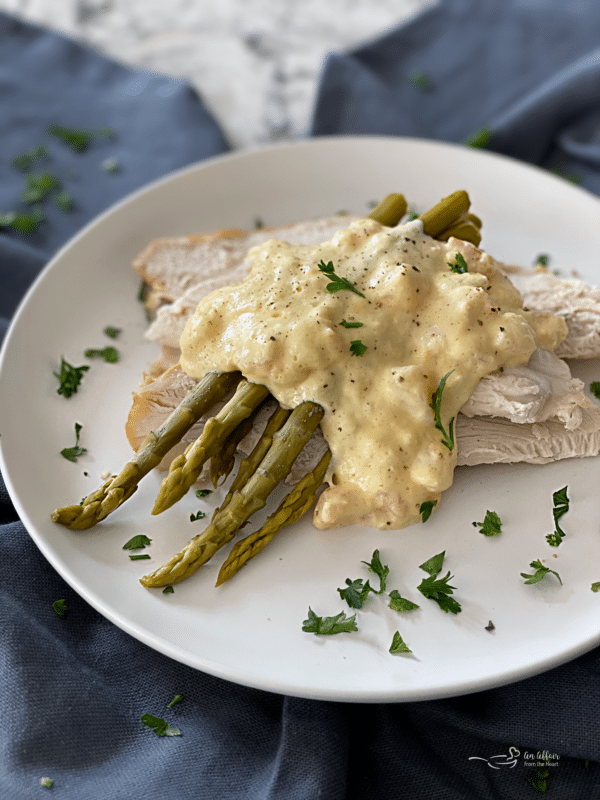 One of my favorite things about the holidays is the leftovers! I mean there are so many things you can recreate with them! This Turkey Oscar recipe takes leftover turkey and turns it into a beautiful meal that is so simple to make, you won't believe me until you look at the recipe. Leftover turkey, homemade Hollandaise sauce, shrimp, crabmeat and asparagus. Light a couple of candles and pretend like you are at a snazzy restaurant.
This post is sponsored by Ely Farms, but my love of their products and my opinions are all my own.
SOME OF THE ITEMS BELOW CONTAIN AFFILIATE LINKS; I AM A PARTICIPANT IN THE AMAZON SERVICES LLC ASSOCIATES PROGRAM, AN AFFILIATE ADVERTISING PROGRAM DESIGNED TO PROVIDE A MEANS FOR US TO EARN FEES BY LINKING TO AMAZON.COM AND AFFILIATED SITES. I AM ALSO AN AFFILIATE FOR OTHER BRANDS. HOWEVER, I ONLY PROMOTE THINGS THAT I LOVE AND THINK YOU WILL LOVE, TOO. FOR MY ENTIRE DISCLOSURE POLICY PLEASE

CLICK HERE

.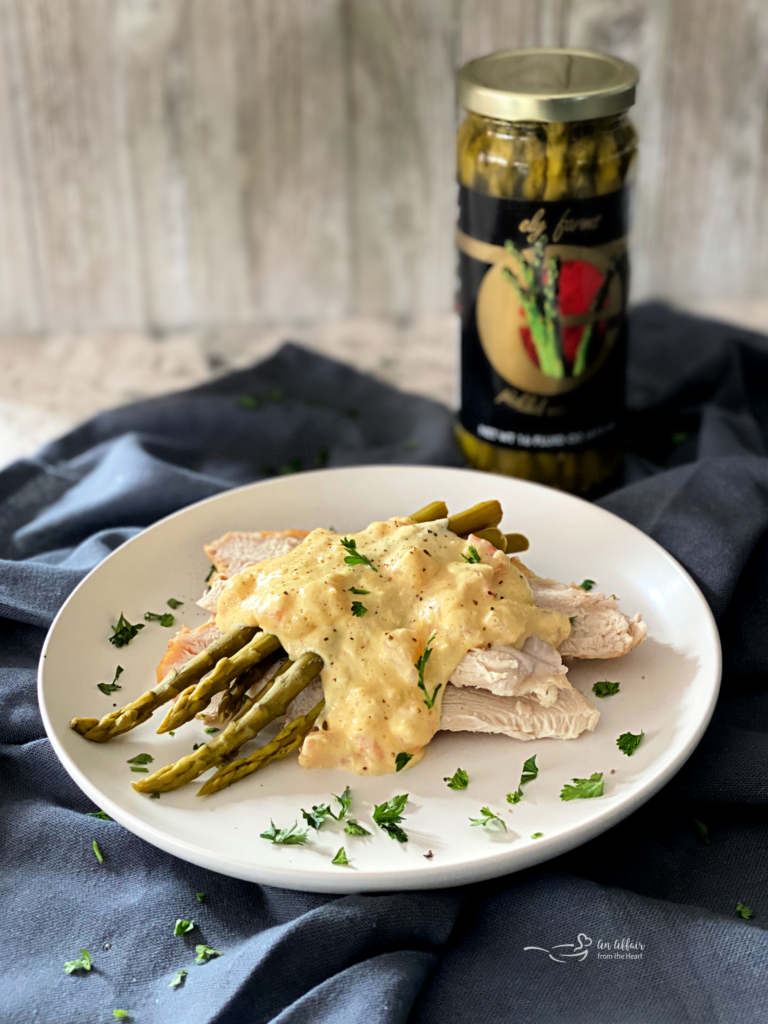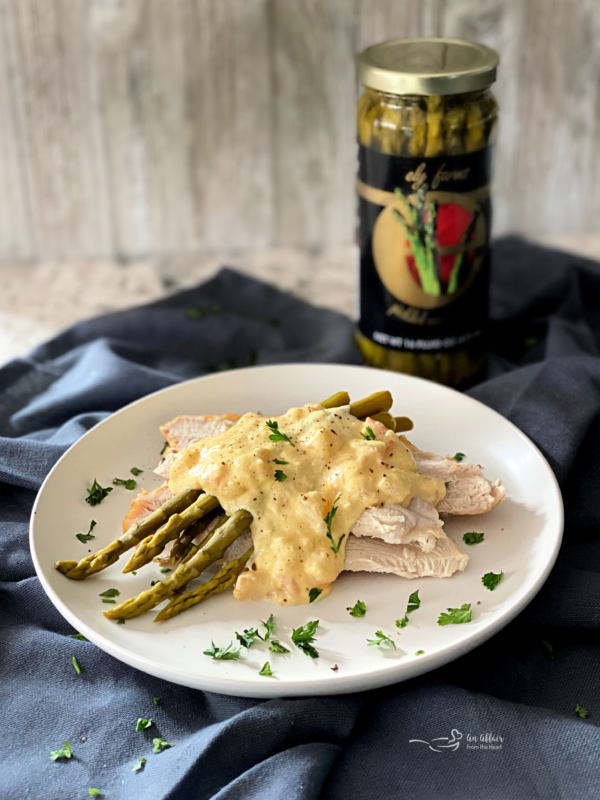 Pickled Asparagus, by Ely Farms, is made with pride in Grafton, Nebraska.
ELY FARM'S PICKLED ASPARAGUS
Ely Farms Pickled Asparagus Spears
were a national FFA entrepreneur winner. Since its beginning in 1999, Ely Farms Pickled Asparagus Spears have become a highly acclaimed specialty product in the state of Nebraska – known for its unique taste.
Ely Farm's pickled asparagus recipe has a zesty dill and garlic flavor with a red hot chili pepper kick. The texture is crisp and refreshing, with a hint of garlic and dill, along with a light spiciness, compliments of one red hot chili pepper added to each jar. It makes this pickled asparagus product flavor is just right. Perfect for garnishing a bloody Mary, or use for dressing up a relish try. Pickled Asparagus makes an excellent appetizer!
Who says holiday leftovers have to be boring?
I don't know about you, but our family gets the biggest turkey they can, because leftover turkey rocks! One year, I remember the turkey was smaller and there were barely any leftovers. It was heartbreaking! I mean no Turkey Salad Sandwiches? No Turkey Noodle Soup? Repurposing Holiday Leftovers is something I just love!
This recipe dresses that leftover turkey up. Let's just say it — it looks fancy, doesn't it? But fancy doesn't have to be difficult! In fact, I pride myself on recipes that use minimal ingredients, that you can find easily. Using a few shortcuts is smart, not lazy, and when the outcome looks like this? Nobody will care.
How Long is Leftover Turkey Good for?
One thing to keep in mind, is that when you ask yourself "what to do with leftover turkey?" Know that you can't lollygag. Leftover turkey keeps in the fridge for about 3-4 days and in the freezer for about 2-3 months. So that's why it's good to have some leftover turkey recipes in your back pocket – so you can use it while it's still good!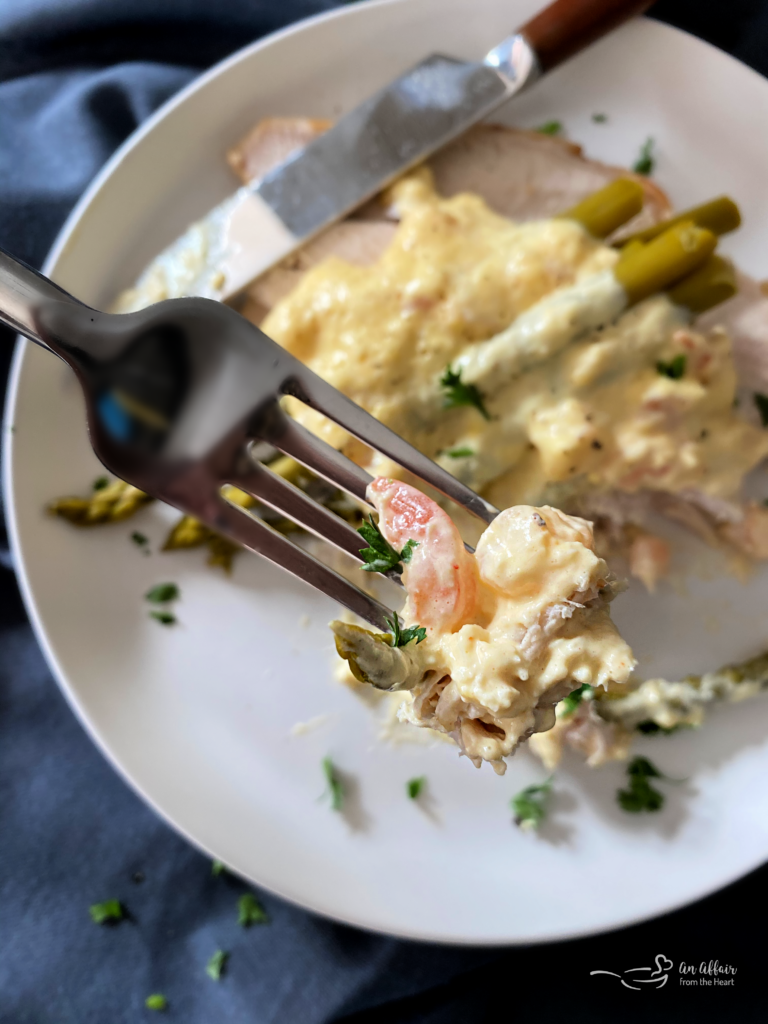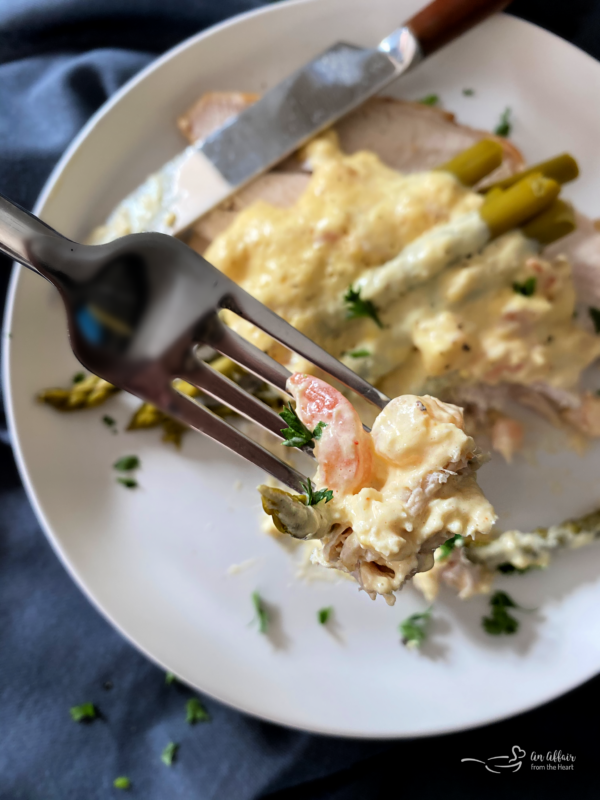 Turkey a la Oscar
What is Oscar Style? I fell in love with it at a local steakhouse in Omaha, way back in high school when I was there for dinner before a school dance. My date ordered Filet Oscar and I was like "what's that?" It sounded so good, I ordered it, too, and I have ordered that same thing off the menu every time I have eaten there for the last (cough*cough) let's just say for a whole lotta years and leave it at that.
When you serve a meat or seafood dish with an Oscar-style sauce, it's topped with asparagus, crabmeat, Hollandaise sauce and sometimes shrimp. It's delightfully rich and has a gorgeous presentation. So I thought to myself if you can serve steak, chicken, and salmon a la Oscar, why not turkey?
Leftover Turkey or Turkey Cutlets with Oscar Sauce
Of course, the turkey doesn't have to be leftover to enjoy this recipe, you can eat it whenever you like. If you don't have any leftover turkey lying around, you can always cook a couple of turkey cutlets and serve them Oscar style. Just remember that you need to reach an internal temperature of 165 degrees F for the turkey to be done. But take care not to overcook it, you don't want it to become dry.
How to make Hollandaise Sauce from Scratch
You could, of course, use the packet Hollandaise sauce to make this recipe super simple, but making it homemade isn't hard at all. In fact, if you have a blender and a saucepan, you're good to go.
The most important part of making homemade Hollandaise sauce is making sure that the eggs are cooked completely to make sure that the sauce is food safe.
Ingredients in Hollandaise Sauce: egg yolks, lemon juice, butter, salt, cracked black and cayenne pepper.


You will mix the lemon juice, cayenne pepper and egg yolks in the blender while the butter melts on the stove. Then you will slowly pour the heated butter into the blender, mixing at the same time, this will cook the heat yolks.
Are Hollandaise and Béarnaise Sauce the Same?
These two traditional French sauces have some similarities, both are light yellow in color and are made by emulsifying egg yolks and butter with some sort of acidity. The Hollandaise sauce uses lemon juice, the Béarnaise sauce uses white wine and vinegar or white wine vinegar.
The Béarnaise also contains shallots and chervil, or French parsley, which gives it more of an herby flavor.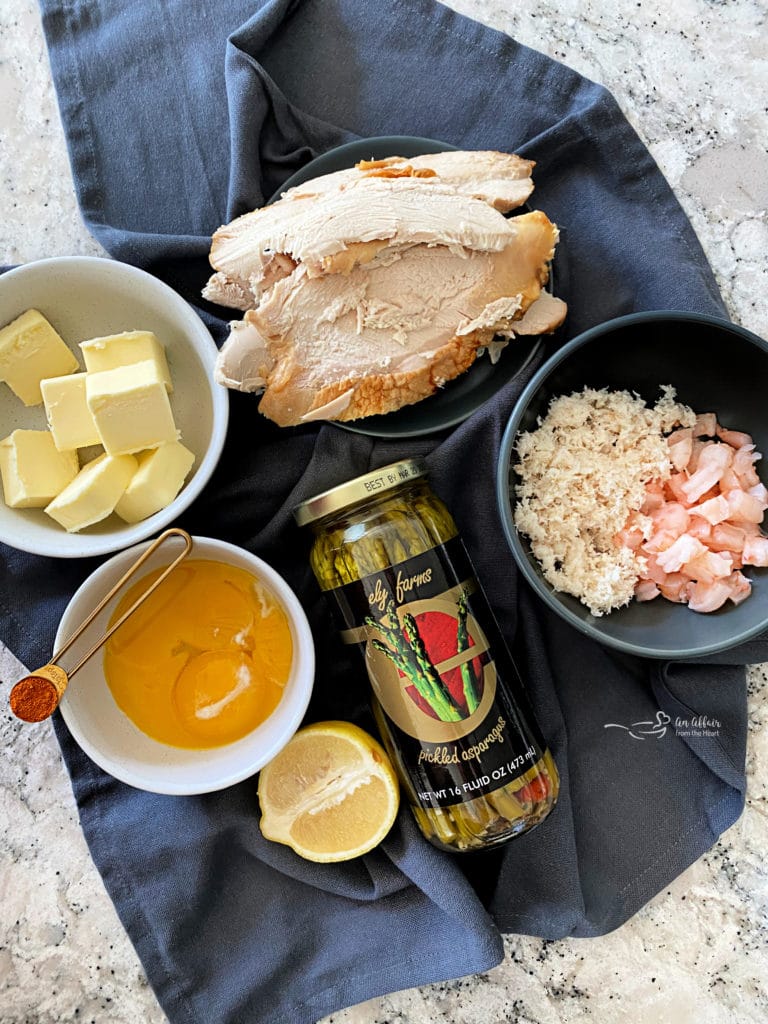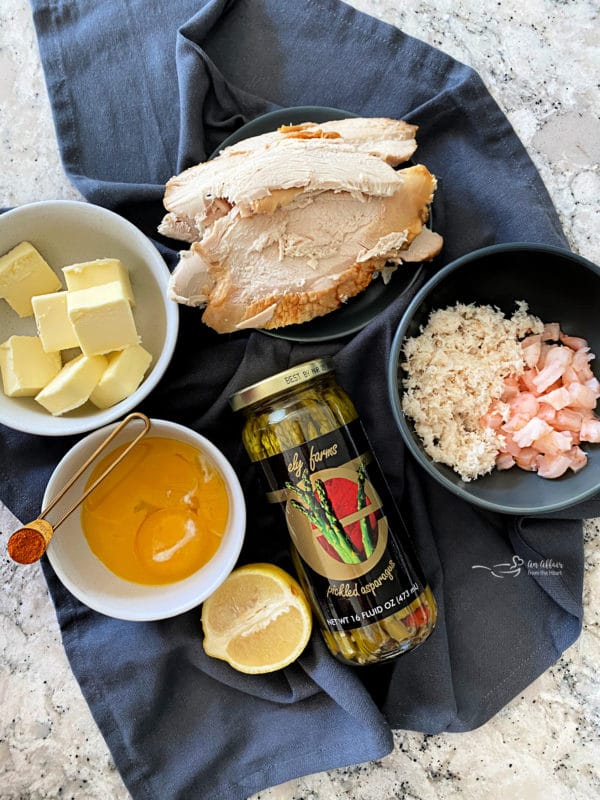 Ingredients in Turkey Oscar
To make our Turkey a la Oscar, you'll need butter, cayenne pepper, egg yolks, and lemon juice along with some salt and pepper to prepare your Hollandaise sauce.
I used canned crab meat and chopped up some cooked shrimp I purchased at the seafood counter. Leftover sliced turkey breast and a jar of Ely Farm's Pickled Asparagus.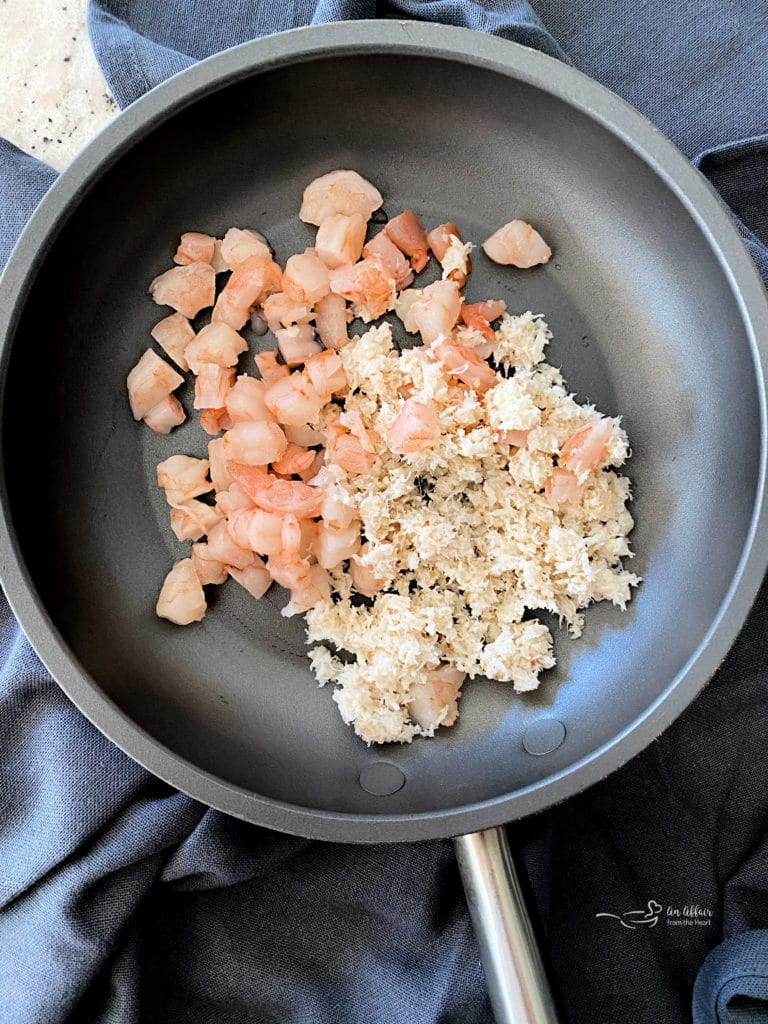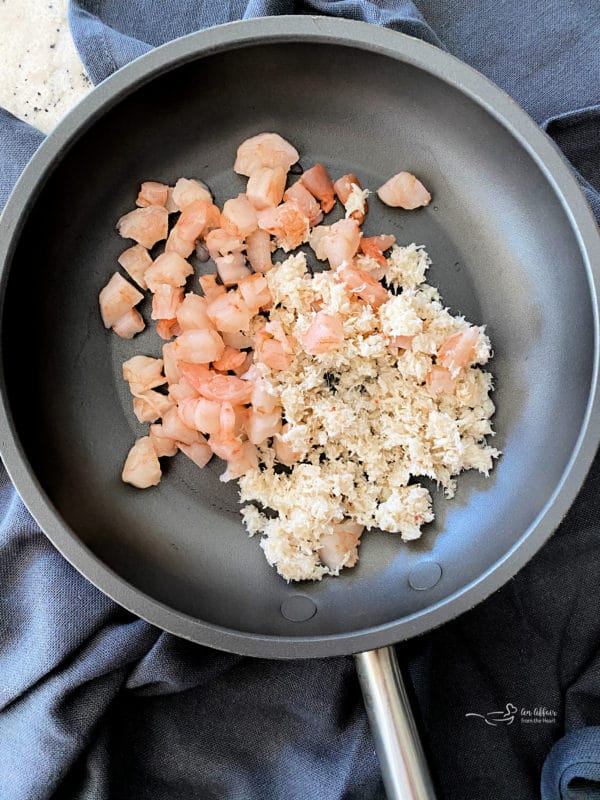 After you have prepared your Hollandaise sauce, you will warm the shrimp and crabmeat on the stove in a small skillet. Pour the sauce into the skillet and stir it all together.
In many cases, the shrimp and crab will be added and the sauce poured over the top, but I thought that warming it all together gave it a chance to heat those eggs up a little more. Call me over-cautious, I am okay with that!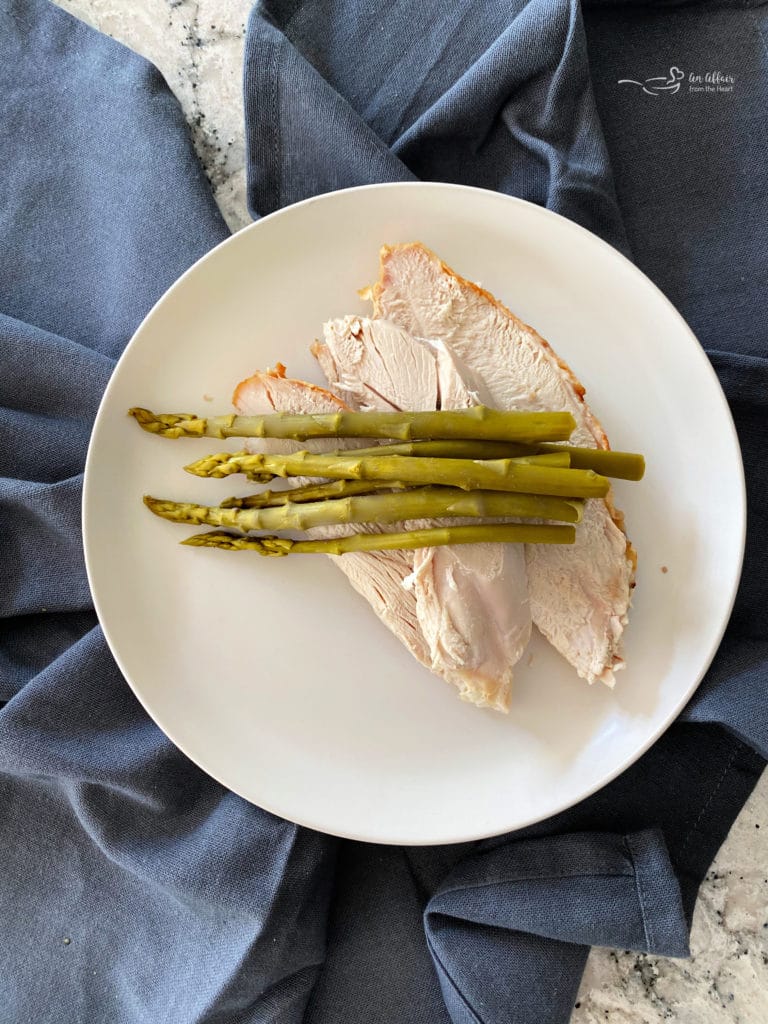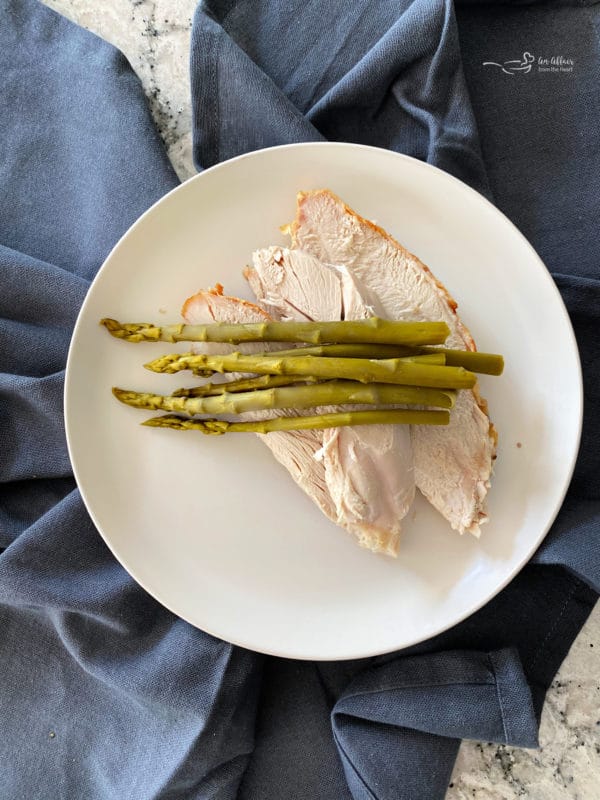 Plate the warmed turkey breast slices, and top with about 6 spears of Ely Farm's Pickled Asparagus.
I did drain and rinse the asparagus a bit, but that pickled flavor really complimented the Hollandaise.
Spoon the sauce over the asparagus, and give it a little sprinkle of fresh ground pepper.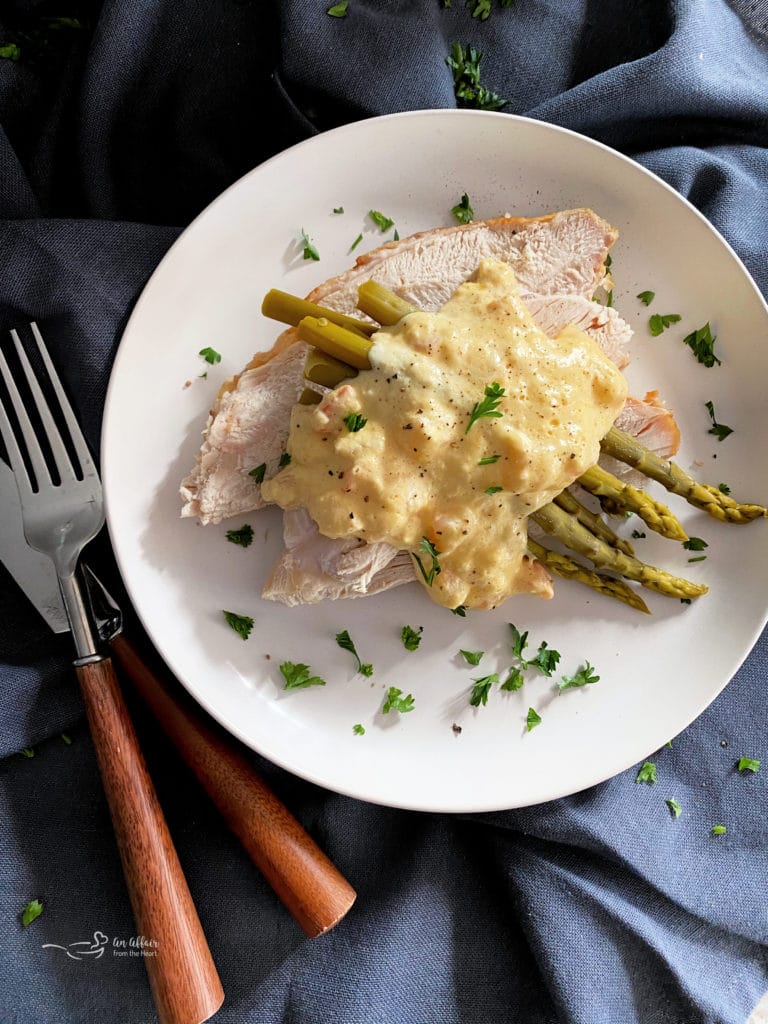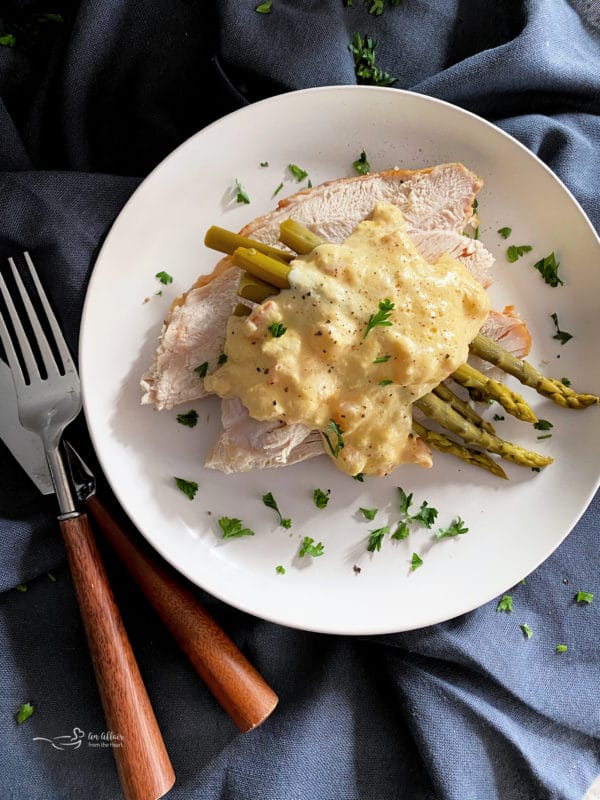 It's such a pretty meal, isn't it?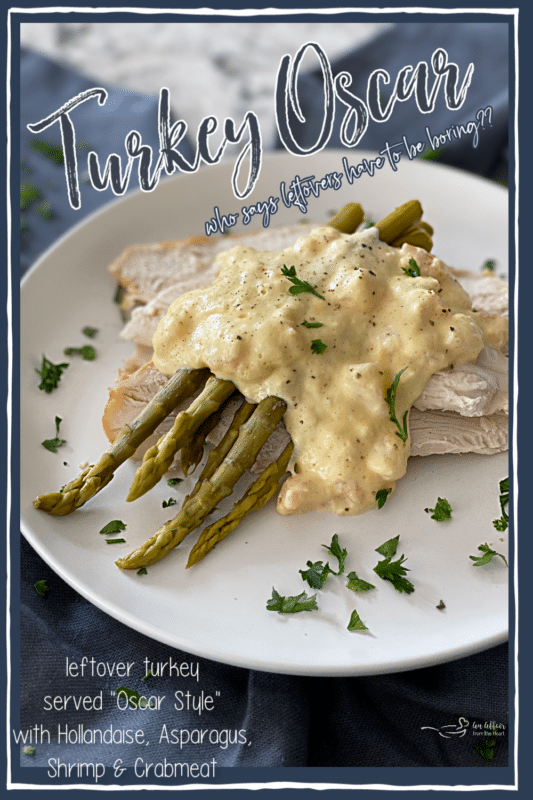 Love it? Pin it!!
If you're excited to try this recipe, make sure you can find it! Pin it to your favorite Pinterest recipe board before you go!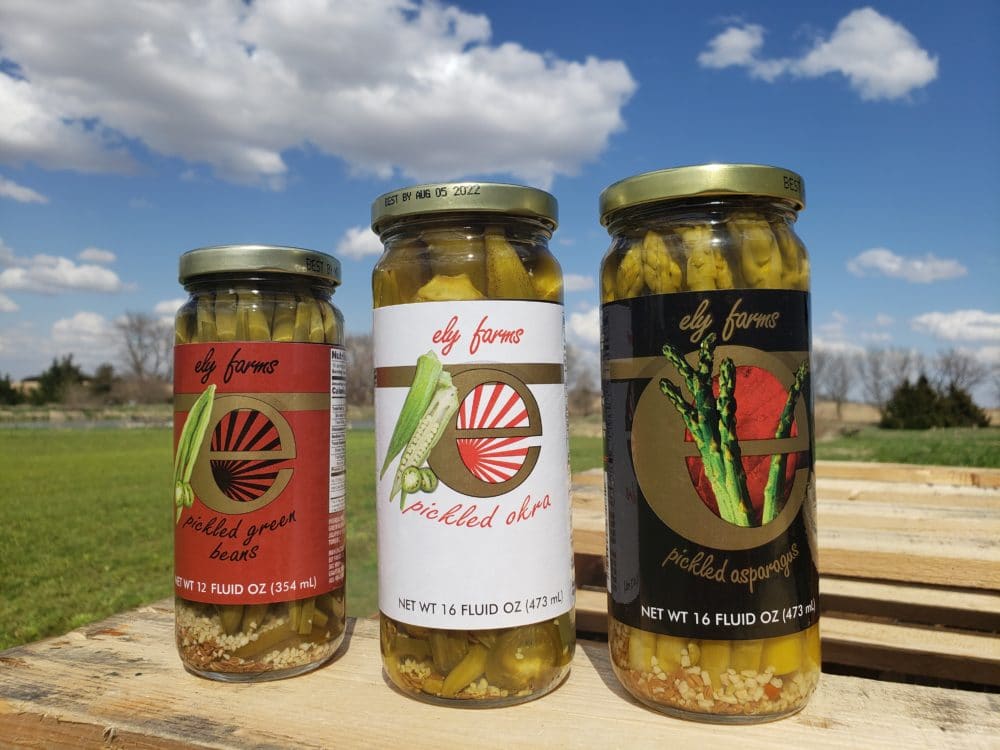 Ely Farms Products
I have had the pleasure of creating recipes using Ely Farms products for a year now. Neal Ely is amazing to work with. Such an incredibly down to earth driven guy.
I love his story! It all started in 1998 when Neal gathered his family around their kitchen table in Grafton. The task at hand was for Neal to decide what his project would be that year for FFA. For those of you who aren't sure what FFA stands for, it's the Future Farmers of America.
The idea hit them, Asparagus! They could grow it, and his mom, Tami, already has an amazing family recipe for pickling the family's favorite vegetable. As I mentioned the pickled asparagus became a national FFA entrepreneur winner. Over the years, a couple of new products were incorporated, Ely Farms Pickled Green Beans and Ely Farms Pickled Okra.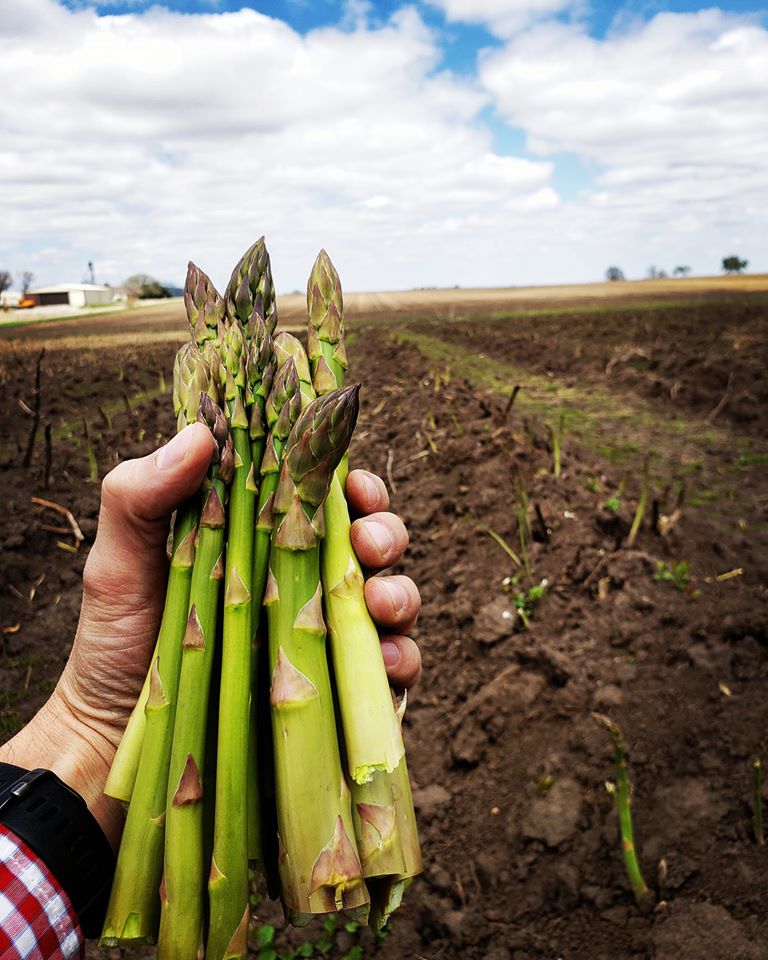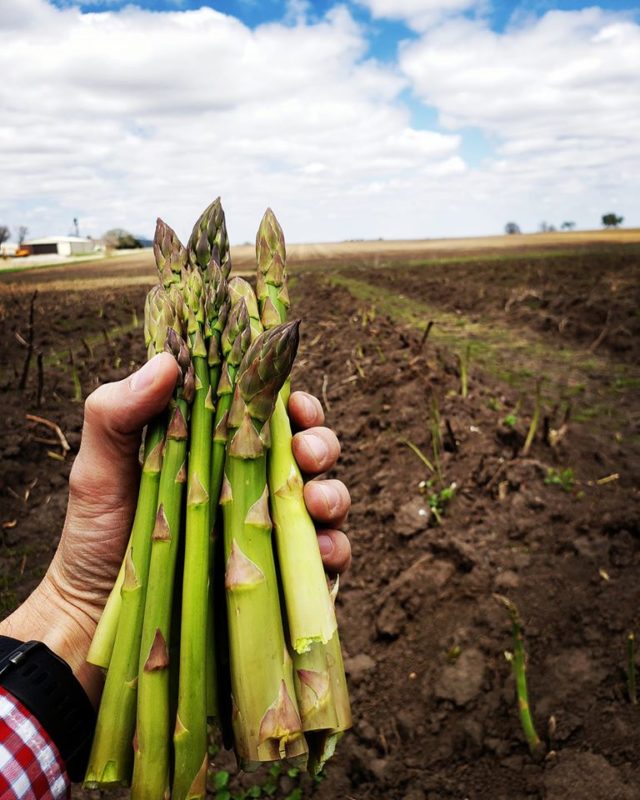 How can I get my hands on Ely Farms Products?
Originally sales began in their hometown of Sutton, Nebraska, but over time, the demand for their Pickled Asparagus product spread into surrounding areas. Now, you can find Ely Farms Pickled Asparagus Spears in grocery and specialty stores across Nebraska, Iowa, Kansas, and Colorado.
Of course, if you aren't able to purchases at any of these places, you can also purchase it online on their website, as well as through Buy Nebraska.
Make sure you follow along with Ely Farms on their website, Facebook, Instagram and YouTube, for more recipes, and products, like their Pickled Okra and their newest product, Pickled Green Beans!
WIN A WHOLE CASE of Ely Farms Products!!
Starting today, October 26, 2020 through November 2nd, 2020 you can enter to win a WHOLE CASE of Ely Farm's products! Enter below:
Other Ely Farms Recipes from An Affair from the Heart
I have had so much fun creating recipes with Ely Farm's products! Check out some of that deliciousness:
Bacon & Cheese Phyllo Wrapped Pickled Asparagus is a delicious hot appetizer that has a beautiful presentation. Phyllo dough sprinkled with bacon, parmesan, and romano cheese and wrapped around perfectly spiced, pickled asparagus.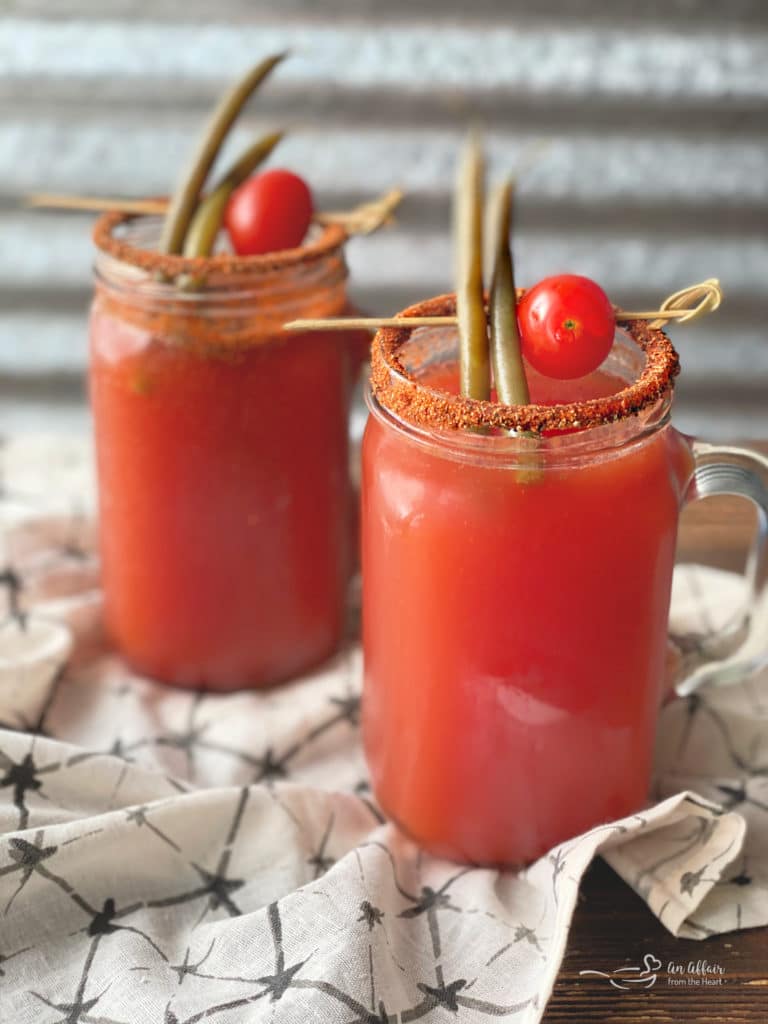 Here in Nebraska, and many places in the Midwest, the Red Beer is a common beverage. No need to order them any special way, unless you like them spicy, in which case you're sure to love this Kicked Up Red Beer, made with a homemade Bloody Mary Dry Spice. Made even more perfect, garnished with spicy pickled green beans!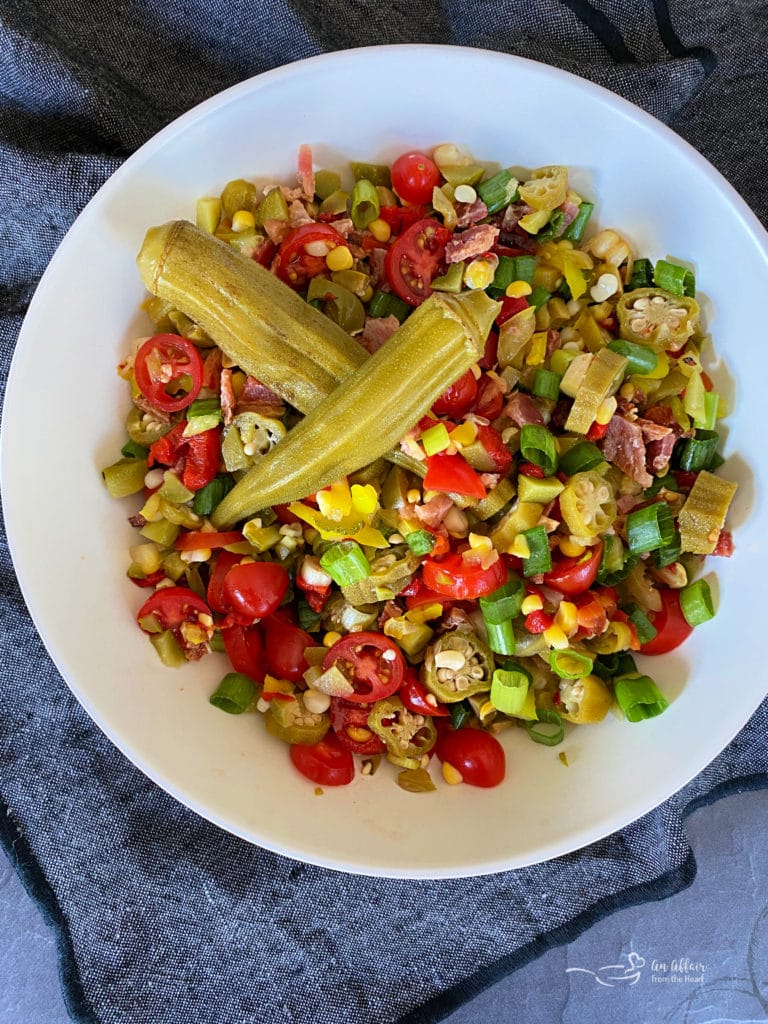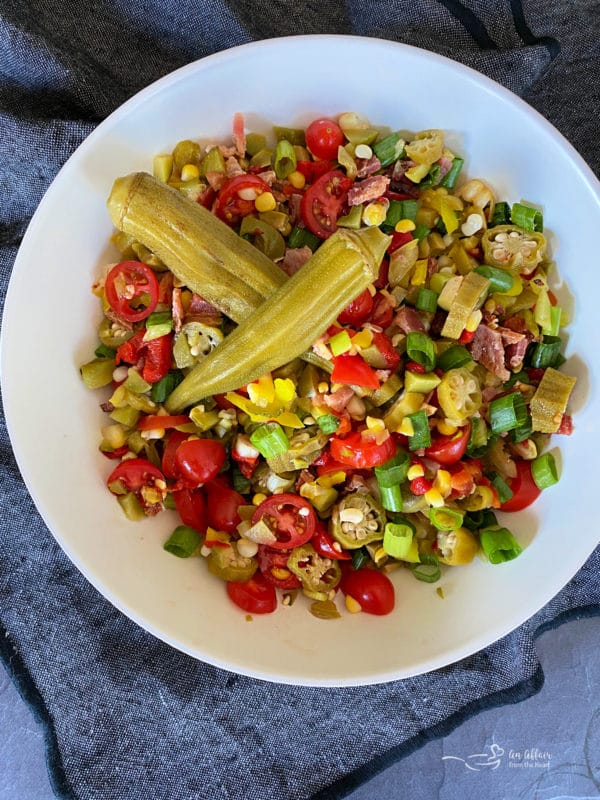 If you are looking to really jazz up your burger or your bratwurst, I have just the thing! This Pickled Okra Relish is a little bit spicy, a little bit tangy, and packed with flavors of fresh tomatoes, corn, onion and smoky bacon.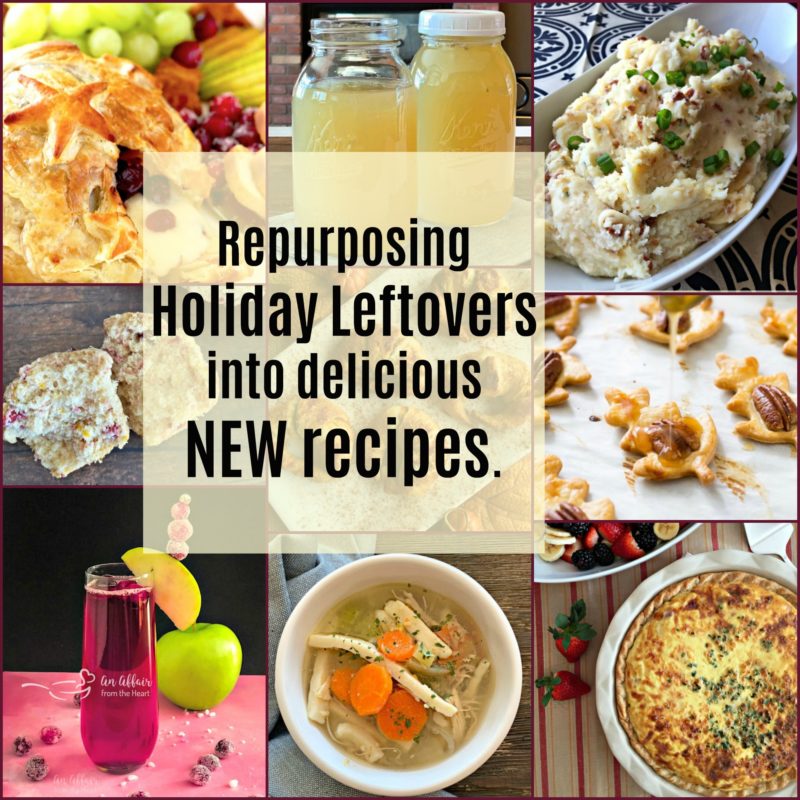 Wishing you and yours a delightful holiday season, full of good health, close family, good food, and brilliantly Repurposed Leftovers!
Remember – If you don't have leftover turkey, you can easily make this Turkey Oscar recipe with turkey tenderloins or chicken. Just remember to cook them to the proper internal temperature. You can also use this topping over steaks and fish.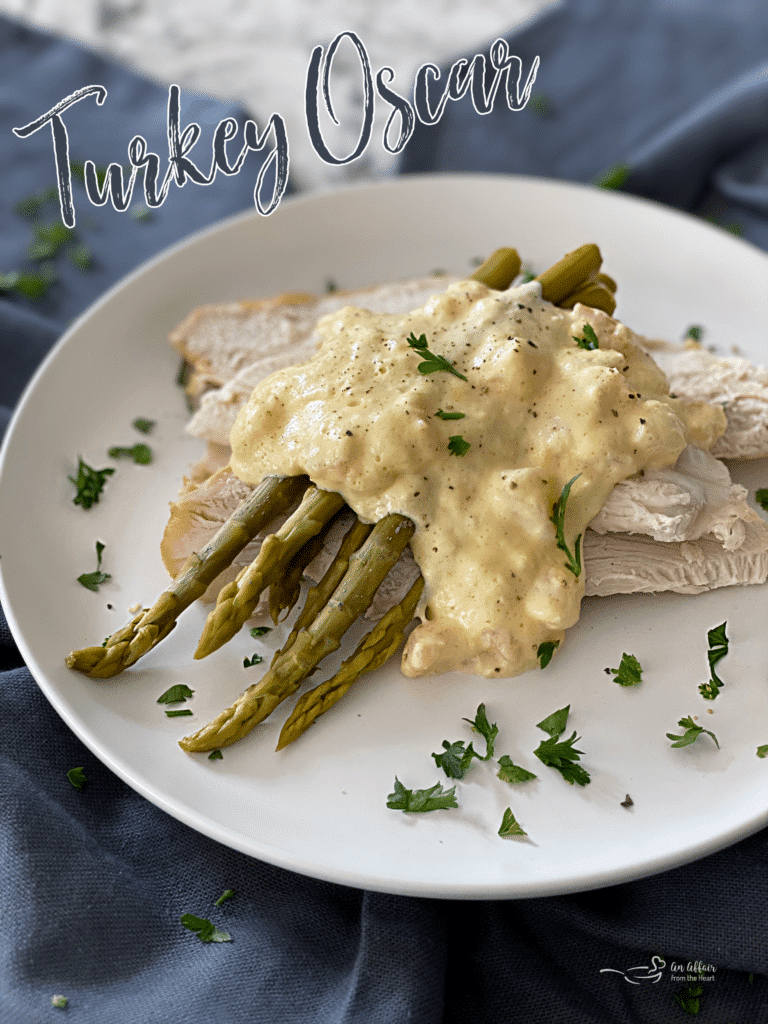 Time for the recipe for the Turkey Oscar!

Yield: 4 servings
Turkey Oscar Style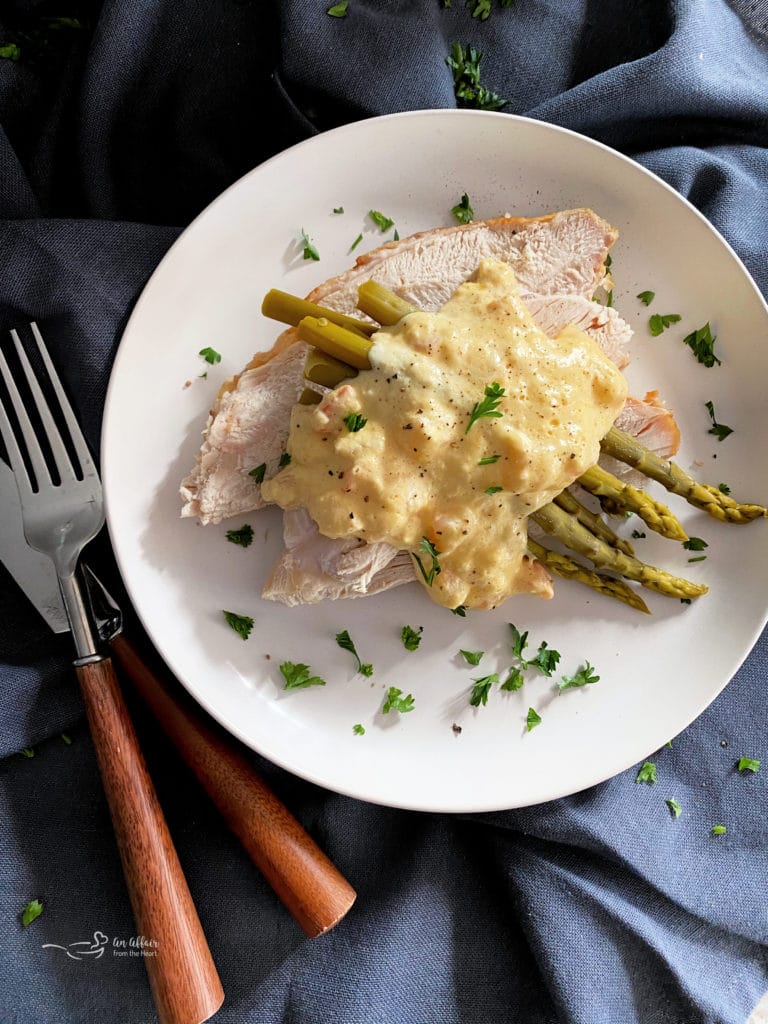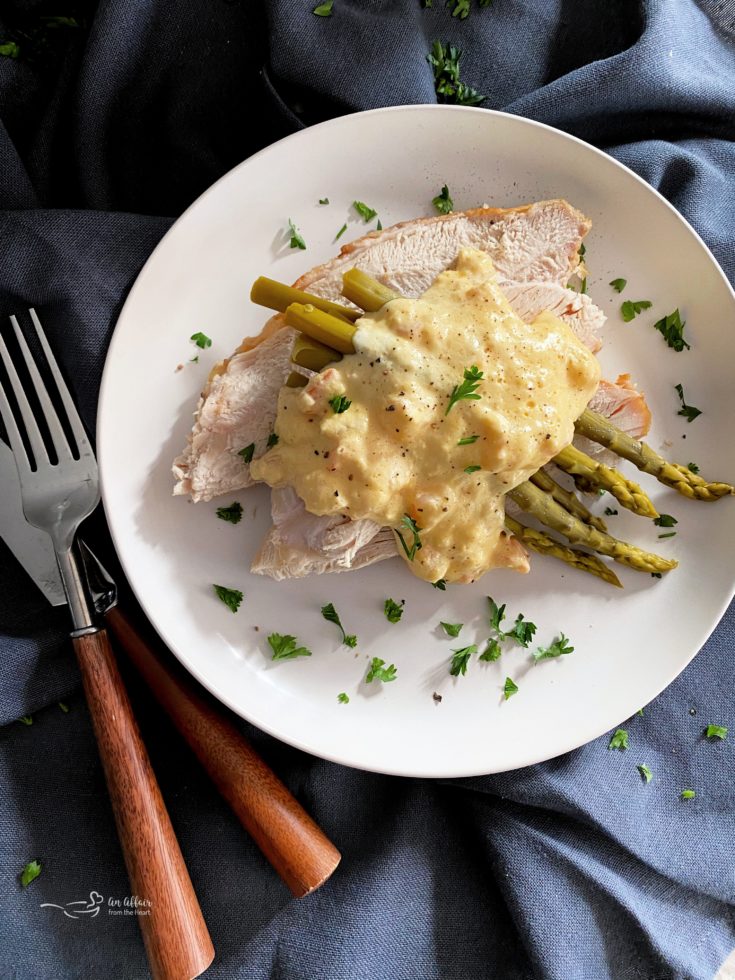 Leftover turkey never tasted so good, or looked quite so fancy! Leftover turkey becomes a simple and yet elegant looking meal when served "Oscar Style," with asparagus, buttery shrimp, crabmeat and Hollandaise sauce.
Ingredients
3/4 pound leftover turkey, warmed
1/3 cup cooked shrimp, chopped
1/3 cup canned crabmeat, drained
1 (16 ounce) jar Ely Farm's pickled asparagus, drained and rinsed
3 egg yolks
1 1/2 Tablespoons fresh lemon juice
1/4 teaspoon cayenne pepper
1/2 cup (1 stick) butter
salt
freshly cracked pepper
Instructions
In a small saucepan melt butter. Don't let it brown, you just want it melted.
Place egg yolks, lemon juice and cayenne pepper in a blender and blend for about 30 seconds.
in a small pan, add crabmeat and shrimp and turn it on low.
Take the melted butter and gradually add it to the egg yolk mixture while the blender runs. Blend for about a minute.
Take the sauce, and add it to the crab/shrimp mixture. Add a pinch of salt.
Place about 5 or 6 asparagus spears on top of the turkey, and spoon the Hollandaise sauce with crab and shrimp over the top.
Give a sprinkle of fresh cracked pepper before serving.
Notes
If you don't have leftover turkey, you can easily make this Turkey Oscar recipe with turkey tenderloins or chicken. Just remember to cook them to the proper internal temperature. You can also use this topping over steaks and fish.
Recommended Products
As an Amazon Associate and member of other affiliate programs, I earn from qualifying purchases.
Nutrition Information:
Yield:
4
Serving Size:
1
Amount Per Serving:
Calories:

232
Total Fat:

10g
Saturated Fat:

3g
Trans Fat:

0g
Unsaturated Fat:

6g
Cholesterol:

266mg
Sodium:

396mg
Carbohydrates:

2g
Fiber:

1g
Sugar:

1g
Protein:

31g
Nutrition isn't guaranteed accurate.