Glazed Smoked Ham
As an Amazon Associate and member of other affiliate programs, I earn from qualifying purchases.
A large bone-in smoked ham will turn out beautifully on your Traeger pellet grill. My Glazed Smoked Ham recipe cooks in a little over two hours brushed with a sweet spiced glaze of honey and apple. It's scored before smoking to get all of the smoke flavors and all of that sweet glaze down inside the ham. Double Smoked ham is twice as delicious!

Easy Traeger smoked glazed ham
I smoked my ham on a Traeger pellet smoker, but of course, if you don't have a Traeger then you can use any type of pellet smoker. And if you don't have an electric pellet smoker, then you can still use a typical grill or nonelectric pellet smoker. You have to make sure the temperature is low enough, and the smoke strong enough to do the work.
Since the ham is already pre-cured and cooked, you aren't trying to necessarily cook it, but you do want to smoke it through and through. You also want the internal temperature to heat up enough so the inside is not cool while the outside is warm. In fact, since you are not really cooking the ham, you only need to reach an internal temp of 140 degrees Fahrenheit.
I guess in this sense you could say that it is "double smoked ham" or "twice-cooked".
SOME OF THE ITEMS BELOW CONTAIN AFFILIATE LINKS; I AM A PARTICIPANT IN THE AMAZON SERVICES LLC ASSOCIATES PROGRAM, AN AFFILIATE ADVERTISING PROGRAM DESIGNED TO PROVIDE A MEANS FOR US TO EARN FEES BY LINKING TO AMAZON.COM AND AFFILIATED SITES. I AM ALSO AN AFFILIATE FOR OTHER BRANDS. HOWEVER, I ONLY PROMOTE THINGS THAT I LOVE AND THINK YOU WILL LOVE, TOO. FOR MY ENTIRE DISCLOSURE POLICY PLEASE

CLICK HERE

.

Smoked Ham is not just for the holidays
Smoking a ham doesn't just have to be considered a holiday treat. Because smoked ham is so easy to prepare, and you can easily freeze slices for use whenever. So, get outside and use that pellet smoker while the weather is nice!
Slices of smoked ham make amazing sandwiches, and you can cube the meat to use in salads, egg scrambles, ham sliders, and so much more!

What kind of ham for the pellet grill smoker?
A spiral cut ham offers not just the convenience of pre-sliced ham for ease of serving. The spiral cut also helps the smoke penetrate the ham to the core. Often spiral cut hams have the shank bone still in too. This is great for adding additional flavor to the meat as it smokes as well.
You will baste with glaze a couple of times just to make sure the meat is nicely drenched in the glaze. That will help seal and restore moisture lost to the smokey heat.
The difference between smoked and cured hams
I know some people that confuse smoked hams with cured hams. Just to make matters more confusing, there are also "fresh" as well as "smoked and cured" hams. A cured ham means the ham has been soaked in a brine solution but may come either cooked or uncooked. A fresh ham refers to the type of cut which is the back top thigh of the leg.
Fresh ham is neither cured nor cooked so it must be cured and cooked first! You will be able to see on the label clearly if the ham is "ready to eat" or must be cooked first. Usually, you only get fresh ham if you ask the butcher for it. The hams you see out in the meat sections are typically cooked, cured, and possibly smoked and cured.
Typically, the spiral cut hams are already cured and cooked, but they may or may not be smoked already. If it is already smoked, then go right ahead and smoke it some more. A bit more smoke won't hurt it. Plus, you can choose what type of wood pellet to use as well.
If you do get a ham that is already smoked, then don't worry because twice smoked ham is also twice as good.
You can certainly use ham that hasn't been spiral cut too. I recommend adding some deep slices to it to help the smoke get in there.
The best wood pellets for pellet grill smoked hams
You can use any type of wood to smoke your ham, including the more bitter ones like mesquite, or of course hickory, which is similar to mesquite. All the fruit and "sweet" woods work great too. Maple, cherry, apple, all fall into that category and work well. You can also easily find those wherever you get your pellets or briquettes for the grill too.
Honey Apple Glaze for Ham
In my opinion, an apple and honey glaze make the perfect match to a perfectly smoked ham. This simple glaze recipe is sweet from the honey, brown sugar and apple juice, it has a bit of spice from the allspice that's added, as well as some zip from the Dijon mustard.
Simply place the ingredients in a saucepan and heat until the sugar is dissolved. Set it aside until you're ready to glaze the ham.
When I went to purchase a ham in June, I had a bit of a tough time finding a large bone-in or spiral cut ham. Many of the chain supermarkets said it was a holiday item. I found one, thankfully, at my local Fareway meat counter though.
I selected a spiral-cut bone-in ham, and even though it's already spiral cut, I did score it in the opposite direction, too. It'll give some nice crevices for that sweet apple glaze to sink into later.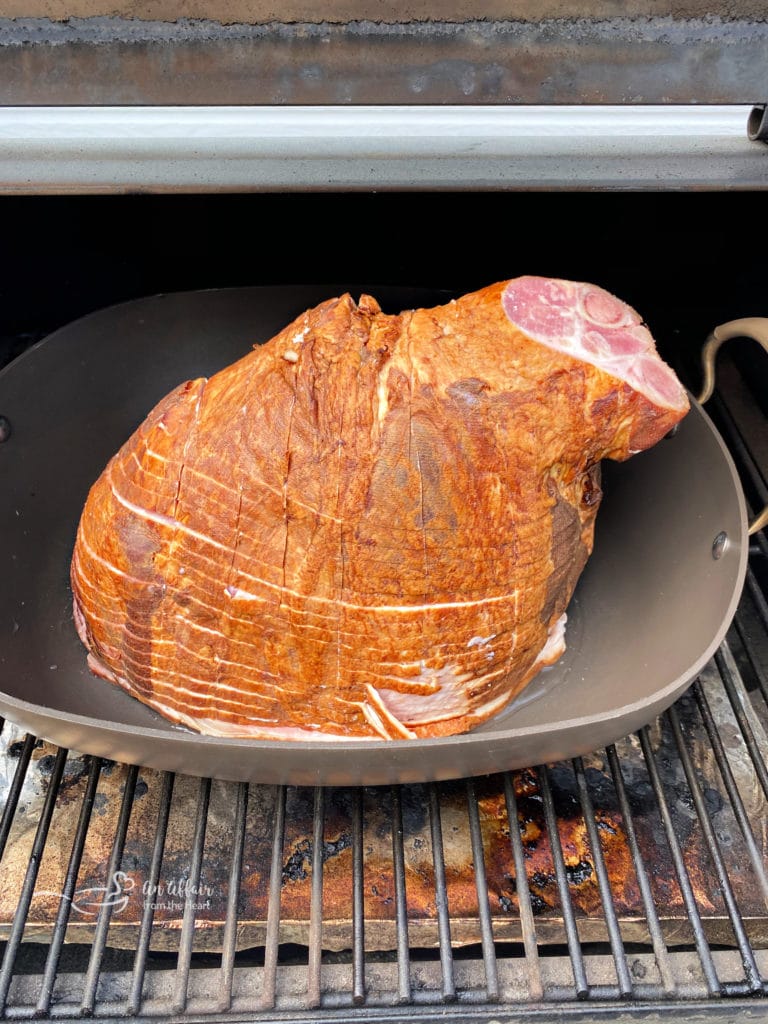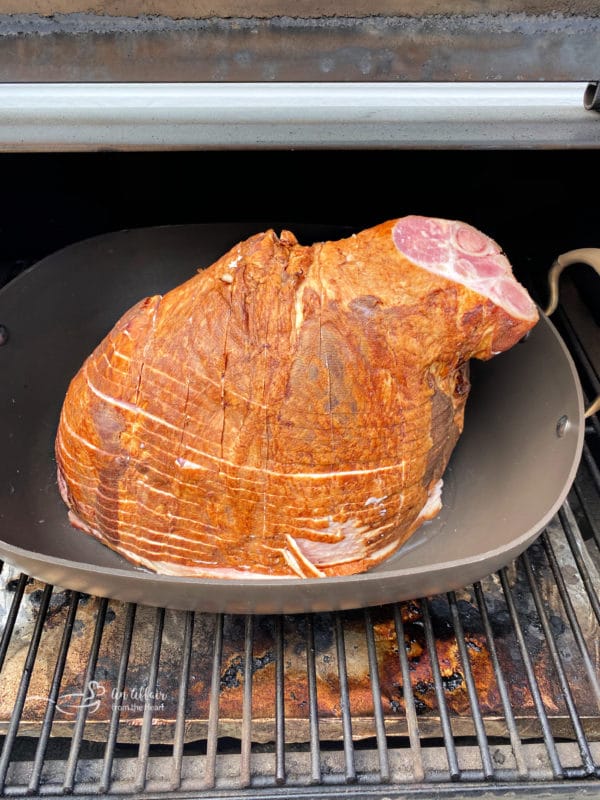 There is nothing difficult about this recipe, other than maybe waiting for it to be done! Place the scored ham on your smoker in a grill safe roaster, uncovered for one hour. No peeking!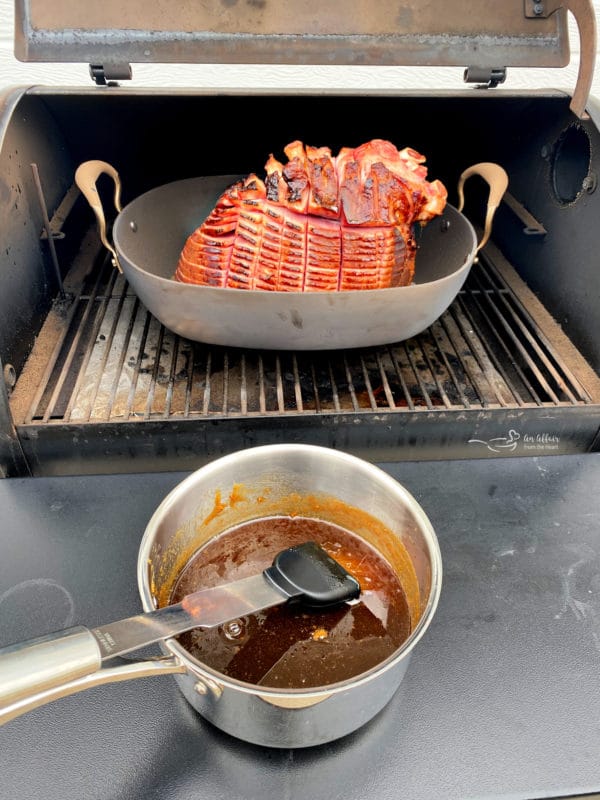 After one hour, open the lid and glaze the ham with about half of the glaze you mixed up. Close the lid for another 30 minutes.
After 30 minutes, check to see that the internal temperature of the ham is 140 degrees Farenheight. Brush with remaining glaze and turn Traeger to smoke setting for another 30 minutes.
Let the ham rest about 10 minutes before slicing and serving.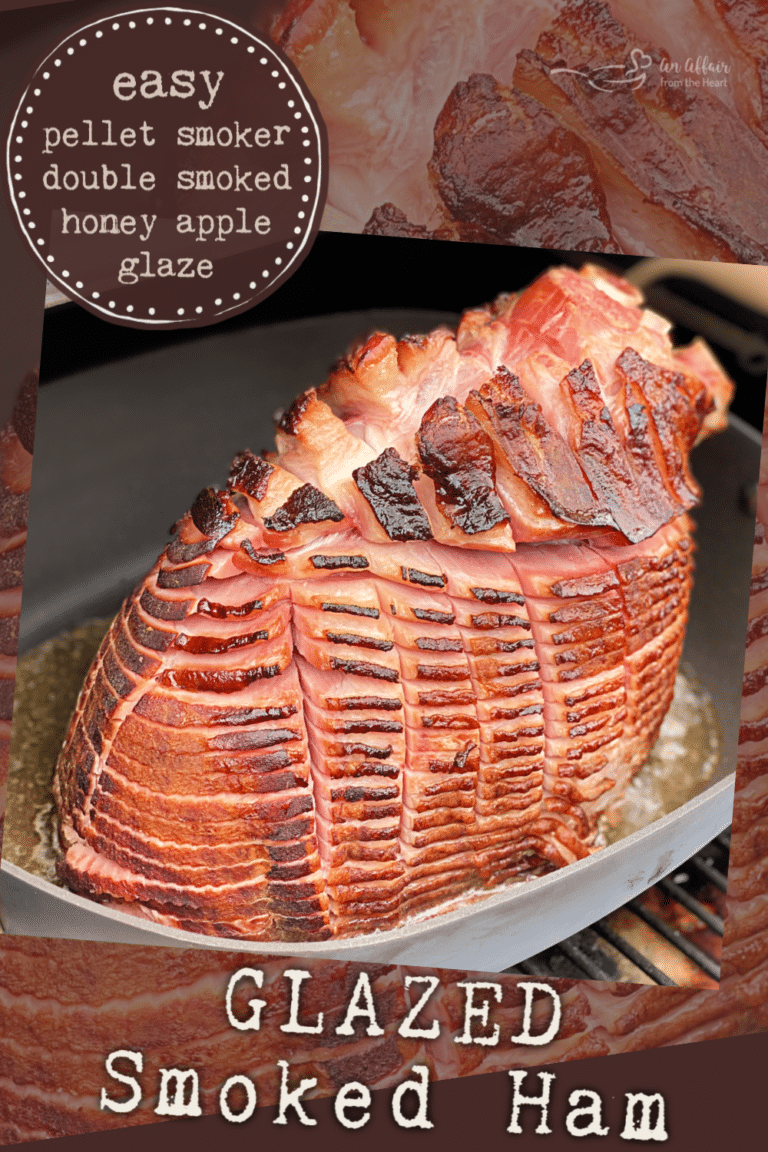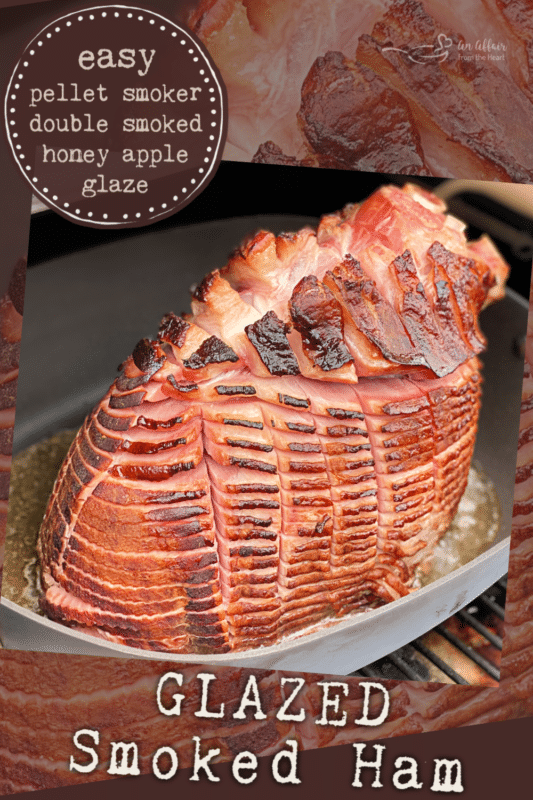 Love it? Pin it!
If you love this Glazed Smoked Ham recipe, make sure you can find it when you want to make it! Pin it to your favorite Pinterest recipe board to find it quickly.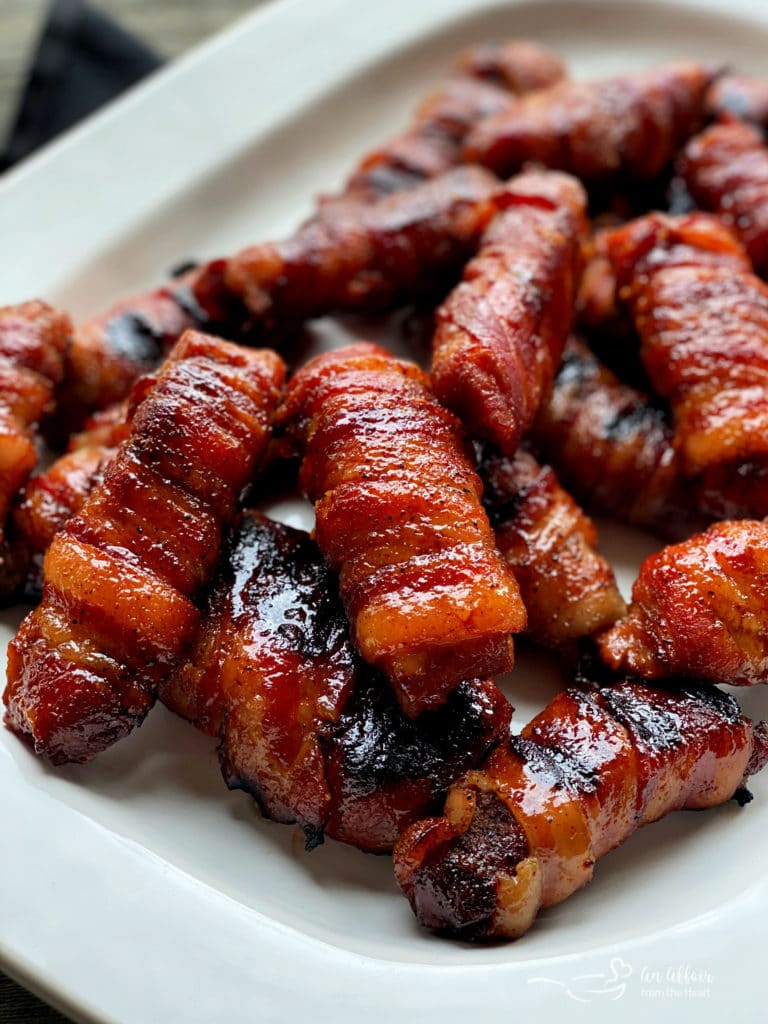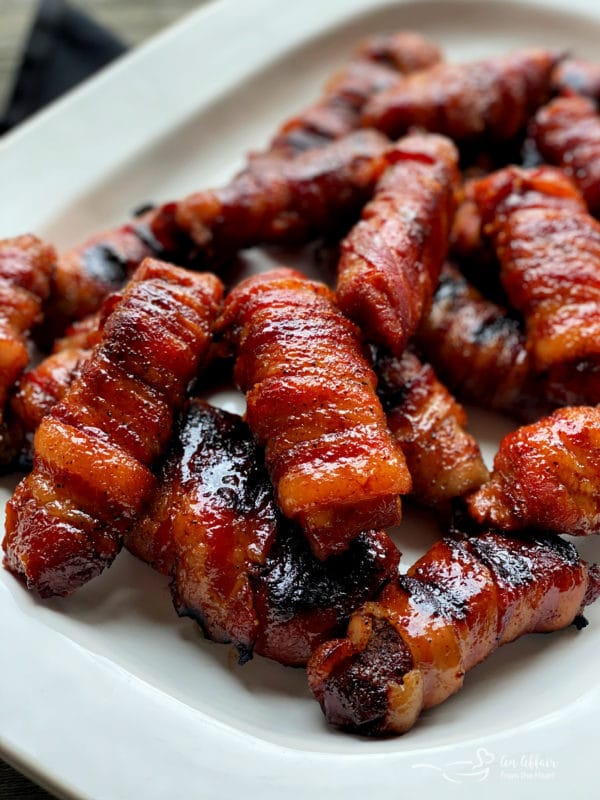 More Pellet Smoker Recipes to Love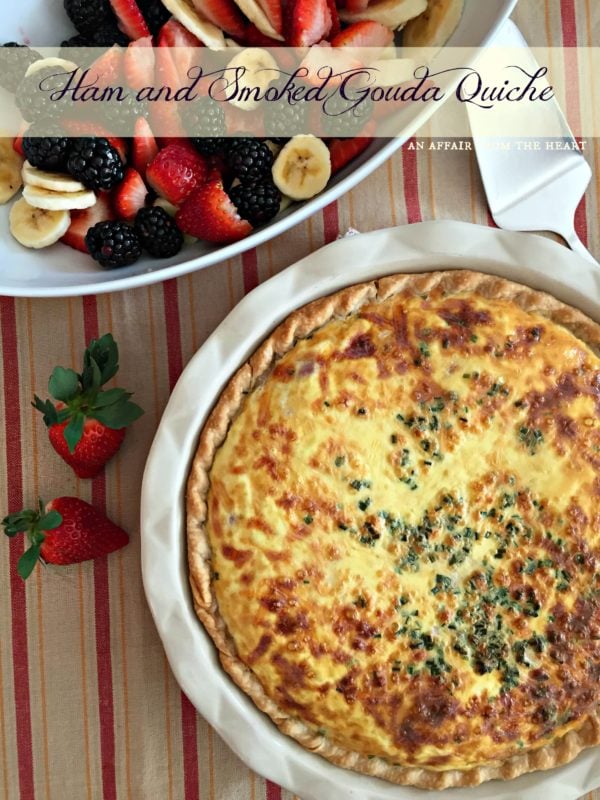 Making the most of your smoked ham leftovers
No need to worry if you have a bunch of leftover ham! It stores easily for a week in the fridge, but you can also store it for up to 6 months in the freezer too. Just make sure to double wrap it. I like to use foil and then add the foil-wrapped ham into a zipped plastic bag.
If you need some recipe suggestions, then I have some great ham recipes that work even better with a nicely smoked ham. Ham and smoked gouda quiche is a timeless classic that gets even better with smoked ham, as is this recipe for Ham & Potato Casserole with Cheese. Or, try this brunch enchilada recipe, but you don't just have to serve it for brunch!
Diced up ham works wonderfully in casseroles like this Chicken Cordon Bleu Casserole, in salads like this hearty "hoagie in a bowl" Little King Salad, or in soups like this Instant Pot Ham & Potato Soup.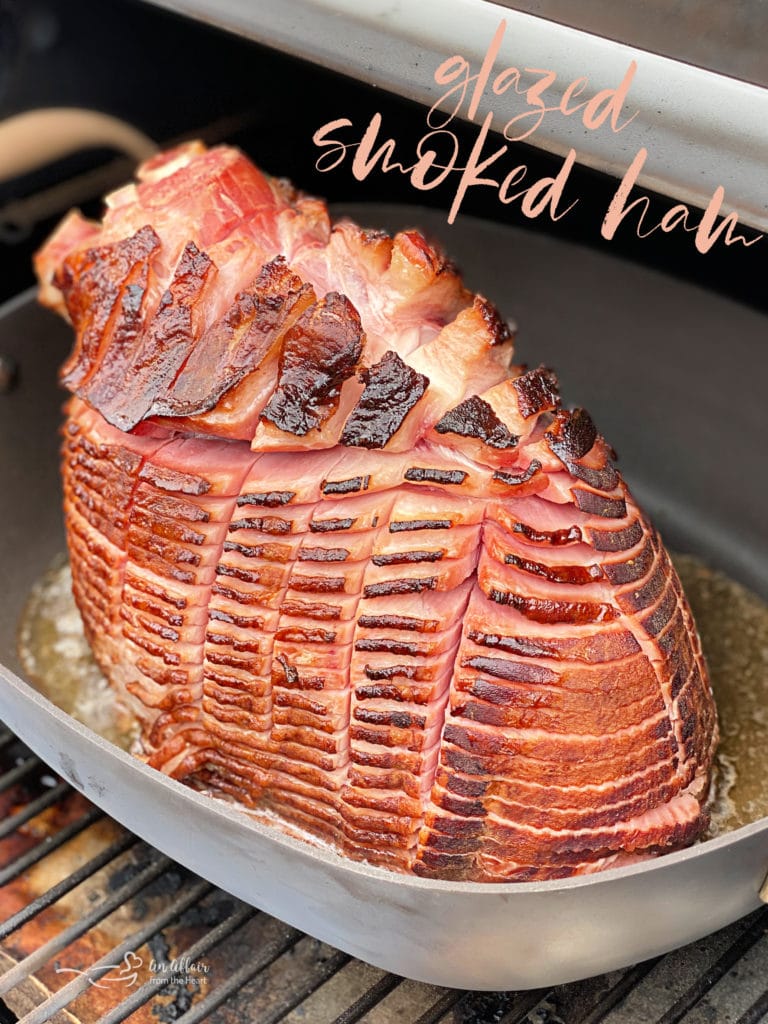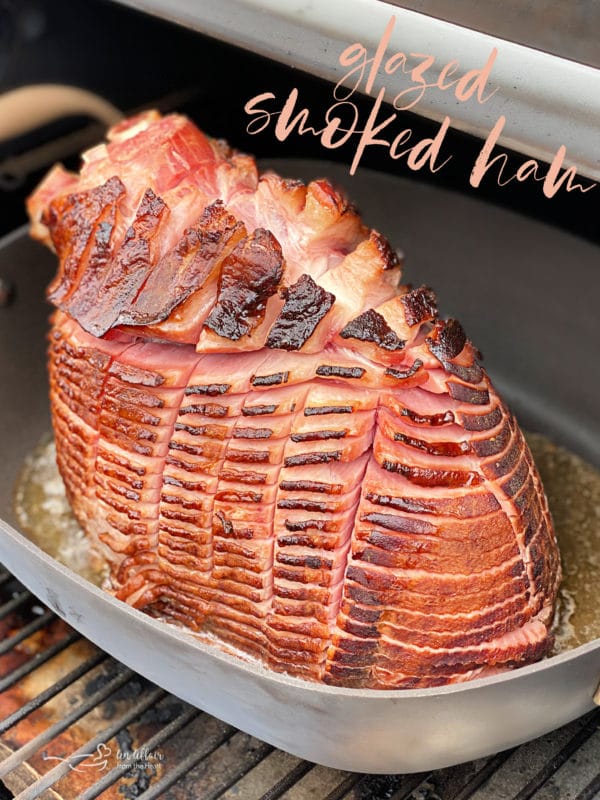 Before we can use the leftovers though, we need to make the ham! Here's the recipe for my Double Smoked Glazed Ham. Enjoy!

Yield: 9-10 pound ham
Glazed Smoked Ham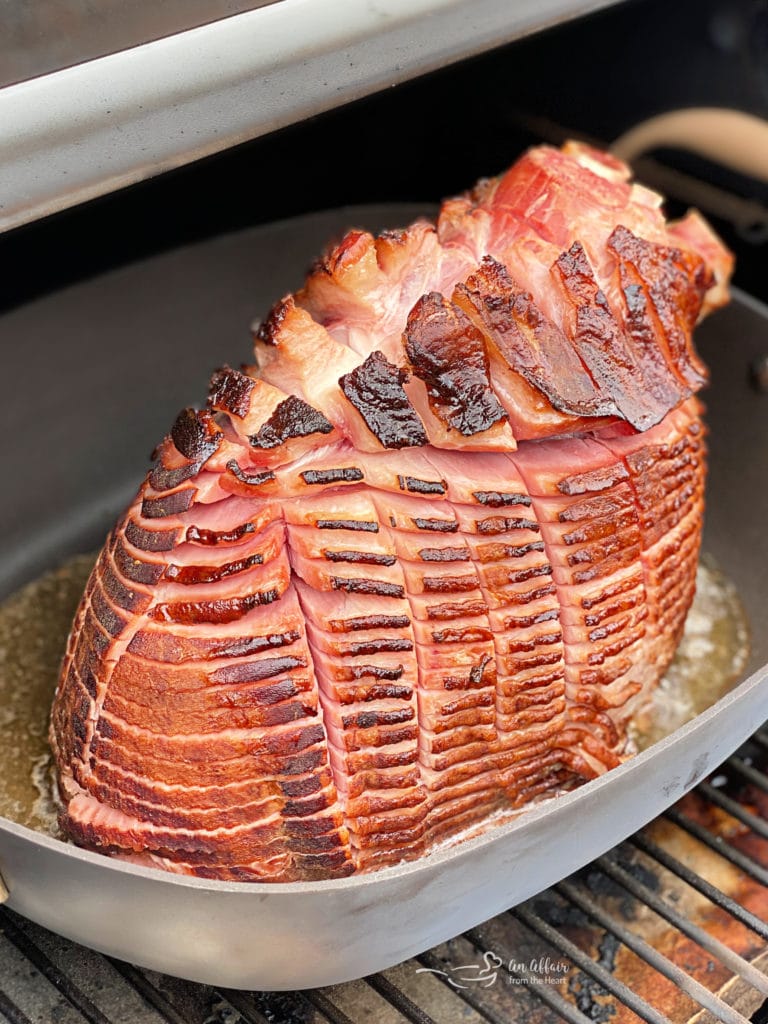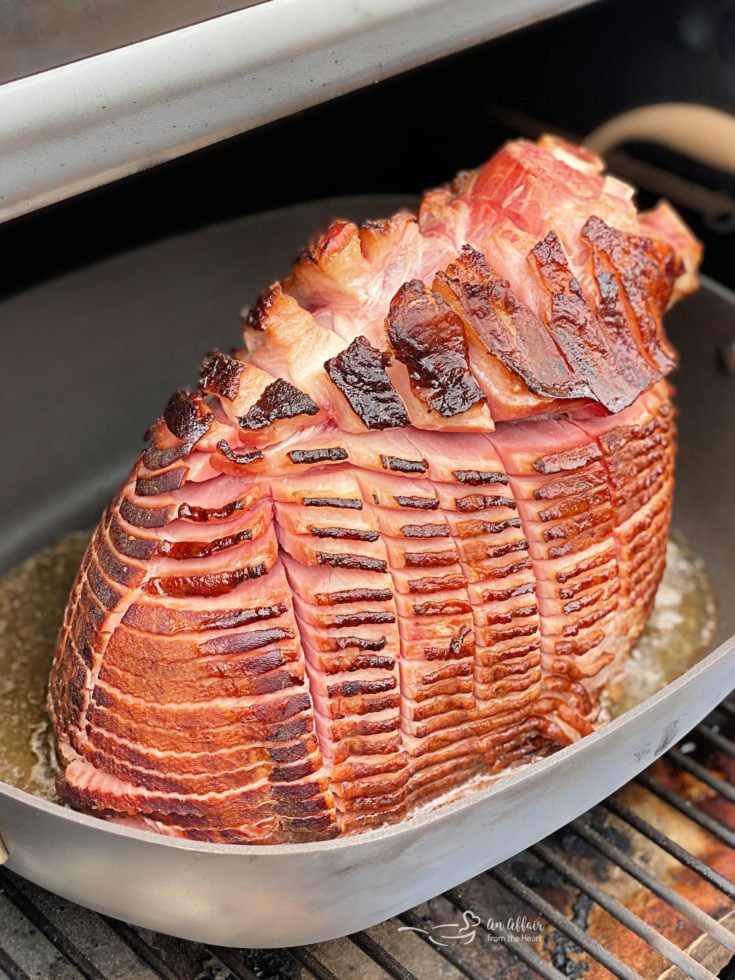 A large bone-in smoked ham will turn out beautifully on your Traeger. My Glazed Smoked Ham recipe cooks in a little over two hours, brushed with a sweet spiced glaze of honey and apple.
Additional Time
10 minutes
Total Time
2 hours
20 minutes
Ingredients
1 - large bone in ham 9-10 pounds (spiraled work too)
1 cup dark brown sugar
3 Tablespoons Dijon Mustard
3/4 cup raw honey
1 teaspoon allspice
1 cup apple juice
Instructions
Preheat your smoker to 325 degrees for 15 minutes, using hickory pellets.
Using a sharp knife score the outside of your ham in a criss-cross pattern, about 1/2" deep.
Place ham in a grill safe pan, flat side down. Place in a preheated smoker, uncovered for one hour.
Prepare your Glaze: While the ham is on the smoker, in a small saucepan combine honey, brown sugar, apple juice, mustard, and allspice. Cook over medium heat until the sugar is dissolved. Set aside.
Open the smoker lid after one hour. Glaze the ham with about half of the honey glaze. Close the lid and smoke for another 30 minutes.
Open the smoker, the internal temperature of your ham should reach 140 degrees F. If it's not there yet, close the lid for another 10 minutes and check it again. When it has reached 140 degrees, glaze ham with the remaining glaze.
Turn smoker to smoke setting and smoke the ham for 30 minutes. Remove from the smoker and let it rest for about 10 minutes before slicing.
Recommended Products
As an Amazon Associate and member of other affiliate programs, I earn from qualifying purchases.
Nutrition Information:
Yield:
20
Serving Size:
1
Amount Per Serving:
Calories:

90
Total Fat:

0g
Saturated Fat:

0g
Trans Fat:

0g
Unsaturated Fat:

0g
Cholesterol:

4mg
Sodium:

130mg
Carbohydrates:

21g
Fiber:

0g
Sugar:

21g
Protein:

2g
nutrition isn't guaranteed accurate.
recipe adapted from Or Whatever You Do