Broccoli Cheese Soup
As an Amazon Associate and member of other affiliate programs, I earn from qualifying purchases.
My kids love this broccoli cheese soup more than Panera Bread's!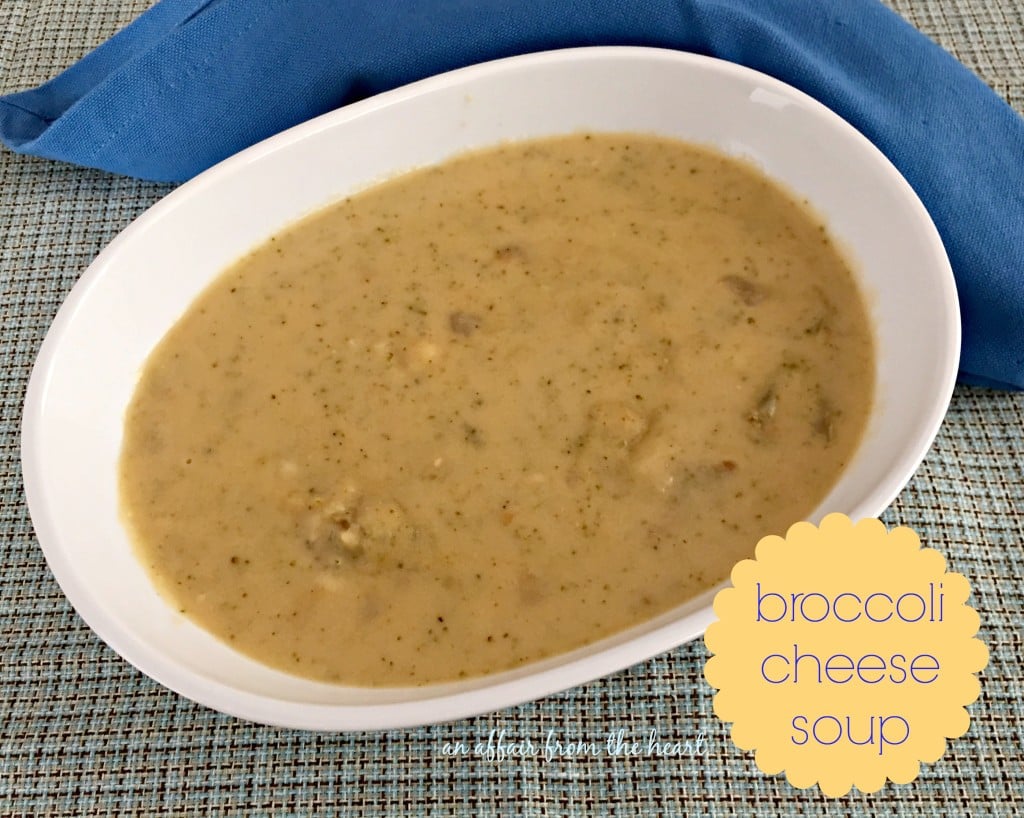 broccoli cheese soup – updated photo
My kids LOVE to go to Panera Bread.
My oldest daughter loves their broccoli cheese soup and french baguette.
She's a soup eater like her Mom.
So, one day I decided I was going to create my own recipe for it, and it was so similar, it was a hit!
My kids even say it's "BETTER than Panera's!"
This is one of the requests I always get for "soup night" on Halloween.
I always make at least two kinds, if not three, and the grandparents come over for dinner,
and I usually have extra kids here too.
It's great, because I make all of them in the morning, and line my crock pots up on the counter.
After the parties at school, we rush home to get ready again for trick or treating.
It's nice to have it all ready so that as people come and go, they can just eat when they want.
It's also quite nice on those cold trick or treat nights to come home and have another bowl and warm up!
I have mentioned before how difficult I find it to photograph soup, so I hope you just trust me when I say that this is really yummy.
It only becomes better when you have some nice crusty bread to dip in it!
broccoli cheese soup- original photo
Yield: 8 servinggs
Broccoli Cheese Soup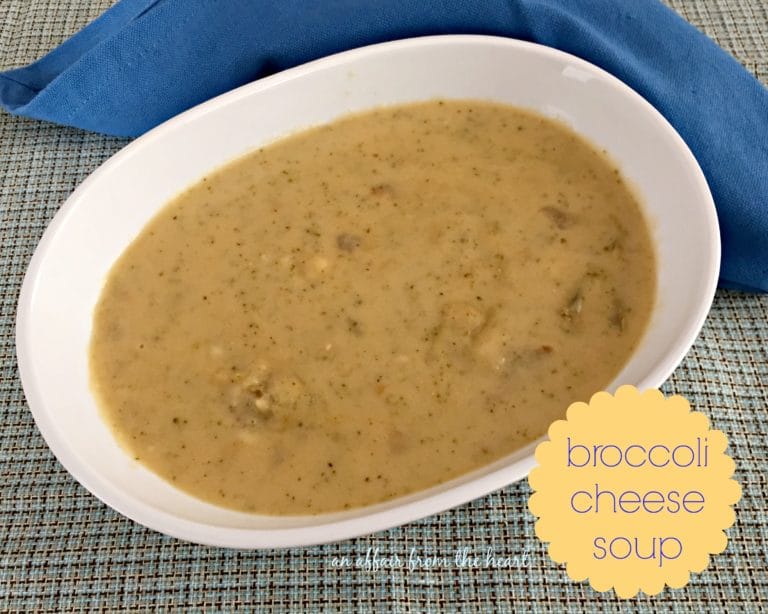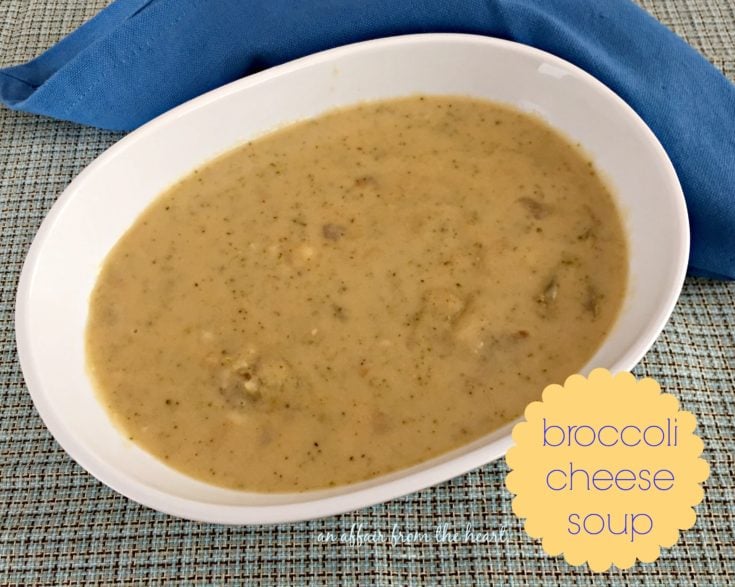 Dare I say better than Panera Bread's broccoli cheese soup? My kids think so!
Ingredients
3-4 potatoes peeled and cubed
6 stalks of celery, chopped
1 small onion, chopped
3 T butter
1 - 32 ounce chicken stock
2 - 16 ounce packages of frozen chopped broccoli
1 - 16 ounce jar cheese whiz
1 can cream of potato soup
2 cans cream of celery soup
1 - 8 ounce container sour cream
Instructions
Saute your onion and celery in butter until soft. Add potatoes and chicken stock and simmer covered until potatoes are soft. (20-30 minutes)
Add broccoli, simmer about 15 minutes more.
With a potato masher, mash vegetables until they are small. Add to this the rest of the ingredients, stir and warm until ready to eat.
In the Crock Pot:
This recipe is also easy in the crock pot. When I make it in the crock pot I cook the veggies until they are soft and mash-able in the chicken stock. (on low all day)
About 30 minutes before dinner, mash, and add cream based ingredients, warm and serve.
Nutrition Information:
Yield:
8
Serving Size:
1
Amount Per Serving:
Calories:

516
Total Fat:

29g
Saturated Fat:

15g
Trans Fat:

1g
Unsaturated Fat:

7g
Cholesterol:

81mg
Sodium:

1608mg
Carbohydrates:

47g
Fiber:

7g
Sugar:

12g
Protein:

20g
Nutrition isn't always accurate.
—
(no calories!?!? yea right.)
This, was one of three soups I made for Halloween when the Grandparents
came over before trick-or-treating.
We always have Homemade Chicken Noodle and one other one that varies from year to year. This year, it was Tortilla Soup!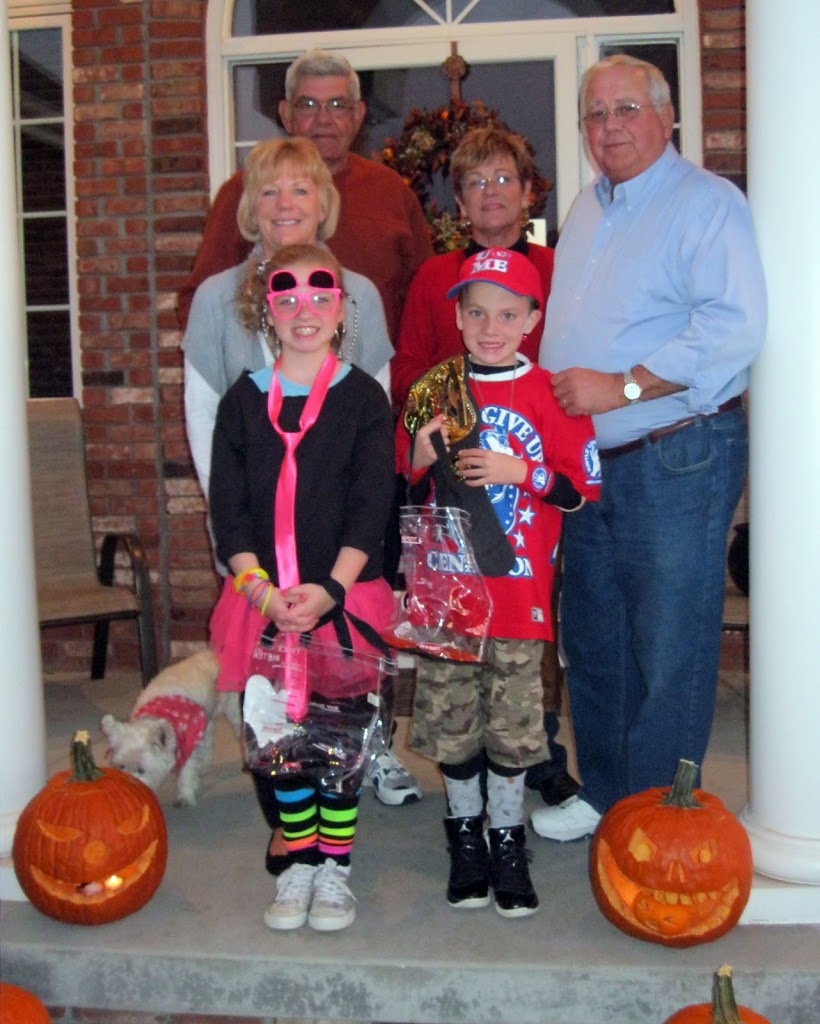 the twins with their grandparents
trick-or -treat!
We have a tradition at our house on Halloween. Ever since my kids were little, when they sorted through their Halloween candy, they got to chose their favorite kinds, and keep that. The rest goes in our Halloween candy cauldron for the Halloween Witch.
She comes while they are sleeping to take that candy and leave a small toy in it's place. She needs lots of candy to keep her teeth rotten!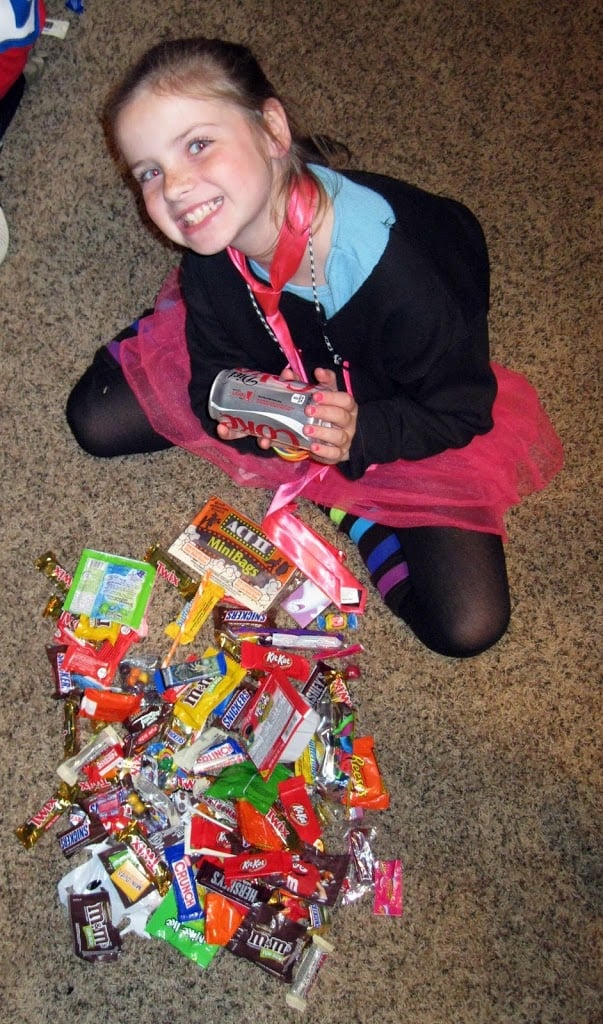 my little 80's girl sorting her candy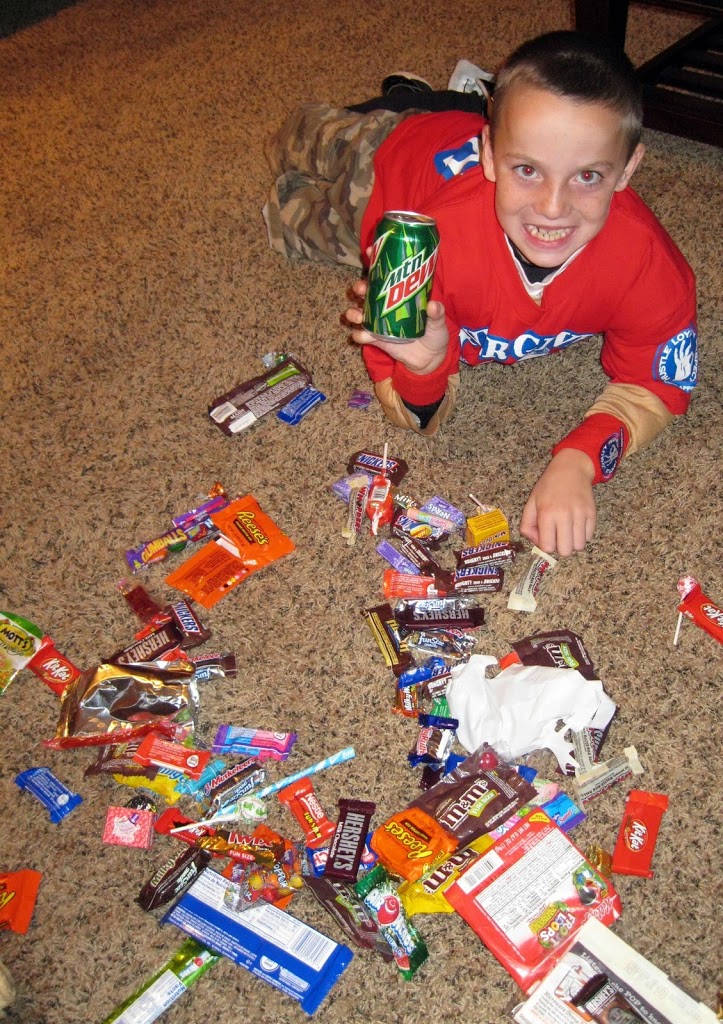 you can bet my little WWE Superstar, John Cena, didn't part with that Mountain Dew!
This year, our little Josie lost a tooth at her Halloween party eating a caramel apple.
So, not only did the Halloween Witch come, so did the tooth fairy!
Josie was very concerned they would come at the same time.
She was certain they would most likely NOT get along!
Turns out, if their paths crossed, things went well!
😉