A twist on the classic, this Spicy Chicken Noodle Soup is made by adding a little red pepper, some ginger and a little heavy cream, top it with fresh cilantro when serving.  Perfect for what ails you!
This is a sponsored conversation written by me on behalf of Lipton. The opinions and text are all mine.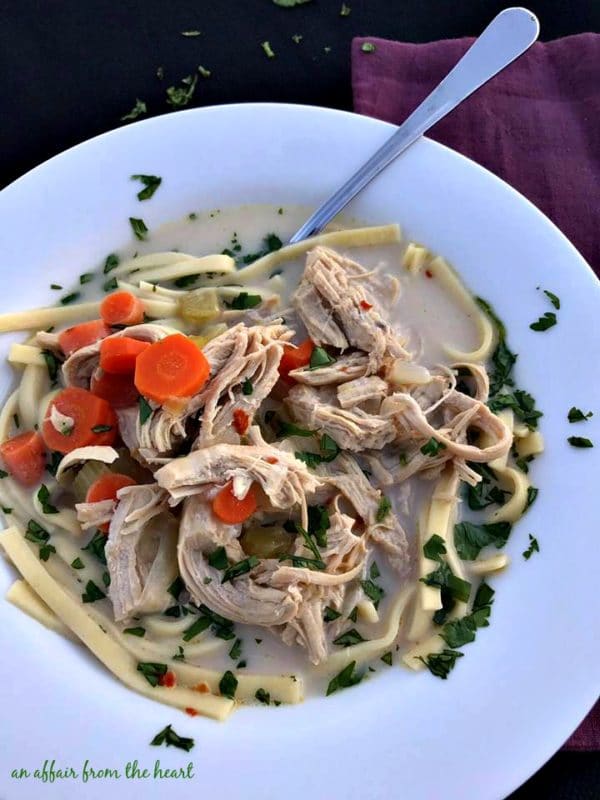 Soup is a staple in our house, we eat it year round — but in the winter a couple of times a week — AT LEAST!
Nothing brings my family together faster than a pot of homemade Chicken Noodle Soup.  Recently though, I thought it would be fun to mix it up, re-imagine the original, if you will.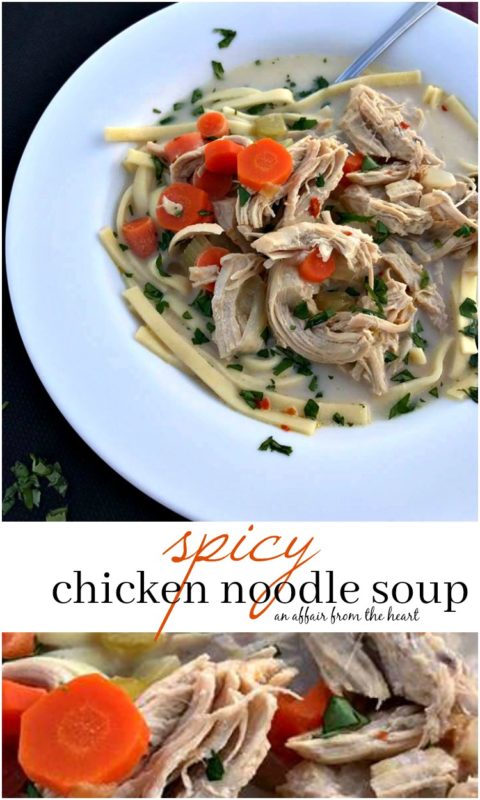 I started this soup with the normal ingredients, some carrots, onion and celery.  Of course, chicken.  While it was cooking, I added some garlic, ginger and red pepper flakes.  While the soup simmered away the scent and the flavor became nothing short of amazing.  It had the perfect amount of spice.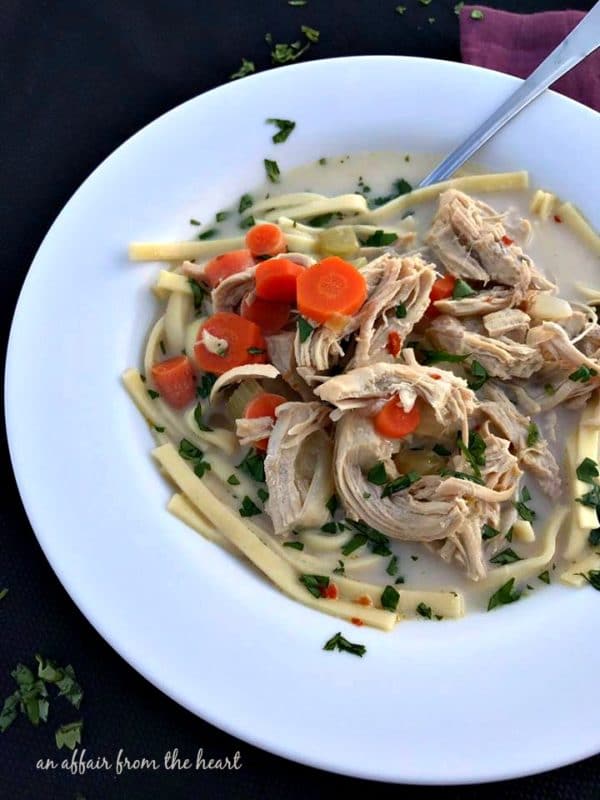 After it cooked, I added heavy cream and some kluski noodles.  When we served it, we topped it with fresh cilantro.  The cream was a great addition, that creaminess blended perfectly with the amount of heat.  Finishing with cilantro was a great idea.  I can't express how excited I was with the outcome of this soup!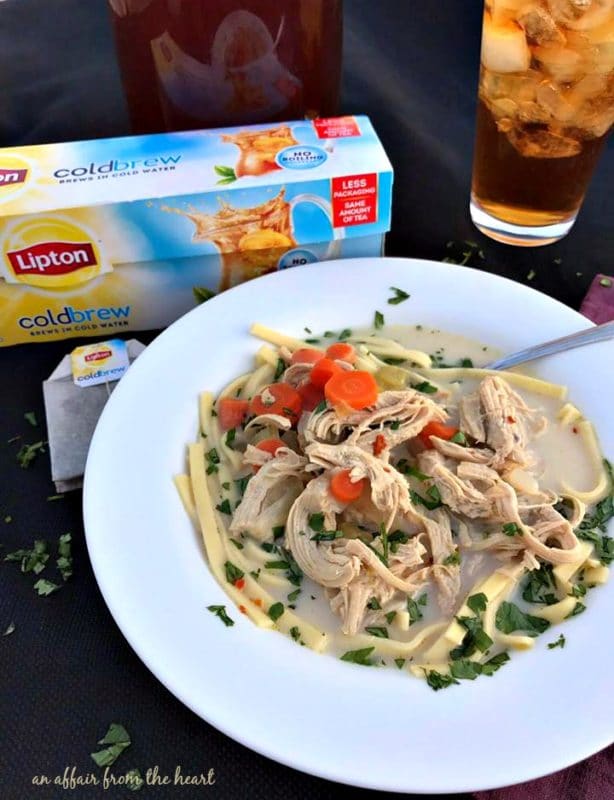 When I am eating something with a little spice, I love a nice tall glass of iced tea.   Did you know that the flavor of black tea is the perfect compliment to spicy food?
Have you tried Lipton Cold Brew Iced Tea?  It's fantastic! A pitcher of iced tea, there is no water to boil,  the tea is brewed right in cold water in just 5 minutes!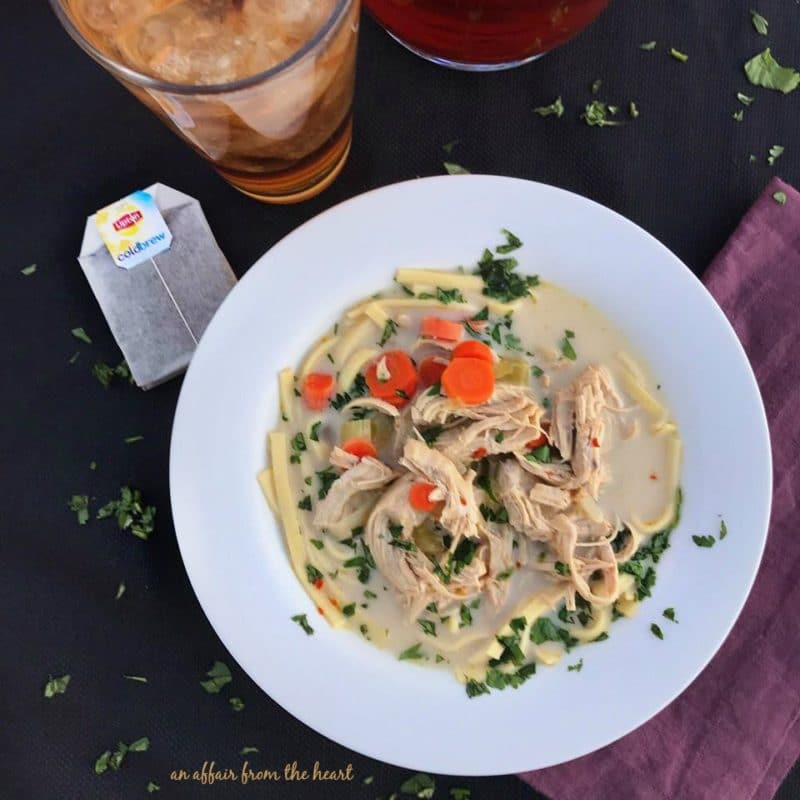 Lipton is ccollaborating and connecting with others, Have you checked out the Bright Bites Reimagined by Lipton website?  It's great resource put together by Lipton and The Food Network that offers all sorts of creative twists for winter meals.  There are loads of recipes to make every meal special.  Whether you are looking for lunchtime rescues, not so average dinners,  classic meals that are reimagined, or great ways to enjoy Lipton iced tea, they have you covered.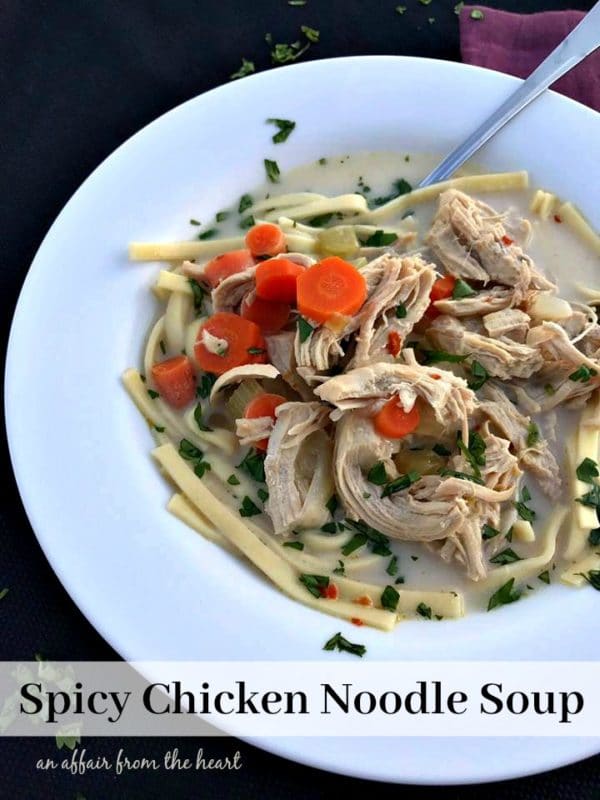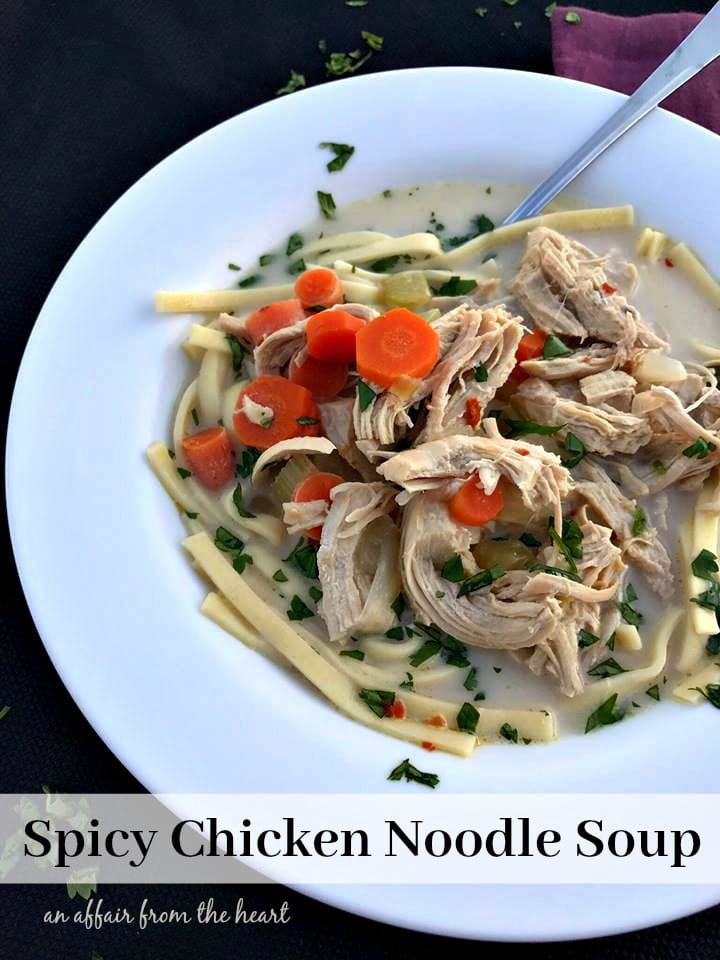 Ready to grab the recipe for this reimagined classic?
Let's get to it!
Yield: 8-10
Spicy Chicken Noodle Soup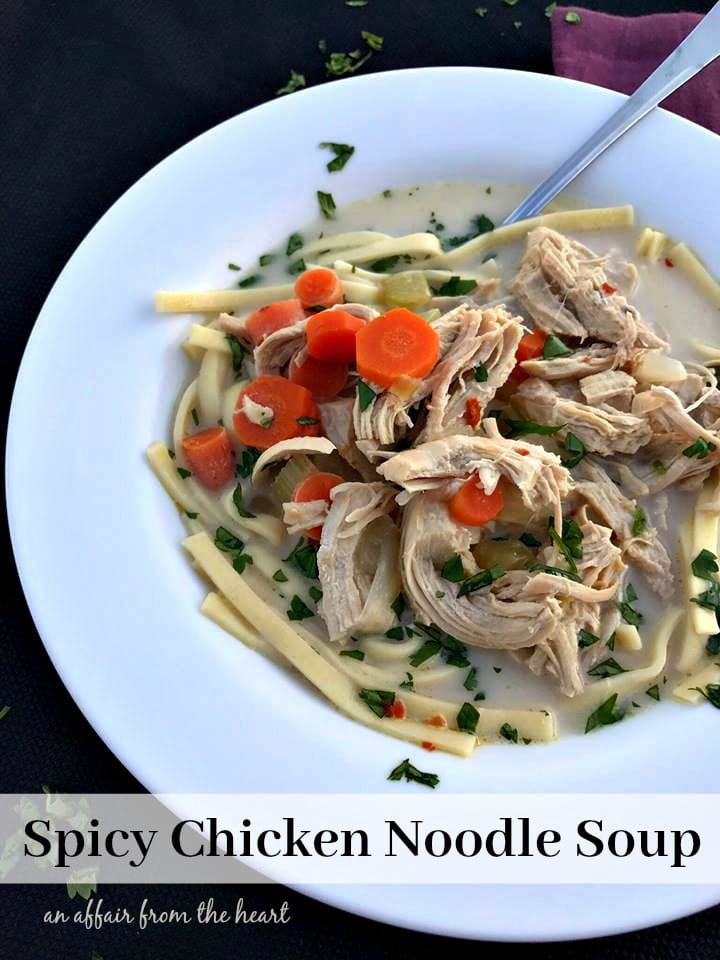 Ingredients
1 pound skinless chicken breasts
3 Tablespoons butter
1 medium sized onion, chopped
1 cup celery, chopped
1 cup sliced carrots
3 cloves garlic, minced
2 teaspoons ginger
1 1/2 teaspoons red pepper flakes
10 cups chicken stock
1/2 cup heavy cream
12 ounces Kluski noodles
Fresh cilantro, chopped - for serving
Instructions
Place chicken in the bottom of a soup pot, cover with about 2 cups of chicken broth. Cover pot and cook until chicken is done. About 10-15 minutes. Shred chicken. Remove from pot.
Melt butter over medium heat in a soup pot. Add in garlic, onion and celery. Saute for about 5 minutes. Add in carrots and shredded chicken.
Add ginger and red pepper flakes, stir to combine. Add in remaining 8 cups of chicken stock. Cover pot and cook for 30 minutes.
While soup is cooking, prepare noodles.
Add cream to soup, stir. Add in noodles. Salt and Pepper to taste.
Serve topped with fresh cilantro.
---
Don't forget to visit the Bright Bites website to get some inspiration for your next meal!
This is a sponsored conversation written by me on behalf of Lipton. The opinions and text are all mine.

If you make this recipe, I'd love to know! Snap a picture, share the photo on social media with the hashtag #AnAffairFromTheHeart – I'd love to see what you made! – Michaela