Ham & Smoked Gouda Quiche
As an Amazon Associate and member of other affiliate programs, I earn from qualifying purchases.
This Smoked Ham & Gouda Quiche is a family favorite. Simple to make, with flavors of smoked ham and smoked gouda cheese will entice your taste buds and make a wonderful addition to any brunch table!
I will admit, that breakfast is typically a meal we reserve for Sundays. With a family of six, mornings are usually pretty chaotic. We look forward to sitting around our table as a family on Sunday mornings to a nice warm breakfast. When I told my kids we were having quiche this morning, I think you could hear them cheer in the next county over!
I always make quiche on Christmas morning. It's nice to make most of it ahead of time, then bake it while we are seeing what Santa left for us!
I'm not sure why I don't make it more often, it's really pretty simple, and the reviews are always stellar.
A BIG thank you to Arla Dofino for sponsoring this Ham & Smoked Gouda Quiche recipe post. Please know that the opinions in this post are my own.
We LOVE cheese in our family, and this Arla Dofino Smoked Gouda is positively wonderful! I also love that their cheeses are free of added hormones and preservatives.
Smoked Gouda Cheese and smoked Virginia ham just seem to go hand in hand — I knew it would make a tasty quiche, and boy! Was I right!
You can use your own pie crust recipe, but I used a refrigerated pie crust I purchased at the store. Chopped up my ham, shallots and grated my cheese.
Whisked the eggs up with some Half & Half and seasonings, and poured it into the crust.
I don't blind bake my crusts when I make quiche, but you most certainly can if you prefer the bottom that way.
My kitchen smelled heavenly while this was baking. I lost count at how many times my kids asked "Mmmmm! Can we eat it yet, Mom?"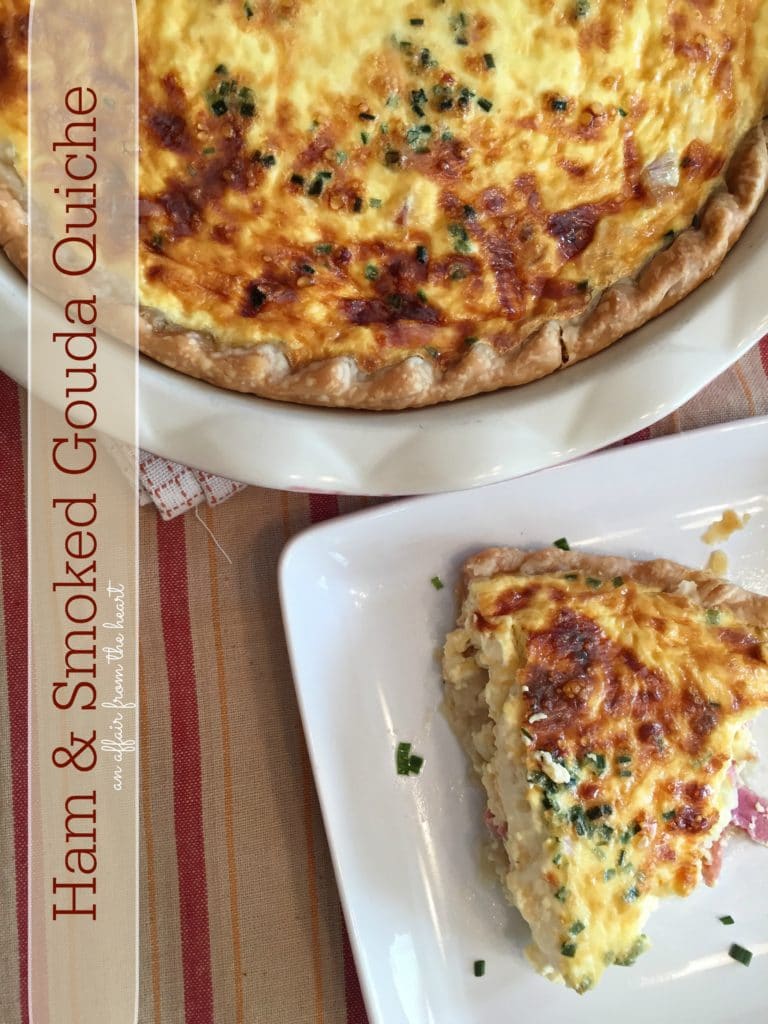 If you have ever been intimidated by the idea of making quiche, please know that this recipe is tried and true, and no matter what I use for the add-ins, the base part? Always turns out great.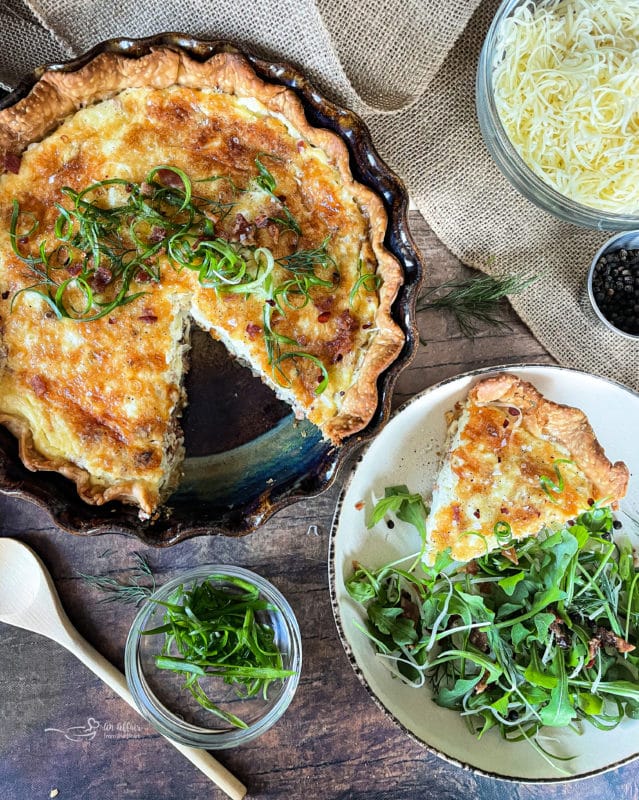 Like this one, My Bacon and Swiss Quiche.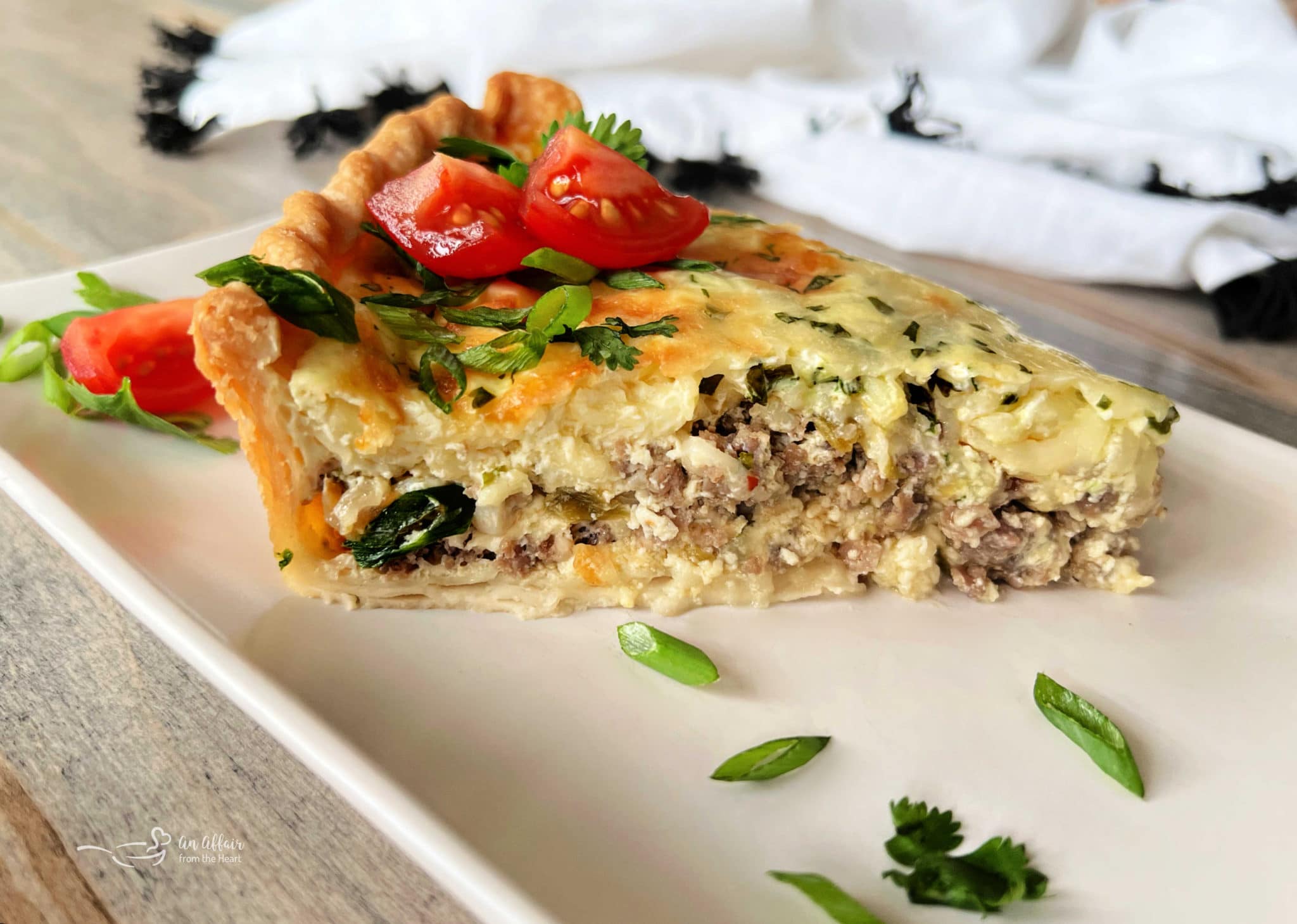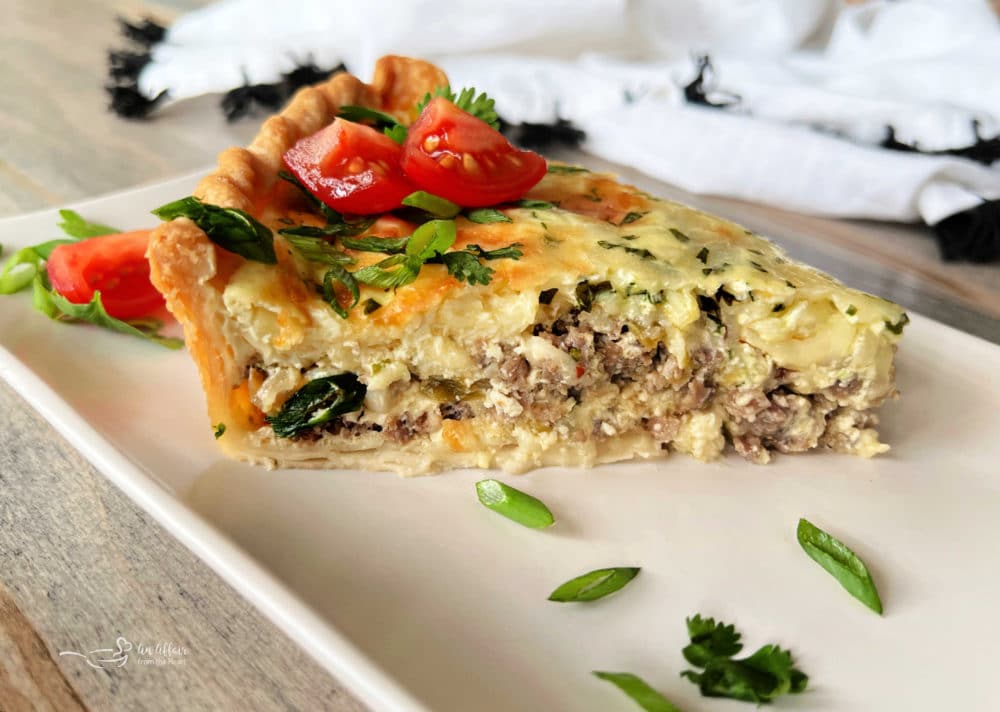 This Green Chile & Sausage Quiche –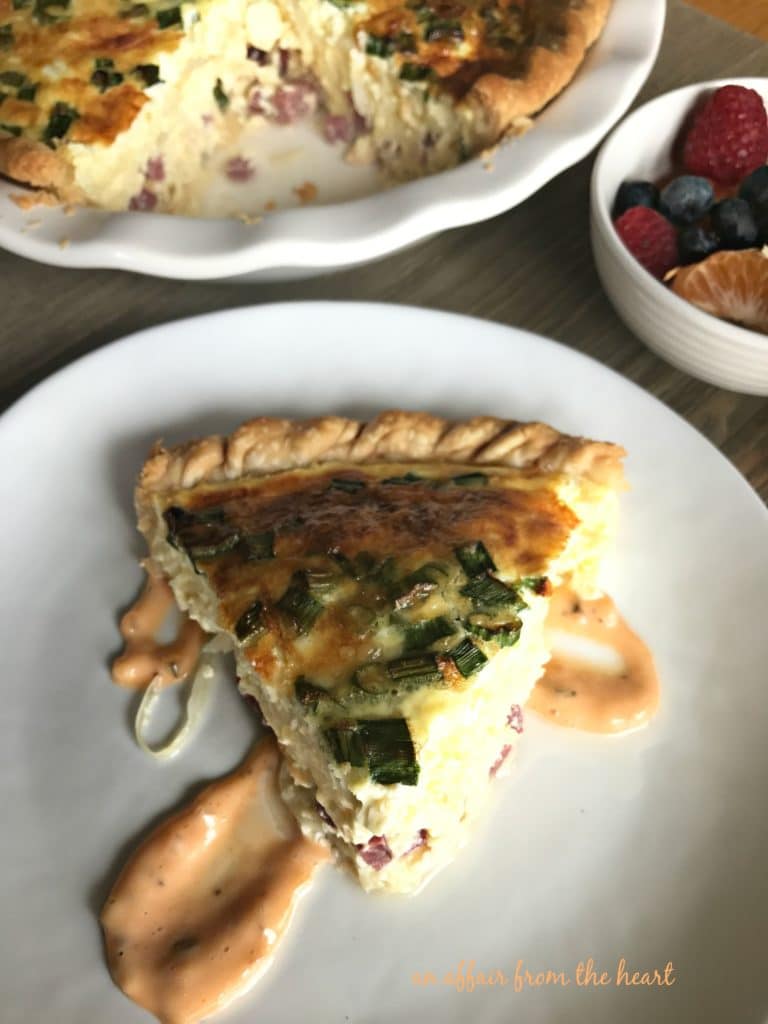 Or this Reuben Quiche, that is out.of.this.world.
But for today, let's get to making this delicious Ham & Smoked Gouda Quiche, Shall we?

Yield: 6
Ham & Smoked Gouda Quiche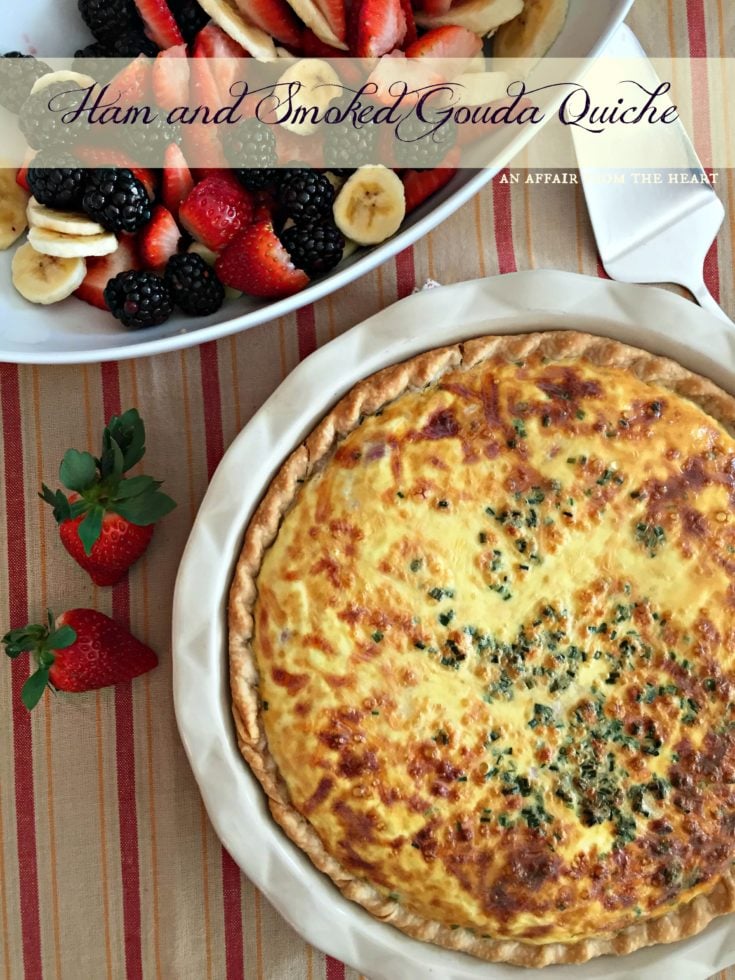 Flavors of smoked ham and smoked gouda cheese will entice your taste buds and make a wonderful addition to any brunch table!
Ingredients
1 - pie crust, your own or store bought
1/2 cups shallots, chopped
1/2 pound smoked ham, chopped
1 cup Arla Dofino Smoked Gouda Cheese, shredded
4 eggs
2 cups Half & Half
2 teaspoons chives
1 teaspoon salt
1/2 teaspoon sugar
Instructions
Preheat oven to 425 degrees, and line a 9 inch deep dish pie plate with a pie crust.
Lay chopped shallots in the crust. Top with the chopped ham. Sprinkle with shredded cheese.
Whisk together eggs and Half & Half, whisk in the salt, sugar and chives. Pour over the top of the cheese.
Bake for 15 minutes. Reduce oven to 300 degrees and bake for 30 minutes more.
Let sit for 5 minutes before slicing.
Nutrition Information:
Yield:
8
Serving Size:
1
Amount Per Serving:
Calories:

311
Total Fat:

20g
Saturated Fat:

10g
Trans Fat:

0g
Unsaturated Fat:

10g
Cholesterol:

146mg
Sodium:

862mg
Carbohydrates:

17g
Fiber:

1g
Sugar:

5g
Protein:

15g
Nutrition isn't guaranteed accurate.