Classic quiche filled with corned beef, Swiss cheese, sauerkraut and green onion.  Spread a little Thousand Island dressing on the plate to get the full Reuben effect. Reubens for breakfast!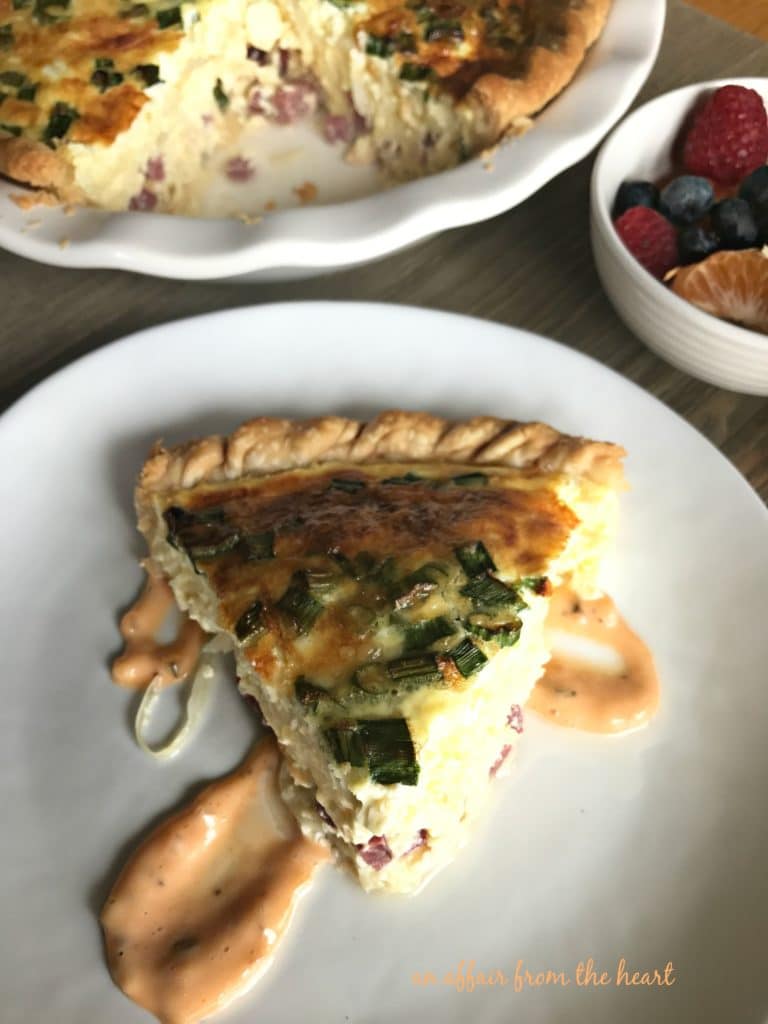 This post is sponsored by Frank's Sauerkraut.  All thoughts and opinions are my own. Thank you for continuing to support the brands that make An Affair from the Heart possible.
March is National Reuben Month.  If you love Reuben's like we do — this makes March pretty darn special!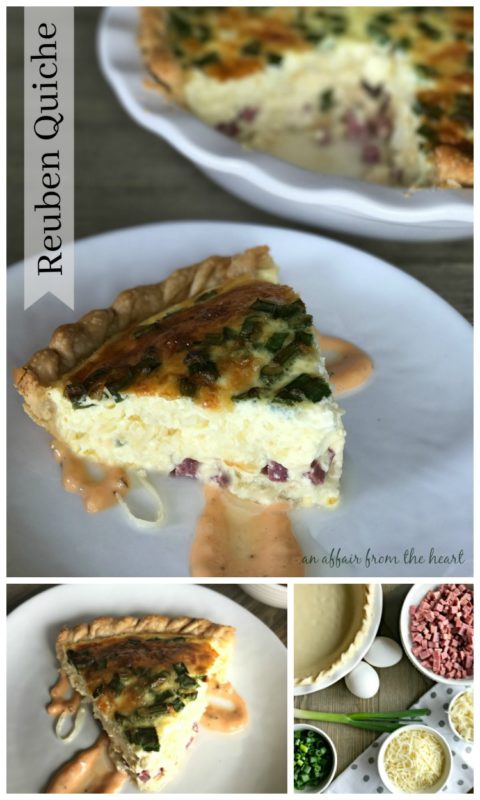 For a couple of years now, I have had a special relationship with Frank's Kraut.  Frank's is the sauerkraut I grew up on.  The only one we have ever used. Coming from a Polish/German background, that is really saying something!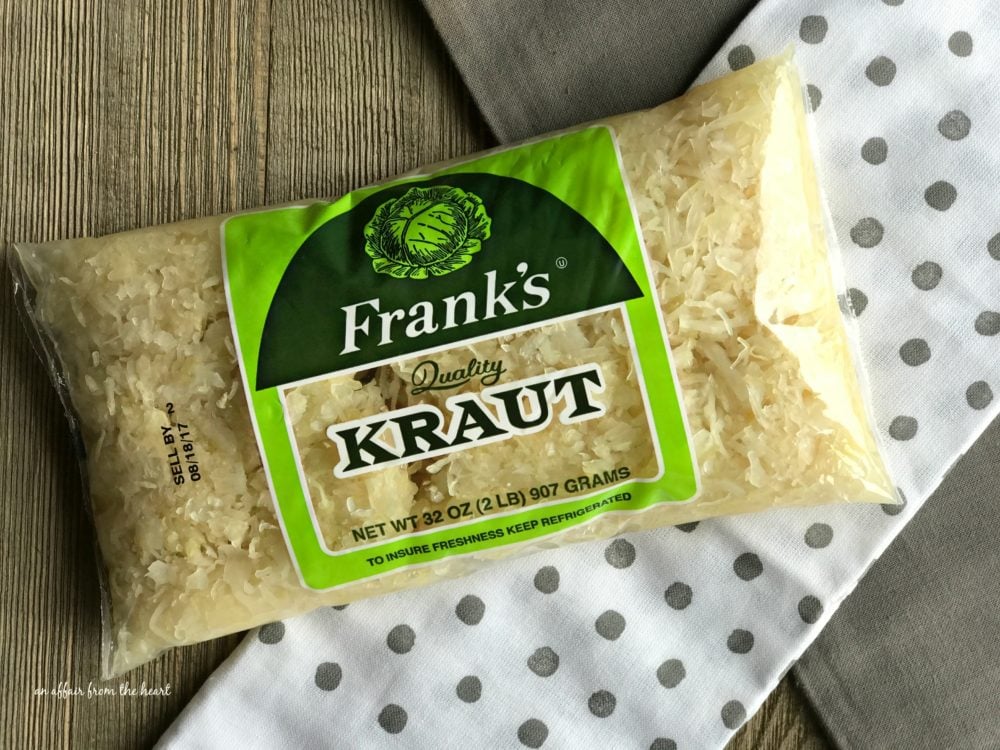 A couple of years ago at Easter, I shared a recipe — actually more of a "How To" for my grandmother's Polish Sausage & Sauerkraut.  I tagged Frank's in the post and we've been good friends ever since! They are such an awesome company, and developing recipes for them is always such a pleasure.  It's so much fun to find deliciously crazy fun ways to add sauerkraut into food.
Like Chocolate Cake.  Seriously.  The BEST CHOCOLATE CAKE I make is made with Sauerkraut.  How about Pizza?  Ever had Reuben pizza? What about topping a baked potato with Reuben?  YUM.
Well .. .  you know what was missing?  Breakfast.  Breakfast just needs a little more Reuben in it's life.
Quiche.  Quiche is perfect.  And — I mean, What's NOT to LOVE about QUICHE??
I have a base recipe for quiche that I use all of the time.  It's easily adaptable for your favorite ingredients.  Our favorites are Bacon & Swiss and Ham & Smoked Gouda.  My family freaks out when I make quiche … you could say they kinda like it.  This one is a keeper.  The flavors were fantastic.
You could use leftover corned beef for this OR just ask your grocer's deli to cut you some deli corned beef.  Have them cut it on the thicker side.  Then you can cube it up easily.
Use your favorite crust recipe, or a purchased pie crust (we won't tell) and layer the ingredients inside.  Swiss cheese, corned beef and Frank's Kraut.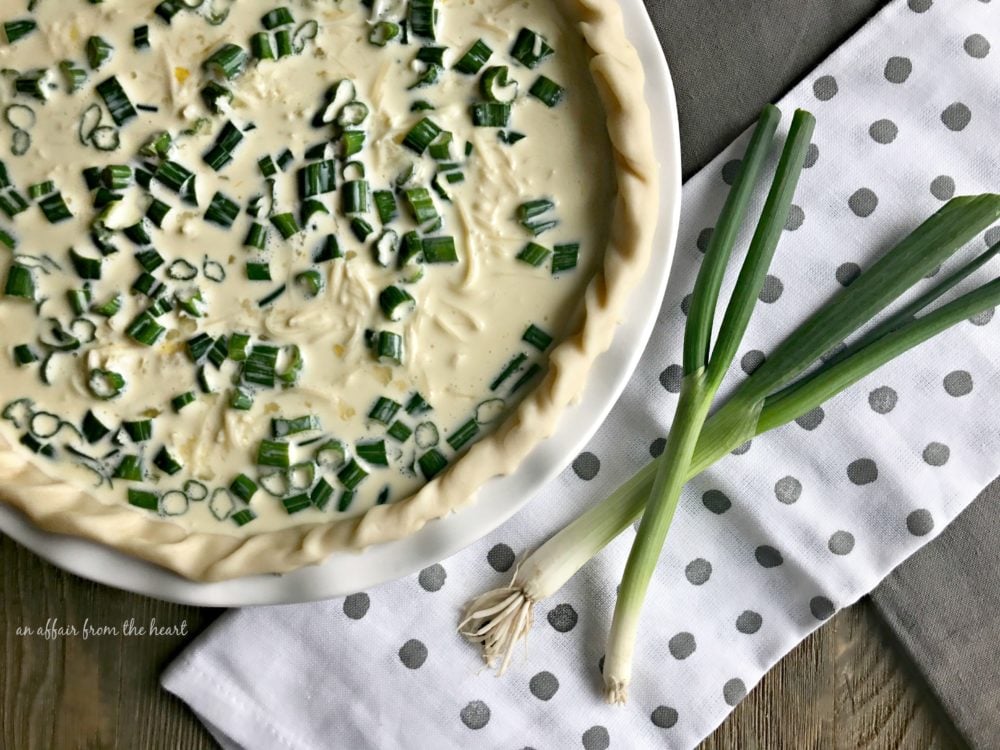 Pour the egg mixture over the top and pop it in the oven.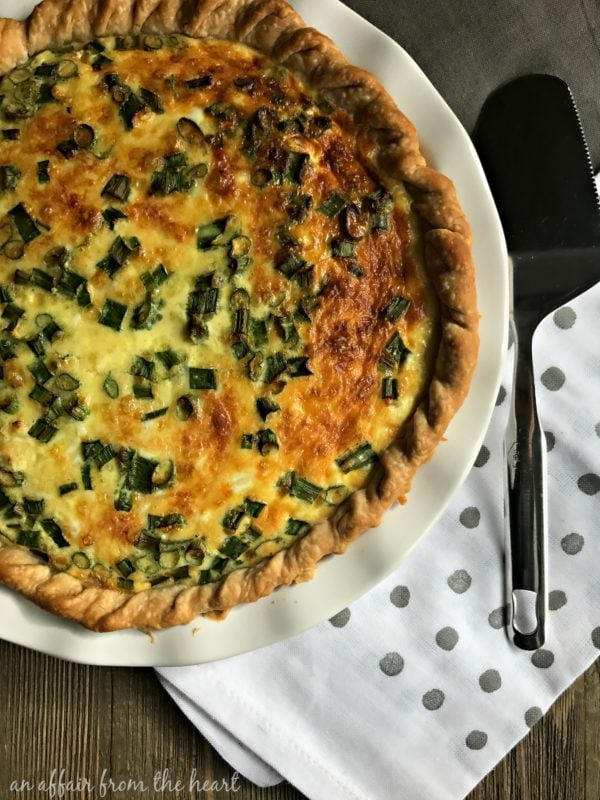 Bake it up until it's set in the middle and golden brown on the top.  Let it stand about 5 minutes before slicing into it.  Serve it hot with a side of fruit.  Prefect weekend breakfast — OR weeknight meal.
---
Yield: 8 pieces
Reuben Quiche
Ingredients
1 pie crust
6 ounces corned beef, cubed
1 1/2 cups (6 ounce package) Shredded Swiss cheese
1/2 cup Frank's sauerkraut
4 large eggs
2 cups Half & Half
1/2 teaspoon salt
1/2 Teaspoon sugar
5 green onions, sliced
Instructions
Preheat oven to 425 degrees. Line a pie plate with a pie crust.
Whisk together eggs and Half & Half. Add green onions, salt and sugar.
Put half of the Swiss cheese in the bottom of the pie crust. Top it with corned beef and sauerkraut and remaining cheese.
Pour the egg mixture over the top. Bake for 15 minutes.
Reduce oven temperature to 300 degrees and bake for 30 minutes more. Quiche will be set in the middle and golden brown on top.
Let stand for 5 minutes before cutting.
---
Follow along with Frank's Kraut on their social medias to get delicious recipes year 'round, and Reuben recipes the whole month of March!
Follow them on Facebook, Twitter, Pinterest and Instagram for all things sauerkraut!

If you make this recipe, I'd love to know! Snap a picture, share the photo on social media with the hashtag #AnAffairFromTheHeart – I'd love to see what you made! – Michaela