Tropical Sparkling Cocktail
As an Amazon Associate and member of other affiliate programs, I earn from qualifying purchases.
Flavors of pineapple, orange, and coconut are shaken together and topped with prosecco make this Tropical Sparkling Cocktail just what you need to take that tropical vacation, even if it's only a state of mind, right in your own home.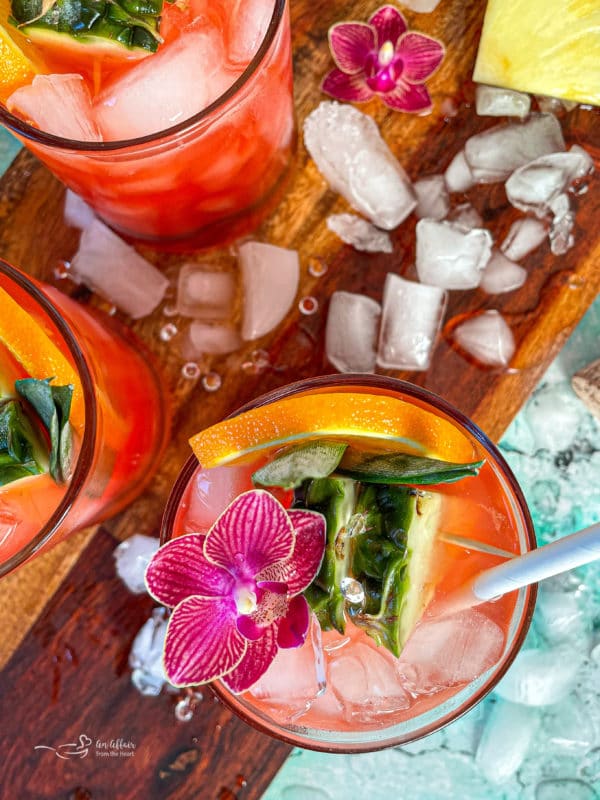 Tropical Sparkling Cocktail
Close your eyes and picture yourself on a beach with the sound of the waves crashing, the warm sunshine on your skin, and a Tropical Sparkling Cocktail in hand. Who are you with? Take a sip. Let the taste of citrus cool you.
Taste the orange and pineapple juices with the sweetness of coconut rum and a splash of grenadine, let the bubbles from the Prosecco tickle your nose. Let the smile come across your lips. Ah. This is the life, right?
To help make sure your at-home proposal goes seamlessly, I have partnered with Clean Origin, a lab created diamond company specializing in ethical engagement rings. The opinions stated here are all my own.
Continue reading to figure out how you can plan a tropical-themed proposal in the comfort of your home and save up to 40% on your ring!
SOME OF THE ITEMS BELOW CONTAIN AFFILIATE LINKS; I AM A PARTICIPANT IN THE AMAZON SERVICES LLC ASSOCIATES PROGRAM, AN AFFILIATE ADVERTISING PROGRAM DESIGNED TO PROVIDE A MEANS FOR US TO EARN FEES BY LINKING TO AMAZON.COM AND AFFILIATED SITES. I AM ALSO AN AFFILIATE FOR OTHER BRANDS. HOWEVER, I ONLY PROMOTE THINGS THAT I LOVE AND THINK YOU WILL LOVE, TOO. FOR MY ENTIRE DISCLOSURE POLICY PLEASE

CLICK HERE

.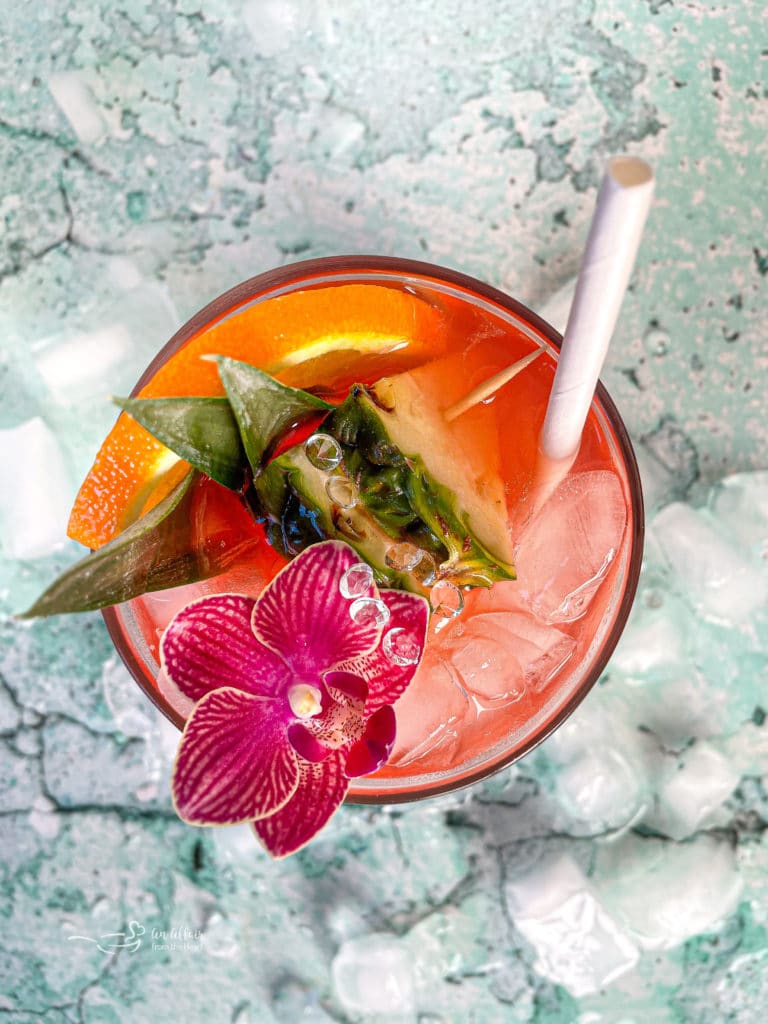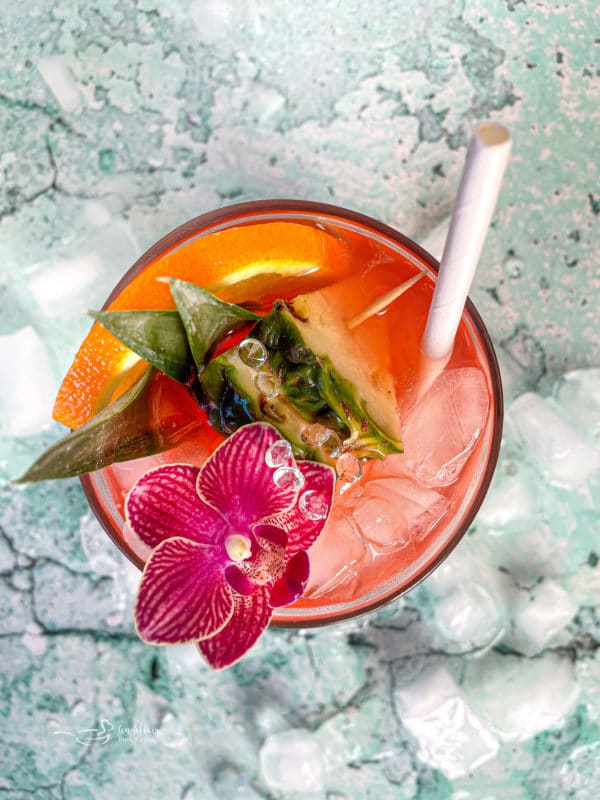 Put a Ring On it
My husband, Brian and I will be married 30 years this coming fall. I don't really remember destination proposals and destination weddings really being a thing back when we got married. I think we just called those types of weddings "eloping." But they are both a big thing now. In fact, I think they grow in popularity every year.
Well, at least before travel became so difficult in the last year they had. But just because you can't hop on a plane to anywhere doesn't mean that with a little planning you can't create that perfect "destination proposal" at home.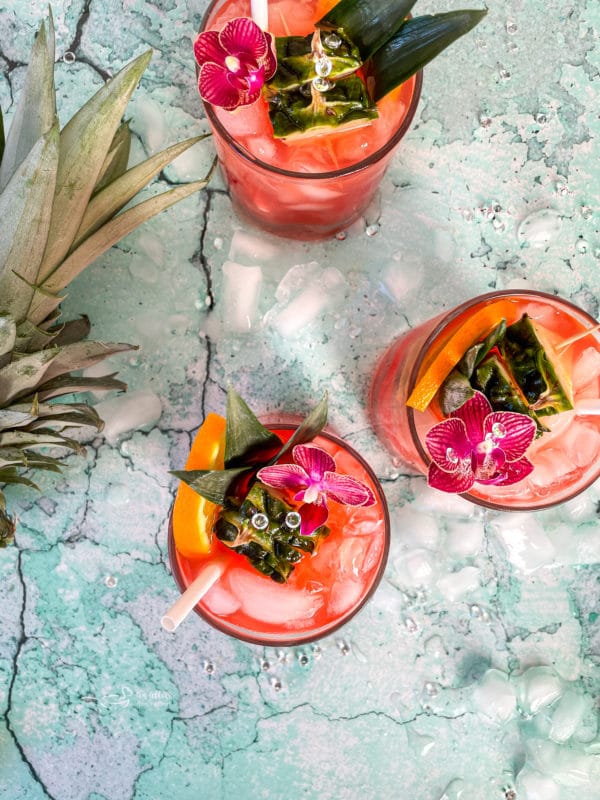 Planning an At-Home Destination Proposal
It's been a long time since I felt the feeling that I described. That peace I find when I am near the water, with my bare feet planted firmly in the warm sand and the hand of the one that I love held in mine. I am a true believer in love and in making your own happiness.
So, why wait until we are free to roam to uncharted destinations? Why not create that feeling right in your very own home?
Who says you can't crank up the heat and turn on some island reggae music and shake up a tropical sparkling cocktail that can make it feel like you are somewhere else? Even if it's in your mind, and you are in your home.
How to Plan an At-Home Tropical Proposal
If your dream was always to "pop the question" on a romantic beach with the sound of waves crashing in the distance, and yet, that isn't in the cards, right now, who says that you can't create it? I mean, I feel like there would be a boatload of bonus points just for the creative aspect of it.
Set the Tone
Give your significant other a bit of time to prepare for the evening. Plan ahead and invite your love to dress for the islands. Maybe even purchase a fun printed sundress for her or a playful Hawaiian shirt for him to wear.
If it's cold where you are, crank up the thermostat, (there are no goosebumps allowed in the warmth of the tropics).
You can stream all sorts of soothing sounds online, find an island playlist, or some beach sounds and cue it up on your Spotify. Light some candles, preferably some scented like the smells you would enjoy in the island air.
Set the Table
Think intimate dinner for two. Nice table linens are always a plus. No need to go to extra expense, white table linens are always timeless. Fill a glass vase with seashells from your local craft store, or pick some up online, and fill the vase with some tropical flowers for your centerpiece. Remember not to make it too tall, you want to be able to see your special someone across the table. Shorter centerpieces are the way to go.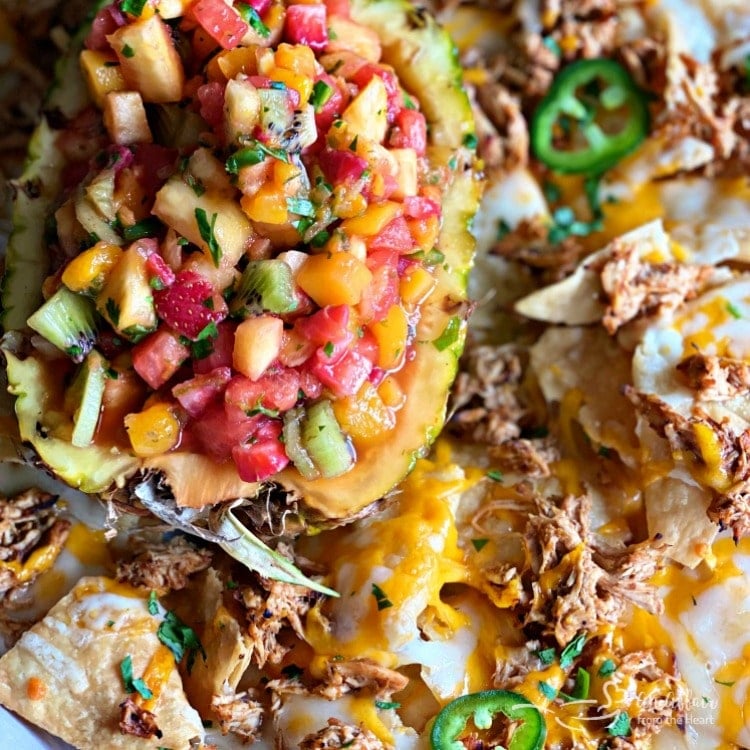 Preparing a Meal with a Tropical Vibe
When you think island food, where does your mind drift? Mine heads straight to Jamaican jerk chicken, Pina Coladas, and pretty much all things coconut and pineapple. I have all sorts of recipes that would be perfect for your at home island proposal date night in.
Start with some Tropical Chicken Nachos served with Tropical Salsa, or even make a whole meal out of them! So darn good.
Jamaican Jerk Chicken served over Jamaican Sweet Coconut Rice would make an amazing entree, served with a lettuce salad or a fruit salad.
Dessert can be elaborate or easy. Two-Ingredient Pineapple Angelfood Cake is delicious with some fresh whipped cream and berries, or this Jamaican Grape Nut Ice Cream is sure to satisfy. If you want something small and fun, you can't beat a Coconut Mug Cake, made right in the microwave, just grab two spoons and dig in.
Shake up a Tropical Sparkling Cocktail and get down on one knee and ask for their hand.
Clean Origin Lab Grown Diamonds
I will admit, that until recently, I really didn't know much about where diamonds really came from. I was just born with that "diamonds are a girl's best friend" thought process, and will tell you that my "favorite color" is shiny.
Sure, I knew that diamonds came from the earth, and they are mined, but until I did my research, I didn't know that the whole process can be eliminated, and you can get a gorgeous diamond engagement ring that you can feel good about. You see that by eliminating the mining process, you are saving the land from mineral waste and saving miners from injury.
Did you know that for every carate of diamond that is mined that about 6000 pounds of mineral waste is made and that about 100 square feet of land is disturbed? Or that 1 in 1,000 miners is injured each year? I had no idea.
Clean Origin set out to make a difference when it comes to diamonds and only offers stones grown in a laboratory, making the process more Eco-Friendly, decreasing waste, saving water and energy use, and carbon emissions.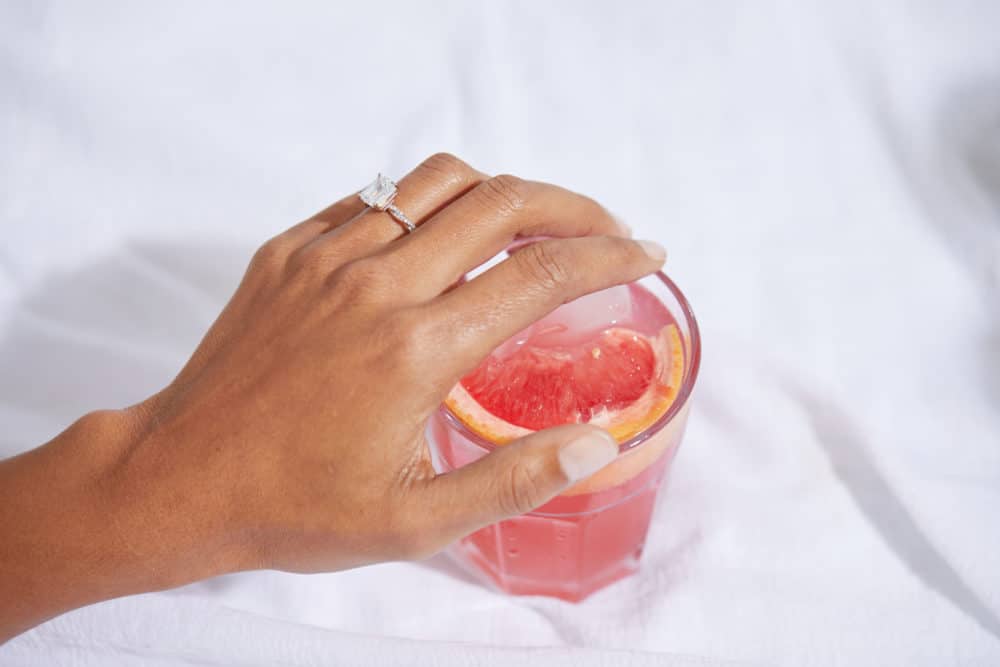 FAQ about Lab Grown Diamonds
Are they real diamonds? The answer is yes. No, they aren't cubic zirconia. The only difference is where the diamond was grown. Instead of being grown beneath the earth's surface, they are grown in the same way, just in a laboratory.
Are they less expensive? Yes, on average, lab-grown diamonds can be about 20%-40% less expensive than mined diamonds. But please know they are not "cheap." Tuck that savings away for a real trip once things are back to normal.
Are lab diamonds certified and graded like a mined diamond? Yes. Clean Origin lab diamonds are graded just like mined diamonds. Each diamond is graded by several gemologists using "the 4c's," cut, clarity, color, and carat.
Clean Origin is the perfect place to buy your engagement ring because they reside online and there's no need to go into a store. They offer top-notch customer service via telephone, online chat and email. Clean Origin offers free shipping and free resizing when necessary, and their diamond jewelry comes with a 100-day no-questions-asked return policy and a lifetime manufacturer's warranty.
To learn more about Clean Origin's Lab Created Diamonds, visit their website. I encourage you to give them a follow on social media: Facebook, Twitter, Pinterest, and Instagram.
Speaking of things that sparkle. Let's talk about this Tropical Sparkling Cocktail, shall we?
Ingredients in this Tropical Sparkling Cocktail
Here is what you'll need to make this delicious cocktail: Orange Juice, Pineapple Juice, Coconut Rum, Grenadine and Prosecco.
For garnishing, fresh pineapple slices and orange slices. Tropical flowers are gorgeous in them, too!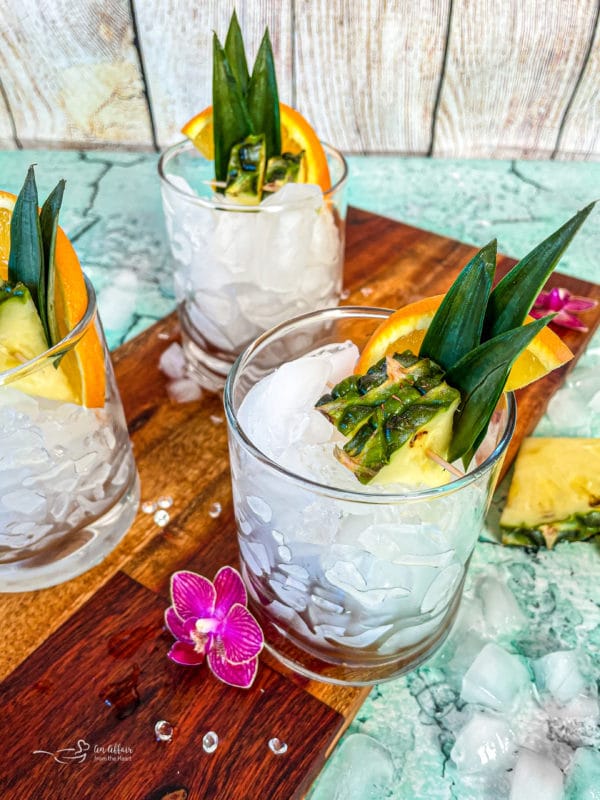 Begin by filling a glass with ice.
Next, add orange and pineapple juice, grenadine and coconut rum to a cocktail shaker with ice. Shake vigorously to combine and chill.
Pour into glass and top with Prosecco.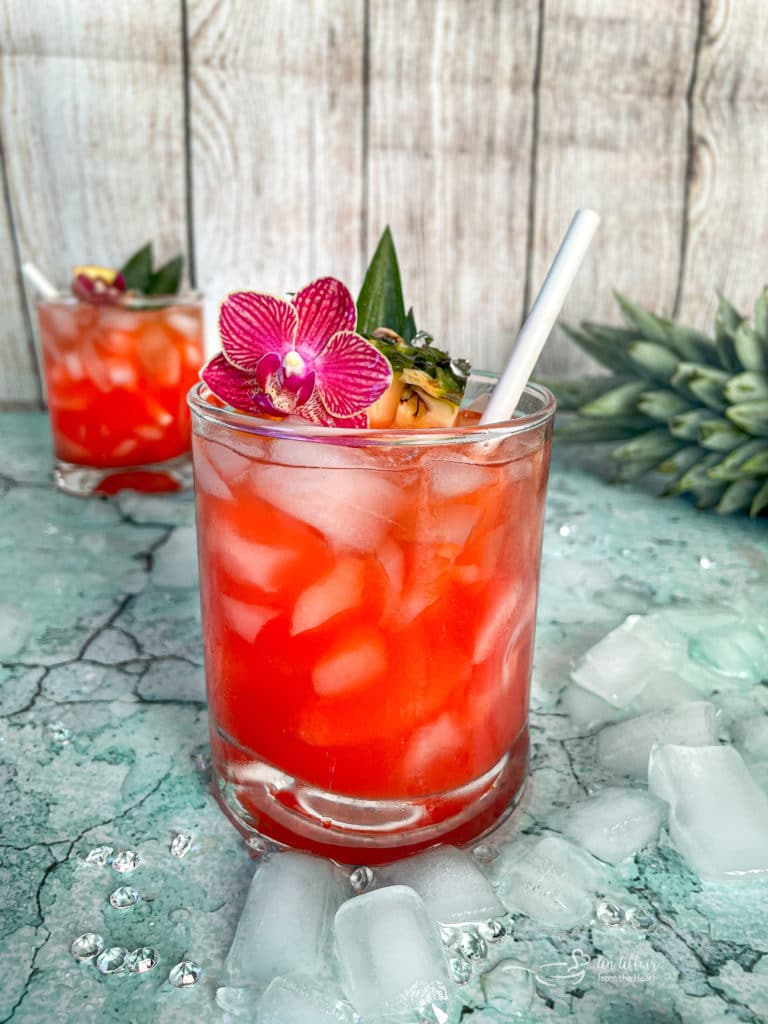 Tropical Prosecco Mimosa
These Tropical Sparkling Cocktails remind me a bit of a Mimosa, only they aren't heavy on the champagne or Prosecco. If you wanted them to be, I would mix up the cocktail as shown, but pour it into two champagne flutes and top with Prosecco or champagne. Either way, you're sure to enjoy the taste of these Island Cocktails!
Other Ideas to Switch Up These Cocktails:
Make a large batch for a party. Place the juices, along with the rum into a punch bowl or in a glass pitcher and have chilled Prosecco to top off the glasses. Makes a fun Tropical Sparkling Rum Punch for entertaining.
Switch out the alcohol. Prefer vodka over rum? Use coconut vodka in place of the rum.
Prefer champagne over prosecco? That is an easy swap. Make it a tropical champagne cocktail instead.
Want a mocktail? Remove the rum and prosecco and mix them up with some coconut La Croix.

Love it? Pin it!
You know you can't wait to try this cocktail! Don't forget where you found the recipe. Pin it to your favorite Pinterest recipe board and you'll always know right where it is.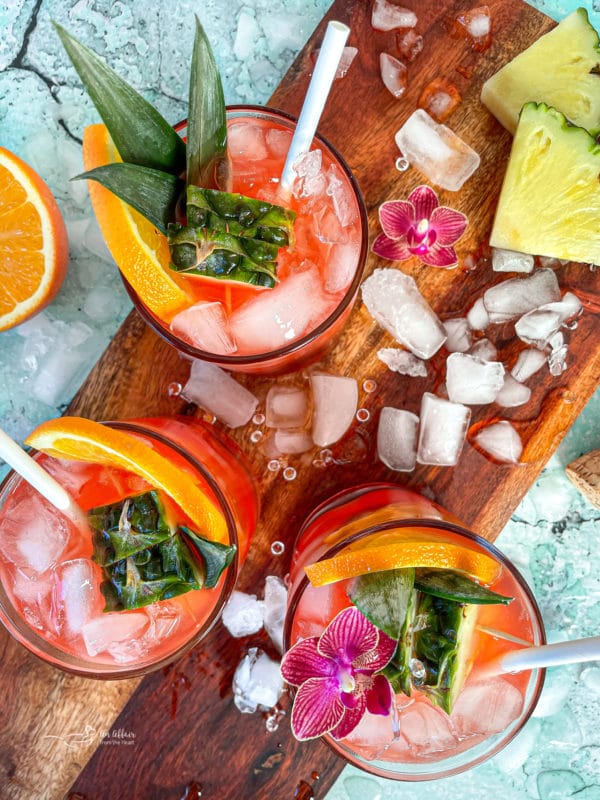 Cheers to Tropical Cocktails, Our Sweethearts, and Gorgeous Diamonds!
These cocktails are a magnificent addition to the many delicious cocktails I have here. I always love mixing up a new concoction for parties and for our date nights right here at home. Here are some of my other favorites that have a good "vacation vibe:"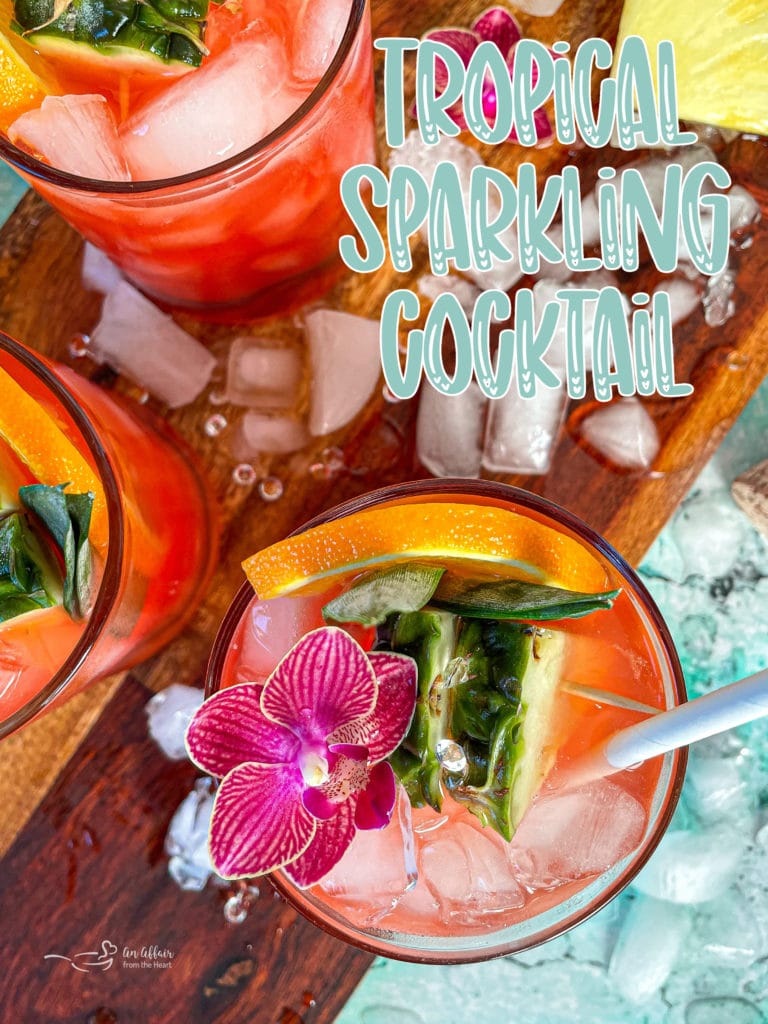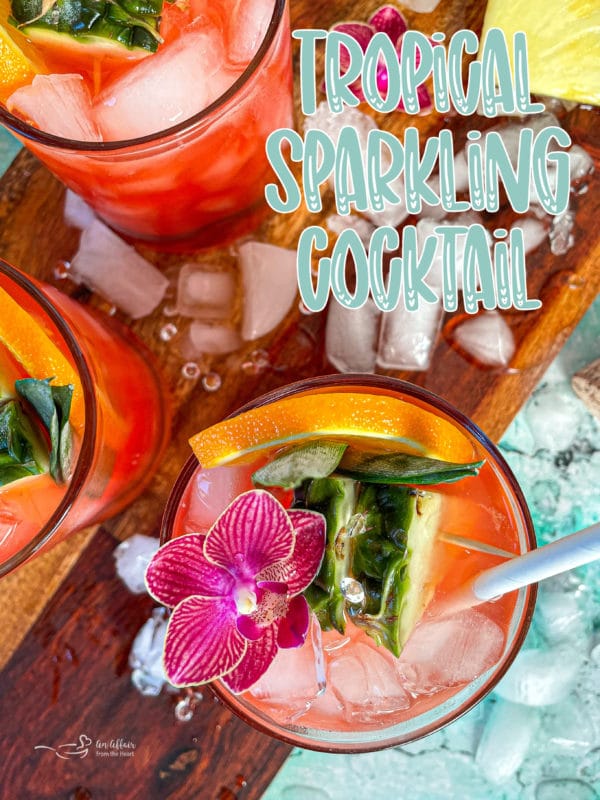 Let's shake some Tropical Sparkling Cocktails!

Yield: 1 cocktail
Tropical Sparkling Cocktail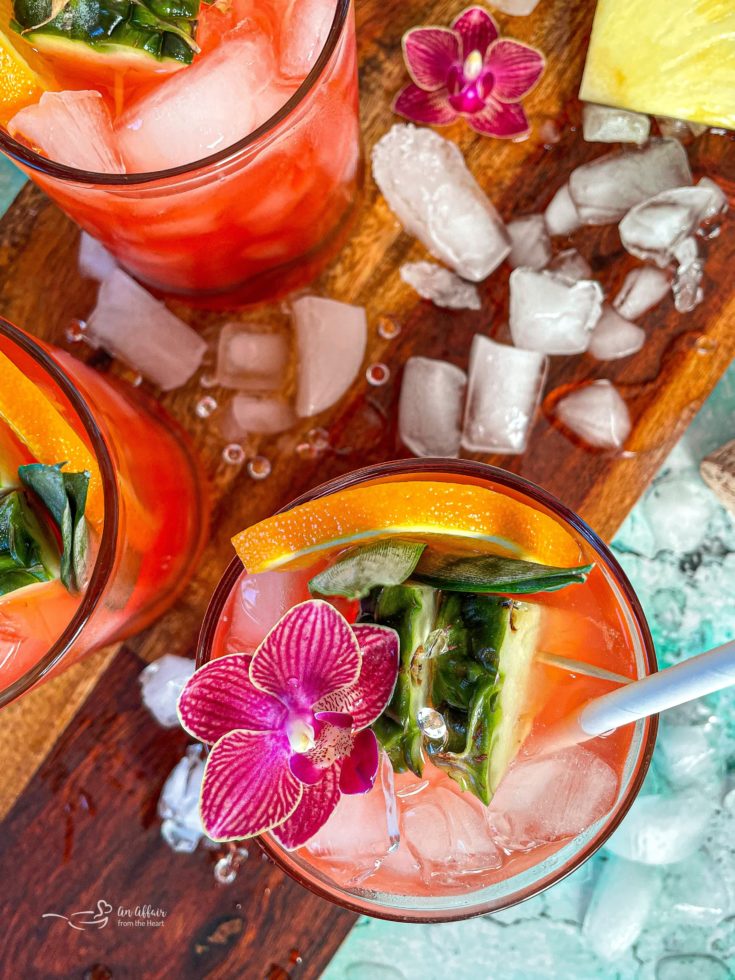 Flavors of pineapple, orange, and coconut are shaken together and topped with prosecco make this Tropical Sparkling Cocktail just what you need to take that tropical vacation, even if it's only a state of mind, right in your own home.
Ingredients
1 ½ ounces (1 shot) Orange Juice
1 ½ ounces (1 shot) Pineapple Juice
3 ounces (2 shots) Coconut Rum
½ ounce Grenadine
1 ½ ounces (1 shot) prosecco
Instructions
Add everything (except prosecco) to a cocktail shaker with
ice.
Shake it and pour into a glass with ice, and top with prosecco.
Garnish with fresh pineapple and orange slices if desired.



Recommended Products
As an Amazon Associate and member of other affiliate programs, I earn from qualifying purchases.
Nutrition Information:
Yield:
1
Serving Size:
1
Amount Per Serving:
Calories:

713
Total Fat:

0g
Saturated Fat:

0g
Trans Fat:

0g
Unsaturated Fat:

0g
Cholesterol:

0mg
Sodium:

439mg
Carbohydrates:

103g
Fiber:

1g
Sugar:

93g
Protein:

1g
Please note that nutrition is not guaranteed accurate.