Close your eyes. Take a Sip of this Brazilian Lemonade. A creamy coconut lime cocktail that will have you feeling like you're on a mini vacation.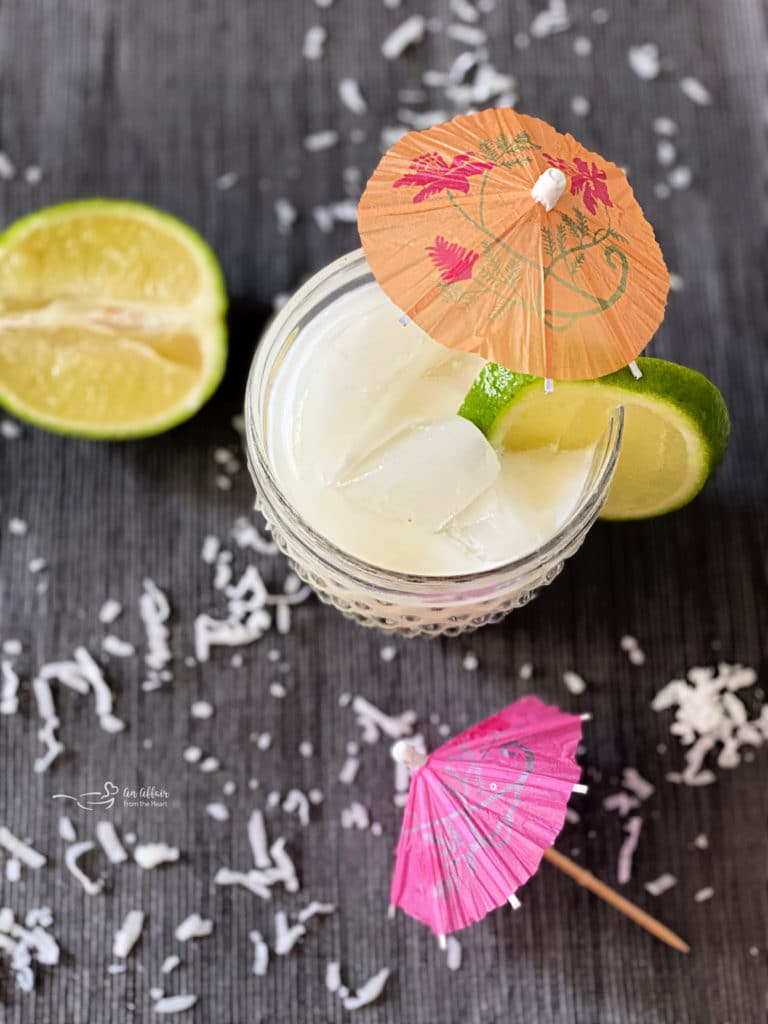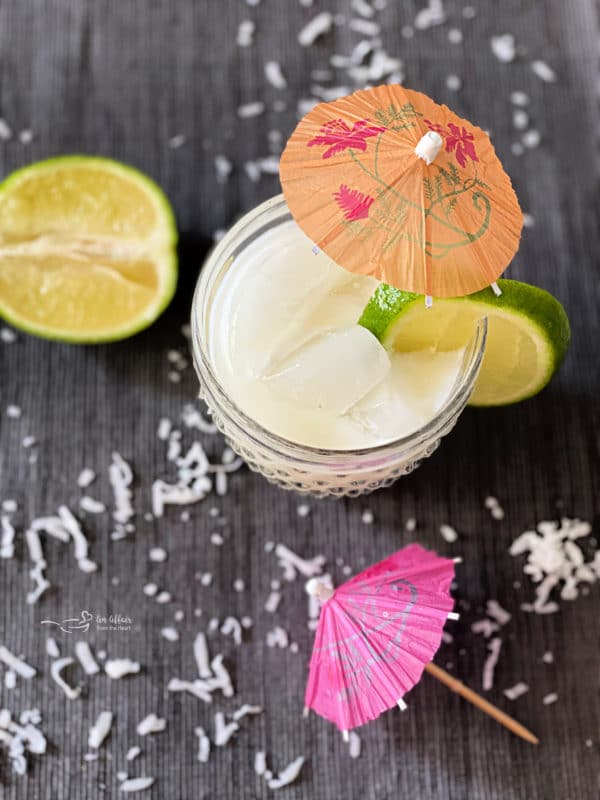 Where I learned to make these Mini Vacation a.k.a. Brazilian Lemonade Cocktails
I just adore my friend Betsy. I know you have all heard me speak of her before.
Betsy is that friend that is pretty much good at anything. She can sew, she can paint, make jewelry,
cook … you name it she can do it.
But one other thing I know Betsy does well is VACATION.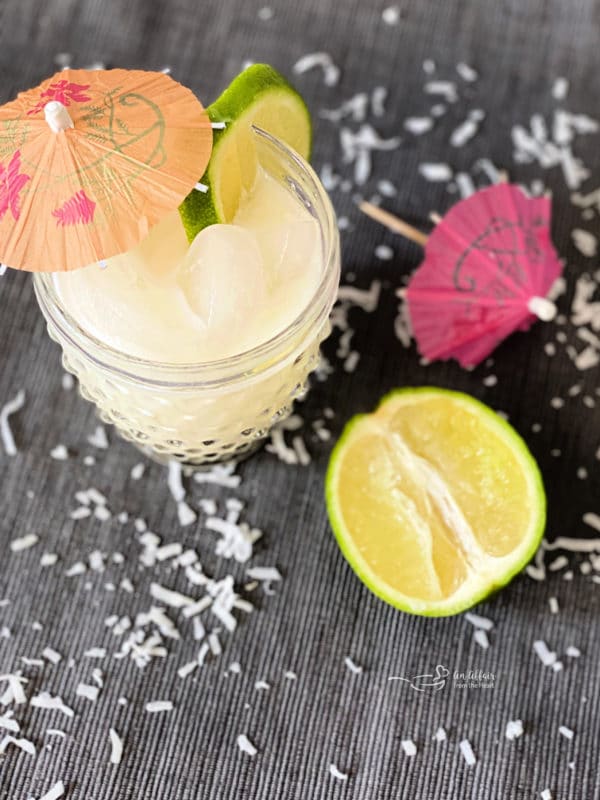 Our families have vacationed together at the lake in the summer, and many winters in the past we have gone with our husbands somewhere warm in the cold winter months.
One fall evening, the hubs and I stopped over for a visit, she said it was time to start thinking about "where to" for our winter trip.
That was when she first poured us a drink and called it "the Mini-Vacation."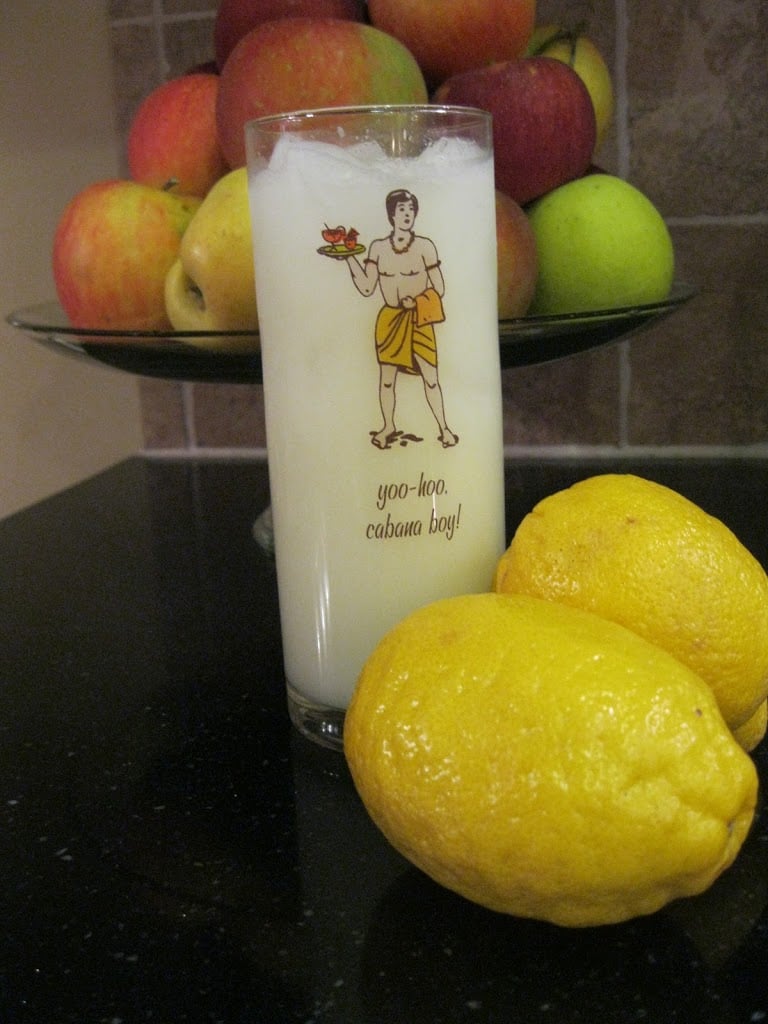 Did you see my glass??
"Yoo Hoo…Cabana Boy!!"
The funny thing about these Brazilian Lemonades? No lemons. I mean, sure I suppose you could use lemons instead of limes. You know the saying, "When life gives you lemons, make cocktails!" (or something like that) but I have always made them the way Betsy taught me, with limes.
History of the Brazilian Lemonade
So technically a true Brazilian Lemonade, or a Limonada Suíça, isn't even a cocktail. If you order one in Brazil, you'll get the creamy lime drink, minus the coconut rum. So feel free to do that if you'd like.
Some recipes call for only a few Tablespoons of sweetened condensed milk. Some recipes use the whole can. The later are our kind of people, people.
You see, when you make these cocktails (mocktails) you will be blending the entire lime. Yep, the whole thing, peel and all.
That means things can get bitter quickly. Between the peel and the pith (that white spongy liner between the peel and the citrus fruit itself), this drink needs that sweetness.
What are the ingredients in a Brazilian Lemonade Cocktail?
You only need 5 ingredients to make a whole pitcher of these beauties! Fresh limes, granulated sugar, sweetened condensed milk and water.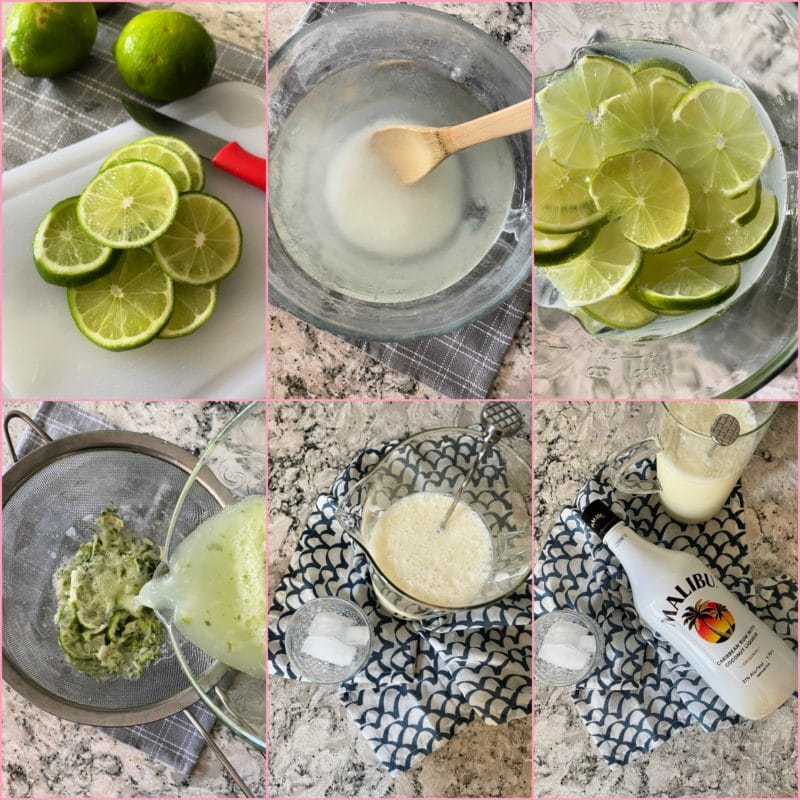 Trim the ends off of well washed juicy limes. Slice them. Dissolve sugar into water, and pour into a blender. Add in limes.
Using the pulse setting, blend the sugar water and limes together for about 10 seconds.
Pour through a mesh strainer into a 2 quart pitcher. Stir in sweetened condensed milk.
To prepare the cocktails, fill a glass with ice, add in some coconut rum, and stir in the Brazilian Lemonade.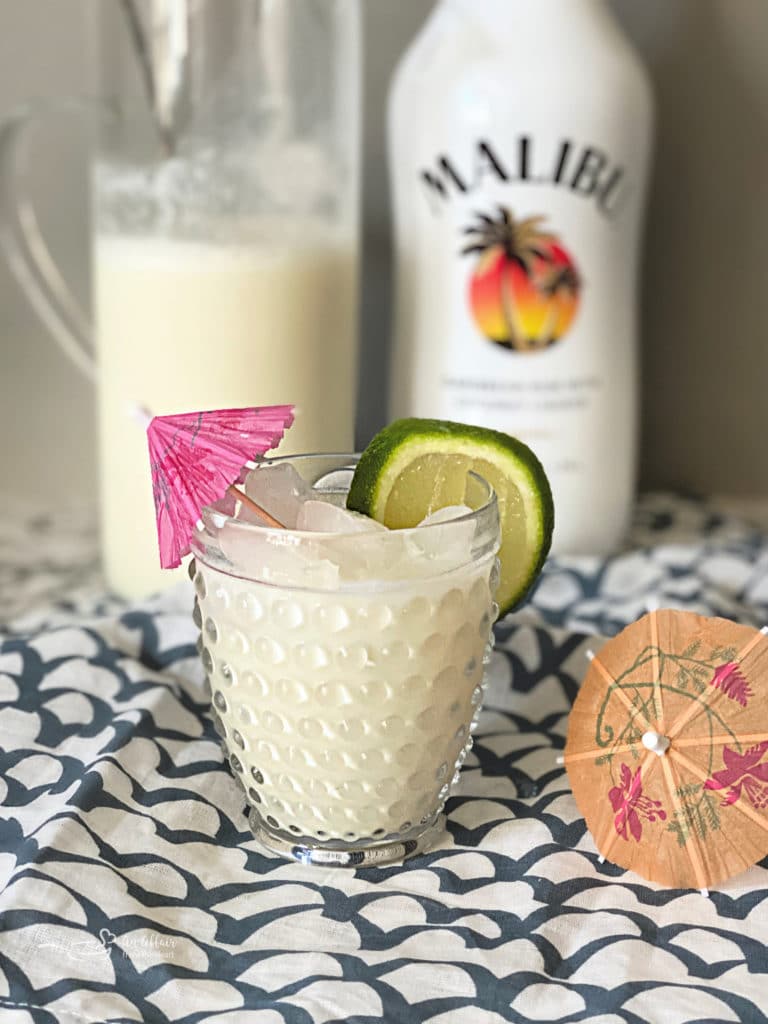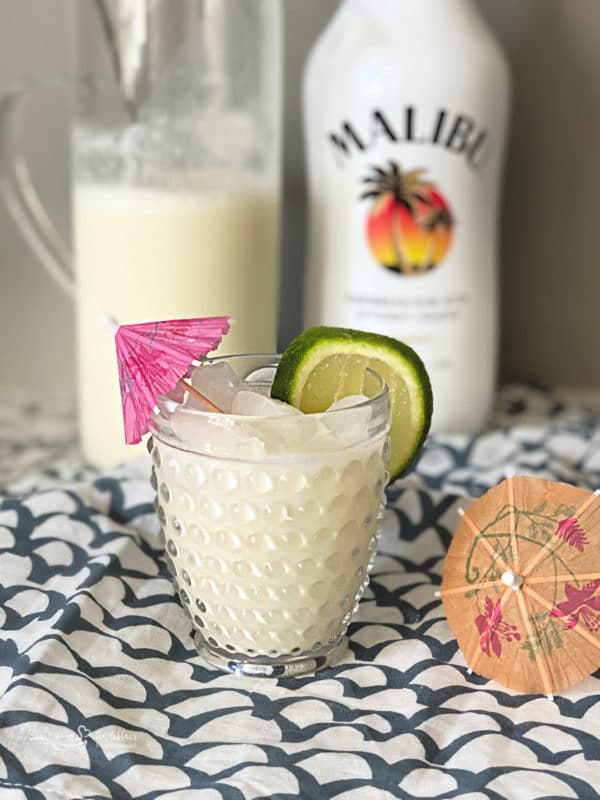 Garnish the glasses with a lime and a cocktail umbrella.Close your eyes and imagine yourself in one of those Corona beer commercials
on a beach…someplace beautiful.Take a deep breath in. Exhale.
Repeat as necessary.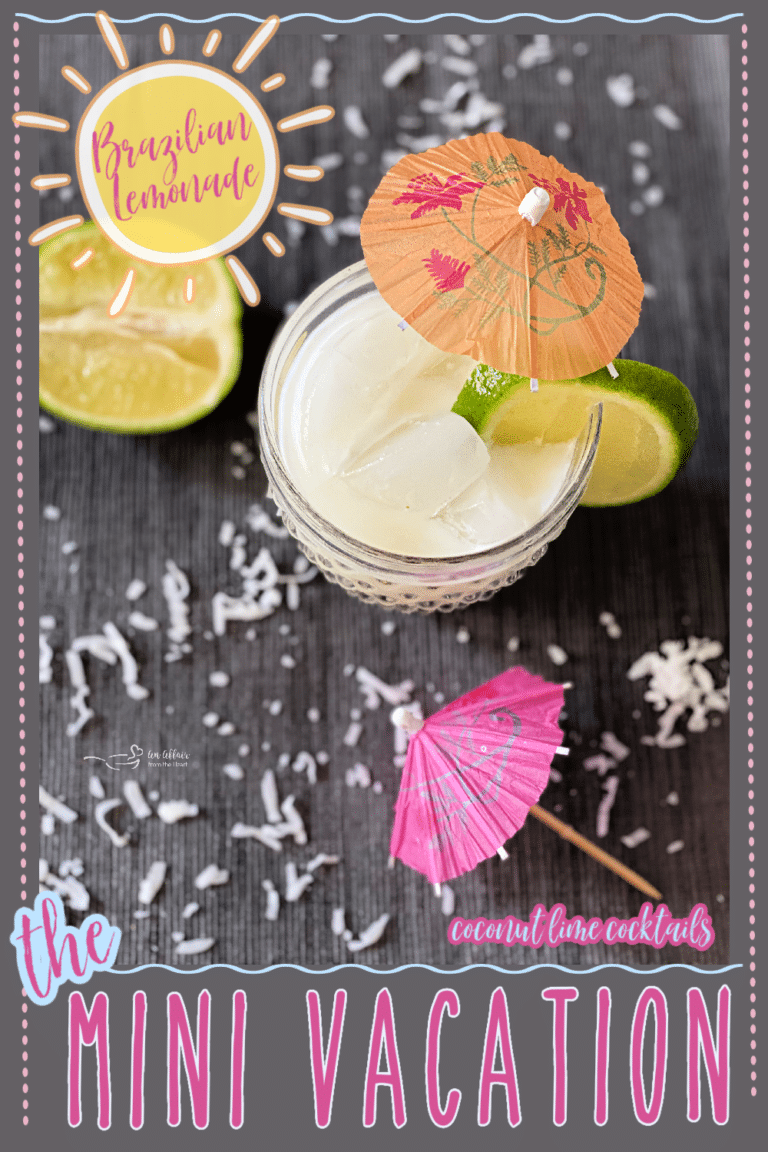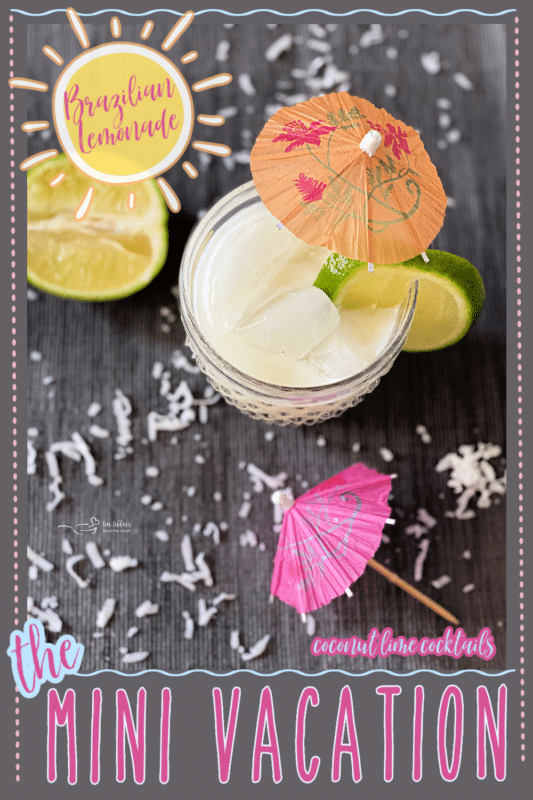 Love them? Pin them!
Brazilian Lemonade a.k.a. The Mini Vacation Cocktails are going to call your name sooner or later – don't forget where you found this great recipe! Pin it to your favorite Pinterest recipe board before you go, so you can find it easily!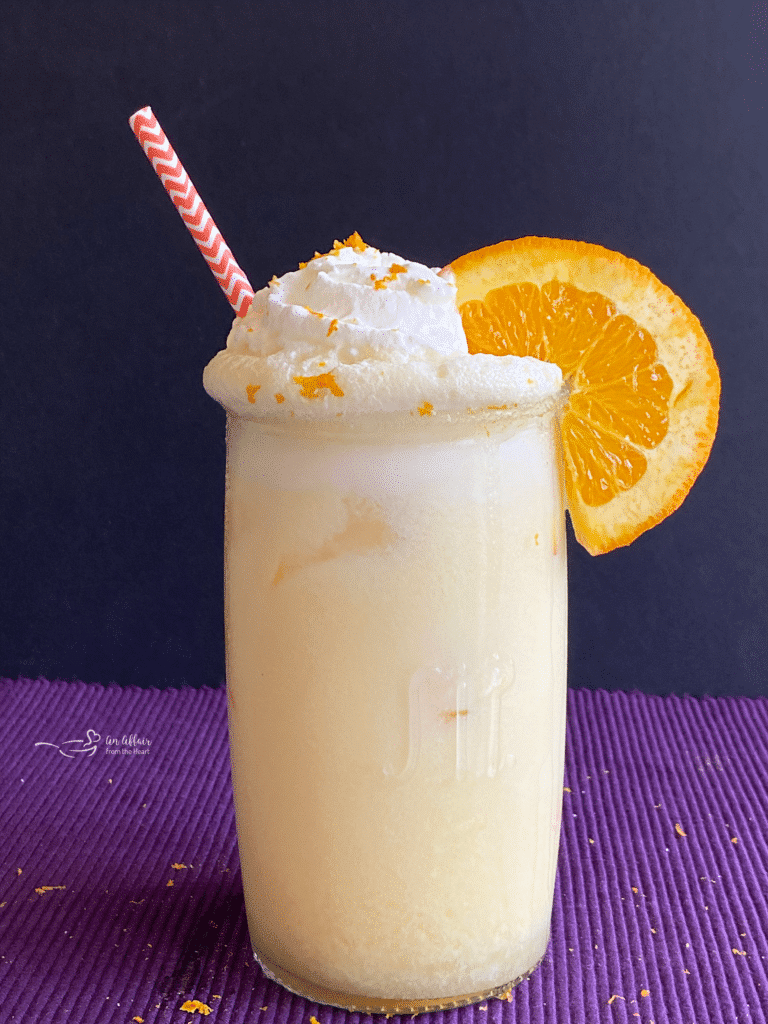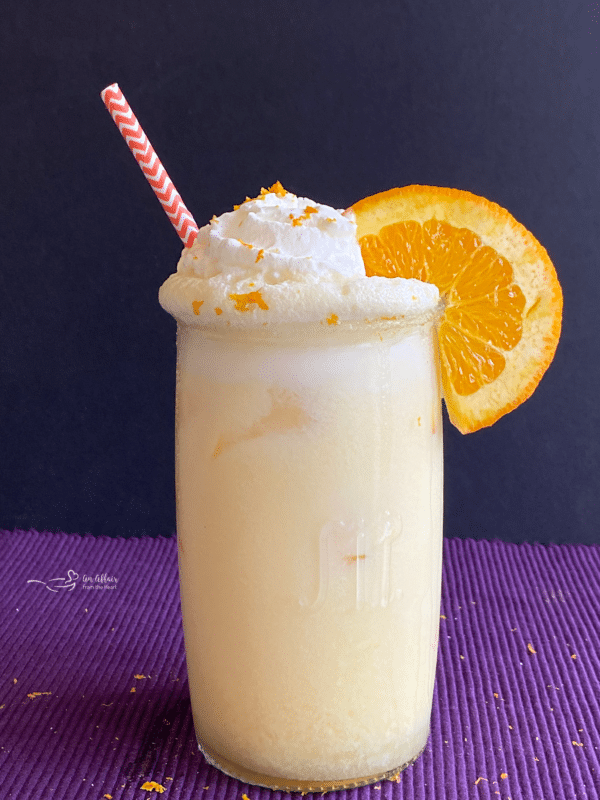 Cocktails that make you feel like you're on vacation
If 2020 has taught us anything, it's how to make the best of life, right at home. Travel has been pretty much non-existent.
Parties? Friends? Outings? Yea, those went by the wayside, too.
Take out, Netflix, game night, and Zoom happy hours took the place of all of that. I have quite a few cocktail recipes to enjoy right here on my blog. But I thought I would share some of my favorites that can help you vacation, even if it's only in your mind.
Vacation Tasting Cocktail Recipes: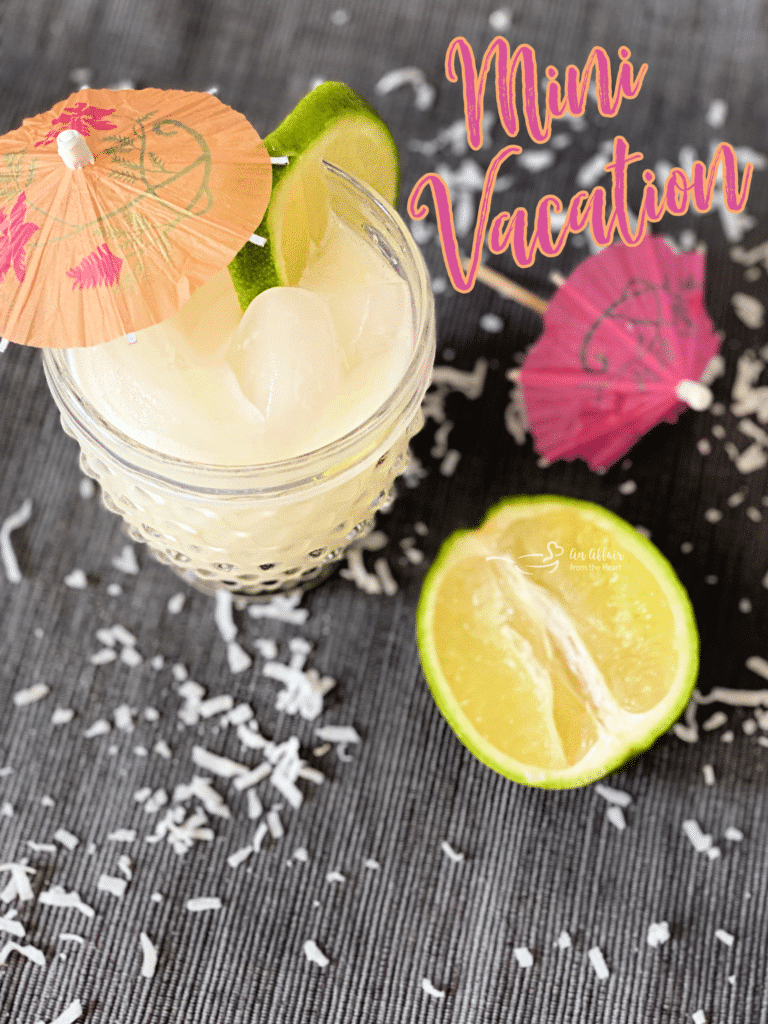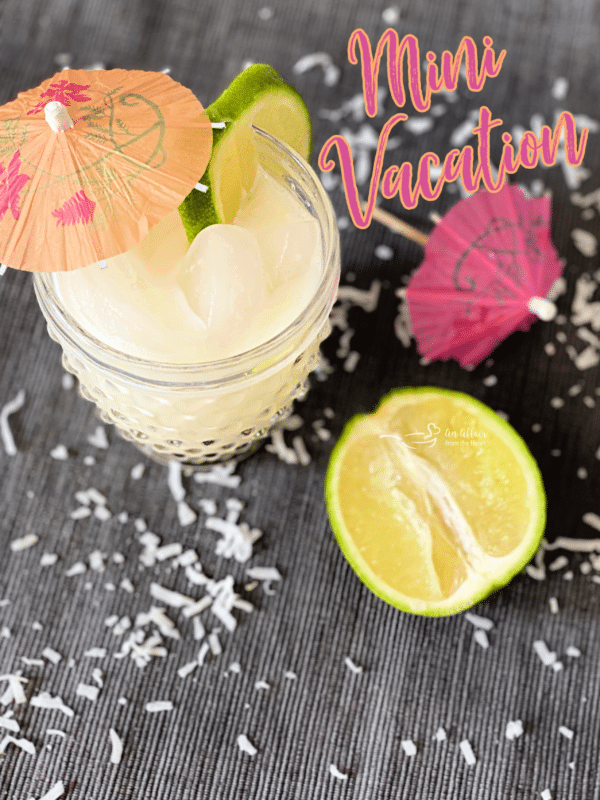 Let's make some Brazilian Lemonades!

Yield: 1 Pitcher
Brazilian Lemonade Cocktail a.k.a. The Mini Vacation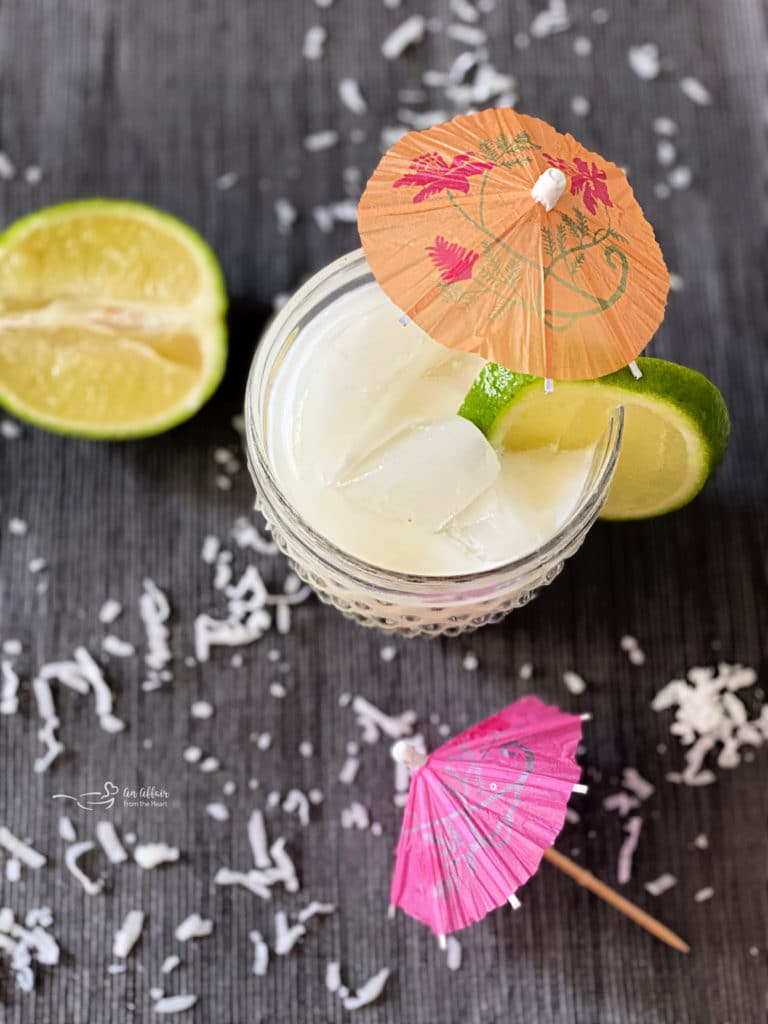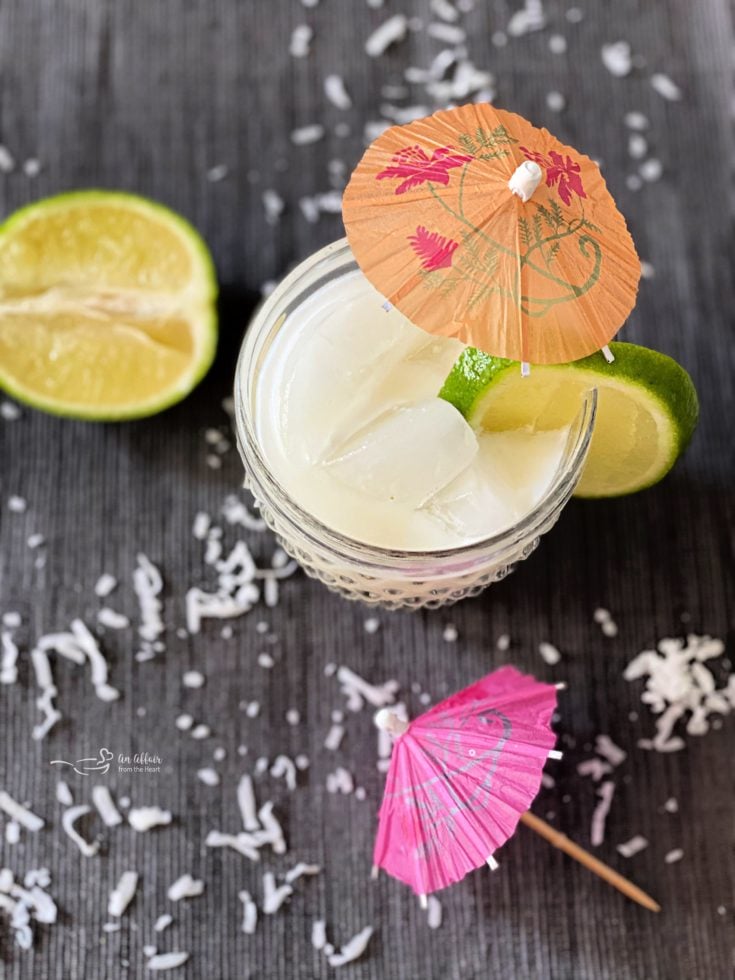 Close your eyes. Take a Sip of this Brazilian Lemonade. A creamy coconut lime cocktail that will have you feeling like you're on a mini vacation.
Ingredients
4 large limes, washed thoroughly, with ends cut off, and cut into thin slices.
1 cup sugar
6 cups cold water
1 (14 ounce) can fat free sweetened condensed milk (can use full fat)
Coconut Rum, to taste (Malibu Rum)
Instructions
Mix water and sugar, pour half of the this into your blender, add half of the limes. (yes the whole thing, skin and all!) Blend completely.
Place a wire strainer (got to have small holes here!) over your pitcher that you will be serving the drinks in. Pour the mixture over the strainer and catch all of the pulp.
Discard the pulp.
Repeat with the other half of the limes and sugar water.
To the lime and sugar water mix, add the sweetened condensed milk and stir. Chill until you're ready to mix up the cocktails, or drink as is as a mocktail, without the rum.
Add rum to your glass of ice, pour drink mixture over and stir.
Garnish with a lime slice and a cocktail umbrella if desired.

Recommended Products
As an Amazon Associate and member of other affiliate programs, I earn from qualifying purchases.
Nutrition Information:
Yield:
10 cups
Serving Size:
1 cup
Amount Per Serving:
Calories:

105
Total Fat:

0g
Saturated Fat:

0g
Trans Fat:

0g
Unsaturated Fat:

0g
Cholesterol:

1mg
Sodium:

11mg
Carbohydrates:

26g
Fiber:

1g
Sugar:

23g
Protein:

0g
Nutrition isn't guaranteed accurate
This Mini Vacation Cocktail Recipe (a.k.a. Brazilian Lemonade Cocktails) were first shared on October 15, 2011. They have been updated to improve user experience and re-shared on September 18, 2020.

If you make this recipe, I'd love to know! Snap a picture, share the photo on social media with the hashtag #AnAffairFromTheHeart – I'd love to see what you made! – Michaela