This Pickled Beet Hummus recipe is the perfect shade of pink, full of the best flavors, and so easy to make! Tender and tasty chickpeas are mixed with pickled beets, lemon zest, garlic, tahini, and more for a pickled beet appetizer you will love for any occasion.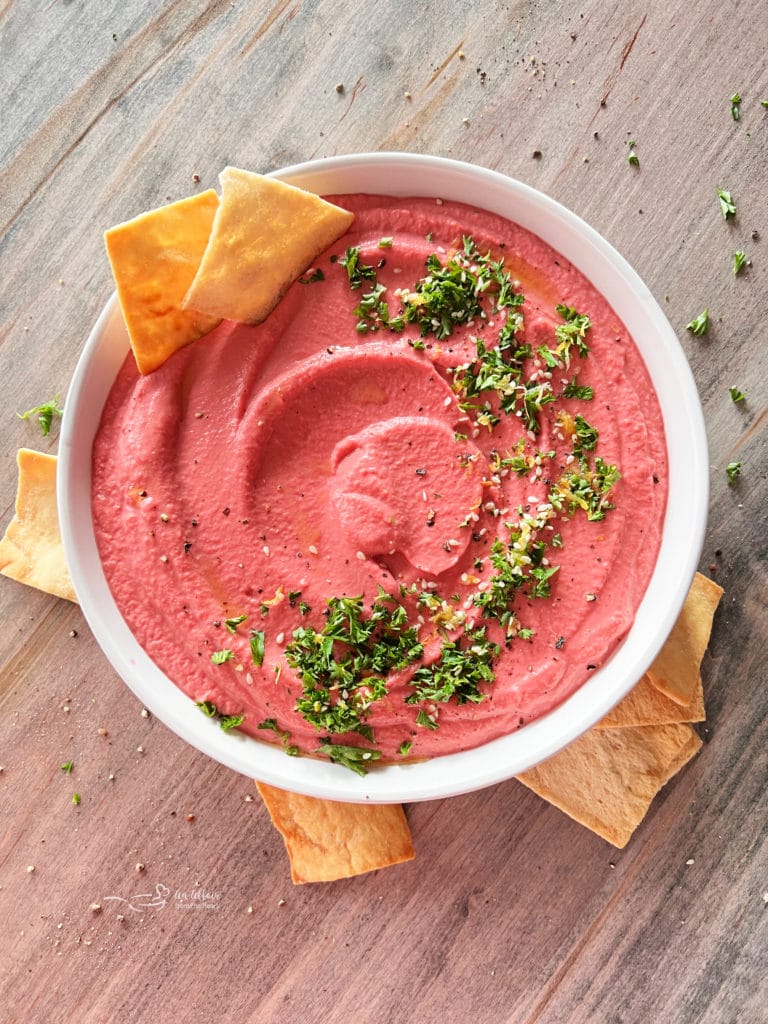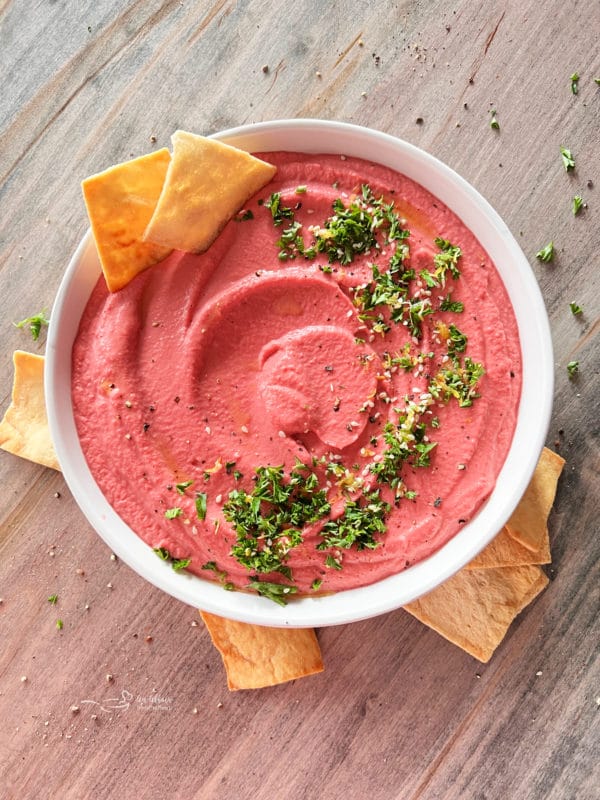 This quick beet hummus is divine! Serve this easy pickled beet appetizer with your favorite crackers, veggies, and bread. There are so many great ways to enjoy this recipe! This bright pickled pink beet hummus recipe is nice to look at and looks even more beautiful topped with some vibrant green parsley… You get the picture, right?!
With only a few simple steps, this delicious and tangy hummus made with pickled beets will be ready in minutes to satisfy anyone who loves to try different flavors of hummus. You'd be surprised by how much flavor is in this yummy beet recipe!
This post is sponsored by my good friends at Paisley Farm Foods but the love of all of their products and the opinions here are my very own. Thank you for supporting the companies and products that make An Affair from the Heart possible.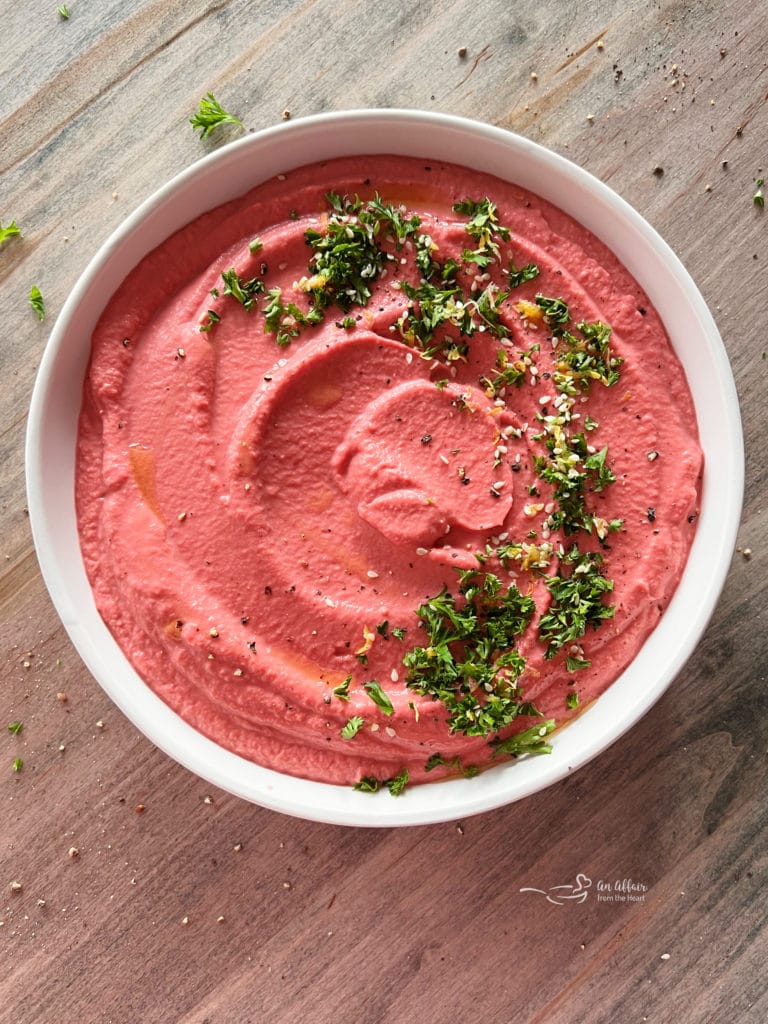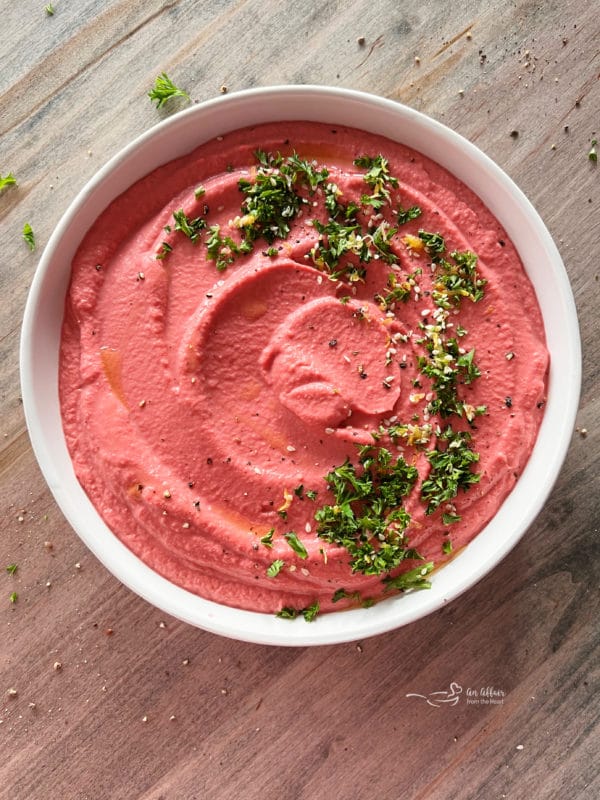 WHY THIS RECIPE IS SO GREAT
Quick: In just ten minutes, a tasty and super flavorful snack will be ready to be devoured! If you're looking for a recipe that requires little prep and work, then you've come to the right place. This recipe is one of my go-to for any party or holiday get-together.
Easy: Just throw everything into a food processor and you've got the best hummus! The ingredients are very straightforward and this is the perfect beginners' recipe if you're looking for something new and simple. I love making this hummus for meal prep because you can just store it in the refrigerator to eat on for days with hardly any work.
Healthy: This recipe is filled with wholesome ingredients that are rich in nutrients! Beets are loaded with fiber, antioxidants, iron, various vitamins, and low in calories. Looking for an easy way to squeeze in some healthy food into your life? Especially for the New Year? This is our go-to snack at home when we are wanting to eat light.
Perfect for Appetizer: Serve this snack on your favorite serving dish or platter for a birthday, party, potluck, game night, or just any moment you are needing to treat yourself to something pickled and savory. We enjoy this pink hummus with a wide array of foods such as cucumbers, bell peppers, naan bread, crackers, pita chips, carrots, and much much more.
Rich with Protein: Canned chickpeas are rich in protein and allow this hummus to keep the hunger at bay. Chickpeas are commonly used in a lot of vegetarian and vegan diets because they are versatile and great for making creamy salads, hummus, soups, etc. There are other types of hummus out there that use different types of beans such as edamame, black bean, lima bean, white beans, and black-eyed peas.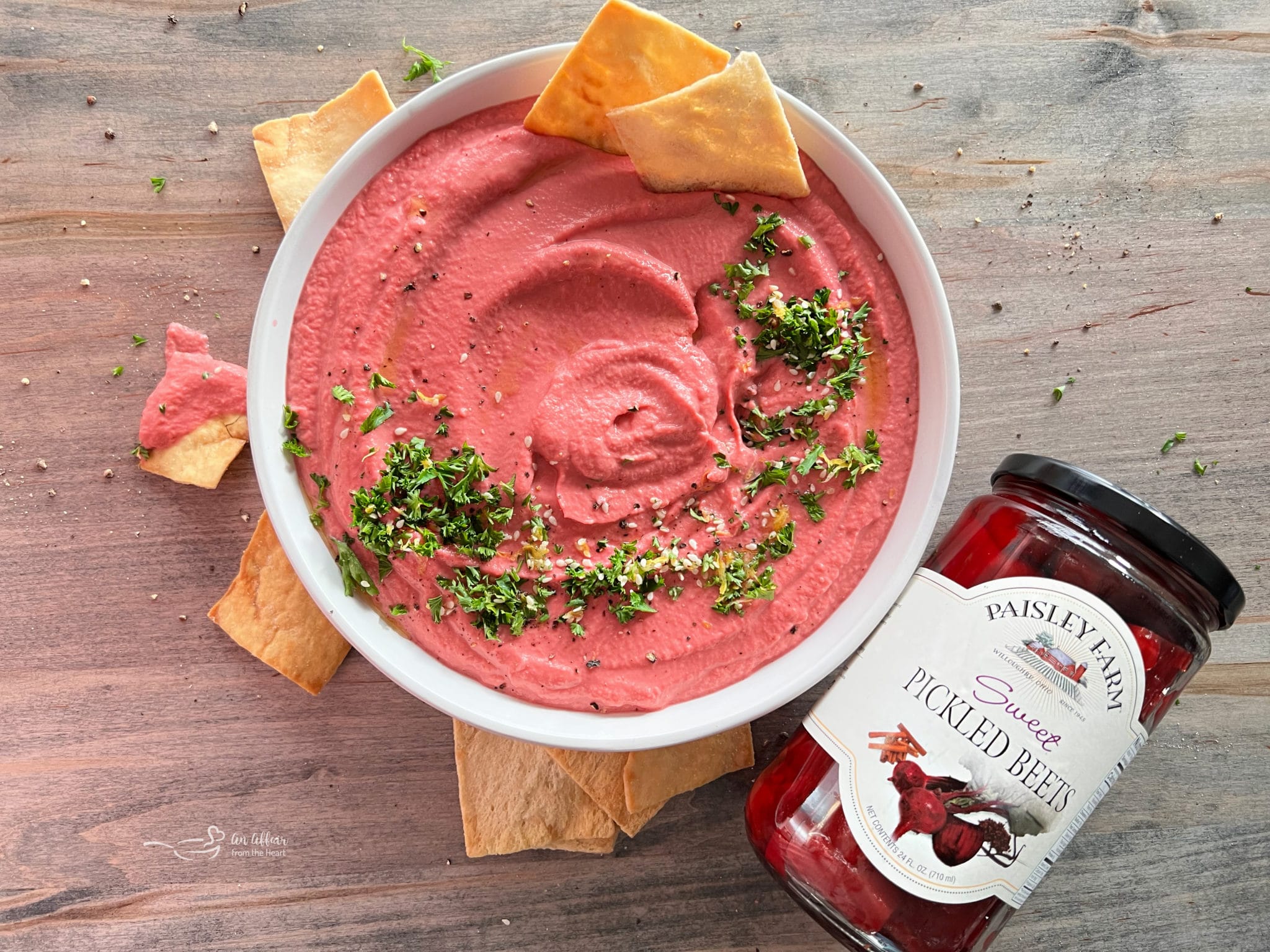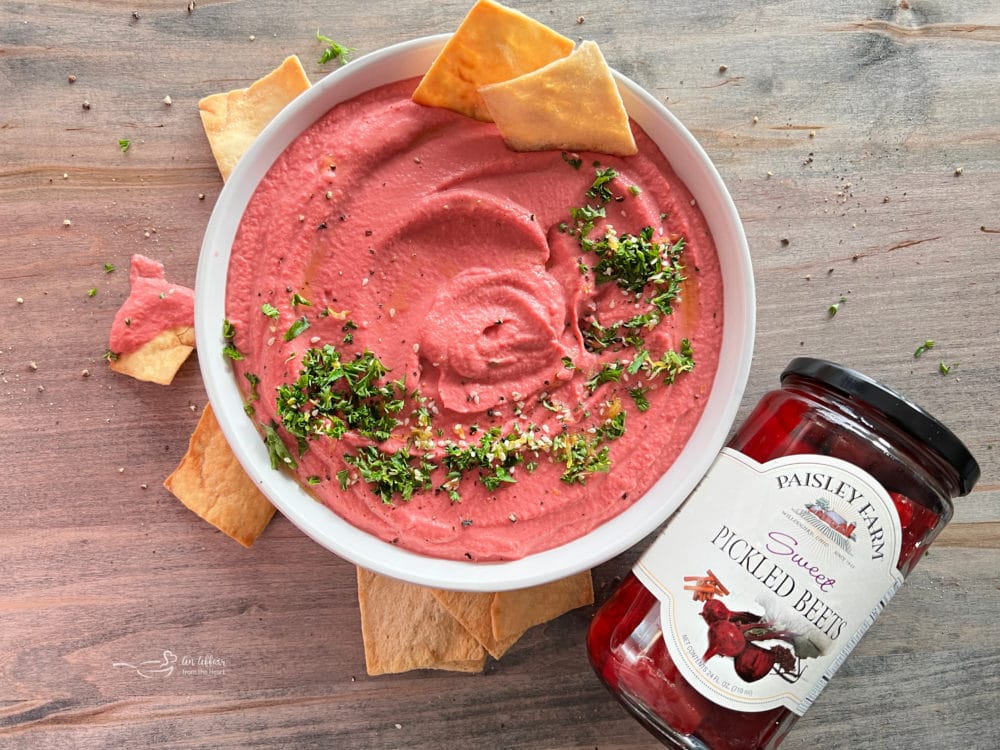 IS BEET HUMMUS GOOD FOR YOU?
This pickled beet hummus is gluten-free, vegetarian, dairy-free, and rich in fiber and protein. Since this recipe contains beets, you get additional vitamins like folate, potassium, vitamin A, betaine, and more nutrients. I definitely would consider this hummus good for you!
Enjoy some of my other healthy snacks and appetizers like my Baked Sweet Potato Chips, Pickled Okra Relish, and Flatbread with Pickled Vegetables. Those are just some of my other fave appetizers. Visit all of my snacks and appetizers!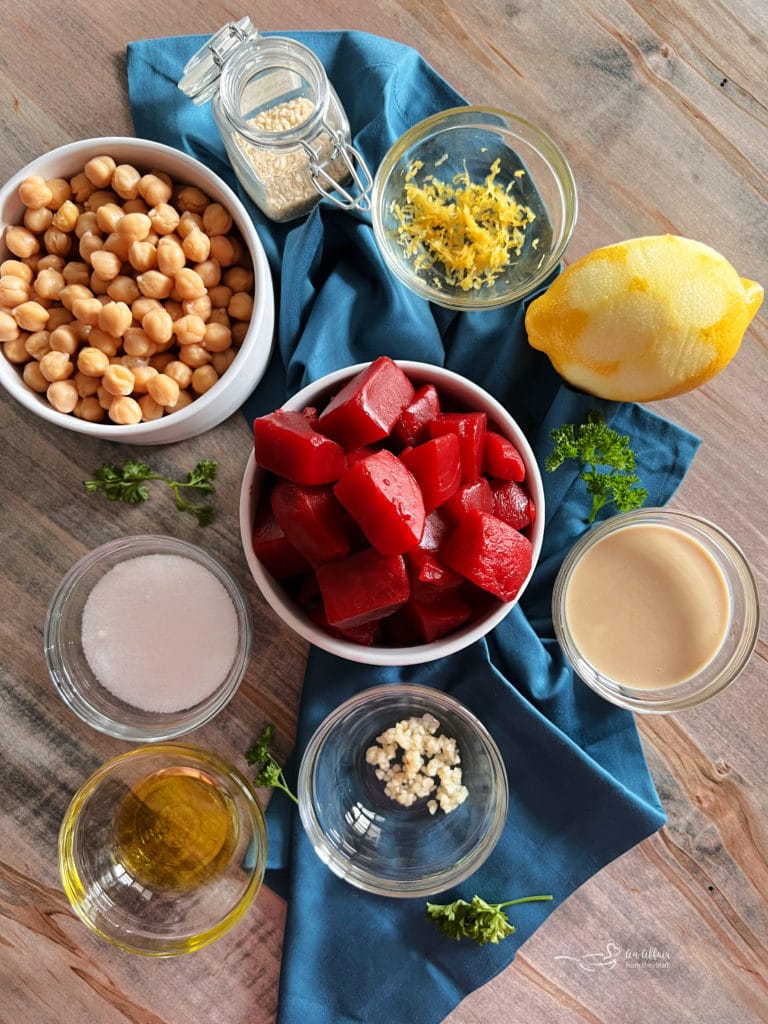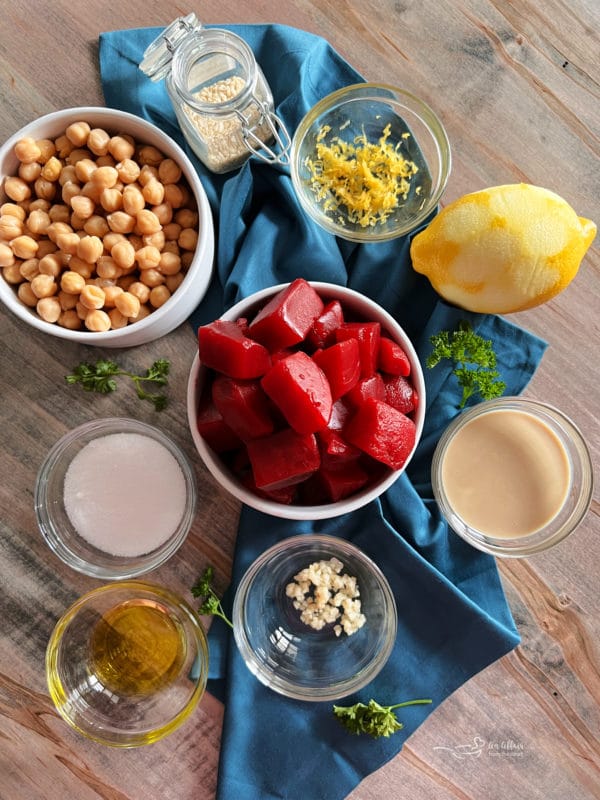 INGREDIENTS
Enjoy how simple this ingredients list is. Pantry-friendly and usually pretty easy to find in the grocery stores, you shouldn't have any issues with this quick hummus!
Hummus
Chickpeas: Use any kind of canned chickpeas for this hummus. Drain the juices before adding them to the food processor. If you are using dried chickpeas, then you will need ½ cup of dried garbanzo beans cooked in water until tender.
Tahini: This condiment is used for all types of cuisines around the world and is a key ingredient to almost all hummus recipes. You can find tahini in the condiment aisles at most grocery stores.
Lemon Zest: Fresh lemon zest adds bright citrus to this yummy beet recipe! Bright, bold, zesty, and delicious!
Garlic: You can never go wrong with fresh garlic, right? Garlic adds enough flavor to this hummus to make it extra tasty and fresh.
Salt: Use any kind of salt you have on hand. For me, I like to use different types of sea salt.
Olive Oil: Smooth olive oil is a key ingredient for this hummus and is what makes it so smooth, creamy, and rich. Most hummus recipes use olive oil!
Garnish
Fresh Parsley: Chopped fresh parsley brings this hummus to a new level just before serving. If you want extra fresh flavors, then add the fresh parsley!
Black Pepper: Top the beet hummus with freshly cracked pepper to finish everything off.
Lemon Zest:

Grate a little more of the lemon zest to garnish the top.

Toasted Sesame Seeds:

Mmm, toasted sesame seeds provide a slight nuttiness to the hummus that is incredible!
For Serving:
Get creative here! Use your favorite types of seeded or water crackers, tortilla chips, toasted bread, warm naan bread, pita, and crispy fresh veggies. You can also serve this hummus on your favorite sandwiches and wraps.
HOW TO MAKE THIS EASY PINK HUMMUS
This recipe is super easy and seriously the best!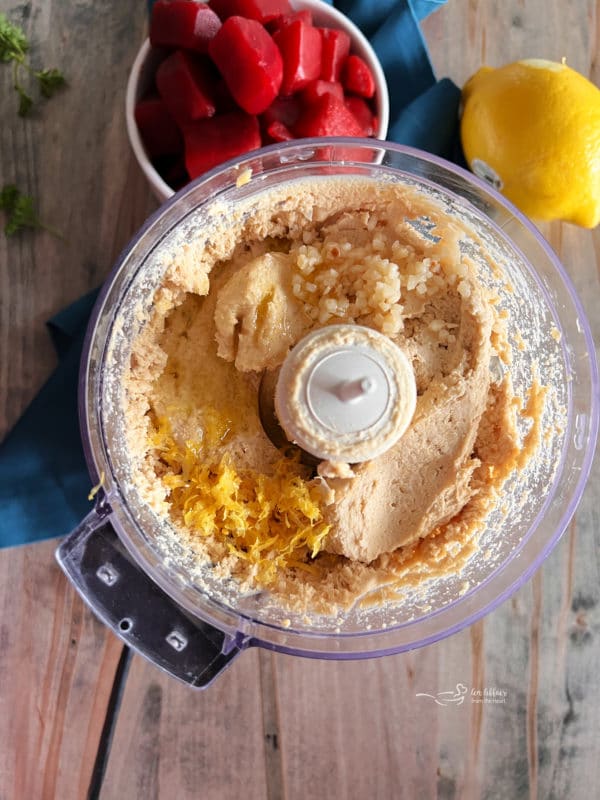 COMBINE INGREDIENTS
First, in a food processor, pulse the chickpeas with tahini. Next, add in the freshly grated lemon zest, minced garlic, salt, and olive oil. Purée all of the ingredients in the food processor for a couple of minutes until smooth.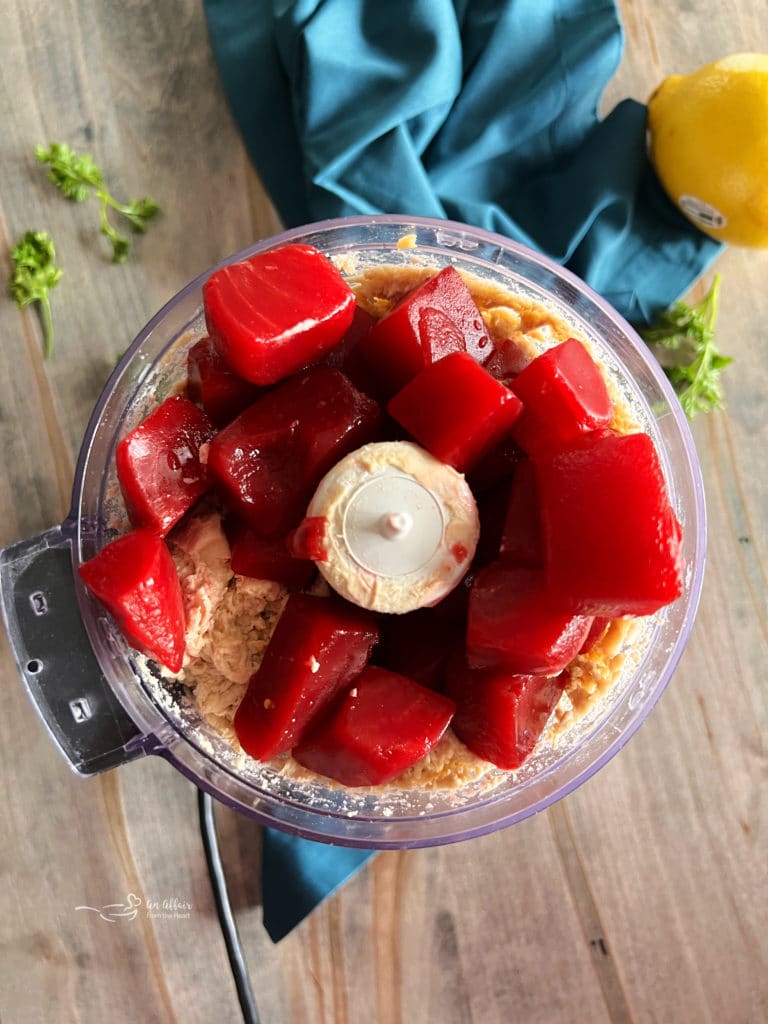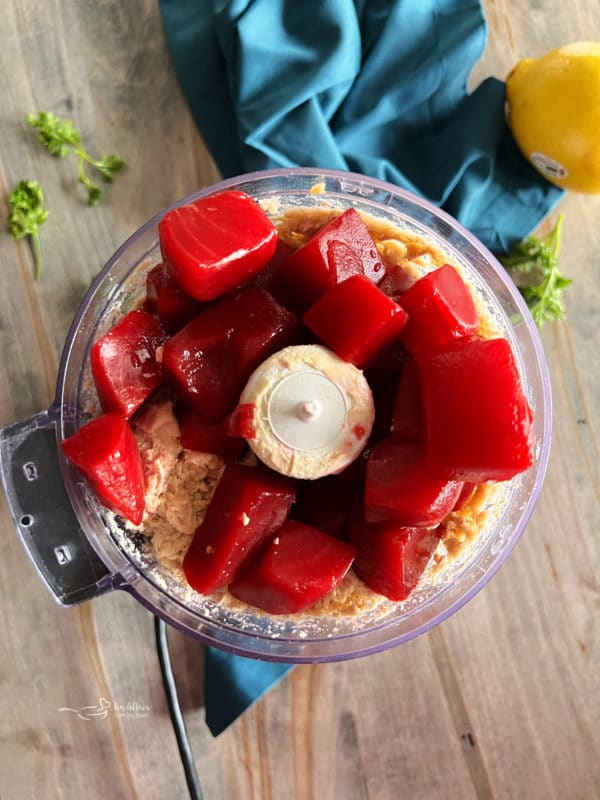 Next – Blend the pickled beets into the hummus.
Note: When you drain the beets save a little of the juice to thin out the hummus if you want to change the consistency of it while it's in the food processor.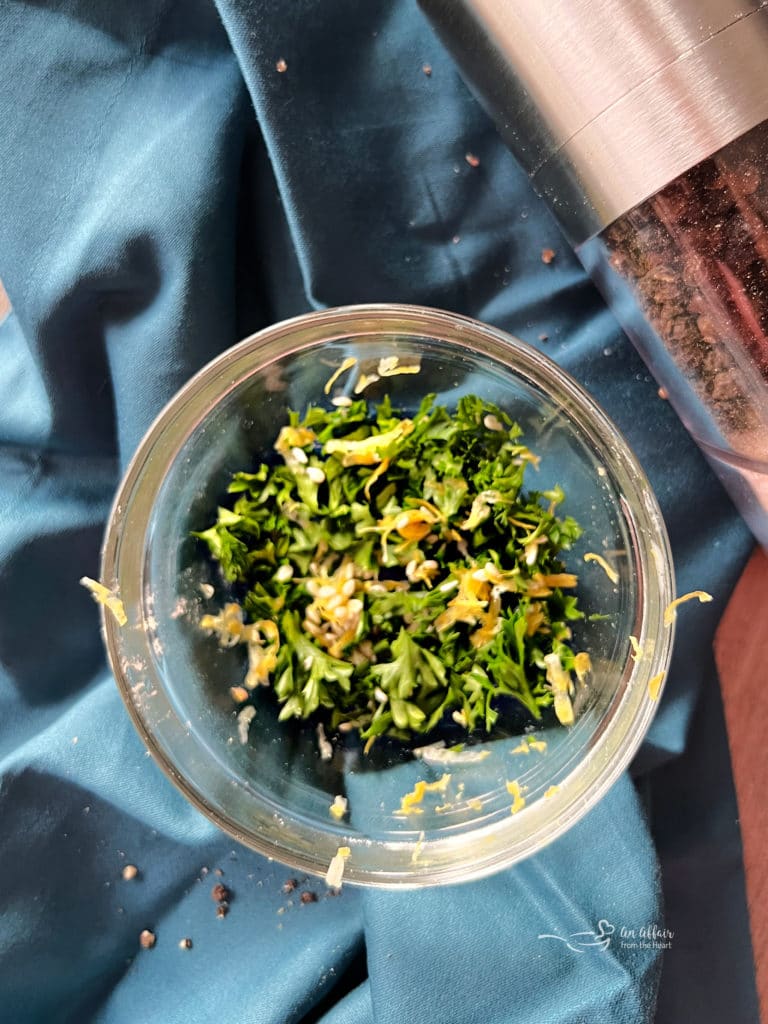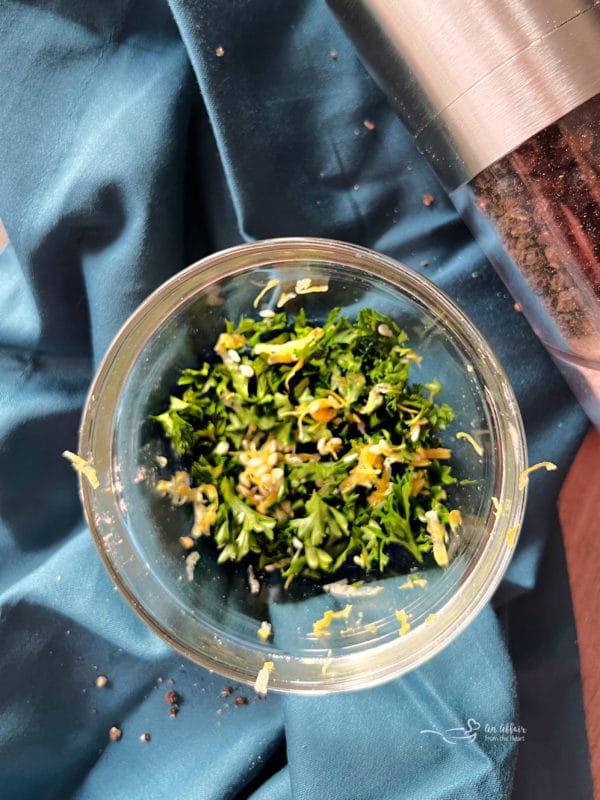 GARNISH
In a small bowl, combine your garnish of fresh parsley, lemon zest, cracked black pepper, and toasted sesame seeds.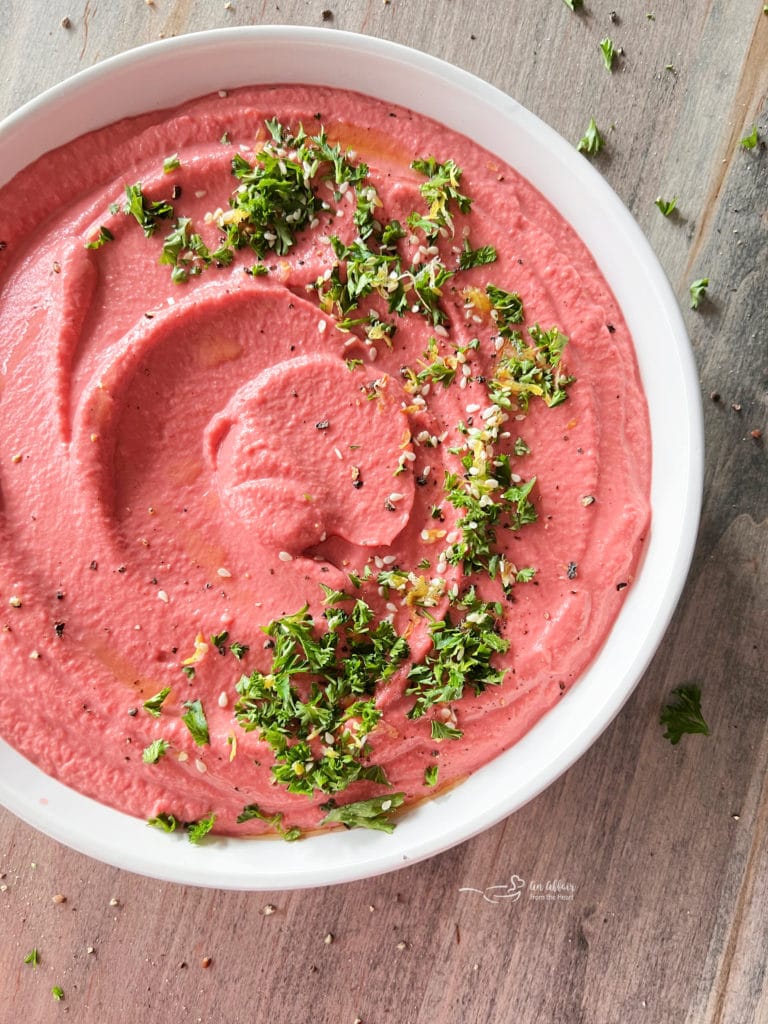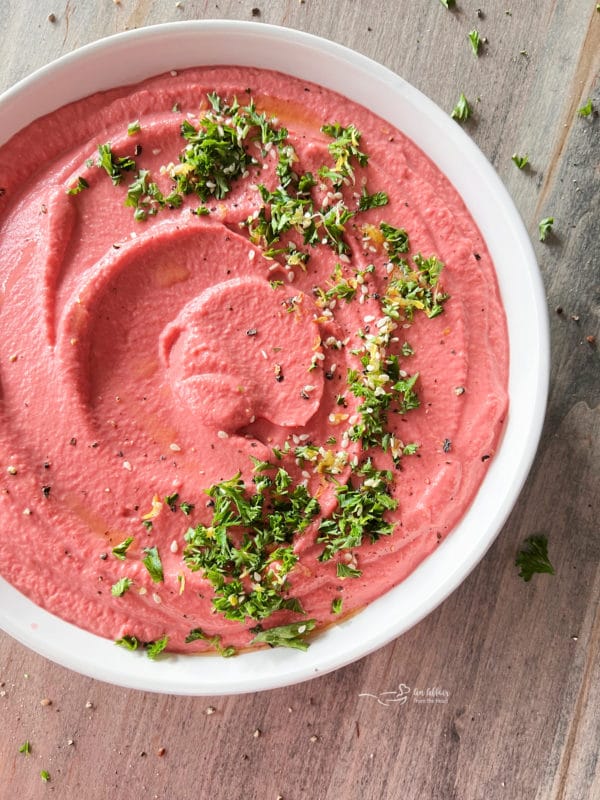 Spread the hummus into a serving bowl and smooth it out with a butter knife, spoon, or rubber spatula. Drizzle a little bit of olive oil on top of the hummus.
Finally, garnish the hummus with freshly chopped parsley, additional lemon zest, black pepper, and toasted sesame seeds.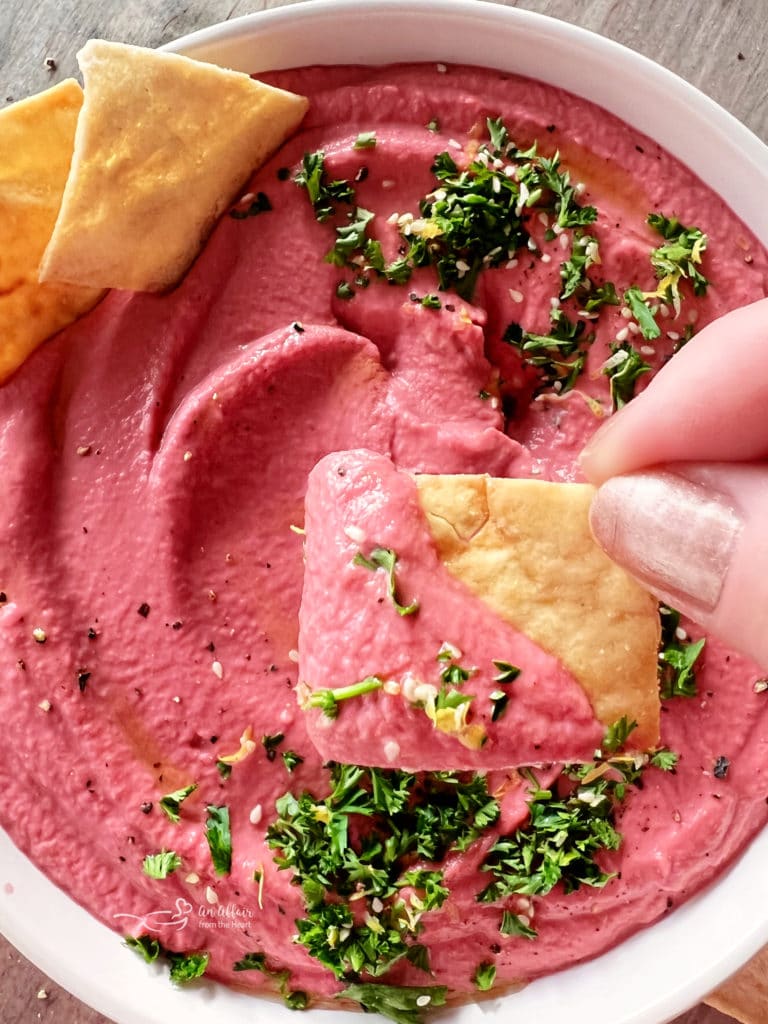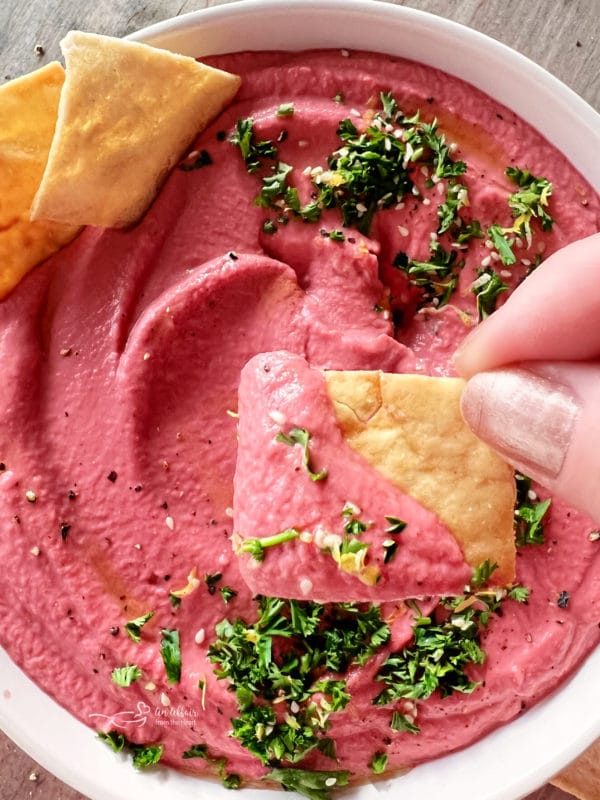 SERVE
Enjoy! Serve the hummus with your favorite crackers and foods to dip with.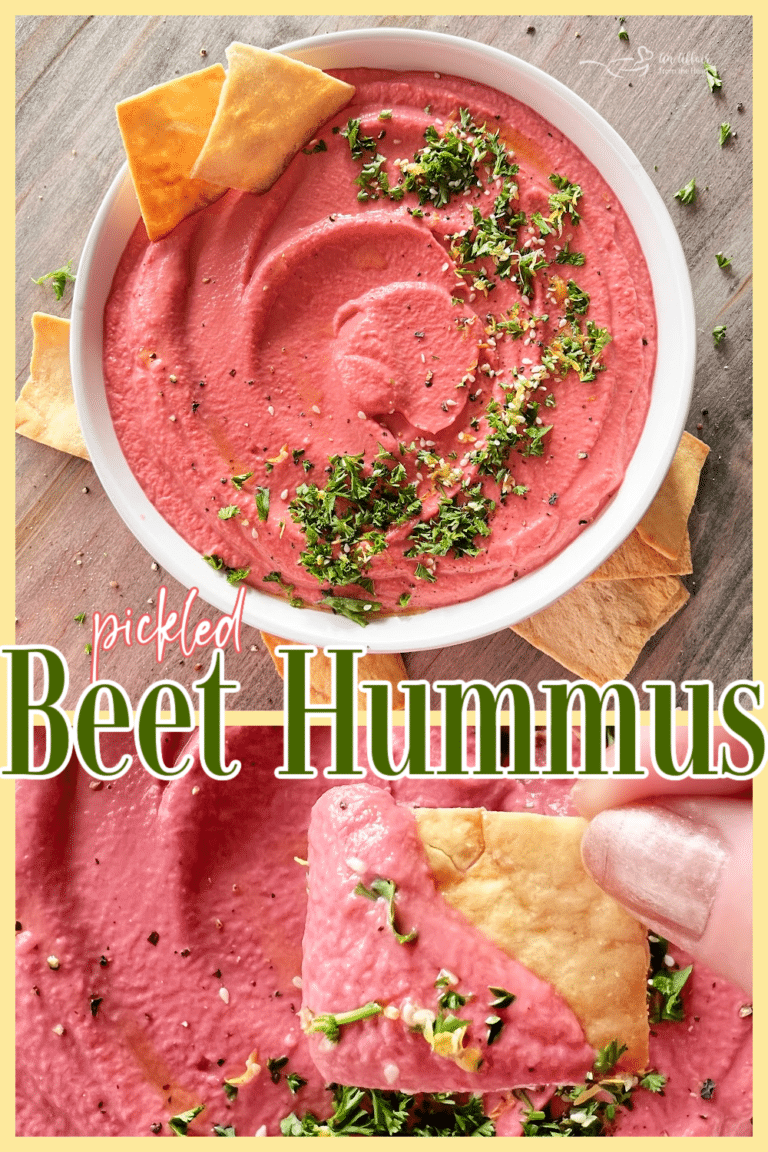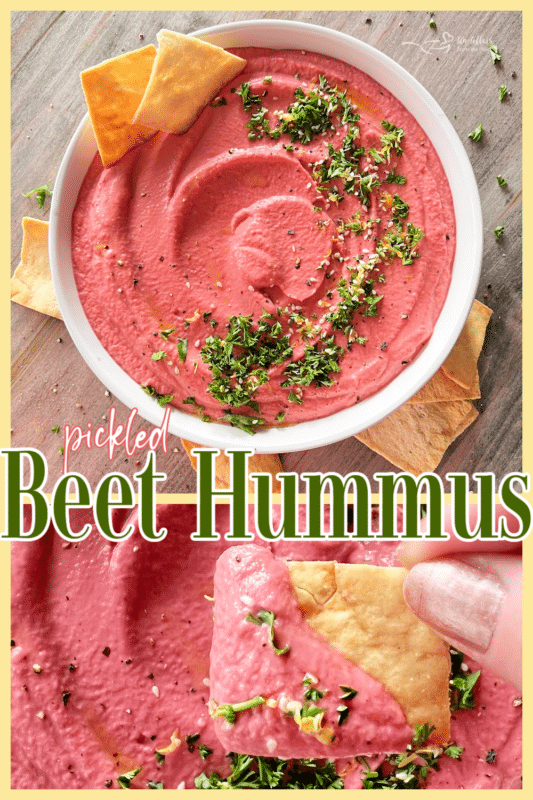 LOVE IT! PIN IT!
Be sure to save this amazing pickled beet hummus to your favorite Pinterest recipe board so that you can find it easily!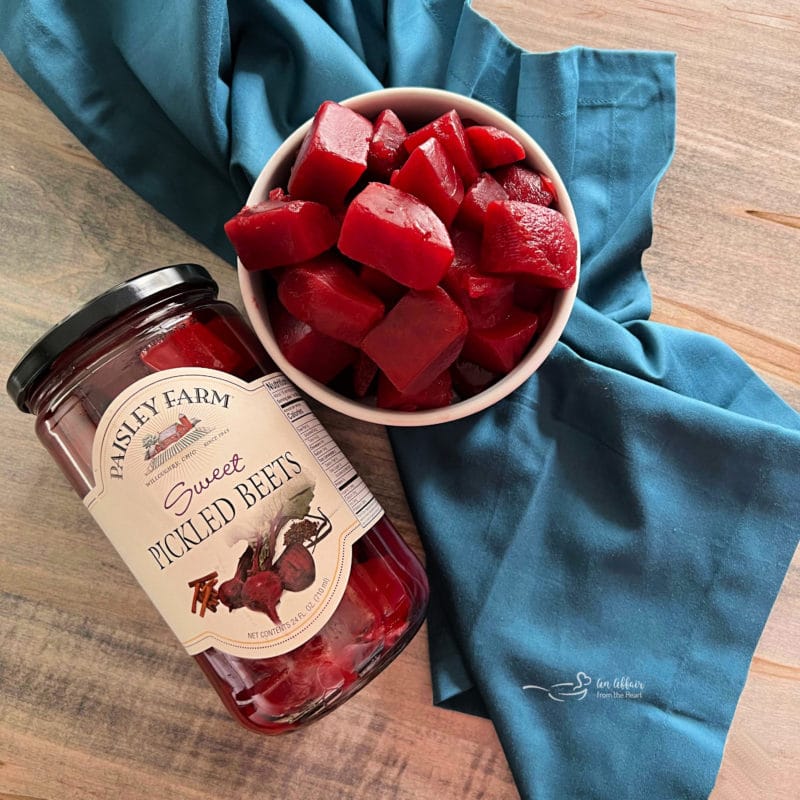 Paisley Farm Sweet Pickled Beets
Made in Willoughby, Ohio, Paisley Farm Foods has been putting smiles on faces since 1945. Their recipe for success is straightforward, keep things fresh. Farm fresh flavors, jarred and ready, for whenever you need a quick and easy side dish or appetizer, right at your fingertips. Just pop open the jar and serve!
Paisley Farms Sweet Pickled Beets have been a family favorite for years. They make a colorful addition to any dinner table, made with just the right hint of vanilla and cinnamon. Irresistible right out of the jar, or add them to recipes like this beet hummus!
You'll want to give their signature bean salads, organic mushrooms, and pickled brussels sprouts a try, too!
WHAT IS TAHINI?
Tahini is a creamy and robust condiment that is typically used in various recipes around the world–specifically Middle Eastern and Mediterranean. Ground sesame seeds are what tahini is made of and you can simply make your own or use storebought. Use this smooth paste to add extra flavor to your recipes.
ARE CHICKPEAS AND GARBANZO BEANS THE SAME THING?
Yes! Garbanzo beans and chickpeas are the same and both names are used interchangeably while preparing food.
TIPS AND NOTES
Store the leftover hummus in an airtight container in the refrigerator for up to five days. Remove the hummus from the refrigerator and stir before serving.
Prepare this pickled beet hummus ahead of time making the hummus and storing it in the refrigerator until ready to serve.
Add some heat to this hummus by sprinkling some red chile flakes or cayenne pepper atop it.
Top the hummus with crumbled feta or goat cheese if you would like.

MORE QUICK RECIPES YOU WILL LOVE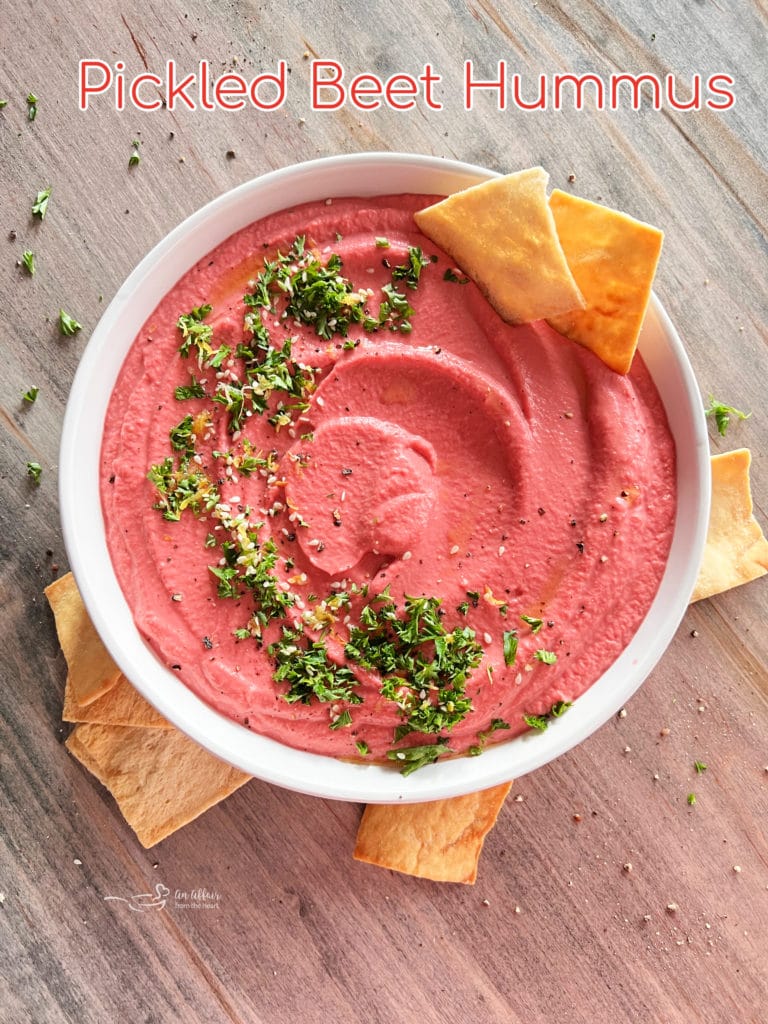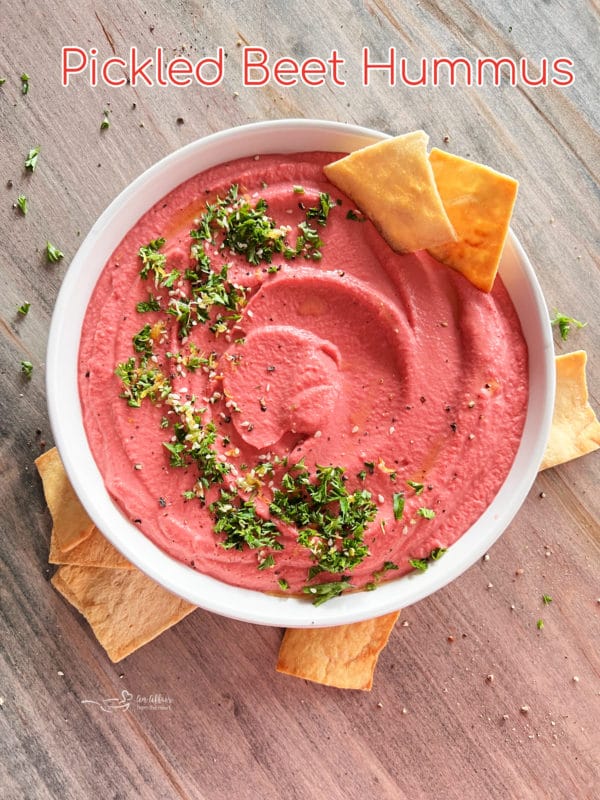 This Pickled Beet Hummus will be a huge hit at your next get-together! Let's make some!

Yield: 8 as an appetizer
Pickled Beet Hummus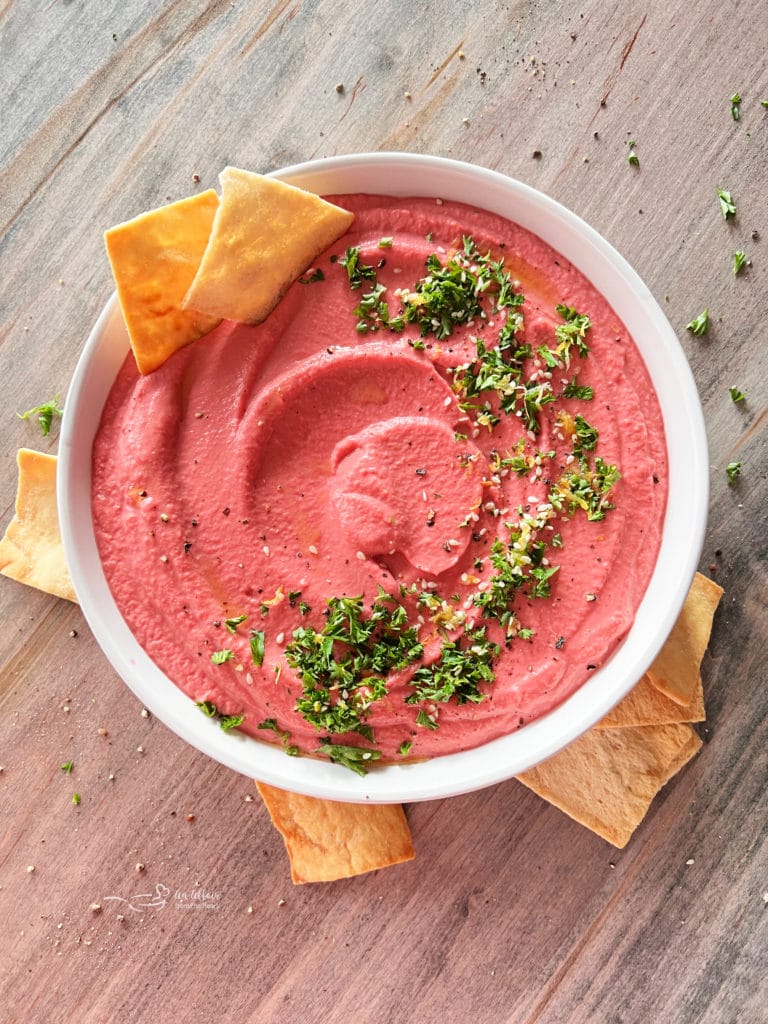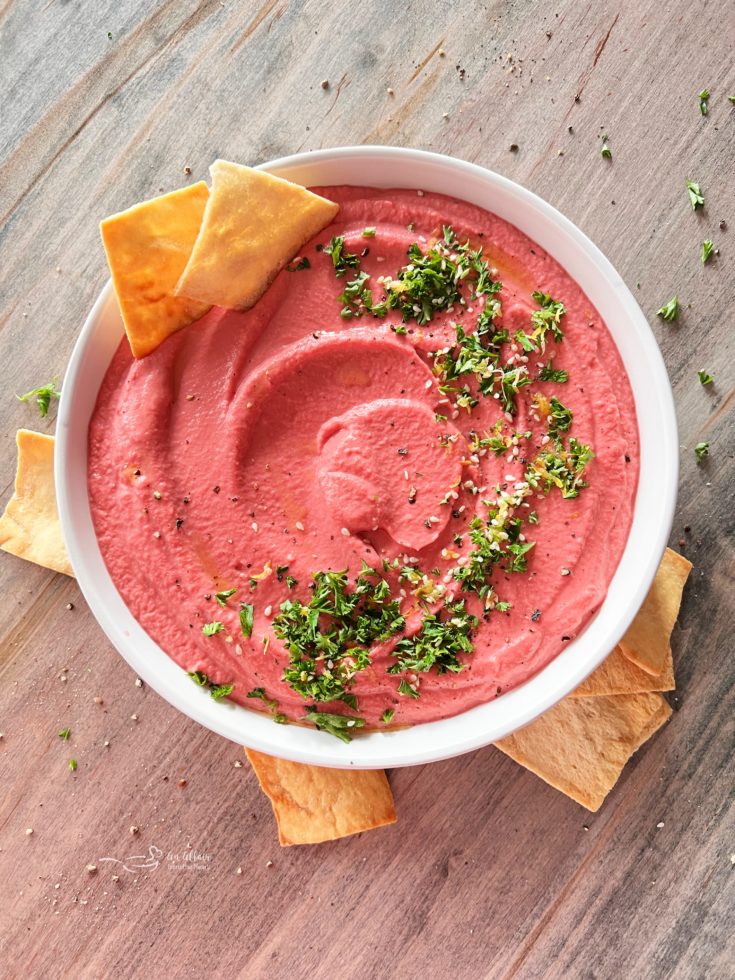 This Pickled Beet Hummus recipe is the perfect shade of pink, full of the best flavors, and so easy to make! Tender and tasty chickpeas are mixed with pickled beets, lemon zest, garlic, tahini, and more for a pickled beet appetizer you will love for any occasion.
Ingredients
1 (24 ounce) jar Paisley Farm Pickled Beets, drained
1 (16 ounce) can chickpeas, drained
1/4 cup tahini
1 teaspoon lemon zest (+ more for garnish if desired)
2 cloves garlic, minced
1/2 teaspoon salt
2 teaspoons olive oil, + 1 teaspoon for garnish
Fresh parsley, fresh ground pepper and toasted sesame seeds for garnishing, if desired
Instructions
In a food processor, pulse chickpeas with tahini for a couple of minutes. Add in lemon zest, garlic, salt, and olive oil. Puree until smooth.
Blend in pickled beets.
Spread into a bowl and pour a teaspoon of olive oil over the top.
If desired, garnish with fresh parsley, more lemon zest, freshly cracked black pepper and toasted sesame seeds.
Serve with pita chips, naan bread, cucumbers or carrots.
Notes
When you drain the beets save a little of the juice to thin out the hummus if you want to change the consistency of it while it's in the food processor.
Recommended Products
As an Amazon Associate and member of other affiliate programs, I earn from qualifying purchases.
Nutrition Information:
Yield:
8
Serving Size:
1
Amount Per Serving:
Calories:

129
Total Fat:

7g
Saturated Fat:

1g
Trans Fat:

0g
Unsaturated Fat:

6g
Cholesterol:

0mg
Sodium:

179mg
Carbohydrates:

13g
Fiber:

3g
Sugar:

4g
Protein:

4g
Please note that nutrition is not guaranteed accurate.

If you make this recipe, I'd love to know! Snap a picture, share the photo on social media with the hashtag #AnAffairFromTheHeart – I'd love to see what you made! – Michaela