Breaded Pork Cutlets
As an Amazon Associate and member of other affiliate programs, I earn from qualifying purchases.
Simple to make crispy breaded pork cutlets are coated in cracker crumbs and pan-fried on the stove until golden brown. Crunchy breaded pork cutlets make a wonderfully comforting meal, and are ready in under 30 minutes, requiring only 4 ingredients.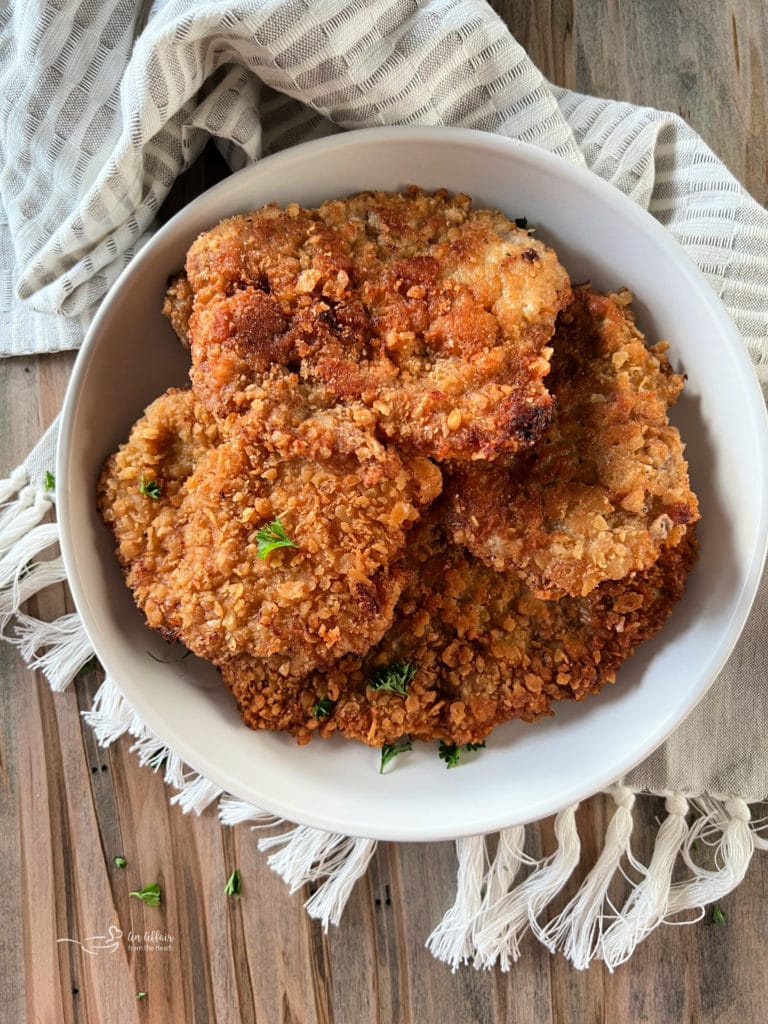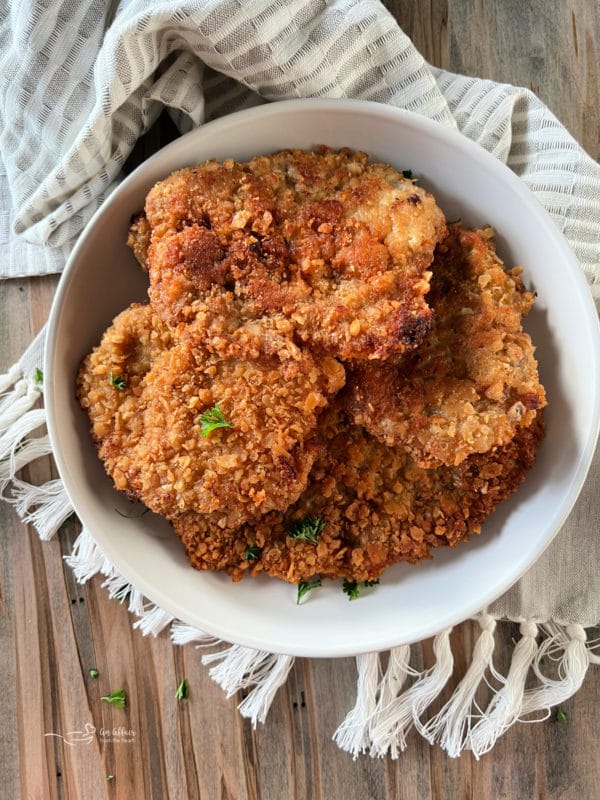 I have been making this breaded pork cutlet recipe my entire married life. I make them how my mom taught me, and how my grandma taught her. Pork cutlets are an economical choice when you are shopping in the meat section, and adding a quick and simple breading of cracker crumbs makes them a delicious meal choice that doesn't "break the bank" and satisfies your family.
This recipe is sponsored by Frank's Kraut, but the opinions here and my lifelong love of their sauerkraut are all my own.
Breaded Pork Cutlets
I have always wanted to share this easy family meal on my website, and for whatever reason, I haven't. But when I was asked to tell you about two new products from Frank's Kraut, I knew exactly what I was making!
Typically, when I make this pork cutlet recipe, I make corn, mashed potatoes, and gravy. But the leftovers? Always as a sandwich with on regular sandwich bread or a bun and always with mustard. Top it with Frank's Kraut and it just got even better! I mean Pork & Kraut just go together so well!

New Flavors from Frank's Kraut
You all know by now how much I love sauerkraut and not just any sauerkraut, but the BEST sauerkraut – Frank's Kraut! Well, I am honored to tell you that I was shipped their brand new flavors before it was even available! I adored them BOTH and I know that you will, too!
Frank's Mustard Kraut is authentic homestyle sauerkraut with a dill pickle relish and mustard zip. It makes a flavorful topping for hot dogs, bratwurst, or burgers, but also it makes a fabulous topping for pork!
Frank's Sweet & Smoky BBQ Kraut has a sweet & savory flavor with a BBQ twist made with brown sugar and spices. This crunchy, authentic sauerkraut is fantastic BBQ and grilled meats.

My whole family did a taste test, and we are truly divided on which one we liked better. If I had to choose one, my preference would be the mustard kraut, but I have always been on team mustard anyway! It was amazing atop the fried pork cutlets.
Now the hubs, he chose the BBQ flavored kraut as his top choice and loved it with the pork, too.
What is a Pork Cutlet?
Another name for a pork cutlet is a pork cube steak. A pork cutlet is a tenderized pork tenderloin. A lean cut of the pork pounded thin with a tenderizing mallet. Pork chops and pork cutlets are not the same cut of meat.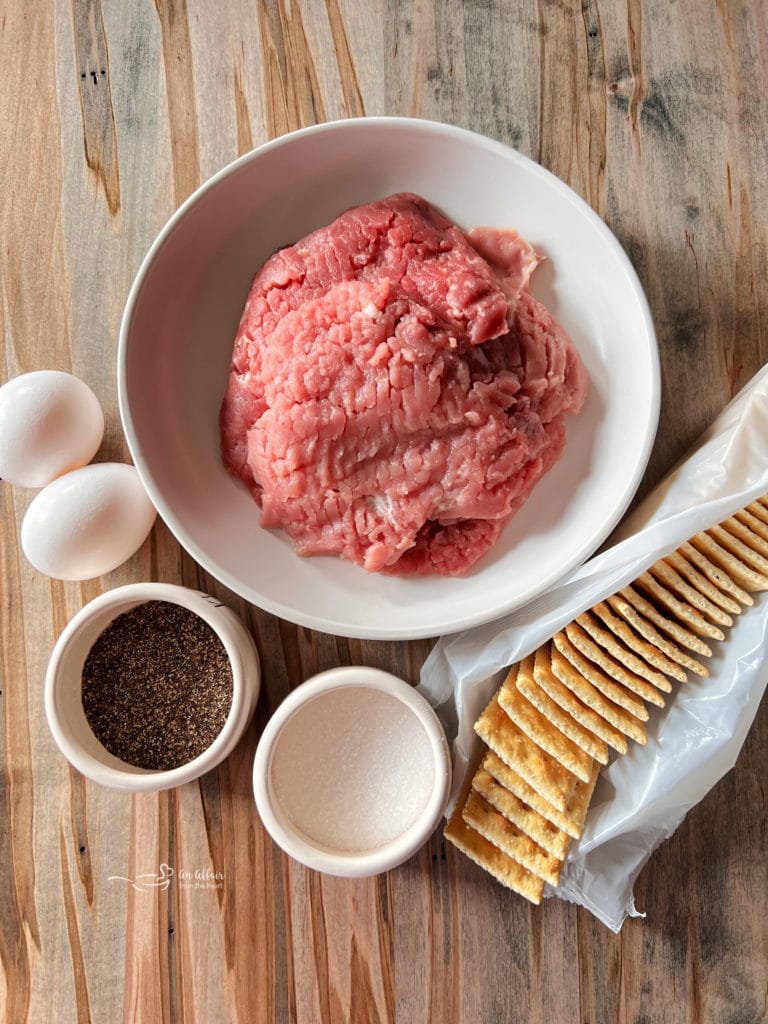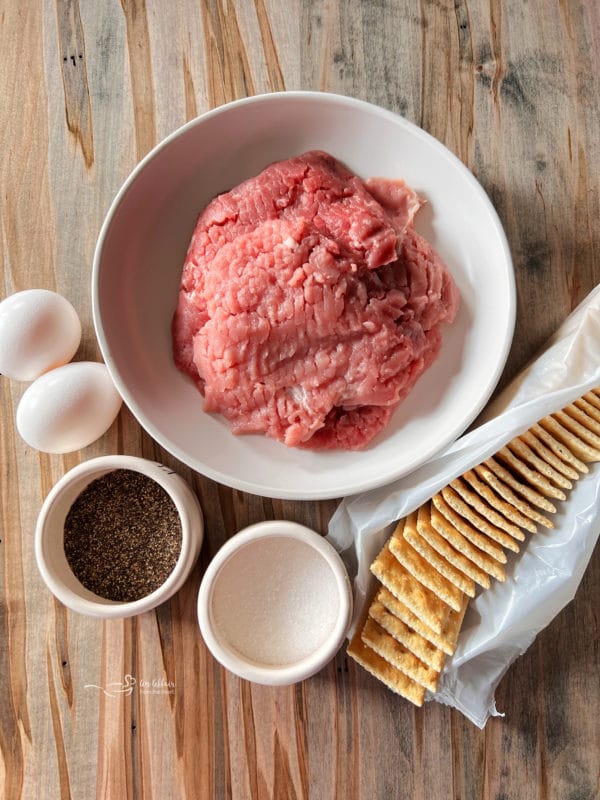 Ingredients in Breaded Pork Cutlets
pork cutlets – make sure they are tenderized and pounded out fairly thin. I purchase mine from the butcher this way.
salt & pepper
eggs
saltine crackers – I have substituted Club crackers and Ritz crackers if I don't have saltines on hand. Crush them with your food processor, or use a rolling pin.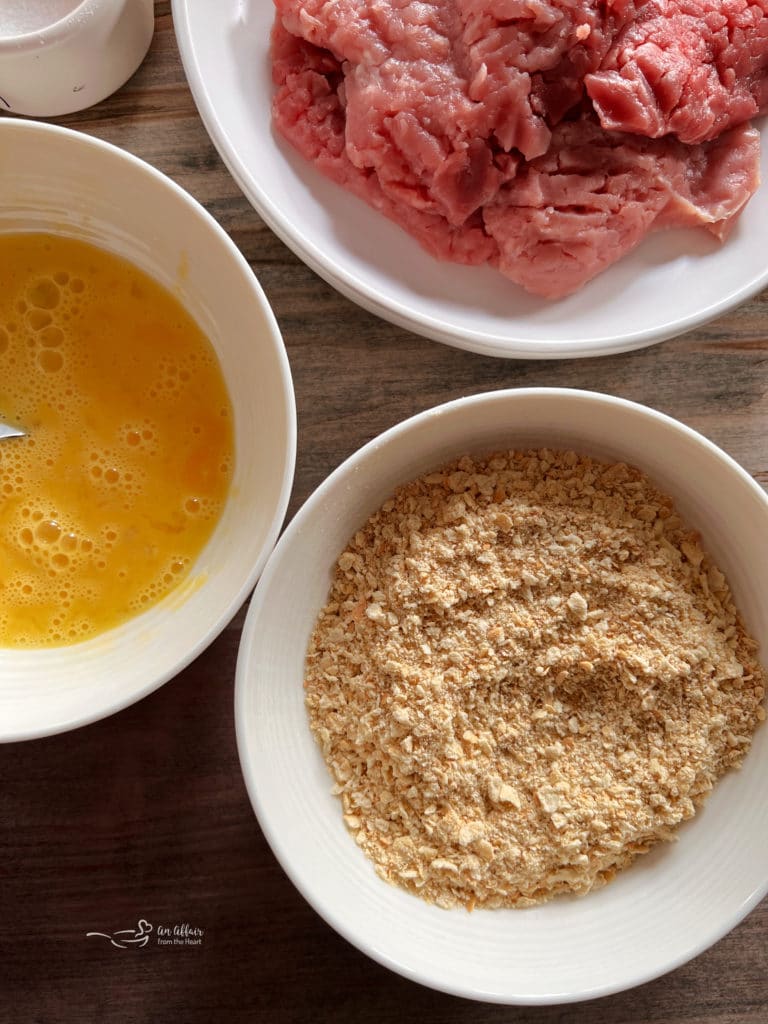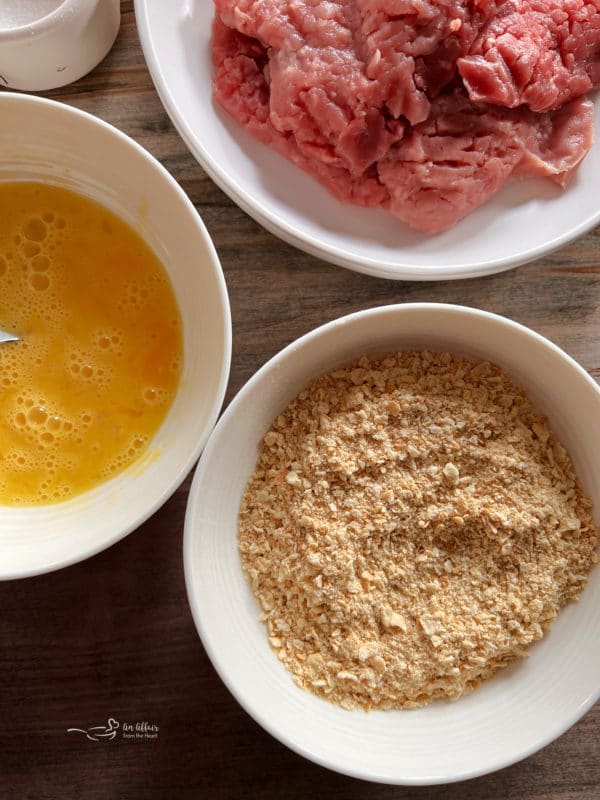 How to make the BEST Breaded Pork Cutlets
Begin by gathering your ingredients. I use shallow bowls when I make this recipe. Add enough vegetable oil to the bottom of your skillet to coat it. Turn the heat on so the oil is hot when you add your cutlets.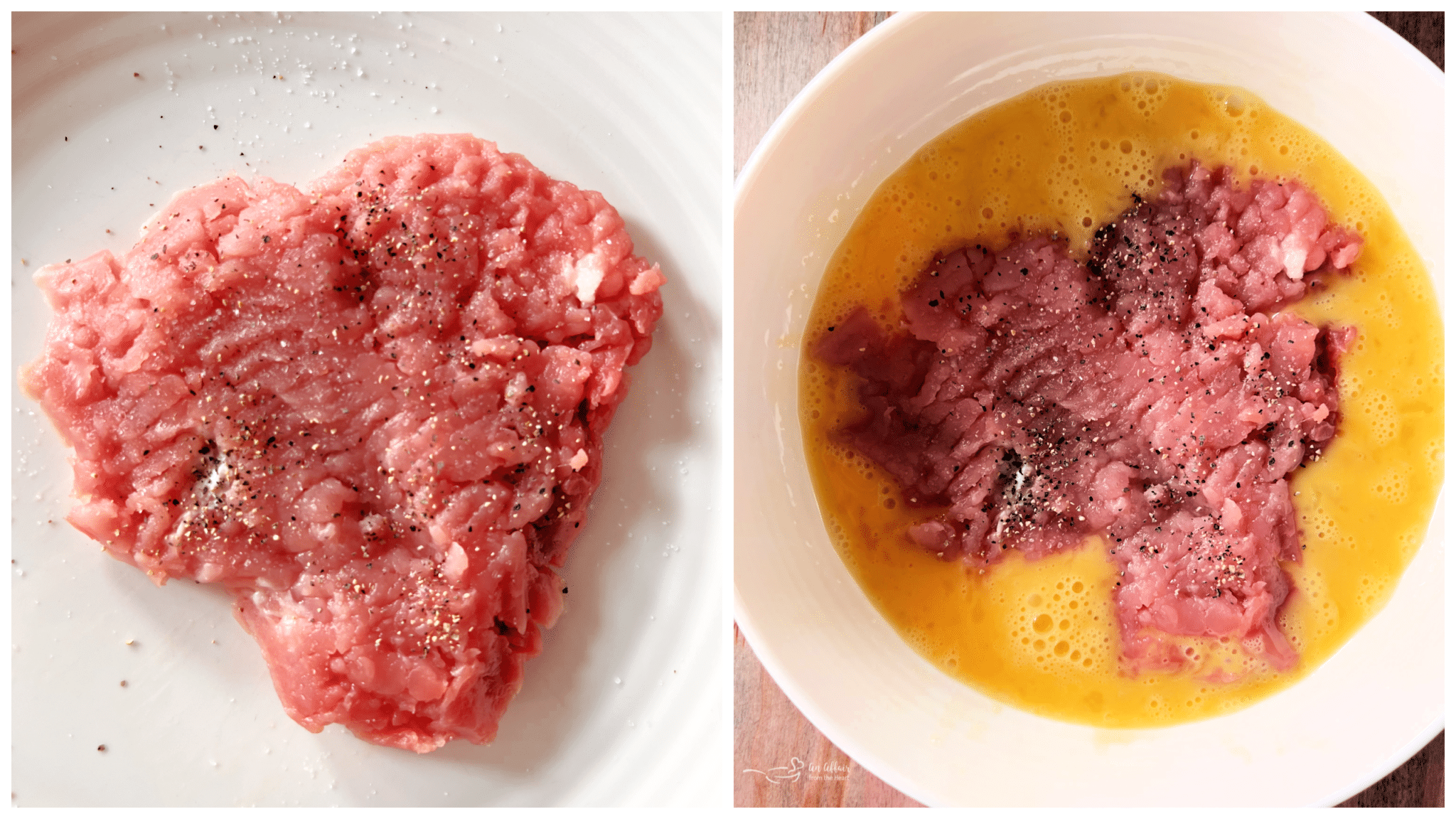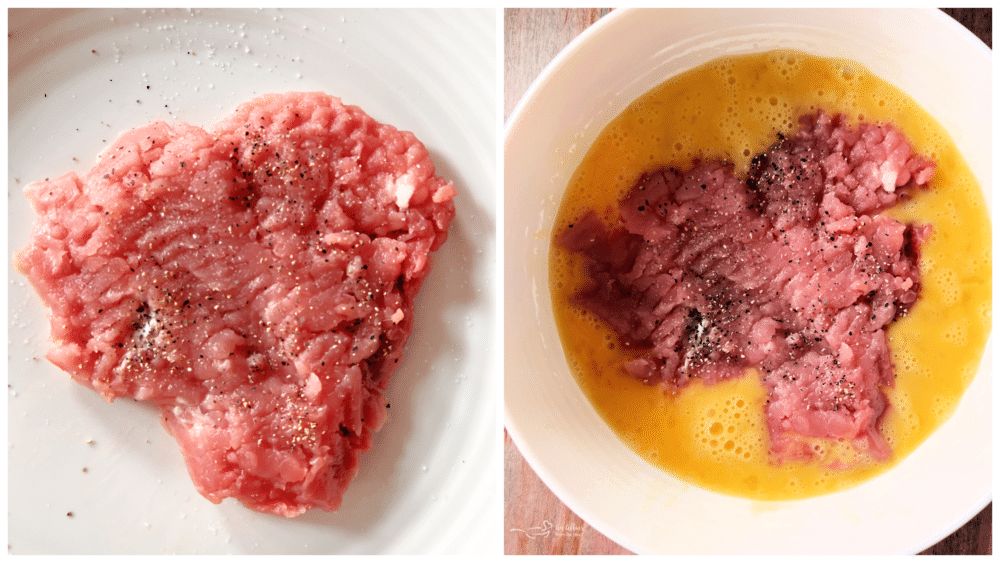 First, rub a light sprinkling of salt and pepper into the pork cutlet. Then dip both sides into the beaten egg.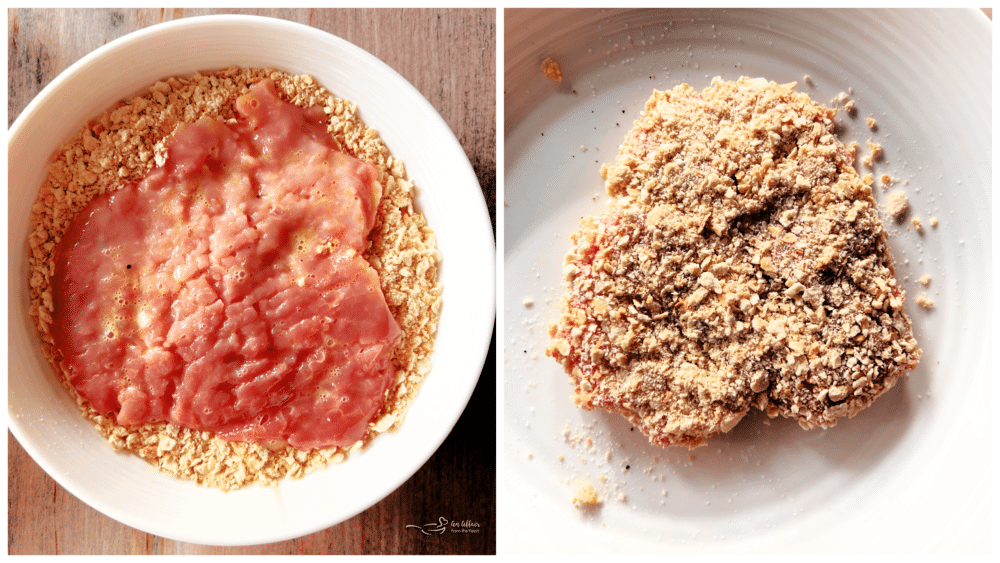 Immediately press the egg-dipped cutlet into the cracker crumbs. Pressing them and coating them onto both sides.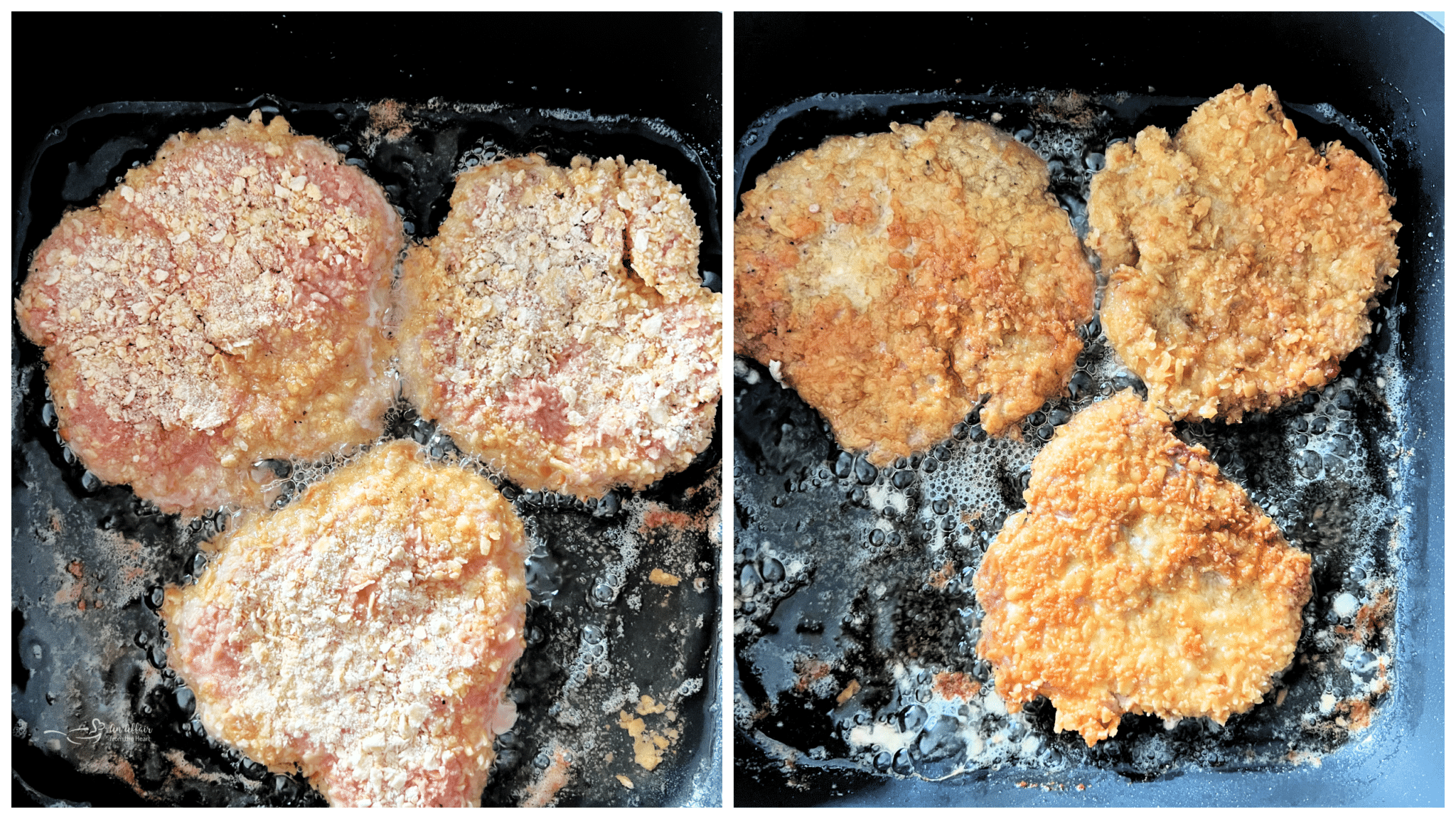 Finally, place the pork cutlets in the hot oil in your skillet. When they are golden brown and crispy on one side, flip them and brown the other side.
Pork cutlets are not super thick, so mine are always done in about 12 minutes or so. There isn't any need to worry about the inside not being cooked, because the oil is hot and the inside cooks while the outside browns. Just remember that cuts of pork tenderloin are cooked when the internal temperature of the meat reaches 145 degrees with a meat thermometer.
Serve hot. Store leftovers in the refrigerator in an airtight container for up to 3 days.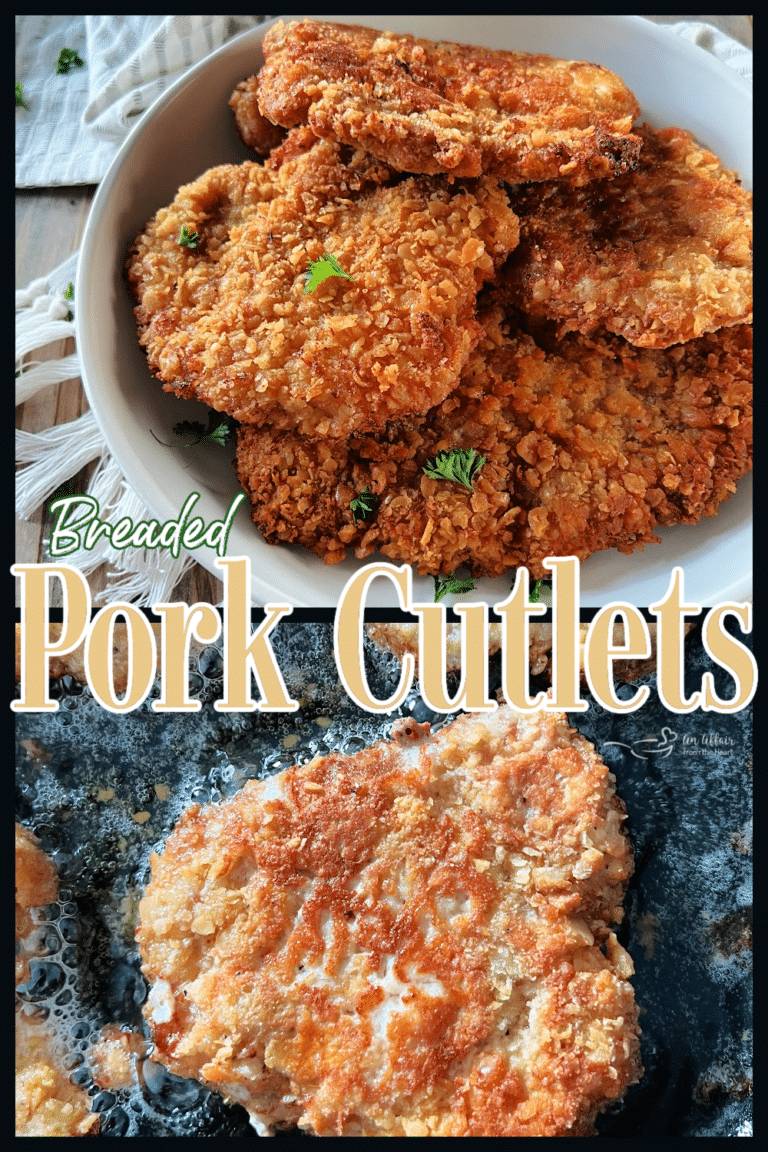 Love it? Pin it!
Love this recipe? Make sure you pin it to your favorite Pinterest recipe board before you go so that you can find it quickly!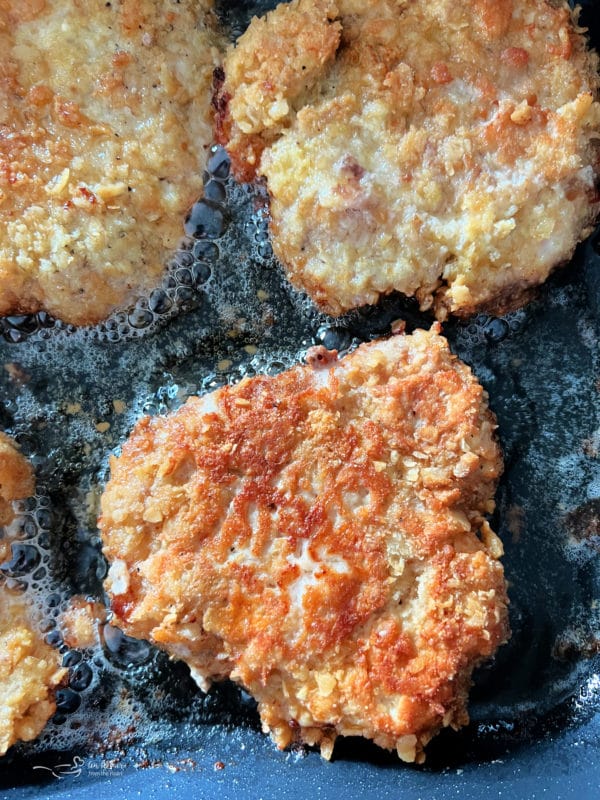 How do you keep breading on Pork Cutlets?
Getting the breading to stick to pork isn't difficult at all as long as you follow a couple of simple rules. First off, you don't want the meat to be too wet. Dab it with a paper towel before you dip it in your egg. Don't leave the pork soaking in the egg, dunk it and then immediately dredge it in flour, or in this case, cracker crumbs for frying in hot oil.
As an alternative, you can make these pork cutlets in your air fryer if you want to avoid the oil altogether.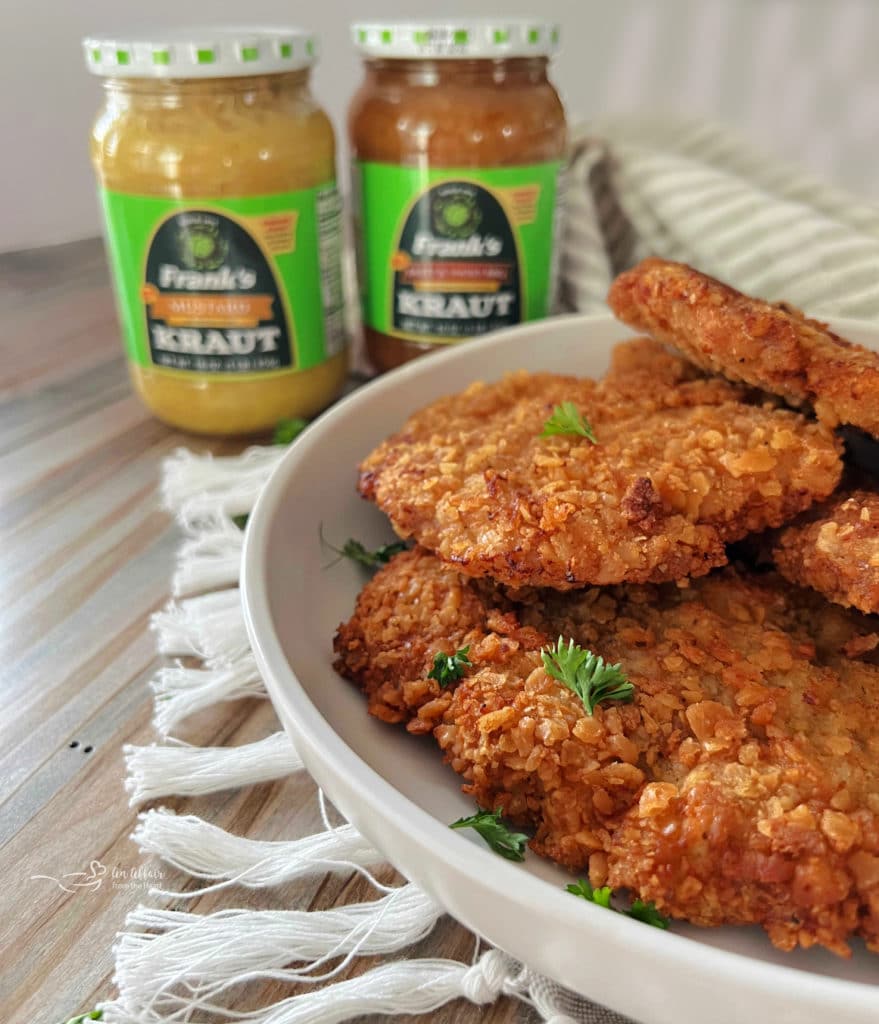 Serve it with a side of Frank's Kraut!
This recipe is one where having a jar of Frank's Kraut in the pantry made the meal that much easier. Open the lid and serve. So simple. And So good for you, too!
HOW HEALTHY IS KRAUT?
Sauerkraut comes packed with vitamins. Vitamins C and K, low in sugar, high in fiber, kraut has been used as a folk remedy for a number of ailments for years. Of course, it is always nice when modern science realizes some of those traditions actually possess some merit, right?
CELEBRATE FLAVOR WITH FRANK'S KRAUT
My relationship with Frank's Kraut spans quite a few years. I have developed many sauerkraut recipes for them, everything from appetizers to dessert! I have even made up my own term when it comes to making all sorts of recipes with the flavor of the Reuben sandwich. The term "Reubenize" is really popular around here!
But my love of Frank's Kraut doesn't just span years, it spans decades. It's the only sauerkraut my family has ever eaten. Coming from Polish and German descent, that's saying something, isn't it?
You can find many fantastic sauerkraut recipes here on my blog, as well as on the Frank's Kraut Website. I even have a Pinterest Board dedicated just to sauerkraut! You will be sure to find new and creative recipes year round at all of these places, and when you follow Frank's Kraut on Facebook, Twitter, Instagram and Pinterest.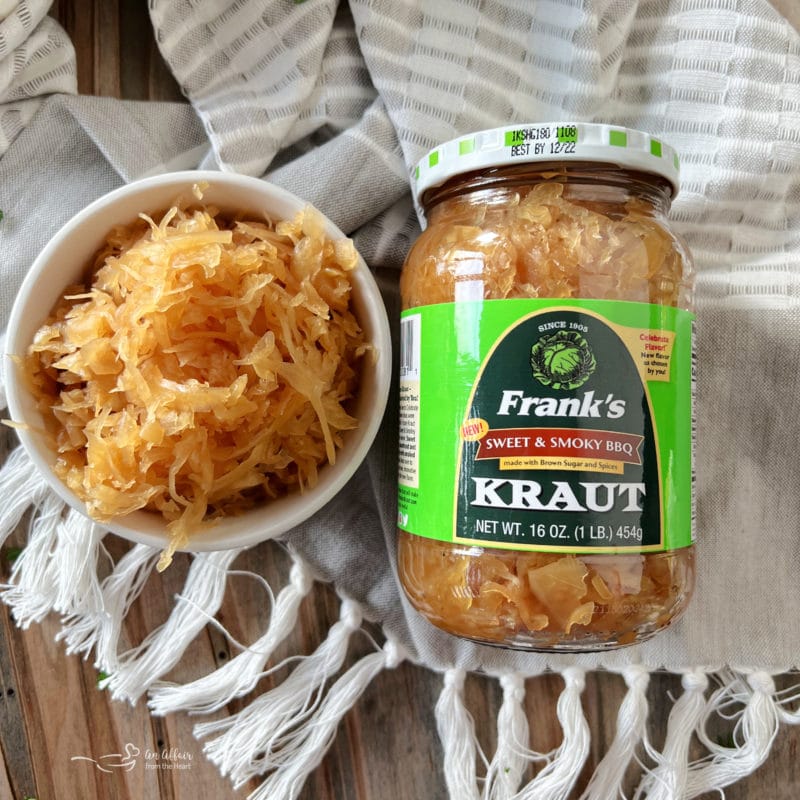 Frank's Kraut comes in cans, jars and poly bags. I have to say that I was excited to see that these new flavors come in jars! I feel like I typically reach for the jars or the poly bags first.
I love the poly bags and I always buy extra and pop them in the freezer. (have you ever tried frozen kraut? OMG. Do!! It's crazy good!) Once they are defrosted, I use what I need, then I place any remaining sauerkraut into a mason jar in the fridge. The jars, well they are found in the canned good section, but once opened, store them in the fridge. Cuts out the using your own mason jar part.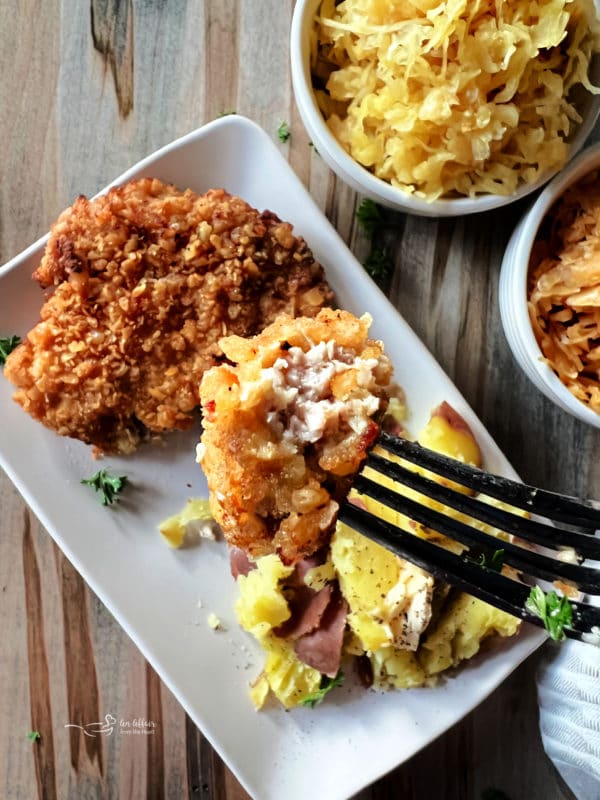 If you love sauerkraut like us, check out my Ultimate Guide to Sauerkraut!
More Kraut Recipes to Love: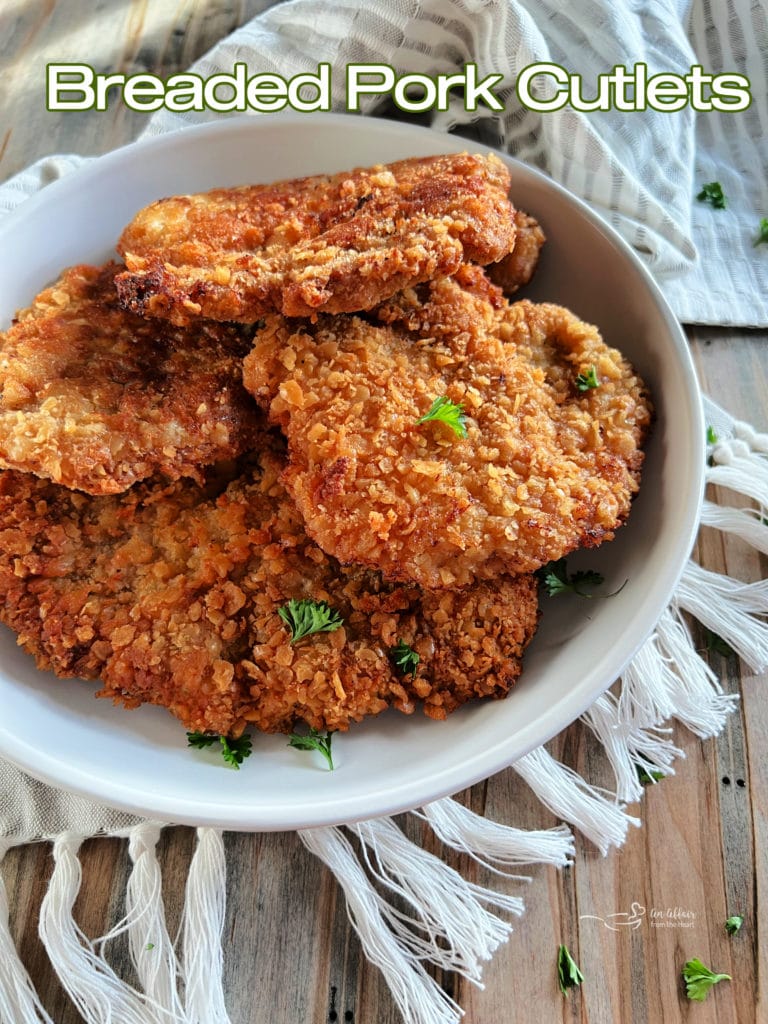 Grab that jar of Frank's Kraut and let's make some Breaded Pork Cutlets!

Yield: 4 servings
Breaded Pork Cutlets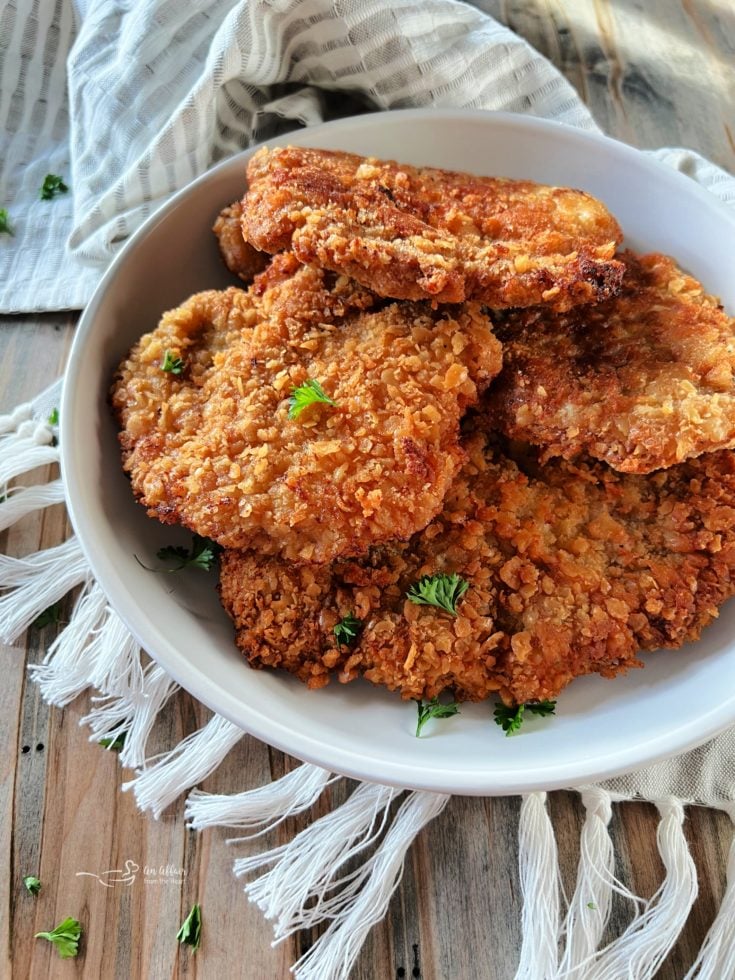 Simple to make crispy breaded pork cutlets are coated in cracker crumbs and pan-fried on the stove until golden brown. Crunchy breaded pork cutlets make a wonderfully comforting meal, and are ready in under 30 minutes, requiring only 4 ingredients.
Ingredients
4 pork cutlets, about 1 1/2 pounds or so
salt and pepper
2 eggs
1 sleeve of saltine crackers, crushed
vegetable oil
Instructions
In a shallow bowl, whisk the eggs together. Add crushed crackers to another shallow bowl.
Dap any moisture from the cutlets with a paper towel.
Add enough oil to cover the bottom of the skillet and turn on the heat to warm it up.
Rub a light sprinkle of salt and pepper on both sides of each pork cutlet.
Dip the pork cutlet into the egg, making sure to get it covered on both sides.
Press the cutlet into the crushed crackers, coating both sides. Lay the cutlet into the hot oil.
Flip the pork cutlet when it becomes crispy and golden brown. That will take about 5-6 minutes or so. Brown the other side.
When the pork cutlet is crispy and brown on both sides, and the internal temperature has reached 145 degrees F. It's done. Serve hot.
Notes
Tips for making the breading stick: Make sure that the cutlets don't have a bunch of moisture on the outside before dipping into the egg. Dabbing with the paper towel will help. Dip immediately from the egg to the cracker crumbs, not letting the cutlet rest in the egg for a long period of time. Add to HOT oil.
Recommended Products
As an Amazon Associate and member of other affiliate programs, I earn from qualifying purchases.
Nutrition Information:
Yield:
4
Serving Size:
1
Amount Per Serving:
Calories:

530
Total Fat:

33g
Saturated Fat:

8g
Trans Fat:

0g
Unsaturated Fat:

23g
Cholesterol:

163mg
Sodium:

378mg
Carbohydrates:

23g
Fiber:

1g
Sugar:

1g
Protein:

33g
Please note that nutrition is not guaranteed accurate.