Grilled Polish Sausage & Sauerkraut
As an Amazon Associate and member of other affiliate programs, I earn from qualifying purchases.
Grilled Polish Sausage & Sauerkraut is a flavorful and fairly "hands off" cookout recipe. Simmer the sausage in apple juice, kraut, grilled onion, and spices on low until you're ready to eat! A huge family favorite!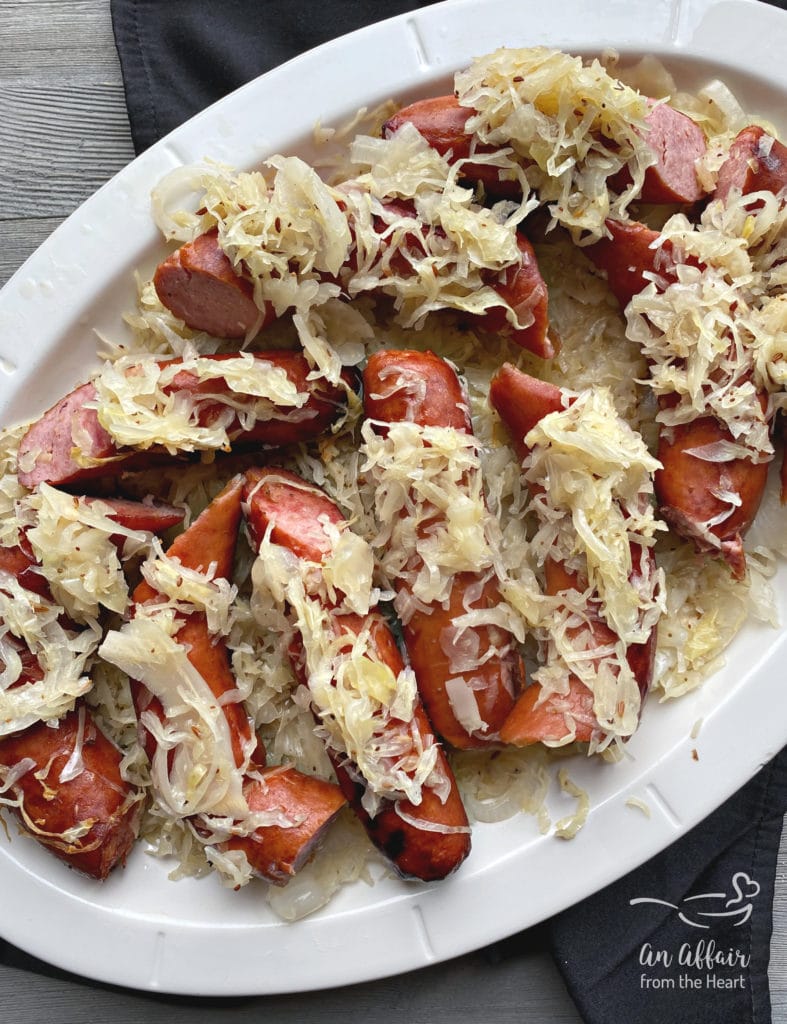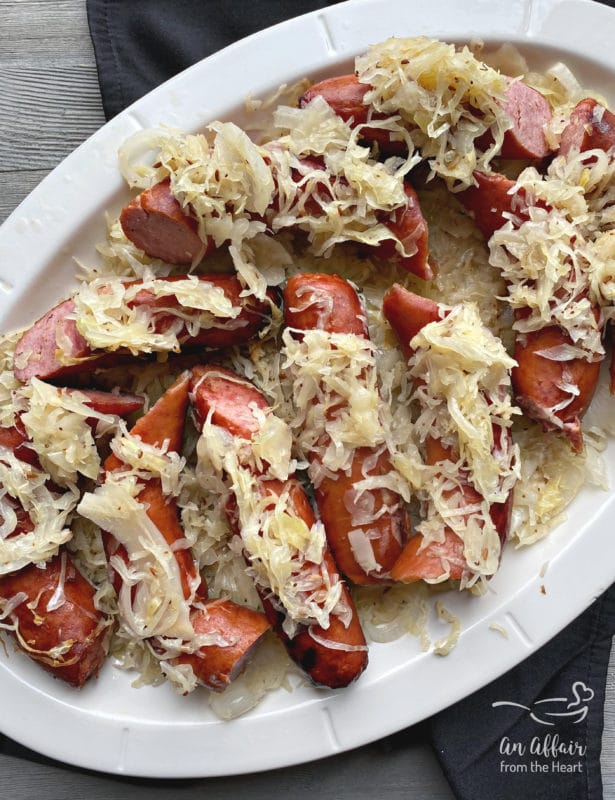 If you have been around here long, you know I love my sauerkraut recipes, and this Grilled Polish Sausage & Sauerkraut is certainly no different. You see, Polish Sausage & Sauerkraut is a staple around here, whether it's for the holidays or just a Tuesday night.
Being able to use a fairly similar recipe, but on my grill in the summertime, tickles me pink!
This post is sponsored by Frank's Kraut, but my opinions and lifetime love of their sauerkraut is all my own.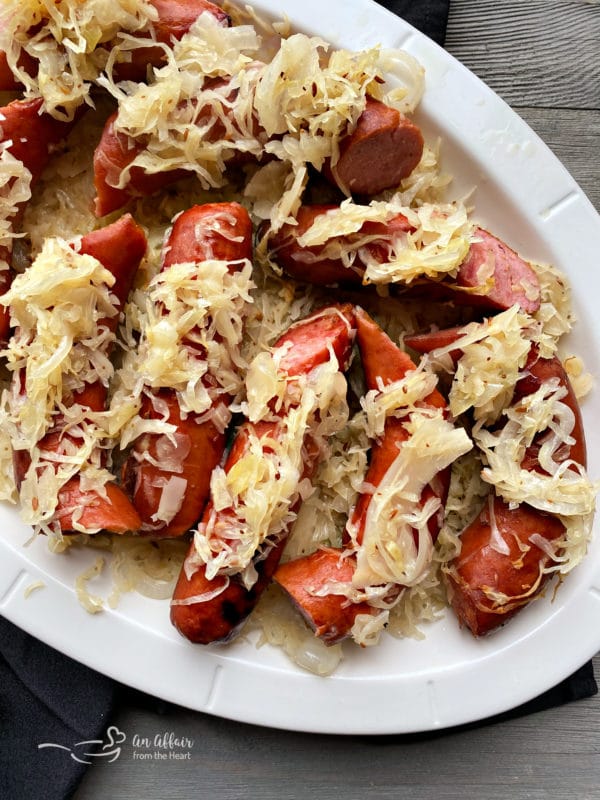 Polish Sausage & Sauerkraut – A Family Tradition
I make Polish Sausage & Sauerkraut every Easter, along with my Easter ham. My Grandma always did the same thing. Anytime you knew there would be ham at Grandma's, you knew a piping hot serving of Sausage & Kraut would accompany it.
I guess with my Polish and German ancestry, it's really no surprise. In fact, some of my most favorite recipes I have shared are backed by centuries of sauerkraut lovers in my family.
Up until recently, I always made this dish in my oven. I started thinking about summer and grilling season, and thought, I think we need a good 'ol backyard barbecue twist on this family favorite.
Ingredients in Grilled Polish Sausage & Sauerkraut
Many people might tell you that the best way to make a recipe like this is to use beer. And I'm not saying that's wrong, I have a great crockpot recipe that uses it, too. But for this one, I went with apple juice. I love the sweetness it gives to the recipe along with the tang of the kraut and saltiness of the sausage.
In addition to the Polish Sausage, Frank's Kraut and apple juice, all you will need is onion, Dijon mustard, and both celery and caraway seeds.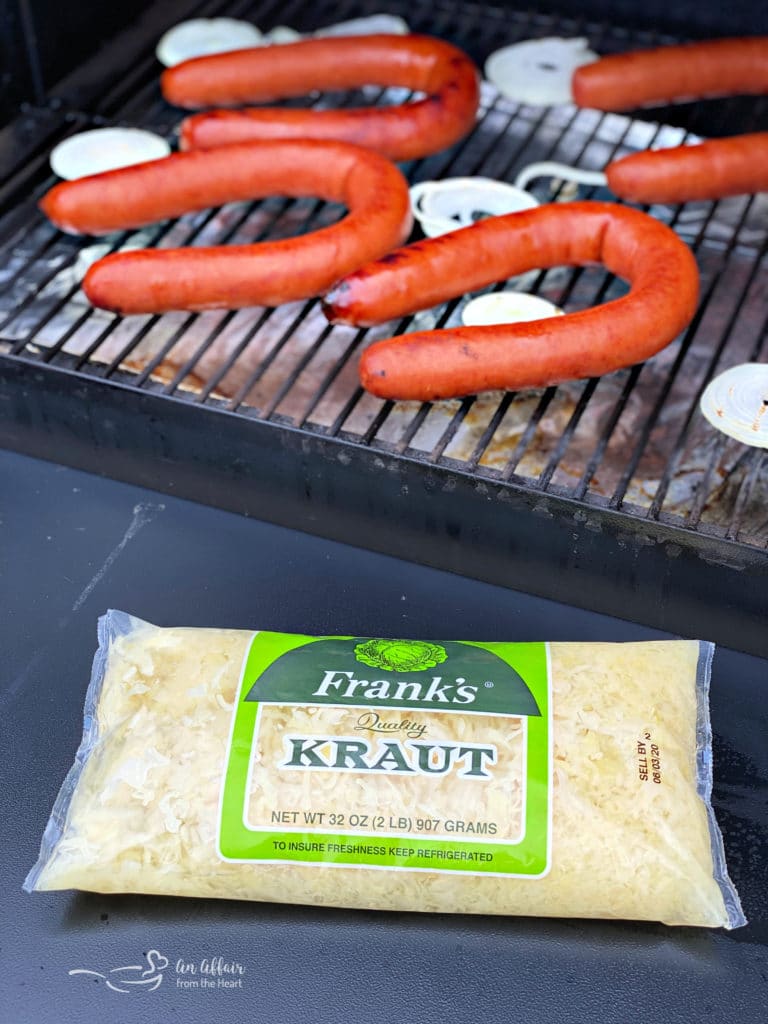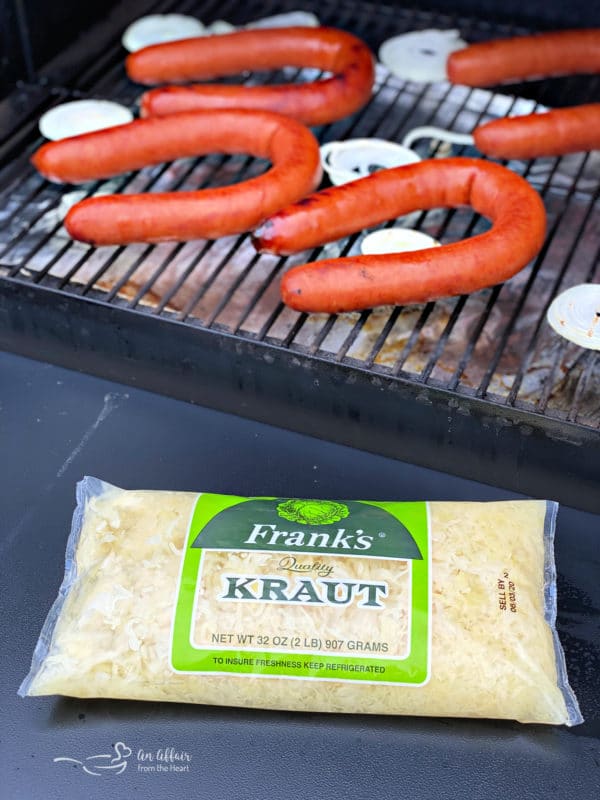 You'll begin by grilling your sausage and your onions to get that bit of char and those nice grill lines. The sausage I purchase is already smoked, so it's already cooked.
How long do I grill Polish sausage?
The key to grilling the Polish is to not rush it. Low heat is your friend, and you'll be so glad you didn't rush it.
Being tempted to crank up the heat to make the process go faster isn't a good idea. All you will have are a bunch of split open smoked sausages that have lost all of their juices right into the bottom of the grill.
It won't take but a few minutes to get your grill lines on these smoked sausages. If you purchase Polish that is not smoked and needs to be cooked, note that the internal temperature should register 160 degrees with your meat thermometer.

grilling onions
When you are grilling onions directly on the grill grates like this, you have to be super careful when you're turning them as to not lose them to the coals. If you are worried about it, heat up a grill mat and use one of those.
You don't have to grill the onions, but, again, I love the char and smoke they get. Brushing them with a little vegetable oil grills them up nicely.
adding the sauerkraut
Now it's time to get your kielbasa into the sauerkraut and let those flavors mingle on the grill for a bit.
F.A.Q. "Do I have to rinse my sauerkraut?" Honestly, it depends on the recipe. I have some sauerkraut recipes were I do rinse the kraut before I use it. One, in particular, is my Sauerkraut Chocolate Cake. But in recipes like this sausage and kraut? You're actually doing yourself a disservice by rinsing it.
You want all of the flavors the kraut and its juice have to offer.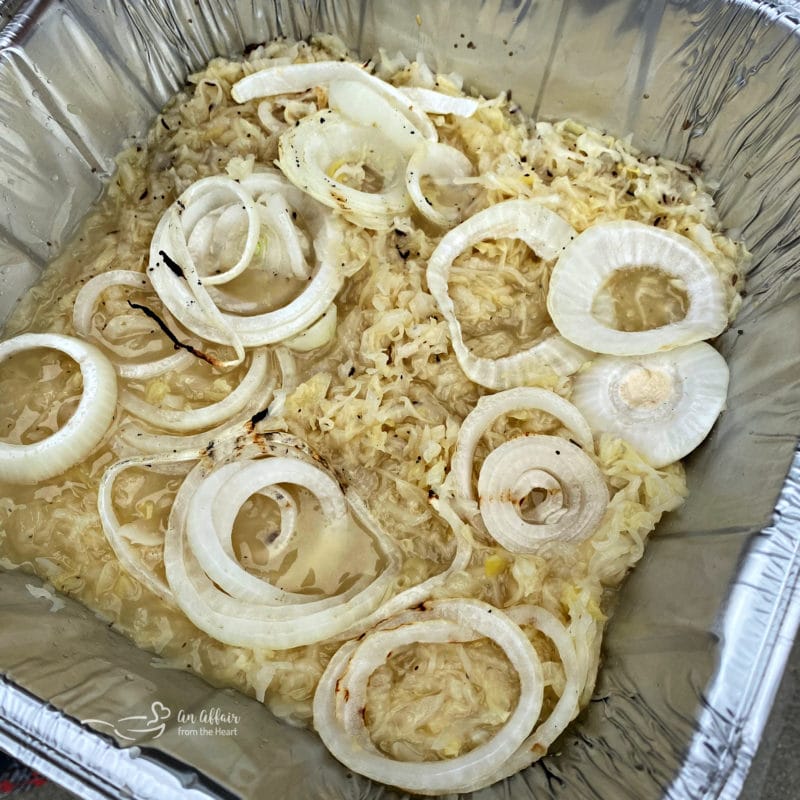 I prefer to use a recyclable and disposable aluminum pan. Less mess, fewer dishes. But you can use any sort of grill safe pan.
To this pan, I have first added my apple juice, Dijon mustard, celery seed, and caraway seed. I gave it a stir them I added in my Frank's Kraut and stirred it in.
Lay the grilled onions on the top of the sauerkraut.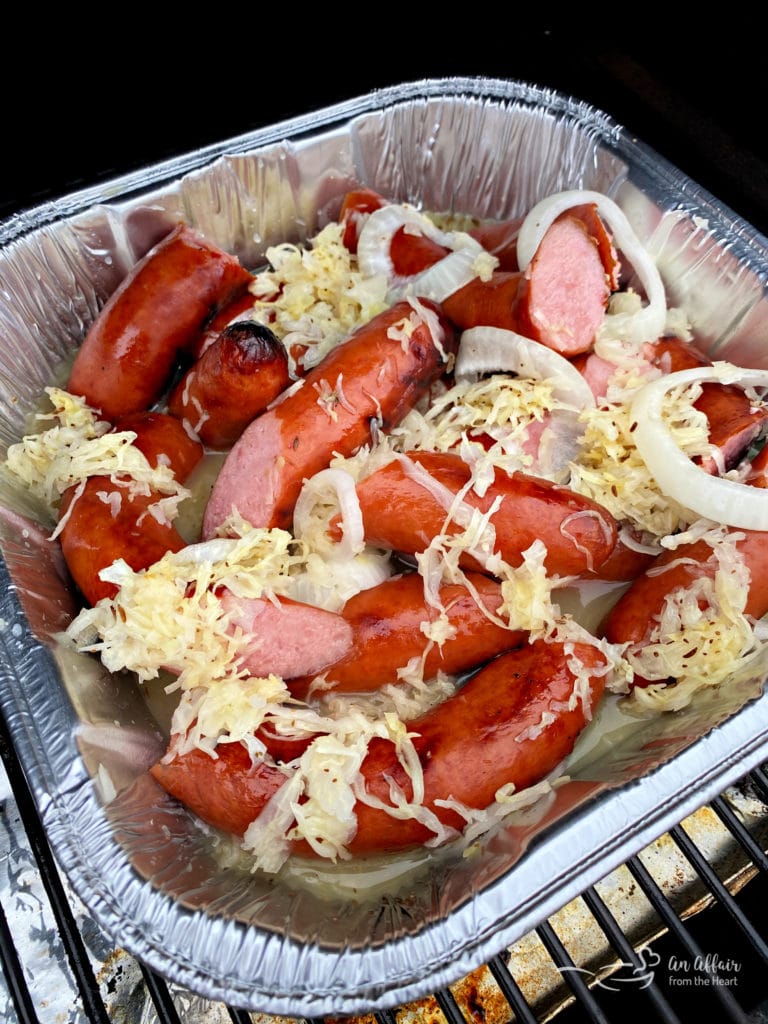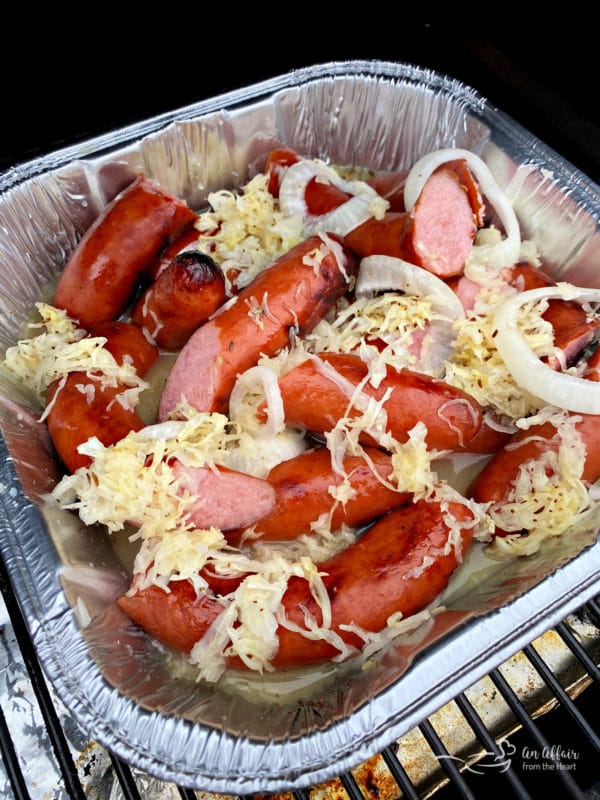 This particular day I purchased ring sausage, so before I placed it into the pan with the kraut, I cut them in quarters to fit better.
Nestle those Polish Kielbasa down into the sauerkraut, close the lid on your grill, and let it simmer on low for about an hour.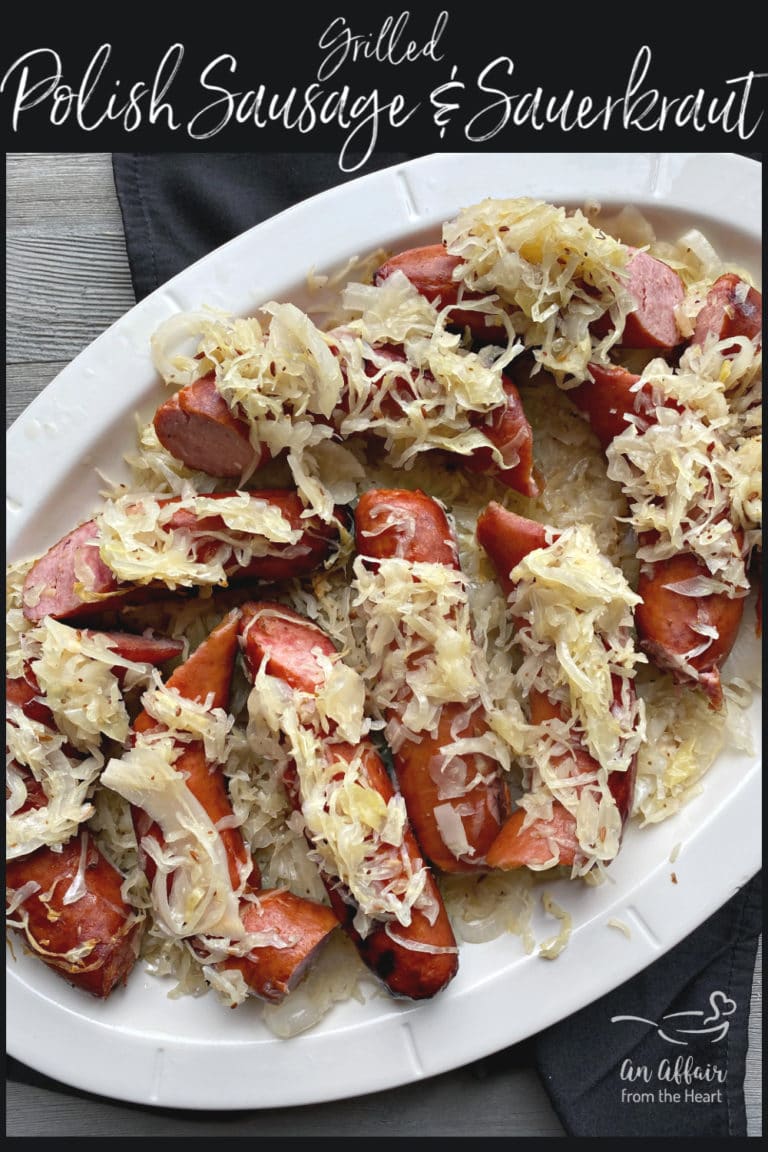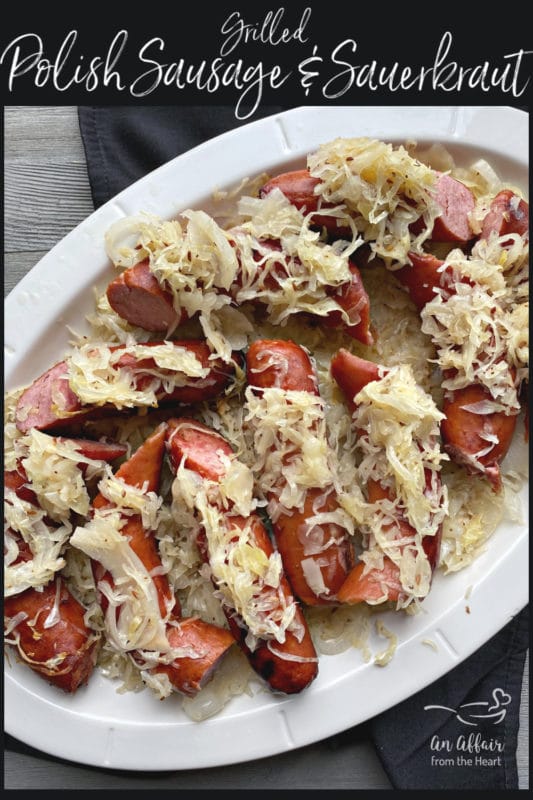 Love it? Pin it!
If you can't wait to try this recipe sometime, make sure you can remember where you found it! Pin it to your favorite Pinterest recipe board before you go!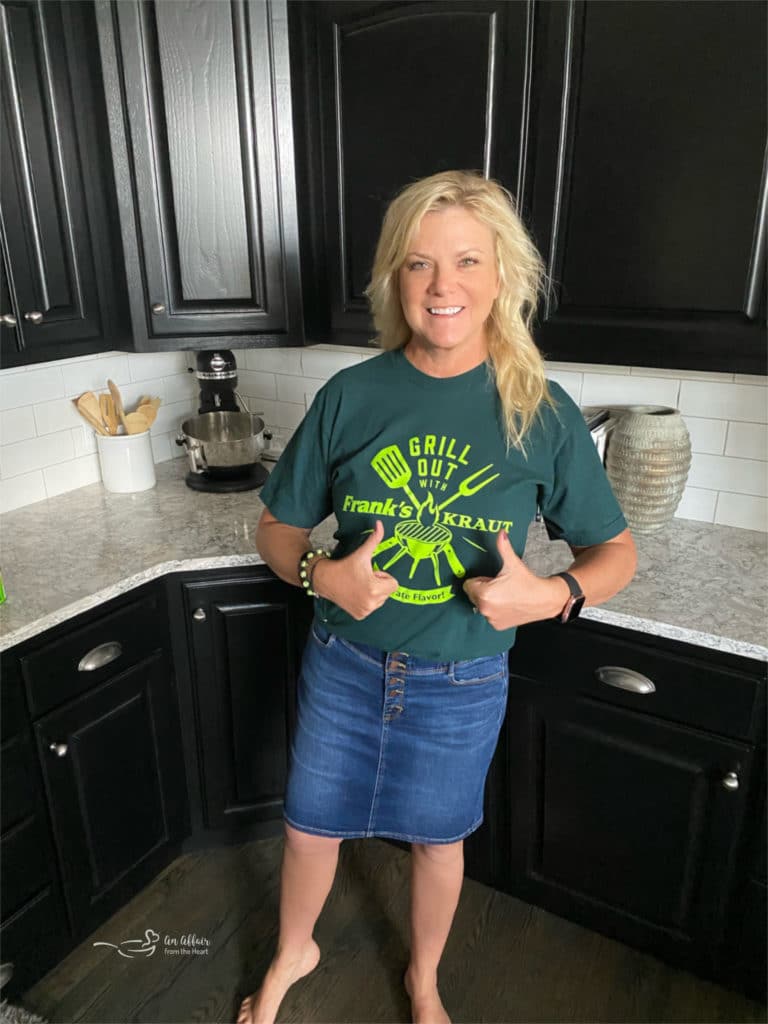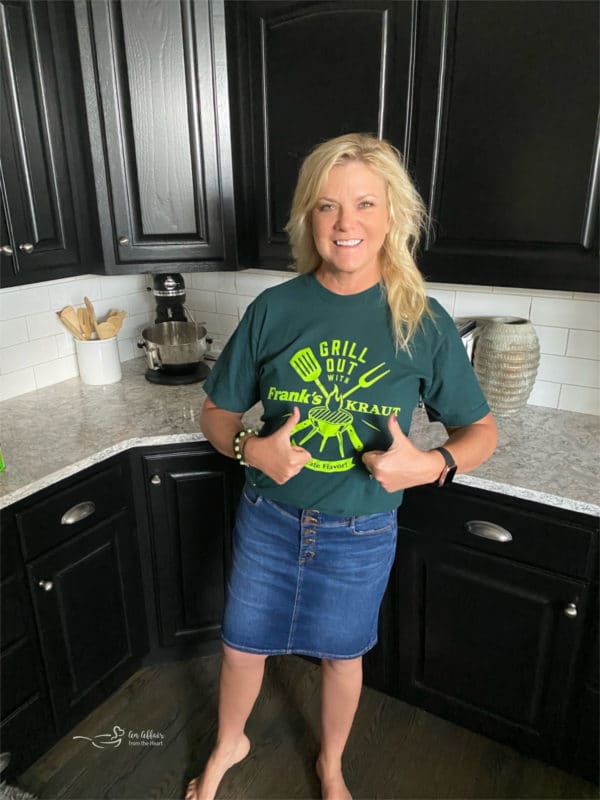 Grill Out With Frank's Kraut!
For the month of June, Frank's Kraut has been giving away these limited edition T-Shirts. All you need to do to score one for yourself? Tag them in your grilling photos on Instagram and they may select you to win a t-shirt, while supplies last.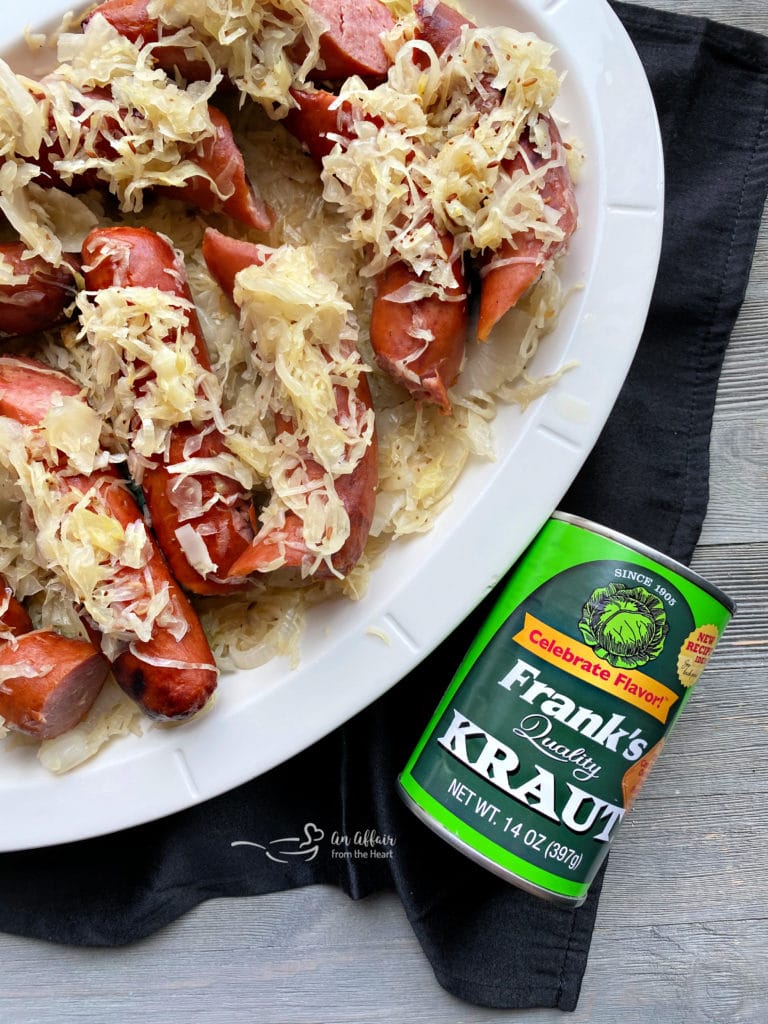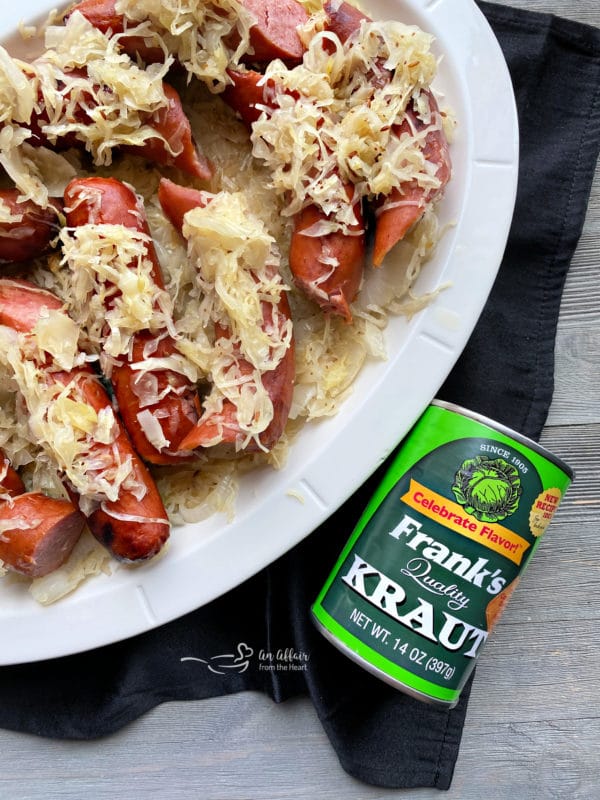 Celebrate Flavor with Frank's Kraut
My relationship with Frank's Kraut spans quite a few years. I have developed many sauerkraut recipes for them, everything from appetizers to dessert! I have even made up my own term when it comes to making all sorts of recipes with the flavor of the Reuben sandwich. The term "Reubenize" is really popular around here!
But my love of Frank's Kraut doesn't just span years, it spans decades. It's the only sauerkraut my family has ever eaten. Coming from Polish and German descent, that's saying something, isn't it?
LOVE SAUERKRAUT?
Follow along with Frank's Kraut on their social media to get delicious recipes all year long. Follow them on Facebook, Twitter, Pinterest and Instagram for all things sauerkraut!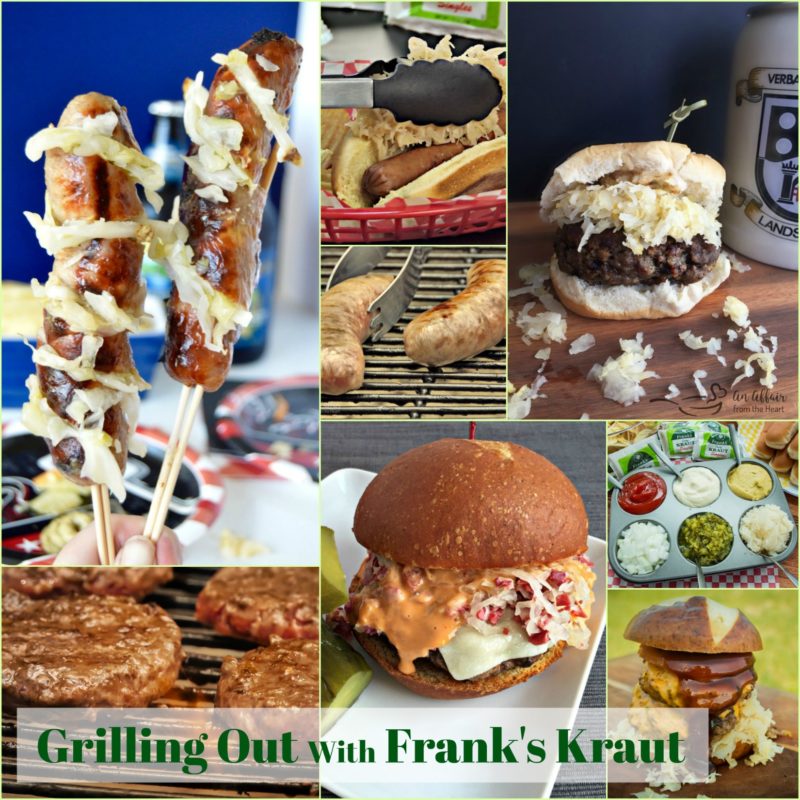 More Cookout & Sauerkraut Grilling Recipes
I have so many sauerkraut recipes that I hope you will look through and enjoy. But today, we are talking about those beloved summertime sunshine backyard barbeques. I have some other great grilling recipes where kraut is the featured attraction!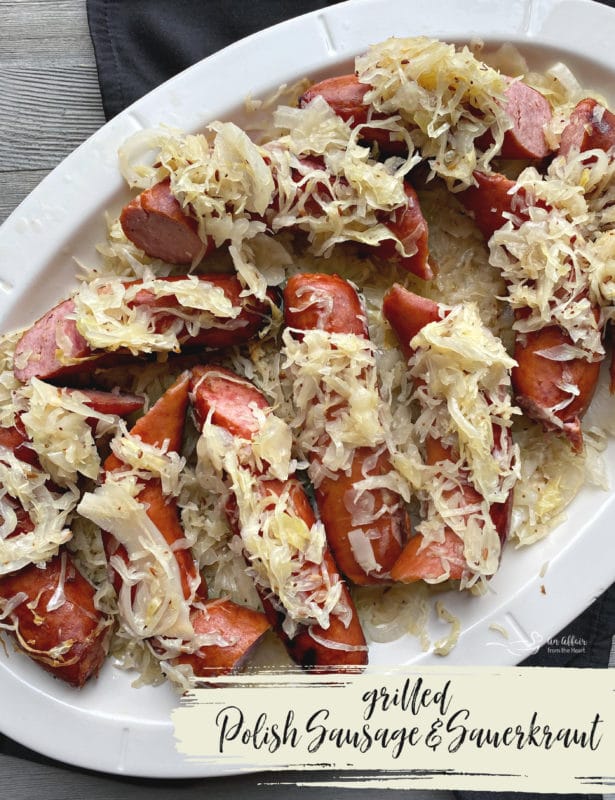 Let's get to this easy and delicious Grilled Polish Sausage & Sauerkraut recipe!

Yield: 12
Grilled Sausage & Sauerkraut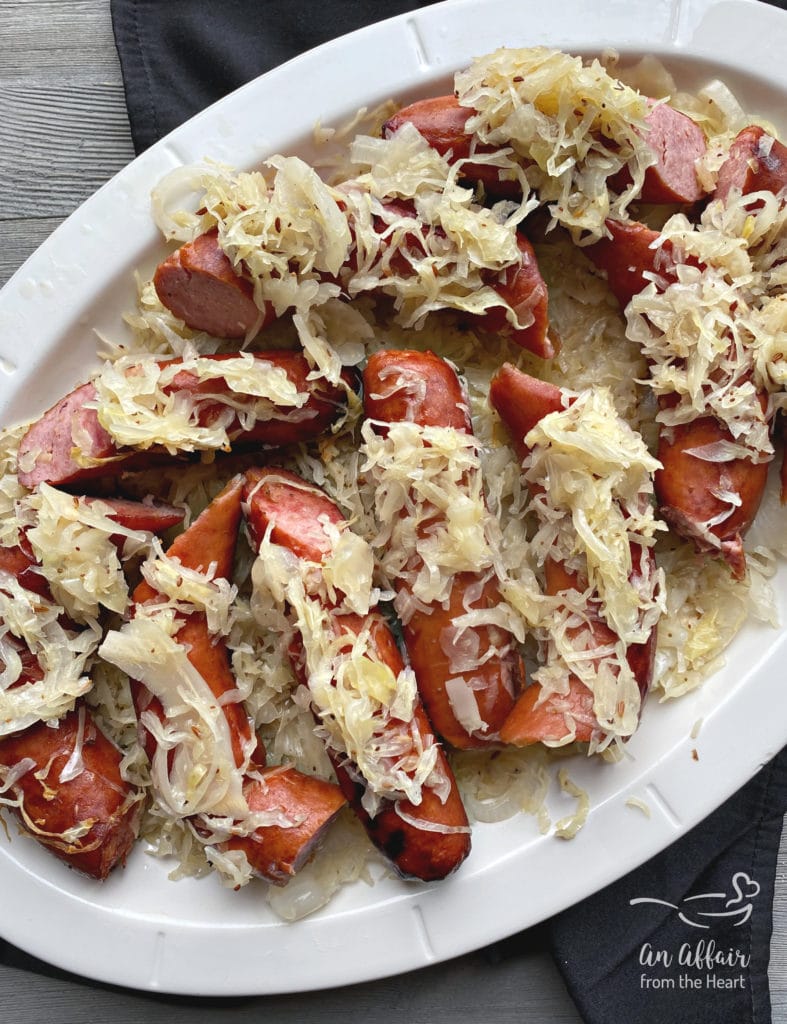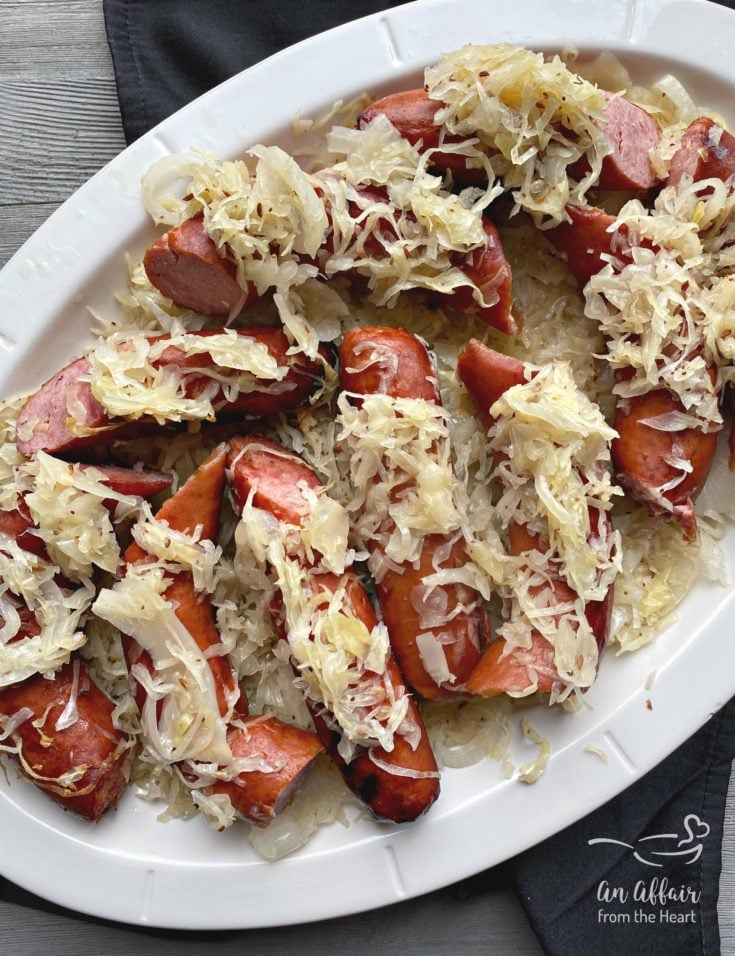 Grilled Polish Sausage & Sauerkraut, cooked low on the grill with onions, spices and apple juice. A family favorite!
Cook Time
1 hour
10 minutes
Total Time
1 hour
15 minutes
Ingredients
3 pounds Smoked Polish Sausage
1 large onion sliced into "ring" sections
vegetable oil, for brushing the onions
1 1/2 cups Apple Juice (or cider)
1 (2 pound) bag of Frank's Kraut
1 Tablespoon Dijon mustard
1/2 Tablespoon caraway seed
1 teaspoon celery seed
Instructions
Set grill to low heat. (180 degrees) Place the sausages directly on the grill, grilling them slowly to give them some grill marks. *slow is the key here - grilling to fast over high heat will cause your sausage to split and you will lose all of the juices.
Lightly brush the onions and add them to the grill, too.
Both the sausage and onions will have those nice grill marks in only a few minutes.
While these are slowly grilling, to a grill safe pan combine apple juice, Dijon mustard, caraway and celery seed. Stir in Frank's Kraut (the juice, too!) Take pan out the the grill.
Cut link sausage into quarters, and nestle the grilled sausage and grilled onions into the kraut mixture.
Place pan, uncovered, on grill and close the lid. Continue cooking them on a low simmer for one hour.
Serve as is, or on hard rolls.
Notes
A grill mat can be used for grilling the onions if desired. They can be a little tricky to flip.
Recommended Products
As an Amazon Associate and member of other affiliate programs, I earn from qualifying purchases.
Nutrition Information:
Yield:
12
Serving Size:
1
Amount Per Serving:
Calories:

306
Total Fat:

22g
Saturated Fat:

8g
Trans Fat:

0g
Unsaturated Fat:

14g
Cholesterol:

82mg
Sodium:

1509mg
Carbohydrates:

11g
Fiber:

1g
Sugar:

4g
Protein:

16g
Nutrition isn't guaranteed accurate.