Dense, fudge-y chocolate cake made with sauerkraut – yes, sauerkraut -slathered in sour cream chocolate frosting.
Best Chocolate cake I have ever eaten!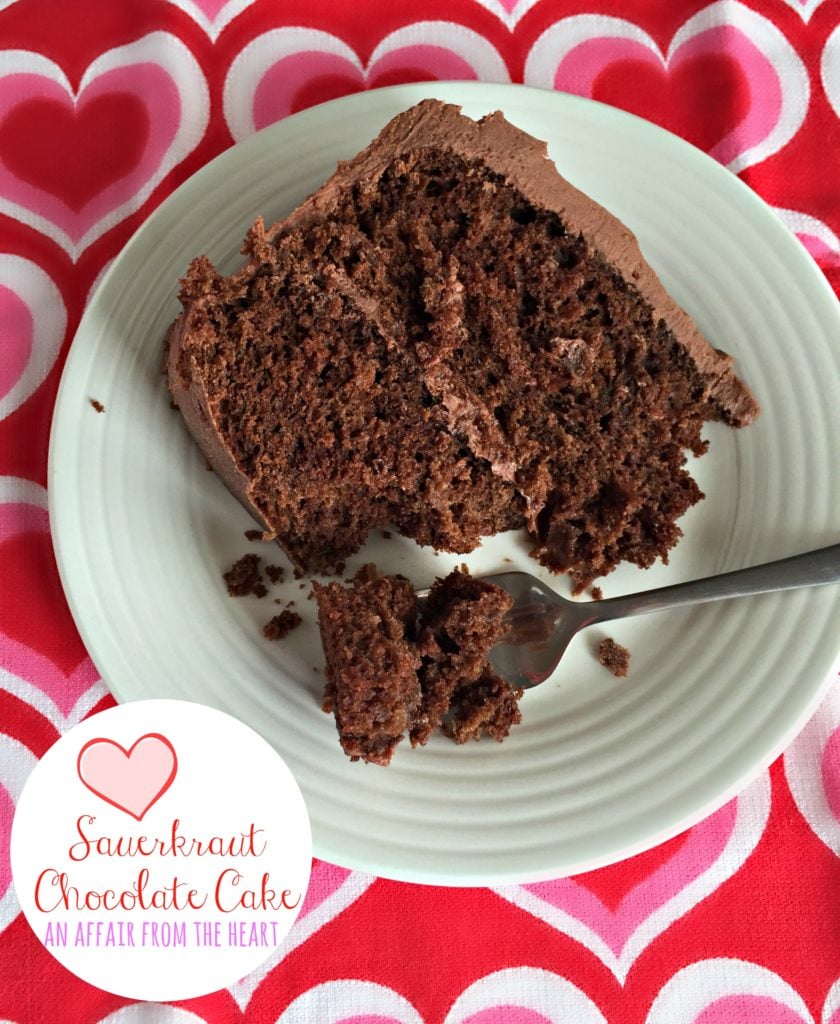 I can almost hear you right now. "EW! SAUERKRAUT in a chocolate cake?!?!"
All I have to say to you is this … Don't knock it til you try it!
I felt the same way the first time I heard it … how can it be good? What's the point?
Well the point is, it makes the most fudgy dense moist cake EVER — I have made this cake twice in the last month, and nobody, not one person said anything except "This is the best chocolate cake I have EVER had!"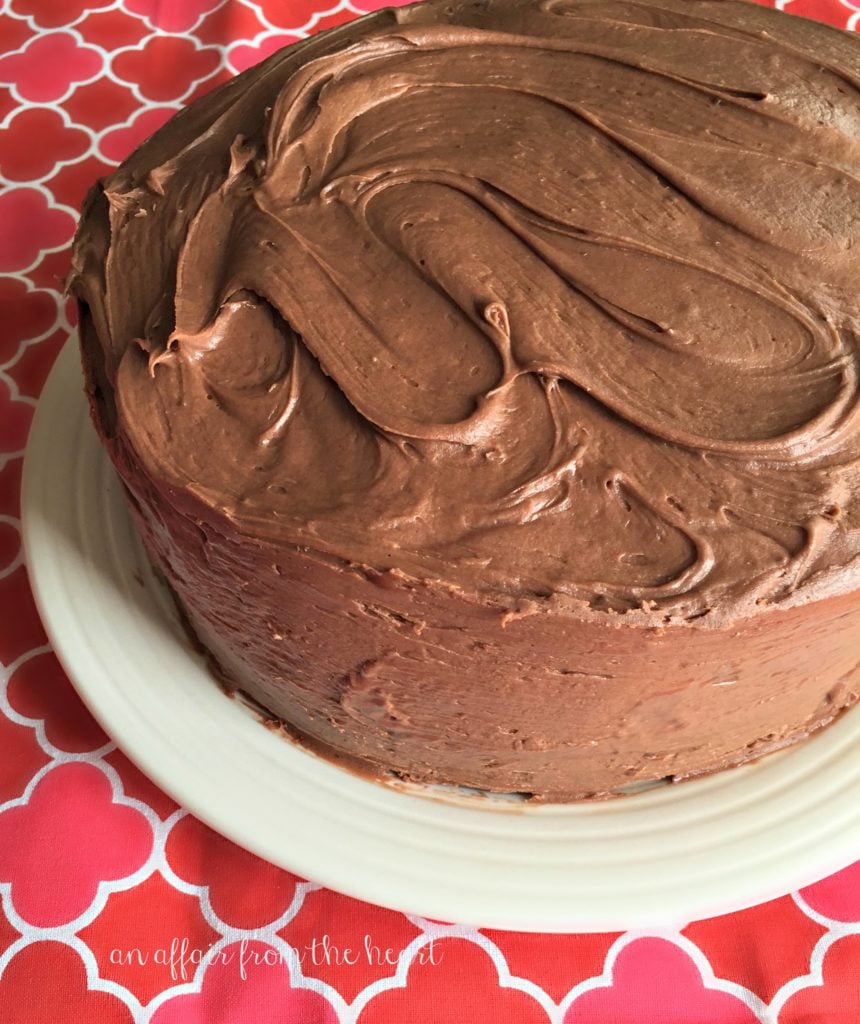 It is slathered in rich sour cream chocolate frosting, that is so dang good, it's hard to not just eat it with a spoon!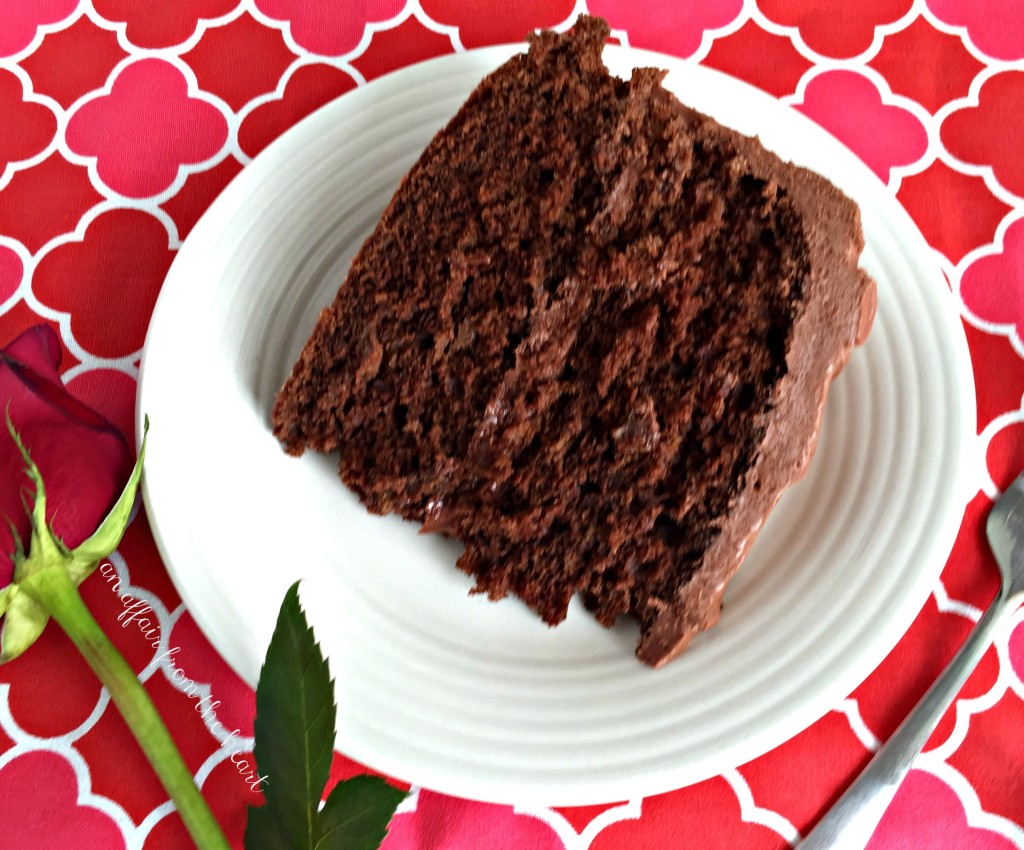 I have been fortunate to have a working relationship with Frank's Sauerkraut. I was led to their recipe site, sauerkrautrecipes.com to check out some of their customers tried and true recipes. When I saw the "Dessert Section" I thought no way …dessert and sauerkraut in the same sentence? One day I made this cake when the kids were in school. When they got home I cut a big slice and gave each of them a fork. I asked them, "If you had to guess who sponsored this post, who would you guess?" They were eating, bite after bite, yumming and mmmming, they guessed about every chocolate company known to man, and each time I said no. My oldest who ate about half the cake himself said "I don't even really like chocolate cake, and I can't stop eating it! Just tell us already!" My youngest, being the comedian she is, says "its probably like sauerkraut or something!"
BINGO!
None of them could believe it!
I made this cake for my Mom and her twin sister's 65th birthday last weekend. We had a pool party, and had about 27 people here. I made two cakes, this one and a Banana Split Jelly Roll. I didn't tell anyone that there was sauerkraut in the cake , but I will tell you there was none left. For those of you who came, and are reading this now … SURPRISE!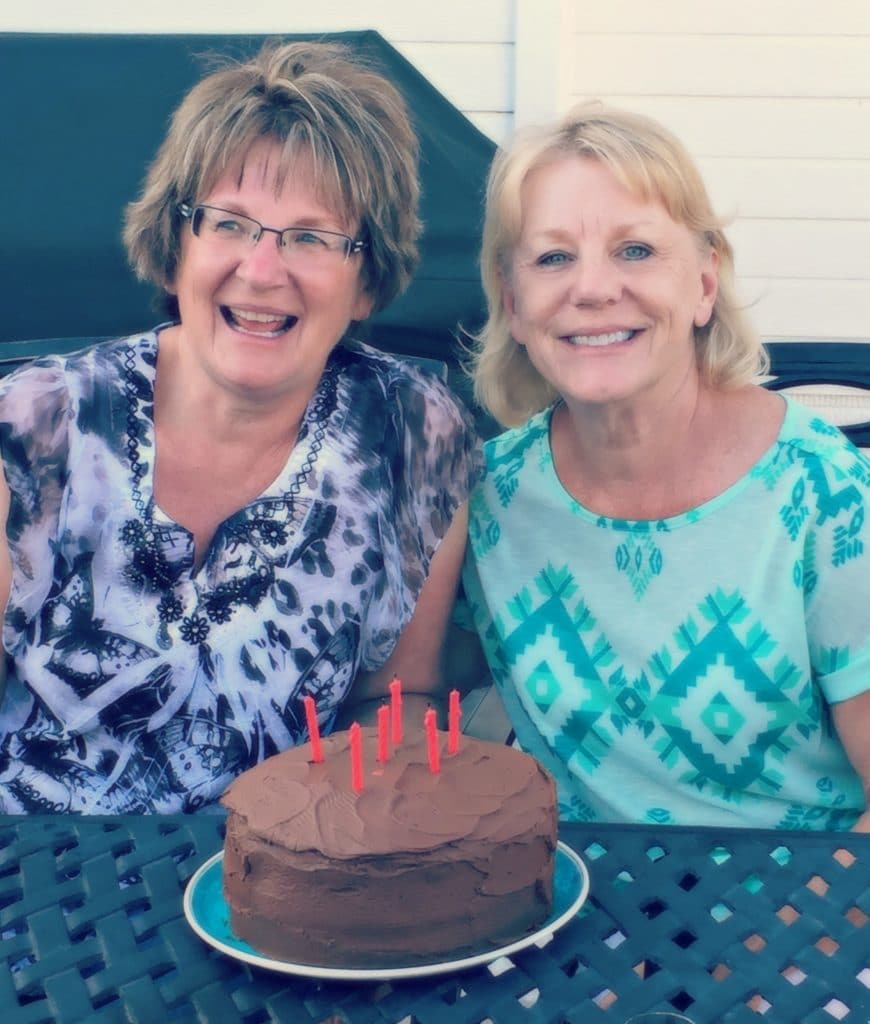 My Mom (right) and her twin sister (left) after they had blown out the candles.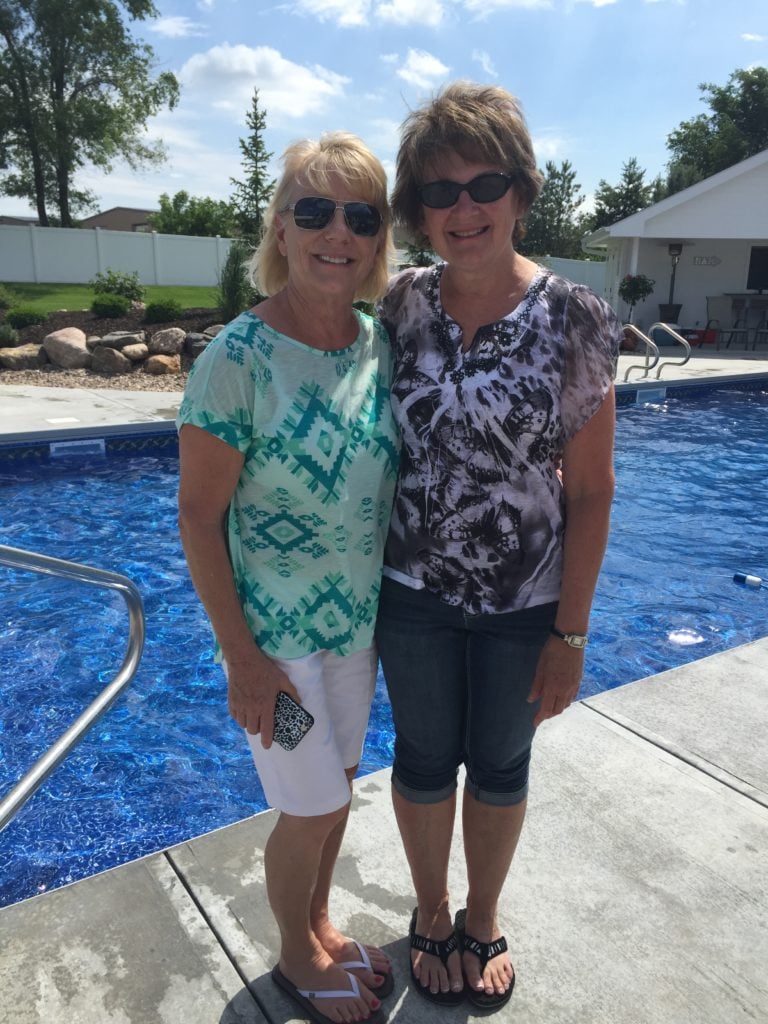 Perfect day for a pool party!
I urge you to try this recipe yourself and see just how utterly amazing it is! Thanks to SauerKrautRecipes.com for the recipes.
Yield: 1 layer cake
Sauerkraut Chocolate Cake with Sour Cream Chocolate Frosting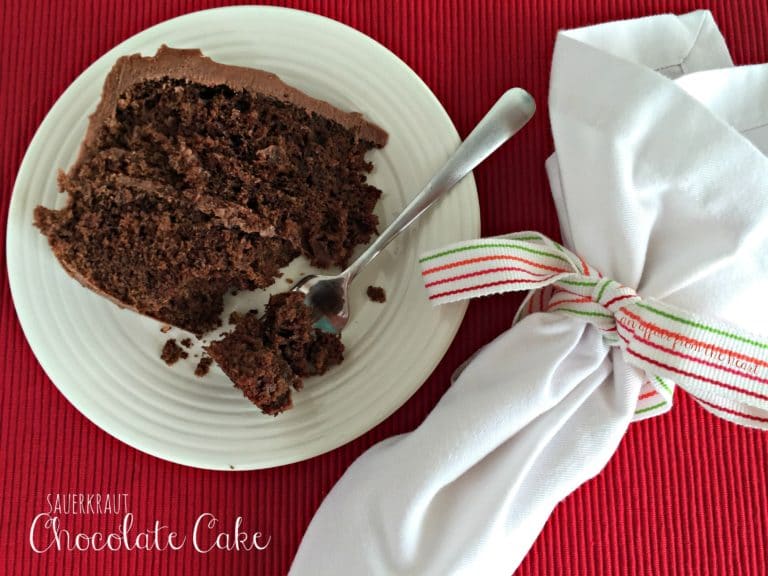 Dense, fudge-y chocolate cake made with sauerkraut - yes, sauerkraut -slathered in sour cream chocolate frosting. Best Chocolate cake I have ever eaten!
Ingredients
FOR THE CAKE:
¾ cup sauerkraut drained and chopped fine
1 ½ cups sugar
½ cup butter
3 eggs
1 teaspoon pure vanilla
2 cups all-purpose flour
1 teaspoon baking powder
1 teaspoon baking soda
½ tsp. salt
1 cup water
½ cup unsweetened cocoa powder
FOR THE FROSTING:
12 oz. semi-sweet chocolate chips or squares
8 Tablespoons. butter
1 cup sour cream
2 teaspoons vanilla
1/2 teaspoon salt
5 cups confectioners sugar
Instructions
Preheat oven to 350 degrees, grease and flour two round cake pans.
Sift all dry ingredients together.
Cream together sugar, butter and vanilla. Beat eggs in one at a time.
Add dry ingredients to creamed mixture alternately with water.
Add sauerkraut mix thoroughly.
Pour into prepared pans.
Bake 30 to 40 minutes or until toothpick inserted in center comes out clean.
Frost with Sour Cream Chocolate Frosting: To Prepare the frosting: Melt the chocolate with butter on low heat until smooth. Remove from heat and pour into mixer. Blend in the sour cream, vanilla and salt. Gradually add the sugar until it is your desired spreading consistency. Whip until smooth. NOTE: This recipe makes a very generous amount of frosting. I like to have a thick layer on my cakes, and in between layers. IF you make this cake in a 9x13 cut the frosting in half.
Store cake in the refrigerator.
Nutrition Information:
Yield:
10
Serving Size:
1
Amount Per Serving:
Calories:

837
Total Fat:

35g
Saturated Fat:

21g
Trans Fat:

1g
Unsaturated Fat:

11g
Cholesterol:

118mg
Sodium:

671mg
Carbohydrates:

130g
Fiber:

4g
Sugar:

104g
Protein:

8g
Nutrition isn't always accurate.
—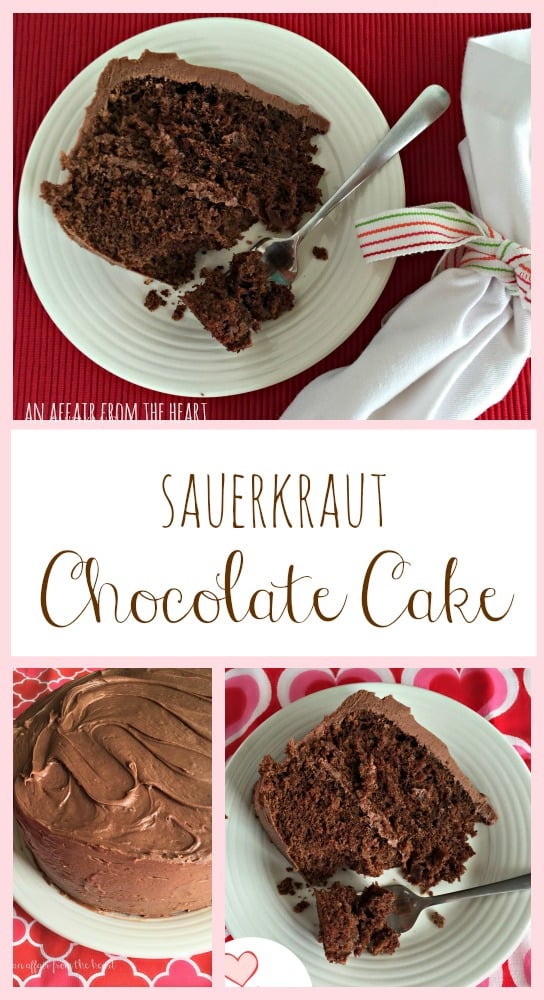 If you make this recipe, I'd love to know! Snap a picture, share the photo on social media with the hashtag #AnAffairFromTheHeart – I'd love to see what you made! – Michaela