Slow Cooked Reuben Style Brats
As an Amazon Associate and member of other affiliate programs, I earn from qualifying purchases.
Bratwurst slow cooked all day in sauerkraut, spices and beer, served on toasted hoagies with Reuben sauce and Swiss cheese.
This post is sponsored by Frank's Sauerkraut. All thoughts and opinions are my own. Thank you for continuing to support the brands that make An Affair from the Heart possible.
Love Reubens? Did you know that the Reuben sandwich originated right here in Omaha, Nebraska? Yep! Right here in my own hometown.
"Reuben Kulakofsky, a Jewish Lithuanian-born grocer residing in Omaha, Nebraska, was the inventor, perhaps as part of a group effort by members of Kulakofsky's weekly poker game held in the Blackstone Hotel from around 1920 through 1935. The participants, who nicknamed themselves "the committee", included the hotel's owner, Charles Schimmel. The sandwich first gained local fame when Schimmel put it on the Blackstone's lunch menu, and its fame spread when a former employee of the hotel won a national contest with the recipe. In Omaha, March 14 was proclaimed as Reuben Sandwich Day." – Source Wikipedia
These Reuben Style Brats are the best of two worlds, with the added benefit of using your slow cooker.
Slow Cooker Meals = Easy
These make a great meal at home, or in my opinion, make a great football watch party meal. Prepping everything ahead, then when it's half time, pop them in the oven to toast for 10 minutes.
Done and Done.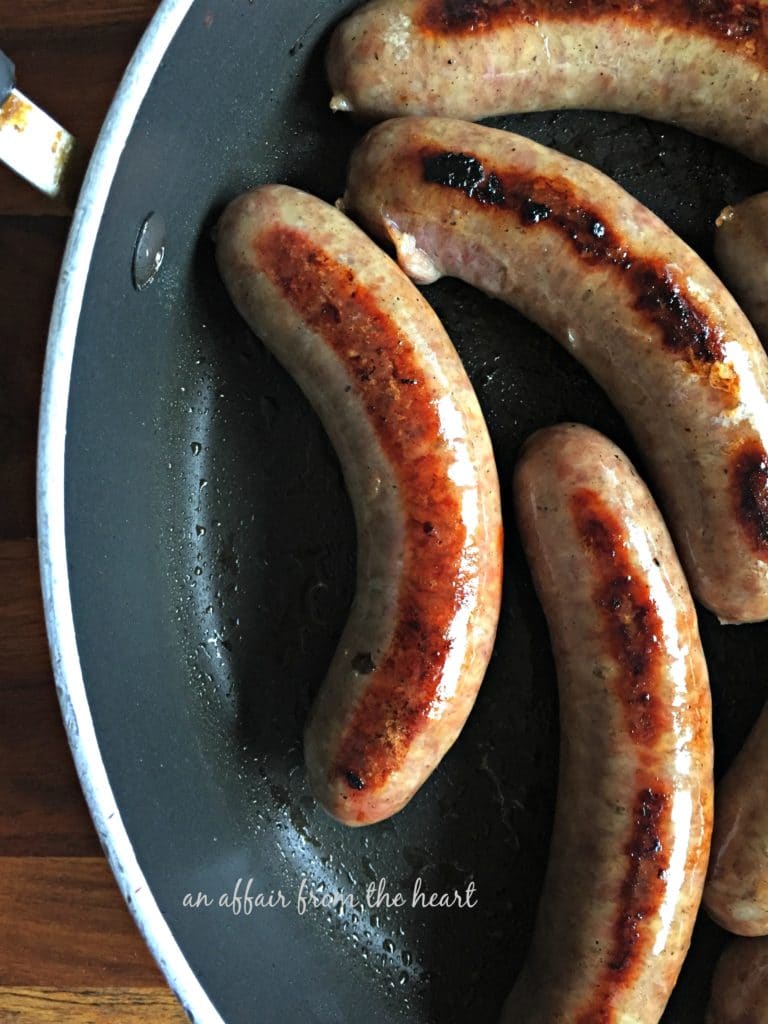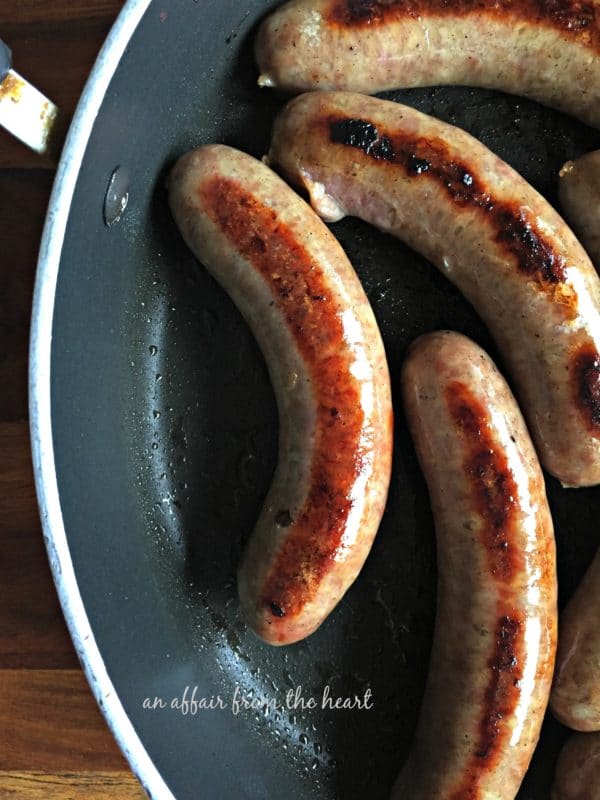 To prep, simply brown your brats in a skillet.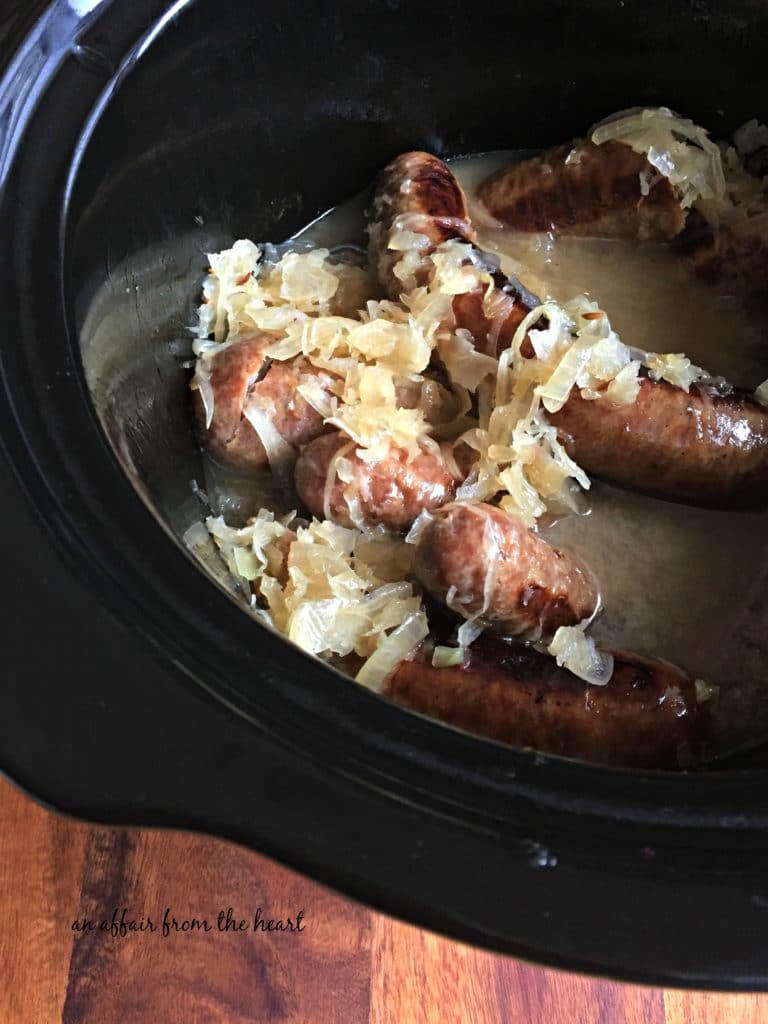 Slow cook them all day in Frank's Sauerkraut, beer and spices.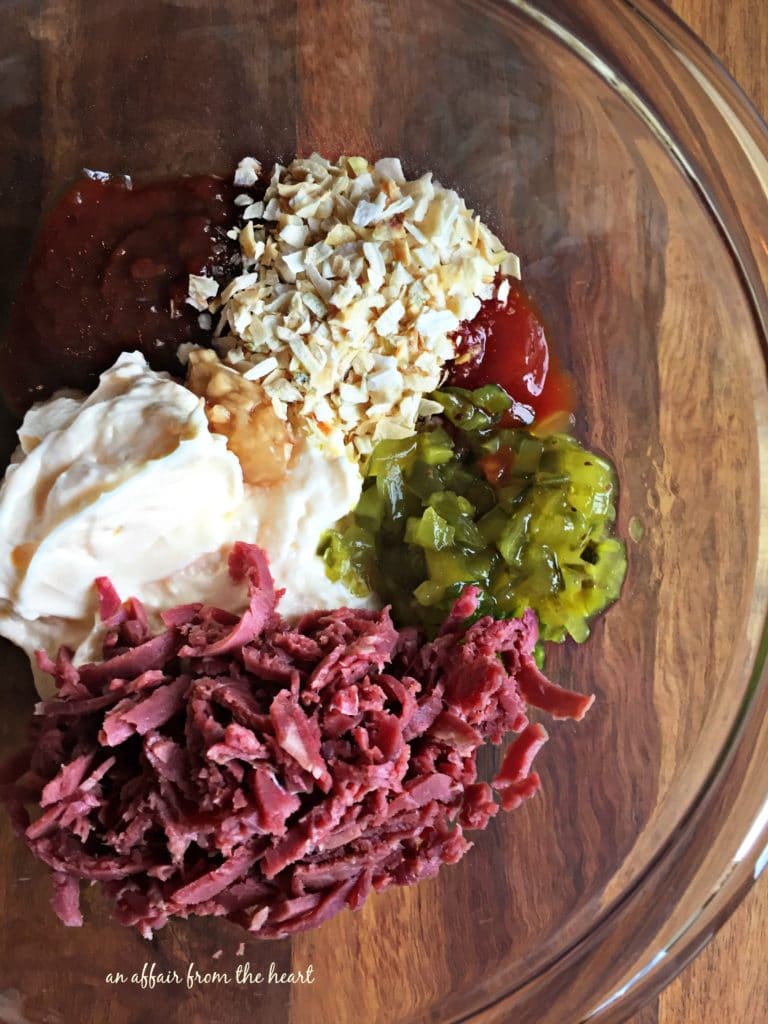 Mix up a Reuben spread, a mixture for a dressing, complete with chopped Corned Beef.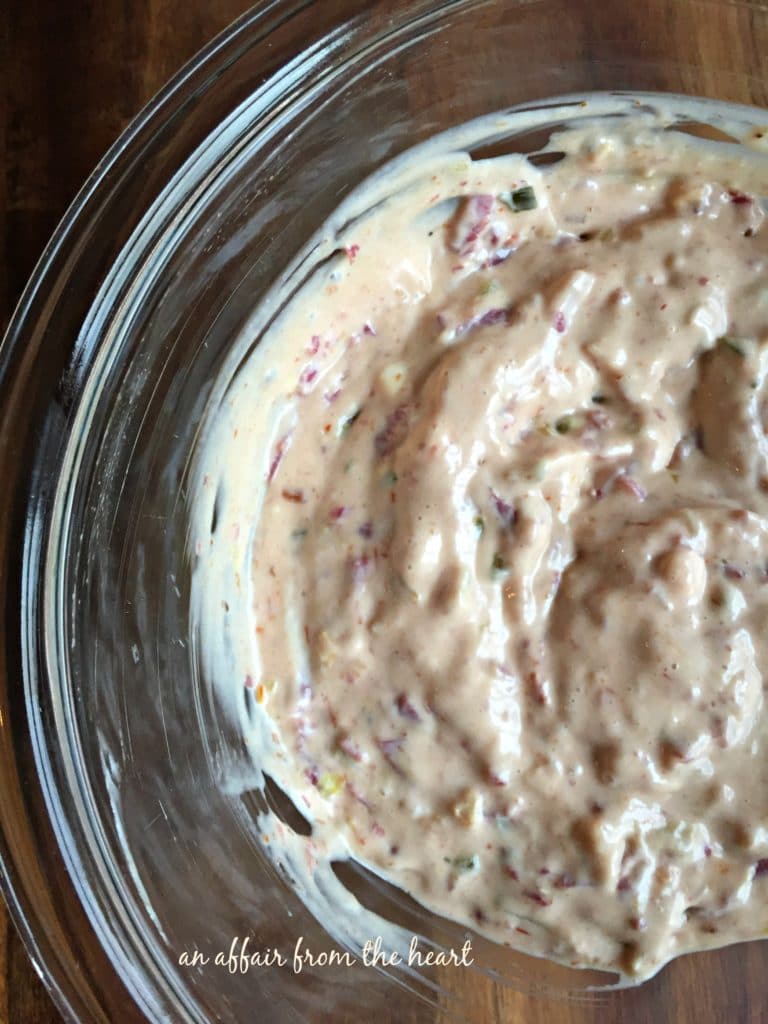 Spread the sauce over hoagie rolls.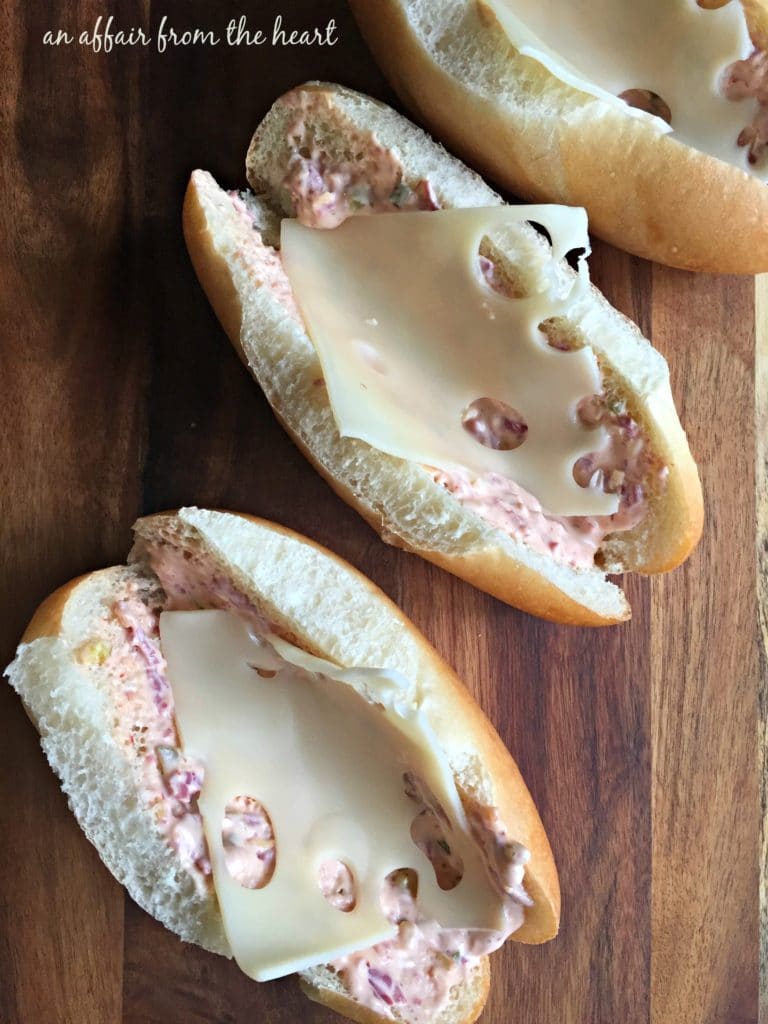 Top with Swiss cheese, and one of the slow cooked brats and sauerkraut. Bake for about 10 minutes.
Get ready to dive in!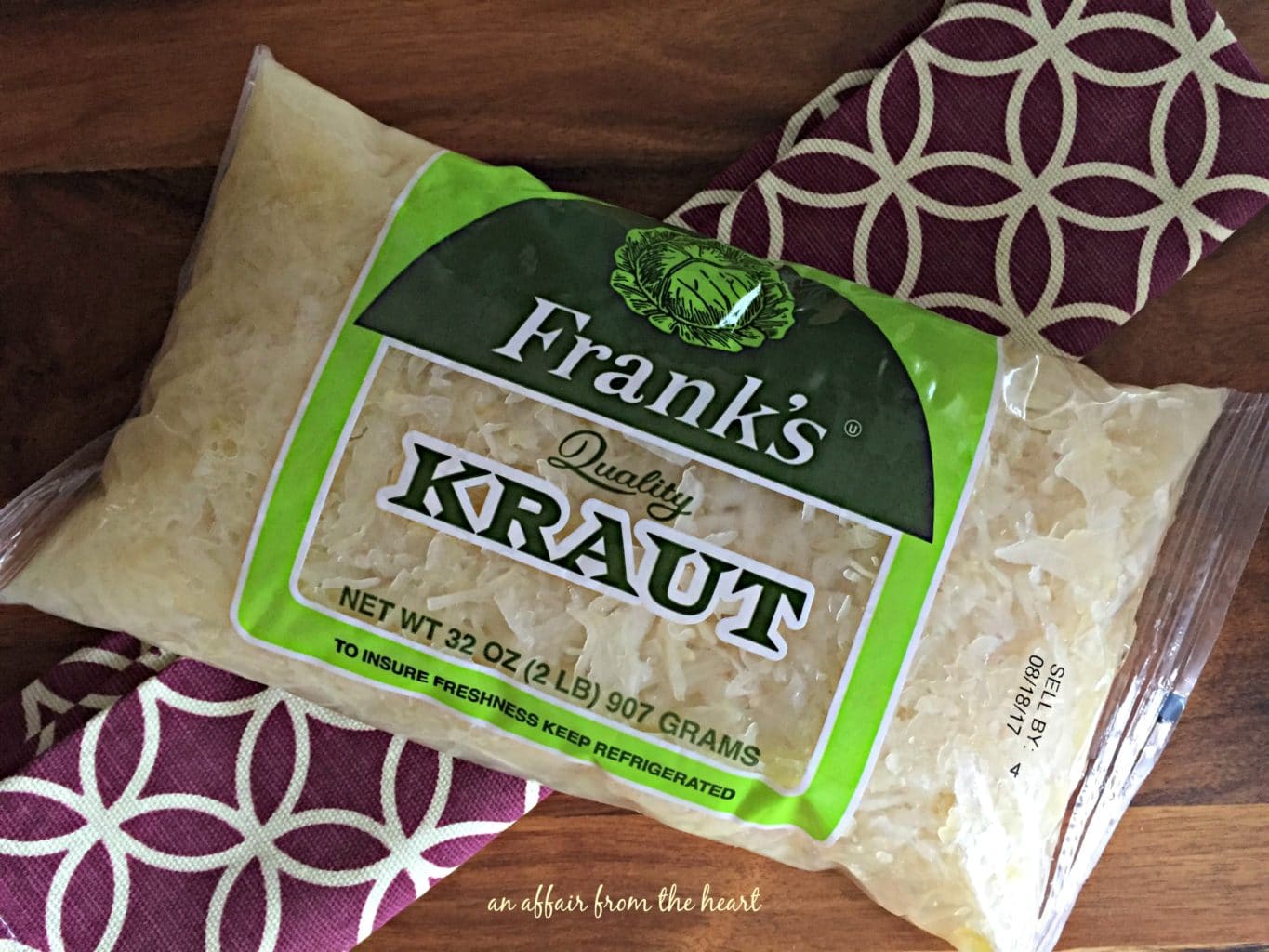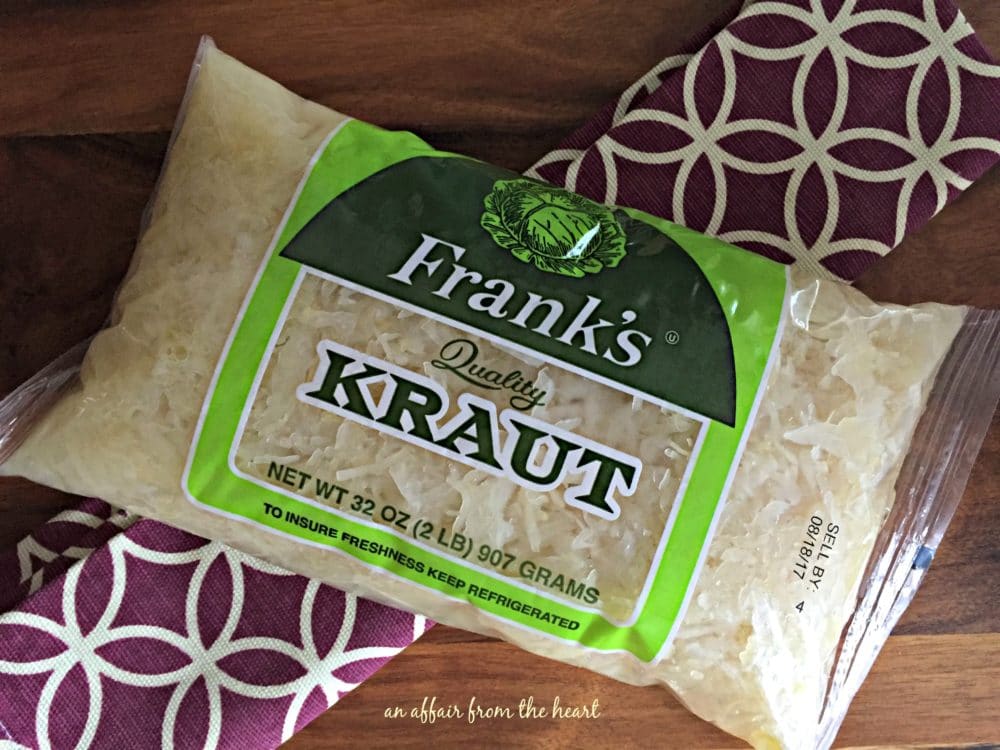 I have MANY sauerkraut recipes on my blog, It's not just good .. it is so good for you. Did you know?
"Sauerkraut is full of probiotics. We know that our intestines are full of beneficial bacteria, and taking supplements or eating certain foods (often fermented foods, such as sauerkraut) that are known to be high in probiotics can help digestion. Probiotic foods are especially helpful during and after antibiotic use, when many good bacteria are killed.
Sauerkraut contains isothiocyanate compounds to help fight cancer. Isothiocyanate compounds are known to "reduce activation of carcinogens and increase their detoxification." Diets high in sauerkraut have even been linked to lower cancer rates, though more research needs to be done to prove anything conclusively.
Sauerkraut has tons of Vitamin C. You know that Vitamin C is good for you – it helps with the production of collagen and connective tissue. You may not have known, however, that sauerkraut is absolutely full of the stuff. Fermented cabbage has been used throughout history as a reliable source of Vitamin C." Source: www.diynatural.com
---
Yield: 8 servings
Slow Cooked Reuben Style Brats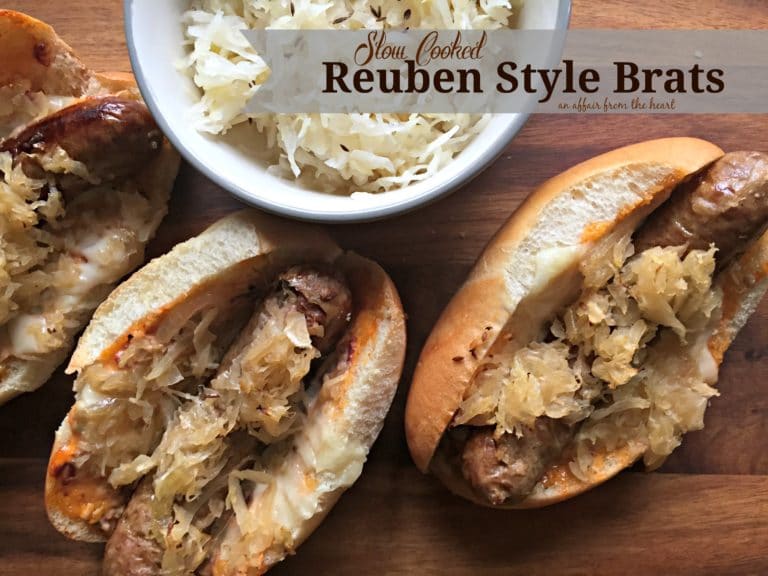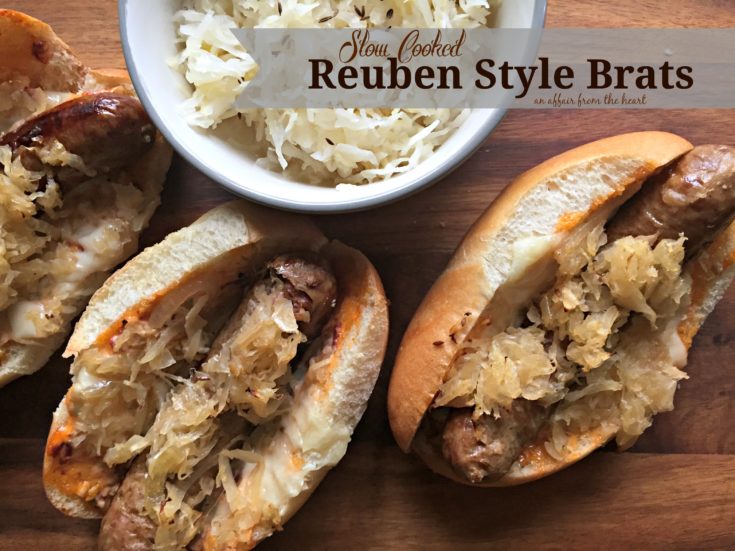 Bratwurst slow cooked all day in sauerkraut, spices and beer, served on toasted hoagies with Reuben sauce and Swiss cheese.
Additional Time
14 hours
51 minutes
Total Time
15 hours
15 minutes
Ingredients
For the Brats:
8 uncooked Bratwurst
1 (12 ounce bottle) beer (could sub water or apple juice)
1 small onion, diced
1 pound Frank's sauerkraut, drained
1/2 teaspoon caraway seeds
8 hoagie rolls
8 slices Swiss cheese
For the Sauce:
1/2 cup deli corned beef, chopped
1/2 cup mayonnaise
2 Tablespoons chili sauce
1 Tablespoon ketchup
1 Tablespoon minced onion (I used dry)
2 Tablespoons sweet pickle relish
1 clove garlic, minced
sprinkling of black pepper
Instructions
Brown brats in a skillet on all sides. Place in slow cooker.
Drain sauerkraut, pour over the brats, add onion, sprinkle with caraway seeds. Pour beer over the top. Cook on low 7-9 hours. Making sure bratwursts are cooked though.
Prepare the sauce by combining all of the ingredients together in a bowl. Set aside until ready to assemble.
Preheat oven to 350 degrees.
Spread Reuben sauce on hoagies, top with Swiss cheese slice, add one cooked brat, top with sauerkraut and place on cookie sheets. Bake for 8-10 minutes, or until rolls are toasted and cheese is melted. Serve hot.
Notes
Nutrition Information:
Yield:
8
Serving Size:
1
Amount Per Serving:
Calories:

926
Total Fat:

72g
Saturated Fat:

25g
Trans Fat:

0g
Unsaturated Fat:

40g
Cholesterol:

171mg
Sodium:

2110mg
Carbohydrates:

29g
Fiber:

2g
Sugar:

8g
Protein:

40g
Nutrition isn't always accurate.
---
Follow along with Frank's Kraut on their social medias to get delicious recipes year 'round, and find where you can get your hands on the best Kraut around!
Follow them on Facebook, Twitter, Pinterest and Instagram for all things sauerkraut!
Hungry for More?

and the BEST Chocolate Cake on the planet!