Rich chocolate bundt cake with a coconut tunnel inside. Drizzled with both chocolate and vanilla icing. Just like that age old mix time forgot.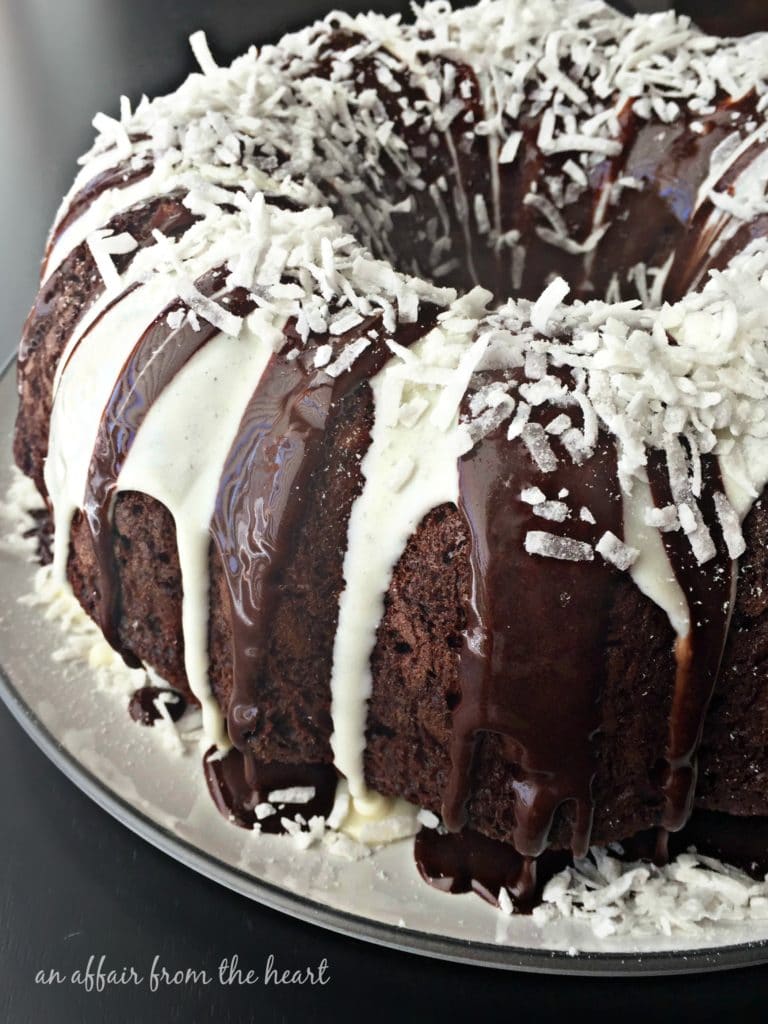 I originally posted this recipe in October of 2011, although the process of perfecting this cake took years before that.
I decided it was time for this to be re-posted, as the pictures I had way back when certainly didn't do this cake justice. So, before I share the recipe with you, let me tell you how I went about trying to make this cake.
Twenty-Five years ago, at one of my bridal showers, my Aunt Carol gave me my first bundt cake pan. She had remembered Brian saying how he loved a cake made by Pillsbury, called a Chocolate Macaroon Tunnel Cake.
She had slipped one of the cake mixes inside the bundt cake pan.
The very next year, they quit making it.
Now, I am not a fan of coconut, so if it wasn't his favorite cake,
this would have gone totally unnoticed by me.
But it was.
I searched high and low, and couldn't find one anywhere.
For years I tried to find him one that was similar, or maybe turn him on to a new cake?
One year I made this tall gorgeous Waldorf Astoria cake.
Red is his FAVORITE color…
The cake was gorgeous!! But, it weighed about 50 pounds.
Epic fail.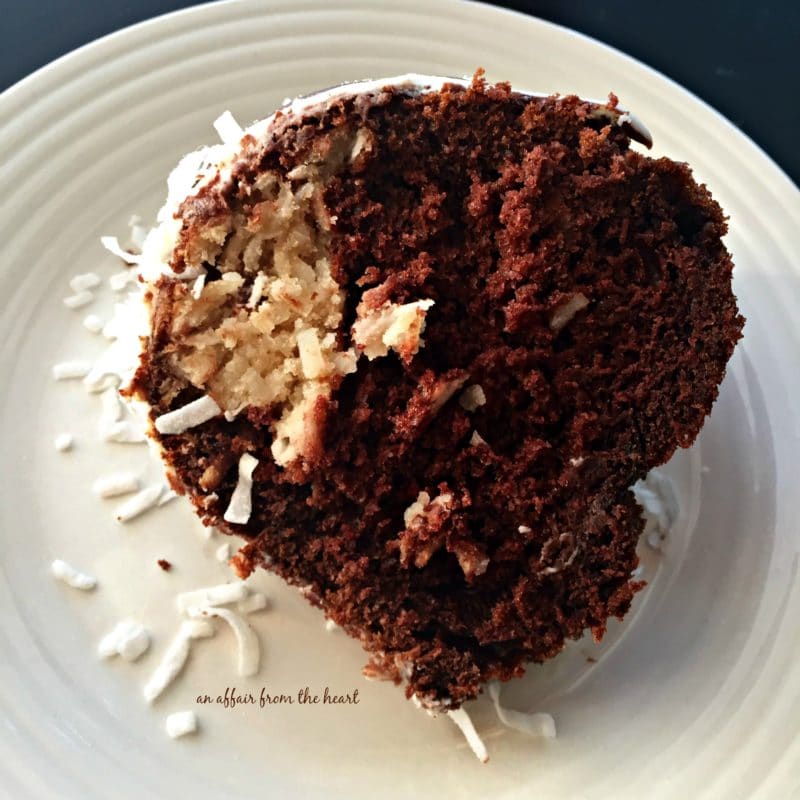 Well, back in the dark ages when we got married, and the cake was ripped from the grocery shelves, Google wasn't even born yet. It wasn't like today when you can just hop on your smart phone and whatever you want is literally at your fingertips.
Once google was born, I started trying recipes that said they tasted like the old box mix.
Year after year I tried.
Bless his heart, he was so sweet to say "it's okay, I mean it's close…but not quite there"
He ate them every time so I wouldn't feel bad.
Finally, I decided to take a couple of different recipes and tweak them and merge them and
and guess what?? I had it!!
I think his words were something like "You FINALLY did it!!"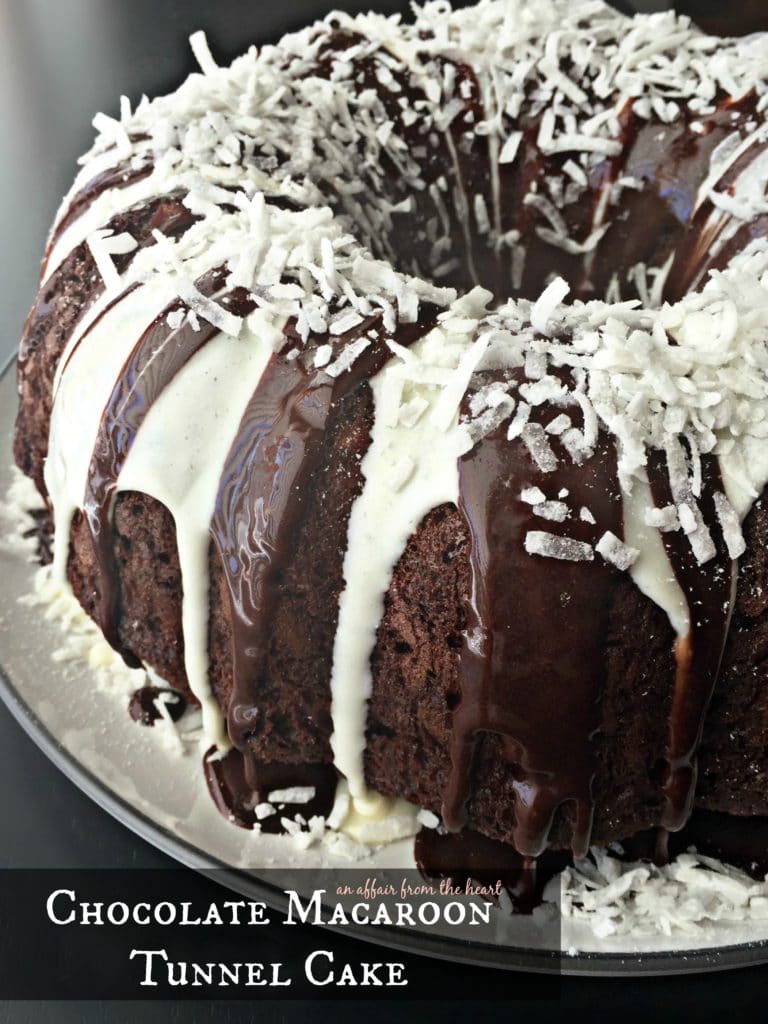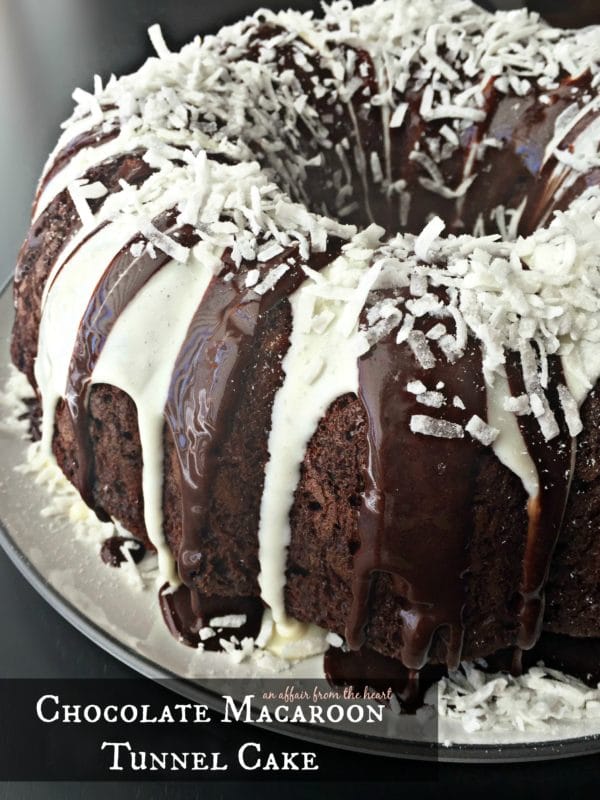 So, now that I have done all of the trial and error for you, you can have this age old cake that I have had SO MANY tell me "used to be their favorite, until it was gone." Enjoy!
—

Yield: 16
Chocolate Macaroon Tunnel Cake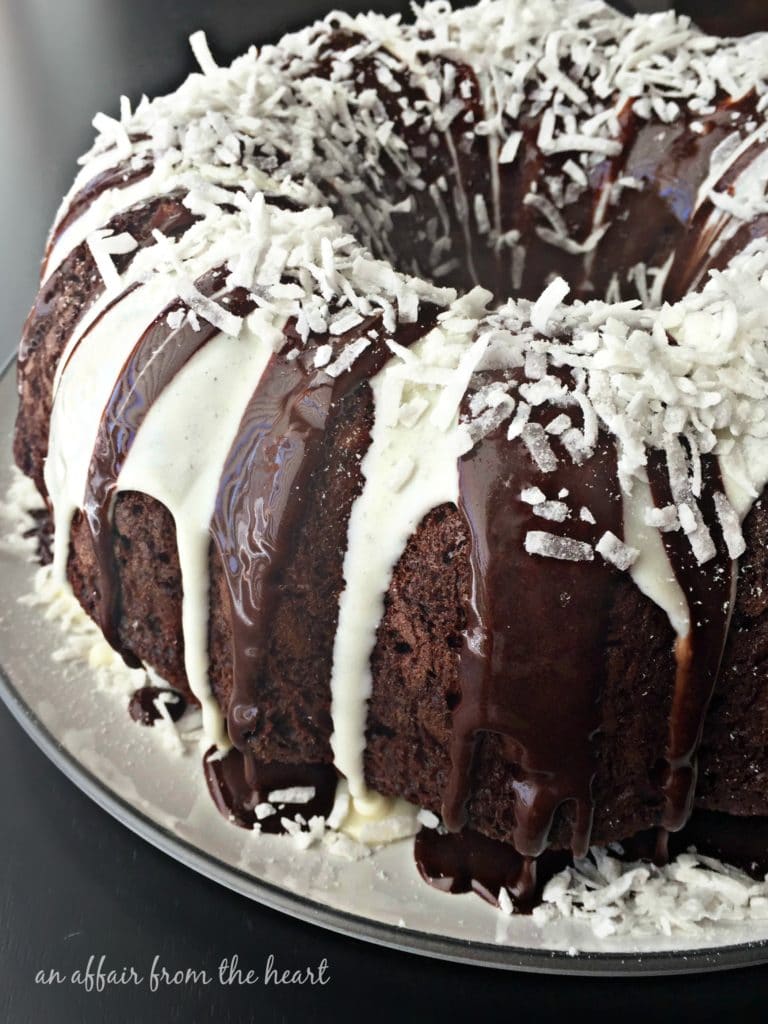 Rich chocolate bundt cake with a coconut tunnel inside. Drizzled with both chocolate and vanilla icing. Just like that age old mix time forgot.
Additional Time
30 minutes
Total Time
1 hour
30 minutes
Ingredients
For the Cake
One Devils Food Chocolate Cake Mix- prepared according to box instructions
For the Filling
2 egg whites
½ cup sugar
2 cups flaked coconut
2 Tablespoons flour
2 teaspoons vanilla
For the Glaze
2 cups powdered sugar
1 Tablespoon butter
2 Tablespoons Milk
1 teaspoon vanilla
For chocolate glaze you can add 2 Tablespoons of cocoa to the above mixture.
(I glaze with both flavors. Because did I mention how good that puddle of icing in the middle is?!?!)
Instructions
Preheat oven to 350 degrees. Spray your bundt pan with non-stick cooking spray.
Prepare cake mix as per box instructions. Set aside.
In a separate bowl, with a fork quickly mix egg whites. Add the sugar and vanilla and mix again. Stir in coconut and flour.
Pour about ½ of the cake mix into your bundt pan. (see photo in blog post) Now spoon filling in a "tunnel" on top of the batter. Be careful not to let the filling touch the pan. Now pour and evenly cover the tunnel with the rest of the batter.
Bake the cake for 45 minutes or until toothpick comes out clean.
Cool in pan for 20-30 minutes and turn onto a plate to cool the rest of the way.
Drizzle with frosting if you desire.
Nutrition Information:
Yield:
16
Serving Size:
1
Amount Per Serving:
Calories:

177
Total Fat:

5g
Saturated Fat:

4g
Trans Fat:

0g
Unsaturated Fat:

1g
Cholesterol:

2mg
Sodium:

64mg
Carbohydrates:

33g
Fiber:

1g
Sugar:

29g
Protein:

1g
Nutrition isn't always accurate.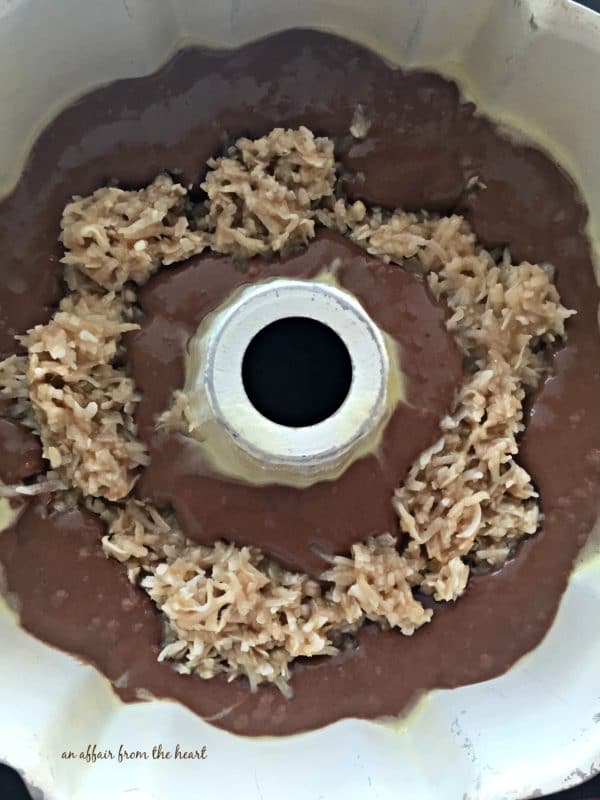 This photo shows how to scoop the coconut mixture into the cake.
—
Hungry for MORE COCONUT!?!

If you make this recipe, I'd love to know! Snap a picture, share the photo on social media with the hashtag #AnAffairFromTheHeart – I'd love to see what you made! – Michaela