Smoked Polish Sausage & Sauerkraut
As an Amazon Associate and member of other affiliate programs, I earn from qualifying purchases.
Smoked Polish Sausage & Sauerkraut is a flavorful duo of zesty smoked sausage and tangy sauerkraut, all baked into a hearty and delicious meal!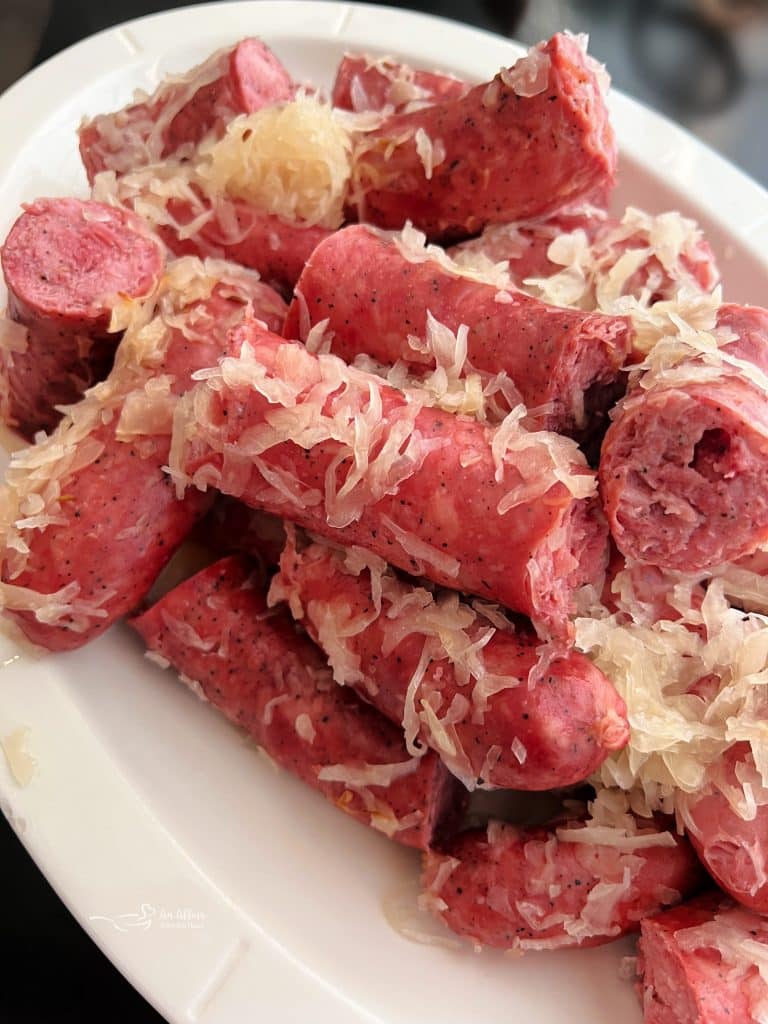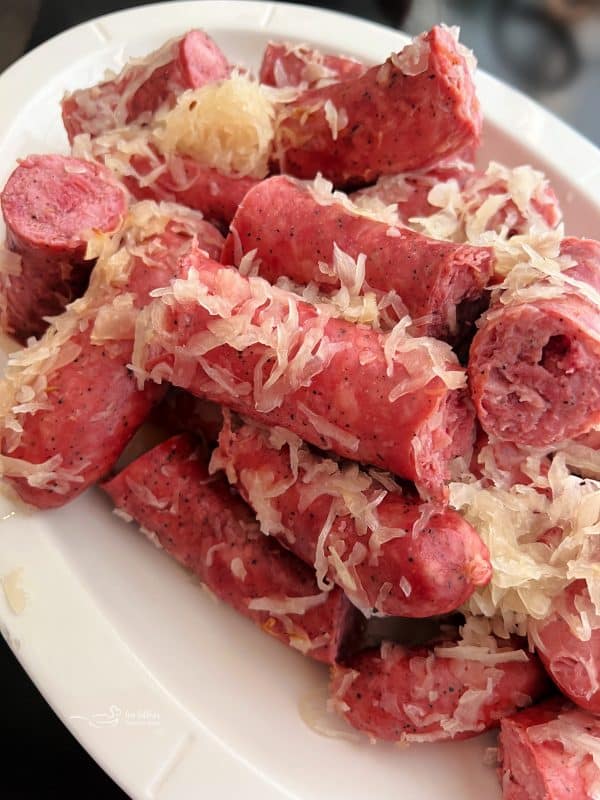 Technically I can't really call this a "recipe" — it's more of a "how-to." Whenever my Grandma Czaplewski made ham for the holidays, we always had Polish Sausage and Sauerkraut, too. My heritage is Polish, so I might like this just a little more than the average person. I have carried on the tradition and make it every year for Easter with my ham.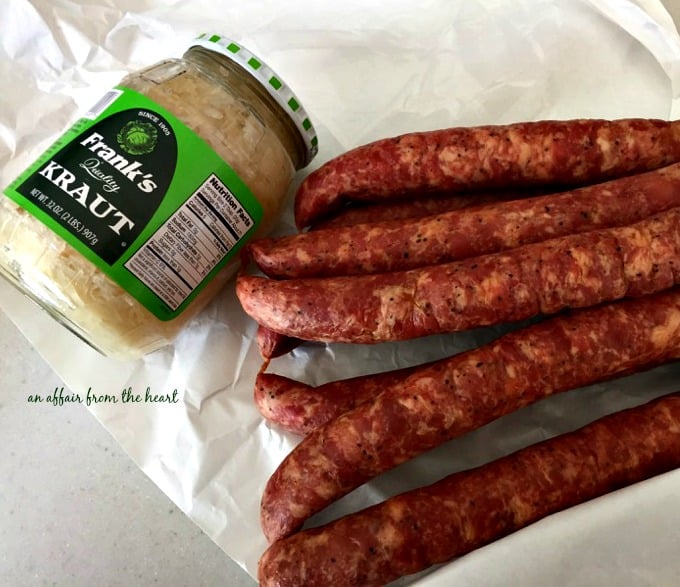 This "recipe" has been on my website since 2015. If you are in the Omaha area, grab your smoked Polish Sausage at Stoysich. Their smoked Polish Sausage is top-notch, I promise you will love it!
Secondly, in our family, the sauerkraut has to be Frank's. When I first posted this recipe, working with Frank's Kraut would have been a dream of mine. Guess what? They saw this recipe and ever since then, I have had a partnership with them. I have made countless sauerkraut recipes over the last 8 years!
If you love kraut like we do, try these recipes: Grilled Polish & Kraut, BBQ Smoked Sausage Sandwiches with Kraut, and this Sauerkraut, Bratwurst, and Potato Soup.
Ingredients in Smoked Polish Sausage & Sauerkraut
Smoked Polish Sausage – I usually get about one-half pound per person. (Mmm Leftovers!)
Frank's Kraut – I like the glass jars and the poly bags myself.
Water
Caraway seeds – optional. Add them if you like them.

How to make Smoked Polish Sausage & Sauerkraut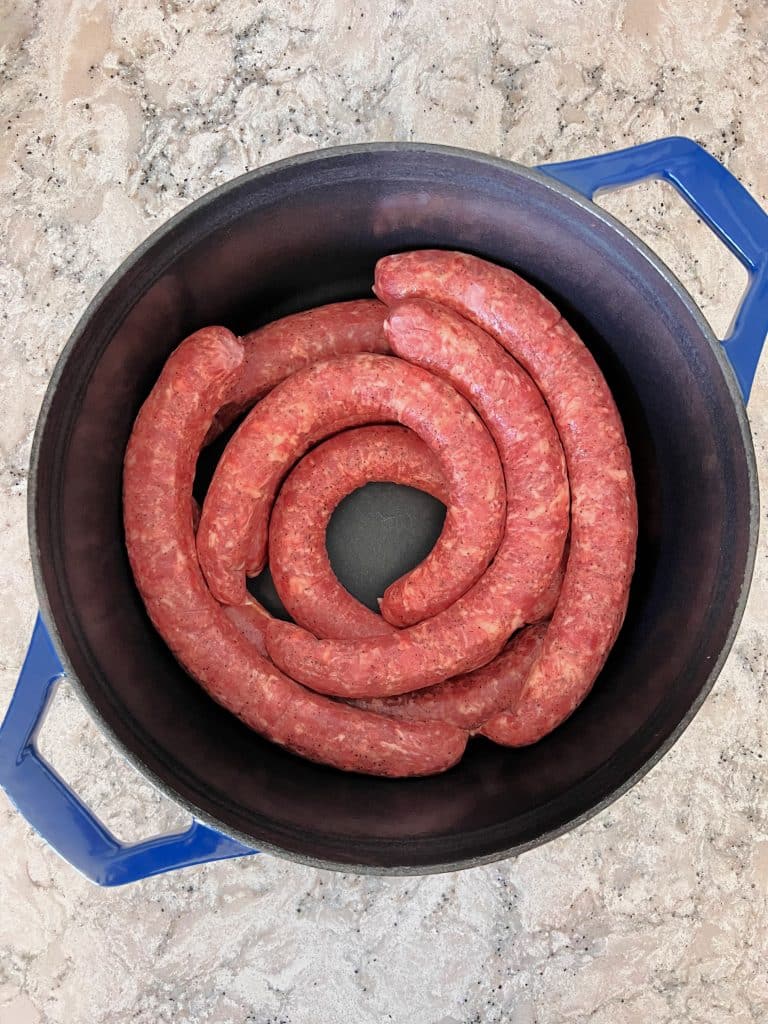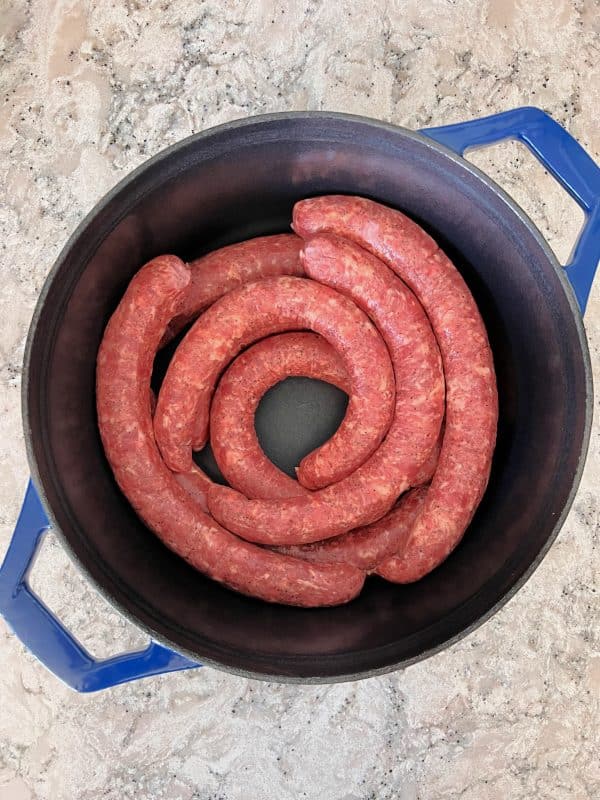 Simply lay the sausage in the bottom of your Dutch oven.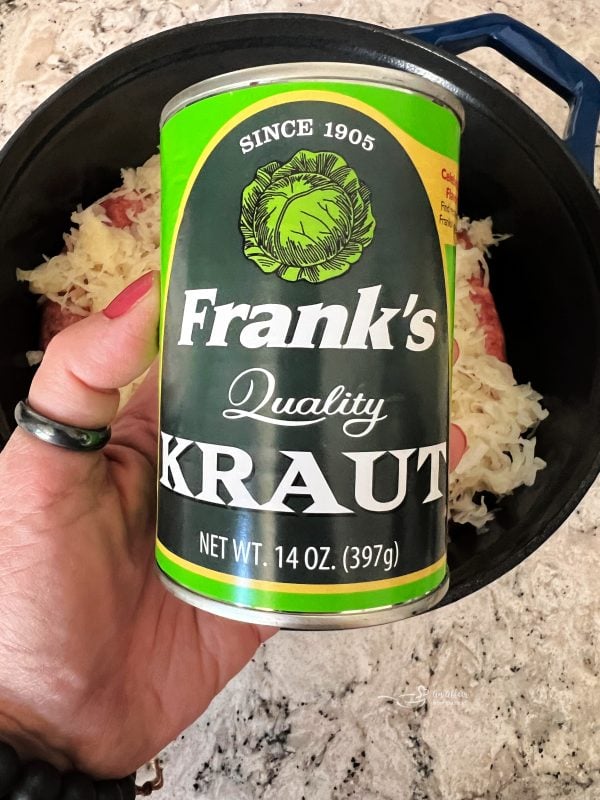 Cover with Kraut and a little water.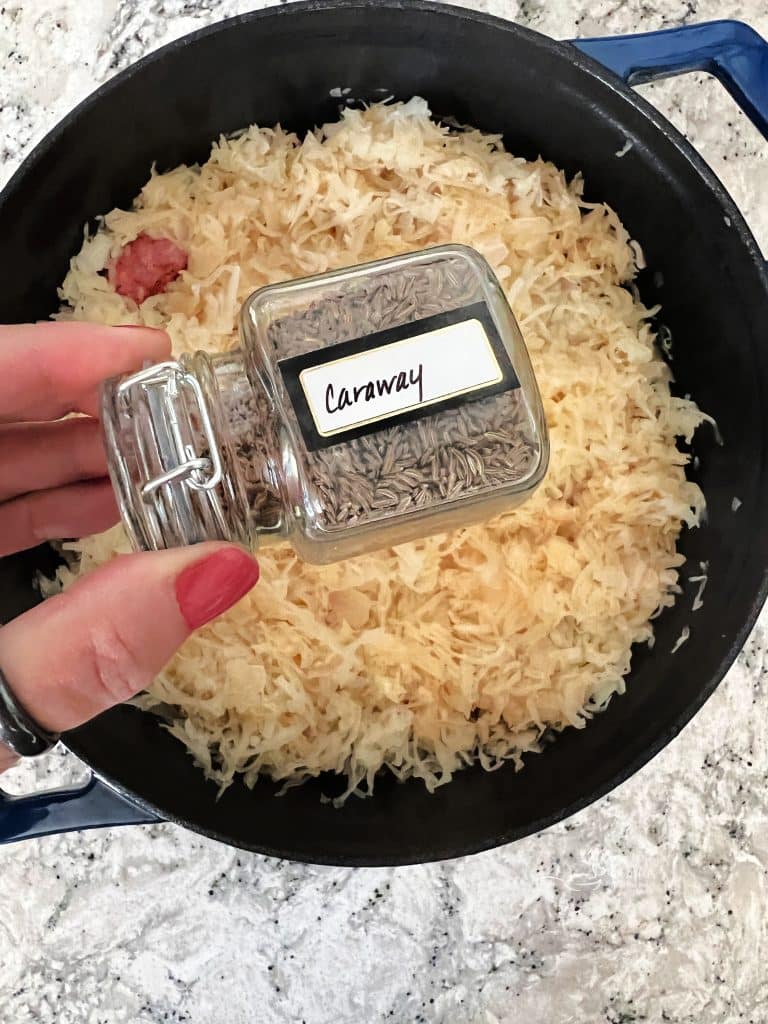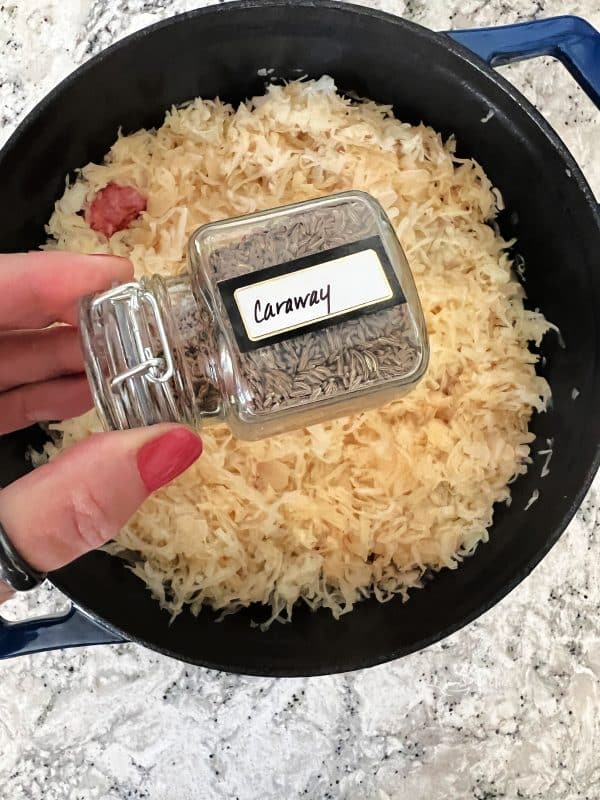 Sprinkle with Caraway Seeds if desired.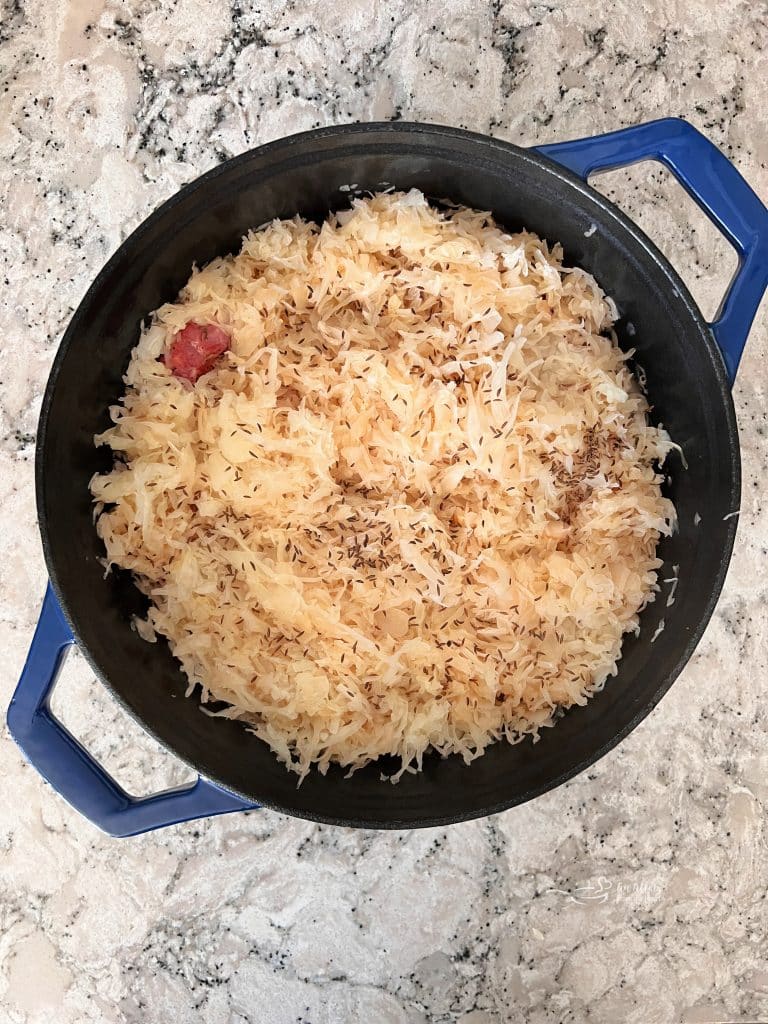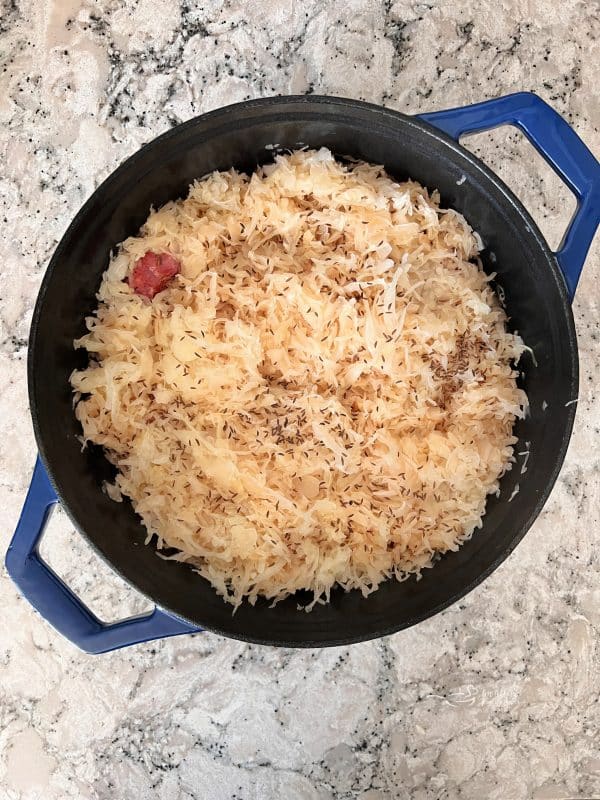 Cover and bake. The kraut flavors the sausage while it cooks, and it's perfectly amazing. (I wonder how you say amazing in Polish?)
Cut the long sausage links into potions. Transfer to two serving dishes or serve it right from the Dutch Oven for fewer dishes!
Love it? Pin it!
Make sure you can find this recipe when you need it! Pin it to your favorite Pinterest recipe board before you go.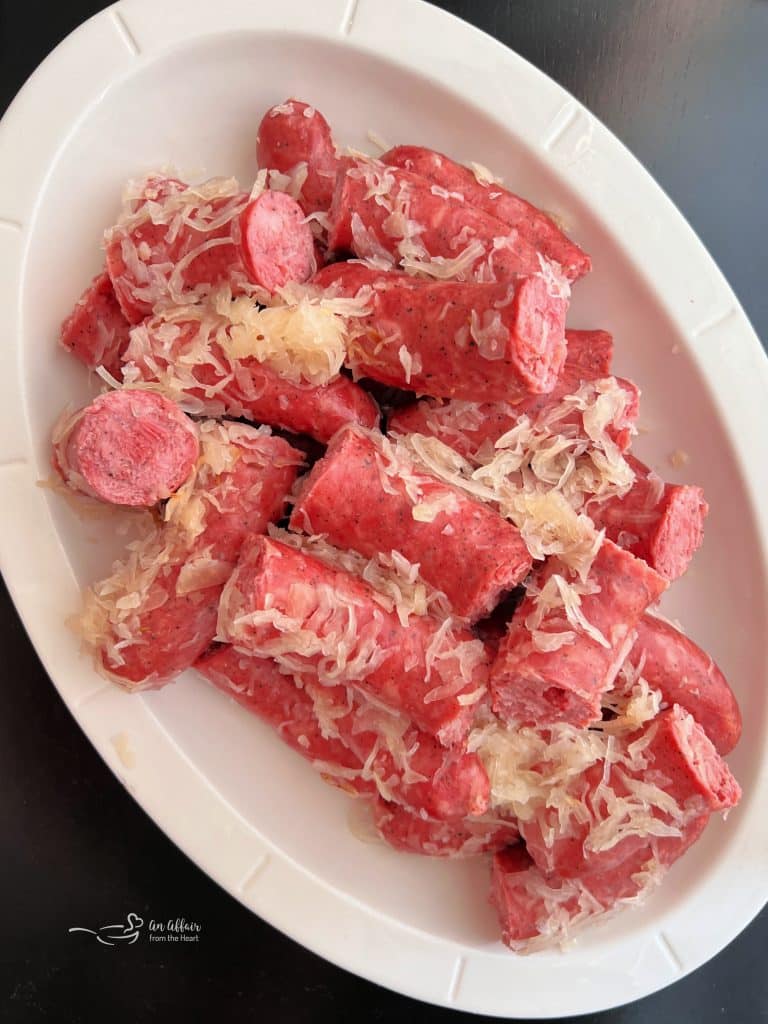 FAQs About Smoked Polish & Sauerkraut
Feel free to customize and experiment with this recipe to create a dish that suits your preferences and crowd size!
Is Smoked Polish Sausage Already Cooked? Yes, smoked Polish sausage is typically pre-cooked during the smoking process. This recipe is designed for smoked sausage.
Can I Use Fresh Sausage Instead? Absolutely! If using fresh uncooked sausage, adjust the cooking times accordingly. Uncooked sausage needs to reach an internal temperature of 160 degrees F to be safe to eat.
What's the Purpose of Adding Water? Adding water helps keep the sauerkraut moist during baking, preventing it from getting too dry.
Can I Add Other Ingredients to the Dish? Certainly! You can personalize the recipe by adding caraway seeds, apples, celery, or onions to enhance the flavor profile.
How Do I Adjust the Recipe for Different Crowd Sizes? This recipe is super versatile. It is easy to adjust the serving based on the number of people you are feeding. I make about ½ pound of sausage per person to make sure I have enough, plus the leftovers are excellent!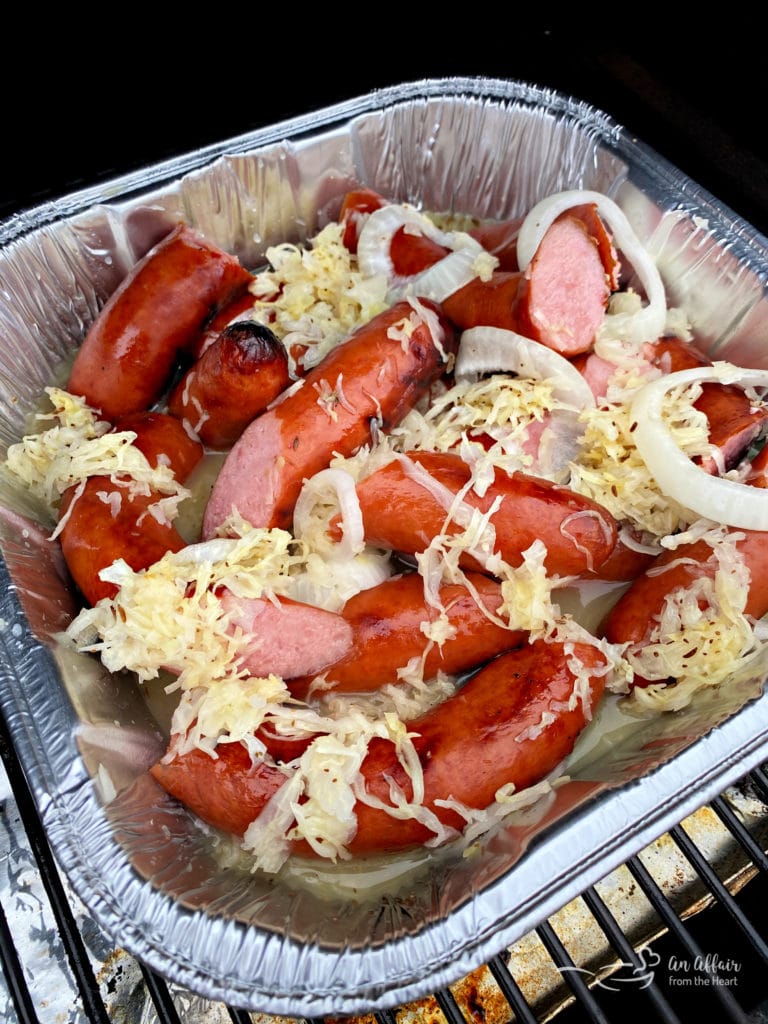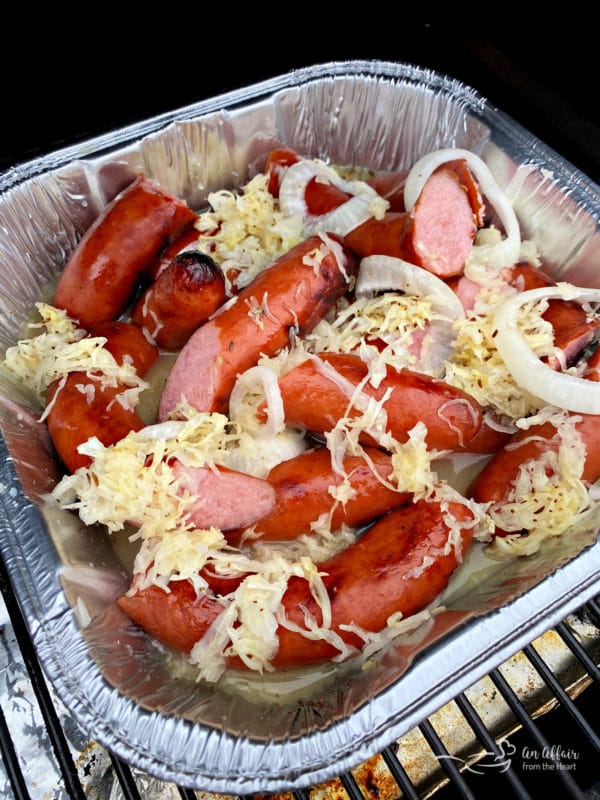 Grilled Polish Sausage & Sauerkraut
Don't want to heat up the house? I have a grilling method, too! It's a great recipe for camping! You can find it here.
What to Serve with Baked Polish Sausage and Sauerkraut?
Mashed Potatoes: Creamy mashed potatoes provide a comforting contrast to the smoky sausages and tangy sauerkraut. We also love ham and Polish Sausage with this Hash Brown Cheesy Potato Casserole.
Steamed Vegetables: Lightly steamed vegetables like green beans, carrots, or broccoli add a touch of freshness and color to the plate.
Crusty Bread or Rolls: Serve with a side of crusty bread or rolls to soak up the flavorful juices from the sausages and sauerkraut.

Mustard: Offer different types of mustard, such as stone-ground or Dijon, for dipping the sausages or adding extra flavor.

German Potato Salad: This tangy and warm potato salad complements the sauerkraut and sausages perfectly.
Pretzels: Soft pretzels or pretzel rolls are a great option for a fun and flavorful side.
Pickles: Pickles, whether dill or sweet, pickles offer a tangy and crunchy element that pairs well with sausages.
Roasted Brussels Sprouts: The caramelized flavor of roasted Brussels sprouts adds depth to the meal.
Applesauce: A classic accompaniment, applesauce's sweetness balances the savory flavors.
Feel free to mix and match these options based on your preferences and the occasion. These sides will not only enhance the meal's taste but also provide a well-rounded dining experience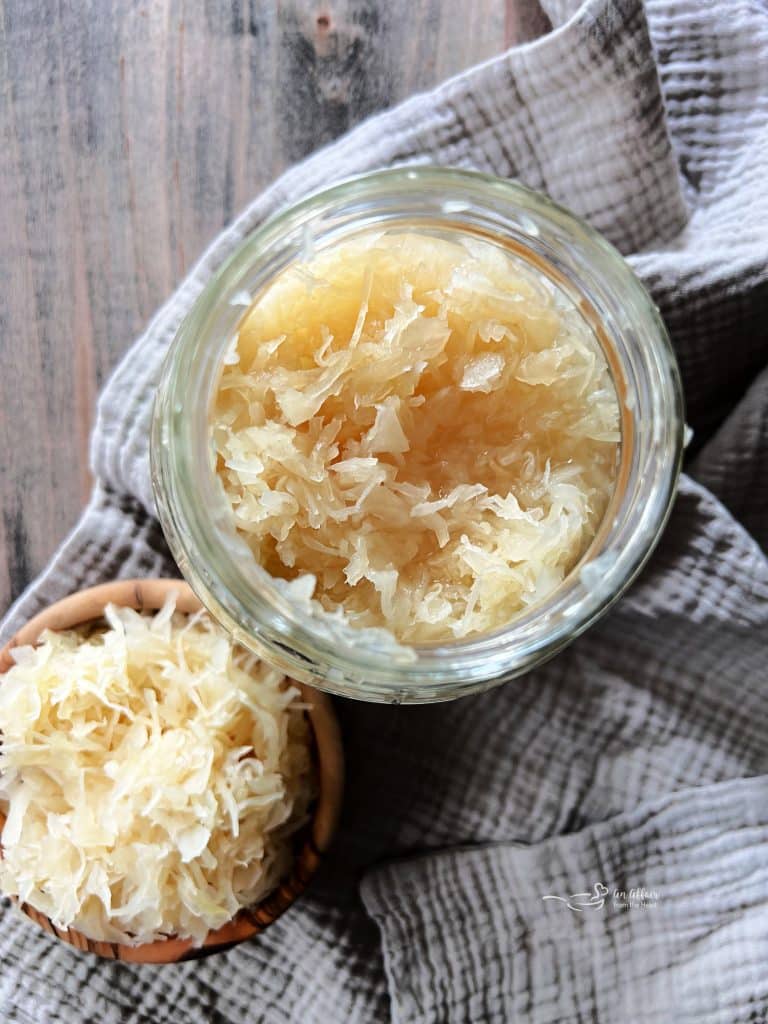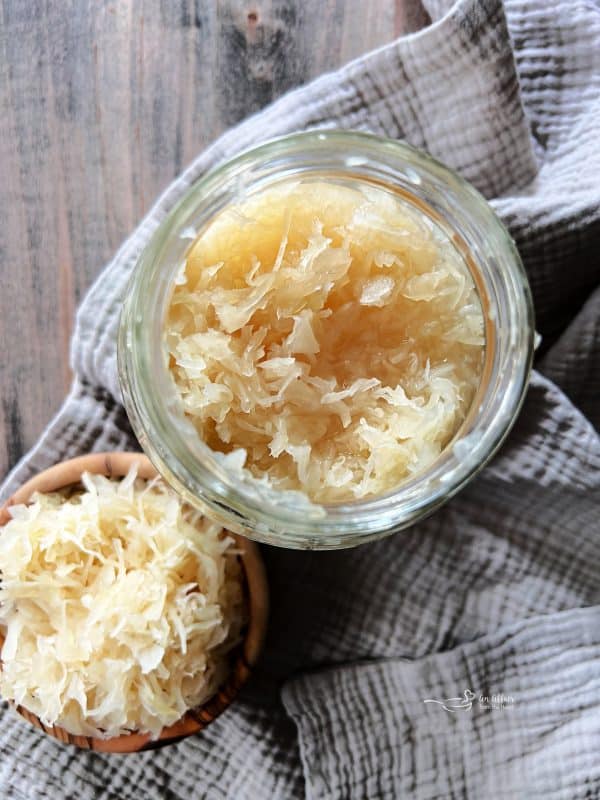 Health Benefits of Sauerkraut
Sauerkraut offers several health benefits due to its fermentation process and nutritional content. Here are a few of the benefits of adding sauerkraut to your diet:
Sauerkraut is a natural source of probiotics, which are beneficial bacteria that support a healthy gut. Probiotics aid digestion, help nutrient absorption, and can strengthen your immune system. The probiotics in sauerkraut aid in breaking down food and supporting the growth of beneficial gut bacteria, which can alleviate digestive issues like bloating and gas.

Sauerkraut is a good source of dietary fiber. Fiber helps maintain a healthy weight and supports heart health by reducing cholesterol levels.

Sauerkraut is rich in vitamins C and K, which contribute to a strong immune system and strong, healthy bones. It also contains minerals like iron, manganese, and potassium.

The fermentation process in sauerkraut enhances its antioxidant content. Antioxidants fight oxidative stress and inflammation, reducing the risk of many chronic diseases.

Sauerkraut is a low-calorie food, making it a great addition to a balanced diet, especially when you are trying to manage your weight.

Some studies suggest that sauerkraut's fermentation process may create compounds that have anti-cancer properties.

The gut-brain axis is linked to mood and mental health. Consuming sauerkraut probiotics may indirectly support a healthier mind.
Remember that while sauerkraut has these potential benefits, individual results may vary. Including a variety of nutrient-rich foods in your diet is essential for overall health. If you're new to sauerkraut, start with small servings and gradually increase to allow your body to adjust to its probiotic content.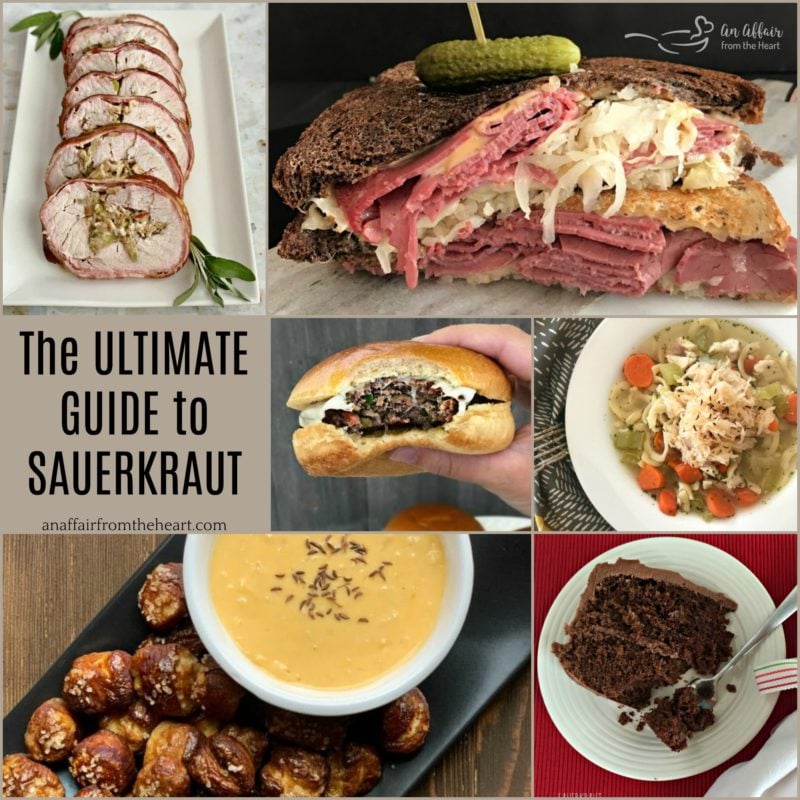 Love Sauerkraut? Everything you always wanted to know about Kraut! Where it comes from, how it's made, and tons of Sauerkraut recipes in this Ultimate Guide to Sauerkraut. You will find all of my sauerkraut recipes here and I even have a Pinterest Board dedicated to sauerkraut recipes!
I hope that your family loves this recipe as much as mine has for decades.

Yield: 8
Smoked Polish Sausage & Sauerkraut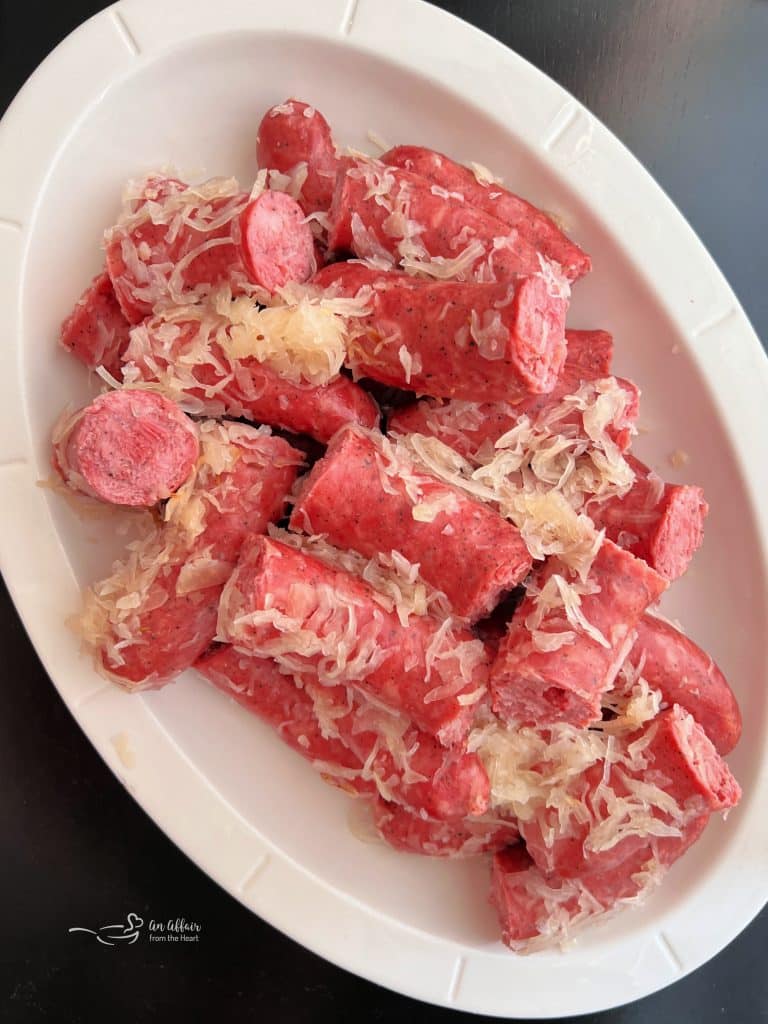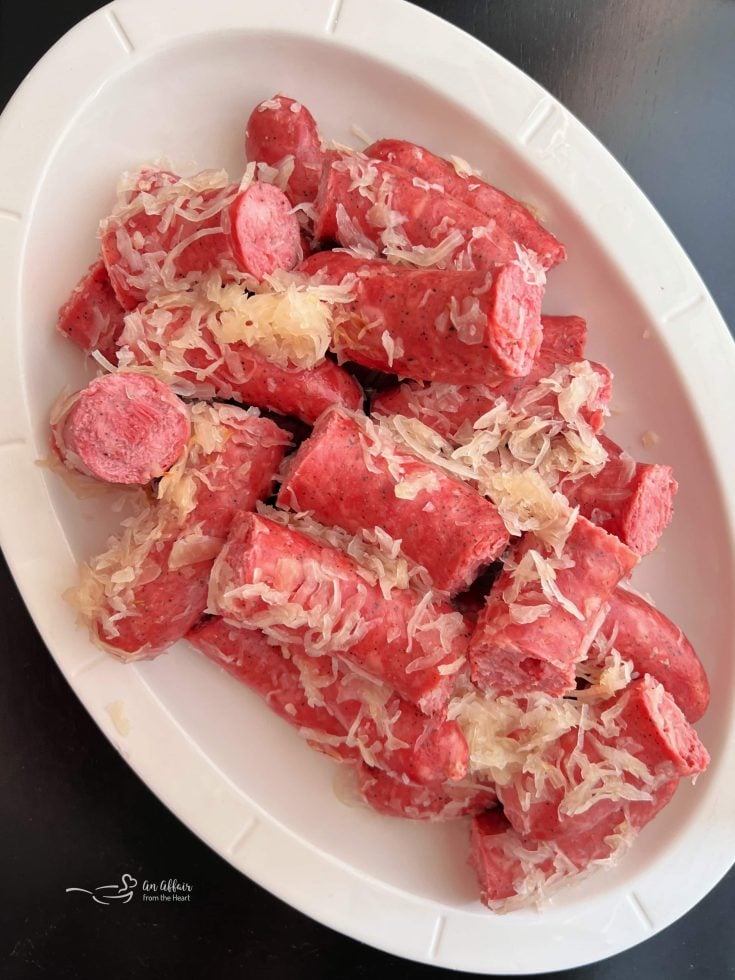 Baked in the oven, this is how my Polish Grandmother made her Polish Sausage and Sauerkraut
Cook Time
1 hour
15 minutes
Total Time
1 hour
20 minutes
Ingredients
4 pounds quality smoked Polish sausage
1 large jar of Frank's Kraut
1/2 cup water
1 teaspoon caraway seeds, optional
Instructions
Preheat oven to 350 degrees.
Lay sausage in the bottom of a dutch oven, cover with sauerkraut and water.
Srinkle caraway seeds over the top, if desired.
Bake covered for about 75 minutes.
Notes
I buy Smoked sausage so it's already cooked. Adjust cooking times for sausage that isn't smoked/cooked. If using fresh sausage adjust cooking times as needed. The internal temperature of fresh sausage needs to be 160 degrees to be safe to eat.
Recommended Products
As an Amazon Associate and member of other affiliate programs, I earn from qualifying purchases.
Nutrition Information:
Yield:
8
Serving Size:
1
Amount Per Serving:
Calories:

536
Total Fat:

42g
Saturated Fat:

15g
Trans Fat:

0g
Unsaturated Fat:

25g
Cholesterol:

162mg
Sodium:

2891mg
Carbohydrates:

10g
Fiber:

1g
Sugar:

0g
Protein:

31g
Nutrition isn't always accurate.
This recipe was originally posted on April 8, 2015. It has been updated to improver user experience and reshared on August 21, 2023.