Sweet & Spicy Refrigerator Pickles
As an Amazon Associate and member of other affiliate programs, I earn from qualifying purchases.
With just a few simple steps and minimal ingredients my Refrigerator Pickles will be ready to munch on in no time! Made with crisp English cucumbers, sweet onions, and a delightful blend of spices, these pickles are the perfect balance of sweet and tangy, with just a little bit of heat.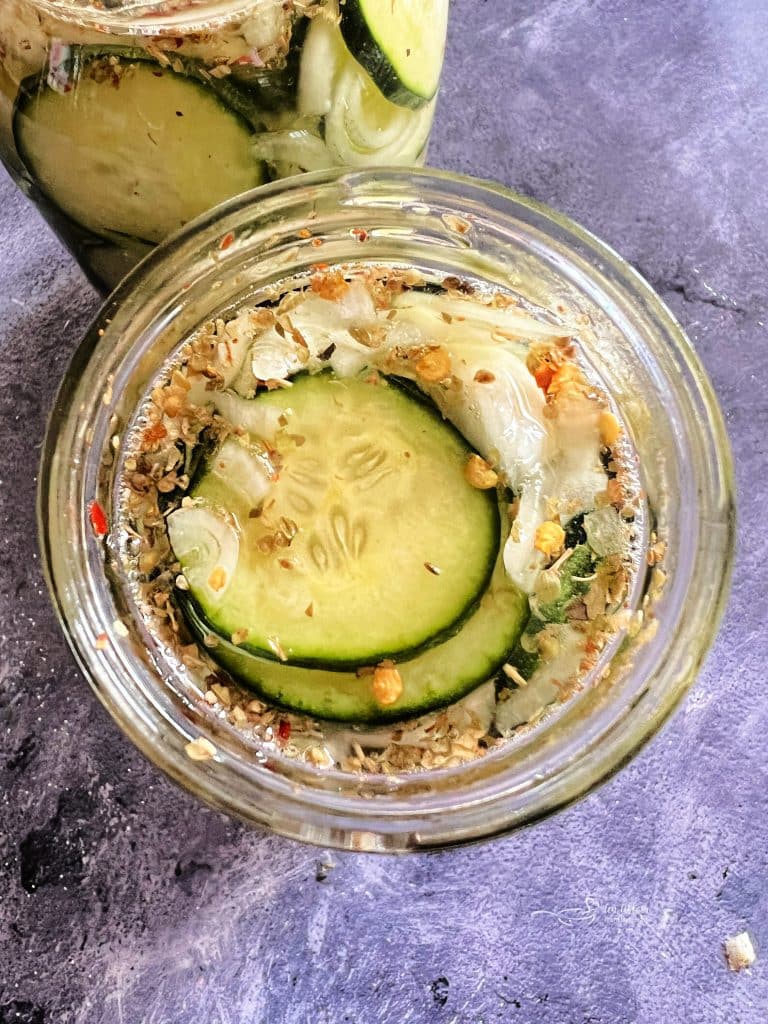 This Sweet & Spicy Refrigerator Pickles recipe is a jazzed-up version of my Mother-In-Law's pickle recipe. She used to boil her cucumbers before slicing them and put them in "cool whip" containers in the fridge. We always laughed at how most of the things in her fridge were in a container that wasn't really what it was. Ha!
Pickles have become quite the trend so why not make your own pickles at home? These quick homemade pickles are no-cook and the best pickles you will ever eat!
These quick refrigerator pickle chips are low prep and last for a long time. The great thing about pickles is they are so versatile. You can eat them as a snack, or a side, or add to your favorite sandwich, hamburger, or hot dog.
MORE ABOUT REFRIGERATOR PICKLES RECIPE
To make these crisp pickles, it's as simple as slicing the cucumbers, making your hot brine, and pouring it all into a jar. Once you know the pickling process, you can make this recipe in so many different ways. No special equipment is needed!
Pickling was traditionally done as a way to preserve food. If you happen to have a garden and have a surplus of cucumbers, you can prepare this easy pickle recipe. It is a great way to ensure that no cucumbers are wasted!
Refrigerator pickles are cold and crunchy. They are a great summer snack, however, the beauty of pickling is it makes a vegetable good year round! I love a good fried pickle during football season!
And, if you love all things pickled you will want to try my Pickled Okra Relish and of course my famous Dill Pickle Dip!

INGREDIENTS NEEDED FOR PICKLES IN THE REFRIGERATOR RECIPE
The complete recipe and instructions for these cucumbers are found at the bottom of this post in the printable recipe card.
English Cucumbers: There is no need to peel these crunchy and sweet cucumbers because the skin is not bitter. You are totally okay to use regular cucumbers, too!

Sweet onion: Has a high sugar content which makes it sweeter than red, white, or yellow onion. I love the Vidalia Onions!

Granulated Sugar

Water

White vinegar: Provides a neutral flavor to your vinegar brine.

Canning salt: Saltier than normal table salt!

Oregano: I use dried oregano

Red pepper flakes: Adds a kick of spice to balance the sweetness. These pickles are not super spicy, but feel free to add more or less pepper flakes to make them acceptable to your palate.

HOW TO MAKE SWEET REFRIGERATOR PICKLES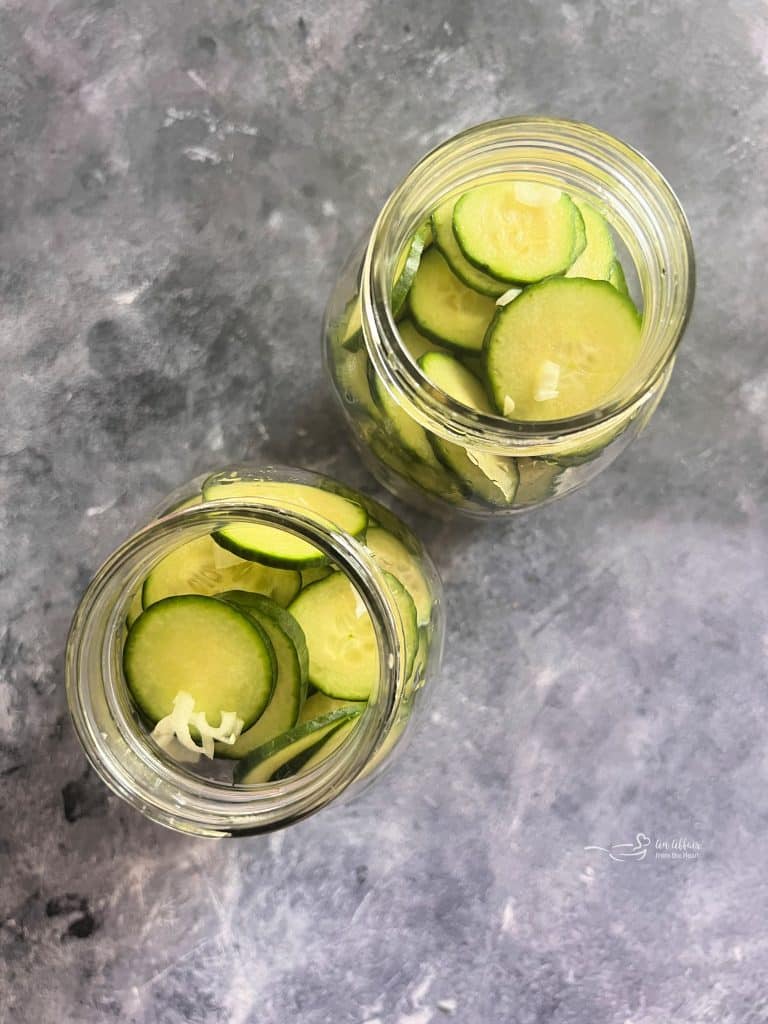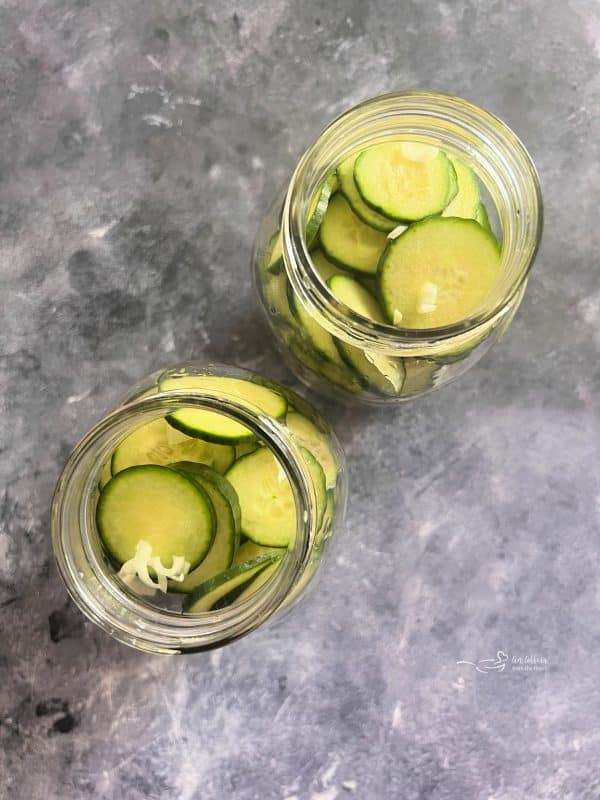 FIRST: Slice the cucumber and onion. Pack the cucumber with onion generously into a jar.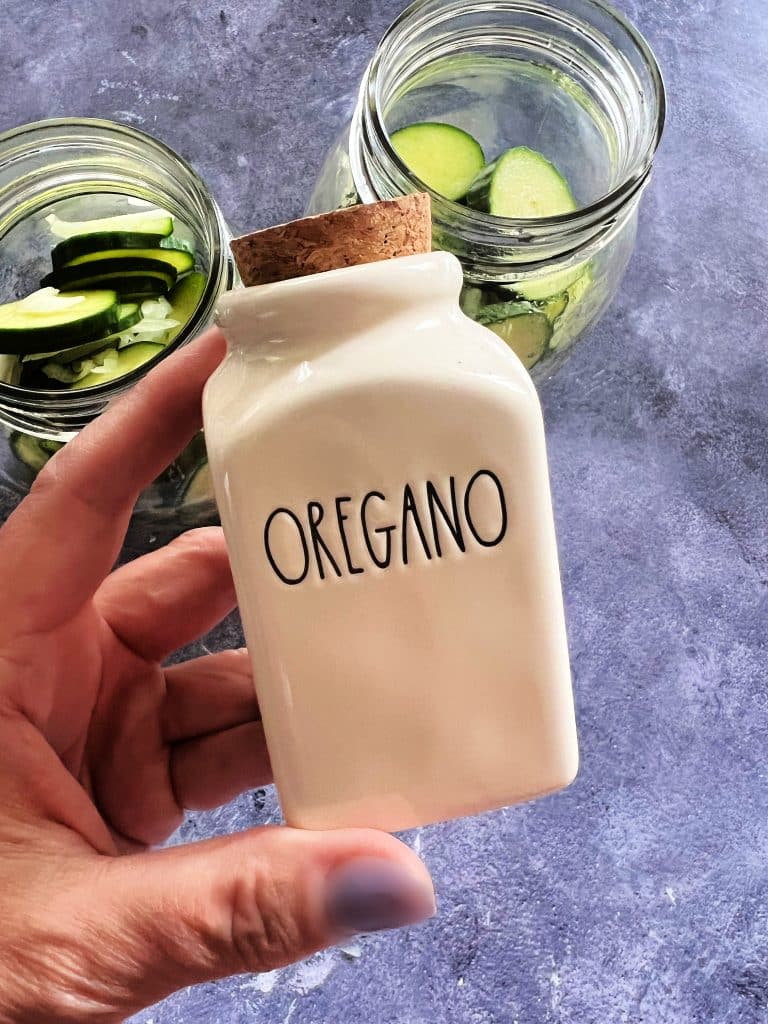 SECOND: In a saucepan, boil the water with salt and sugar until dissolved. Add in vinegar.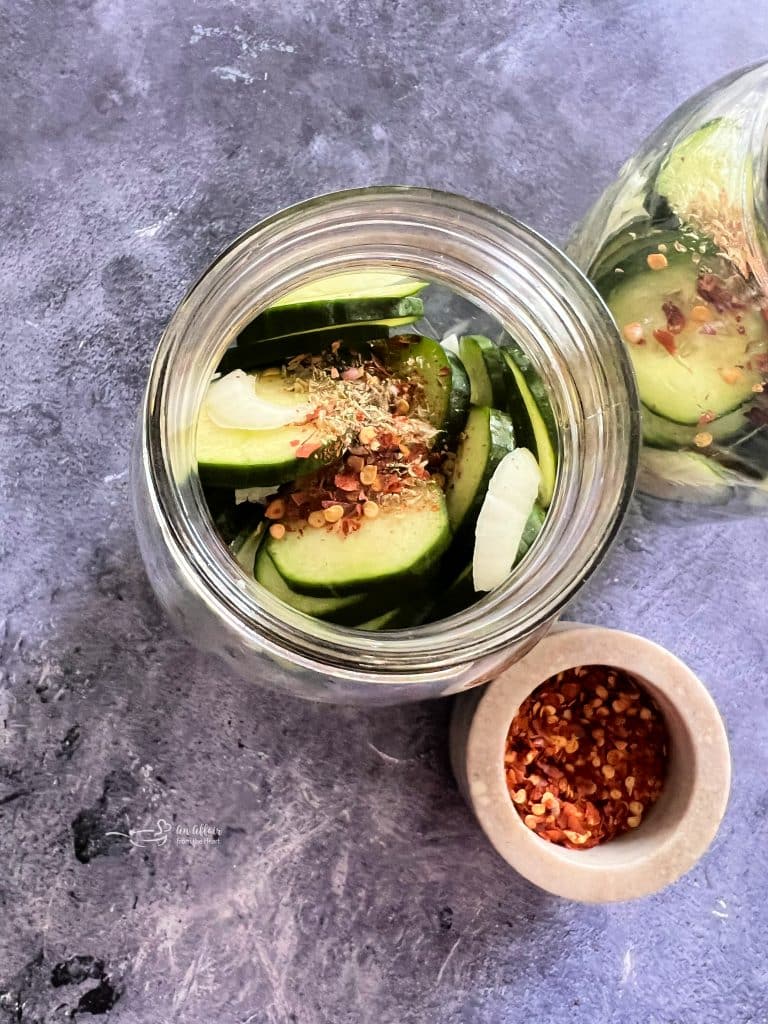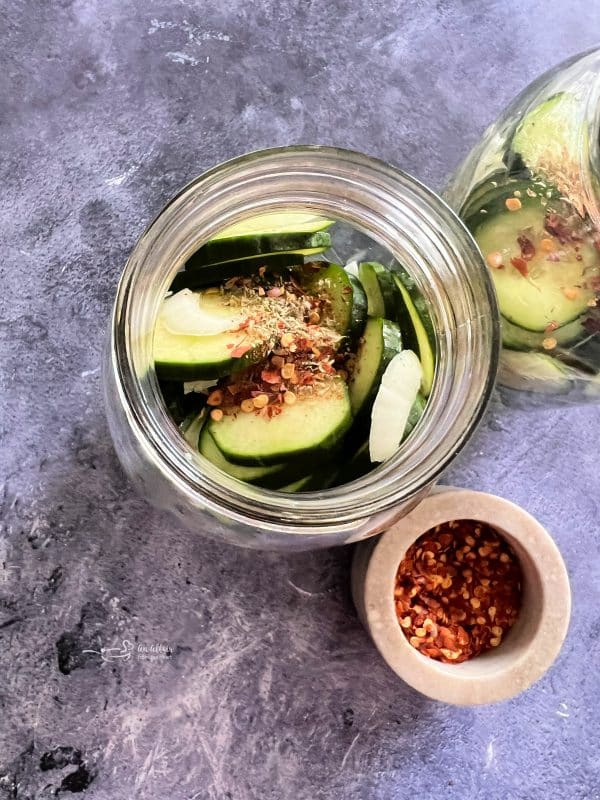 THIRD: Pour the pickling brine over cucumbers and onions. Add oregano and red pepper flakes. Give the jar a shake.
FOURTH: Place your jar of pickles in the fridge and wait 48 hours. Then, enjoy!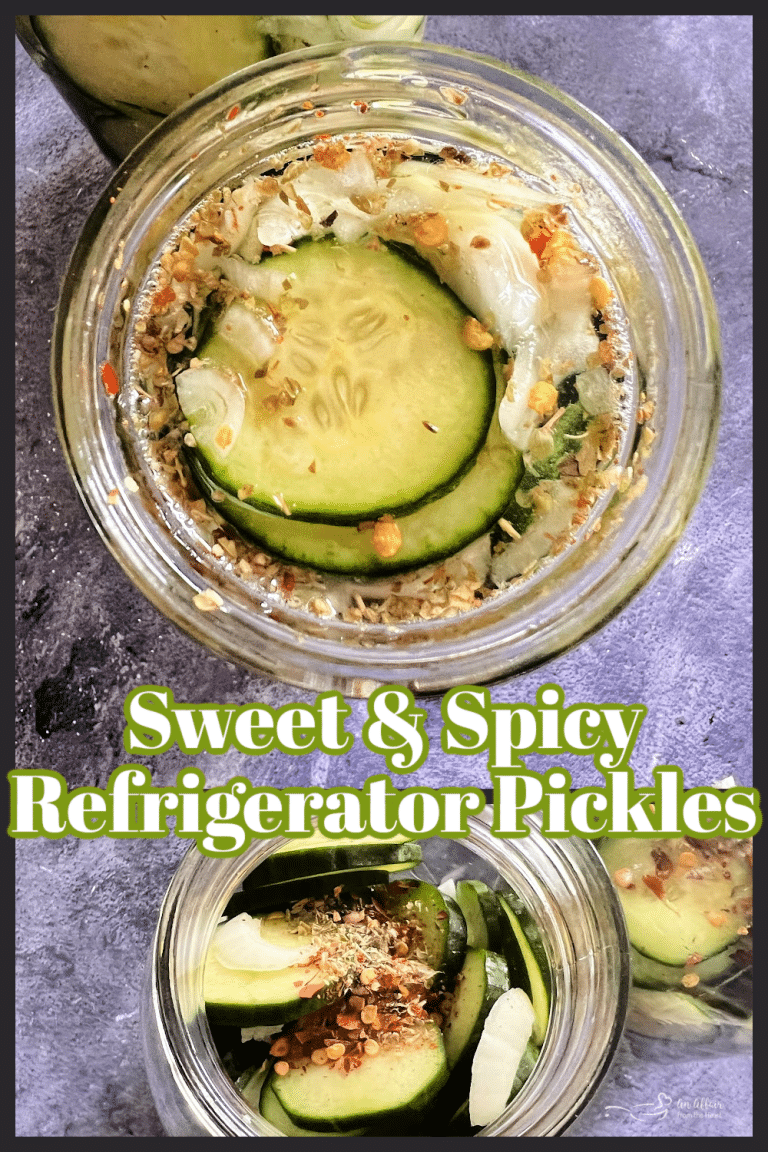 Love it? Pin it!
Don't lose the recipe for these refrigerator pickles! Pin it to your favorite Pinterest recipe board before you go!
FAQs
What's the difference between pickles and refrigerator pickles? Refrigerated pickles are kept in a vinegar solution with little fermentation. Whereas, shelf-stable pickles are kept in a much saltier brine and go through fermentation. Refrigerated pickles tend to be less salty but just as sour as a shelf-stable pickle.
How long do homemade refrigerator pickles last? Homemade refrigerator pickles last for about 4 weeks (if they aren't eaten before then!) Any jar of pickles that is stored should be tightly sealed to keep them fresh. After four weeks, they may not rot instantly, but they will be soft.
When can you eat refrigerator pickles? You can eat refrigerator pickles 48 hours after preparation. They are perfect pickles to eat as a snack, on the side of a sandwich, or on a burger! You can make fried pickles or add them to potato salad. Once you start eating them, you won't be able to stop!
How do you prepare jars for refrigerator pickles? There is no prep! You do not need to sterilize your jars for refrigerator pickles. Clean jars are all you need. Once the cucumber and vinegar mixture is in, there is no need to "can and seal" but just screw on the lid nice and tight! No canning process or hot water bath is necessary for this easy recipe.

SUBSTITUTIONS:
English Cucumbers: You can substitute American or Kirby cucumbers.

Sweet onion: white onion is the closest substitute, however, you can also use red or yellow. Shallots would also be great because of their garlicky flavor.

Vinegar: Any vinegar works great in refrigerator pickling! White vinegar has the most neutral taste, which is why it is best. However, for an even sweeter pickle brine, you can use apple cider vinegar, red vinegar, or white wine vinegar.

Canning salt: Kosher salt or sea salt are good substitutes, but you may want to increase the amount used.

Sugar: Maple syrup, honey, agave…any natural sweetener will do!

To add more pizazz: Fresh dill, celery salt, black peppercorns, garlic cloves, mustard seed, coriander seeds or bay leaves would be tasty. So many possibilities!

TIPS & TRICKS
As I said earlier, you can store these tangy pickles for up to four weeks. Refrigerated jars are recommended to be stored at 40 degrees Fahrenheit or colder in a clean jar that is tightly shut.

You can pickle more than just cucumbers! You can also do carrots, red onions, radishes, peppers, green beans, or beets! The possibilities are endless!

This recipe is for bread and butter pickles which have a sweeter flavor. If you want a dill pickle, you can eliminate the sugar and sweet onion, and add garlic and dill.

These are super versatile, you can cut the cucumbers however you want! You can cut long spears or chips. I have also seen people dice up cucumbers really fine and make relish.

Recipes that Use Sweet Pickles
Love these Bread and Butter Refrigerator Pickles? The following recipes are some fun ways to incorporate them!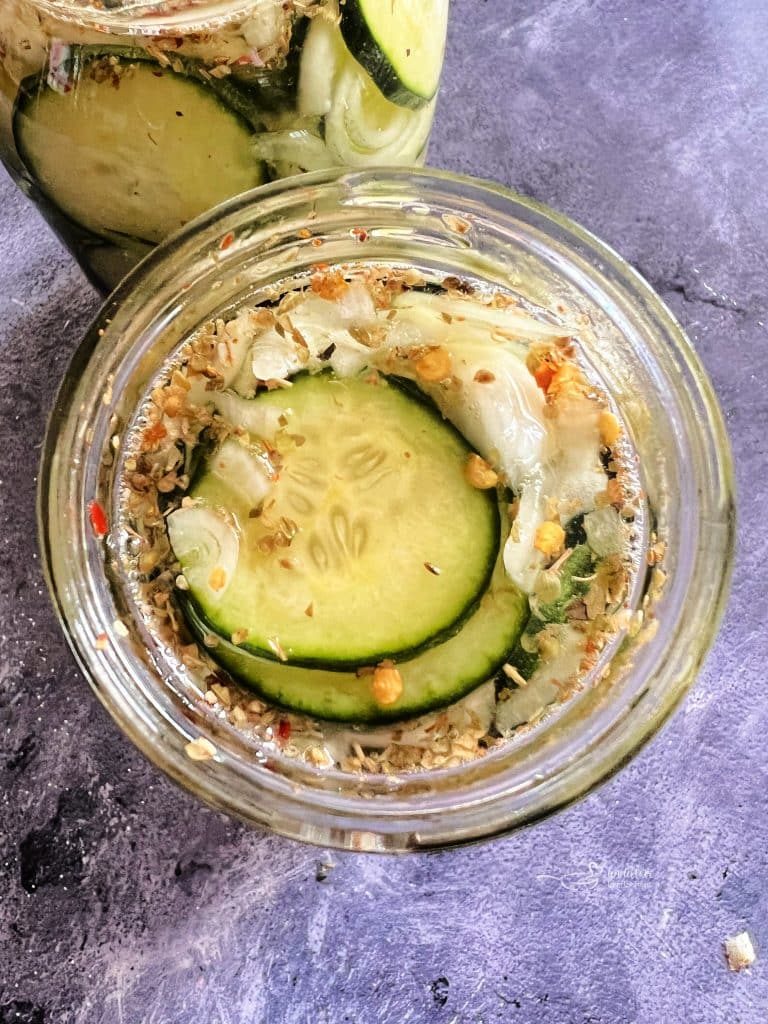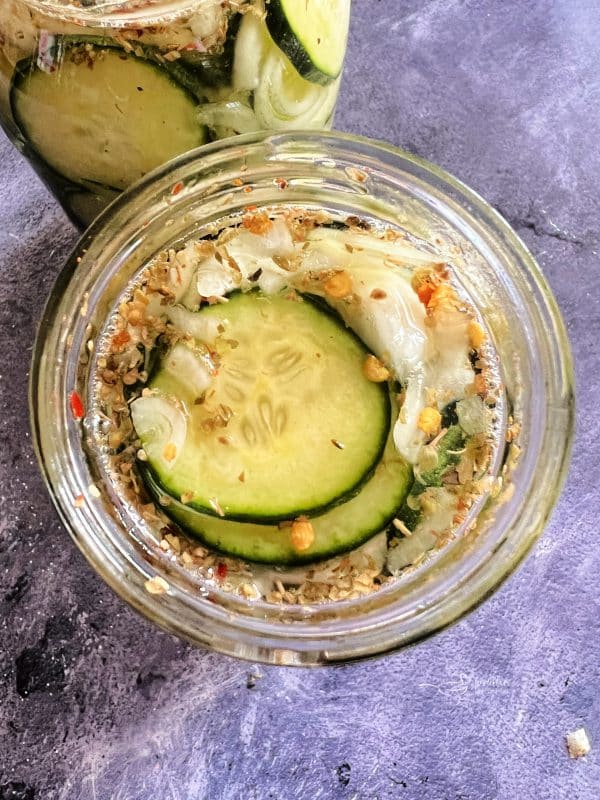 Go make these spicy pickles today! This is the best sweet pickle recipe because it is so easy to make and turns out the freshest pickles. Better than any store-bought pickles!

Yield: about 1 1/2 quarts
Sweet & Spicy Refrigerator Pickles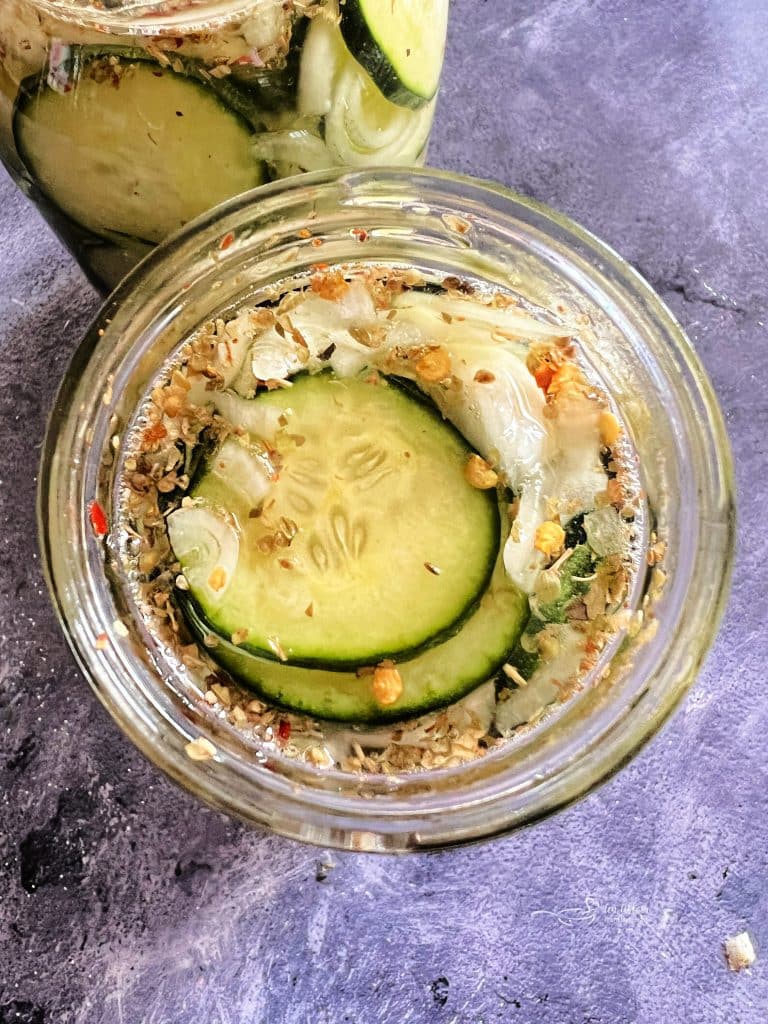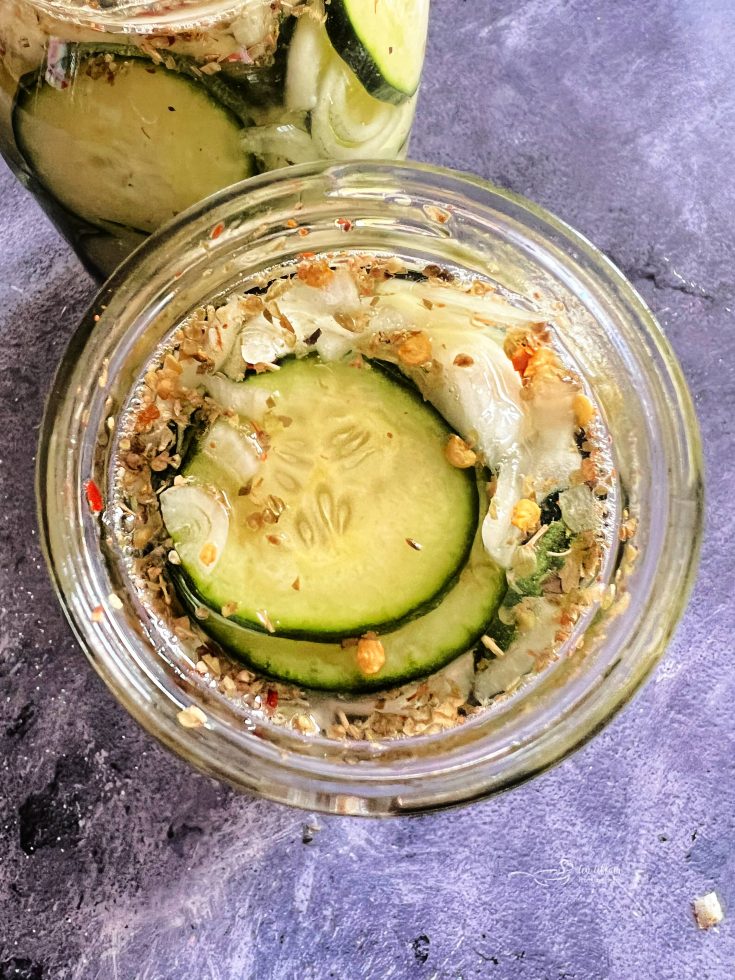 Super easy to make, these refrigerator pickles have simple ingredients, a little bit of spice, and a sweet crunchy pickle that is made with no canning required!
Total Time
2 days
10 minutes
Ingredients
2 large English Cucumbers, sliced with skin left on (about 4 cups)
1 small sweet onion (about 2/3 cup)
2 cups sugar
2 cups water
1 cup white vinegar
1 teaspoon canning salt
1 teaspoon oregano
1/2 teaspoon red pepper flakes
Instructions
Slice cucumbers and onions and put them into the jar(s). You can pack them in pretty tight.
In a saucepan, heat the water, salt, and sugar together until the sugar dissolved completely. Add in the vinegar.
Pour the mixture over the cucumbers in the jars.
Add the oregano and red pepper flakes to the jar(s).
Put the lid on and give them a little shake.
Place the jars in the refrigerator for about 48 hours.
Enjoy!
Recommended Products
As an Amazon Associate and member of other affiliate programs, I earn from qualifying purchases.
Nutrition Information:
Yield:
16
Serving Size:
1
Amount Per Serving:
Calories:

112
Total Fat:

0g
Saturated Fat:

0g
Trans Fat:

0g
Unsaturated Fat:

0g
Cholesterol:

0mg
Sodium:

136mg
Carbohydrates:

28g
Fiber:

0g
Sugar:

27g
Protein:

0g
Please note that nutrition is not guaranteed accurate.