Crock Pot Cinnamon Applesauce
As an Amazon Associate and member of other affiliate programs, I earn from qualifying purchases.
My Crockpot Cinnamon Applesauce Recipe makes sweet cinnamon-spiced applesauce quickly and easily with no added sugar and just a handful of ingredients. Grab your favorite apples, a lemon, and some cinnamon sticks, and in a few hours, you'll be enjoying warm homemade applesauce. Whether you give it a quick stir when the apples are ready for a rustic sauce, or blend it until it's smooth, you are sure to love this recipe as much as we do!
I have been making this recipe for years. Homemade applesauce has so many advantages – it has less sugar than store-bought applesauce, it possesses fresher flavors, and you can use your favorite apples! If you want nice tart applesauce, the granny smiths do the trick, if you prefer a classic sweet applesauce, then honey crisp, red delicious or golden delicious work perfectly!
Whenever I am given apples – this recipe is my go-to!
Making Crockpot Cinnamon Applesauce
Crockpot cinnamon applesauce takes the convenience of slow cooking, and slowly caramelizes the natural sugars in the apples. The benefit? Slow cooker applesauce actually tastes like apples! You don't have to do much to prep the apples, and no extra sugar is necessary! Depending on how "spicy" you want the cinnamon flavor, you have complete control.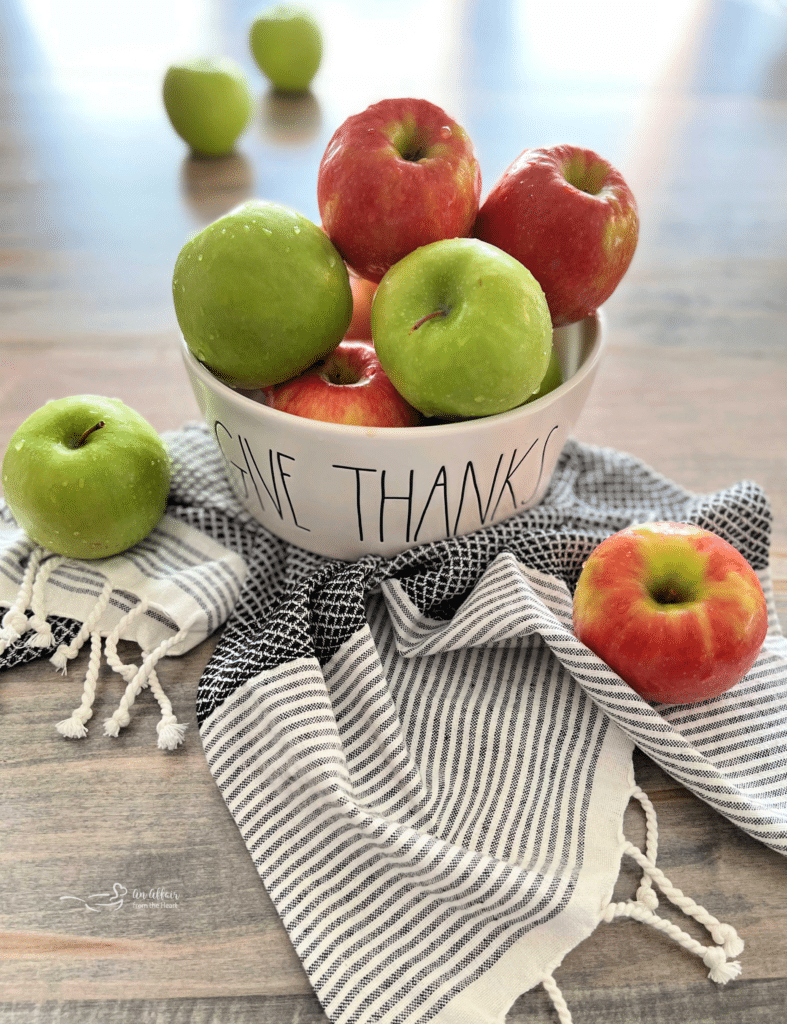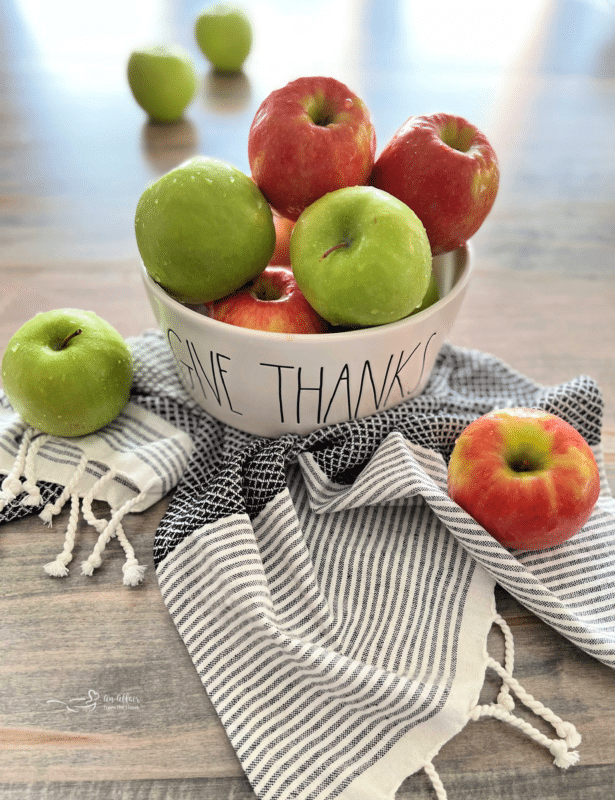 What apples are best for easy homemade cinnamon applesauce?
Crockpot applesauce without sugar relies on the quality of the apples for the sweetness. You can go with tart apples like granny smith or sweet apples like honey crisp or red or golden delicious varieties. Using a mix of tart and sweet is also fun to try. Look for apples that are fresh and not too soft.
I typically do a mixture of both tart and sweet apples.
Do you have to peel apples for homemade applesauce?
In truth, peeling apples for applesauce is not required, I just prefer peeling them first. It just comes down to a matter of preference but leaving the skins on the apples doesn't hurt the flavor or anything.
If you do decide to leave on the skins then keep in mind some apples do have thicker skins, like red delicious and granny smith apples.
So, if you leave the skins on, I recommend a little extra cooking time to soften the skins enough. Either way, just make sure you core the apples for crockpot applesauce because you definitely don't want seeds or that woody bit at the stem end in there!
Ingredients for crockpot cinnamon applesauce
You don't need much for making homemade slow cooker apple sauce. Simple to make. Easy to shop for. Just make sure your apples are nice and ripe but not too ripe.
Apples – your choice, just remember the tartness of the apples will be the outcome of the sauce!
Cinnamon Sticks – while cinnamon sticks can be found in the spice section of your local market.
Lemon Peel & Juice – The lemon peel and juice is like nature's "fruit fresh!" Keeps the apples from browning. It won't cause the sauce to be too tart, I promise!
How do you make homemade cinnamon applesauce in a crockpot?
Homemade crockpot applesauce requires only a bit of prep. If you decide on keeping the skins on, then prep goes as quickly as you core your apples.
Add your lemon peels, juice, apples, and cinnamon sticks to your crockpot. You can dial-up or down the cinnamon according to your own tastes.
I want to taste the cinnamon accent, but I still want to taste the apples too. Over the years, I have played around with it. The first time I used 4 sticks of cinnamon, and I found it too overpowering. These days I typically use two. It's all personal preference in the cinnamon applesauce game.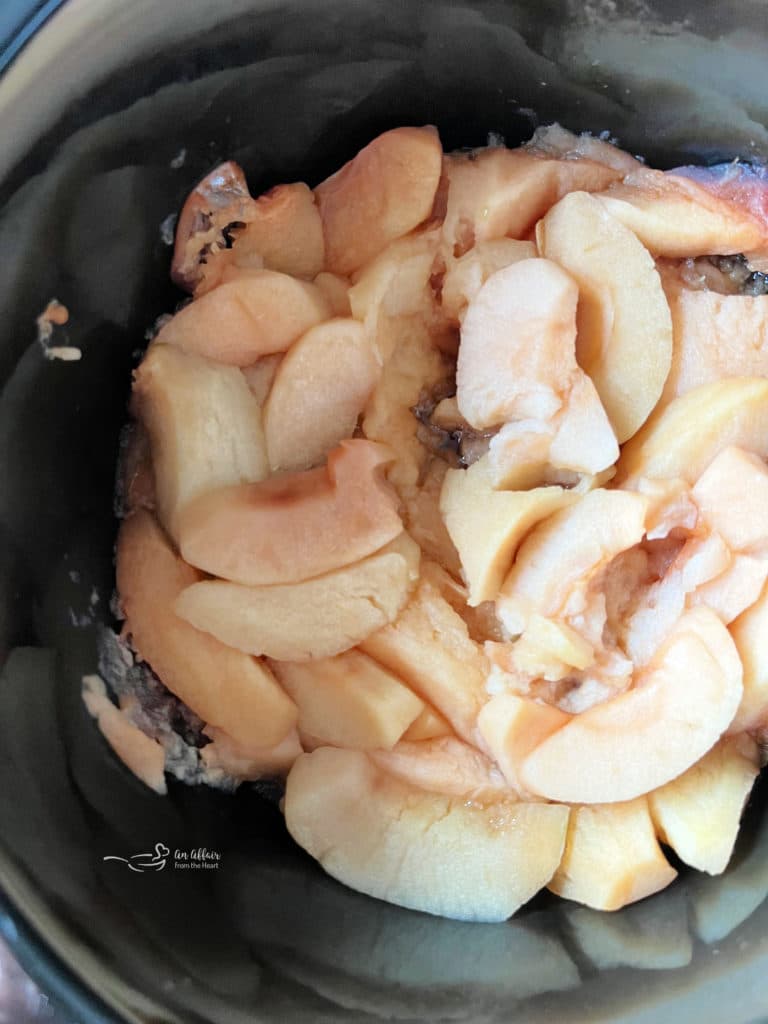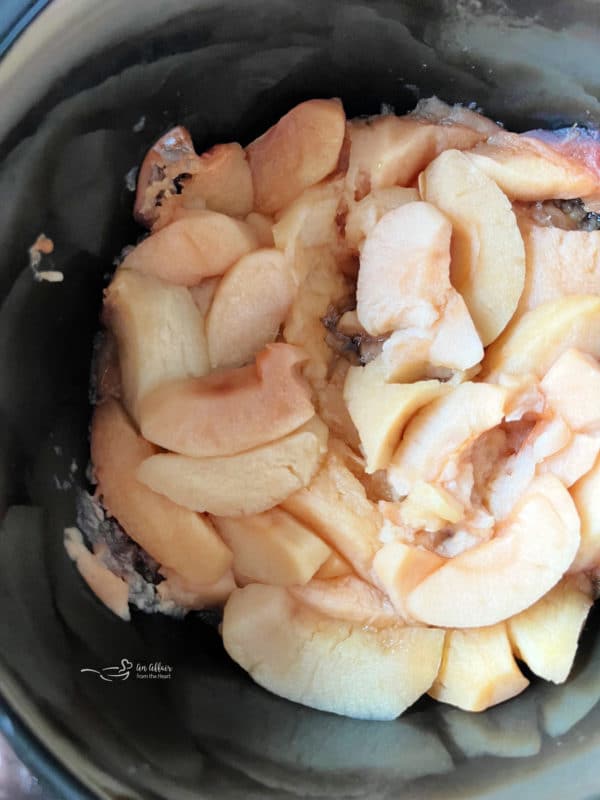 Let the slow cooker work its magic. As the apples break down and become saucy, make sure to stir and taste. When you have the right consistency and the flavor is just right, then cut the heat.
Can you overcook the apples?
In a slow cooker or Crock-Pot, most likely won't risk burning the apples, but you can lose flavor if they overcook. That right there demonstrates everything wrong with most store-bought applesauce; it gets cooked to death. With crockpot apple sauce, you should just do a couple of taste tests along the way. Then, you make sure the perfect texture and maximum flavor results in perfect applesauce.
The apples turn brown as they caramelize and that is a good thing!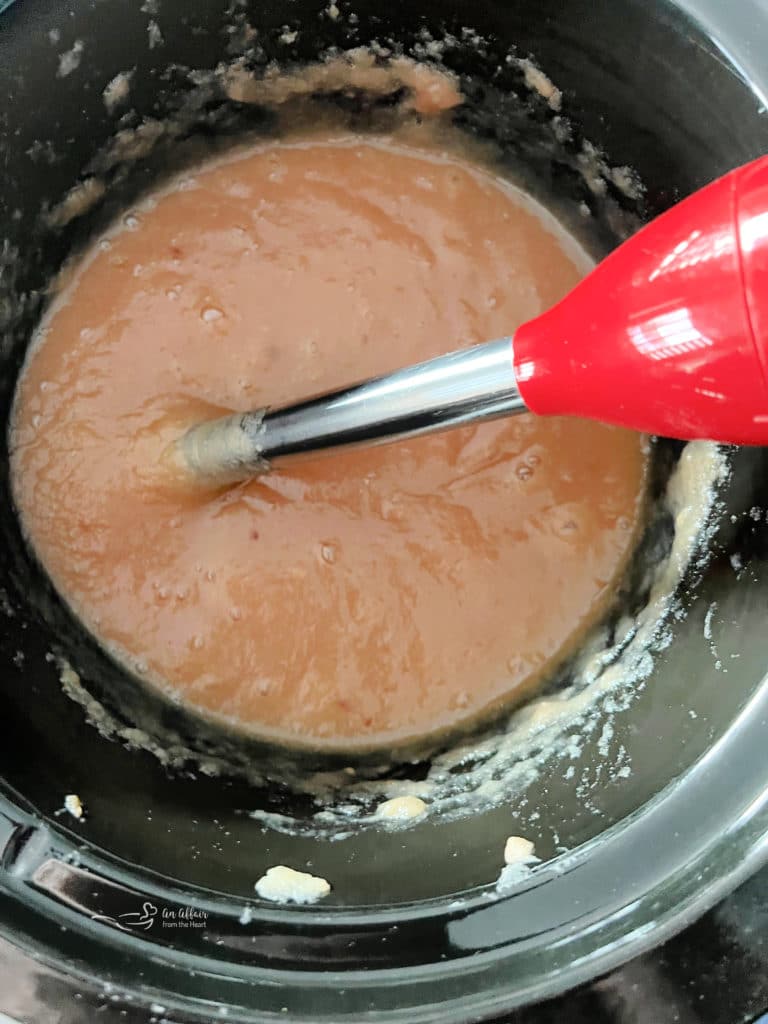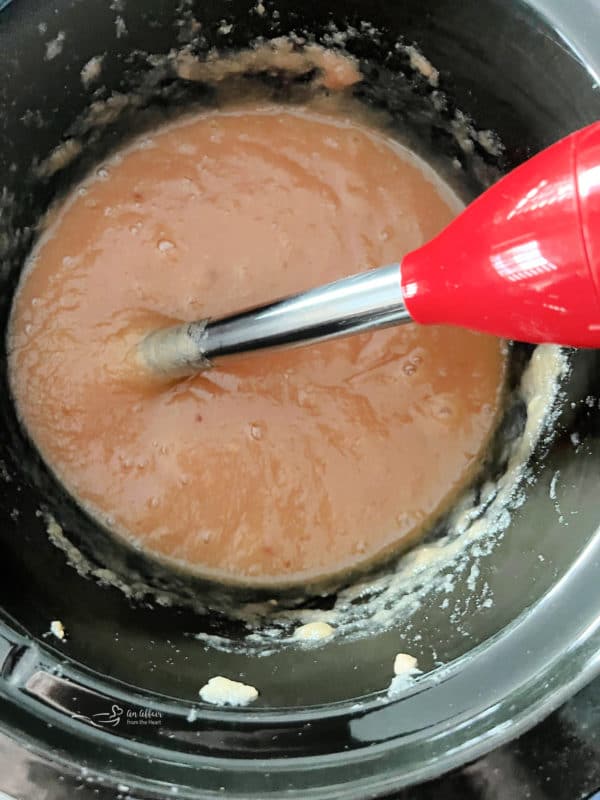 Once the apples get soft enough, then you can easily apply a stick blender to get just the right consistency. You might want a bit of chunkiness, or very smooth. Either way, it tastes great!
Make sure to taste homemade apple sauce to check doneness. That way you can measure the texture and the taste to make it just right.
Note: If you are making homemade applesauce for baby food, then make sure it is nice and smooth and leave the cinnamon out.
This is what the sauce looked like, simply stirred with a spoon.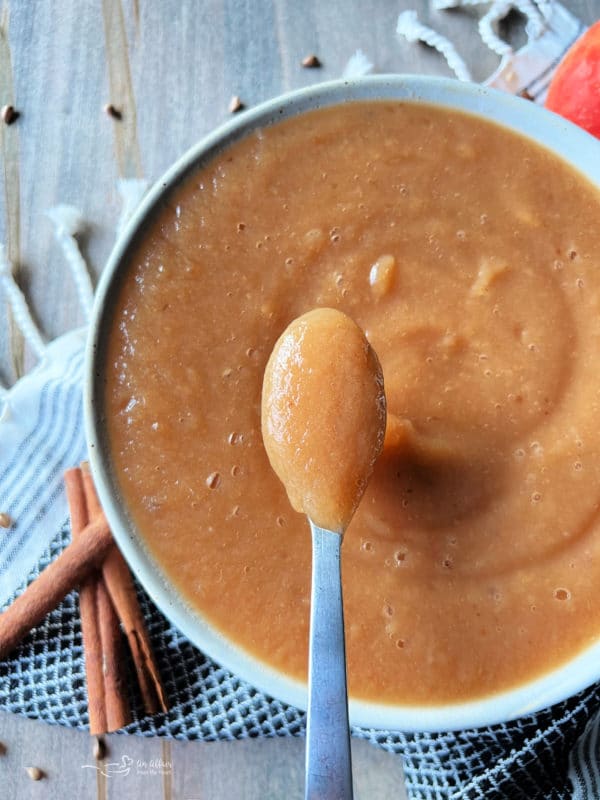 How long does Homemade Applesauce Keep?
Store applesauce in the fridge in jars with lids for up to ten days. This sauce can be frozen in freezer bags. Consume within 3 months.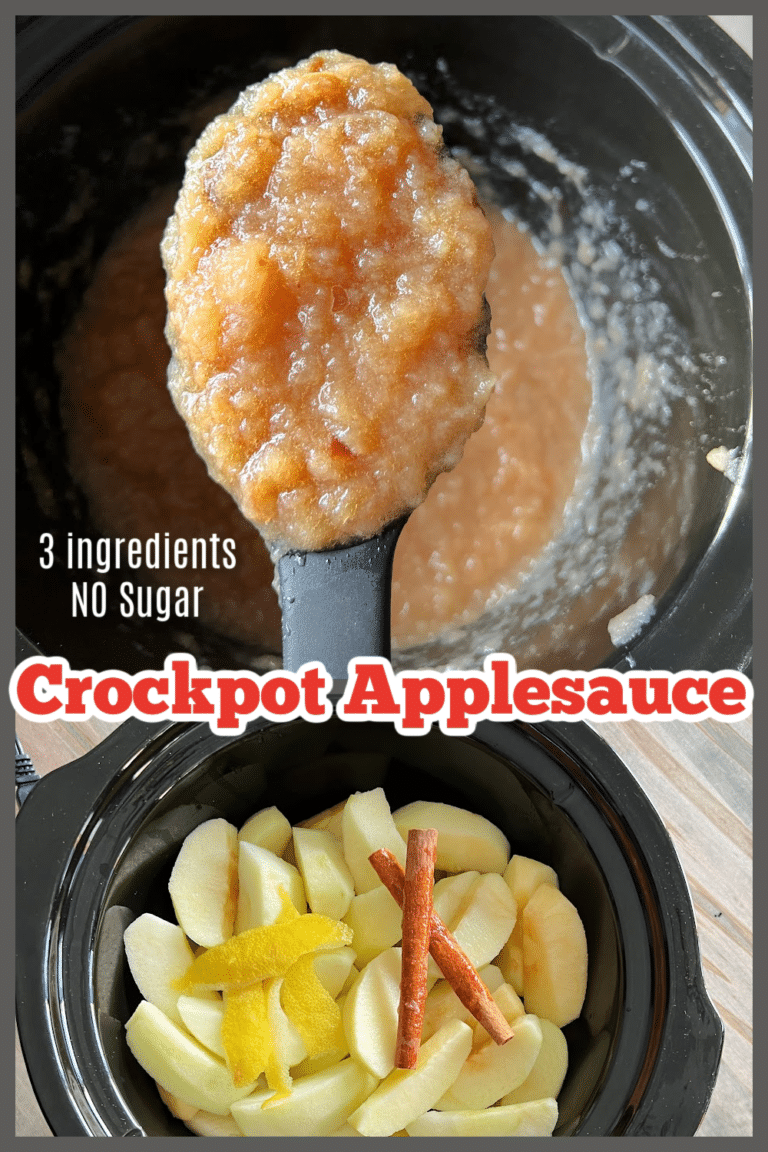 Love it? Pin it!
Don't forget where you found this super easy cinnamon applesauce recipe for the slow cooker! Pin it to your favorite Pinterest recipe board before you go.

Recipes that Use Applesauce
Aside from eating this crockpot cinnamon applesauce with a spoon – here are some great recipes that you could use it in:

Have extra apples? Make these Recipes!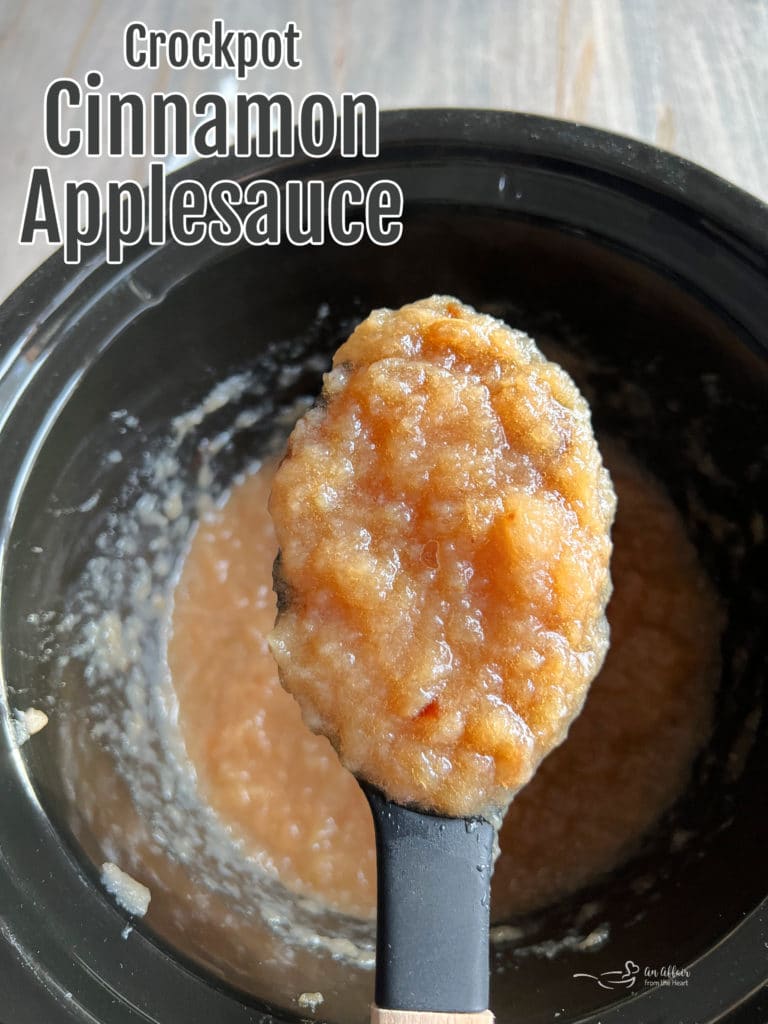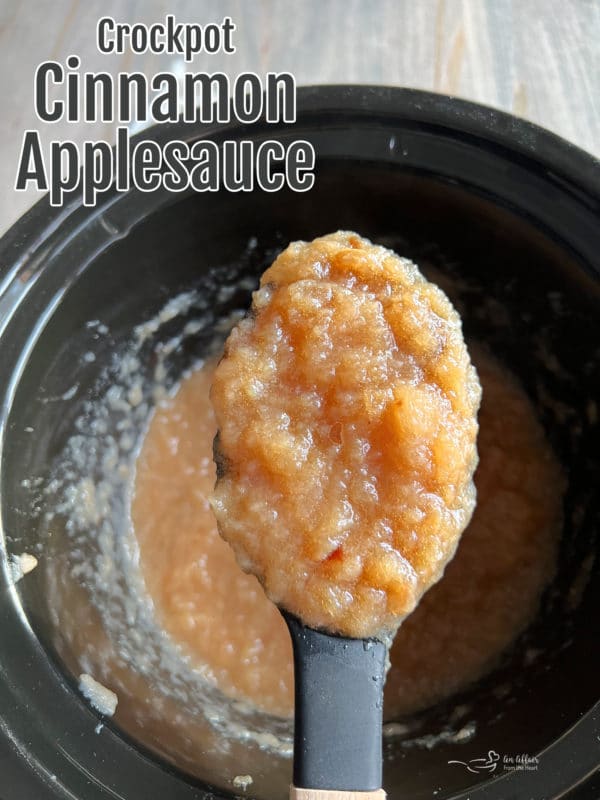 Grab your apples – let's make some applesauce!

Yield: About 7 cups
Crock Pot AppleSauce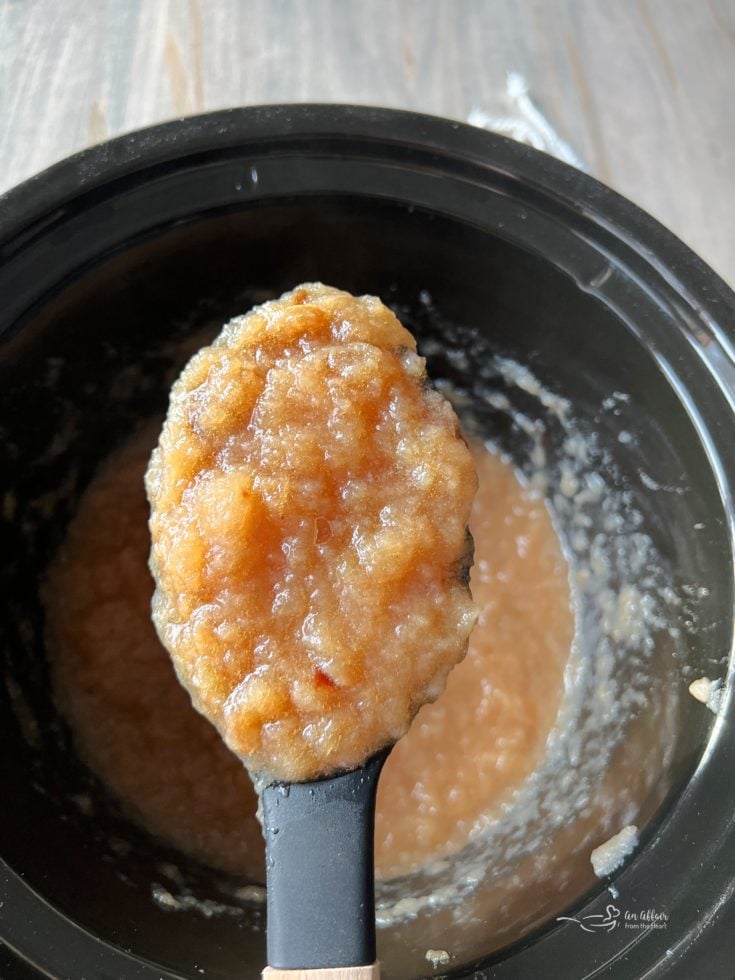 This applesauce is so simple, peel and slice the apples, toss them in your crock pot with a lemon peel and cinnamon sticks, and 5-6 hours later, you have warm cinnamon applesauce!
Total Time
6 hours
5 minutes
Ingredients
10-12 apples, peeled, cored and sliced
2-3 cinnamon sticks (I personally think that two is plenty!)
1/4 of a lemon's peel
1 teaspoon lemon juice
Instructions
Peel, core and slice 10-12 apples. If your apples are really small, use more.
Place apples, cinnamon sticks and lemon peel in the crock pot.
Drizzle with the lemon juice.
Set pot to low and cook about 5-6 hours.
Remove cinnamon sticks and lemon peel.
Using a hand blender (or regular blender works, too) blend apples.
I thought it was pretty good warm, my kids preferred it cold.
Notes
Store applesauce in the fridge in jars with lids for up to ten days. This sauce can be frozen in freezer bags. Consume within 3 months.
Recommended Products
As an Amazon Associate and member of other affiliate programs, I earn from qualifying purchases.
Nutrition Information:
Yield:
14
Serving Size:
1
Amount Per Serving:
Calories:

83
Total Fat:

0g
Saturated Fat:

0g
Trans Fat:

0g
Unsaturated Fat:

0g
Cholesterol:

0mg
Sodium:

2mg
Carbohydrates:

22g
Fiber:

4g
Sugar:

16g
Protein:

0g
Nutrition isn't always accurate.
This Crock Pot Cinnamon Applesauce recipe was first posted on September 24, 2013. It has been updated to improve user experience and reshared on January 31, 2022.