Apple Pumpkin Strudel
As an Amazon Associate and member of other affiliate programs, I earn from qualifying purchases.
This super soft and sweet Apple Pumpkin Strudel with puff pastry is delicate and made with warm flavors of cinnamon, nutmeg, and allspice that are baked with fresh apples and sugar! Good for brunch or dessert, this delicious apple pumpkin pastry is a must for Fall and whenever you are wanting pumpkin!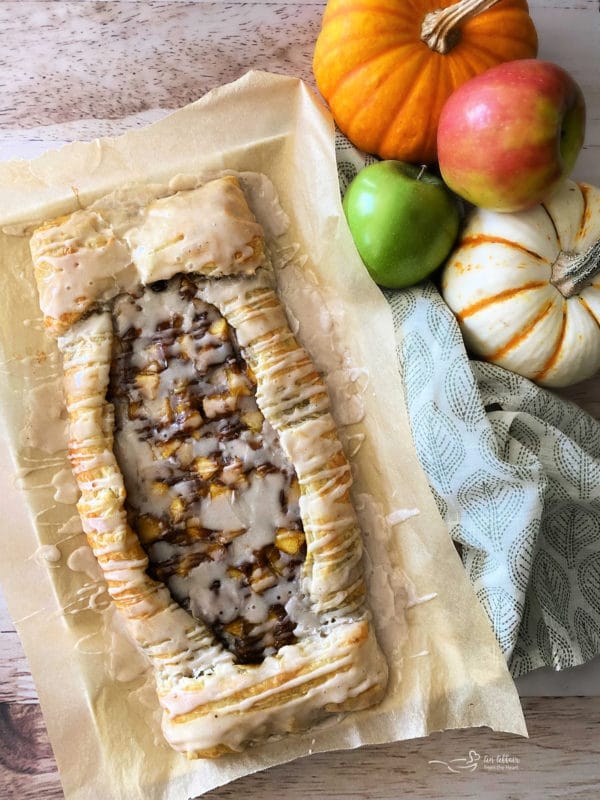 When I originally made this recipe back in 2015 I had never made anything like this before. In fact, it was my first time ever using puff pastry. As you know, if you have been following me, it was not the last! What a great way to make something special for a weekend morning. The puffed pastry was filled with spiced apples and pumpkin, baked until golden brown and flaky on the outside, then drizzled with a sweet vanilla glaze.
Warm Apple Pumpkin Danish
One of my very favorite pumpkin dessert recipes, this apple pumpkin strudel is filled with the sweetest notes that will satisfy anyone! Serve this baked turnover with your favorite cup of joe, tea, or glass of cool milk for the perfect addition to your delectable pastry. We even like to serve this danish with homemade vanilla ice cream. Mmm!
This strudel tastes like apple pumpkin coffee cake but is a little different since it contains a filling of sweet baked apples. Both desserts are delicious. We can't get enough!
Want to fill your house with spicy and warm notes of apple and pumpkin? This recipe will not only deliver the best flavors but will allow you to enjoy the wonderful aromas of autumn.
We look forward to making this recipe every single year. Every time I make it, it seems like it gets even more delicious and satisfying. This strudel is so easy to pull apart and enjoy with its super moist textures.
Why You Will Love This Recipe
Sweet: Anyone will love how sweet this apple pumpkin strudel is! Sugars from the baked apples are cooked into the fluffy puff pastry and turned into a cinnamon-rich sweetness.
Family-Friendly: Kids and adults will enjoy this yummy treat. Who could say no to a warm pumpkin and apple pastry with a sugar glaze?!
Easy: This recipe requires very few steps and is so easy almost anyone could make it! Using puff pastry makes this recipe even more simple and quick.
Ingredients Needed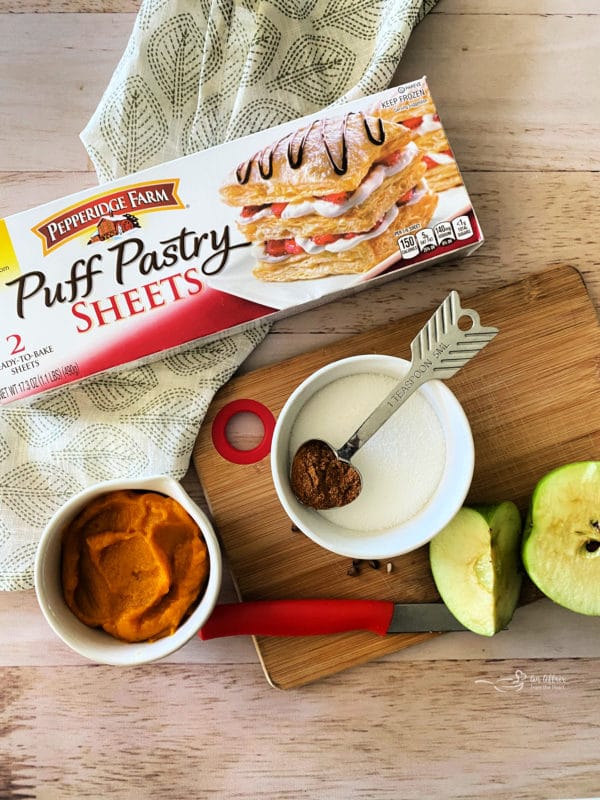 Puff Pastry: You can find puff pastry dough in the frozen section at most well-stocked grocery stores! Just look in the bread and pie crust sections.
Apples: Any kind of fresh apples will do! I like to use sweet and crispy apples likes Honeycrisp, Gala, Granny Smith, etc.
Sugar: White granulated and white powdered sugars are needed for this recipe! You will use powdered sugar for the icing.
Spices: Rich flavors of ground cinnamon, nutmeg, allspice, and ginger for the most classic fall flavors. If you only have whole spices, you can grate them using a boxed grater or food processor.
Pumpkin: I like to use canned pumpkin purée because it is easy and quick, but feel free to use homemade purée!
Water: Water is used for the filling (optional) to loosen things up and can also be used in the icing recipe or you can use your favorite bourbon.
How to Make Sweet Apple Pumpkin Pastry
These steps are so easy and straightforward! It will be hard to mess this recipe up!
FIRST STEP – COOK APPLES

Allow the puff pastry to partially thaw before using so it is easy to work with. Preheat the oven to 375 degrees Fahrenheit and line a cookie sheet with parchment paper.
In a medium saucepan over medium heat, add the chopped apples and let them cook down for about five minutes–they will soften up a bit. Next, add in the sugar, spices, and pumpkin and stir until combined.
Add water if needed.
SECOND STEP – ASSEMBLE PUFF PASTRY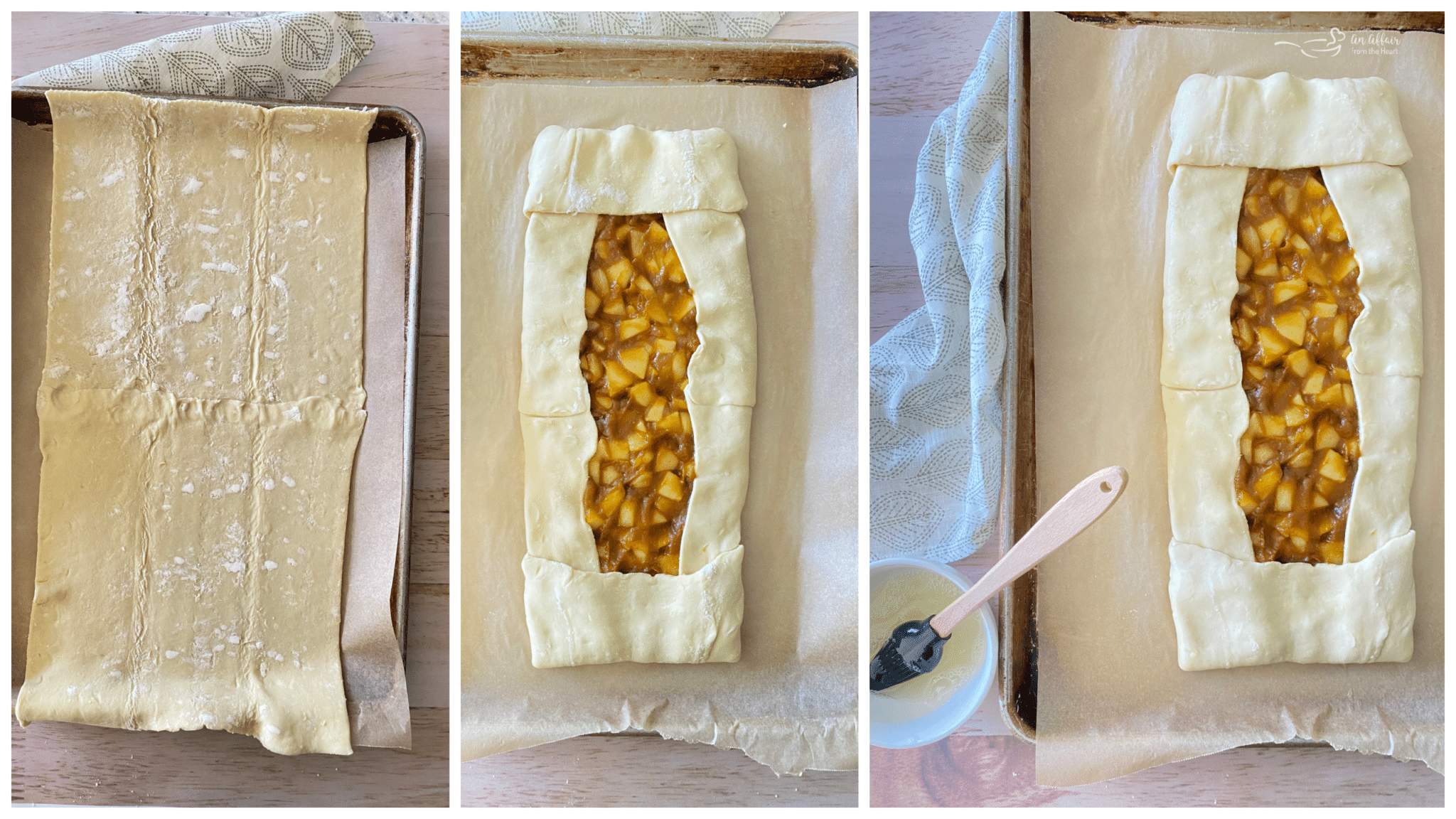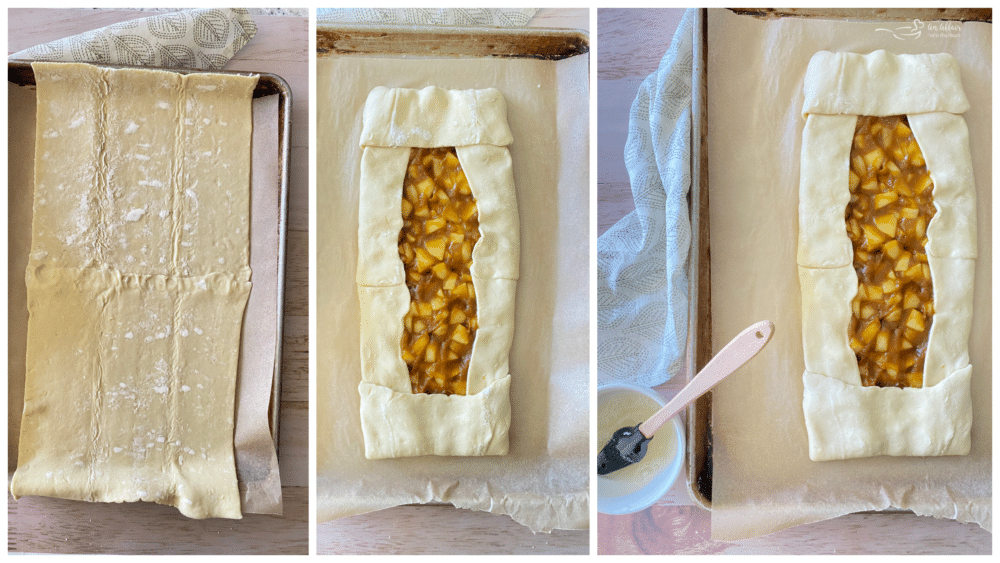 Place the thawed puff pastry sheets together lengthwise and pinch the seams together to keep them secured into one piece. Spoon the apple filling down the center of the pastry sheet and spread it evenly.
Carefully, bring the sides of the puff pastry over while leaving the very center of the filling exposed. Pinch the pastry together at the top and bottom.
THIRD STEP – BAKE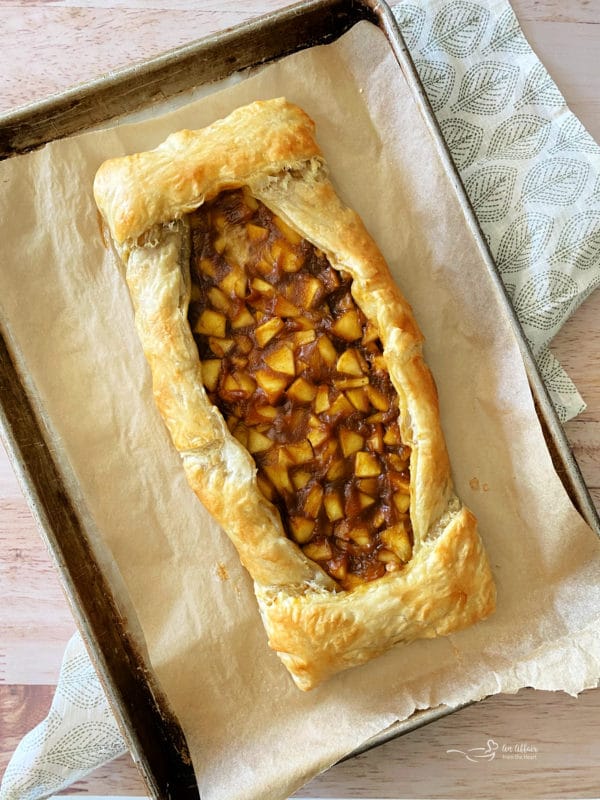 Next, bake the apple pumpkin strudel for 20 to 25 minutes until it is golden brown and fragrant.
MIX THE GLAZE
Then, mix the water and powdered sugar for the glaze. Spoon the glaze over the warm danish.
Serve this strudel warm or at room temperature. Everyone will love it!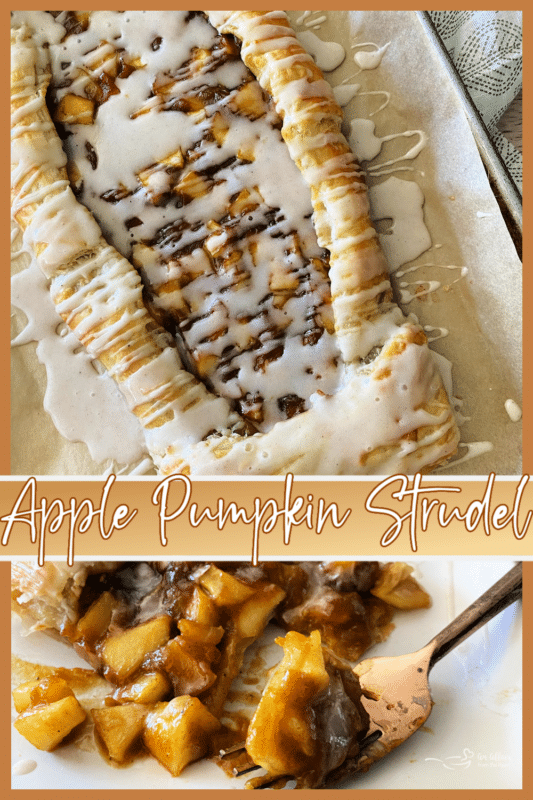 LOVE THIS APPLE TURNOVER RECIPE? PIN IT!
Be sure to save this recipe for the holidays and chilly months! This is a fall dessert you will definitely want to save to your Pinterest board to make!
TIPS
Be careful not to overbake the turnover or it will not be as soft.
For best results, enjoy the strudel soon after baking.
Store the leftovers in a sealed container at room temperature or in the refrigerator for four days.
Top with Cool Whip or freshly made whipped cream.
Instead of apples, use pears.
SERVING SUGGESTIONS
We love to eat this strudel for a weekend brunch or as a holiday dessert. This recipe is great with so many tasty things!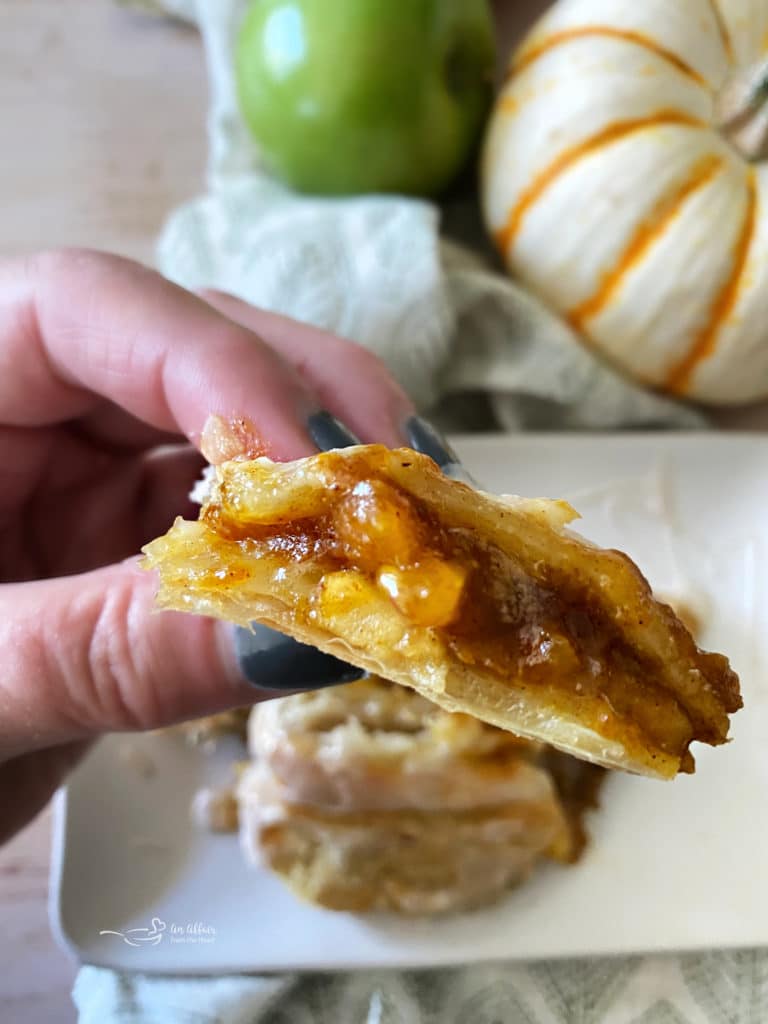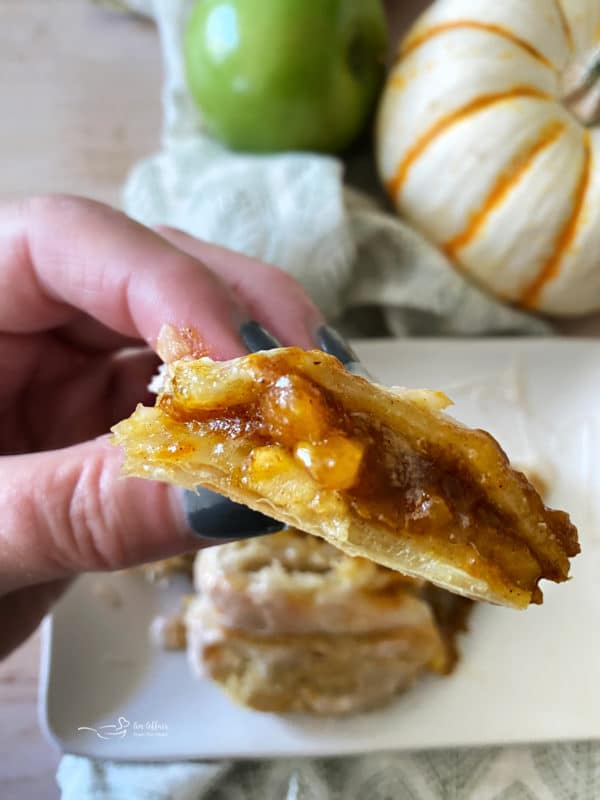 OTHER FALL Favorite Sweets YOU WILL ENJOY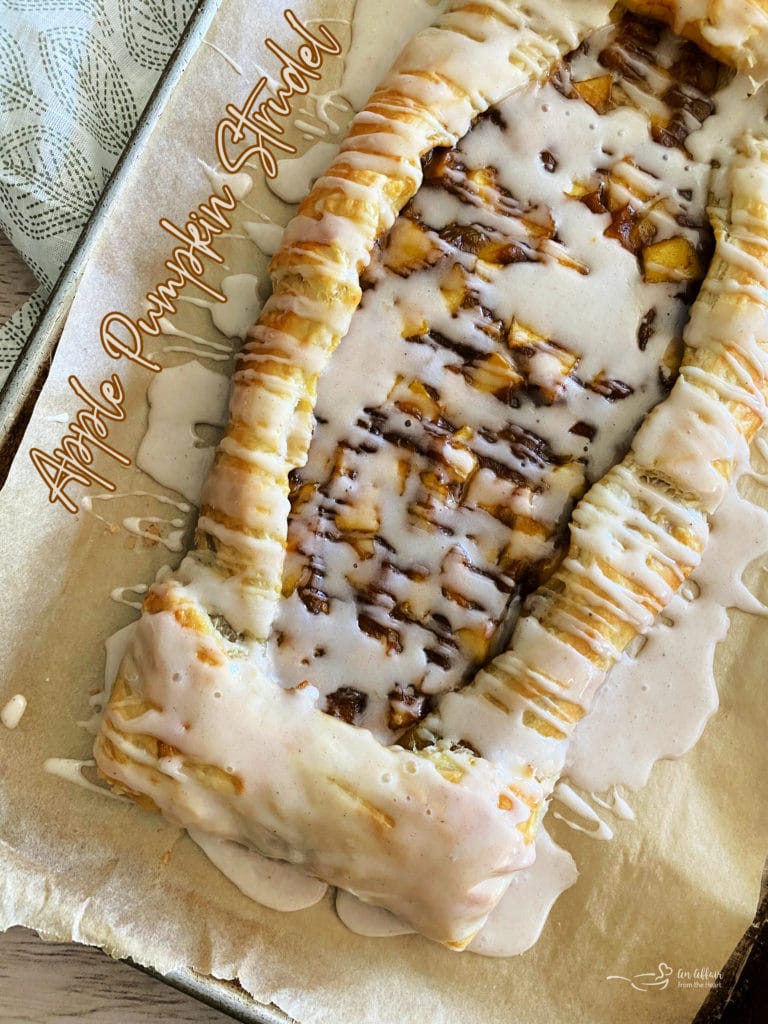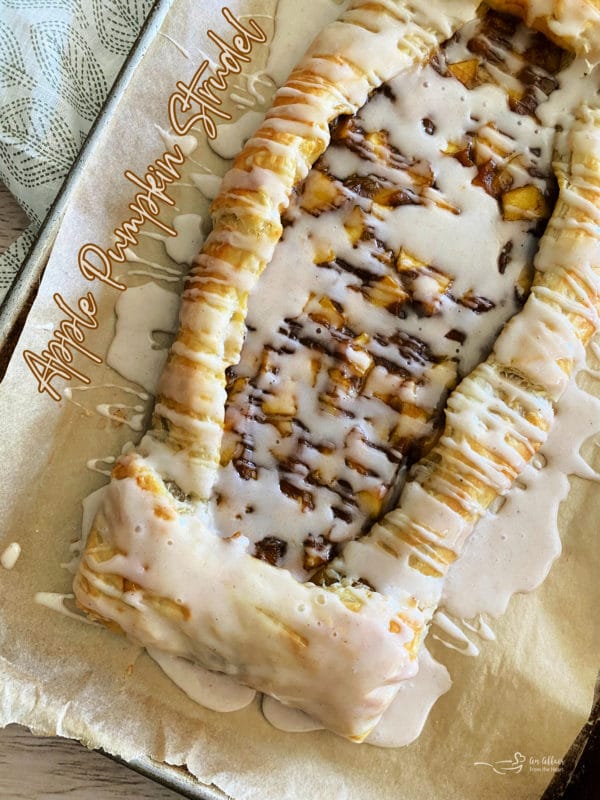 Let's bake up this delightful apple pumpkin pastry, shall we?

Yield: 8
Apple Pumpkin Strudel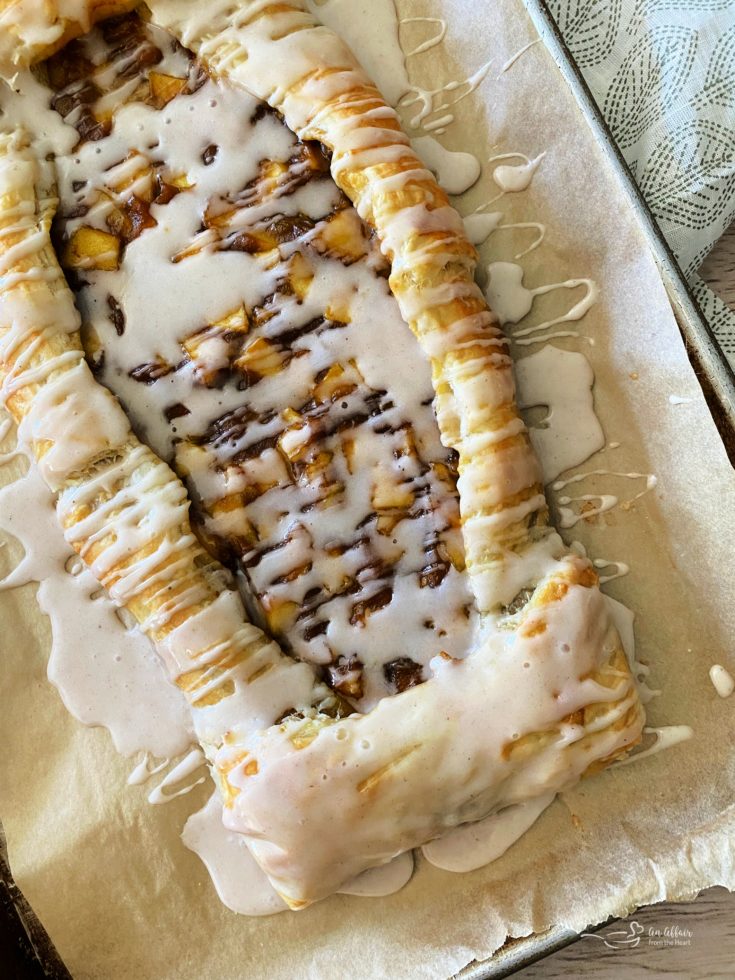 A pastry perfect for fall - puff pastry full of spiced apples and pumpkin.
Ingredients
For the Pastry:
3 cups apple, diced
6 Tablespoons white sugar
1 teaspoon cinnamon
1/4 teaspoon nutmeg
pinch of allspice
pinch of ginger
1/2 cup pumpkin puree
1 package, (2 sheets) puff pastry
1/3 cup water (optional)
For the Glaze:
2 cups powdered sugar
6-8 Tablespoons water (or substitute bourbon for an adult dessert)
Instructions
Partially thaw puff pastry.
Preheat oven to 375 degrees, line a cookie sheet with parchment paper.
In a medium saucepan, over medium heat, add apples and let them cook down for about 5 minutes. Stirring occasionally. Add in sugar, spices and pumpkin stir. If you feel the consistency is too thick, you can add in the water to loosen the mixture.
Place the puff pastry sheets together lengthwise, pinching the seams together to keep them secured.
Spoon the apple filling down the center and spread out evenly.
Carefully bring the sides of the puff pastry over, leaving the very center exposed. Pinch together at the top and bottom.
Bake for 20-25 minutes or until golden brown.
Mix together glaze ingredients, and drizzle over the strudel while warm.
Recommended Products
As an Amazon Associate and member of other affiliate programs, I earn from qualifying purchases.
Nutrition Information:
Yield:
8
Serving Size:
1
Amount Per Serving:
Calories:

210
Total Fat:

2g
Saturated Fat:

1g
Trans Fat:

0g
Unsaturated Fat:

1g
Cholesterol:

5mg
Sodium:

39mg
Carbohydrates:

49g
Fiber:

2g
Sugar:

43g
Protein:

1g
Please note that nutrition is not guaranteed accurate.
This recipe was originally posted on April 15, 2015. It was updated to improve user experience and reshared on October 16, 2021.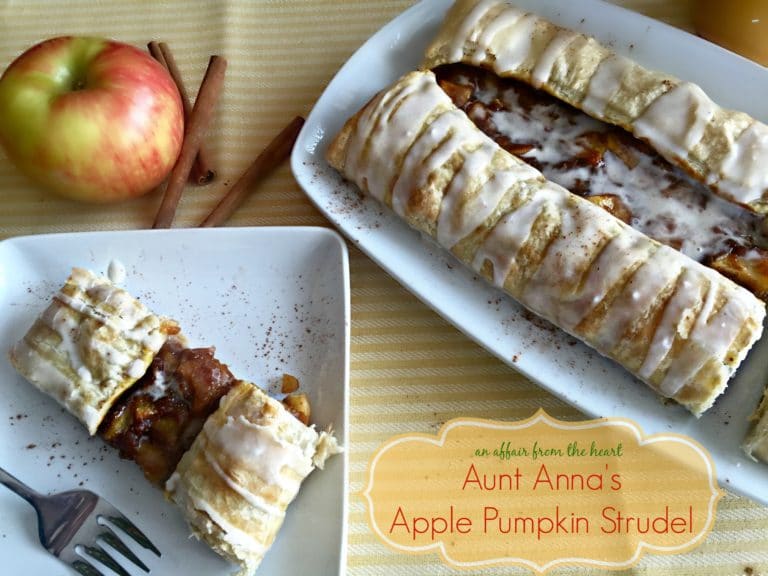 I had shared this recipe as an introduction to a new book series written by a fellow food blogger friend. Her book series featured multiple recipes, and to share the news about her books, I shared one of the recipes. This was the one I made from Terra's Book Catch Me. It was called Aunt Anna's Apple Pumpkin Strudel. Get your copy of Catch Me on Amazon.