Caramel Apple Dip
As an Amazon Associate and member of other affiliate programs, I earn from qualifying purchases.
This sweet and fluffy Caramel Apple Dip is filled with all the flavors you need this fall! Made with crushed Heath Bar and a center filled with caramel, cream cheese, and smooth marshmallow fluff, this apple dip is the absolute best! Serve it with sliced apples and pretzels and watch it disappear!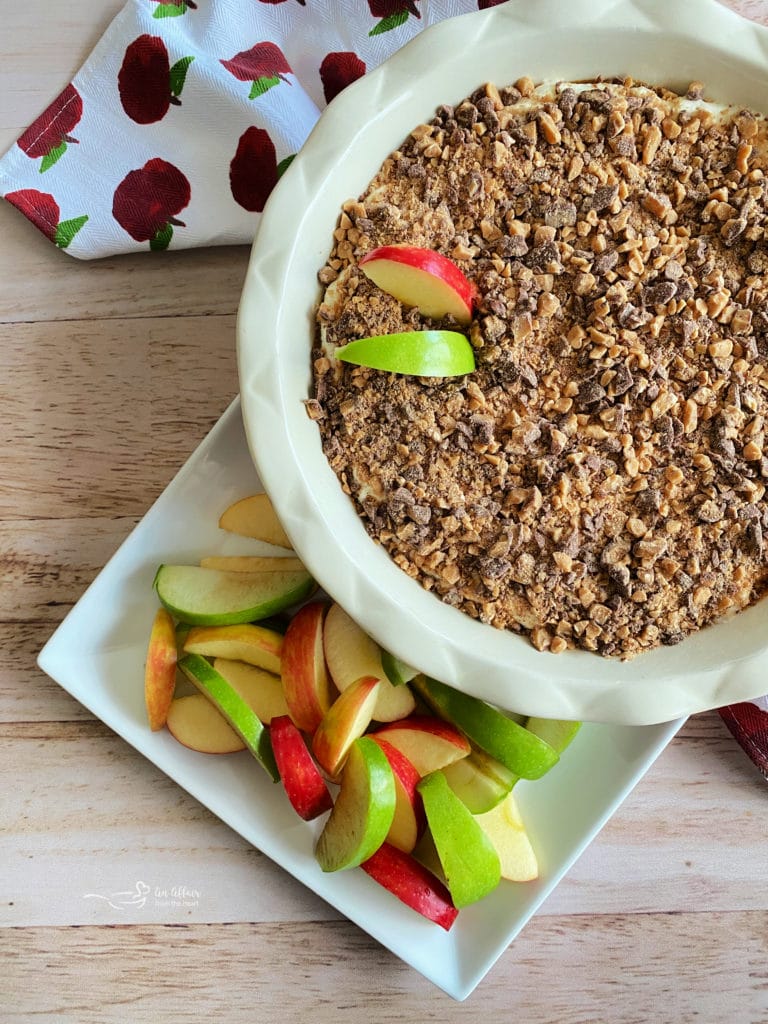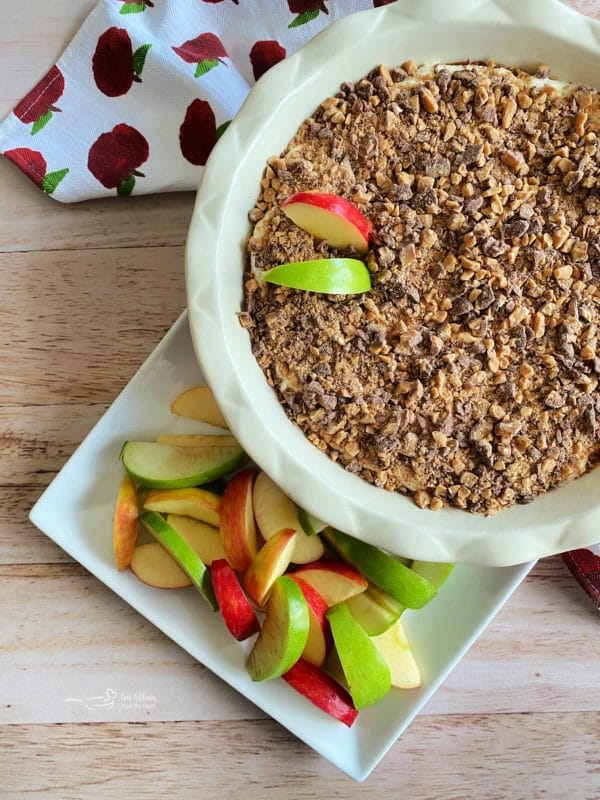 A delicious upgrade from just classic Caramel Apple Dip, this sweet dip recipe is made with extra delicious ingredients that make it so tasty and satisfying. The best part about making this caramel dip for apples? It has only four ingredients!
I love to share this easy apple dip with all of my loved ones and friends because everyone should be able to experience the wonderful creamy but crunchy flavors of this dessert. This recipe is perfect to serve for all types of occasions such as birthday parties, social events, and holidays because it is so yummy and made with the perfect combinations of caramel, toffee, and chocolate.
My dear friend, Rhonda, brought this dip to a football party we had at the lake in September. I was immediately smitten. She told me that it is her go-to appetizer, and I was scratching my head wondering how this was the first time I had ever tried it!?
I have made it multiple times since then, and it will be present at Thanksgiving this year, because, like me, my oldest daughter is hooked on it, too, and she is bringing it to share! Yay!!
What Makes This Apple Dip so Good
Delicious: Caramel apple dip made with cream cheese is even better than regular caramel dip because it is much fluffier and has a tasty balance of sweet but not too sweet.
Simple to Make: Ready in minutes with only four ingredients, you will love how easily this dip comes together! It's made in just a few moments which means you don't have to go through a ton of extra work to make this recipe the best.
Family-Friendly: This dip recipe is great for serving both kids and adults. Caramel and apples are for everyone!
Great for Entertainment: Enjoy this apple dip as an appetizer, snack, or dessert idea whenever you need something welcoming and filled with incredible flavor.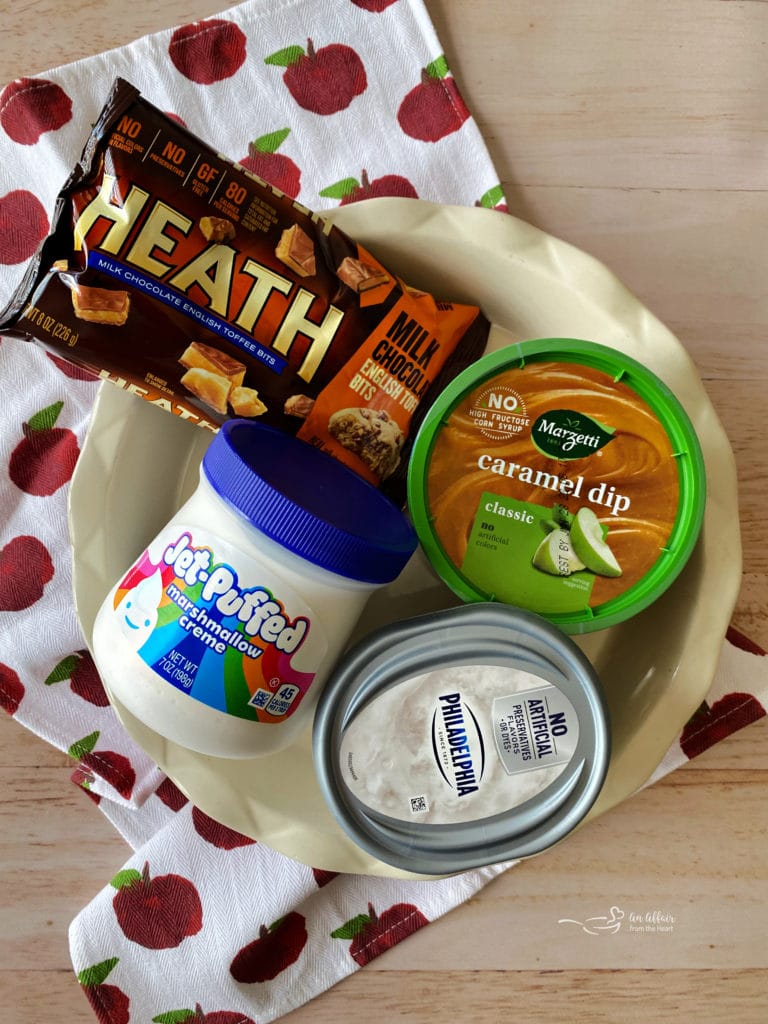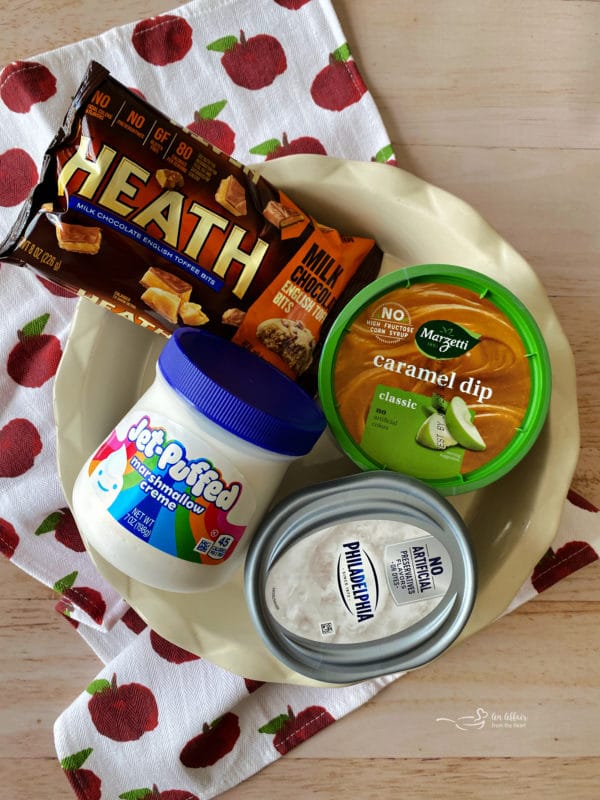 Ingredients
Cream Cheese: Make sure you buy the whipped cream cheese and not the block because it will be much easier to work with. The whipped cream cheese is fluffy and has a creamy mousse-like texture that is the perfect base.
Marshmallow Fluff: Sweet and sticky marshmallow fluff gives this caramel dip incredible sweetness! You can find jars of marshmallow fluff in the aisle next to the marshmallows.
Caramel Apple Dip: Mmm, caramel apple dip. Fing it by the apples in the produce section.
Heath Bits: You can find Heath Bits in the baking aisles of most grocery stores. If you cannot find any bits, then you can just crush some Heath candy bars.
How to Make Caramel Apple Dip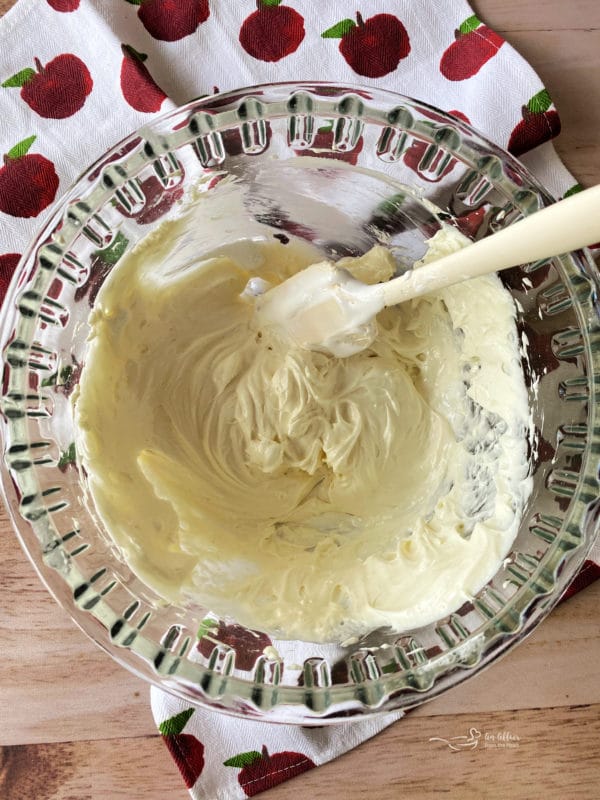 STEP ONE: In a bowl, combine the marshmallow fluff and the cream cheese until fluffy and smooth. You can combine the two ingredients with a rubber spatula or hand mixer.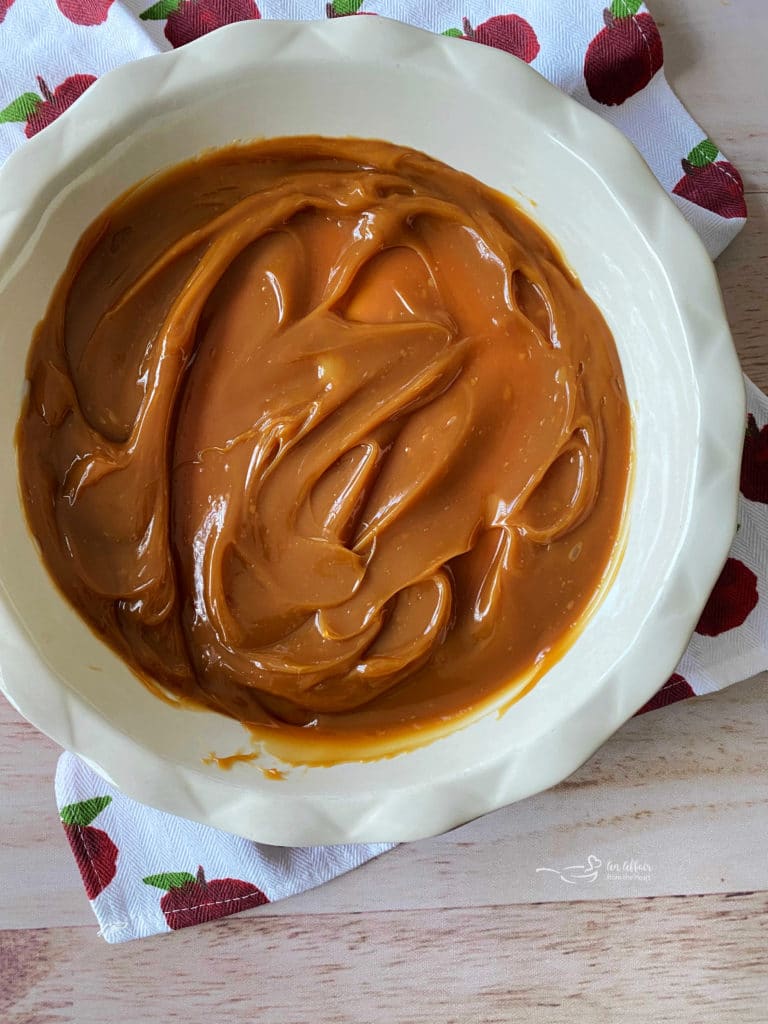 STEP TWO: Next, spread the caramel dip into the bottom of a pie plate or dish. Make sure you coat the entire bottom of the plate!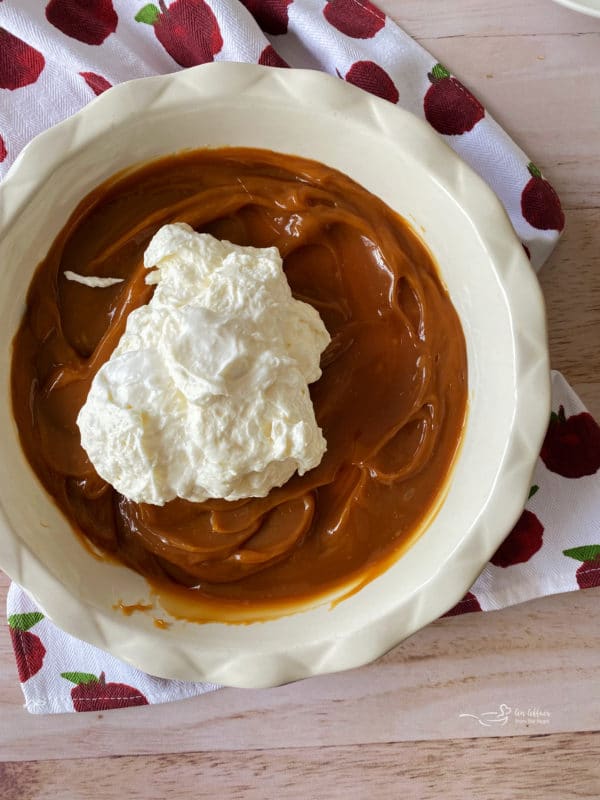 STEP THREE: Next, top the caramel layer with the combined marshmallow and cream cheese.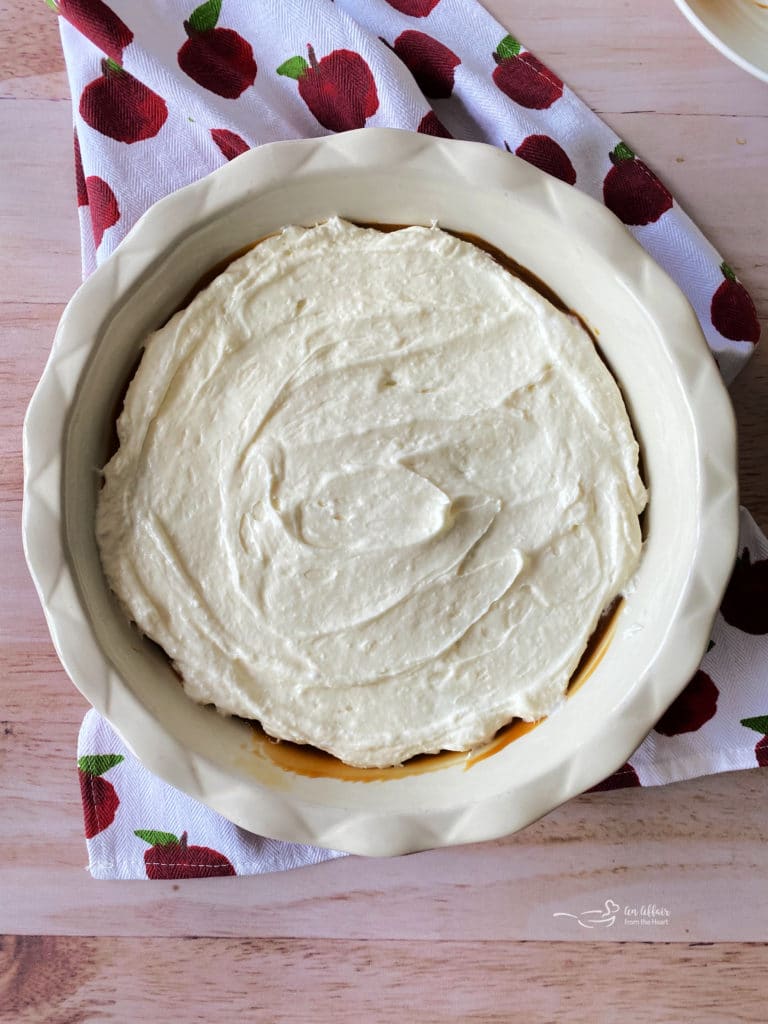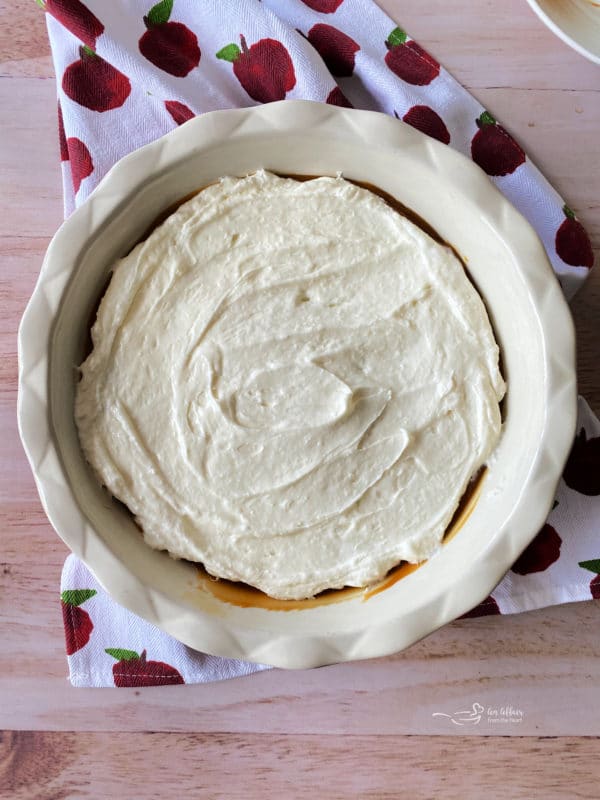 STEP FOUR: With a rubber spatula, spread the cream cheese and marshmallow mixture on top of the caramel dip in an even layer just like above.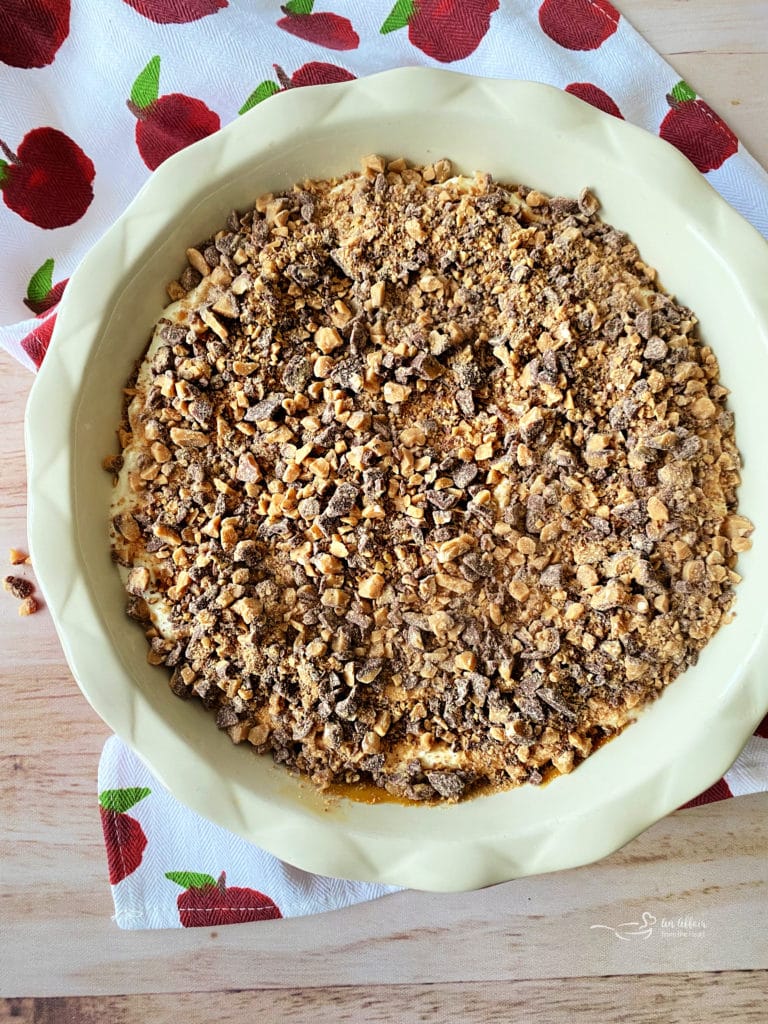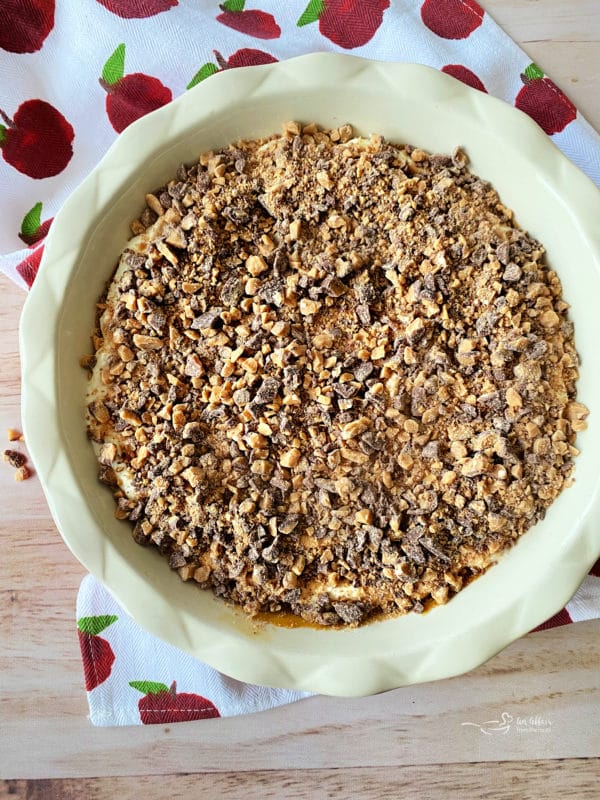 Next, top the cream cheese layer with the Heath Bits. Be sure to cover the entire surface of the dip with the Bits.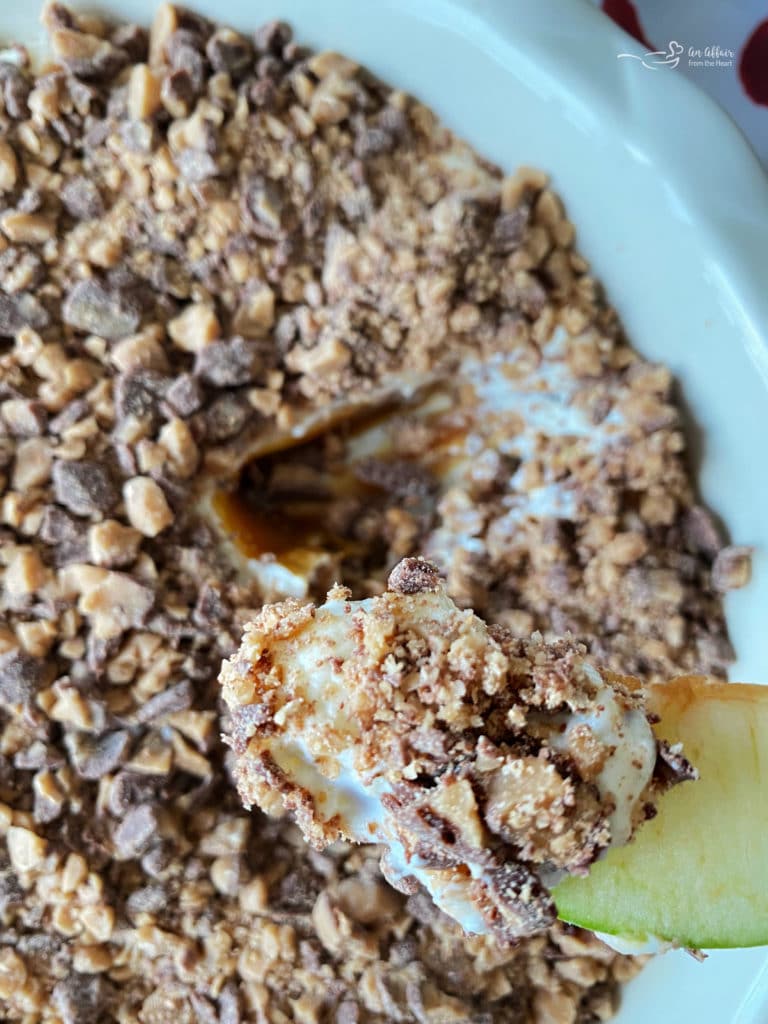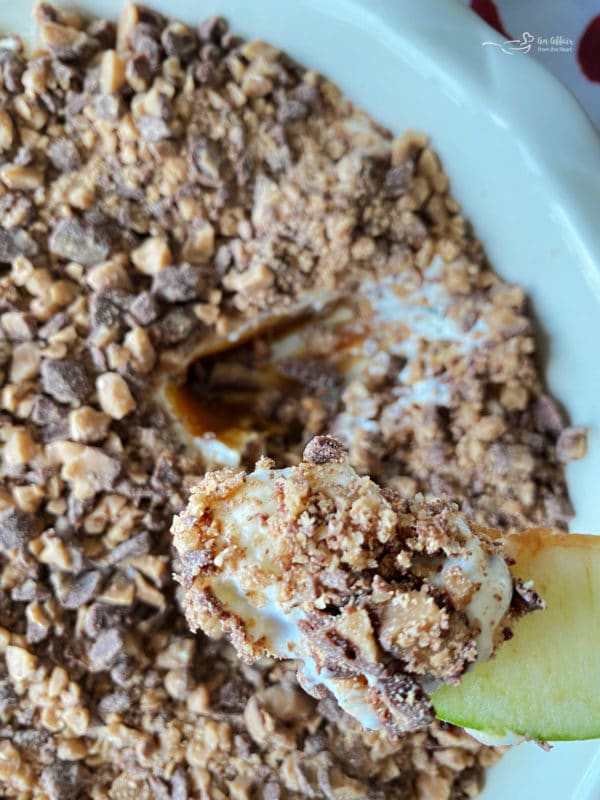 SERVE: Enjoy this dip with apples, sweet crackers, pretzels, cookies, and much more!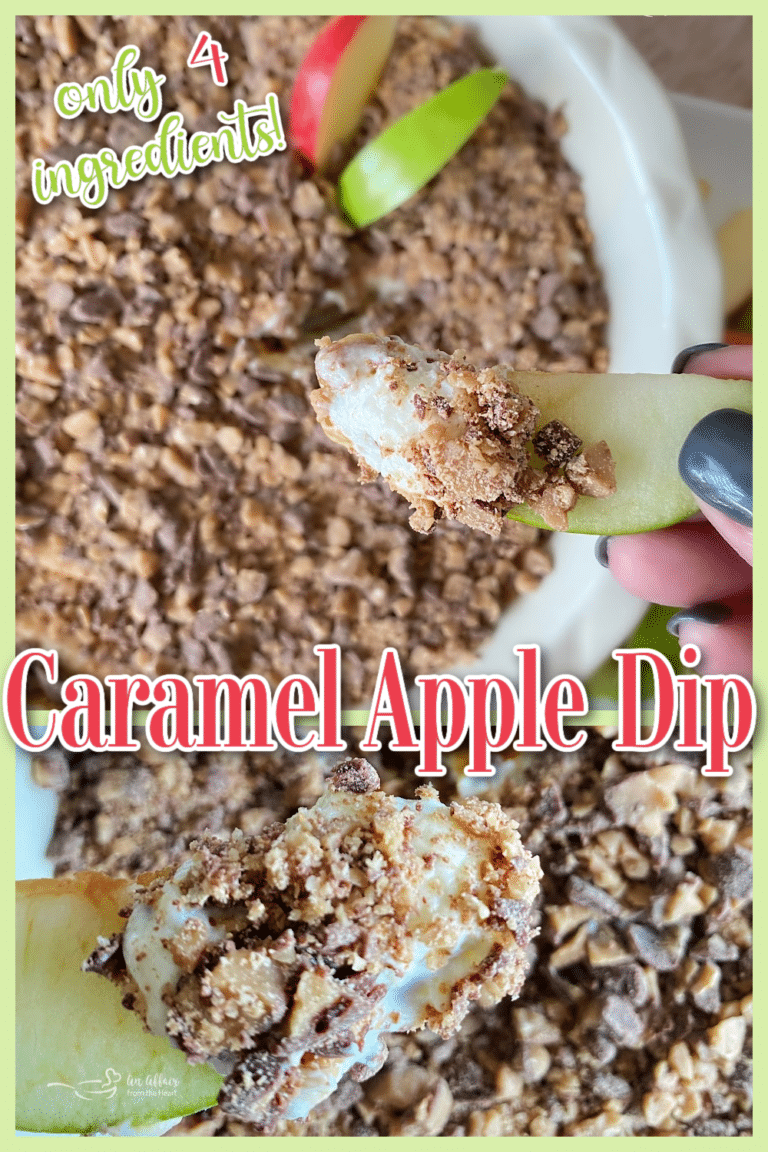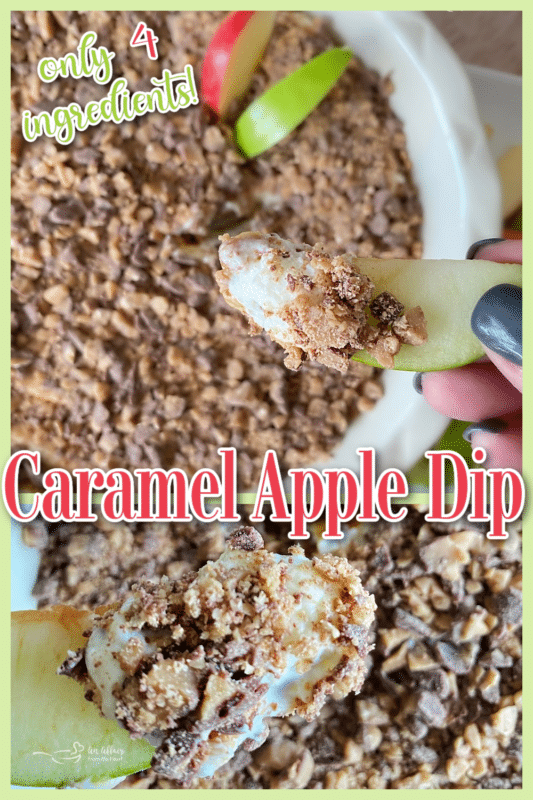 Love This Caramel Dip for Apples? Be Sure to Pin It!
Save this sweet apple dip to your Pinterest board for later! You will want to serve this easy recipe anytime you're expecting guests or attending an event!
TIPS
Store the leftover dip in the refrigerator covered with plastic wrap or store in an airtight container.
Prep this dip up to two days before serving to save time in the kitchen.
Get creative and try different chocolate bar toppings such as Reese's, Butterfinger, Snickers, etc.
If using a block of cream cheese, then be sure to allow it to soften before using so it will mix well.
Dip some popcorn into this dip for the perfect snack.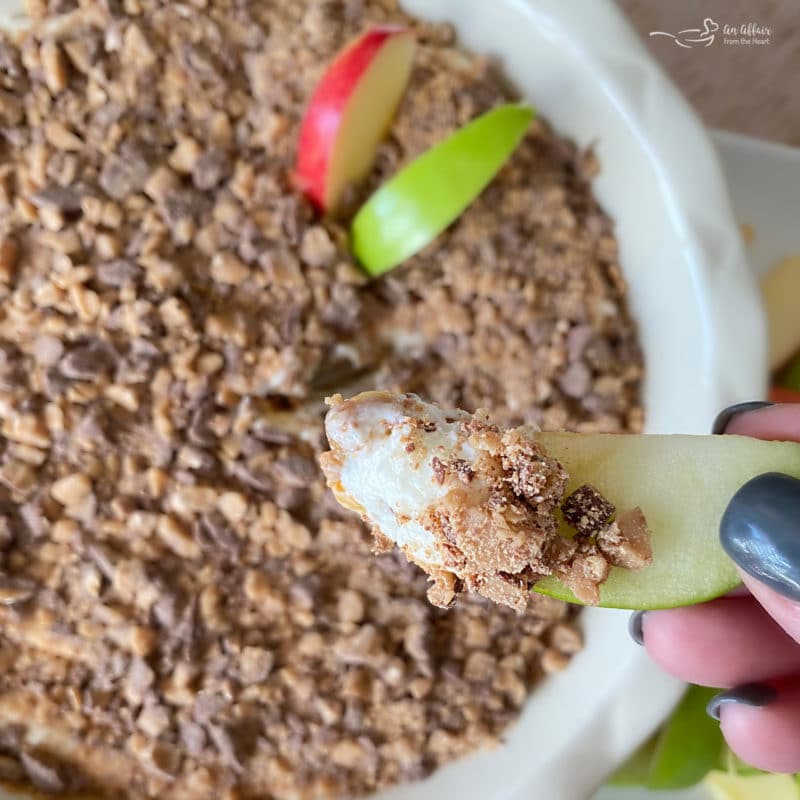 What are the Best Apples to eat with Caramel Apple Dip?
Granny Smith apples are super tasty with this dip since they are crisp and tart. Some other great apple varieties are Honeycrisp, Fuji, Gala, or even the golden apples.

MORE EASY RECIPES YOU WILL LOVE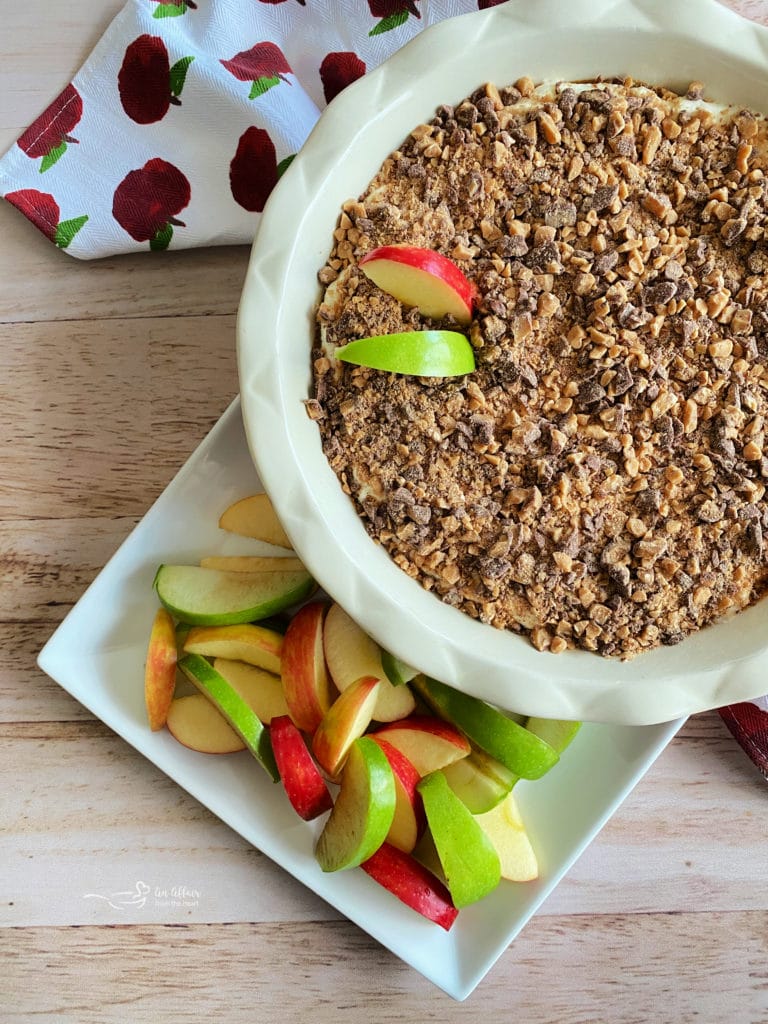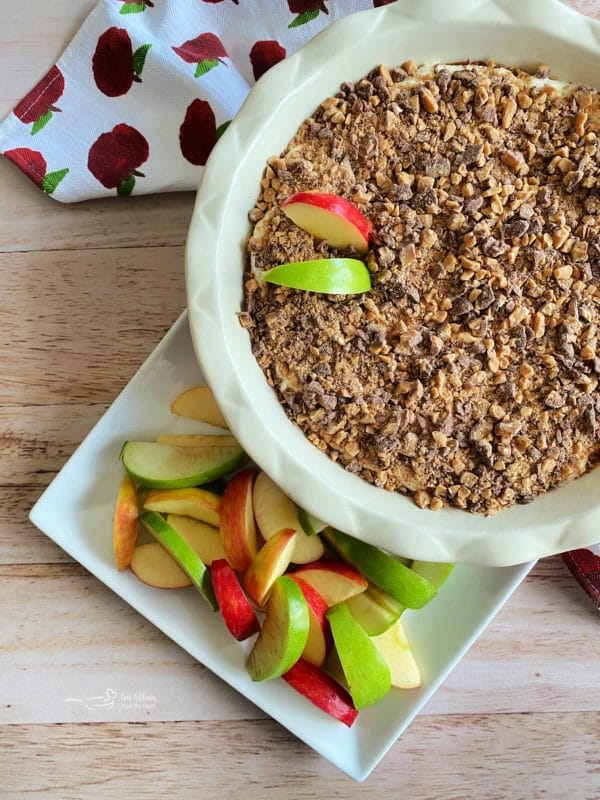 Let's whip up this quick and easy apple dip recipe!

Yield: 12
Caramel Apple Dip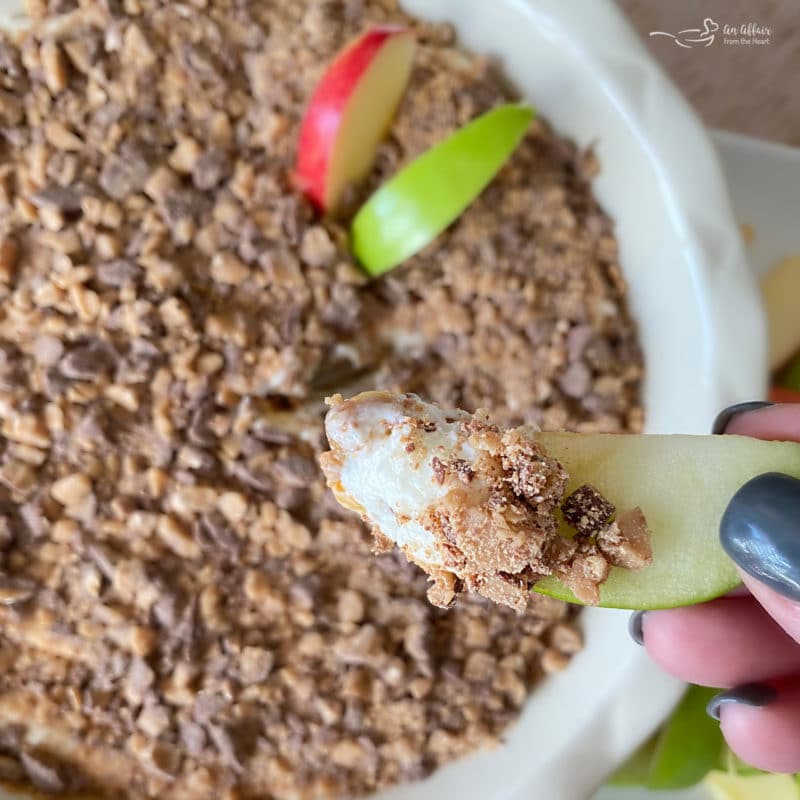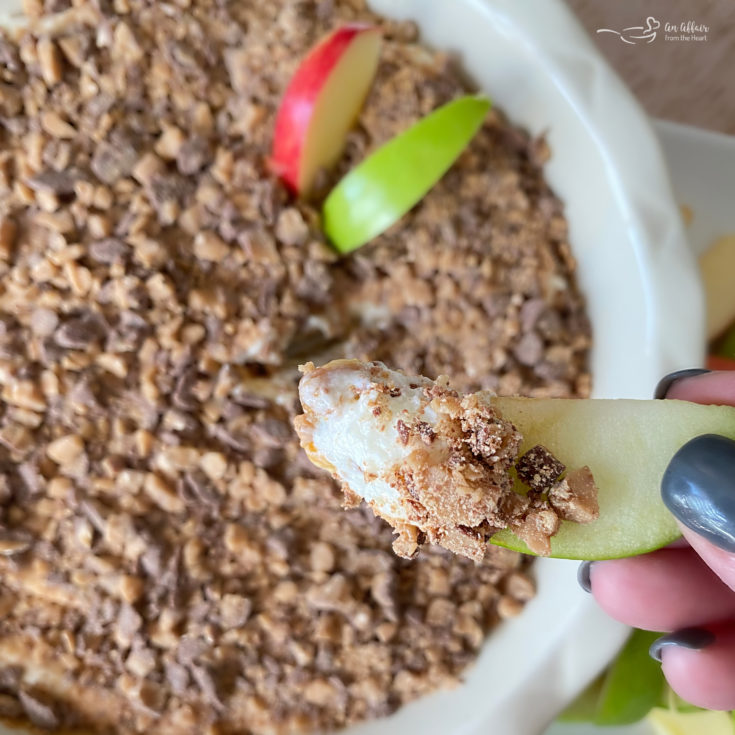 This sweet, super easy 4 ingredient dip will be the hit of your next party! Serve with sliced apples and pretzels and watch it disappear!
Ingredients
8 ounce package whipped cream cheese
7 ounce container marshmallow fluff
13.5 ounce container of caramel apple dip
8 ounce package Heath bits
sliced apples for serving
Instructions
Whip together marshmallow fluff and cream cheese.
Spread the caramel apple dip into the bottom of a pie plate.
Top with cream cheese/marshmallow mixture, spreading over the top.
Sprinkle the package of Heath Bits over the top.
Serve with apples.
Notes
Store in the refrigerator.
Recommended Products
As an Amazon Associate and member of other affiliate programs, I earn from qualifying purchases.
Nutrition Information:
Yield:
12
Serving Size:
1
Amount Per Serving:
Calories:

330
Total Fat:

17g
Saturated Fat:

10g
Trans Fat:

0g
Unsaturated Fat:

5g
Cholesterol:

42mg
Sodium:

222mg
Carbohydrates:

45g
Fiber:

1g
Sugar:

39g
Protein:

3g
Please note that nutrition is not guaranteed accurate.