Pineapple Pretzel Fluff
As an Amazon Associate and member of other affiliate programs, I earn from qualifying purchases.
Think the most amazing fluffy cheesecake, filled with pineapple, only the crust is made of buttery, slightly salty pretzels — it's pure heaven in a bowl.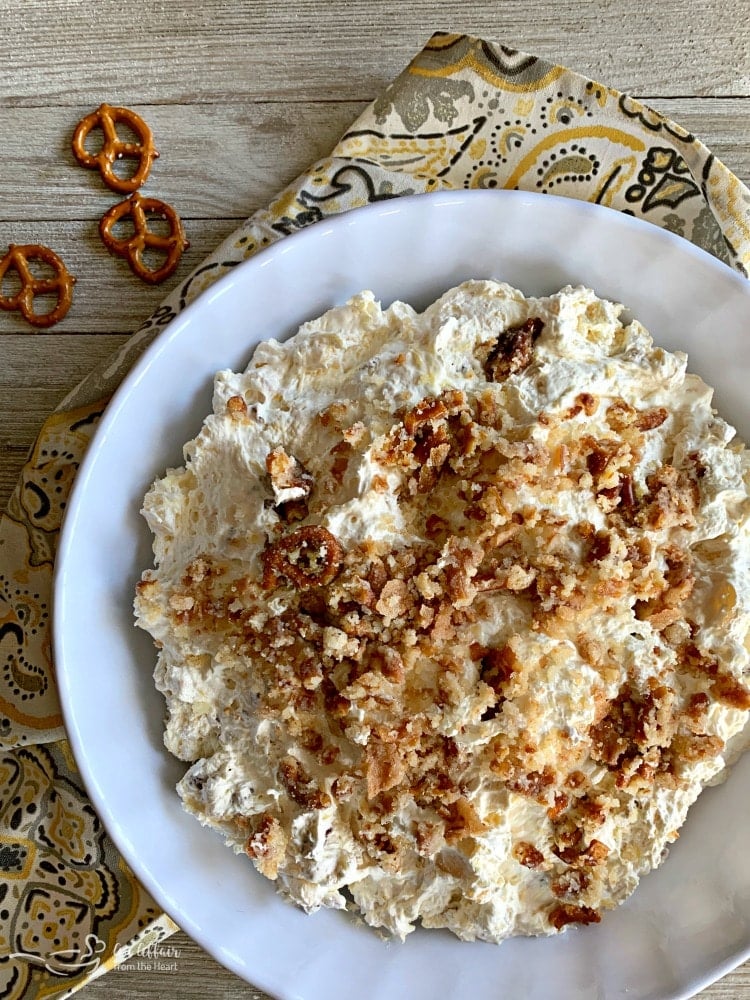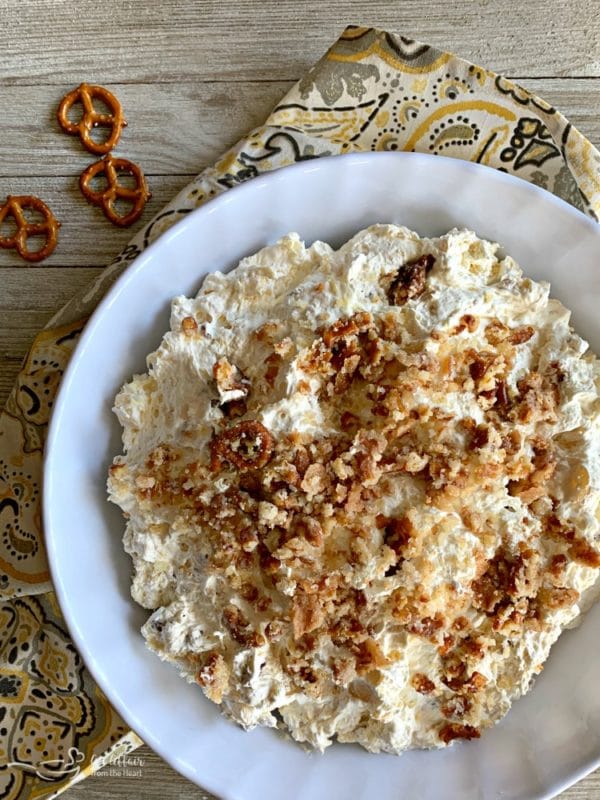 Think cheesecake, think salty-sweet treat. Now think of tropical creamy pineapple.
If thinking about all of these things makes your tummy growl, then this Pineapple Pretzel Fluff is for you!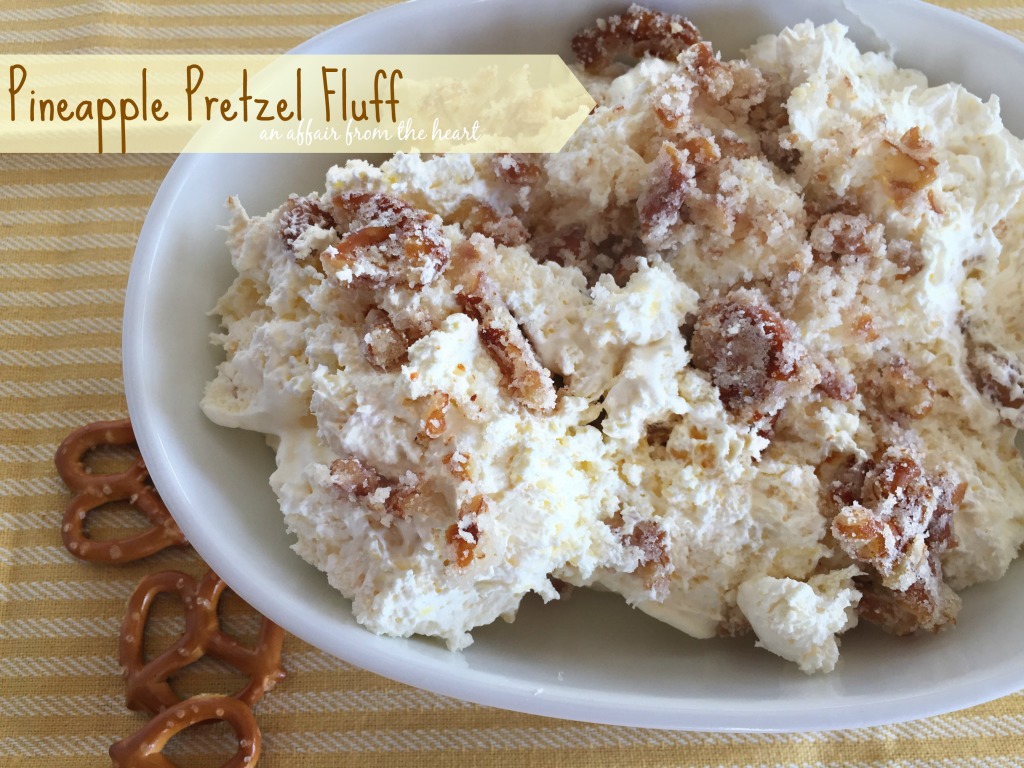 The first time I had this Pineapple Pretzel Fluff, it was at a wedding shower for one of my husband's cousins. They are identical twin girls, who are both magnificent cooks. They got that from their mother, Peg, my husband's God-Mother.
If you have followed me for a long time, you will have heard me speak of her before. I have a post for one of my favorite raw veggie salads, we call "Peg's Salad" because she was known for it.
At the shower, I think they actually called this fluff a "salad," which for those of you who aren't into the greens…well, this might be just your kind of "salad!"
I first made this recipe for the blog back on New Year's Day, 2015. We had it as a dessert. I think it can be best described as eating a deconstructed cheesecake. The buttery sweet pretzels mixed throughout being the crust, the sweet cream cheese with pineapple folded in. It's just perfection.
Ingredients in Pineapple Pretzel Fluff:
pretzels
butter
sugar
cream cheese
pineapple
cool whip
Have you ever had that Strawberry Pretzel Salad? It's been around for a long time. My friend, Amy, makes a fantastic Raspberry Pretzel Salad. If you have had either of these things, you can relate to what I am trying to describe with the flavor. This one is just stirred all together, not layered in a 9×13.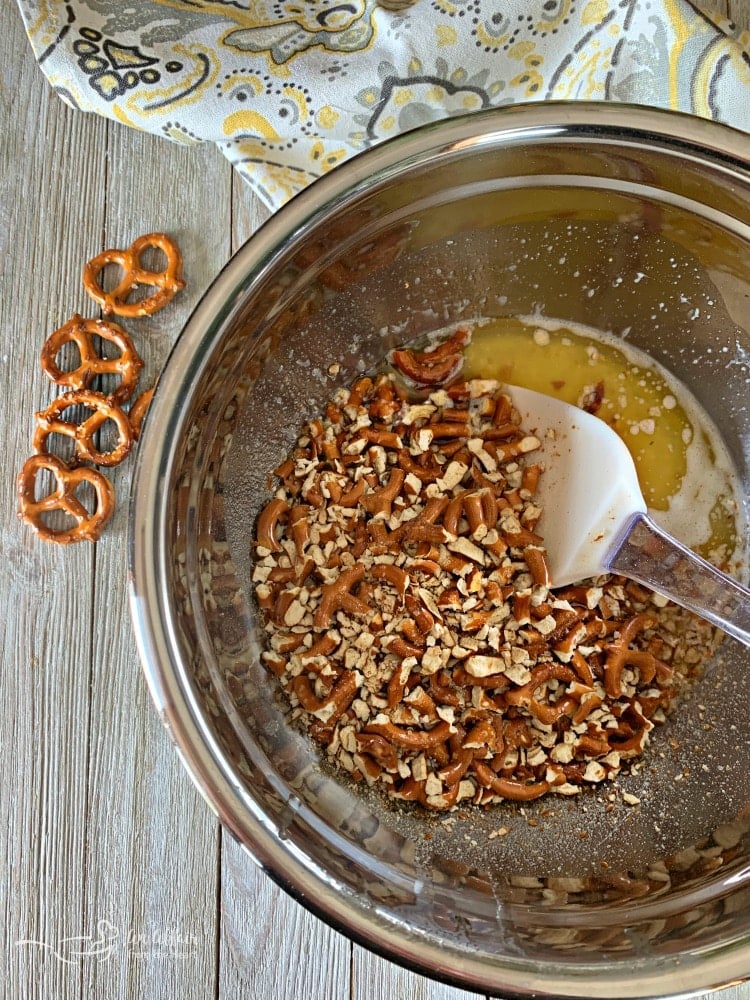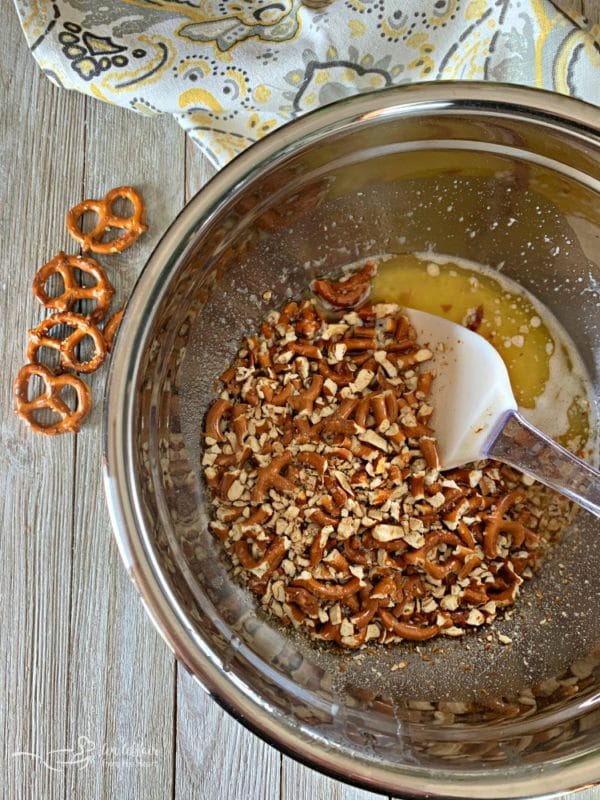 After you coarsely break the pretzels, you mix them with the butter and sugar, and then they are spread into a baking sheet and baked.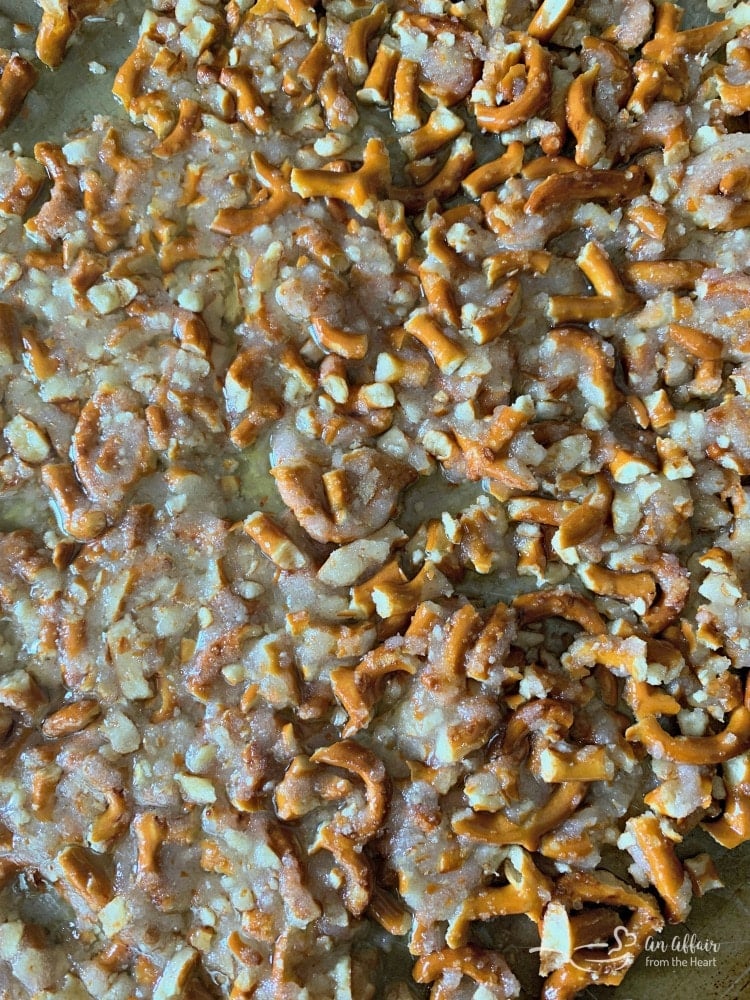 (try to resist not just eating it warm from the cookie sheet)
After it cools, it will have hardened. You break it into pieces and mix it into the sweetened cream cheese, pineapple and cool whip mixture.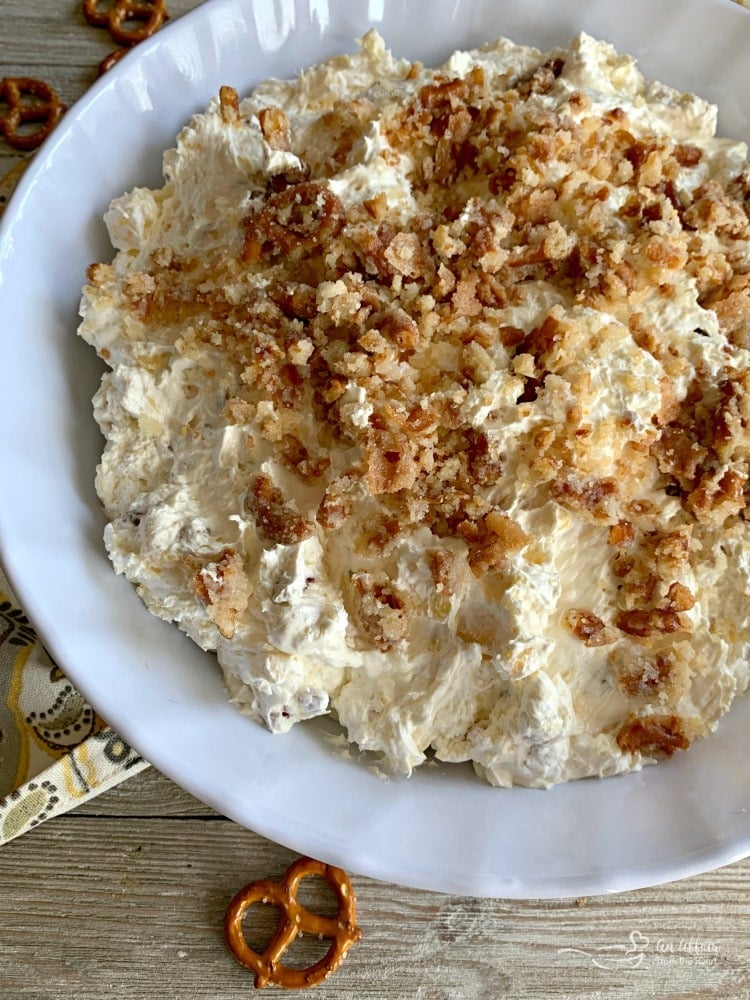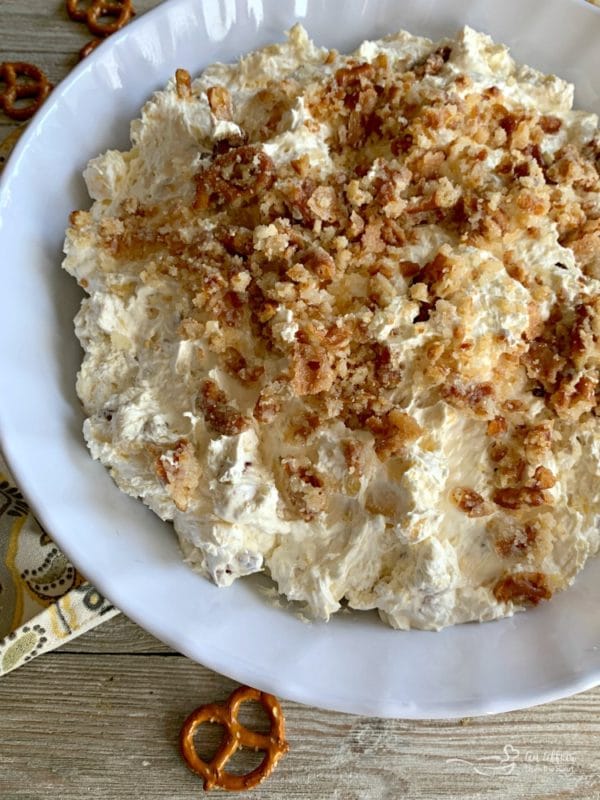 Reserve some for on the top.
Make sure to PIN this RECIPE before you Go!
If you are making this for just a side dish or dessert for your family, or a smaller group, this recipe makes plenty. It served 8 of us, and I had just a little bit leftover.
This past weekend, I took it to my daughter's engagement party, and I doubled it. I knew there would be plenty of people, and I hate to run out. So if you're making this for a pot luck or larger party, consider doubling the recipe I have here. Everyone loves it, kids and adults alike!
Other Pineapple Recipes for you to love: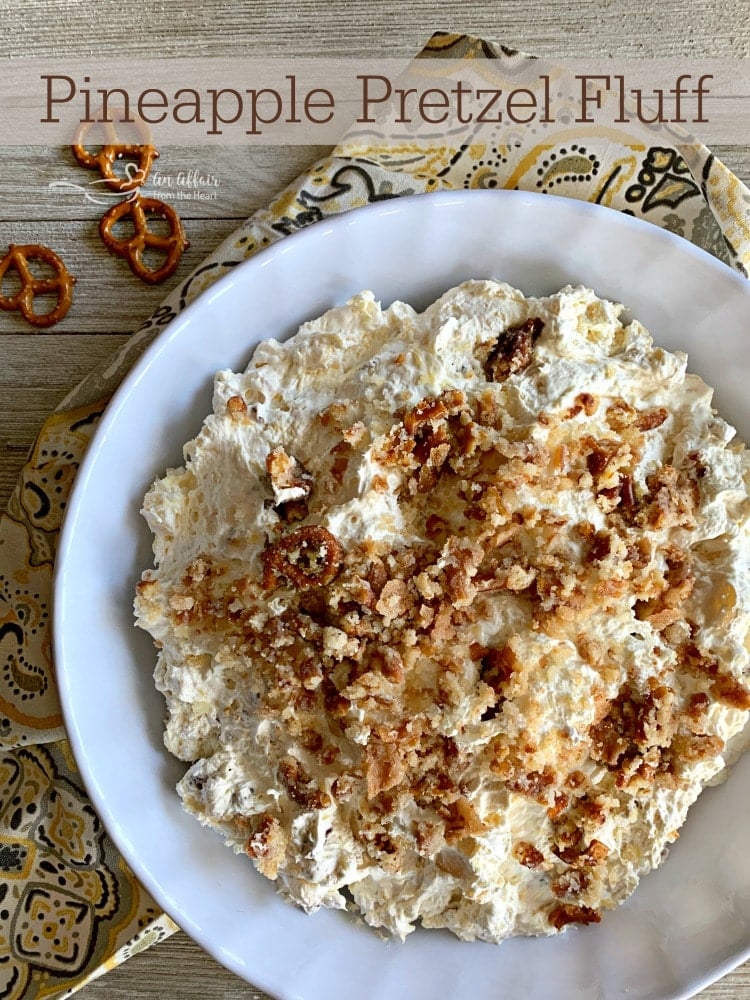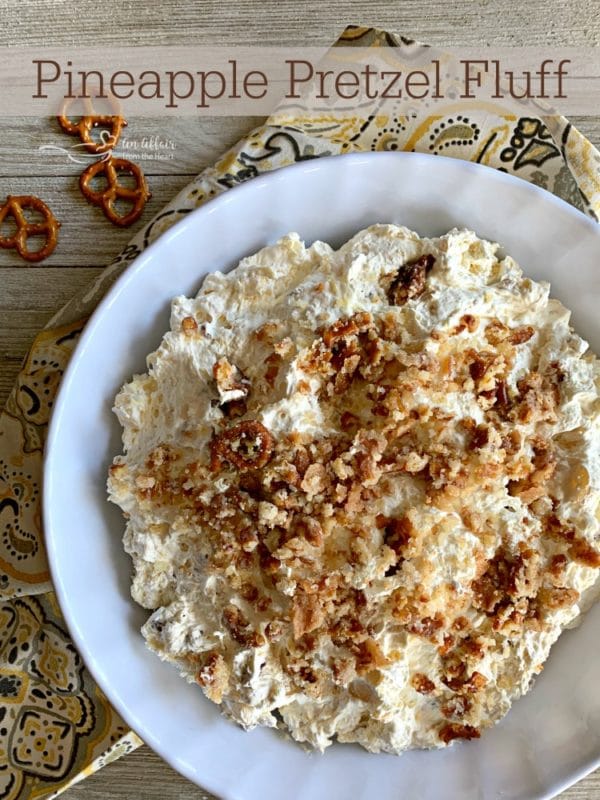 It's best if eaten in a reasonable amount of time, because, as you would imagine, the pretzels will get soft. I hope you enjoy this recipe!

Yield: 6 servings
Pineapple Pretzel Fluff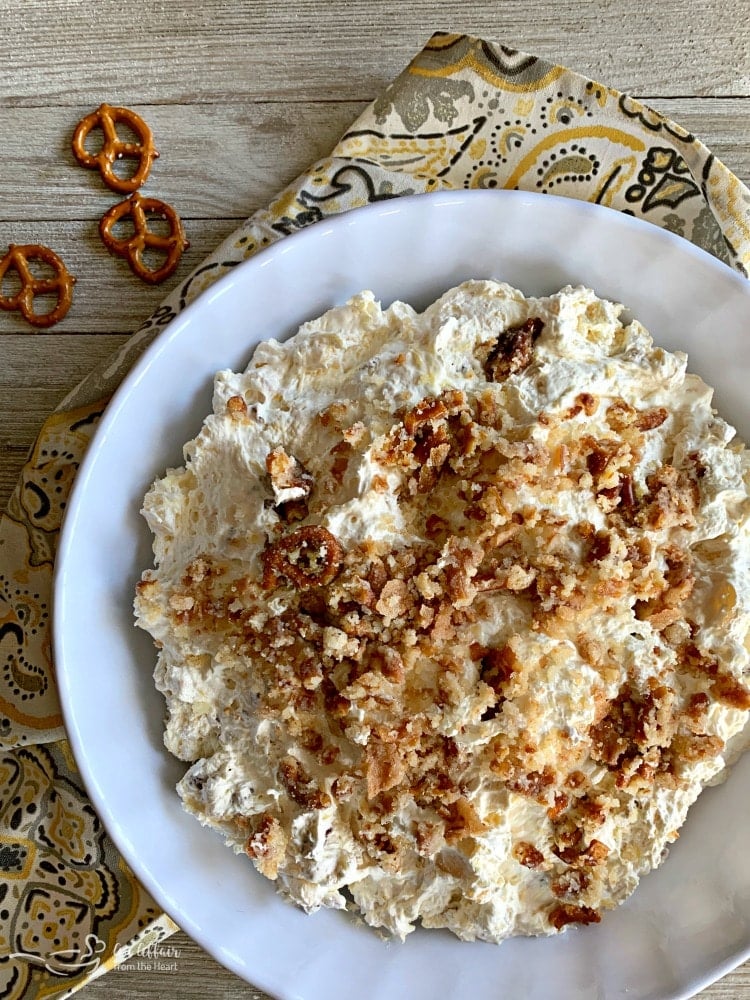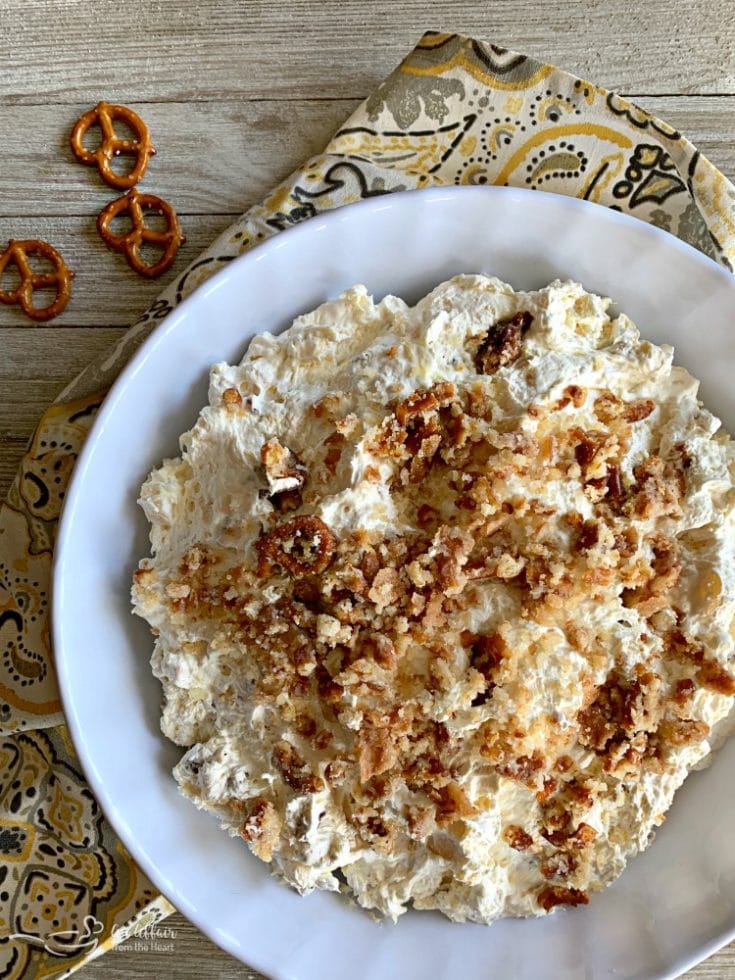 This Pineapple Pretzel Fluff can be served as a dessert or as a sweet side or salad. Serves quite a few, great for events. It's like a yummy deconstructed Cheesecake! Mmmm!
Ingredients
1 cup coarsely crushed pretzels
1 cup sugar, divided
1 stick butter, melted
1 (8 ounce) Cream Cheese, softened
1 (20 ounce) can Crushed Pineapple, drained
12 ounces Cool Whip
Instructions
Preheat oven to 400 degrees.
Roughly crush pretzels, and combine with 1/2 cup sugar and melted butter. Press into the bottom of a 9x13 baking dish. Bake for 7 minutes, cool. Break into pieces, and set aside in an air tight container until ready to use.
Beat Cream Cheese and 1/2 cup sugar until creamy. Fold in pineapple and cool whip. Chill.
Before serving, stir 3/4 pretzel mixture in, top with remaining to serve.
Nutrition Information:
Yield:
10
Serving Size:
1
Amount Per Serving:
Calories:

312
Total Fat:

19g
Saturated Fat:

14g
Trans Fat:

0g
Unsaturated Fat:

4g
Cholesterol:

27mg
Sodium:

162mg
Carbohydrates:

36g
Fiber:

0g
Sugar:

32g
Protein:

2g
Nutrition isn't guaranteed accurate.