Italian Raw Veggie Salad (Peg's Salad)
As an Amazon Associate and member of other affiliate programs, I earn from qualifying purchases.
This Italian Summer salad is a tribute to one special lady and her great raw veggie salad recipe. Made with crunchy cauliflower, broccoli and carrots with Mozzarella cheese, bacon, and creamy Italian dressing. Italian raw veggie salad is a truly great Picnic/Pot Luck salad, a certified classic. Even better, it also pays tribute to my husband's God-Mother, Peg.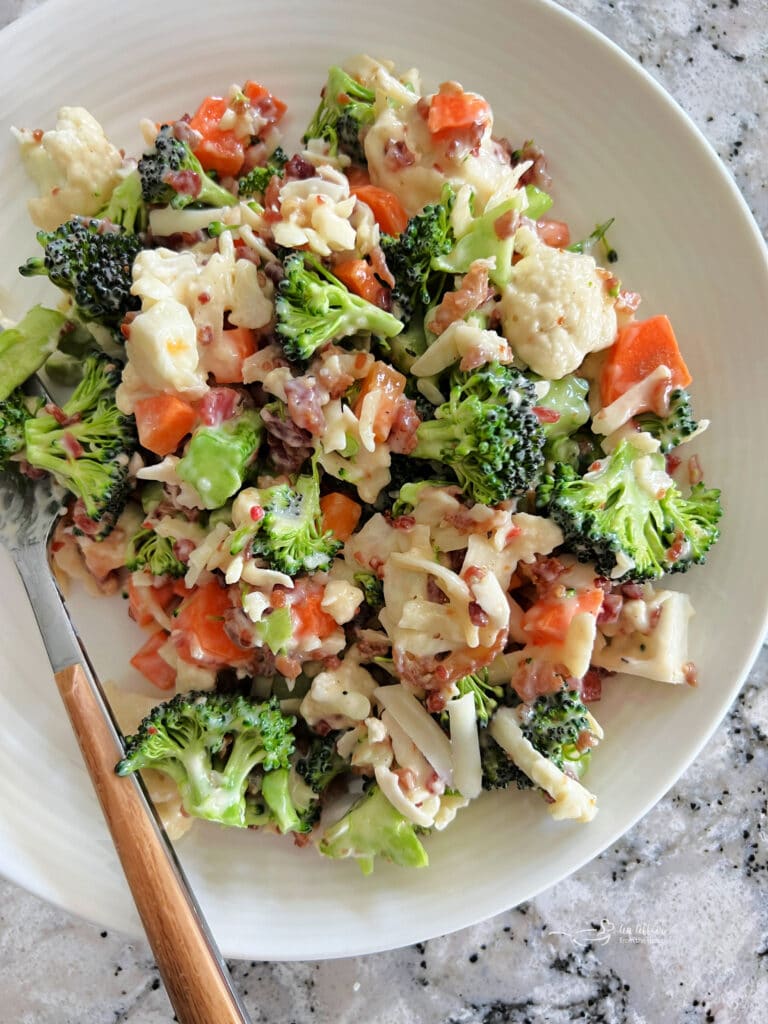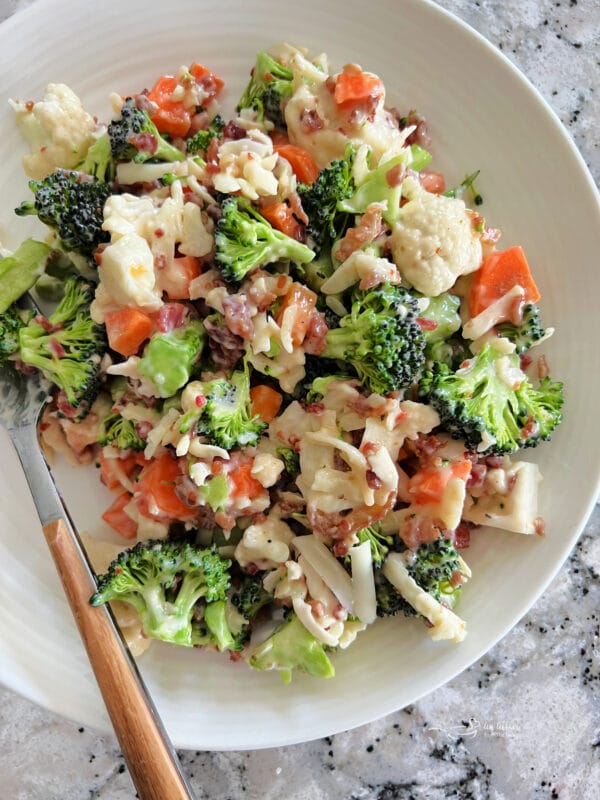 In our family we don't really call this salad "Italian Raw Veggie Salad," we call it "Peg's Salad" because the recipe is from my husband's Aunt Peg, and everyone knows exactly what you mean when you say it.
But knowing that calling it Peg's Salad would mean nothing to anyone on the internet, I had to call it something else. Raw veggie salad includes cauliflower, carrots, and broccoli, mixed with salty bacon bits. The Italian part comes from the addition of Mozzarella cheese and creamy Italian dressing. So easy, and yet, so delicious!
Peg's Salad
This is a tribute to one special lady and her great raw veggie salad recipe.
My husband's Godmother, Peg, was one dynamic woman! You know the type, she brightens a room just by entering it. She was one of the hardest-working women I have ever met. She loved her family with all of her heart and soul. No matter what was going on, she could always make the best out of any situation. In April of 2011, she was taken from us way too early. She was only 58.
The First Time I had This Salad I was Hooked
Early in our marriage, I attended an event in my husband's family. There on the potluck buffet table was a raw vegetable salad, I took a spoonful. I sat down to eat and promptly went and got another spoonful. So tasty!! I asked Peg for the recipe and the recipe card has always been titled "Peg's Salad."
It's a great picnic salad and I know you'll love it, too!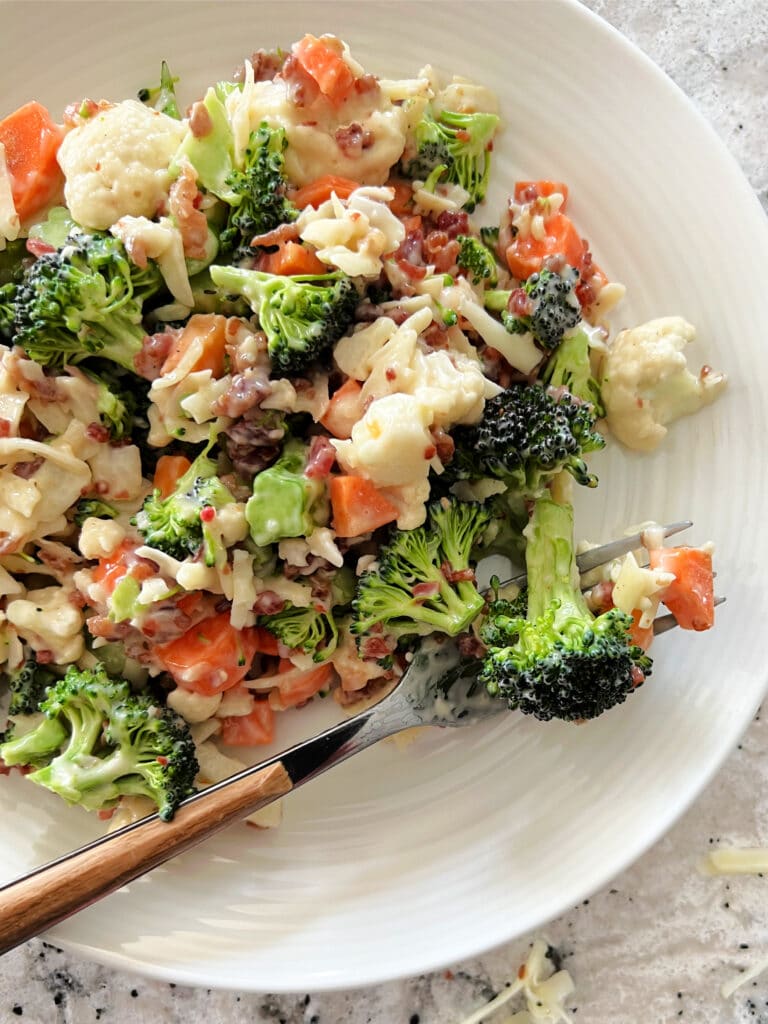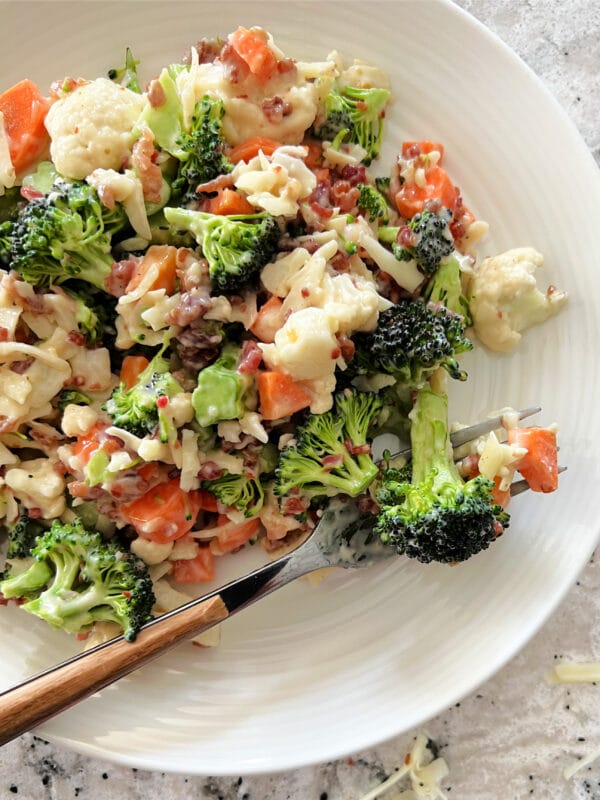 Italian Summer Salad Variations
The great thing about Peg's fresh Italian Summer salad is you can easily substitute other fresh veggies if you like, to make it your own. The crunchy ones work great, but you could also use fresh or frozen peas for example.
If you want to substitute other cruciferous veggies, like brussels sprouts or radishes, or even arugula and watercress, then those work too. Even better, those cruciferous vegetables are very super-rich in vitamins and antioxidants.
Want to make it vegetarian? Leave the bacon out. I recommend adding a bit of salty crunch with some seasoned croutons, or sunflower seeds instead.
How to store raw veggies salads
Since this colorful raw salad uses a combination of ingredients that all need refrigeration to store properly, I recommend storing leftovers in an airtight storage container. Don't bother freezing it, which you can do, but it isn't satisfying like when it is fresh and crunchy. You can store a veggie salad with Italian dressing for about 4 days in the fridge.
Which vegetables can be eaten raw in salads?
Most vegetables can be eaten raw in salads. Especially with this salad, raw is best. I guess some people might want to lightly parboil, for about 30 seconds or so, the broccoli, but only because otherwise it might be tough to eat. However, if you just cut the harder veggies to the right size, then they aren't overwhelming unless your mouth is super sensitive to crunch.
Is raw salad good for health?
Raw salads should be a healthy staple in everyone's diet. In fact, there is universal agreement that legumes and raw vegetables should be a major part of everyone's diet. Beans and vegetables are a common part of the diets in all the longest-living average age groups around the world.

What is the best dressing to eat with this salad?
Originally, the recipe called for Seven Seas Creamy Italian Dressing. I have been unable to find it in recent years, so I started using the Wish-Bone brand.
Use your favorite brand, just reach for the creamy Italian one. Not just regular Italian dressing.
Peg's Salad (Italian Summer Salad) Ingredients
Exact measurements and instructions can be found in the printable recipe card at the bottom of this post.
cauliflower
broccoli
carrots
mozzarella cheese – I like to shred my own!
bacon – fried, and crumbled (I have cheated and used the real bacon pieces in the package in a rush)
Creamy Italian Salad Dressing
How to make Italian Summer salad
Make sure to give yourself plenty of time for the salad to refrigerate. I always make it at least 8 hours before I serve it. Overnight works great!
CHOP
Thoroughly wash and chop cauliflower, carrots, and broccoli into bite-sized pieces. Place them into a large bowl.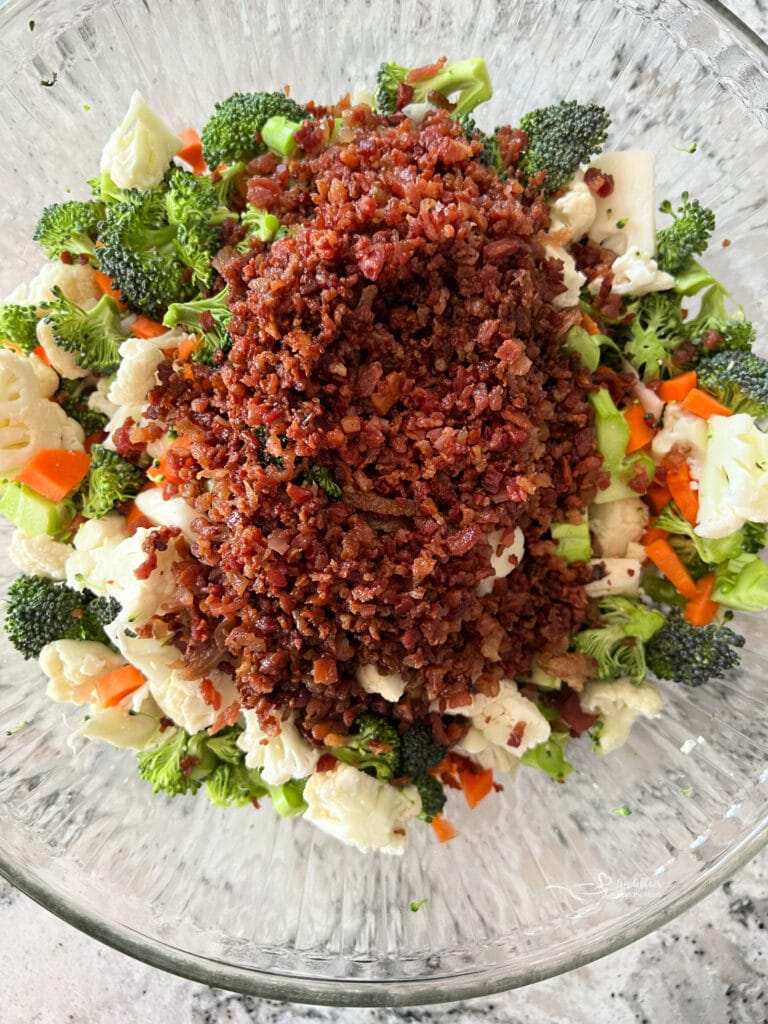 ADD
Add in the crumbled bacon.
Toss to combine with the veggies.
SHRED
Add the shredded mozzarella cheese to the veggies and bacon and give it another toss.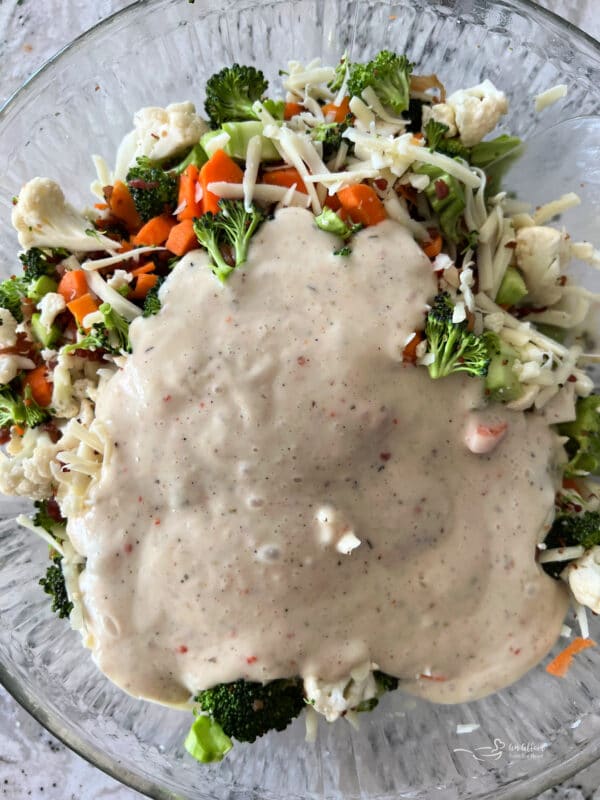 DRESS
Add the dressing to the salad.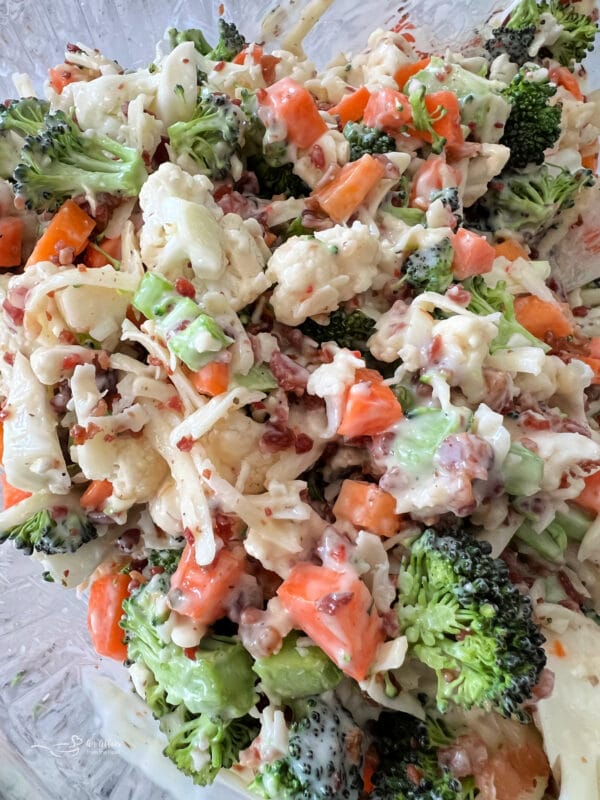 TOSS
Toss to coat. Refrigerate for at least 8 hours, and up to 24 hours before serving cold.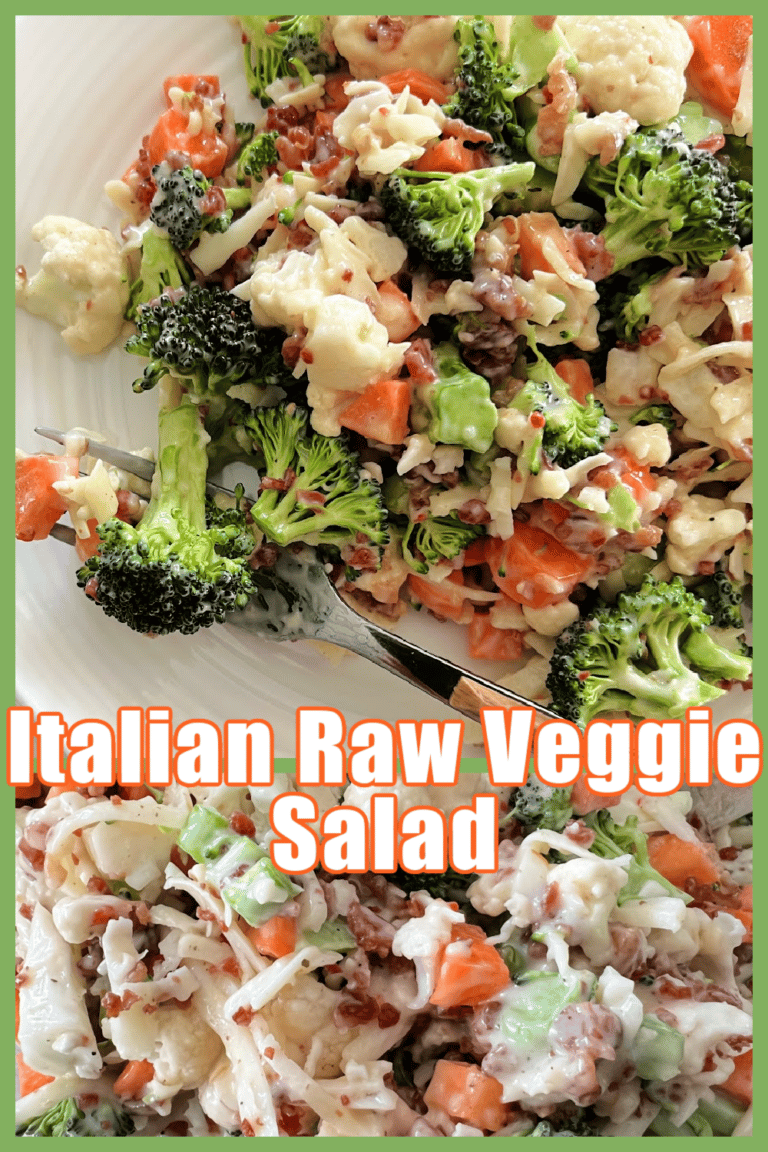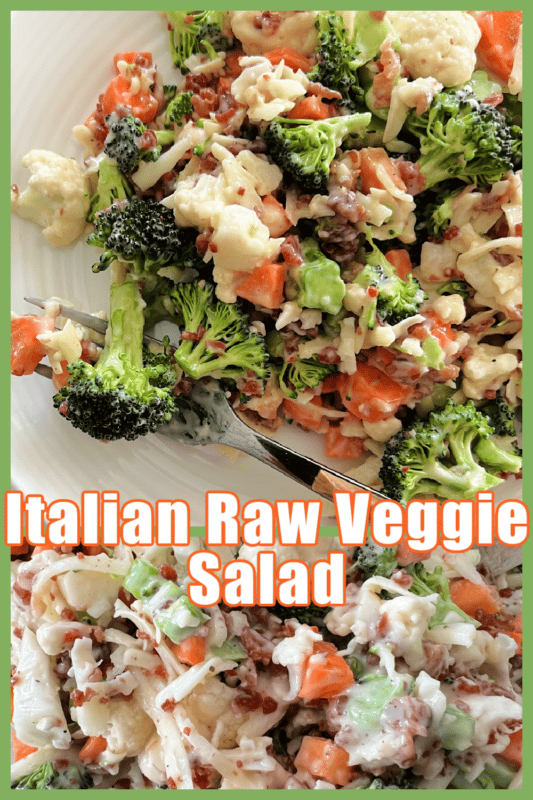 Love it? Pin it!
Please don't lose this recipe! Pin it to your favorite Pinterest recipe board before you go to make sure you can find it!
More salads to enjoy
I have oodles of salad recipes on my site! Here are a few more to love:
I hope that you enjoy this salad as much as our family always has! Thanks for the great recipe, Aunt Peg!

Yield: 8 - 10 servings
Peg's Salad - Italian Raw Veggie Salad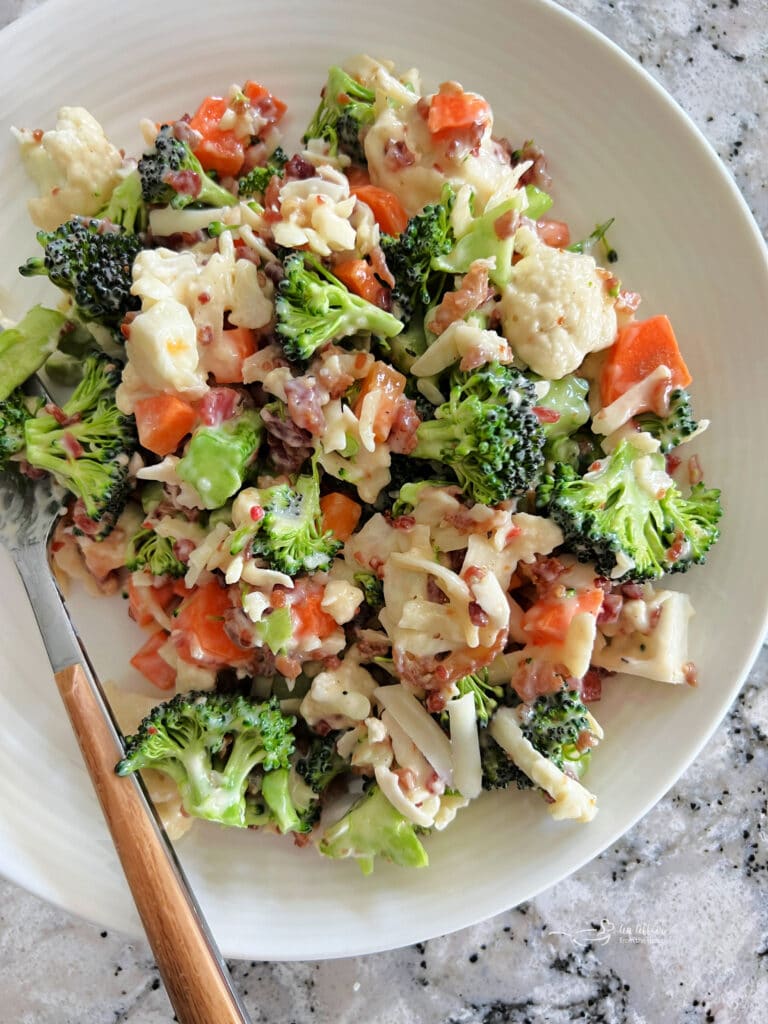 Crunchy cauliflower, broccoli and carrots with Mozzarella cheese, bacon and creamy Italian dressing. Great Picnic/Pot Luck salad.
Total Time
1 day
10 minutes
Ingredients
1 medium head cauliflower, chopped
4 small bunches broccoli, chopped
1 small package (8 ounce) baby carrots, chopped
1 (8 ounce) package shredded mozzarella cheese
8 pieces of bacon, fried and crumbled (or one 9 ounce package of real bacon pieces)
1 (15 ounce) bottle Creamy Italian Dressing
Instructions
Chop the veggies into small, bite-sized pieces. Place them in a large bowl.
Add in the bacon, toss.
Add in the cheese. Toss.
Add in the bottle of dressing, toss to coat.
Refrigerate for at least 8 hours. I usually make it the day before, and give it 24 hours. Tastes better after it's refrigerated a while
Store in an airtight container in the fridge. Consume within 4 days.
Notes
The original recipe called for 1 bottle Seven Seas Creamy Italian salad dressing. I can never find this anymore. So, now I buy the Kraft Creamy Italian or the Wish-Bone brand.
Nutrition Information:
Yield:
10
Serving Size:
1
Amount Per Serving:
Calories:

116
Total Fat:

7g
Saturated Fat:

2g
Trans Fat:

0g
Unsaturated Fat:

4g
Cholesterol:

15mg
Sodium:

275mg
Carbohydrates:

8g
Fiber:

3g
Sugar:

2g
Protein:

8g
Nutrition isn't always accurate.
This recipe was originally posted in June of 2011, and updated on March 26, 2016.
It has been updated once again to improve user experience and reshared on June 15, 2022.