Easy Fruit Salad
As an Amazon Associate and member of other affiliate programs, I earn from qualifying purchases.
Peaches, Mandarin Oranges and Pineapple chunks engulfed in vanilla/orange "sauce" that will have you thinking of an Orange Julius! This "Dump Fruit Salad" is ready in 10 minutes!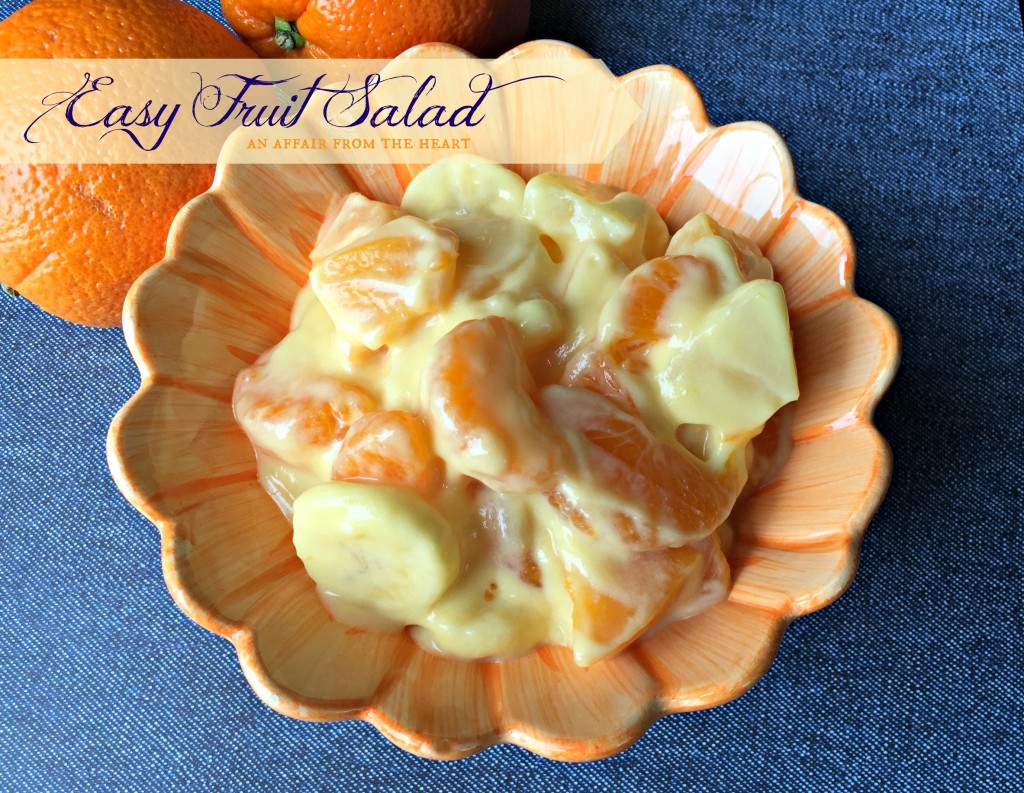 That call for help. We all get them. Help with our children, help at school, help at work, a friend is sick or has had surgery, a family member needs someone to rely on. My friend, Justine, from Full Belly Sisters, asked me to help her this week, by raising awareness for cancer research, Cycle For Survival a benefit raising awareness and funding for research for rare types of cancers. We are all saddened to think of those who we know who have had or are battling cancer. When Justine asked me to help, I was ALL IN.
#OrangeInspiration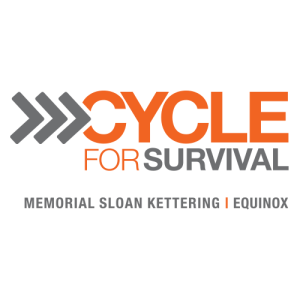 A little about Cycle For Survival: Founded in 2007, Cycle for Survival has raised more than $61 million to date, directly funding clinical trials and research studies that bring new hope to countless lives touched by rare cancers.
More than 50% of people with cancer are battling rare cancers, such as brain, pancreatic, cervical, stomach, thyroid and ovarian cancers, and all pediatric cancers. These cancers don't often attract research dollars needed for new therapies and treatments, so patients are left with limited options.
Cycle for Survival has contributed to more than 100 clinical trials and research studies, and also to major research initiatives that will change the way cancer is diagnosed and treated.
Memorial Sloan-Kettering Cancer Center—the world's oldest and largest private cancer center—is committed to providing research and care for people diagnosed with rare cancers. MSK's close collaboration between doctors and researchers is a unique strength: new drugs and therapies developed in the lab can be moved quickly to patients' bedsides.
Justine asked a few of her food blogger friends to create recipes using orange foods, the week before her bike ride. Orange is the color for Cycle for Survival. Here is some great information on orange foods: orange foods are gorgeous and delicious; they are chock full of antioxidants, vitamins, fiber and phytonutrients that are good for your skin, eyes and heart, and they may also decrease your risk of cancer.
So I bring you my Easy Fruit Salad that is full of citrus flavors. I hope you enjoy it!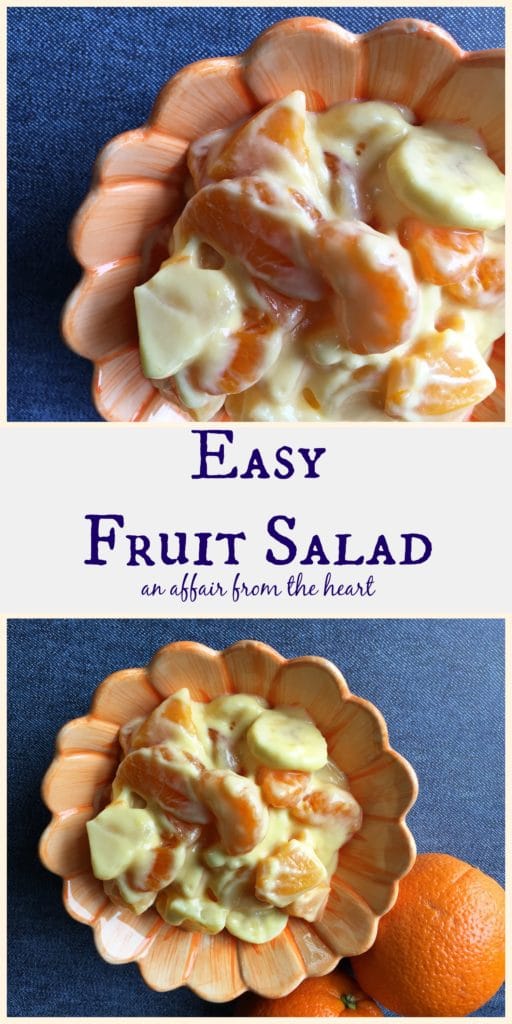 Last week, I was called on to help. Our church needed salads for an event. Since it was a Friday during Lent, they were doing noodle casseroles, so they requested no pasta salads, I decided on a fruit salad.
I was rushed for time, so I landed on this one, that comes together so quickly. You literally dump everything together and stir. This could totally be made using all fresh fruits, using the same "sauce" over the top. I am going to tell you, I could eat this sauce by itself! My kids LOVE this salad, and at pot lucks it's always gone in a flash.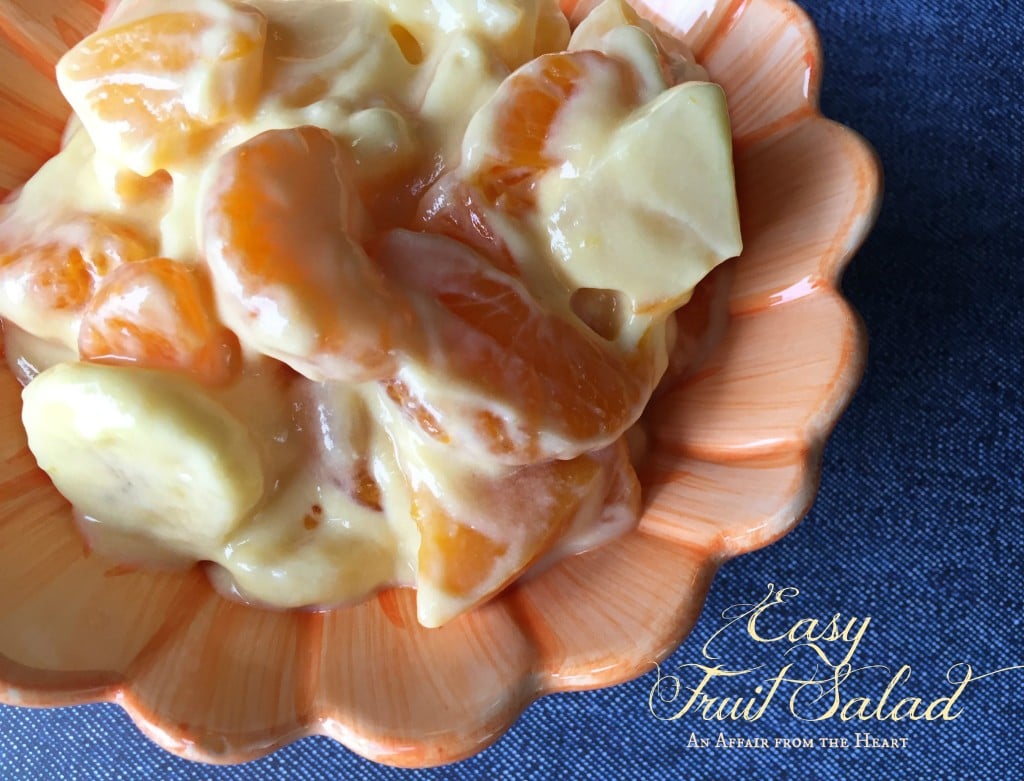 Yield: 8 servings
Easy Fruit Salad #OrangeInspiration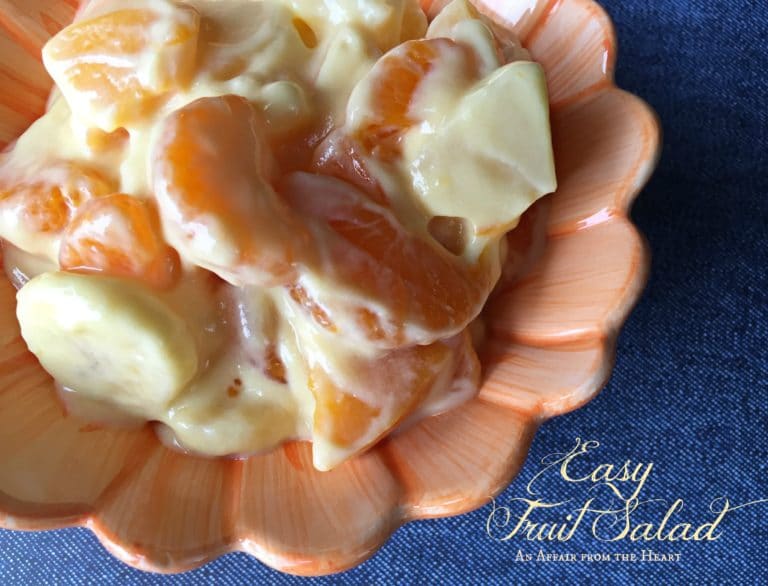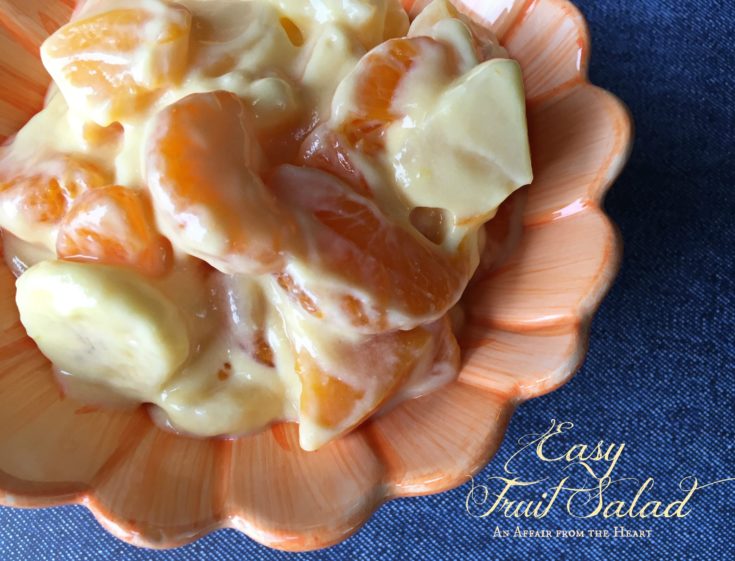 Peaches, Mandarin Oranges and Pineapple chunks engulfed in vanilla/orange "sauce" that will have you thinking of an Orange Julius! This "Dump Fruit Salad" is ready in 10 minutes!
Ingredients
For the "sauce:"
2 cups Orange Juice
5.1 ounce Instant Vanilla Pudding
16 ounces sour cream
For the Salad:
2 - 13 oz cans Peaches, cut into chunks
3 - 13 oz cans Mandarin Oranges
2 - 20 oz cans Pineapple (chunk style)
3 small bananas sliced
Instructions
Combine sour cream, orange juice and instant pudding mix until smooth. Set aside.
Drain all of the juice from your cans of fruit, and dump fruit into a big bowl.
Top with "sauce" and gently stir together to coat fruit.
**notes** feel free to add whatever canned fruit you desire, pears, mangoes... you name it! Would also be good with fresh fruit!
Nutrition Information:
Yield:
8
Serving Size:
1
Amount Per Serving:
Calories:

378
Total Fat:

13g
Saturated Fat:

6g
Trans Fat:

0g
Unsaturated Fat:

4g
Cholesterol:

34mg
Sodium:

49mg
Carbohydrates:

68g
Fiber:

7g
Sugar:

51g
Protein:

5g
Nutrition isn't always accurate.
——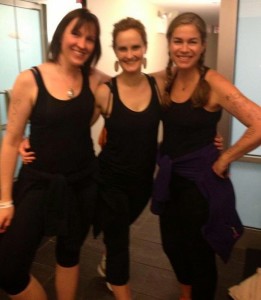 ~here is my friend, Justine, (on the right) and a couple of her cycling buddies~
A Note From Justine, who will be cycling this Saturday in New York City:
"All donations are tax-deductible and 100% of the funds donated for my ride will go directly to MSKCC to help patients around the world. For the past two years, my team has ridden in honor or in memory of many different people by writing their names on our arms. When you make your donation, if you would like me to ride for someone, please send me his/her name and I will gladly ride for your loved one at the event. No donation is too small—every dollar counts!"
Please consider making a tax-deductible gift now: I Want to DONATE to Justine's TEAM
~~~
Orange you excited to see all of the bloggers that are participating and their ORANGE recipes??
*Sumptuous Spoonfuls *Something AboutCupcakes *Ally's Kitchen *Life Currents *The Fountain Avenue Kitchen *Who Moved my Coconut Oil *What's Cookin' Italian Cuisine