This Mediterranean Celery Salad with Olives is the perfect combination of sweet and salty. Crisp arugula, crunchy celery, chopped apricots, and green and black olives are sweetened up with dates and tossed in a lemon and herb dressing. Simply the best olive and celery salad and the epitome of flavors of the Mediterranean.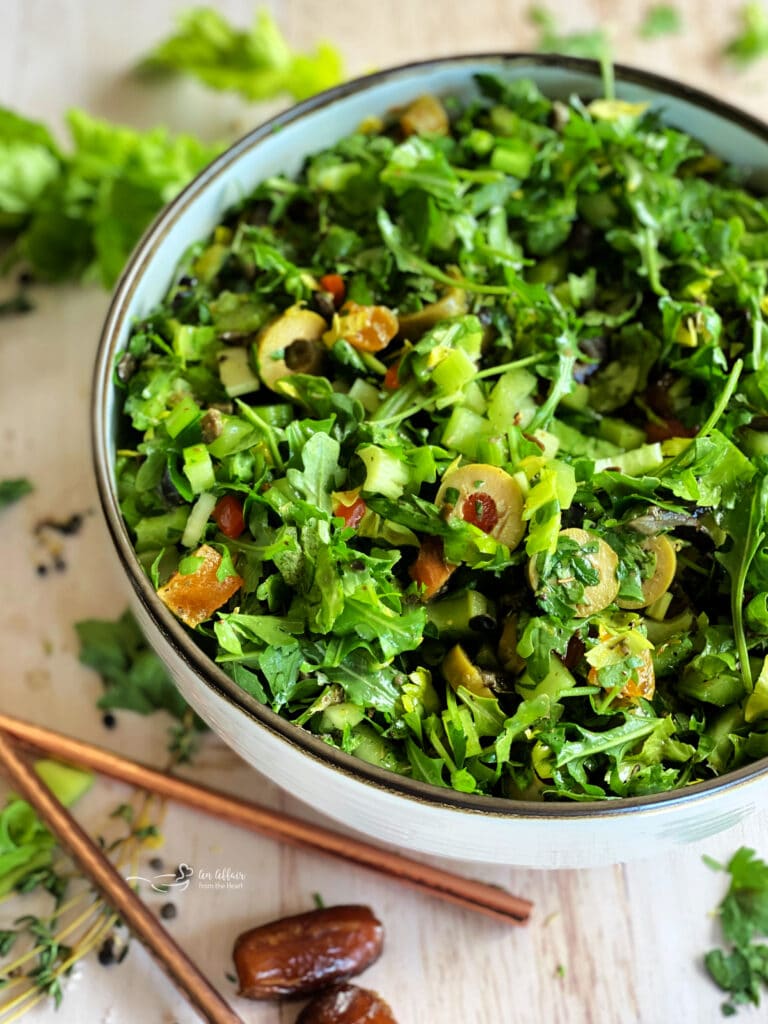 This celery salad recipe with lemon herb dressing is the perfect side salad for any meal. I like to turn any leftovers into a meal salad the next day by adding cooked chicken or a can of albacore tuna.
This celery salad recipe really makes up the best celery salad, in my humble opinion. I think it's fun to prepare and makes a great potluck salad or if you are tasked with the salad for your family get-together this celery leave salad will surely be a huge hit and get the thumbs up from everyone around the table. You can easily make the salad a few hours in advance and toss it with the dressing before you place it on the table. Make sure to store the salad in an airtight container until you are ready to serve it.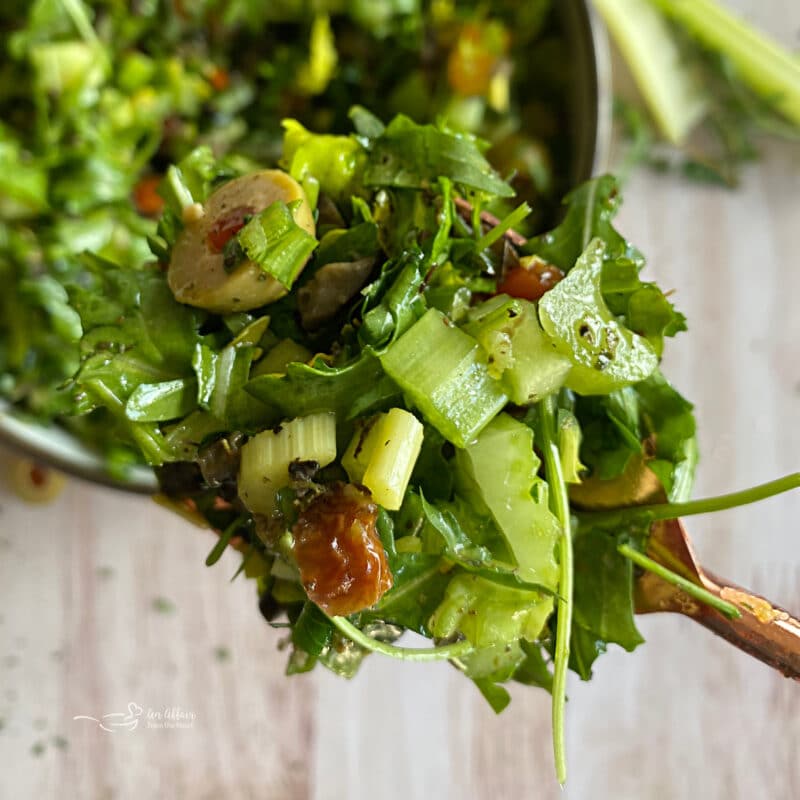 The first time I made this salad was in April of 2021. My friend, Ally from Ally's Kitchen posted it on Facebook and I was instantly in love. I literally ran to the store to get the ingredients that day and made it. Well, I decided that this recipe would be the perfect way to kick off a new year and that this would be my first recipe post of 2023! I didn't change much from Ally's recipe, other than I added some fresh tarragon to the dressing, and we love it this way.
Looking for more salad options? Try one of these; Apple Chicken Salad, Caprese Salad, or this Chinese Chicken Salad.

Celery Salad
Celery – Love it or hate it? I actually posted about it a few years back on social media and it seems to be one of those foods that you either love or you hate it. I am most certainly in the love it category!
Personally, I really enjoy eating celery and try to include it whenever I can. Though mostly made up of water, celery does have nutritional benefits. Celery has Vitamin C, and beta carotene and contains flavonoids and phytonutrients. All of which are important to maintaining general health. I also think celery is very versatile. Raw crisp celery in salads adds a nice crunch and cooking with celery adds flavor to stews, stir-fries, and soups.

Ingredients Needed To Make Mediterranean Celery Salad
Find the exact measurements and instructions in the printable recipe card at the bottom of this post.
For the salad:
Celery – I used about ⅔ of a big bunch of celery and sliced it. You also use celery leaves so don't throw them away. If you have leftover celery you can use it to make celery juice if you are a vegetable juice kind of person.
Arugula – I like to use baby arugula roughly chopped but you can also use spinach or a combination of the two. I find the freshest arugula at farmers' markets so if you have one nearby I suggest you check it out.
Parsley – I prefer to use flat-leaf parsley but curly parsley works too. Just make sure to chop it finely. Make sure to use fresh parsley, dried parsley won't work in this salad.
Thyme leaves – Use fresh thyme for the best flavor.
Green olives with pimentos – Make sure to drain well and chop the olives. I prefer Spanish olives, they are bigger and they have a bit of a spice to them.
Black olives – You can use canned or jarred black olives. You can also buy presliced if you like. I like to use sliced Kalamata olives.
Dates – Sweet dates really enhance the flavor of this great salad. Any kind of date will work but I like using Mejdool, chopped.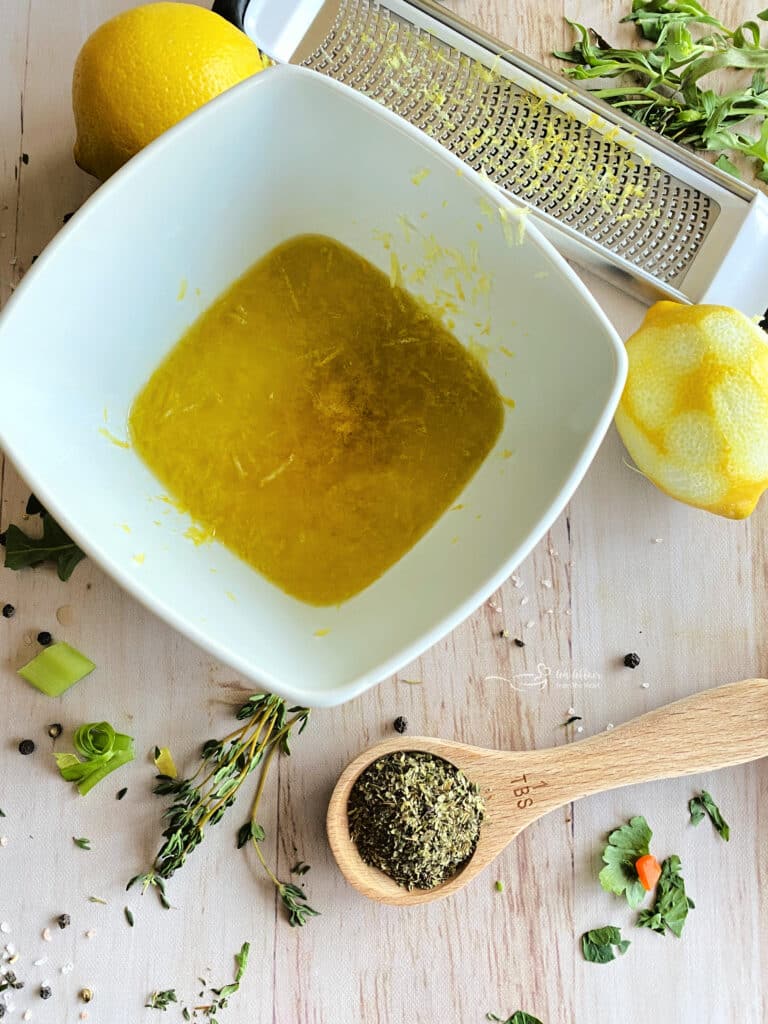 For the Dressing:
Olive oil – I like to use extra virgin olive oil when I cook, especially in salad dressings.
Lemon – I used a large lemon, zested and juiced. The lemon zest really enhances the lemon flavor so don't leave it out. Fresh lemon juice tastes better than jarred.
Italian seasoning – You can use a store-bought Italian Seasoning or you can make your own with a combination of fresh herbs, like basil, oregano, and thyme or you can substitute it with Greek seasoning.
Tarragon – Use fresh tarragon, chopped.
Black pepper – I like to use freshly ground, coarse black pepper.

How to make this Mediterranean celery olive salad recipe
First: Prepare the dressing: Whisk together olive oil, lemon juice and zest, Italian seasoning, pepper, and fresh tarragon. Set aside in a small bowl.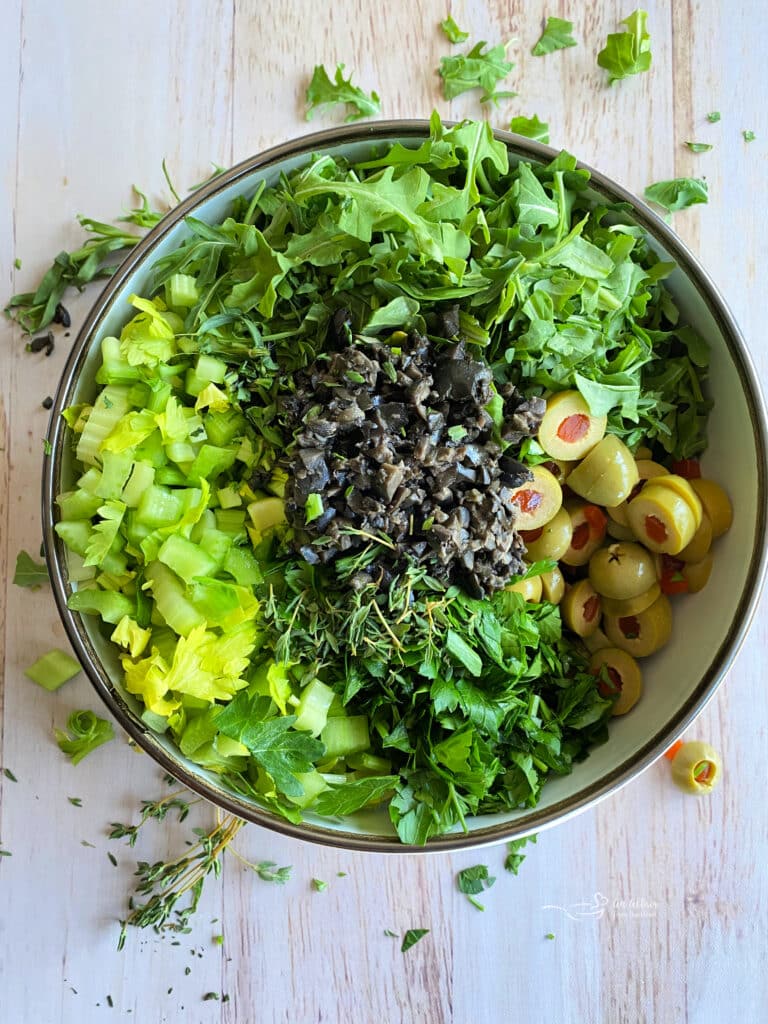 Second: Place arugula, parsley, thyme, and celery in a large bowl, preferably one you use for salad or you can use a large mixing bowl.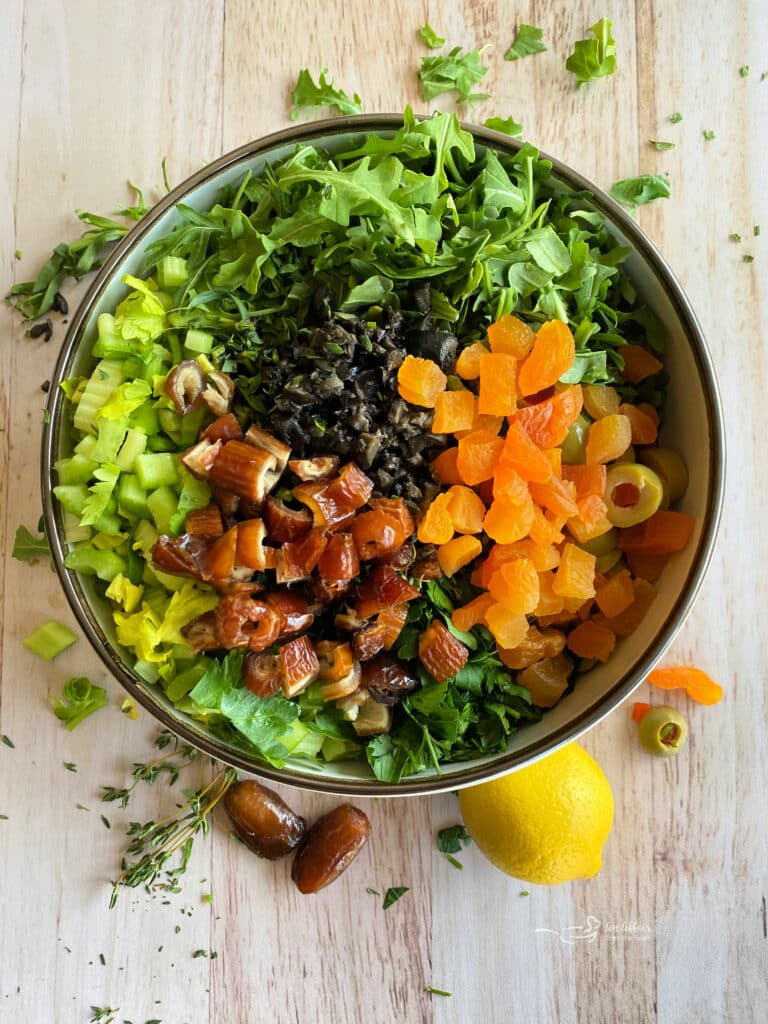 Third: Top with olives, apricots, and dates.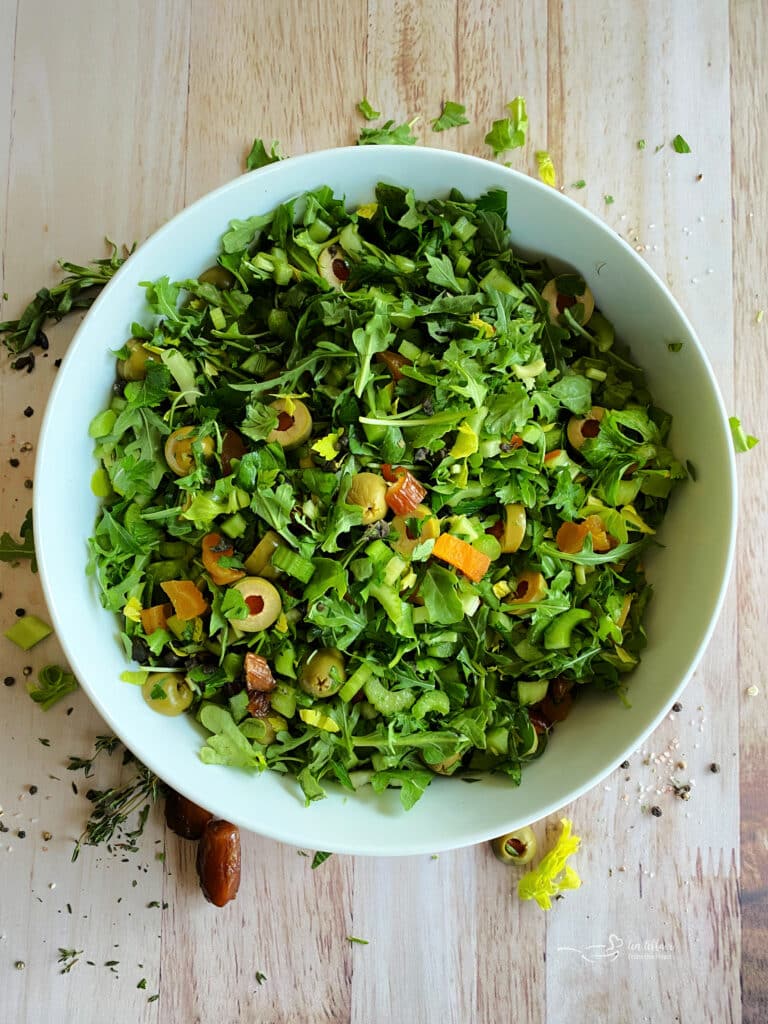 Fourth: Whisk the dressing once more and pour it over the top of the salad, tossing until it's coated well.
Fifth: Place the salad in the fridge for one hour before serving.

Love it? Pin it!
If you love this celery salad with dates make sure you don't lose it! Pin it to your favorite Pinterest recipe board before you go!
FAQs
Is celery Mediterranean? Celery is a common vegetable in the Mediterranean diet.
Can you eat celery raw in a salad? Yes, absolutely! Celery is one of those vegetables that can be eaten raw or cooked.
Is celery on the Mediterranean diet? Yes, celery is part of the Mediterranean diet.
SUBSTITUTIONS:
The one thing I absolutely love about this salad is that it can easily be modified based on what I have in the fridge. If I am out of arugula I often substitute spinach. You can easily use any salad green or kale.
Not a fan of green olives? Just use black. Or vice versa.
Though this salad dressing really complements the salad well if you are in a bind you can use whatever salad dressing you have on hand.
Not a fan of dried apricots? Try dried mango or cranberries instead.
If you want to add some protein to this salad garbanzo beans would be a great option. Or turn it into a tuna salad using canned tuna.
For a change of pace or to enhance the Mediterranean flavors add diced red onion, red peppers, cherry tomatoes, feta cheese, and an English cucumber.
If you don't have any lemons in the fridge you can substitute ¼ cup of apple cider vinegar, red wine vinegar, or balsamic vinegar.
Tips & Tricks
Keep prewashed salad greens in the fridge so salad prep is quick and easy.
Make a double batch of the dressing to use next time or use the dressing on other salads.
Store unused dressing in a Mason jar in the fridge.
Only pour the dressing on the salad as you eat it. Leftover salad already dressed gets soggy.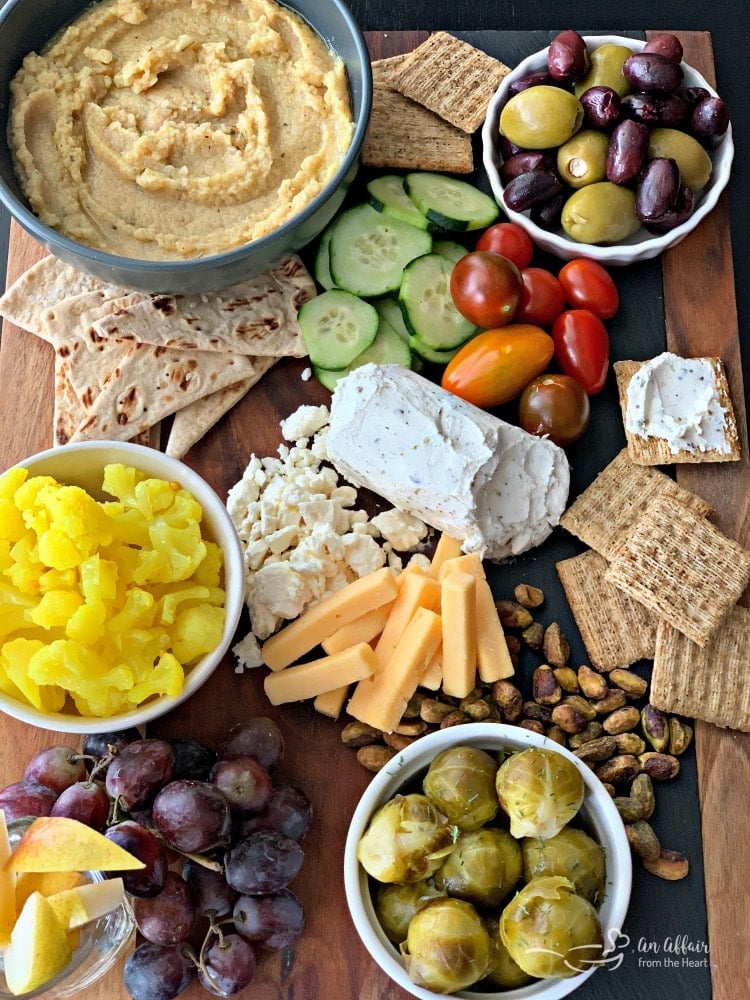 More Recipes to Love
If you love the flavors in this salad, check out these recipes: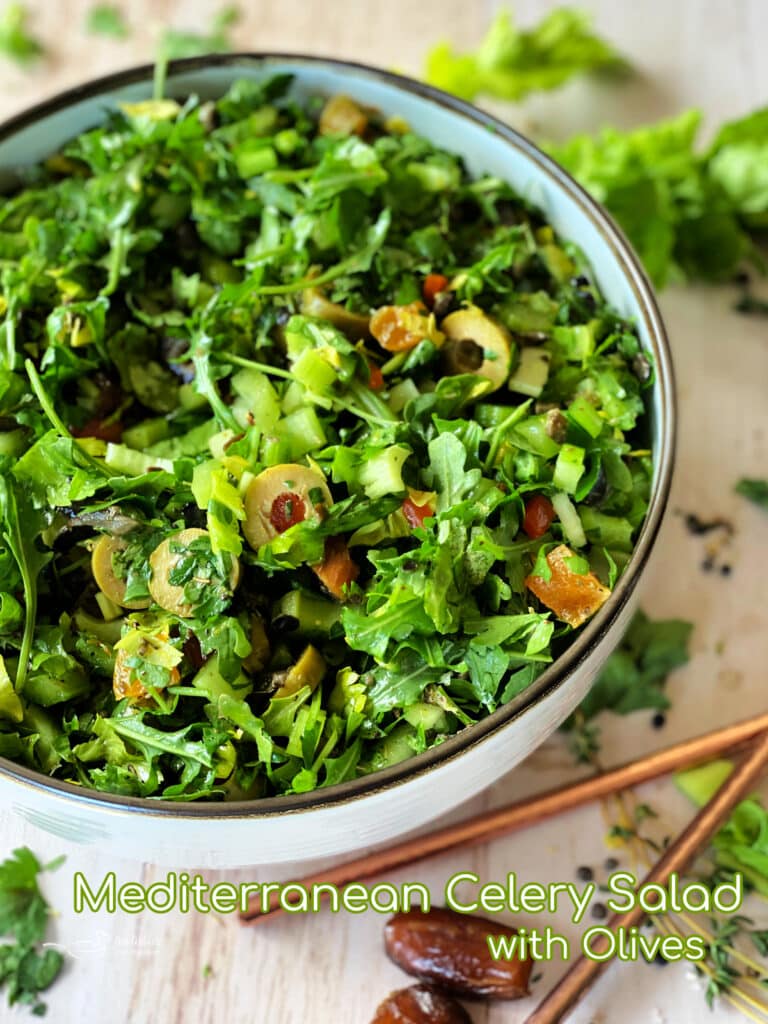 This Mediterranean Celery Salad with Olives is one of my favorite salad recipes. The combination of fresh vegetables and dried fruit can be served in many different ways. If you love real food and want to eat more of a Mediterranean diet this is definitely your kind of salad.

Yield: 6 servings
Mediterranean Celery Salad with Olives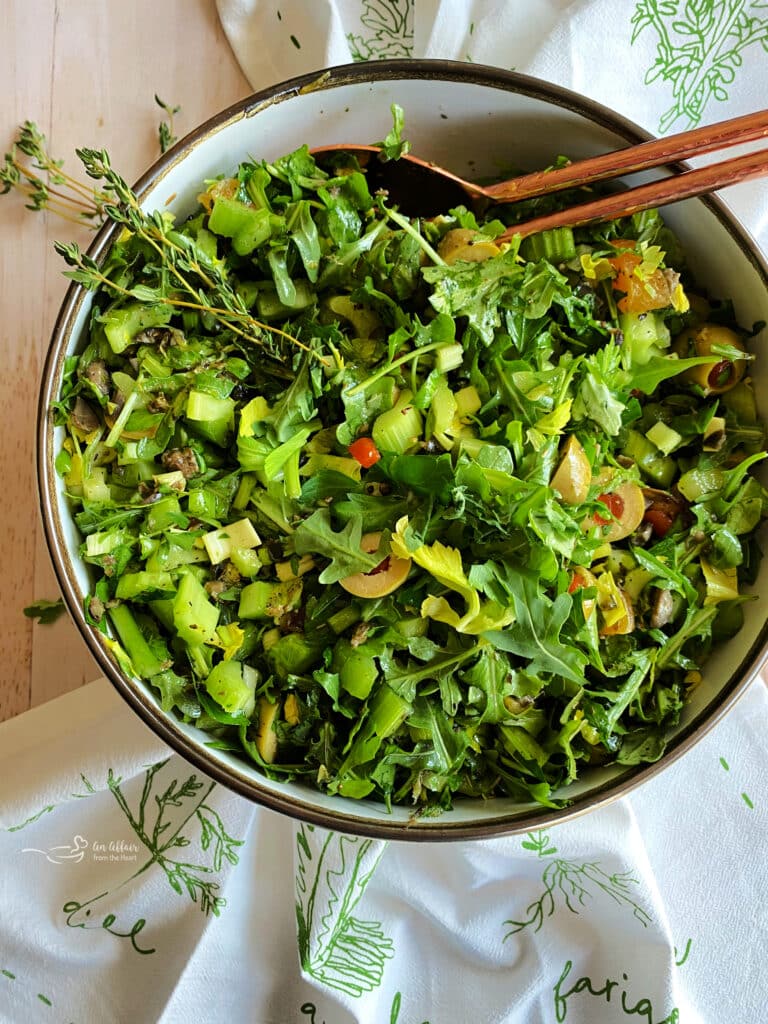 Delicious crunchy salad made with arugula, celery, olives, fresh herbs, and dried fruit. All tossed in a delightful lemon vinaigrette dressing.
Total Time
1 hour
10 minutes
Ingredients
For the Salad:
4 cups celery with leaves, sliced (about 2/3 of a big bunch)
2 cups (packed) baby arugula, roughly chopped
1/2 cup (packed) flat parsely, chopped
1 Tablespoon fresh thyme leaves
1 cup green olives with pimentos, drained and chopped
1 (4.25 ounce) can chopped black olives
1/2 cup dried apricots, chopped
1/2 cup dates, chopped
For the Dressing:
1/3 cup extra virgin olive oil
1 large lemon, zested and juiced
2 teaspoons Italian seasoning (can substitute Greek seasoning)
1/2 Tablespoon fresh tarragon, chopped
1 teaspoon coarse ground black pepper
Instructions
Prepare the dressing: Whisk together olive oil, lemon juice and zest, Italian seasoning, pepper and fresh tarragon. Set aside.
Place arugula, parsley, thyme, and celery in a large salad bowl.
Top with olives, apricots, and dates.
Whisk the dressing once more and pour it over the top of the dressing, tossing until it's coated well.
Place the salad in the fridge for one hour before serving.
Notes
This recipe is very slightly adapted from my friend, Ally at Ally's Kitchen.
Recommended Products
As an Amazon Associate and member of other affiliate programs, I earn from qualifying purchases.
Nutrition Information:
Yield:
6
Serving Size:
1
Amount Per Serving:
Calories:

236
Total Fat:

18g
Saturated Fat:

2g
Trans Fat:

0g
Unsaturated Fat:

15g
Cholesterol:

0mg
Sodium:

650mg
Carbohydrates:

20g
Fiber:

5g
Sugar:

15g
Protein:

2g
Please note that nutrition is not guaranteed accurate.

If you make this recipe, I'd love to know! Snap a picture, share the photo on social media with the hashtag #AnAffairFromTheHeart – I'd love to see what you made! – Michaela