Air Fryer Cheat Sheet (Free Printable)
As an Amazon Associate and member of other affiliate programs, I earn from qualifying purchases.
Air fryer cooking is a huge trend right now. If you are new to the air fryer I am here to help you out with my free PDF cheat sheet. This printable cheat sheet will be a handy little guide to the cooking times and temperatures for the most common air-fried foods.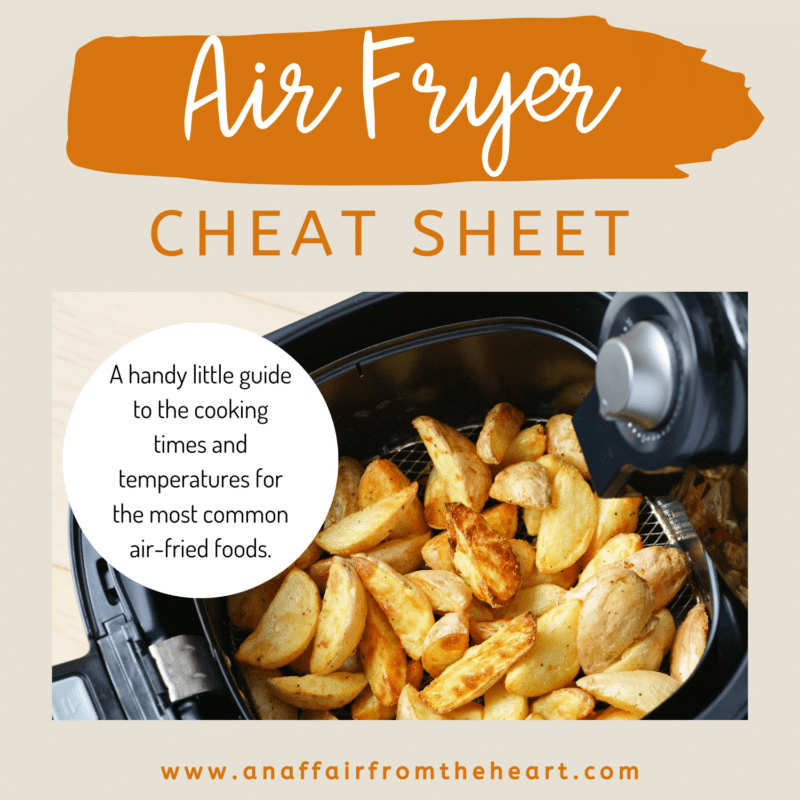 No matter if you are a new home cook or a seasoned chef, we all need a little help now and then. My air fryer cooking chart is a free downloadable printout that has air fryer cooking instructions for all of your favorite foods.

WHY YOU WILL LOVE YOUR AIR FRYER
The air fryer is a modern convenience that will save you time and clean up.
You can do so many things in the air fryer from chicken wings to mozzarella sticks. Almost anything you can cook in the conventional oven or a deep fryer you can put in the air fryer. Get that fried goodness in half the time and half the fat and calories. From onion rings to tater tots to chicken tenders….you'll have dinner on the table in no time!
Now that you have this handy reference try these easy air fryer recipes
Air Fryer Edamame Beans and Pumpkin Spice Air Fryer Biscuit Donuts

WHAT ARE THE DIFFERENT STYLES OF AIR FRYERS?
There are different types of air fryers so you may need to tweak your cook times and temperatures accordingly. This air fryer cooking cheat sheet will give you the usual cook times and temperatures, but you may need to experiment a bit with your air fryer – just as conventional ovens vary. See below for more information.
Basket-style – This style is ideal for large batches of foods like french fries and vegetables that need shaking halfway through the cooking time. I use a basket-style air fryer, so my cheat sheet is perfect for this type.
Oven-style – This air fryer is perfect for cooking different foods at the same time as they have multiple shelves. Oven-style air fryers circulate their air slightly differently, so you may need to adjust cook times and temperatures a bit.
Toaster oven-style – Similar to oven-style but can also include features to toast, bake, and broil. This is great if you are trying to minimize the number of appliances in your kitchen.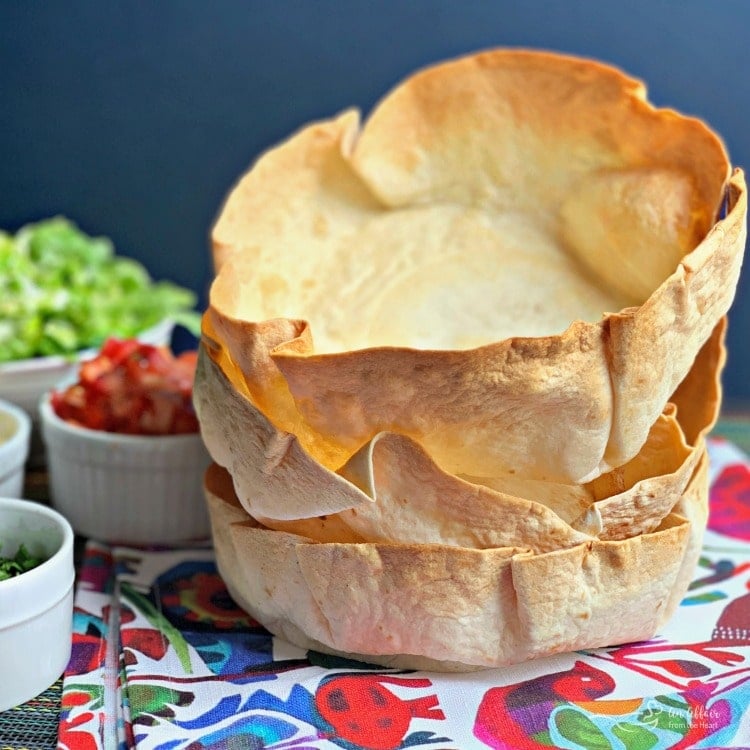 OTHER THINGS TO KNOW ABOUT YOUR AIR FRYER OVEN
Keep in mind that air fryers come in different wattages. Lower wattages, such as 1400 watts will cook slower than a higher wattage fryer such as 1800 watts. A lower-wattage oven may not get food quite as crispy, so you may need to alter your temperature setting and cooking time.
Air fryers come in all sizes and that space inside your air fryer will also affect how it cooks and crisps up food. A small air fryer will not likely cook exactly the same as an extra large one, so again, you may have to tweak the time and temperature.
WHAT ARE THE 5 BEST AIR FRYERS?
These are my air fryer recommendations as these brands have great reviews:
Cosori Air Fryer Max
Instant Vortex Air Fryer
Ninja Air Fryer
Cuisinart Air Fryer Oven
Breville Smart Oven Air Fryer
Is your air fryer listed? What are your favorite air fryers?
HOW DOES AN AIR FRYER WORK?
An air fryer is a much smaller space than a conventional oven and uses circulating hot air, therefore it cooks the food much faster.
HOW DO I CONVERT AN OVEN RECIPE TO AN AIR FRYER RECIPE?
Since an air fryer cooks faster you will need to adjust the temperature and the time. Generally, you will lower the temperature by 25 degrees and reduce the cooking time by 20-25%. For example, if a recipe calls for 400 degrees for 20 minutes in the oven, you would alter it to 375 degrees for 15 minutes in the air fryer.
CAN I AIR FRY FROZEN FOOD?
Yes! My cheat sheet specifically addresses common frozen foods cooked in the air fryer. However, if you are cooking other frozen foods not specified on my PDF, add a few more minutes to your cooking time – generally about 5 more minutes.

AIR FRYER HACKS
No matter what style of air fryer you are using, they require minimal cleanup, which is one of the main benefits to using them. Most parts of the air fryer are also dishwasher safe if you don't want to hand wash. But, for even easier clean-up, coat the bottom of your air fryer basket with a little bit of oil such as peanut, avocado or vegetable oil. You can also line the bottom of your basket or shelf with parchment paper or foil. Just make sure it is securely weighted down (by food) or attached to the bottom. This will catch extra crumbs and liquid and make clean-up a breeze. Just toss it out when you are done cooking.
The beauty of an air fryer is you get all the crispiness of fried food without the greasy mess and extra fat and calories. To mimic that deep fried goodness, use an oil sprayer to lightly coat food – I recommend using EVOO for its health benefits and flavor.
Did you know you can make hard boiled eggs in the air fryer? Set cold eggs in a single layer in your basket and preheat to 250 degrees. Cook for about 15-16 minutes. Your eggs should be easy to peel too!
How about bacon in the air fryer? I don't know about you, but I hate the mess of bacon in a pan or cookie sheet. You can air fry your bacon in a single layer at 350 degrees for 8-12 minutes depending on how crispy you like it. And once again, EASY clean-up!
For the best results with frozen vegetables, I recommend thawing your veggies first. The least amount of water in your vegetables will result in a crispier texture.
You can reheat leftovers in the air fryer to help bring them back to their original texture. This works especially well with pizza and foods that were originally fried, such as chicken nuggets and french fries.
When cooking meat, it is a good idea to always check the internal temperature with a meat thermometer.

Love it? Pin It!
Keep this cheat sheet at your fingertips and make sure that you don't lose it! Pin it to your favorite Pinterest recipe board before you go!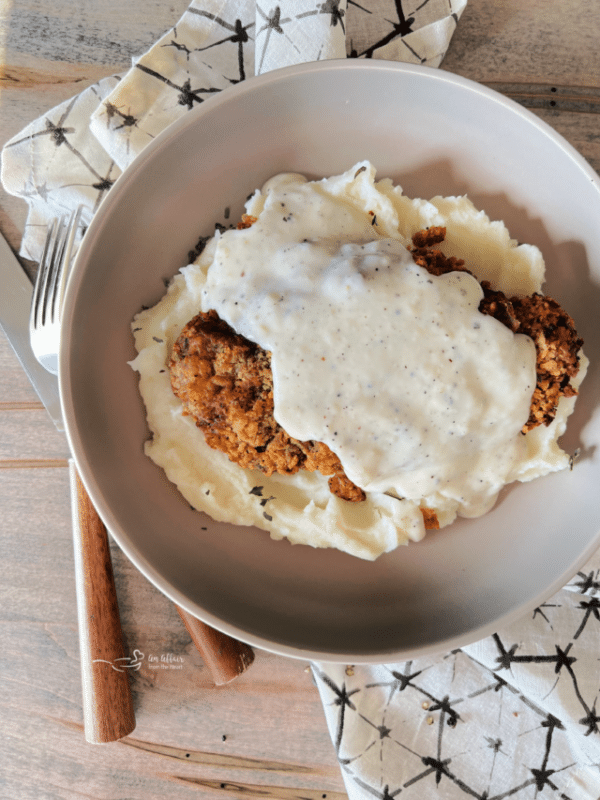 Delicious Air Fryer Recipes
Here are a few recipes for snacks and meals you can prepare in the air fryer: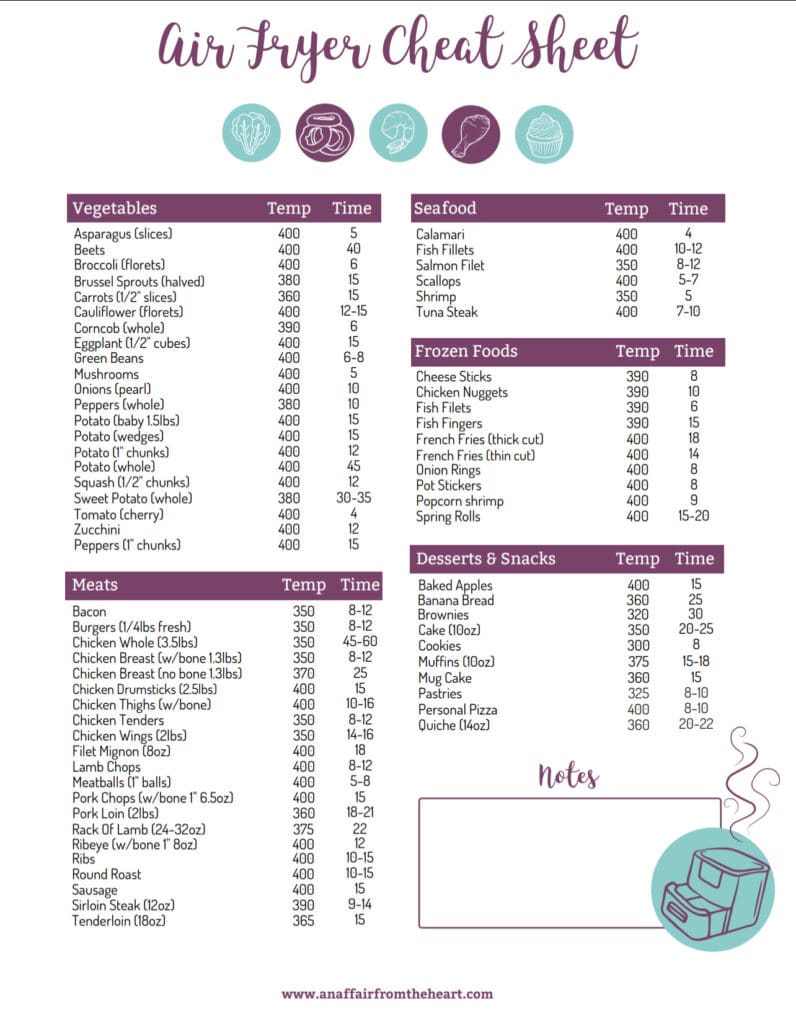 FREE AIR FRYER COOKING TIMES PRINTABLE
Click here for my handy printable cheat sheet. Then simply use the print option from your computer. Keep this convenient sheet where it is easily accessible.
Please know that I made these for my readers, and they are printable, but are copyright protected and cannot be used for commercial use or resold.
See More Printable Cheat Sheets:
In addition to my printable air fryer cheat sheet, you can find these free quick reference downloadable handy references:
Baking Conversions – Don't have the right-sized baking pan for what the recipe calls for? This sheet helps you substitute something you have on hand.
How Many Slices in a Cake? – Depending on the size and shape of a cake, this sheet helps you determine how many slices you can serve.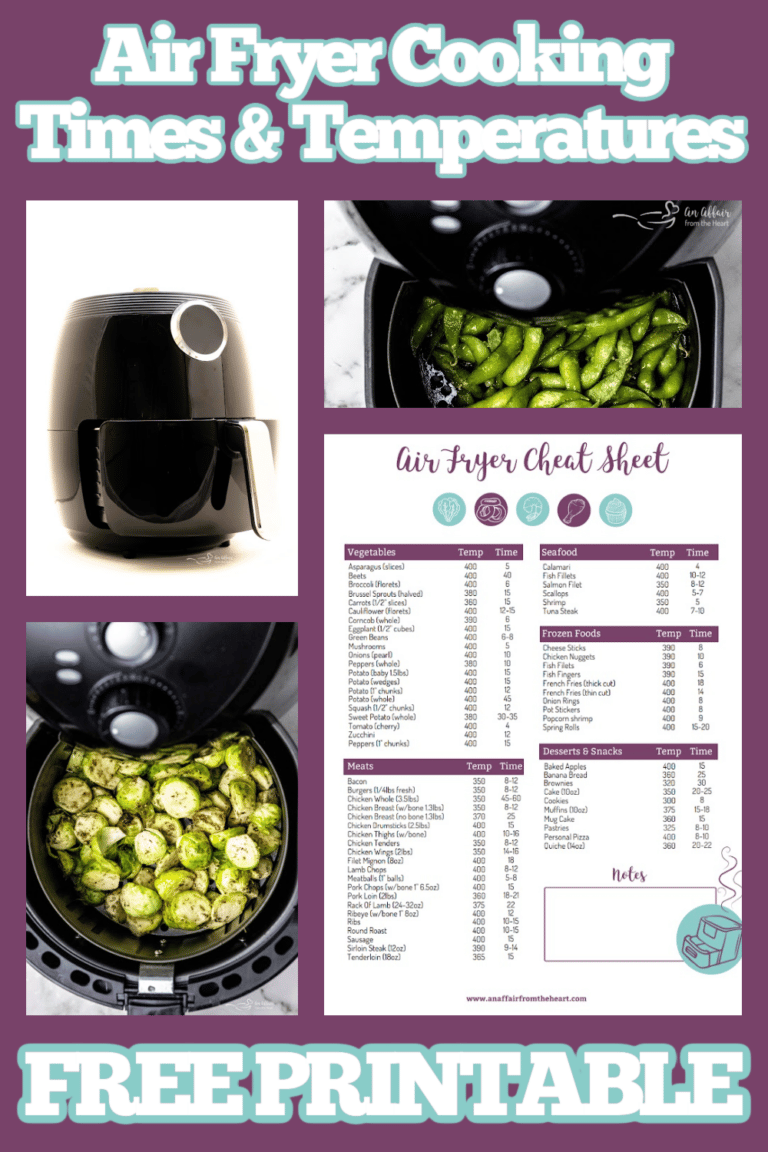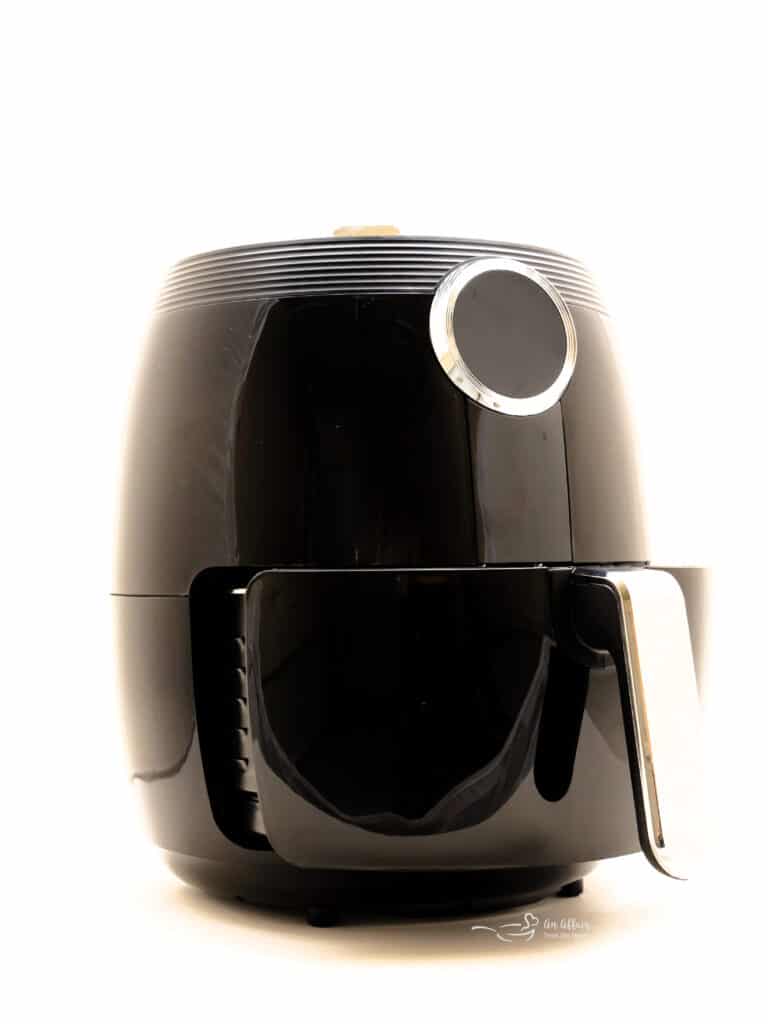 I encourage you to make the air fryer your friend. You can make delicious food for any occasion using my Air Fryer Cheat Sheet!
Happy Air Frying!