How Many Slices in a Cake? (with Printable Cheat Sheet)
As an Amazon Associate and member of other affiliate programs, I earn from qualifying purchases.
How many slices in a cake is one of those things you don't really think about. Not until you are standing there, the cutter in hand, counting the number of servings and the number of guests so that everyone gets a slice. Then of course you might have to deal with those folks that want a generous portion, or a smaller cake slice. Or pretend to want a small slice and really want a big one.
That is when it helps to have an idea of how to approach cutting the cake. But just to take any guesswork out of the equation, there is a printable guide in this post to make it a no-brainer.

How to cut different shapes and sizes of cakes
Back in the day, at weddings, it seemed that the aunts were always the ones to cut the cake. I will admit that I got really nervous when my nieces and nephews started getting married! The thought of having to cut someone's wedding cake into the right serving size so everyone got a slice of cake that wanted one, was a little daunting. Thank goodness it seemed I was always given a different role at their weddings. Whew!
Figuring out how to cut the cake
Of course, the first consideration is what size cake needs cutting? Is it a round, square, or rectangular cake? Depending on the size of the cake, there are basic strategies for getting reasonably even-sized slices. Because, no matter the number of slices in a cake, making even-sized cuts is best. That is the fairest way to go!
With a small round 6″ diameter cake, one slice across the middle, then two more slices to divide each side into thirds, results in 6 even slices of cake. But the bigger the cake, the more slices to make, which is where my printable guide comes in super handy! (And it works for cutting pies too of course)
Basic tips for getting even slices in a cake
Getting great cake slices depends upon the cake to cut. Is it an angel food cake or a wedding cake? Is it a frosted or naked cake? Is it a layer cake with a large number of cake layers, or a sheet cake?
Use the right knife or cake cutter for the job. A long thin knife if best for cakes with frosting, but a serrated knife, like a tomato knife, is better for cakes without frosting, like angel food cakes and coffee cakes.
Measure your cuts first by just running a light scoring style cut across the top of the cake. Not too deep a cut, just enough to set your guidelines for the full cuts.
Be gentle and patient. You don't need to hack at it. Just run the blade across with a smooth, firm stroke. Cut slowly to avoid pulling away chunks so you get clean and consistent-looking slices.
With dense cakes like cheesecake or a chocolate ganache, heat the blade first. You can run it under hot water for a minute first, then dry it quickly and make your cuts.
It is tempting to cut with the cake serving spatula, and some are made for cutting too, but using a knife works much better.
If your knife has a bunch of frosting on it then wipe it with a paper towel between cuts. That helps keep it looking tidy… And makes sure no one gets more or less frosting on their piece. We all know where that can lead!
Affiliate Link Disclosure: Some of the links you will see on An Affair from the Heart are affiliate links, meaning that, at no cost to you, I may earn a small commission if you click through and make a purchase.
COMMON CAKE PANS
When it comes to cake baking, different recipes will call for different cake pans. If you are baking a cake recipe from my website, I will suggest what specific pan size to use, and even mention if a different pan can be used in its place. Here are some standard baking pans for the home baker. Maybe it's time to add different shape pans to your collection!
Other Cake Cutting Tools
Visit my Amazon Store for great gift ideas for the baker in your life. (even if it's you!)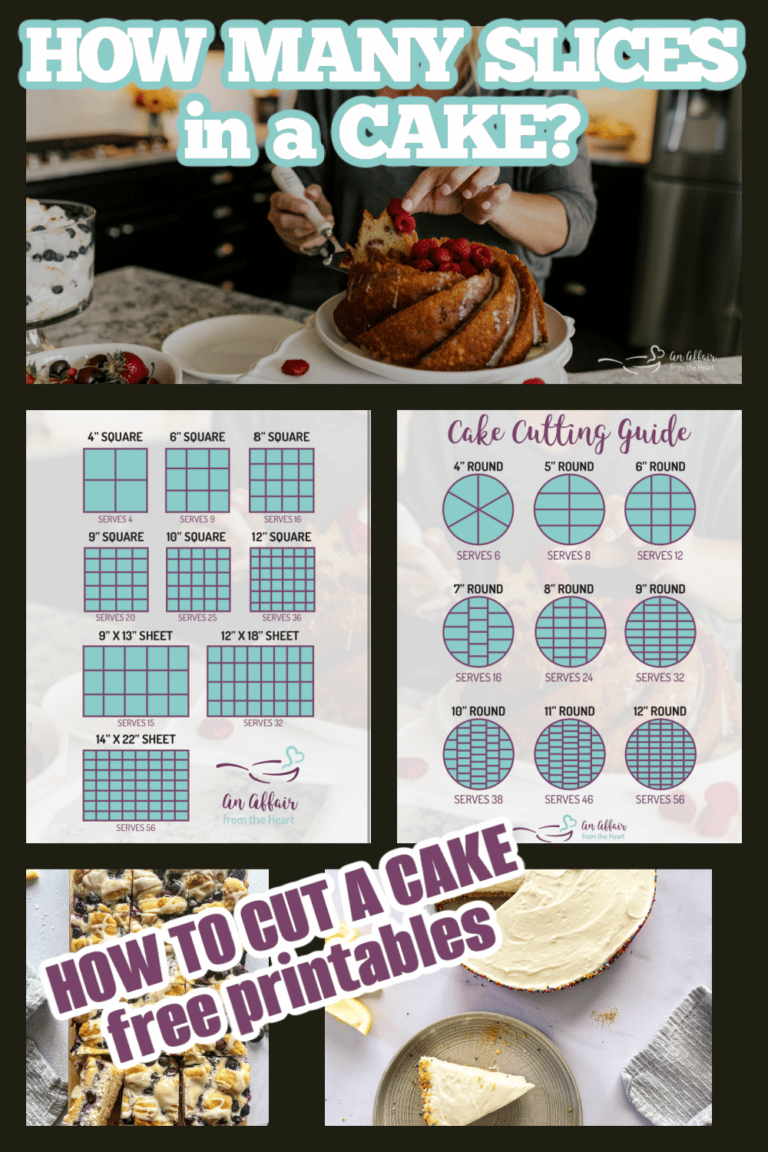 Love it? Pin it!
Don't forget where you found this handy guide on how to cut a cake! Pin it to your favorite Pinterest baking board before you go!

Cutting will be a piece of cake with this handy printable guide!
So, from here forward you will never have to second guess if you have enough cake. Whether you want to serve smaller slices or generous sizes, this cake cutting guide will have you cutting any shape or size of cake like a pro! I have made it super simple for you, just click this PDF link and you can print the free baking pan conversion chart.
Please know that I made these for my readers, and they are printable, but are copyright protected and cannot be used for commercial use or resold.

Other Kitchen How To's & Kitchen Hacks
I have an entire section of "How To's" on my website to browse! Here are some highlights:

Cake recipes to check out
Ready to practice and see how many slices in a cake you can get? Here are some of my favorite cake recipes: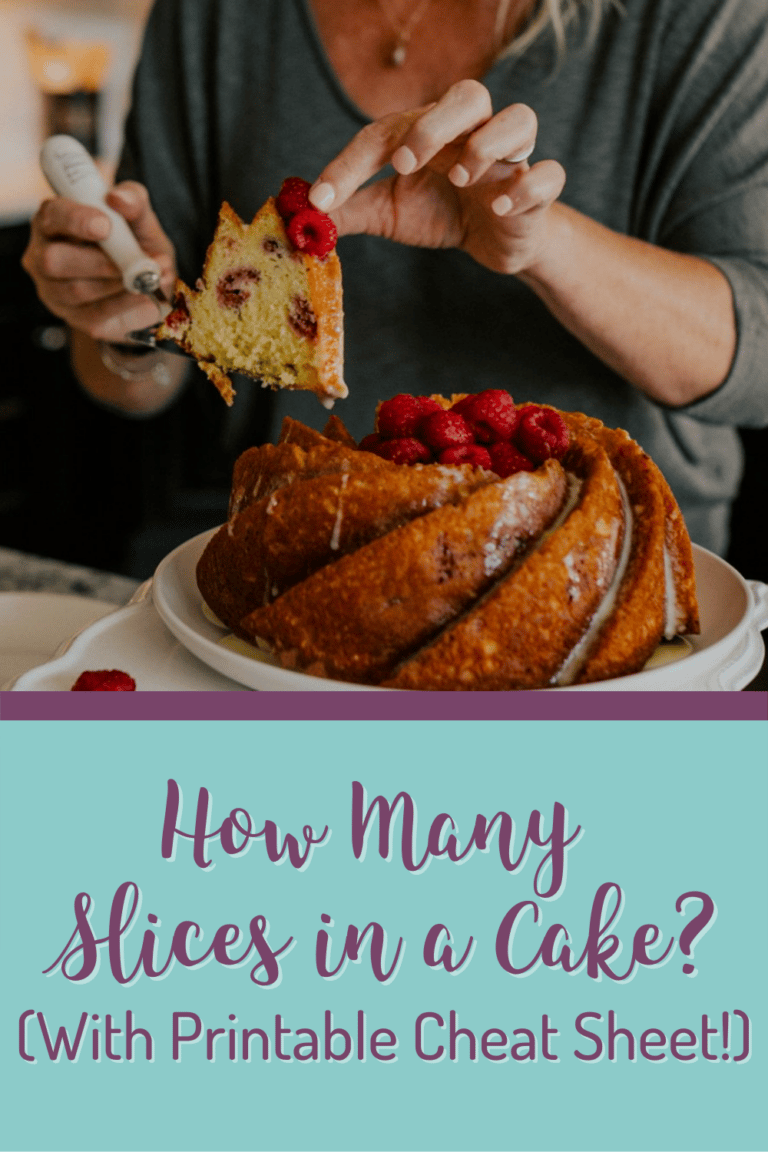 Enjoy this free cake-cutting guide!