Buttermilk Substitution
As an Amazon Associate and member of other affiliate programs, I earn from qualifying purchases.
I never seemed to have buttermilk when I needed it, so I always ended up making my own Buttermilk Substitute. These days, I just don't buy buttermilk at the store, because making it is so simple! All it requires is milk, and either lemon juice or white vinegar, and about 10 minutes of your time!
It used to be that I would look at the ingredients of a recipe and see that it contained buttermilk and I would think "welp, better find another recipe, because I don't have any buttermilk on hand." That was until about 10 years ago when I learned that you can make a buttermilk substitute from milk.
So these days, when I want to whip up that coffee cake, bread some chicken or make some homemade Indian fry bread, I don't sweat it. I just mix up a little buttermilk replacement before I begin.
What is a buttermilk substitution?
Buttermilk is a type of fermented milk product. You can easily make a buttermilk substitute with a bit of lemon juice or white vinegar. The acid in either will instantly begin to curdle and ferment your milk, so in ten minutes, voilà! You don't have to run back out to the grocery store to pick up some buttermilk.
What is buttermilk anyway?
Buttermilk in the traditional sense is the leftover liquid that separates during the process of churning butter. That isn't what you buy in the store that comes in a carton in the milk section. The stuff in the carton called buttermilk is actually milk that has been fermented with active cultures. Those friendly little bacteria help give the milk that special tang.

How to Make a Buttermilk Substitution
I typically reach for a fresh lemon if I have one, or real lemon juice from the fridge if I don't. But if you don't have either of those, white vinegar also does the trick when you are whipping a substitute for buttermilk when you are baking.
Combine the milk with either the lemon juice or the vinegar and let it stand for about 10 minutes. You will see when it works, I promise!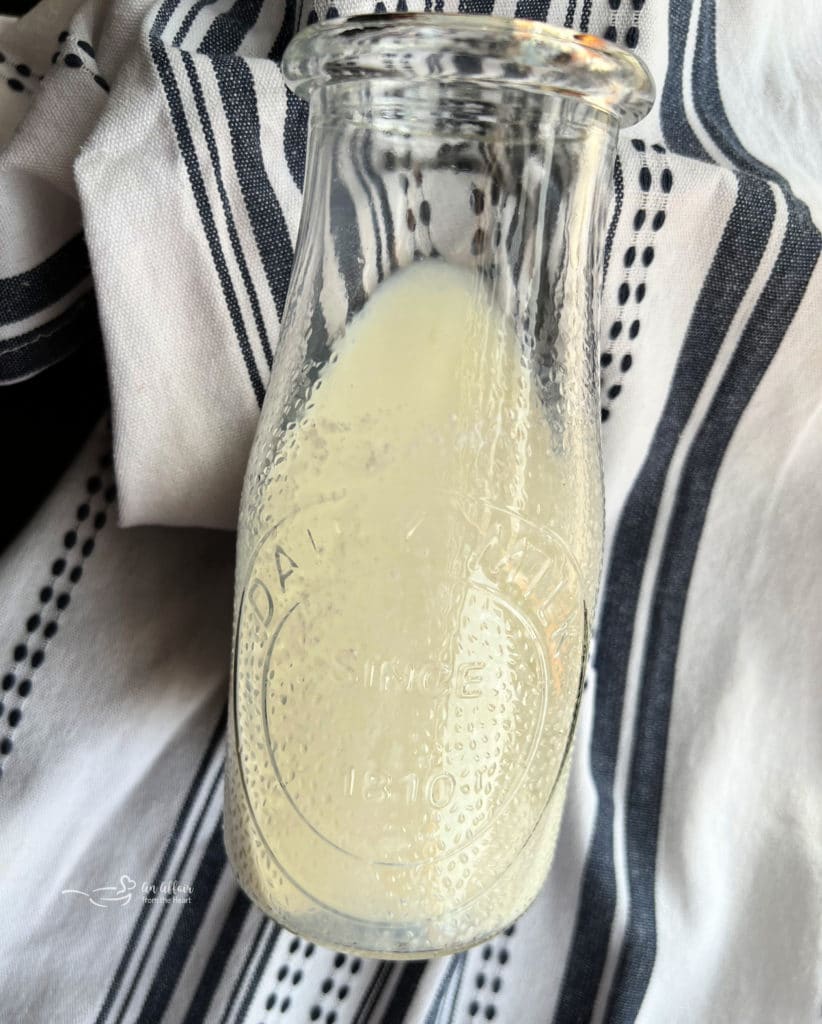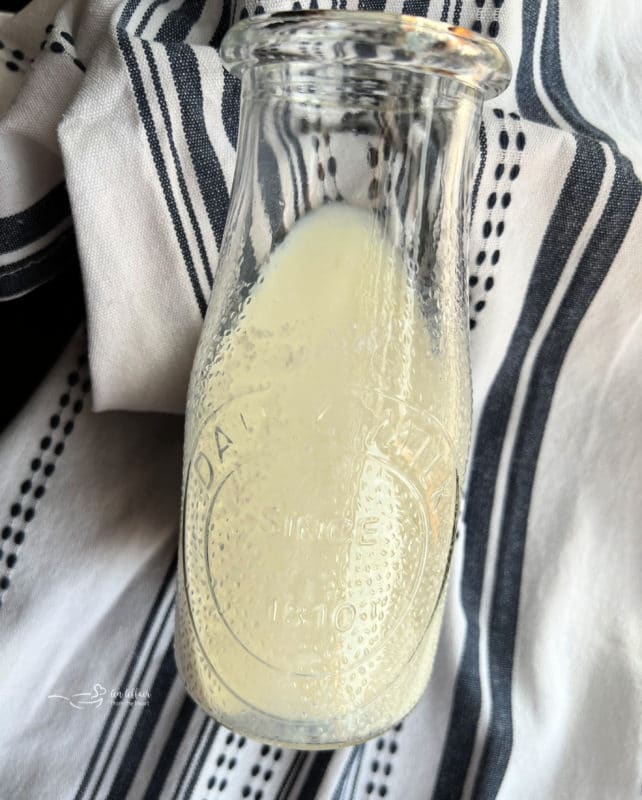 What Kind of Milk to use for a Buttermilk Substitution
Use whatever milk you have on hand. It's the tanginess you are wanting to achieve.
That means, that if you are looking to lighten the calories, you can use that skim milk or even non-dairy or vegan milk for those types of dietary needs.

How do you use homemade buttermilk substitution?
When you make homemade buttermilk you use it in the same proportions that any recipe calls for. This buttermilk substitute recipe makes 1 cup of buttermilk alternative. If you need less, cut the recipe, more double it. You get the idea.
Can I store my homemade buttermilk substitute?
If you store your homemade buttermilk then get ready for it to turn into curds and be more like ricotta cheese. In this case, don't bother storing it. Just make as much as you need for the recipe. Unless you love homemade ricotta. In that case, go for it!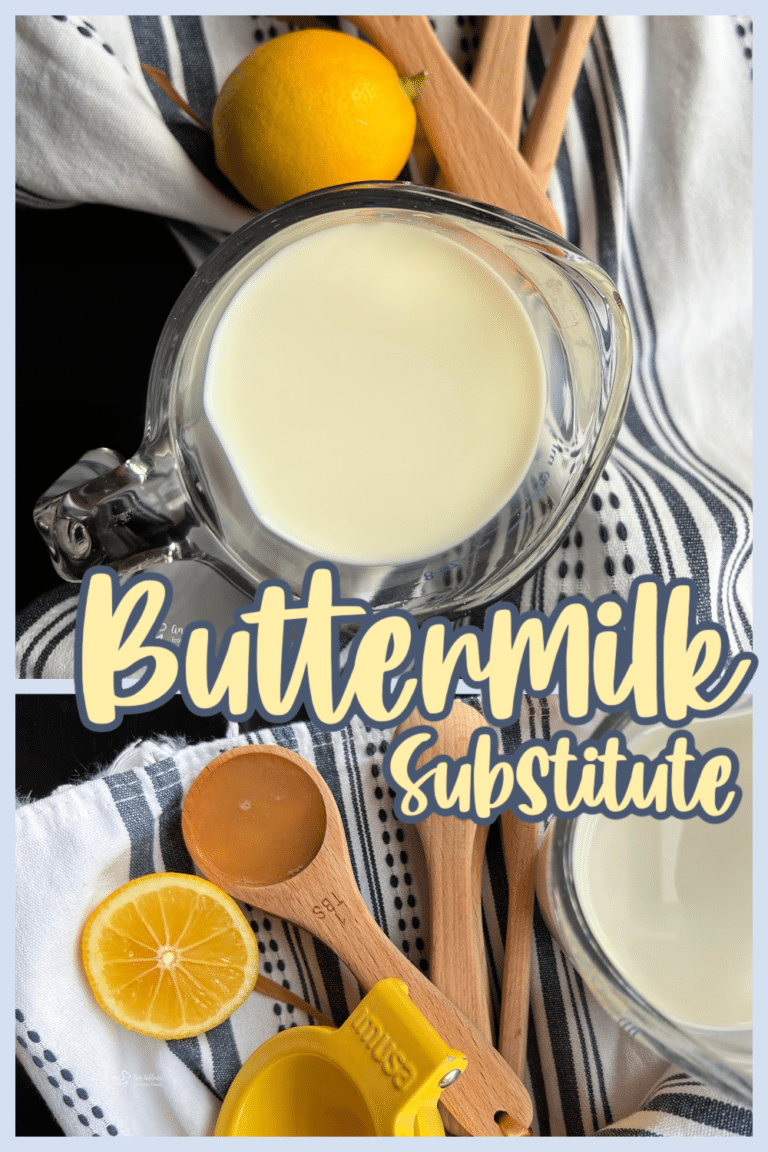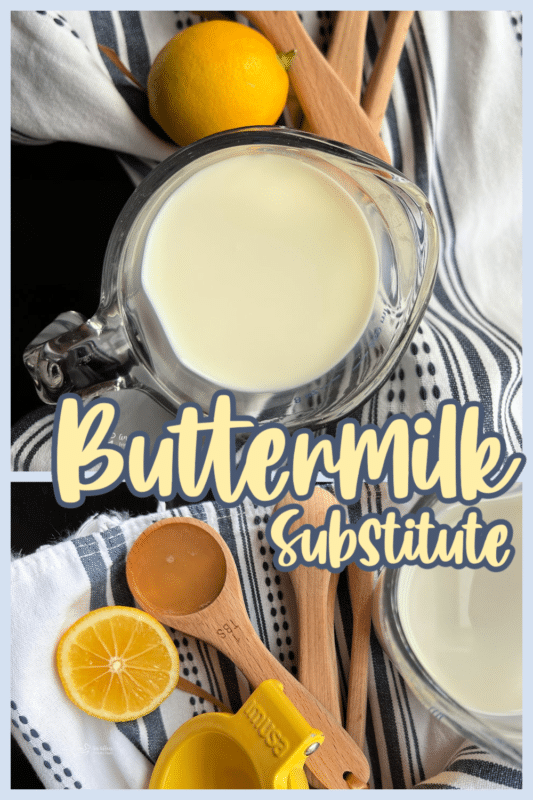 Love it? Pin it!
Don't forget where you found this handy substitute! Pin it to your favorite Pinterest recipe board so you can find it easily the next time you need a substitution for buttermilk!

What recipes can I use buttermilk substitute in?
Buttermilk always adds a special tangy touch to so many recipes. It is pretty much the "secret" ingredient in making things like pancakes and biscuits taste better. But there are a lot more ways to use it! Here are some favorites of mine: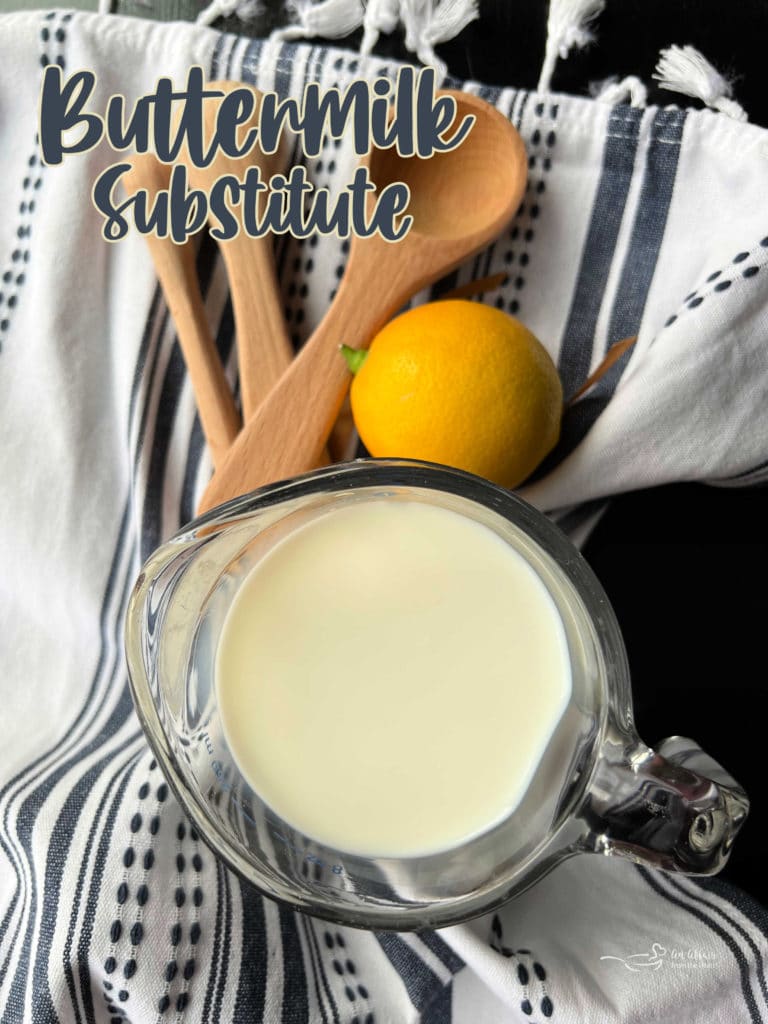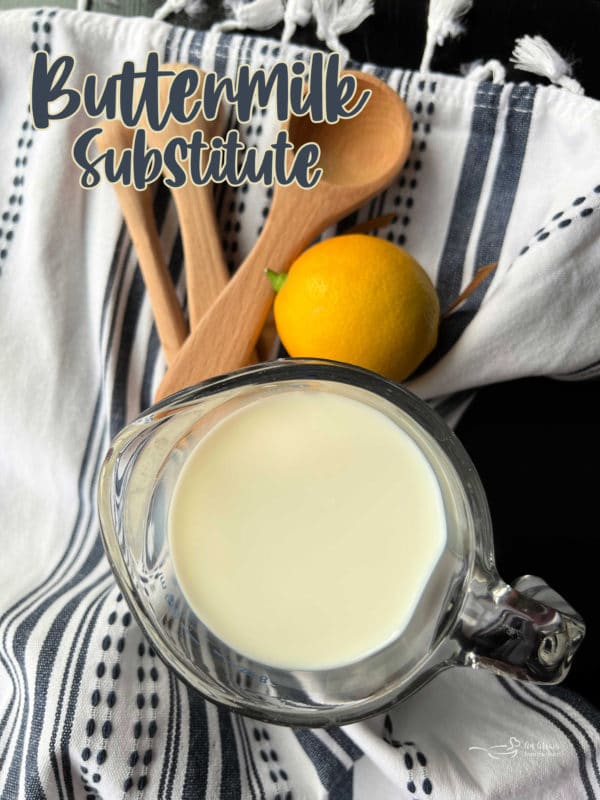 Let's whip up some buttermilk substitute!

Yield: 1 cup
Buttermilk Substitution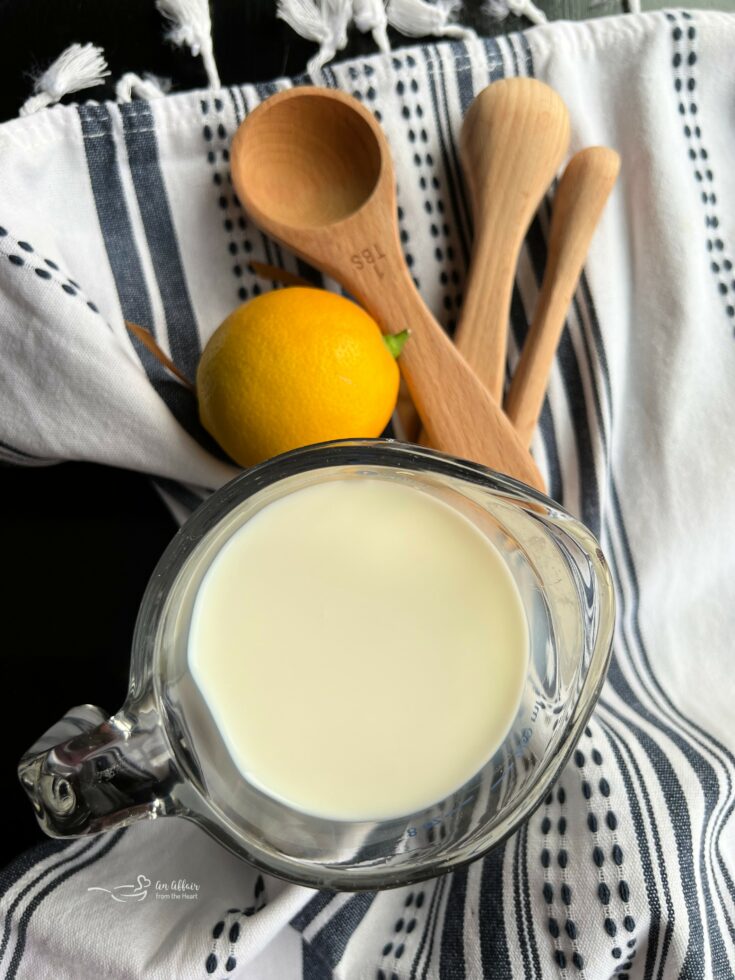 I never have buttermilk when I need it, so I always end up making my own!
Ingredients
1 scant cup of milk
1 Tablespoon of either lemon juice OR white vinegar
Instructions
Pour vinegar OR lemon juice into one scant cup of milk.
Let stand for 10 minutes. The milk will begin to curdle.
Notes
Use in recipes that call for buttermilk.
Recommended Products
As an Amazon Associate and member of other affiliate programs, I earn from qualifying purchases.
Nutrition Information:
Yield:
1
Serving Size:
1
Amount Per Serving:
Calories:

130
Total Fat:

5g
Saturated Fat:

3g
Trans Fat:

0g
Unsaturated Fat:

2g
Cholesterol:

20mg
Sodium:

131mg
Carbohydrates:

13g
Fiber:

0g
Sugar:

0g
Protein:

9g
Nutrition isn't always accurate.
This recipe was originally posted on February 22, 2015. It has been updated to improve user experience and reshared on February 17, 2022.