Crispy "Oven-Fried" Chicken in a Biscuit Sandwiches
As an Amazon Associate and member of other affiliate programs, I earn from qualifying purchases.
These super crispy, super flavorful chicken breasts are prepared with only a couple ingredients, no frying, baked in the oven, and served on a flakey biscuit. Crispy Oven Fried Chicken in a Biscuit Sandwiches are a fast, family friendly recipe that will have dinner on the table in about 30 minutes!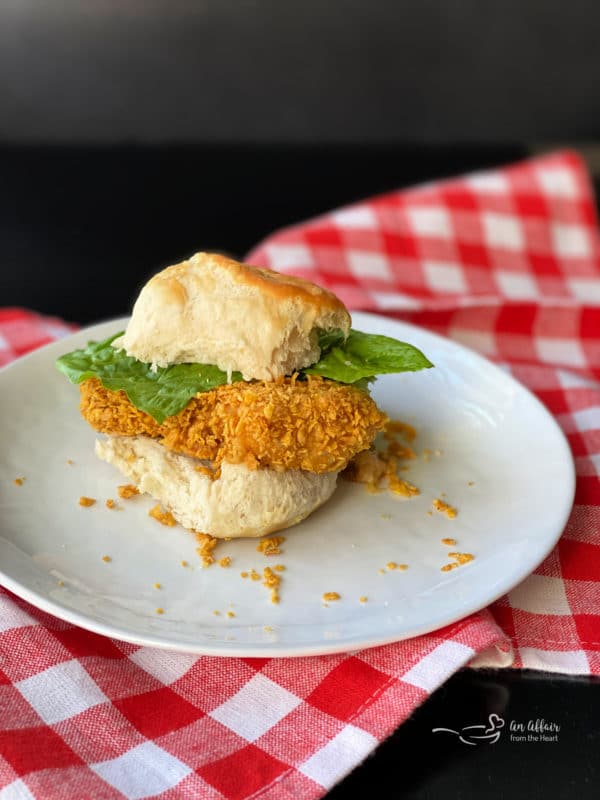 I originally posted these Crispy "Oven Fried" Chicken in a Biscuit Sandwiches back in 2015.
I was sitting in the waiting room while my son had his orthodontist appointment. Glancing over to the magazine rack, I see a Woman's Day magazine with the most delicious looking sandwich on the front.
Looking to see what page it's on in the contents, I began quickly turning pages to see how to make it, only to find that someone had ripped them all out! Like "C'Mon, MAN!!".
I guess you could say that this is a pet peeve of mine. Back in the days before EVERYONE carried a cell phone, I could see wanting to do this, maybe even feeling bad about it, but quietly tearing it out.
These days? You are able to just snap a photo of it with your phone, and let someone after you be able to do the same.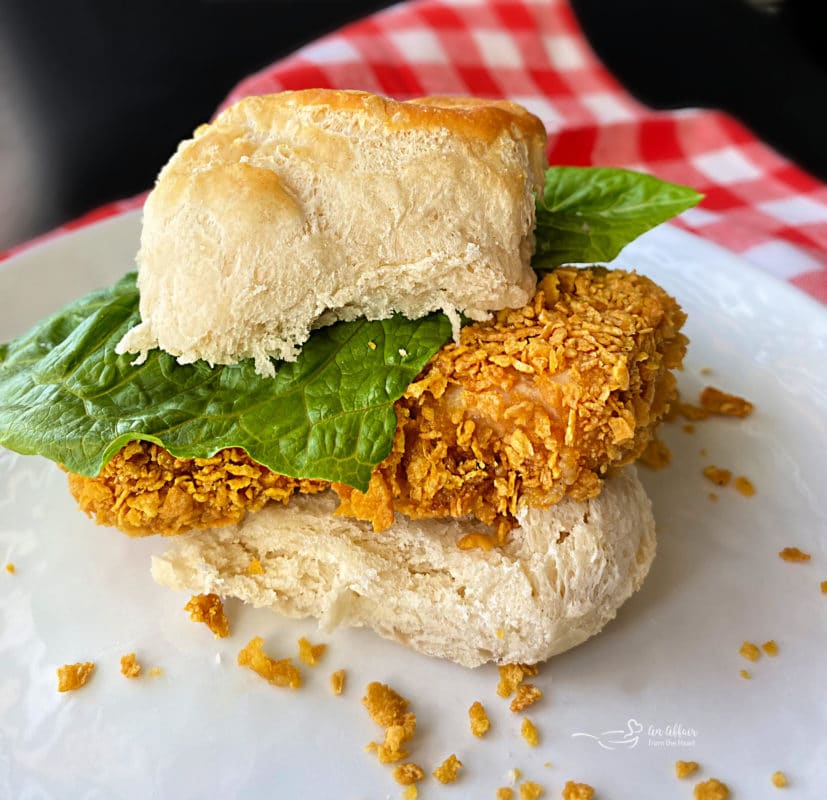 The Hunt for the Chicken in a Biscuit Sandwich Recipe
Lucky for me, that with technology being the way it is, I took that same cell phone, the one I was going to use for the photo, and googled the sandwich on the cover of the magazine and it took me to the recipe.
The original recipe for the sandwich came from the March 2015 Woman's Day Magazine. I switched it up just a little bit, and they have been a family hit ever since.
Pin them before you go!
Don't forget where you found this simple family-friendly 30-minute meal. Pin this chicken sandwich recipe to your favorite Pinterest recipe board before you go!
SOME OF THE ITEMS BELOW CONTAIN AFFILIATE LINKS; I AM A PARTICIPANT IN THE AMAZON SERVICES LLC ASSOCIATES PROGRAM, AN AFFILIATE ADVERTISING PROGRAM DESIGNED TO PROVIDE A MEANS FOR US TO EARN FEES BY LINKING TO AMAZON.COM AND AFFILIATED SITES. I AM ALSO AN AFFILIATE FOR OTHER BRANDS. HOWEVER, I ONLY PROMOTE THINGS THAT I LOVE AND THINK YOU WILL LOVE, TOO. FOR MY ENTIRE DISCLOSURE POLICY PLEASE

CLICK HERE

.
30 Minute Chicken in a Biscuit Sandwiches
Fast forward to 2020. We are in the middle of a pandemic, and I am doing my best to make only a couple of trips to the grocery store a month. Simple meals are key.
The other thing that is key for us? Having some leftovers. With the kids home and eating 3 meals a day, plus snacks – I need to make food stretch!
These sandwiches use one chicken breast to make two sandwiches. If they are big breasts, you could totally make them stretch even further.
They use buttermilk, (don't have any? you can easily make your own!) corn flakes, cayenne pepper, garlic powder, salt, and a can of refrigerated biscuits.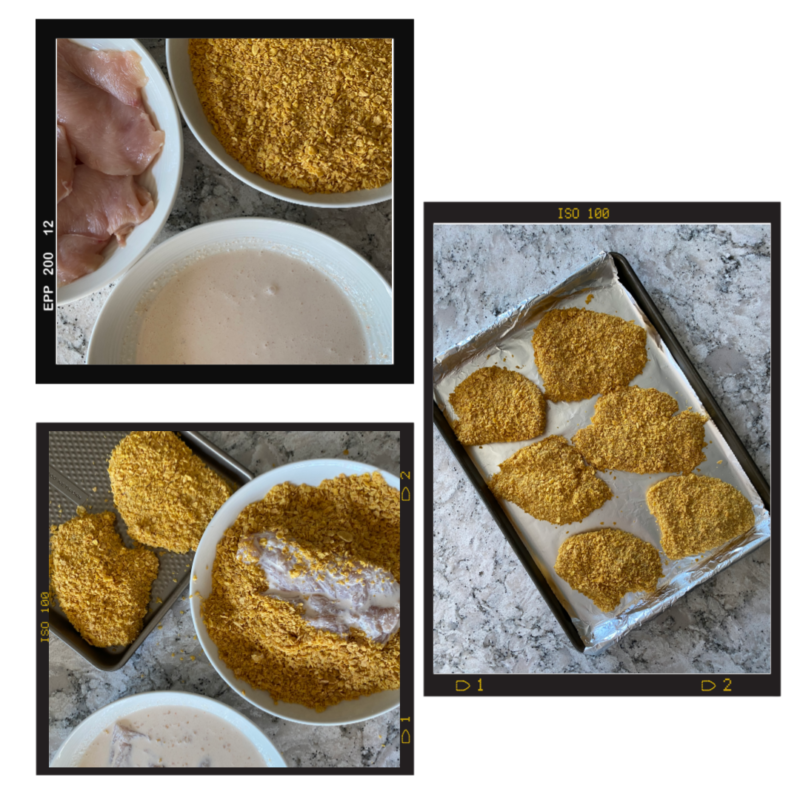 First, bake your biscuits. Then slice your chicken breasts horizontally. Combine the buttermilk with the spices, and crush the corn flakes.
Next, dip each chicken breast into the buttermilk, and press them into the cornflakes. Make sure you get them coated well!
Finally, place them on a baking sheet lined with non-stick foil. Bake until the internal temperature is 165 degrees F.
Place the chicken on sliced biscuits and top however you like. We use mayo and lettuce.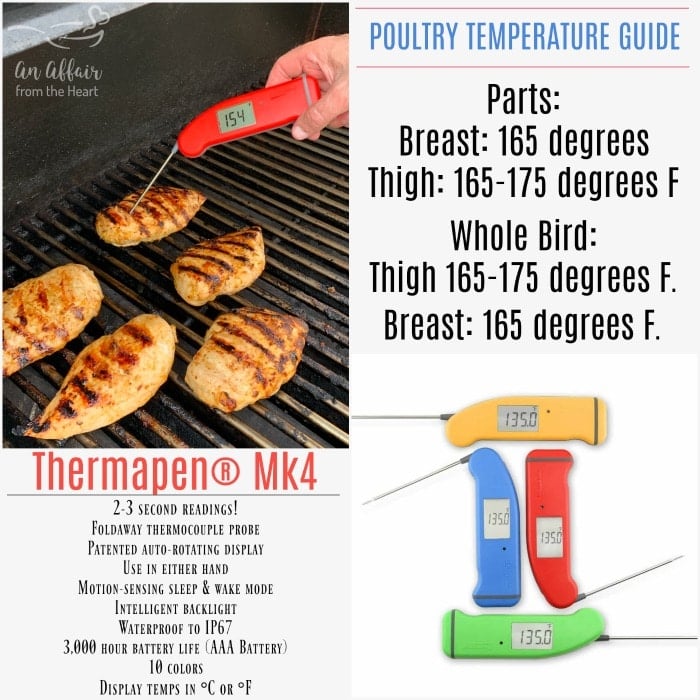 Biscuits for Serving Chicken Sandwiches
The first time I posted this recipe, I was able to purchase the Pillsbury Grands biscuits. This time, however, they were sold out. So, that is why my chicken looks a little oversized for the "bun."
But in times like these, we make do with what we have, right? Grocery shopping is a challenge for everyone, and I am sure you understand that.
As I mentioned earlier, you could very easily slice a large chicken breast in half horizontally, then in half again to make smaller pieces for smaller biscuits, or simply just to make more sandwiches with less chicken.
Of course, I will never discourage you from making your own Homemade Buttermilk Biscuits!
Baking Chicken vs. Frying Chicken
I promise you that I was skeptical about the breading on these chicken breasts getting anywhere near as crispy in an oven as frying chicken would. But this recipe proved me wrong!
The exterior of the chicken breast is light and crispy, and the inside is perfectly juicy. Every time.
We loved it so much I use the same technique for these chicken tenders, too! If you are a dark meat lover, this recipe works well with chicken thighs, too. Just be sure to note the internal temperature on thighs can range anywhere from 165-175 degrees.
What to Serve with Crispy Chicken in a Biscuit Sandwiches?
We love serving these sammies with a side of Copy Cat KFC Cole Slaw. Other ideas would be my Tomato Cracker Salad, Pea Salad with Cauliflower, Homemade Baked Potato Chips, or my Mom's Macaroni Salad!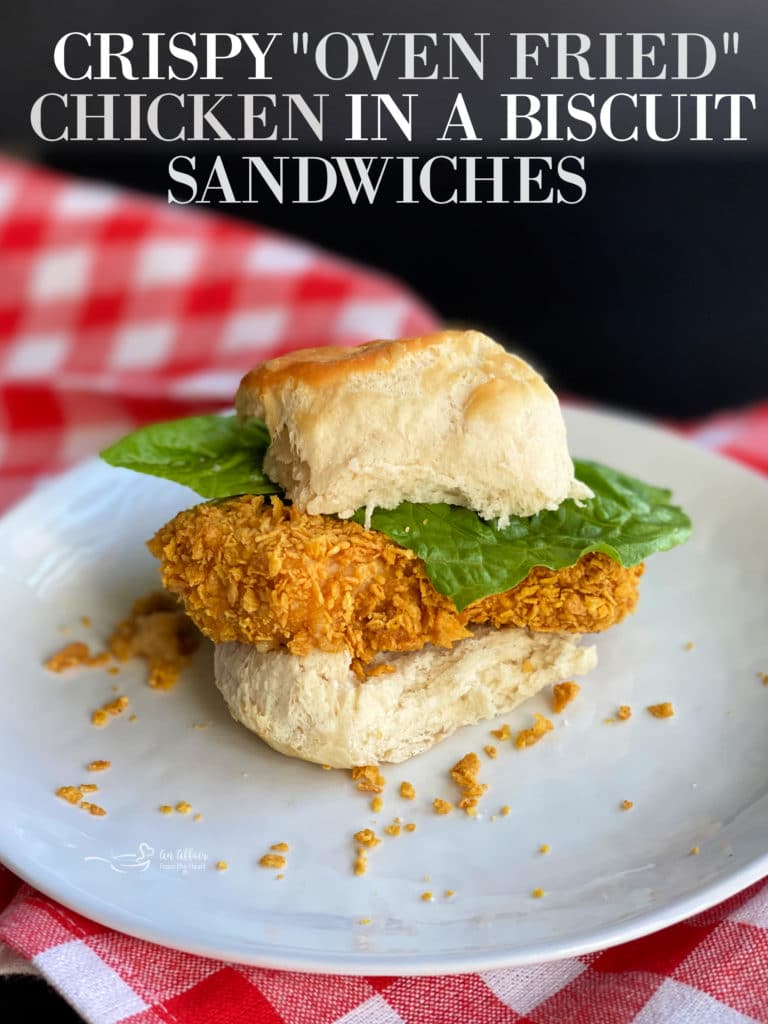 Let's get to this Chicken Sandwich recipe!!

Yield: 8 sandwiches
Crispy "Oven-Fried" Chicken in a Biscuit Sandwiches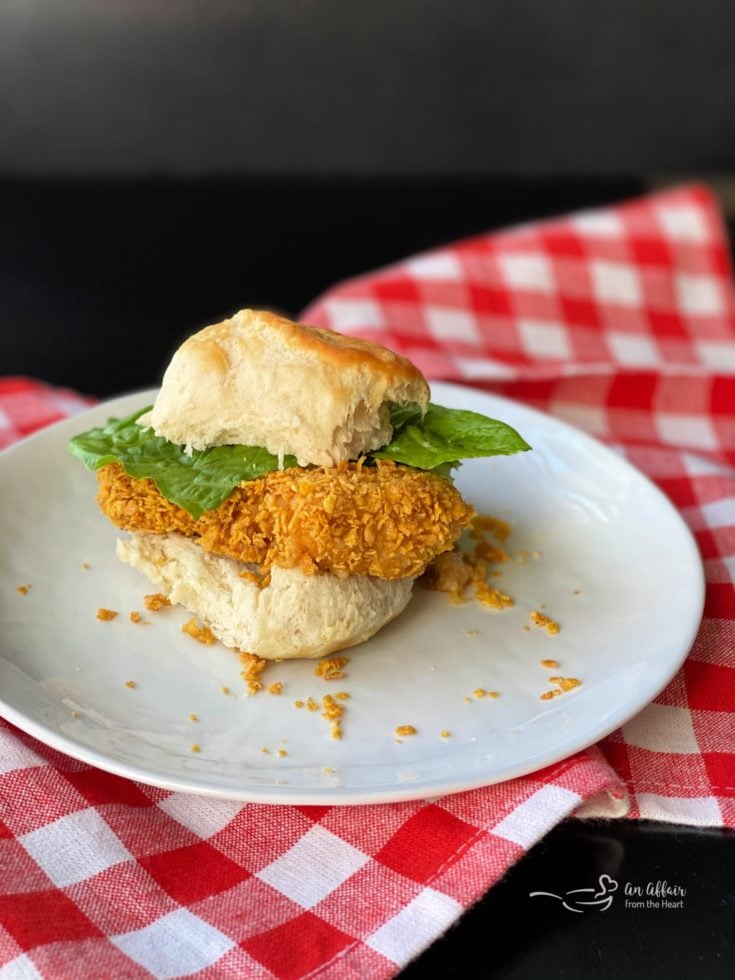 Perfectly crispy without frying - these chicken sandwiches flavorful and served on a flaky biscuit. Dinner in about 30 minutes!
Ingredients
4 chicken breasts, sliced horizontally to make 8 thinner pieces
1/4 cup milk or cream + 1 teaspoon lemon juice
1/2 teaspoon cayenne pepper
1/2 teaspoon garlic powder
1/2 teaspoon salt
4 cups crushed Corn Flake Cereal
Tube of refrigerator biscuits (I used the Pillsbury Flaky Grands) qty 8 biscuits
Lettuce and Mayo for serving - or use whatever you enjoy.
Instructions
Prepare biscuits as directed on the package.
Heat oven to 425 degrees and line a cookie sheet with non-stick foil.
Combine cream and lemon juice and let sit for about 10 minutes. (you have just made a buttermilk substitute - if you have buttermilk, you can use 1/4 cup and omit this step.)
Slice chicken breasts horizontally to make 2 thinner pieces.
Add spices to the milk, whisk. Place chicken in the milk mixture.
After dipping in the milk mixture, press into the crushed cornflakes - coating both sides of the chicken. Place on cookie sheet.
Bake for 15 minutes. I used a meat thermometer to make sure mine were done.
Serve on a biscuit topped with lettuce and mayo.
Notes
Tip* If you have large chicken breasts, you can slice them even smaller to stretch your budget!
Recommended Products
As an Amazon Associate and member of other affiliate programs, I earn from qualifying purchases.
Nutrition Information:
Yield:
8
Serving Size:
1
Amount Per Serving:
Calories:

419
Total Fat:

16g
Saturated Fat:

5g
Trans Fat:

0g
Unsaturated Fat:

10g
Cholesterol:

59mg
Sodium:

687mg
Carbohydrates:

43g
Fiber:

2g
Sugar:

3g
Protein:

25g
Nutrition isn't always accurate.
This recipe was originally posted on April 27, 2015. It was updated to improve user experience and re-shared on May 19, 2020.