Stuffed Pepper Skillet
As an Amazon Associate and member of other affiliate programs, I earn from qualifying purchases.
This easy Stuffed Pepper Skillet has all of the delicious flavors of traditional stuffed peppers, with hardly any work. Ground beef, onion, bell peppers, tomatoes, rice and cheese, a one-pot simple meal that can be served right out of the skillet, in less than 30 minutes!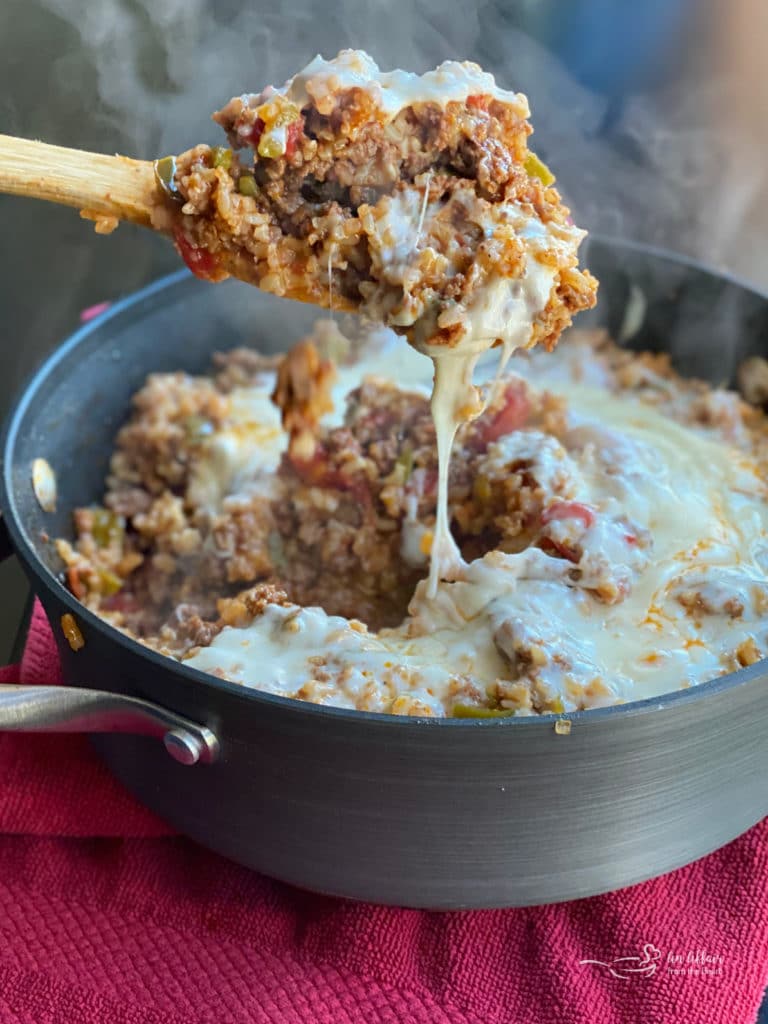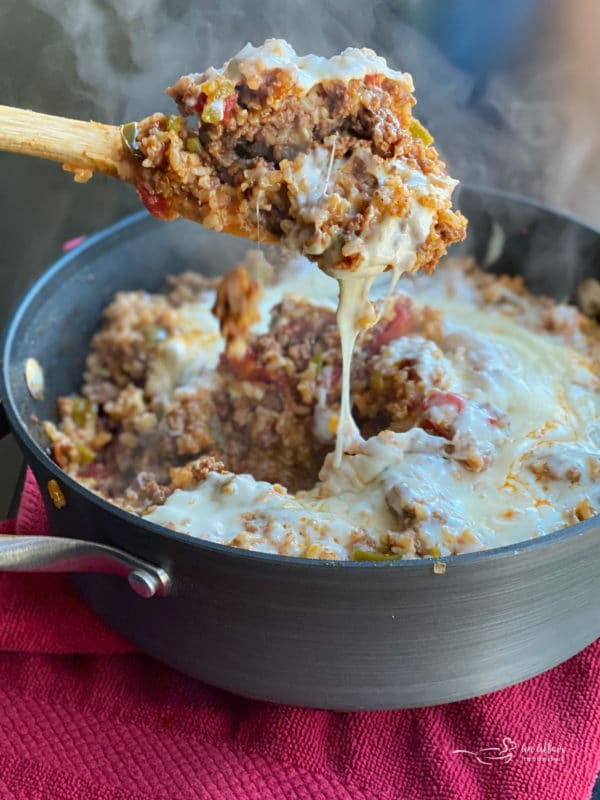 Stuffed Pepper Skillet
It's no secret how much I love stuffed peppers. Like — I may need an intervention or something. It seems I can always figure out a new way to add them to our menu, whether it's traditional stuffed peppers, a soup, meatballs, casserole or meatloaf, I can always find a way to wiggle those favorite flavors of mine into the menu plan, and everyone won't think "this again?"
Not that they complain, because they love stuffed peppers just as much as me. Just another reason to love them a little extra. (wink) But busy days call for effortless meals that still bring your family around the table.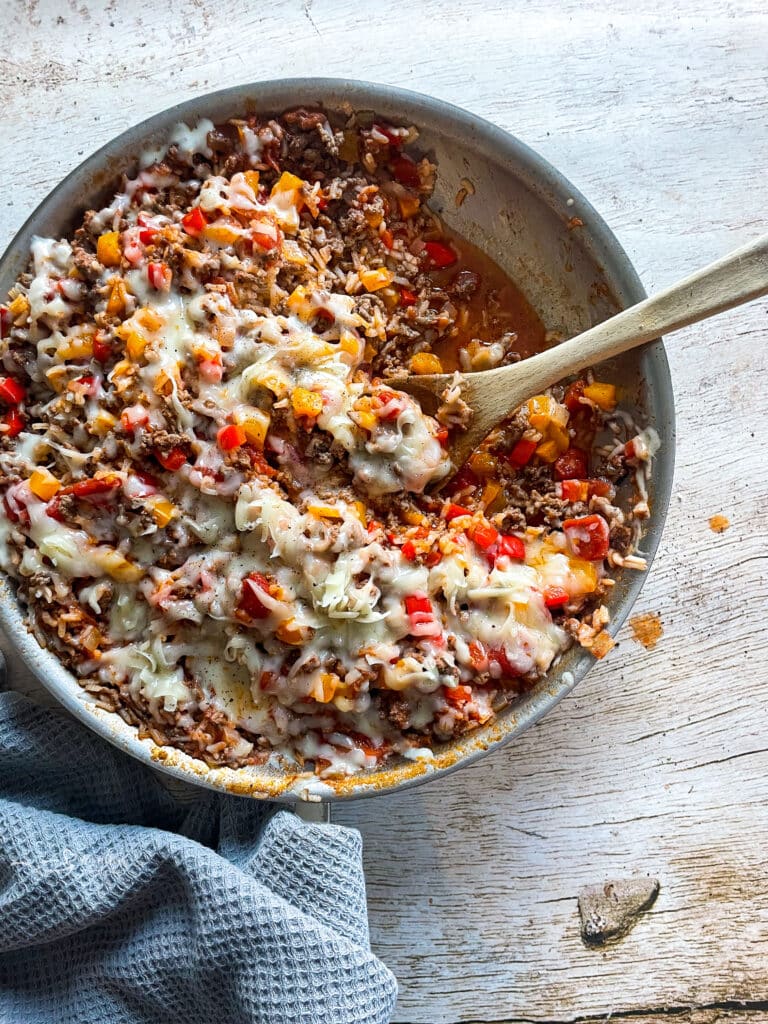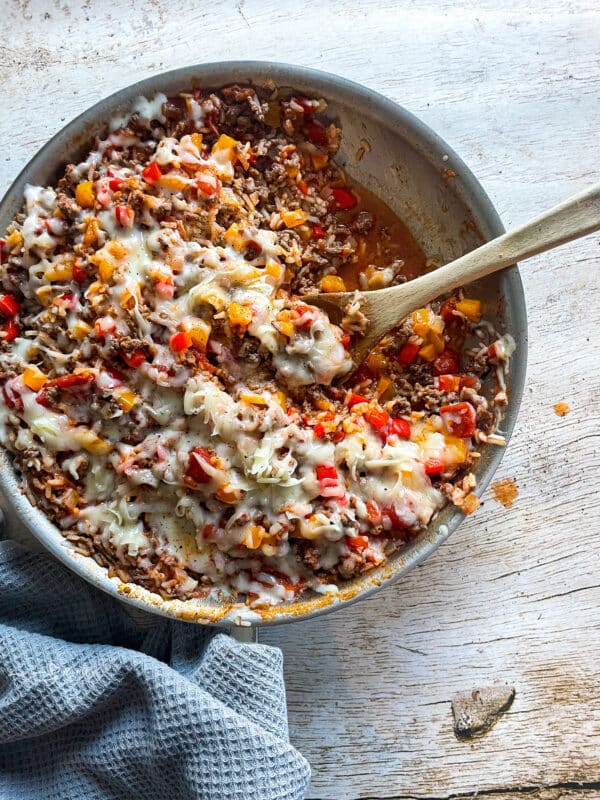 Ground Beef Stuffed Pepper Skillet
When I first made this recipe, back in 2016, it went like this. I had promised my son I would make stuffed peppers for dinner. I typically will assemble them after lunch and have them ready to go in the oven on time bake while I am doing the afternoon school pick up.
Well, at noon that day, the power went out. That happens from time to time, and usually, it comes right back on. But not this time, it was out for over 4 hours!
Just when I was about to order a pizza, I got an idea. I would make them right on the stove, in a skillet. Brilliant! This one-pot wonder of a meal has been in the rotation ever since.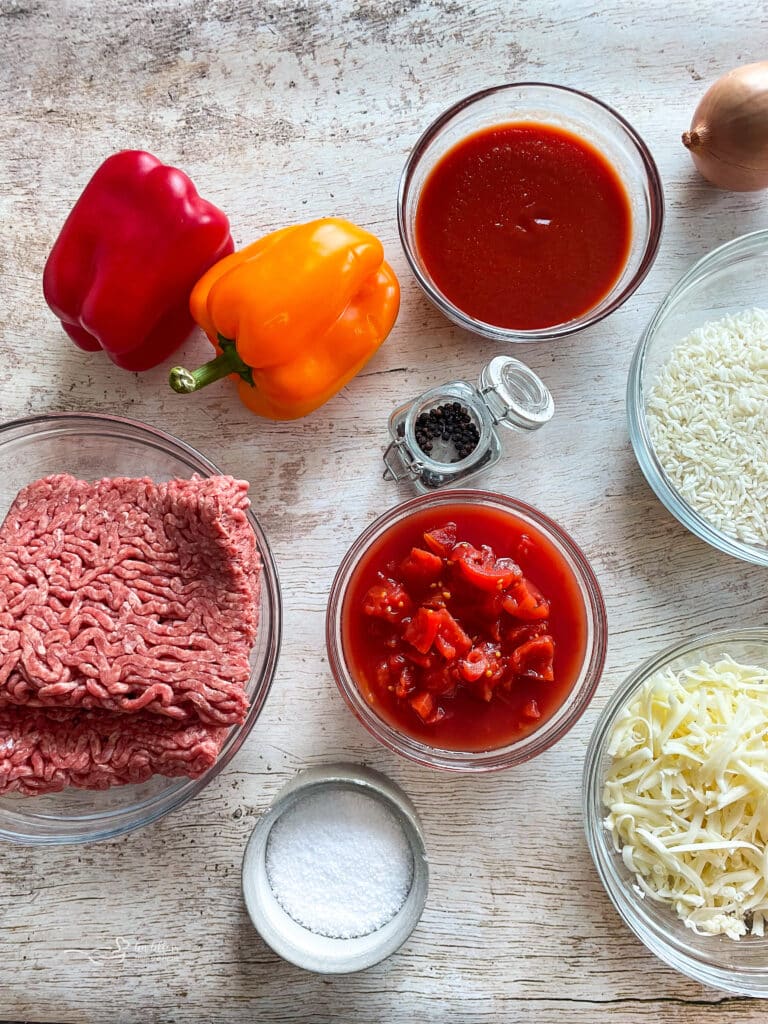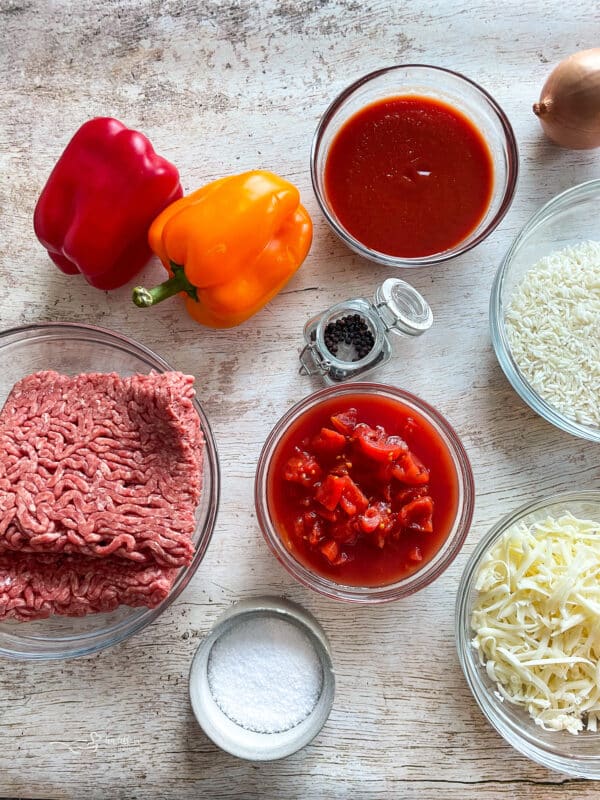 Ingredients in these Lazy Stuffed Peppers
This simple stuffed pepper skillet meal contains all of the same things I put in my stuffed peppers, with the addition of a little onion and tomato sauce that I don't add to my traditional stuffed pepper recipe. To make this stuffed pepper skillet recipe you'll need:
lean ground beef – you could easily substitute ground turkey or ground chicken in this meal.
onion – I use yellow onion
bell peppers – the color bell pepper is your personal preference. I typically use a combination of green peppers and red bell pepper, but we love the flavor that yellow bell pepper and orange bell pepper give this meal too.
diced tomatoes
tomato sauce – to substitute tomato paste, you will need to add more water.
instant rice – you can use brown rice or white rice in this recipe, just make sure it's instant uncooked rice.
mozzarella cheese
water – you can also substitute beef broth or vegetable stock if you like.
Salt and black pepper – season to taste.
*full complete printable recipe is found at the bottom of this post.

How to make Stuffed Pepper Skillet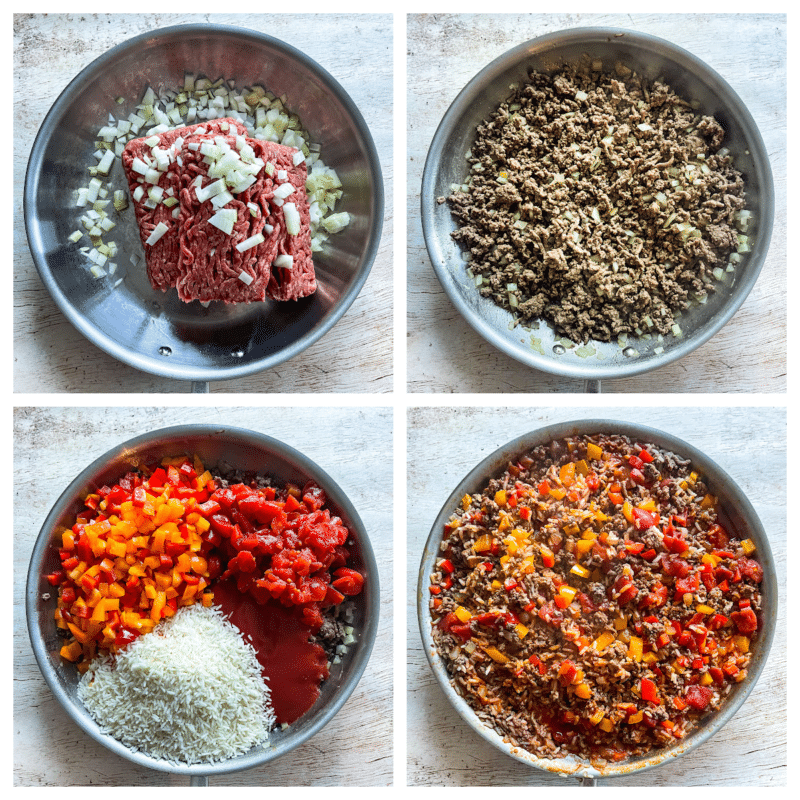 Begin by browning your ground beef with onion and salt and pepper in a large skillet over medium heat. Drain any excess grease.
Next, add in uncooked instant rice, bell pepper, water, tomato sauce and canned diced tomatoes.
Stir it all together and cover the skillet and simmer until rice is cooked.
Many times we eat it at this point. Without adding cheese. It cuts the calories and still tastes amazing.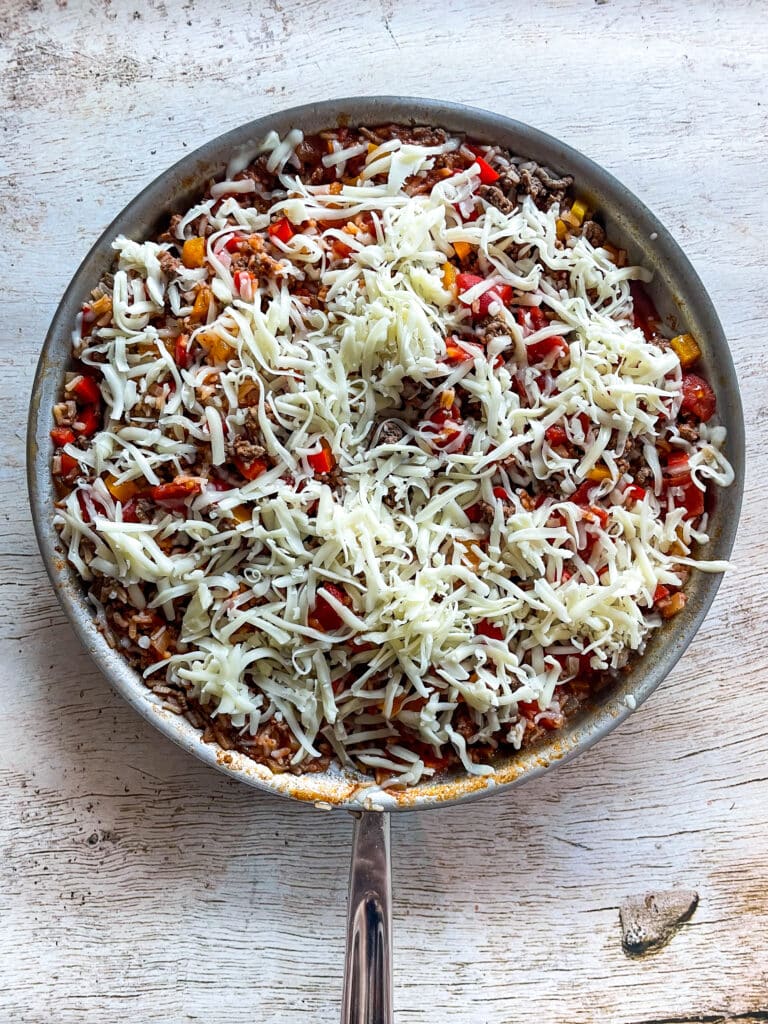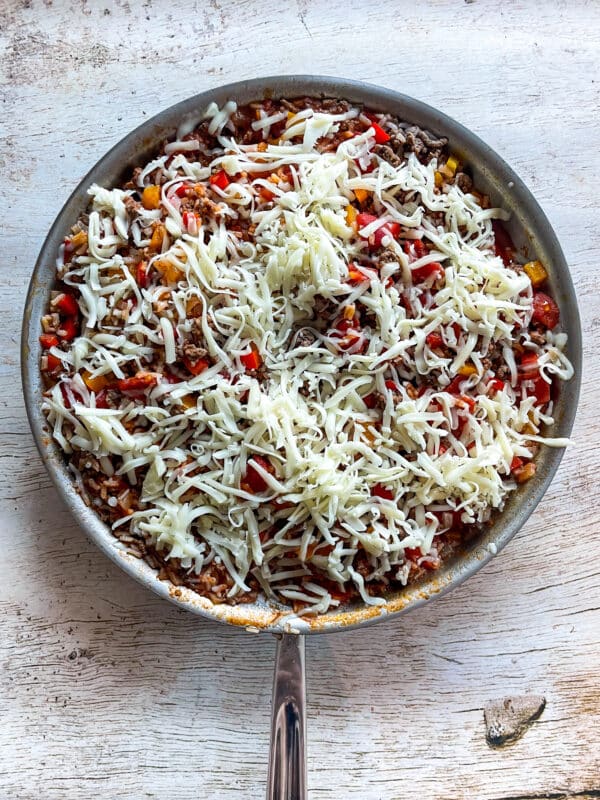 Of course, can you ever go wrong with adding some cheese to the top? No! I mean, grating some Mozzarella cheese over the top, and putting that lid on until the cheese melts might add on an extra 5 minutes or so, but the result?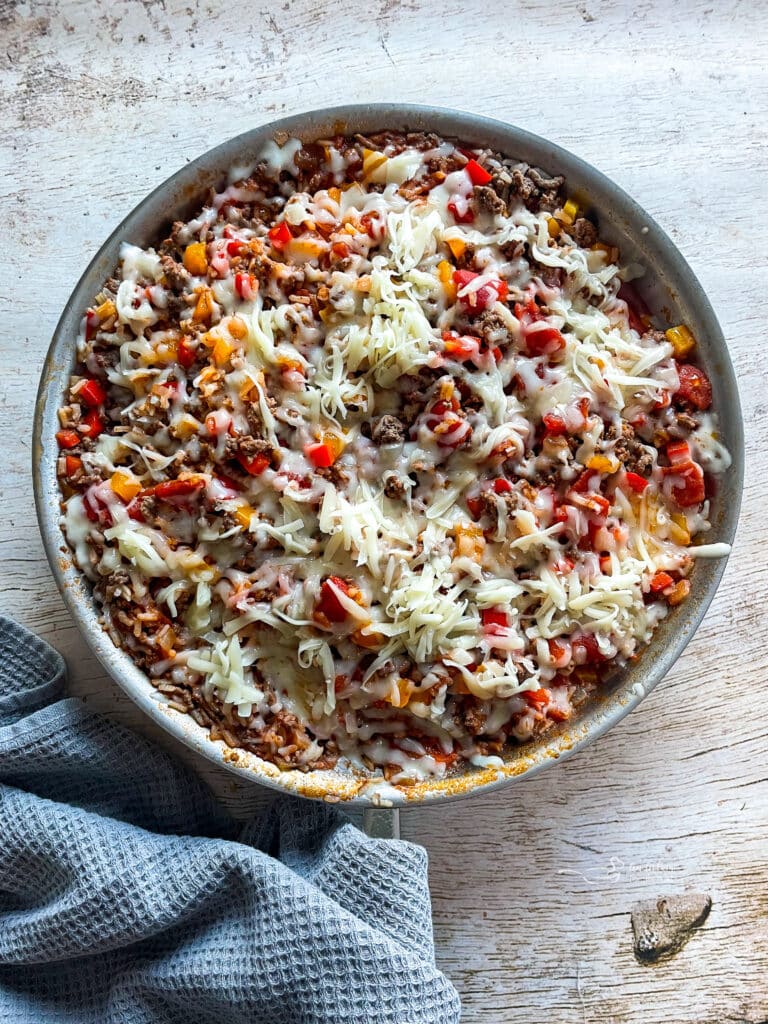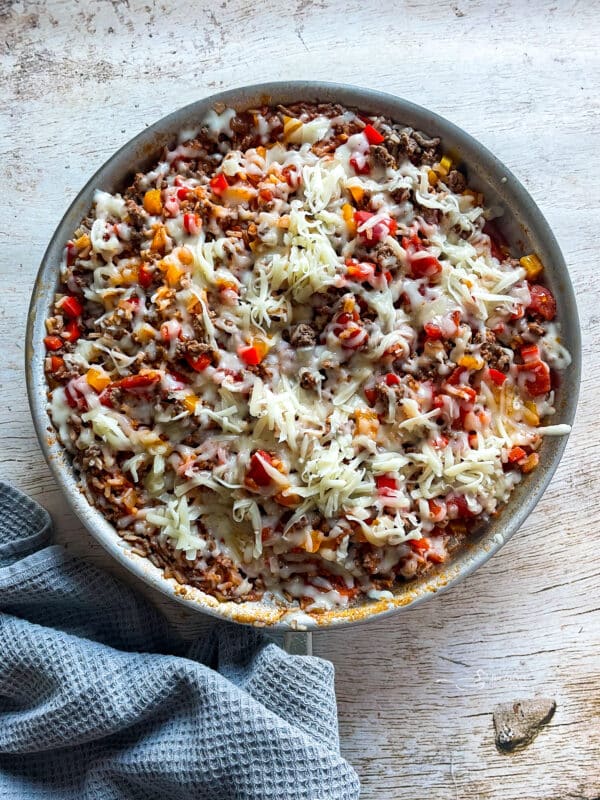 The result is THIS cheesy goodness.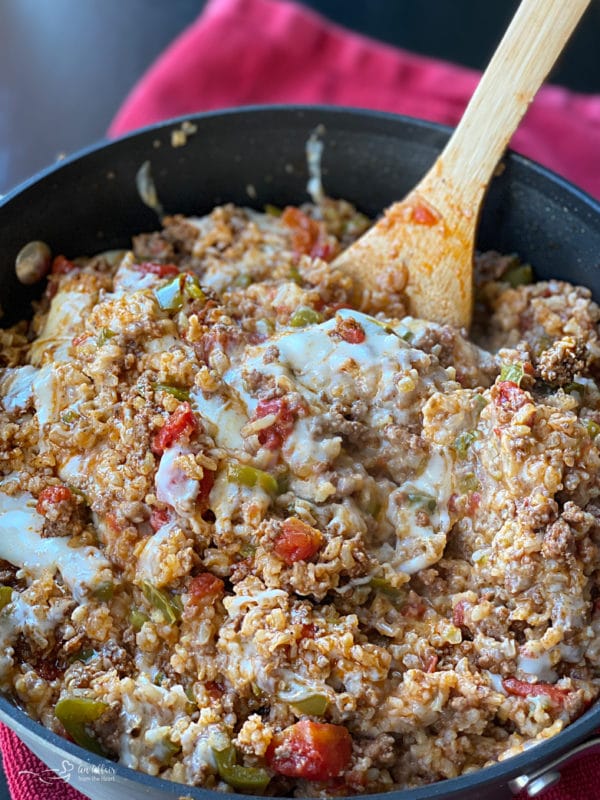 One pot, fresh ingredients, easy prep and ready in about 30 minutes — doesn't get much better than that!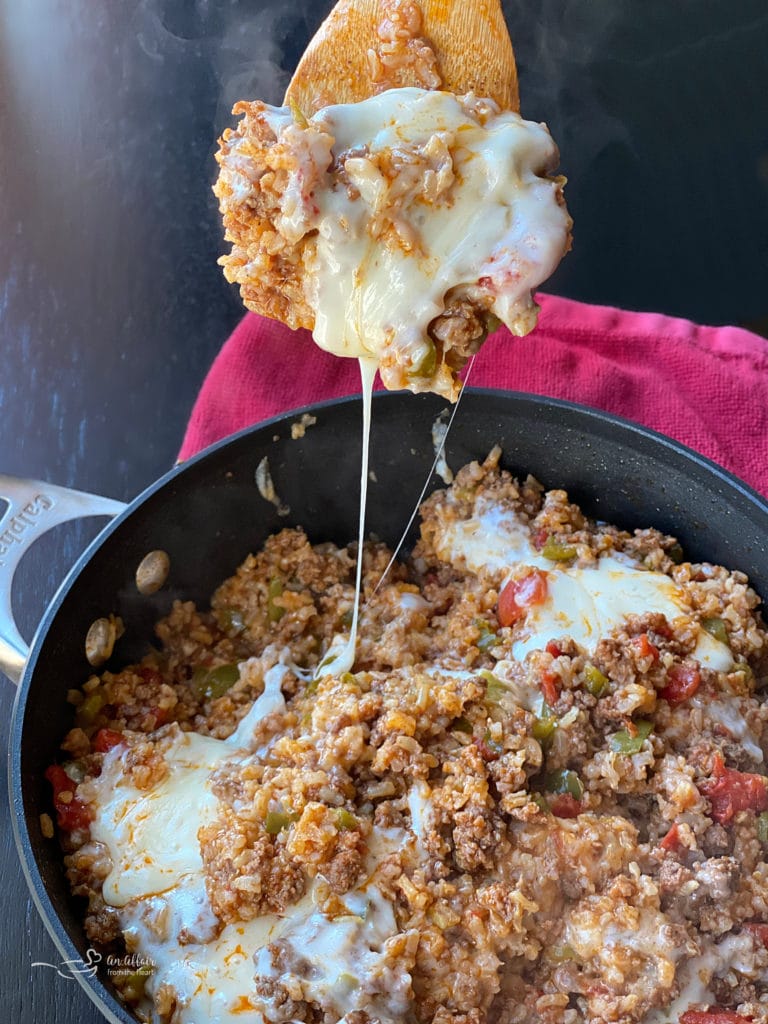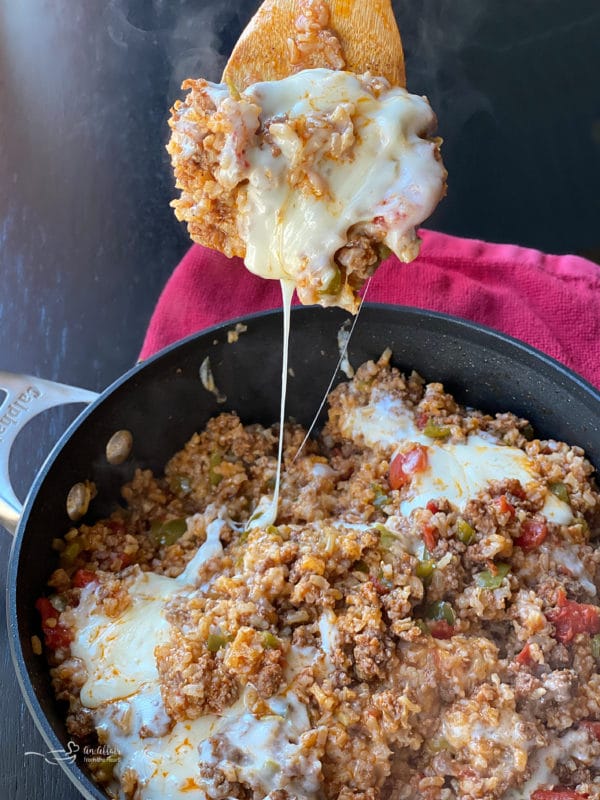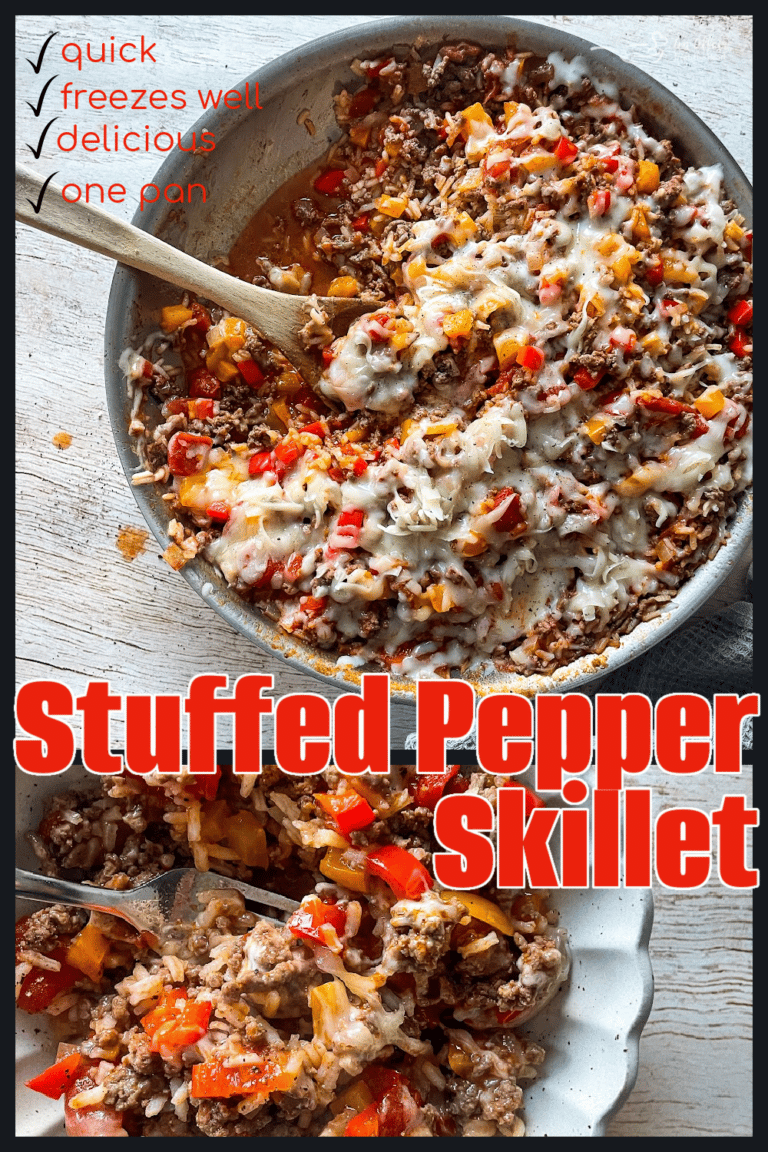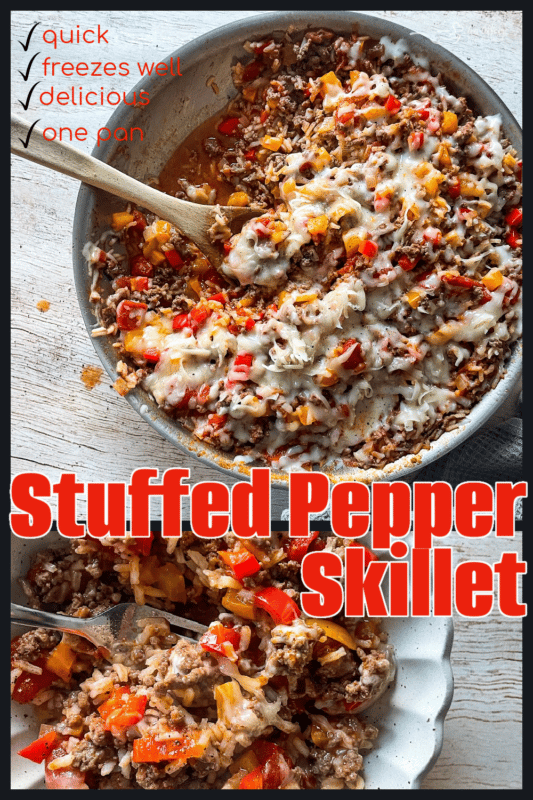 LOVE IT? Pin it!
Don't forget where you found this simple bell pepper skillet meal! Pin it to your favorite Pinterest recipe board before you go!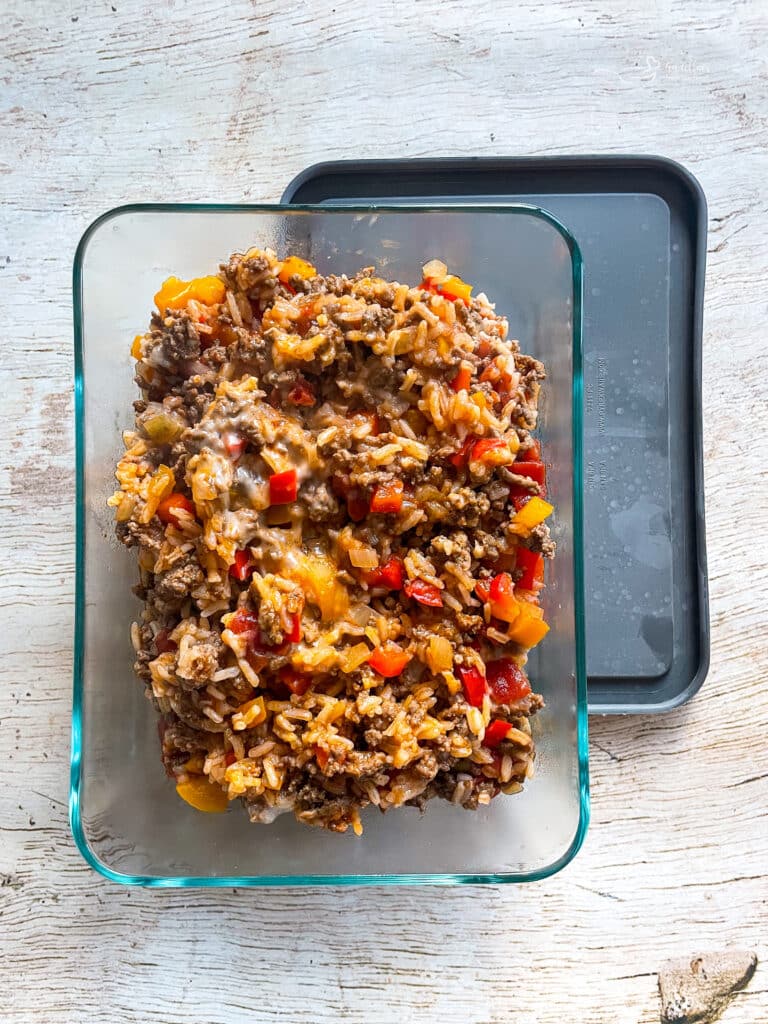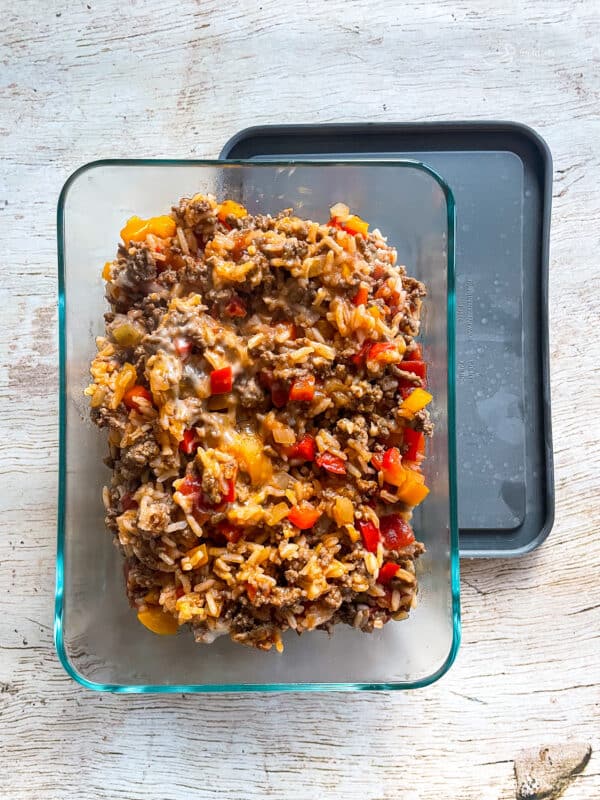 Does this recipe freeze well?
Yes, this recipe offers a great meal prep option, as it makes enough to feed 8 people. I love to freeze it in portion-sized containers to take out for lunch or an even quicker dinner! Simply defrost and reheat this low carb meal in the microwave or on the stove.

Substitutions and Replacements in Skillet Stuffed Peppers
This meal is easily adaptable to what you have on hand. Use ground chicken, turkey, or pork in place of the beef. You can use whatever colors of bell peppers you like, I love it with green bell peppers, but it looks so pretty with an assortment. We always use brown minute rice, but of course, white Minute rice is perfect, too. Or substitute cauliflower rice for an even lower-carb option.
Give it a little Italian flair and add in a teaspoon of Italian Seasoning, or serve with soy sauce to give it a nice umami flavor.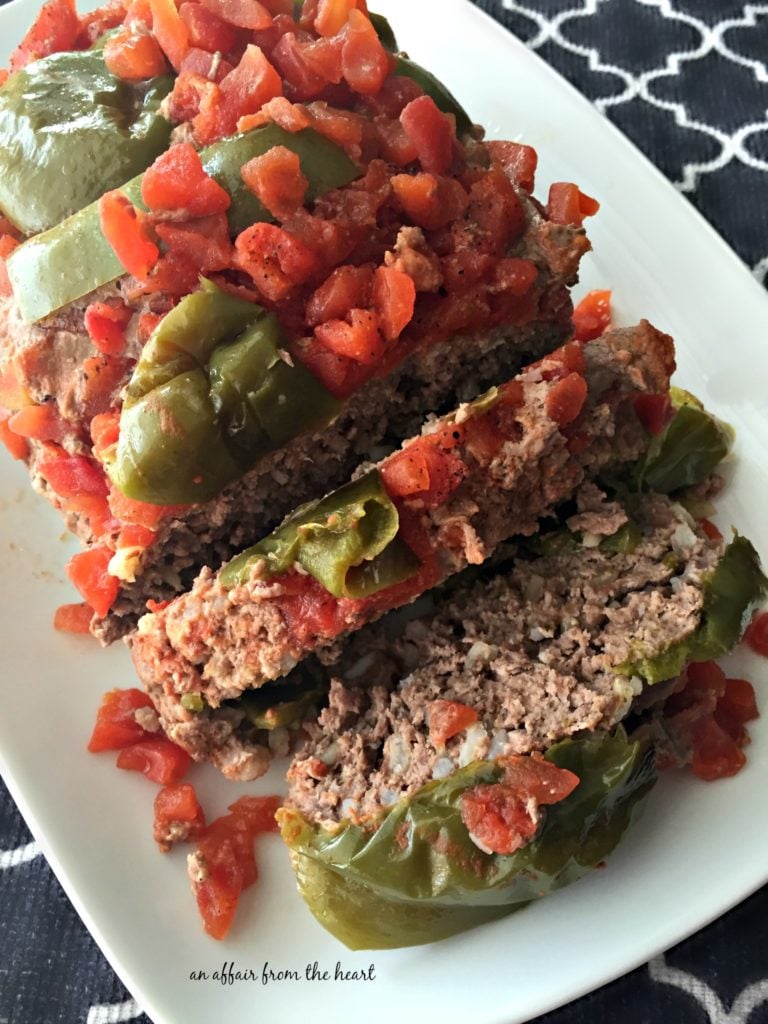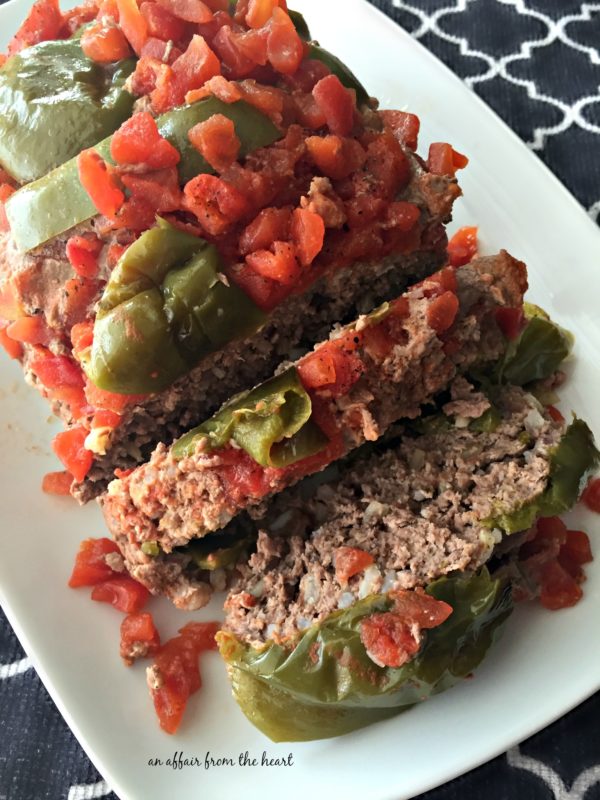 For the LOVE of Stuffed Peppers
Remember me telling you that I may need an intervention when it comes to my love of stuffed peppers? Well, I wasn't kidding! But if you love them, too, I have you covered with all sorts of ways to enjoy them.
Favorite Stuffed Pepper Recipes:
And while we are on the subject of skillet meals – just like an Unstuffed Pepper Skillet — you can take the time and effort out of traditional cabbage rolls and make my Unstuffed Cabbage Rolls Skillet, too! It's another meal that we LOVE and it takes no time at all. 30 minute meals or less — my kind of meal, how about you?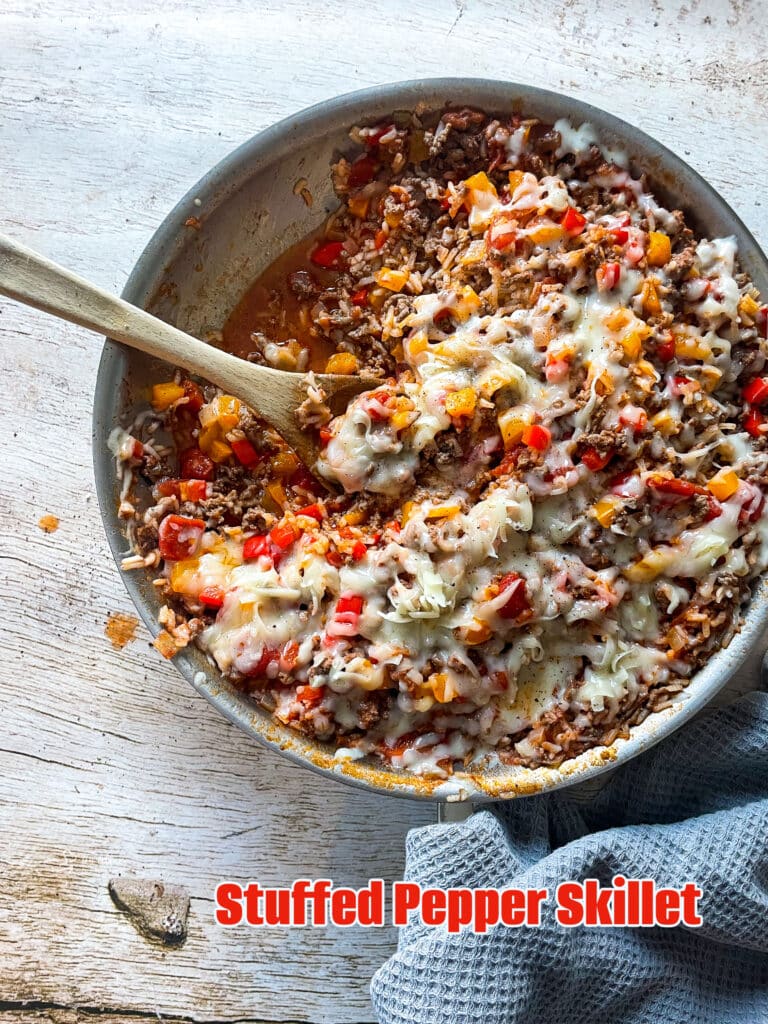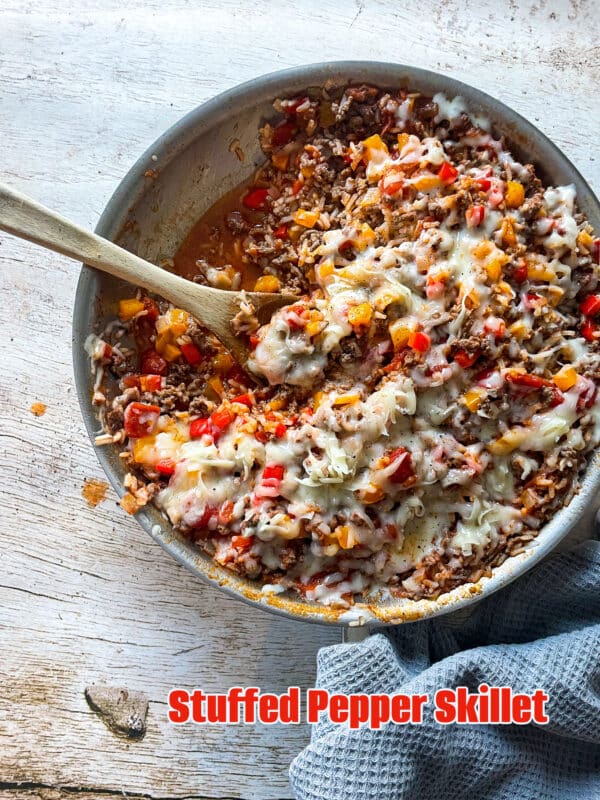 Let's Make a Stuffed Pepper Skillet Meal!


Yield: 8
Stuffed Pepper Skillet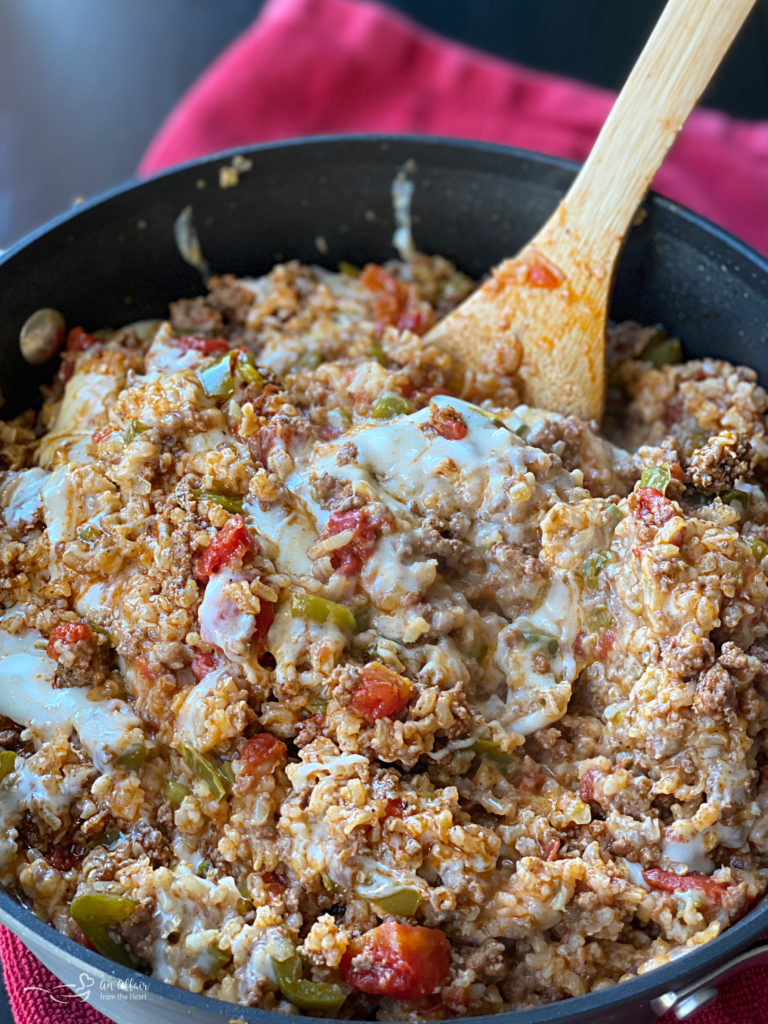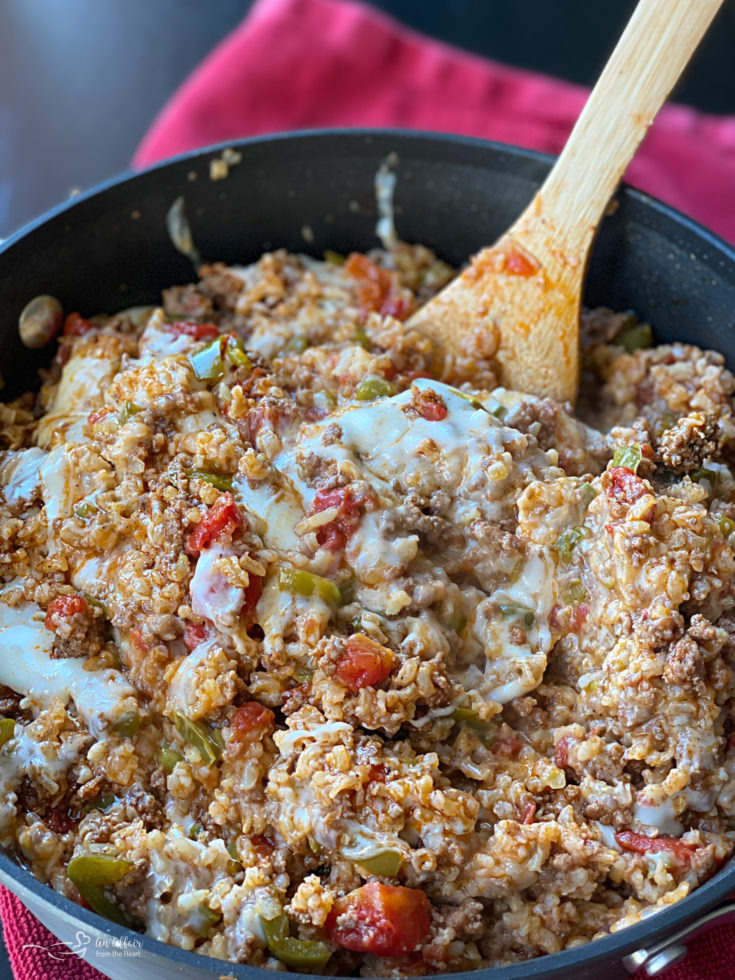 Stuffed Pepper Skillet has all of the flavors of traditional stuffed peppers, with hardly any work! Serve them right out of the skillet, with or without melty cheese!
Ingredients
2 pounds lean ground beef
1/2 onion, chopped
Salt & Pepper, to taste
2 bell peppers, diced
1 (14.5 oz) can diced tomatoes
1 (8 oz) can tomato sauce + 2 cans water
1 1/2 cup instant rice, uncooked
1 cup Mozzarella cheese, shredded (optional)
Instructions
In a large skillet, brown ground beef with onion, seasoned with salt & pepper. Drain any excess grease.
Add in tomatoes, tomato sauce, water, bell peppers and rice.
Cover and simmer until rice is cooked, about 20 minutes or so, stirring occasionally.
Top with cheese if desired. When it's melted, serve right out of the skillet.
Recommended Products
As an Amazon Associate and member of other affiliate programs, I earn from qualifying purchases.
Nutrition Information:
Yield:
8
Serving Size:
1
Amount Per Serving:
Calories:

359
Total Fat:

17g
Saturated Fat:

7g
Trans Fat:

0g
Unsaturated Fat:

7g
Cholesterol:

112mg
Sodium:

328mg
Carbohydrates:

13g
Fiber:

1g
Sugar:

2g
Protein:

37g
nutrition isn't guaranteed accuarate.
This recipe was originally posted in 2019 and has been updated to improve user experience on January 16, 2022.