Stuffed Peppers
As an Amazon Associate and member of other affiliate programs, I earn from qualifying purchases.
These Stuffed Peppers are everything you could ever hope for in a dinner recipe. Healthy, full of savory flavors, and so easy to make, this classic stuffed pepper recipe is the best! Made with lean ground beef, tomatoes, tender rice, and fresh bell peppers, this yummy recipe is a favorite in my household!
If you're looking for an easy recipe full of flavor to treat yourself or your family or guests to, then look no further– you've come to the right place. These stuffed peppers definitely bring a huge wow factor to dinner. Hearty, full of fiber, and low in calories, this simple dinner recipe is well-rounded and the perfect blend of savory and bold! Looking for another way to eat your bell peppers? Be sure to read about my
Southwest chipotle stuffed peppers
to discover even more delicious flavors that you'll love.
I love this recipe because the lean ground beef, brown rice, and bell peppers create the ultimate combination of nutrient-dense ingredients that are mouthwatering and good for the body. The recipe can also be easily be cut in half when you're needing to feed a smaller crowd.

One of my Family's MOST FAVORITE Meals
I couldn't be happier that this is one of my family's favorite dinners because since I was a kid, it's been one of mine! In fact, as an adult, I may be considered a bit "
Stuffed Pepper Obsessed
." You'll find all sorts of variations on my website here.
This recipe is so simple to make. Most times I toss them together in the morning and put them in to bake when the kids come home from school. Dinner is ready by 5;30, and all in one dish!
Another perk? These are very low calorie, and if you watch your fiber, high in fiber. Plus – it's not like eating a wimpy salad that you feel hungry a couple of hours later. This is a filling and hearty meal.

Why You're Going to Love This Recipe
Easy to Make: These stuffed peppers are made in only a handful of simple steps! Sit back and relax while these fragrant peppers cook for dinner.
Versatile: With this recipe, you can switch up the ingredients and use different proteins and rice.
Comforting: Classic and the ultimate recipe for when you're craving comfort food, this filling recipe is loaded with all the hearty ingredients you adore.

Ingredients for Easy Stuffed Peppers
For the full measurements, be sure to scroll down to the recipe card!
Rice: You can use either instant brown or white rice for this recipe. If you're wanting to keep things on the healthier side, then be sure to use brown rice.
Bell peppers: Any colored bell peppers can be used for this recipe. When I'm looking for a bit of variety and wanting to change things up, then I like to use a few different colors!
Ground beef: Lean ground beef can be used for a healthier recipe. Feel free to make these stuffed peppers with ground turkey, ground chicken, or meatless crumbles.
Diced tomatoes: Two cans of diced tomatoes are needed for this recipe.
Salt and pepper: The only seasoning you need for this easy recipe!
Optional: Feel free to add cheeses to this recipe. Mozzarella would be amazing! Want to spice things up? Serve them with fresh jalapeño slices!

What is the best rice for stuffed peppers?
It's up to you! I like to use brown rice because it is healthier and leaner.
Do you have to boil the peppers before stuffing them?
If you're looking for extra crispy bell peppers, then no, you do not need to cook them prior to stuffing. Easy, right?
How long to bake stuffed peppers?
You will want to make sure you have enough time to bake these peppers! Since we're using raw meat in this recipe, these peppers will need a little bit more time to cook.

How to Make These Stuffed Peppers
You will love how simple to make these stuffed peppers are. This is the best meal for when you're looking for something minimal with hardly any steps Perfect for busy weeknights!
Step 1
Preheat the Oven: First, preheat the oven to 350 degrees Fahrenheit. Prepare the cooking dish with oil spray.

Step 2
Cook the Rice: Next, prepare the rice according to the package directions. Feel free to add beef bouillon to the water for extra flavor. Then, transfer some of the rice to the bottom of the pan.

Step 3
Fill the Peppers: Place the peppers on top of the rice. Fill each bell pepper with ground beef while leaving room at the top for the rice and tomatoes.

Step 4
Add Rice: Next, add the rice to the tops of the peppers. Place the rest of the rice in the dish.

Step 5
Season and add Tomatoes: After that, season the peppers and rice with salt and pepper. Add the tomatoes.

Step 6:
Bake in the Oven: Season the peppers again. Place the tops of the bell peppers on top of the peppers and cover with a lid. Finally, cover and bake for one and a half to two hours.

Enjoy hot right from the baking dish.

LOVE IT? PIN IT!
Definitely make sure to save this recipe on your Pinterest board before you go. You'll want to make this recipe for dinner ASAP!

Why are my stuffed peppers watery?
Your bell peppers can get too watery if you don't use precook the rice before adding it to the peppers. Make sure the rice is prepared!
What to eat with stuffed peppers?
We like to eat these stuffed peppers as is because all the delicious ingredients are inside! If you're feeling like you want something extra, then you can pair these stuffed peppers with pea salad with cauliflower, Italian bean salad, or cucumber tomato salad.
Tips
Here are some helpful tips in making the very BEST stuffed peppers:
Store the leftovers in an airtight container in the refrigerator for four to five days.
Make sure to spray the lid with oil before placing it on top of the peppers.
Make sure the bell peppers are cored and cleaned.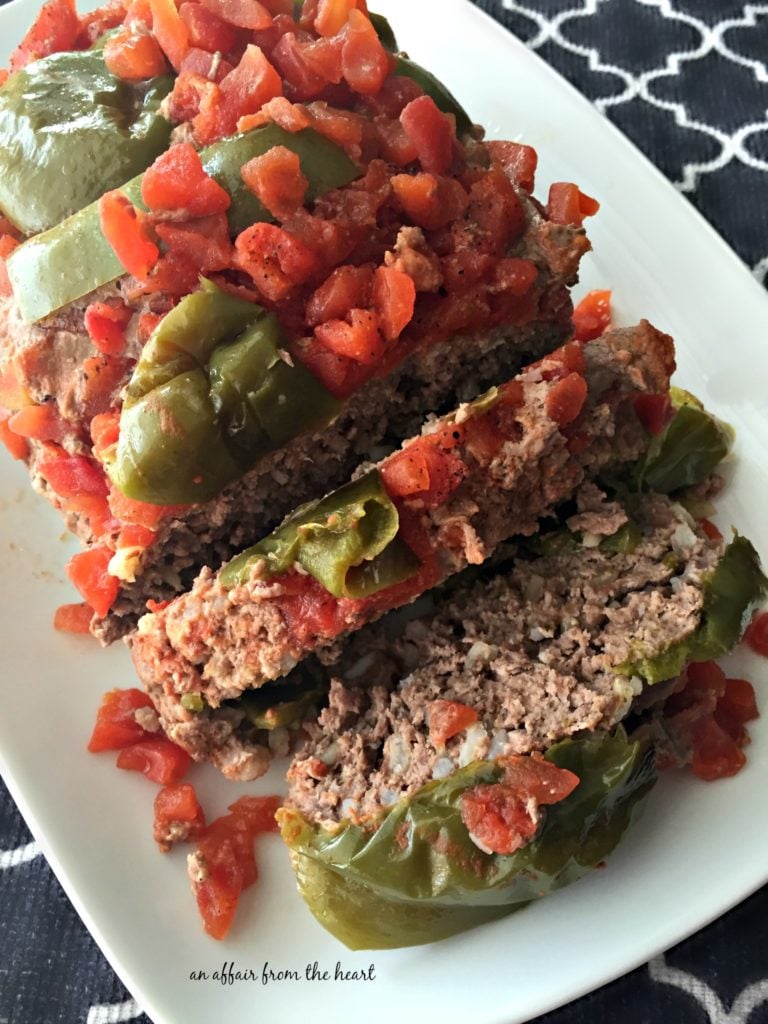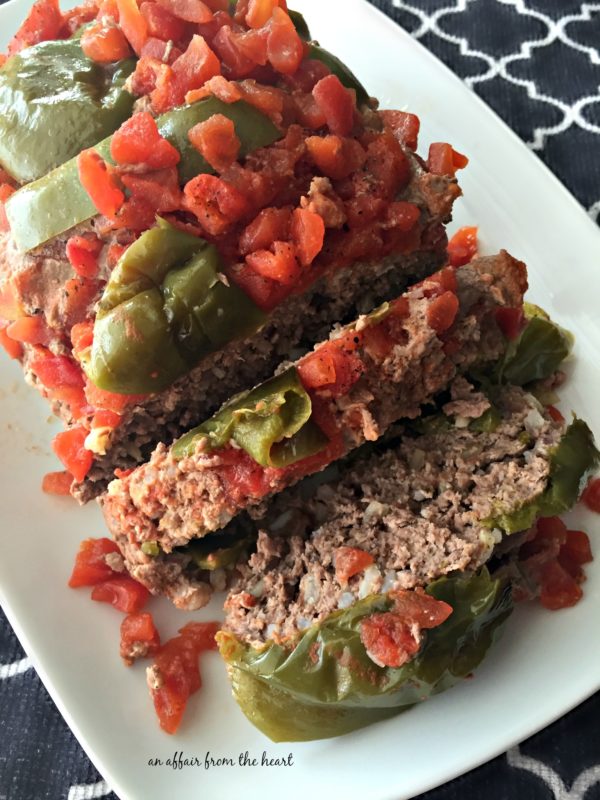 More Stuffed Peppers Recipes You'll Love
As I mentioned, I have a bit of an obsession with all things "stuffed pepper." Here are some of my favorites!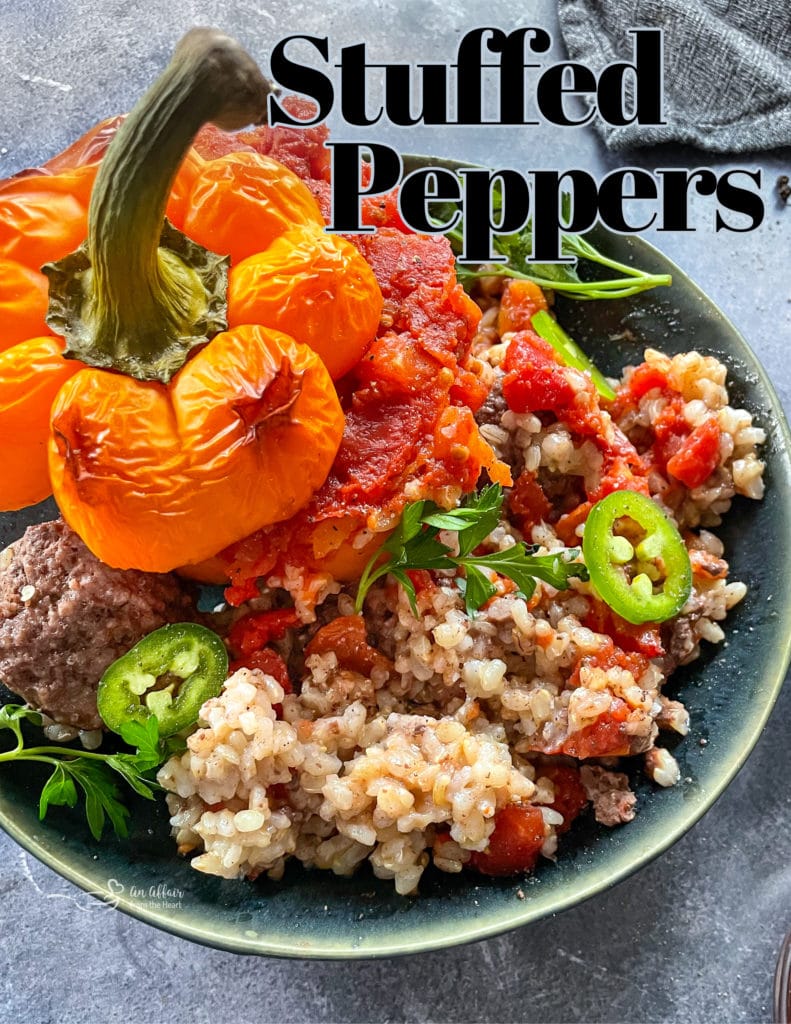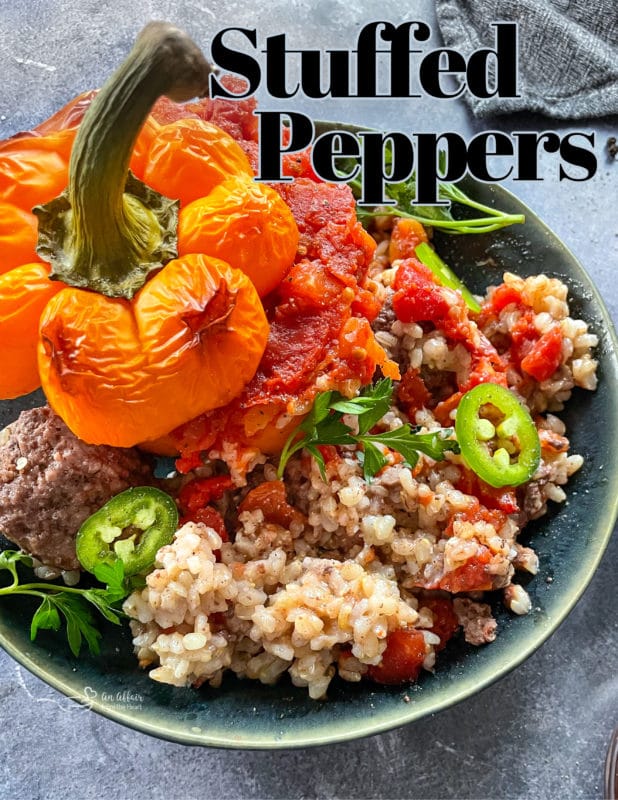 Let's make stuffed peppers!!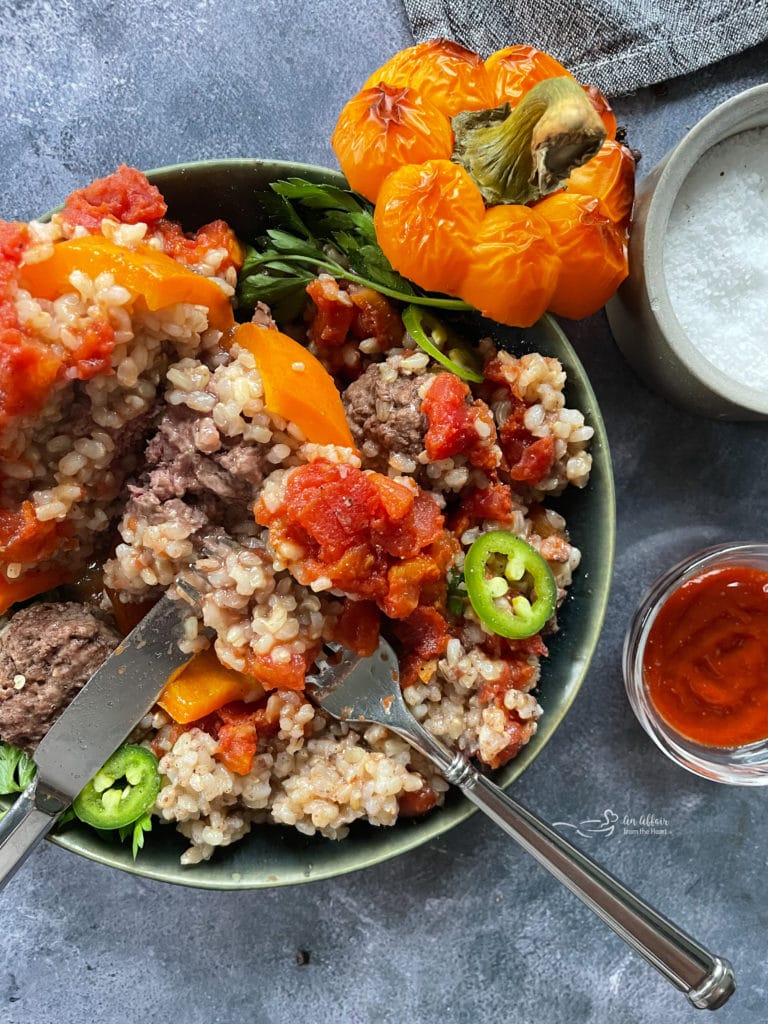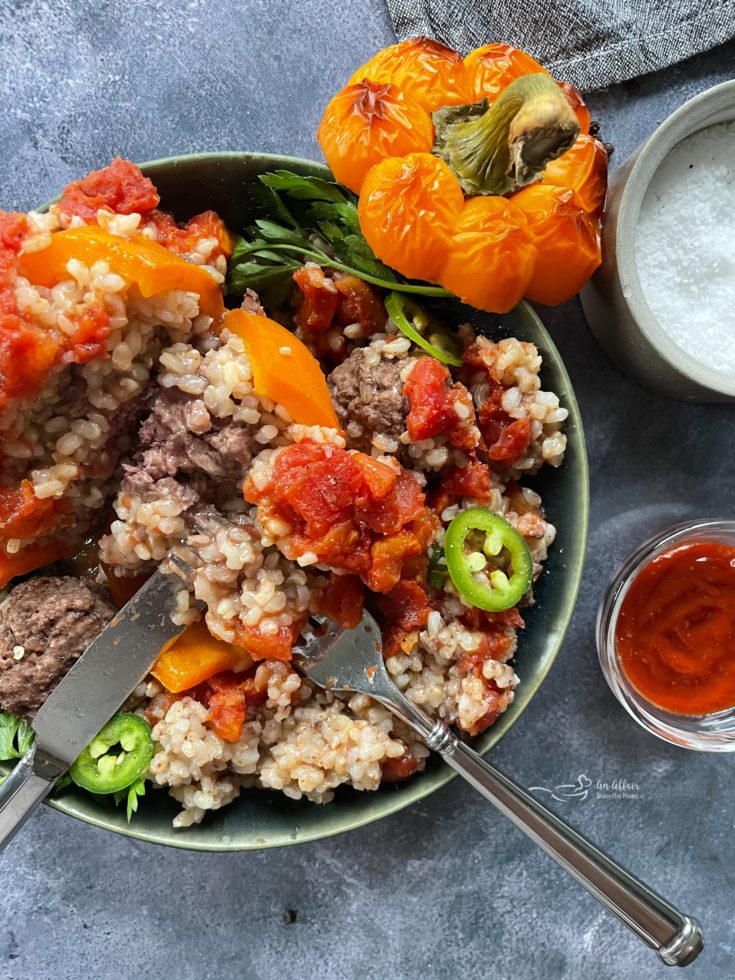 These Stuffed Peppers are everything you could ever hope for in a dinner recipe. Healthy, full of savory flavors, and so easy to make, this classic stuffed pepper recipe is the best! Made with lean ground beef, tomatoes, tender rice, and fresh bell peppers, this yummy recipe is a favorite in my household!
Cook Time
1 hour
30 minutes
Total Time
1 hour
45 minutes
Ingredients
2 pounds lean ground beef
4 cups prepared instant brown rice (white can be used)
2 - 15 ounce cans diced tomatoes
6 large bell peppers, tops cut off, cored and cleaned
Salt and Pepper
Instructions
Preheat oven to 350, and prepare a covered baking dish with non-stick cooking spray.
Prepare rice according to the package. You can add a bit of beef bouillon to the water when you make the rice if you want a little extra beef flavor. Add about half of the rice to the bottom of the pan.
Place peppers on the rice, reserving tops. Fill each bottom of the pepper with some ground beef, leaving enough room to top with rice and tomatoes. Reserve remaining rice.
Take remaining ground beef, roll into balls and place around the peppers.
Add rice to the peppers, and put the rest of it around the peppers in the dish.
Salt and Pepper the whole thing.
Pour tomatoes over the top of all of it.
Salt and Pepper again. Place tops of peppers on. Cover with lid to baking dish. (make sure you spray the lid with non-stick cooking spray,too!!)
Bake 1 1/2-2 hours, or until beef inside peppers is no longer pink.
Nutrition Information:
Yield:
6
Serving Size:
1
Amount Per Serving:
Calories:

548
Total Fat:

20g
Saturated Fat:

7g
Trans Fat:

1g
Unsaturated Fat:

9g
Cholesterol:

135mg
Sodium:

347mg
Carbohydrates:

43g
Fiber:

6g
Sugar:

6g
Protein:

48g
Please note that nutrition is not guaranteed accurate.
This recipe was originally shared on February 3, 2013. It was updated to improve user experience and re-shared on June 1, 2021.